Samsung Q900R QLED 8K review
The 8K TV is here, but is the world ready for it?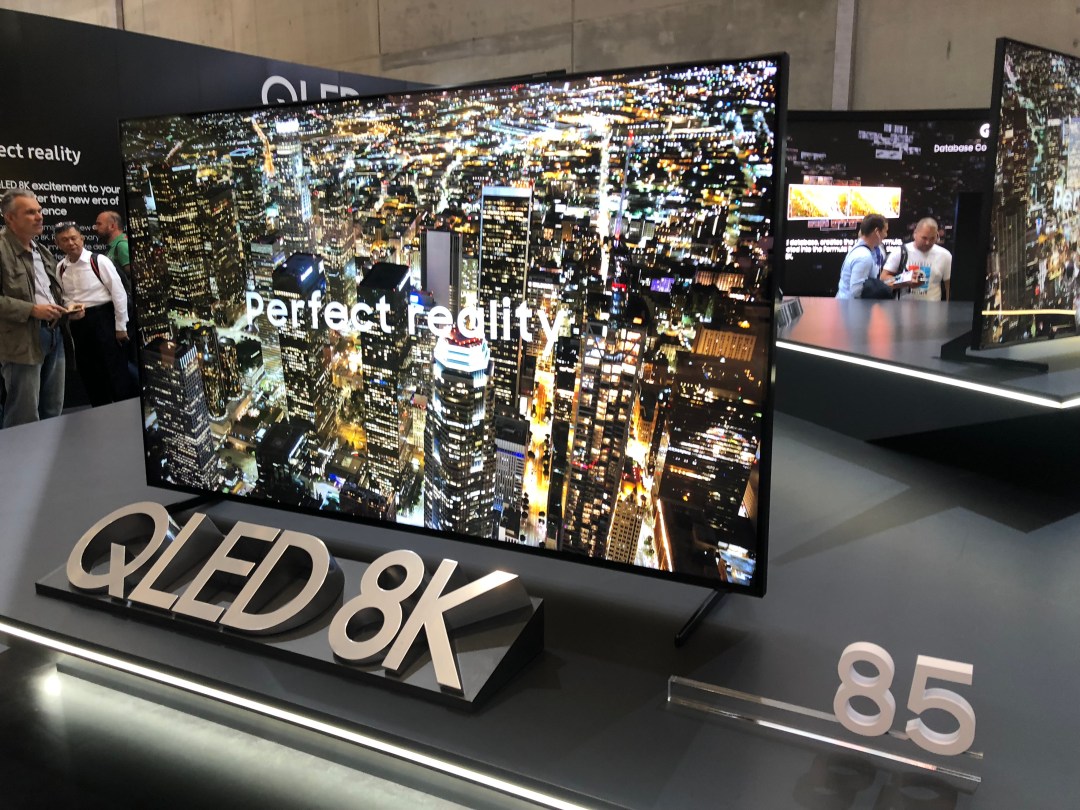 The distance between 'want' and 'need' can be quite significant sometimes.
Take TV standards, for example. When Full HD (1920×1080) televisions first became available, they represented a big improvement in quality over standard definition TVs and were supported by a reasonable amount of Full HD content. Consumers were falling over themselves to upgrade their tellies.
Then came 4K Ultra HD (3840×2160). It's an unarguable picture quality upgrade over Full HD, but the televisions came well in advance of 4K Blu-ray discs and 4K broadcasts. As a result, customers were wary. 4K has consequently taken a little while to gain proper traction in the marketplace.
And now, after quite a few years of prototype demonstrations (by quite a few different TV manufacturers) at electronics trade shows, Samsung has bitten the bullet and launched a range of 8K TVs.
8K is a resolution of 7680 x 4320. That's 33.2 million pixels making up the picture, compared to the 8.3 million of 4K or the 2 million-odd of Full HD.
More pixels = more information = more detail = better picture quality. So 8K is a no-brainer, yes?
Well, yes. And no.
Japanese broadcaster NHK has been a big driver of 8K, and at the end of last year took the covers off BS8K, a broadcast channel with 8K capability. It intends to broadcast the majority of the 2020 Tokyo Olympics in 8K.
But what about the rest of us? With no native 8K content available, or even confirmed for the future, do we really need an 8K screen? Isn't this a prime example of Samsung offering us something we do not need, no matter how much we might want it?
Design: All for one, and One Connect for all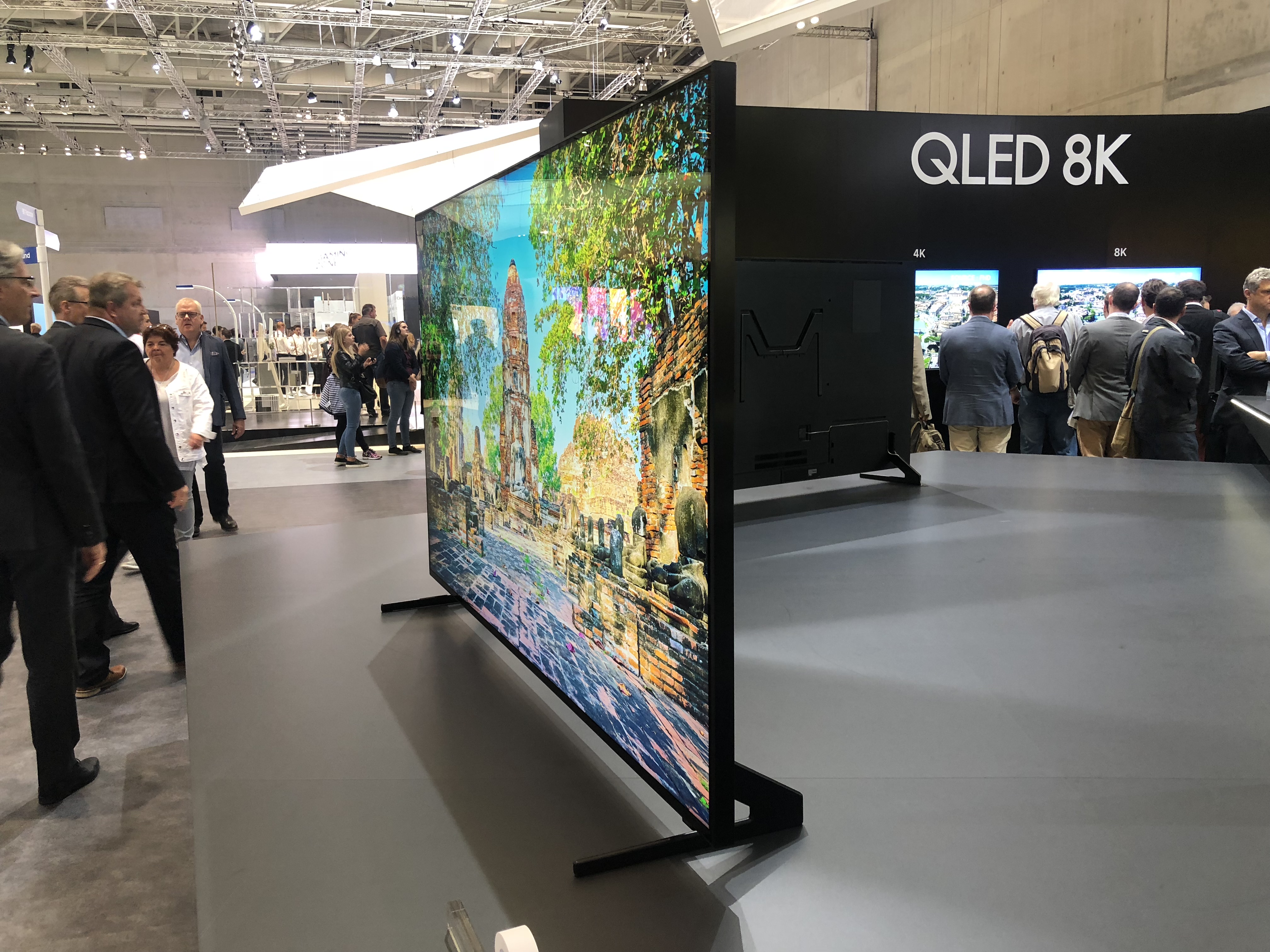 There's no arguing with the build quality of the 65Q900R. Like all Samsung TVs, it's properly put together – and feels built to last until long after 8K resolution is an old-fashioned relic of a more innocent time.
Design, though, is a different thing. Unlike the majority of consumer electronics products, the design of a premium TV has very little wriggle-room. Customers want as little bezel as possible, and they want as little depth to the television as possible. As a consequence, it's nigh-on impossible to make design a differentiator in the showroom.
Which isn't to say Samsung hasn't tried. The 65Q900R has a couple of very agreeable design initiatives that may serve to sway the wavering customer – its One Connect box and its Ambient Mode.
The One Connect box, as the name suggests, is the hub for all the connections the TV needs. It's around the size of a Sky box, and it joins the screen via a very slender and almost transparent cable. So the Q900R has just one cable running from it, one that's very easily concealed.
Ambient Mode, meanwhile, is an attempt to prevent to TV from becoming a massive (and massively expensive) black mirror when it's not in use. The Q900R can display 'decorative content' (matching the colour and/or pattern of the wall it's in front of, or displaying photos), and consequently is a bit less of a decorative black hole than your regular telly.
Features: You port me well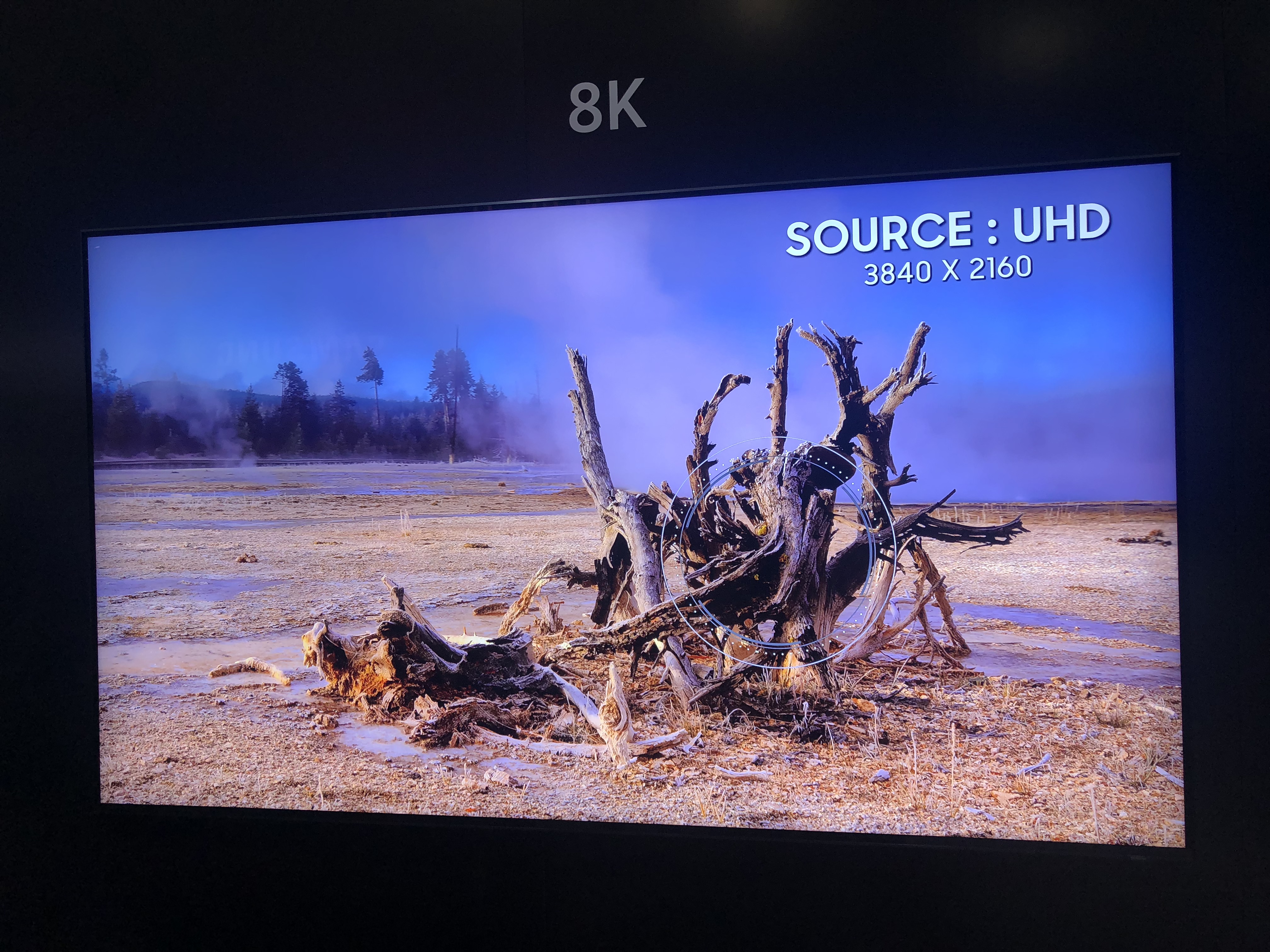 Well, the big news here is obvious: this is the world's smallest, most affordable 8K television. If that's not a feature worth making a fuss about, we don't know what is.
Helping make the most of these very many pixels is HDR in its HLG (broadcast), HDR10 and HDR10+ standards. There's no Dolby Vision and, given Samsung is one of the prime movers behind HDR10+ dynamic metadata, don't hold your breath waiting for the Q900R to get it.
The One Connect box is home to four HDMI 2.0 inputs, three USBs, an ethernet socket (there's integrated wi-fi too), an aerial and a couple of satellite TV connections, Bluetooth and mains power for the screen.
Samsung is ready to upgrade the One Connect box to HDMI 2.1 standard once it's available – all the lucky Q900R owner need do is ask.
User interface: leader of the pack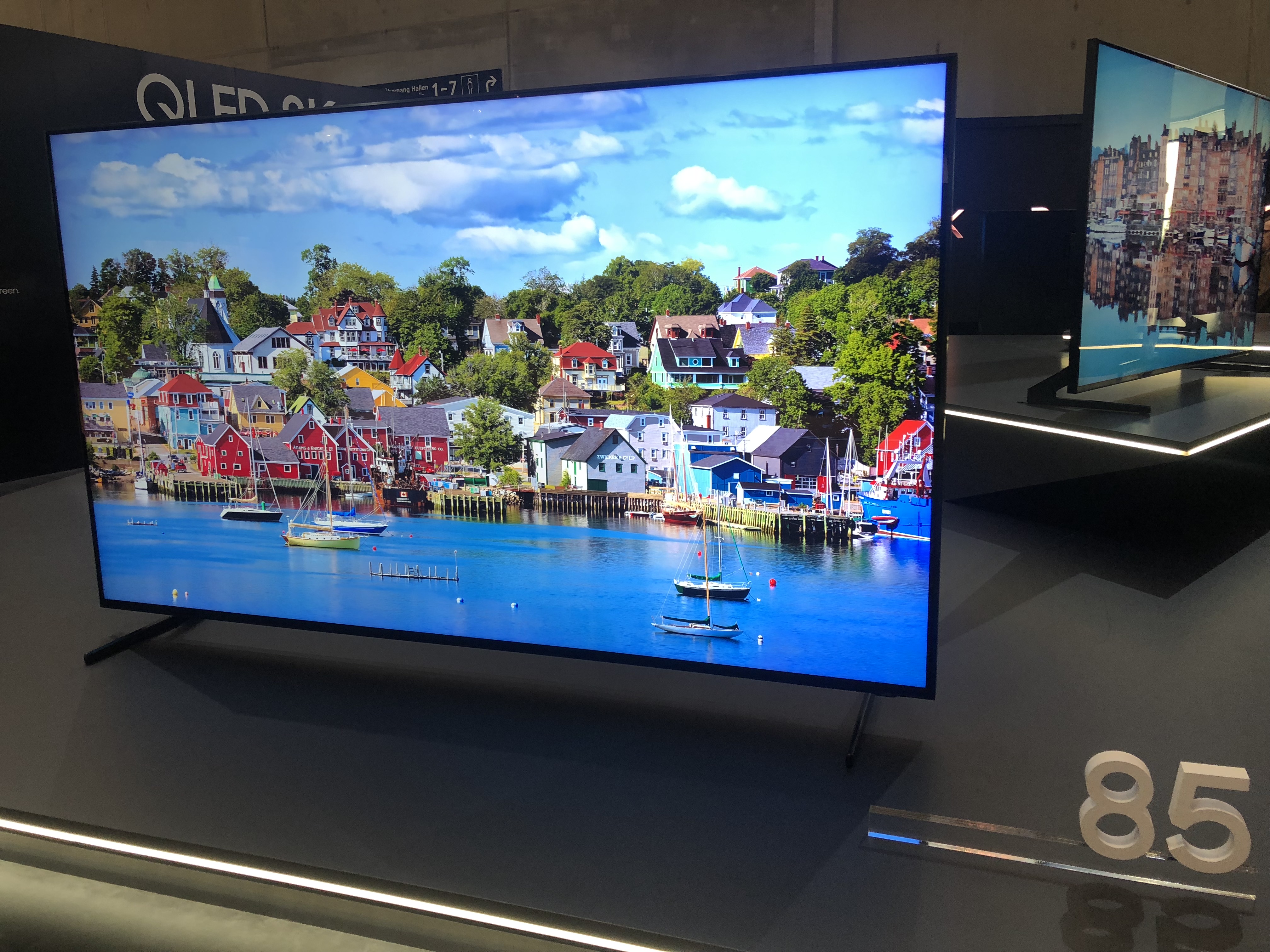 Samsung continues to set standard here. There's nothing about the interface of the Q900R that won't be familiar to a 4K QLED TV user, and that's just fine: it's a clean, logical interface, customisable and slick.
Navigating the menus is made all the more enjoyable by the small, weighty remote control. In the manner of a premium German car, all the clicks and button-presses have been tuned to feel expensive.
And the menus themselves are absolutely packed. Every streaming and catch-up service worth watching is represented, and Netflix, BBC iPlayer, Amazon Video and Rakuten are in 4K HDR. BT TV and Now TV should placate the sport fanatics, while music (streaming and internet radio) is available via TuneIn, Spotify, Tidal and Deezer.
Picture quality: IN ORDER TO SUCCEED YOU MUST (UP)SCALE
There's no argument: native 8K content looks absolutely staggering on the Q900R. Details levels are sky-high, the subtlety of shades of colour seems infinite, and the Samsung describes the trickiest patterns with complete confidence.
Motion is natural, picture noise is impossible to discern, and there's a real impression of three-dimensionality. Black tones are deep and varied, white tones clean and bright. The Q900R is so sharp and convincing with 8K that the sensation is not so much of watching a television but rather of looking out of a freshly cleaned window.
Of course, there's a problem – and it's by no means insignificant. There is no native 8K content available for Q900R owners to watch. Our review sample came complete with a USB stick of 8K content, the sort so beloved of TV demonstrations the world over (flowers blooming, slow pans over sunlit scenery, puppies having a bit of a cavort) and, as we say, it looks stupendous.
But as far as 8K discs, 8K broadcast, 8K streaming… there is none. And, what's more, none on the horizon. Which means Samsung is currently making a big deal of the upscaling potency of its 8K TVs.
Another quick look at the numbers reveals the amount of processing the Q900R has to do in order to fill its screen with a 4K signal: it has to take the 8.6m pixels-worth of information and make it fill a 33.2m pixel display. In other words, the Samsung is making up three-quarters of the onscreen image. And it does a remarkably good job of it.
With a 4K Blu-ray of Christopher Nolan's Dunkirk fed in, the Q900R serves up crisp, clean and indulgently detailed pictures. There's not, perhaps, the ideal out-and-out 'pop' to colours, but blacks are lustrous and the overall palette is pretty lifelike. Skin tones, so tricky to render in a convincing manner, are well judged. Motion – even the horribly unpredictable and quick-changing movement of sports broadcasts – doesn't cause any alarms, and the Samsung gives every impression of being completely in charge.
That's even true of Full HD material via iPlayer, though the Samsung is doing a huge amount of work to light all those pixels with just 2m-worth of information to go on. As a demonstration of engineering and programming prowess alone, the Q900R is mightily impressive.
And yet. For all that the Samsung looks very impressive when upscaling 4K content to fit its resolution, does it look any better than a 4K QLED? Any more detailed or nuanced? Any sharper or cleaner? Any more colourful or high-contrast? Not really, no. It's possible to sit closer to an 8K screen upscaling 4K content (and still enjoy a composed, believable image) than it is to a native 4K screen. And as far as picture quality goes, that's its biggest advantage.
Audio quality: not bad at all
In fact, this is where the Q900R unarguably scores overs its 4K equivalents. You won't mistake the sound this Samsung makes with that of a half-decent soundbar, but by the standards of skinny flatscreen TVs the Q900R is quite agreeable.
It has authentic low-frequency presence, and projects dialogue forward well. If you're thinking of dropping five grand on a television we'd hope you're going to allocate at least a few quid towards the audio system to accompany it – but while you're waiting for it to be delivered you won't be offended by the sound this Samsung makes.
Samsung Q900R QLED 8K verdict
Lots to like here, and even more to admire – but the Q900R is strictly for the earliest of earliest of early adopters. There's no way we need one… but do we want one? Oh yes indeed.
Stuff Says…
Perhaps 8K really is the future – but it's going to be a long journey until we get there
Good Stuff
Excellent interface
Impressive upscaling
8K content looks jaw-dropping
Bad Stuff
…There's no 8K content for you to watch