Samsung QE49Q7F review
Samsung's cheapest QLED is a TV worth getting excited about
Finally, the time has come for us to answer the burning question of our age. No, not 'What's the difference between chutney and pickle?'. What everyone really wants to know is 'Is QLED really a match for OLED?'
Samsung's certainly been talking a good game, pointing to brightness levels that OLED simply can't match and apparently flawless colour reproduction, but there's long been the nagging feeling that, ultimately, QLED is just a shiny new marketing term for dull old TV tech that doesn't stand a chance against next-gen OLED.
The truth, perhaps predictably, lies somewhere in-between. On the evidence of the QE49Q7F, QLED has the beating of OLED in some areas and falls quite a long way short in others. Whether you choose to buy an OLED or a QLED will therefore come down to which qualities you prioritise, but the fact that it would actually be a tough call between the two is a bit of a turn up for the books. I'm certainly surprised, but there's loads to love here.
Samsung QE49Q7F design: crazy, sexy, cool
The QE49Q7F is the entry point to the QLED range, which might come as a surprise given the £2000 price tag. That's still £1000 cheaper than LG's cheapest 2017 OLED, though, and the Samsung has what some people will consider quite a major advantage – it's smaller.
This is a 49in set, and that's a size that OLEDs just don't come in. At least not yet. For those people who don't want to turn their lounge into a cinema, the option of a really premium but comparatively compact telly could be pretty compelling.
And premium the Q7F most certainly is. A very smart-looking flatscreen (there's a curved version available with a £200 premium) with very slim bezels and an extremely elegant stand, this is a TV that your friends and family will coo over.
That stand has detachable panels and a channel for running your cables through, but you'll actually only have two cables dangling from the back of the telly – and one of them is almost invisible. That's because, as has been Samsung's way for a few years now, the Q7F's inputs and outputs are all located not on the back of the TV, but on a separate One Connect box. This year, though, the cable that runs from the telly to the One Connect box is impossibly thin and coloured to blend in with a light-coloured wall. It's also 5m long, so you can position the box a long way from the screen, making an extremely neat and clean setup that bit easier to achieve.
There are a couple of downsides to this arrangement – the One Connect box is a little bigger than before and requires its own mains power – but for those looking for a super-neat setup the pros definitely outweigh the cons. Don't go expecting OLED thinness, though. At 45mm this is a slim set by LCD standards, but its reliance on an LED backlight makes wallpaper thinness pretty much impossible.
Samsung QE49Q7F picture quality: punchier than Anthony Joshua
Initial setup of the Q7F (and any other QLED) is brilliantly quick and straightforward, with the set even going as far as automatically recognising the sources you've plugged into it and setting up the bundled remote so that it can control them.
The box-fresh settings aren't perfect, though, so taking a few minutes to tweak the picture is very much time well spent. Firstly, I'd suggest you completely ignore the Dynamic and Natural presets and focus on tweaking the Standard mode. Even this can seem a bit overblown at times, particularly when watching standard TV, so it's wise to drop the Contrast Enhancer down to its Medium or Low setting and also reduce the Contrast and Sharpness options by a few notches. The motion processing is pretty nasty, too – you'll want to turn it off completely or manually reduce the Blur Reduction and Judder Reduction to much lower numbers.
You can of course go further than that with the calibration, but changing just those settings will get you an excellent picture for most content. Do bear in mind, though, that HDR content will trigger an HDR version of the mode you're in, with its own default settings that need to be tweaked or disabled separately.
Seeing as I've mentioned HDR content, let's get straight into how flaming good that looks on the Samsung Q7F. HDR is all about contrast which, contrary to popular belief, isn't the same as brightness, but the fact that the Samsung's screen is so bright (1500nits) certainly contributes to making it stunningly, thrillingly punchy with HDR content. Whether you're watching the 4K Blu-ray of Planet Earth II, Marco Polo on Netflix or Bosch on Amazon Prime Video, the picture pops with vivid colours and pure, bright whites.
Explosions, lens flare and sunrises are what this Samsung was born for, and it illustrates each with breathtaking dynamism. But this is no one-trick pony, and the Q7F excels in the realms of detail and sharpness, too, digging up every last little ounce of nuance and crisply defining every edge. All of which results in an image that's fabulously lifelike and three-dimensional.
Motion is handled very well, too, even with all of the processing switched off. There's a small amount of blurring, but only enough to avoid the soap opera effect, and there's no judder at any point.
There's no getting around the fact that this or any other QLED, unlike an OLED, relies on a backlight for its brightness, and because this is an edge-lit design essentially the whole panel has to have its brightness raised just to light something in the middle of the screen. You'll notice this most during titles or credits, when a couple of white words in the centre result in the whole panel turning from inky black to dark grey, but it's obviously happening a lot of the time and means that while the colours and whites are punchier than you'd get from an LG OLED, the blacks are less black. Truth be told, the gap between the whitest white and the blackest black isn't vastly different whether you choose the Q7F or an OLED; it's that the starting points are in different places.
Ultimately, the OLED approach is more natural, but no-one will blame you if your tastes lean more to the punchy, vivid end of the spectrum, and the Q7F's backlight is at least completely uniform, with none of the clouding or other inconsistencies that often afflict LCD TVs. Viewing angles aren't amazing, though, with colours fading and blacks greying when you're watching from the sides. It's certainly not bad compared to most LCD TVs and the image is always very watchable, but an OLED will serve you better if you've got a lounge full of people watching TV together. On the other hand, reflections are kept well in check by the Q7F, making it a good performer in a brightly lit room.
The only other issue is that standard-def content looks really rather rough on this Samsung, with fuzzy edges, murky details and lurid colours rather ruining the viewing experience. Honestly, though, how much standard-def stuff do you actually watch these days?
Samsung QE49Q7F gaming performance: super-fast and oh so pretty
The Q7F is another in a long line of great Samsung gaming TVs. Game mode is still inexplicably hidden deep in the Samsung's menus, but the TV will automatically select the mode when you turn on your PS4 or Xbox One and you can activate or deactivate the mode with a voice command (more on which below), so that's less of an issue than it has been on Samsung tellies in the past.
In that Game mode, the input lag is right down around the 24ms mark, making it super-fast for super-serious gamers. It looks stunning, too, with the likes of Horizon: Zero Dawn being incredibly punchy and and packed with enough detail to really bring the brilliant world and its characters to life. There's real solidity and depth to the image, and Aloy looks terrifically lifelike, with warmth to her skin and real texture to her multitude of outfits. And the sunsets? Oh, the sunsets. All the punch and vibrancy of the Samsung makes them look utterly stunning.
That need to raise the backlight to hit those high brightness levels means you don't always get pitch blackness in the caverns and "ruins", but the overall contrast is still extremely impressive, so you won't feel short-changed. All in all, for gamers the Q7C is a cracking choice.
Samsung QE49Q7F sound: passable but nothing special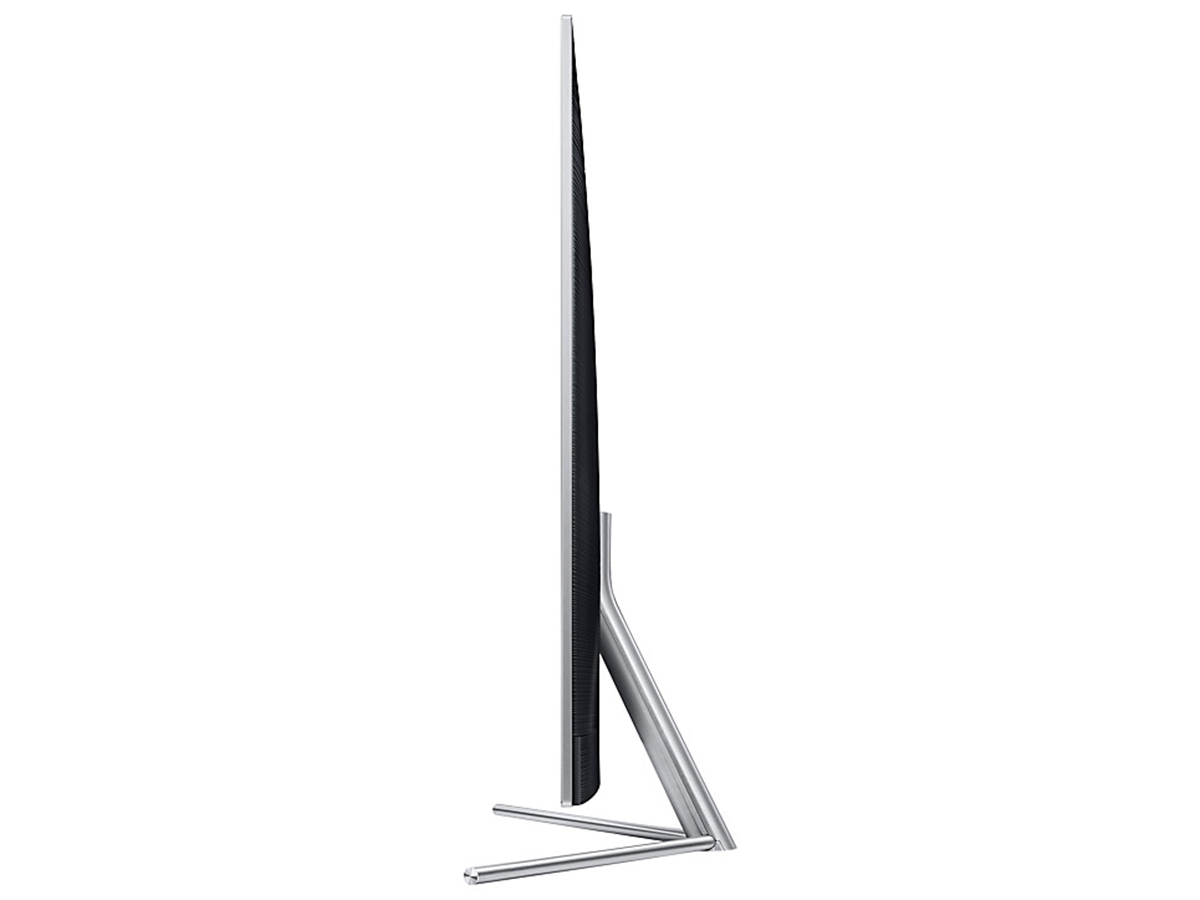 Try as they might, manufacturers are yet to find a way to make flatscreens sound great, and Samsung hasn't cracked it here. In the default mode it's relatively clear, solid and smooth, but it doesn't have any weight or project into the room at all, making everything sound quite distant.
Switch to the Optimised mode and you get significantly more punch and projection, but it's still a long way short of a half-decent soundbar or soundbase. Just to be clear; the Samsung's sound isn't bad by flatscreen standards, but it's not worth getting too excited about either.
Samsung QE49Q7F smart features: all the content at your beck and call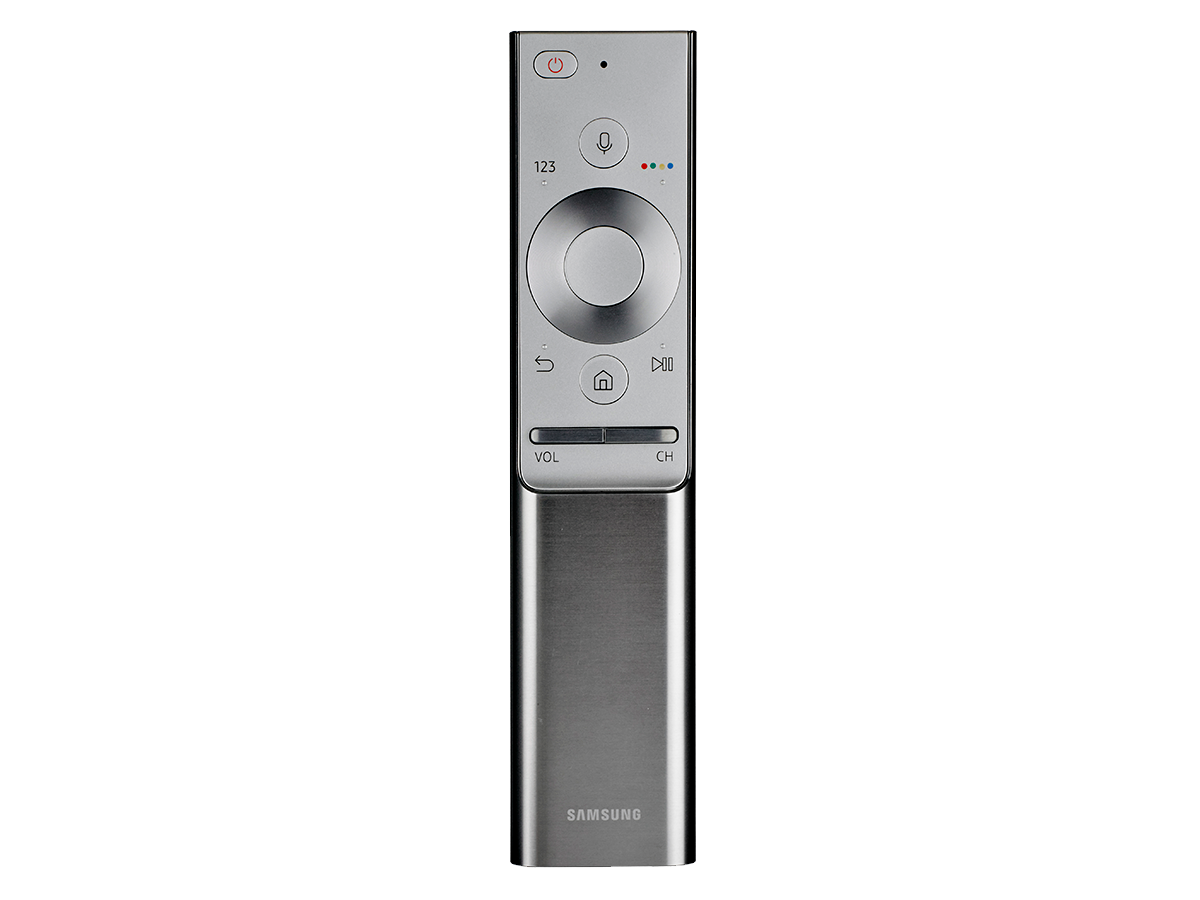 These days we expect every new TV to come packed to the rafters with streaming services, and the Q7F certainly doesn't disappoint on that front, delivering, among others, Netflix and Amazon Instant Video (both with 4K and HDR), YouTube, BBC iPlayer, ITV Hub and Google Play Movies & TV.
Where Samsung has gone above expectations is in the way it's integrated many of these apps. Each service is represented as a card that appears at the bottom of the screen when you press the Home button. Hover over Amazon, Netflix or Google Play Movies & TV and a row appears above that card with recommended or recently watched TV shows or movies. Click one and you're taken directly to it, bypassing the need to scroll through various menus and lists of content. It's a very neat shortcut.
The way paid TV services are integrated is very neat, too. If you've got Sky you'll have told the telly so during setup and it will have toddled off to the internet to access Sky's EPG. It therefore knows what's on on Sky, and when you push the Home button on the Samsung remote when you're watching Sky, it brings up shortcuts to your most watched channels, your recordings, and Sky's own Home screen, from where you can access all of the box's other features.
The Samsung remote itself is a dinky, neat and stylish little thing. There are very few buttons on it, and some may lament the lack of one-button shortcuts that are now pretty widespread on other sets, but the truth is that the combination of simplified remote and quick, user-friendly interface makes the Samsung snappy and simple to use. Voice control (activated by holding down the mic button on the remote) can be useful, too. There's the aforementioned Game mode activation and deactivation, but you can also use it to get to channels and specific programs quicker.
Say "turn on Sky Sports", for example, and a row of cards will appear representing each of the Sky Sports channels and letting you know what's currently showing on each. Say "put on The Simpsons" and, if it's currently being broadcast, the telly will present you with the correct channel.
There are shortcomings, though; the most significant of which is that the Samsung only brings in results from your TV provider and YouTube, and that prevents the voice control becoming the default way to control your TV.
Samsung QE49Q7F verdict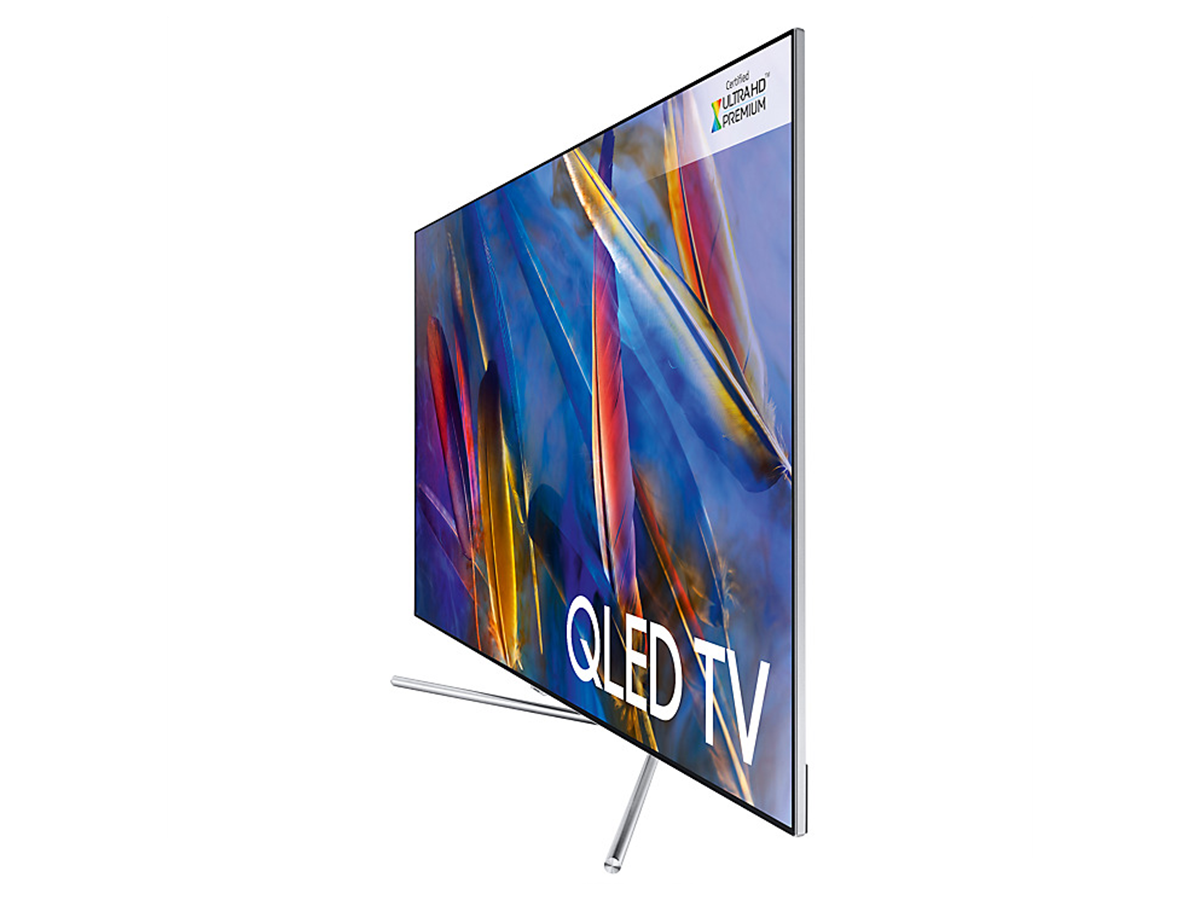 The Q7F proves that QLED is more than brazen marketing for old telly tech, and that deciding to buy a premium TV in 2017 doesn't mean buying an OLED by default. The punch and brightness on offer here is a long way above what you'd get from even the most expensive LG, and for detail and sharpness the Samsung is stunning.
The problem of having raise the light across the whole panel in order to brighten just a portion of it is one that Samsung hasn't solved, though, and it means that an LG OLED still delivers a more natural and consistent picture, with deeper overall blacks. But, as mentioned at the start, the QE49Q7F is smaller and cheaper than any of LG's 2017 OLEDs. And even if you go for a bigger Q7F it'll undercut the equivalent LG OLED on price.
We'll need to put Samsung's QE65Q9F directly against a 65in LG B7, C7 or E7 to decide once and for all whether QLED or OLED is the champion TV tech of 2017, but if you're looking for an awesome, premium TV that's smaller than 50in, the QE49Q7F is the TV for you.
Tech specs
| | |
| --- | --- |
| Display type | LCD with edge-LED backlight |
| Resolution | 3840×2160 |
| Ultra HD Premium | Yes |
| HDR support | HDR10, HLG |
| Colour depth | 10-bit |
| Input lag in game mode | 24ms |
| Connections | HDMI (x4), optical out, USB (x3), aerial, satellite, ethernet, Wi-Fi |
| Tuners | Freeview, satellite |
| Key streaming services | Netflix, Amazon, BBC iPlayer, ITV Player, Demand 5, YouTube, Google Play Movies & TV |
| Dimensions and weight without stand | 63 x 109 x 4.5cm; 14.8kg |
| Dimensions and weight with stand | 71 x 109 x 30cm; 18kg |
Stuff Says…
Looking for a brilliant, premium TV that won't turn your lounge into a cinema? You've just found it
Good Stuff
Lovely, thoughtful design
Fabulously punchy, detailed images
Superb for gaming
Great array and integration of streaming services
Bad Stuff
Doesn't go as black as OLED
Viewing angles aren't great
Standard-def looks pretty ropey