Samsung QE65Q80T review
"Big product, big price, big performance"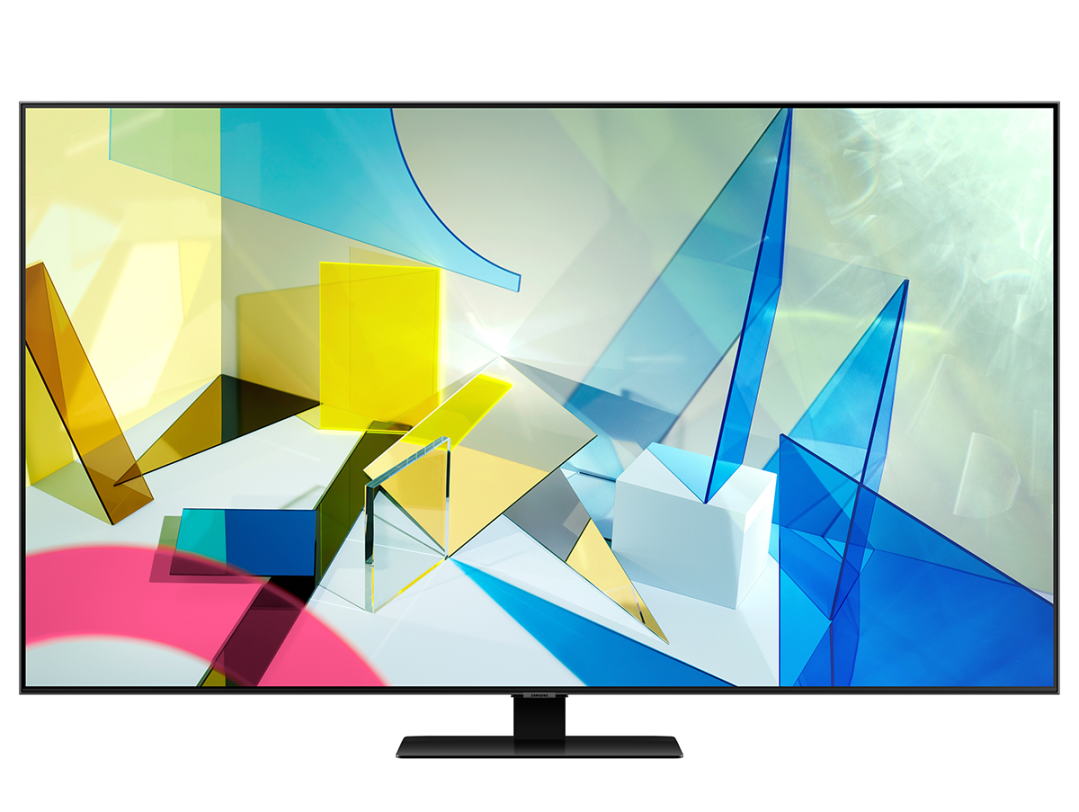 No one's expecting £2299 to mean 'entry level', are they?
£2299 is quite a lot of money for a TV, after all, even a 65in whopper. That's what the Samsung Q80T range is, though – entry-level. If you want a taste of what Samsung can do when it properly sets its mind to a 4K TV, well, it's going to cost you.
Of course, Samsung has ranges a fair bit more affordable than this. But the Q80T series is where the company starts to properly pile on the features. Q80T is a 4K UHD range, and features some of Samsung's favourite acronyms, QLED and FALD high among them. As such, it's not so much a replacement for last year's Q80R range, more an updating and refining of 2019's Q70R series.
This means Q80T might most accurately be described as 'entry level of the high end'. There are 49in and 55in versions available (as well as 75in and 85in monsters), so it's possible to gain entry to the high end for a little less than the price of this 65in model. But the basic fact is this: the Samsung QE65Q80T costs as much as some fully loaded OLED TVs from brands just as well regarded as Samsung. How, exactly, does it justify its asking price?
Design and build: Depth of character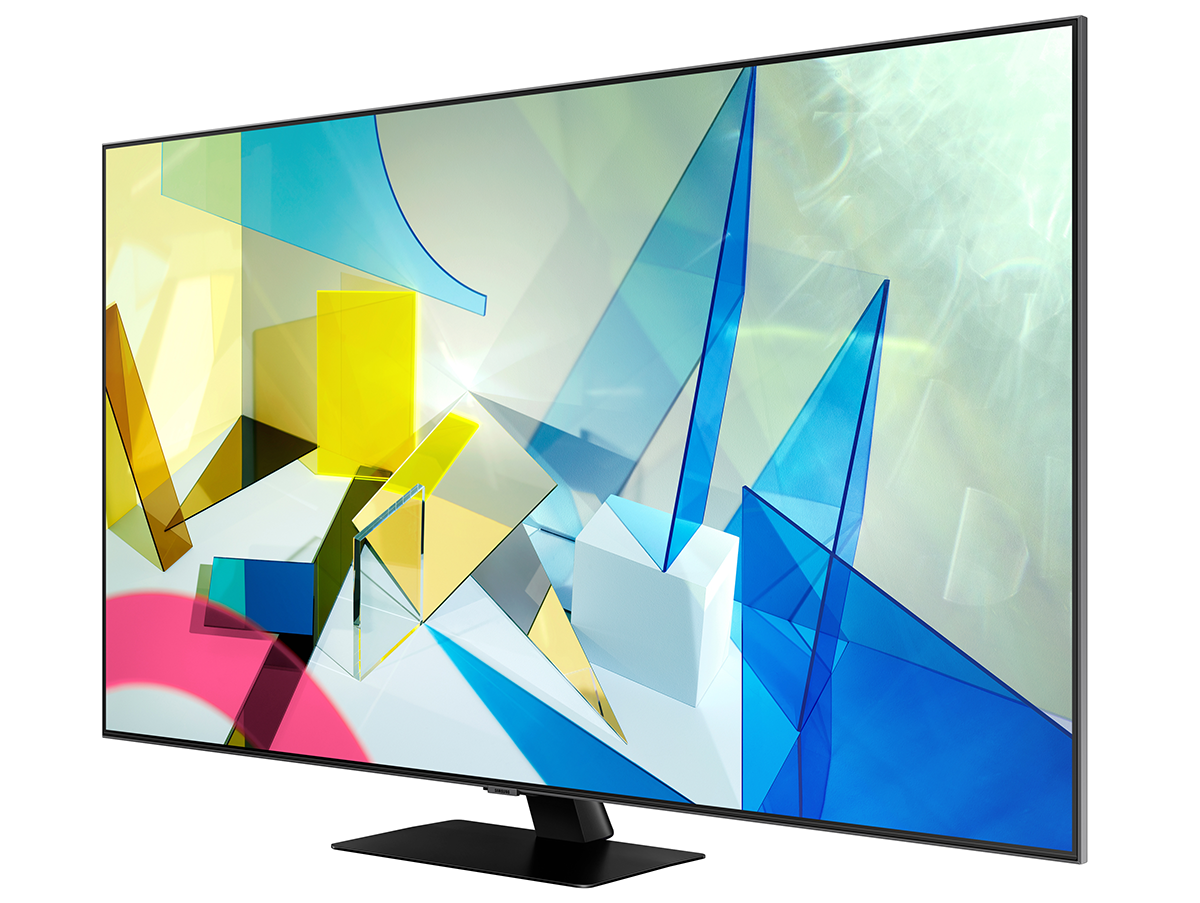 If hearts and minds are going to be won, it seems unlikely it's the Q80T's design that will do it. Unlike most OLED alternatives, which are for the most part almost supernaturally slim, the Samsung is an unremarkable 6cm deep. Which may not sound like much, but it's plenty more than its OLED rivals.
Those pesky acronyms are to blame. Samsung's QLED technology is basically a refinement of the long-serving LCD/LED arrangement, and so it requires backlighting behind the pixels. And because full array local dimming (or FALD) is the most effective but least space-efficient way to do this, the Samsung ends up looking like a bit of a bloater. Relatively speaking. (Full array local dimming means there are LEDs behind the whole screen, rather than just around the edge. They're divided into numerous zones, each of which are controllable on an individual basis. So – in theory at least – screen uniformity, contrast control and bright/dark detail levels should all benefit.)
At least Samsung has made the best of all this chassis. The bezel surrounding the screen is minimal, and has a nice brushed metal finish. The open pedestal stand is sensible, because a) if you're not wall-mounting your TV it means you don't have to have a super-wide surface to stand it on, and b) it leaves plenty of space for a soundbar. Everything is built and finished flawlessly – even the plastic of the rear panel (which you're unlikely to see much of) is pleasantly textured.
As much as a TV ever can, given that it needs to be almost all screen and nothing else, the Q80T looks and feels like a high-quality item.
Features: Lack of Vision
Big, expensive TVs – even those masquerading as 'entry level' – need to tick quite a few boxes where features are concerned. Samsung knows this, which is why the Q80T is fully loaded.
In terms of connectivity, naturally there's wifi and an Ethernet socket. There are four HDMI inputs, one of which is eARC equipped and one which will support 4K at 120kHz – the others can deal with 4K at 60Hz, which should see them right for the majority of projected PS5 and Xbox X titles.
There are a couple of USB inputs, and aerial posts for one terrestrial and twin satellite tuners. And there's a digital optical output too. Samsung is claiming a peak HDR brightness of 1500 nits, which is a 50% increase on last year's Q70R and an unarguably good thing.
As far as HDR compatibility goes, though, Samsung omits Dolby Vision from its otherwise-complete list. The company might make a strong argument as to why Dolby Vision isn't necessary – it does, in fact – but it doesn't alter the fact that consumers like to cover as many bases as possible. It's not fantastical to imagine someone with well over two grand to spend on a new TV having both Netflix and Amazon Prime Video subscriptions, and thus having access to content in both HDR10+ and Dolby Vision HDR.
And if Panasonic and Philips can manage to include each and every HDR standard on its top-end TVs, Samsung could too. It just chooses not to.
In audio terms, the Q80T is packing what Samsung's calling 'Object Tracking Sound'. This is basically an array of six speaker drivers, four positioned near the bottom of the screen and a couple angled upwards near the top.
This '2.2.2′ arrangement (Samsung's description, not ours) is designed to offer a much wider sonic presentation than is the norm with flatscreen TVs, and nods towards sound following the movement of on-screen action too.
Interface: The OG OS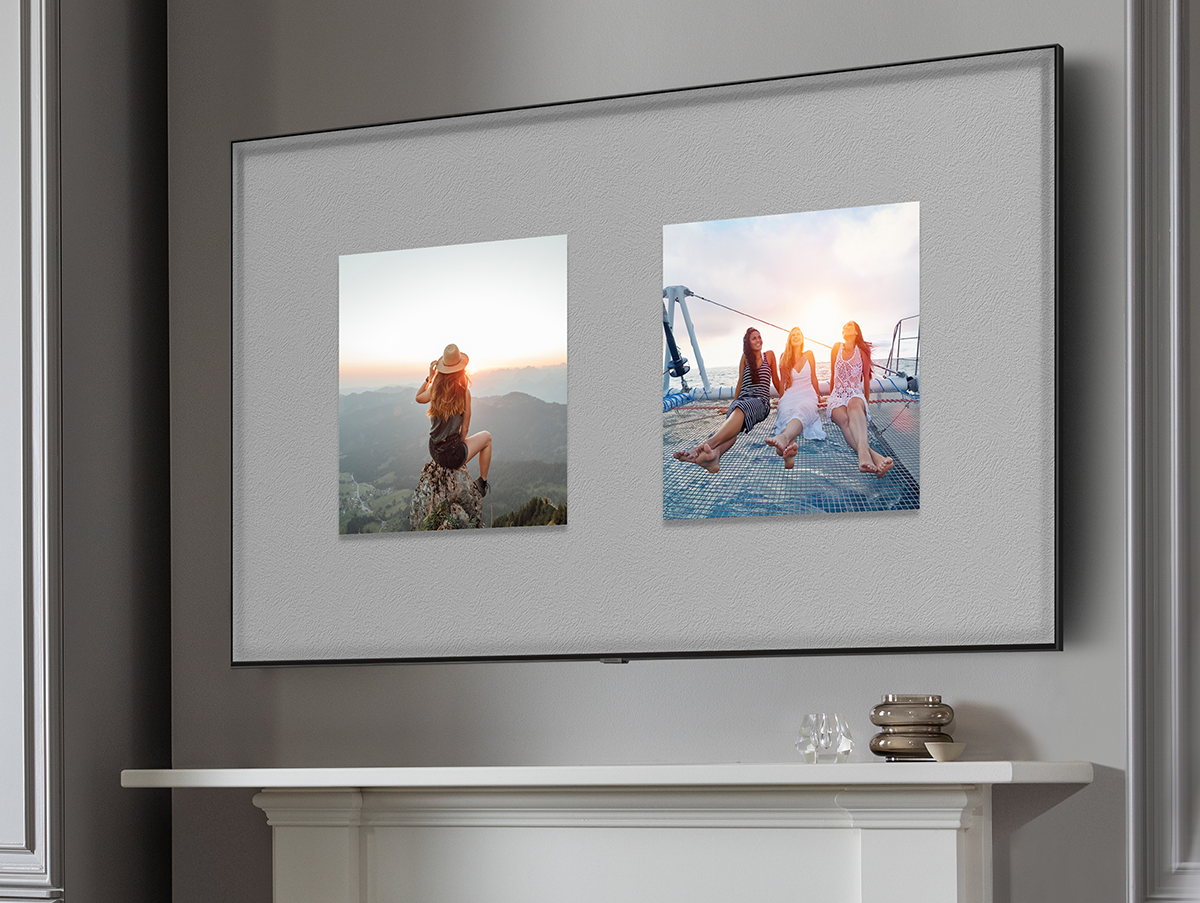 If there's one area where Samsung has left its rivals playing catch-up, it's the user interface/operating system area. The company's Tizen-based platform is everyone's favourite, and for 2020's TVs Samsung has finessed it to be even more logical and satisfying.
It's a two-deck interface that manages to be good-looking and intuitive at the same time. It's smooth scrolling and stable, and incorporates every worthwhile streaming and catch-up service going (as well as quite a few that aren't all that worthwhile).
The lack of Freeview Play is a bit jarring, but if that's the trade-off for such a well-realised operating system then we can live with it.
Navigating the interface (and the mercifully brief and sensible set-up menus too) is done using one of the two supplied remote controls. The first is a cheap and over-buttoned handset that will doubtless be supplied with the smallest and most affordable of Samsung's TVs too, the other is a much nicer controller with fewer buttons and a much more positive action.
Weirdly, it's a plastic device – but move even further up the model range and this same handset is supplied in a metal finish. Q80T might be entry-level after all.
Performance: The Fast Show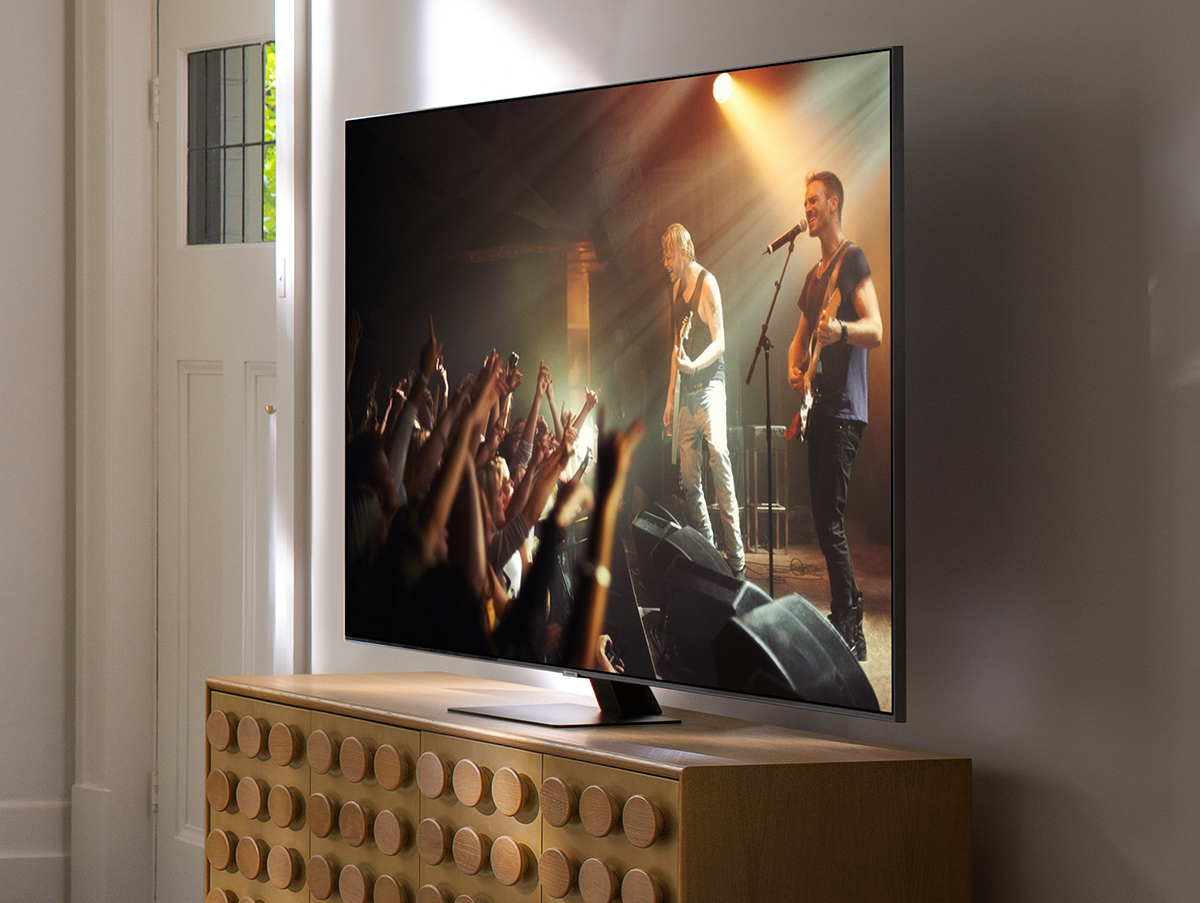 Samsung's fitted the Q80T with its outstanding Quantum 4K processor in an effort to make this big screen look good with sub-4K content – and in that it's been almost entirely successful.
Even when given a bog-standard BBC broadcast of University Challenge to deal with, the Q80T looks impressive. The eccentric clothing choices of the contestants enjoy vivid (but not overblown) colours, convincing textures and well-controlled patterns, and contrasts are strong but well-controlled throughout. Skin-tones and textures are believable, and fine detail levels are high enough to make the brand of the presenter's wristwatch legible.
Changing up to a 1920 x 1080 Blu-ray disc of The Master presents a much sterner challenge, and it's one the Samsung rises to without any apparent effort. The colour palette is wide-ranging and convincing, motion is gripped firmly enough to keep movement smooth, and there's a stack of detail revealed even in the darkest scenes.
Picture noise is suppressed really well, even when Joaquin Phoenix disappears into the desert astride a motorcycle – the wide-open sand-and-sky scene, with its massive amount of uniform colour, stays clean.
Contrasts are impressive, with as little bleaching of the white tones as there is crushing of blacks. The presentation is absolutely confident and assured – the Q80T is an accomplished upscaler. So as you'd hope after this lead-in, native 4K content looks an absolute treat.
A 4K HDR10+ Blu-ray of The World's End is lavishly detailed, pops brightly where it needs to and delivers strong contrasts without alarms. Colours are potent, movement is rock-solid and the overall impression is straightforwardly life-like.
As well as all of this good news where TV and movies are concerned, the Q80T turns out to be a brilliantly accomplished games monitor. Samsung's 'Games Motion Plus' processing keeps PS4 titles running absolutely smoothly and with little in the way of lag – but turn it off and you're looking at latency of less than 9ms.
No other brand's TVs are as quick to respond. The enthusiasm of this review falls away just a little when talk turns to sound quality – but let's be honest, the only TVs that sound even half-decent cost a lot of money and have speaker arrays that either say 'Bowers & Wilkins' or 'Technics' on them.
The Q80T does sound a fair bit bigger and better focused than the majority of alternatives, but that doesn't mean you shouldn't give strong consideration to a soundbar. The QE65Q80T's images demand better audio accompaniment than it can manage alone.
Samsung QE65Q80T verdict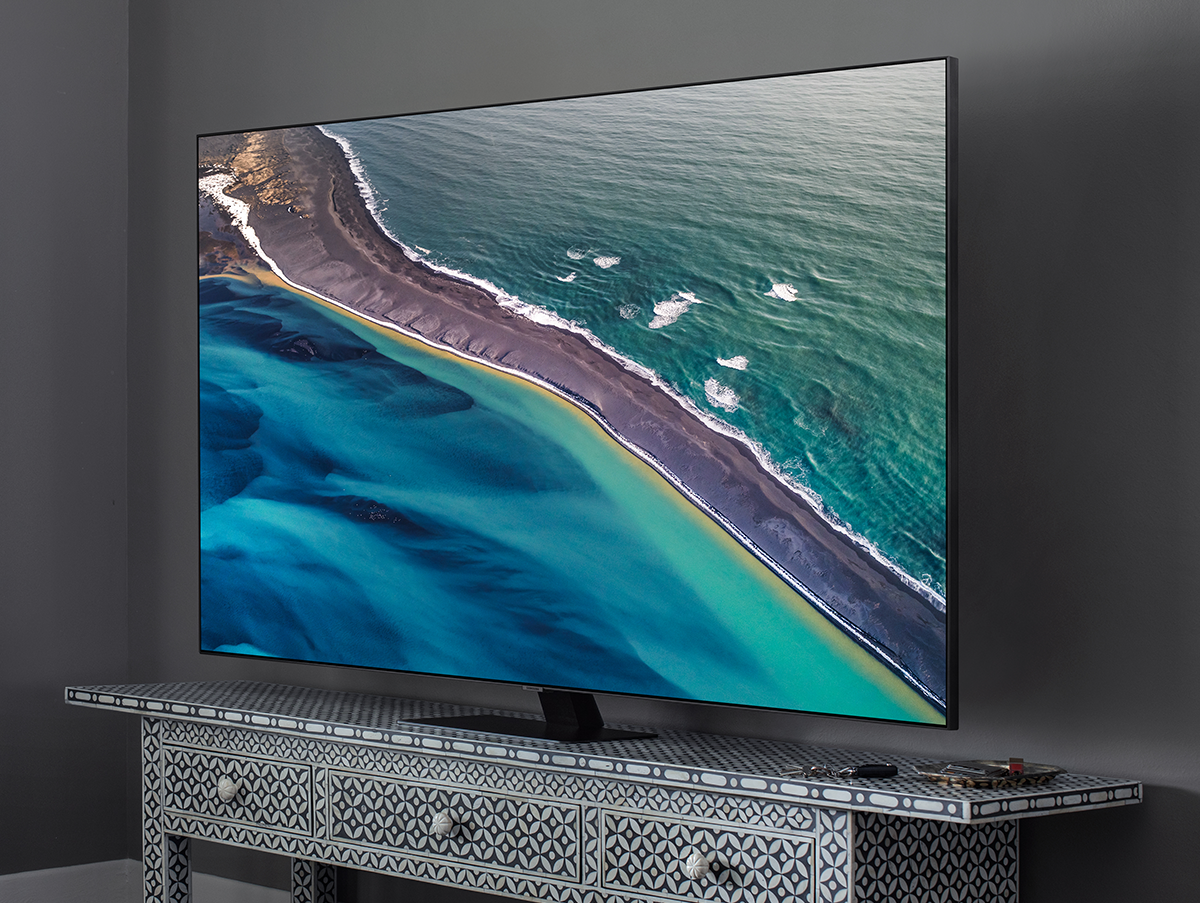 It's hard to pick holes in the Q80T. Yes, it has one obvious spec shortcoming and yes, it goes back a bit further than an OLED would.
But where it really counts – picture quality – it needs no apologies made for it. If two grand for a new TV seems fair enough to you, you absolutely have to see this one.
Stuff Says…
Expensive? Obviously. Worth it? Definitely.
Good Stuff
Punchy, colourful, high-contrast pictures
Accomplished upscaler
Super-fast with games
Great OS
Bad Stuff
No Dolby Vision
No Freeview Play