Samsung UE43RU7020 review
Not sexy, not aspirational, just really good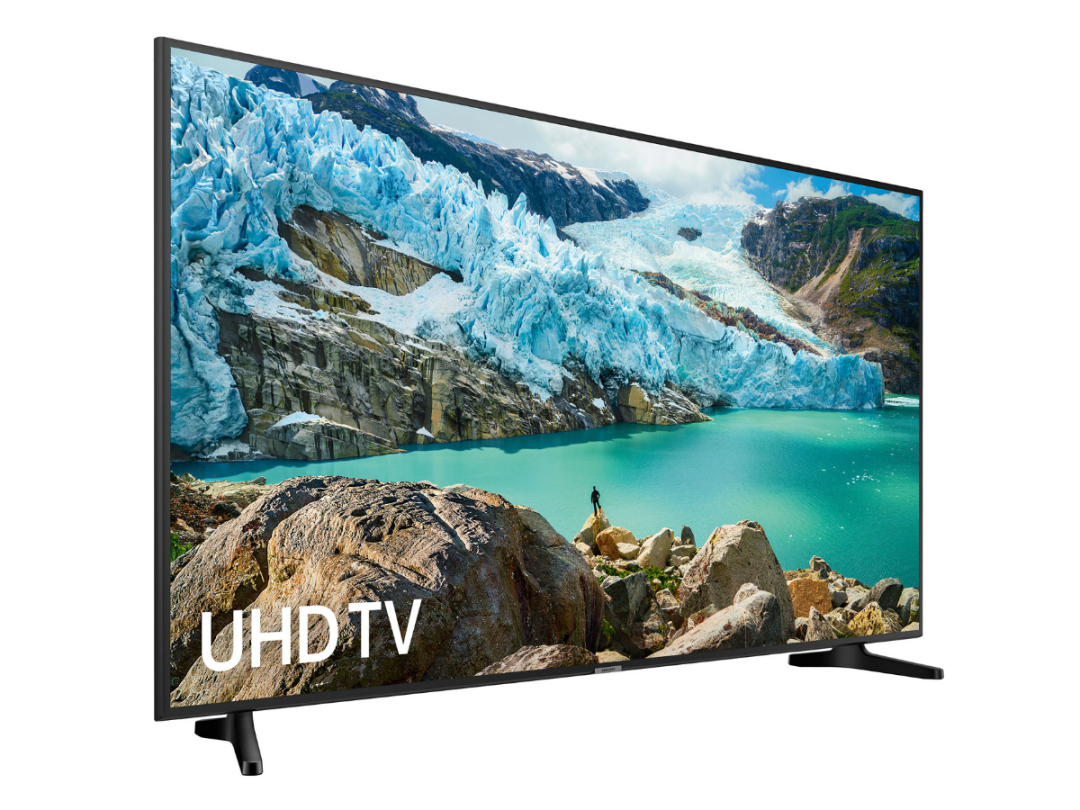 You wouldn't know it from most TV manufacturers' model line-ups, but out in the real world the majority of customers don't want, don't need and can't afford massive TVs with massive specifications and massive price-tags.
What most customers want is a reasonably sized TV with a decent specification and a price that isn't similar to that of a nearly new Range Rover. Televisions like this exist, of course – it's just that TV companies tend not to draw too much attention to them. Not sexy, not aspirational.
This Samsung UE43RU7020 is a case in point: a titchy (43in) screen at an unremarkable price, it's actually the smallest and most affordable 4K TV Samsung builds. The Korean giant would much rather you had a look further up its model range. Much further up, ideally.
But the UE43RU7020 has, on paper at least, plenty to recommend it. It's the right size for those who don't want to give over a whole room of their home to watching TV; its 4K HDR specification makes it compatible with the state of the mainstream TV art; and its eye-catching price is only going to go one way, especially when Black Friday rolls around.
Shouldn't Samsung be making a much bigger deal of this TV?
Design and build: Job done
Be honest: do you really care what your TV looks like when it's not switched on? As long as it's built to last, as long as its bezels don't make it loads bigger than it otherwise would be, and as long as it has feet to stand on or can be hung on the wall, does it matter if it's a triumph of industrial design? Of course not.
The UE43RU7020 is plasticky, sure. But the plastics that comprise its bezels its rear panel and its simple feet aren't thin or creaky, and everything looks and feels built to last. The bezels themselves are slim enough, the feet are sturdy enough and the rear panel has cutaways for input sockets and mains power, so the Samsung should be simple enough to hang on a wall. Job done.
Features: What You Want vs What You Need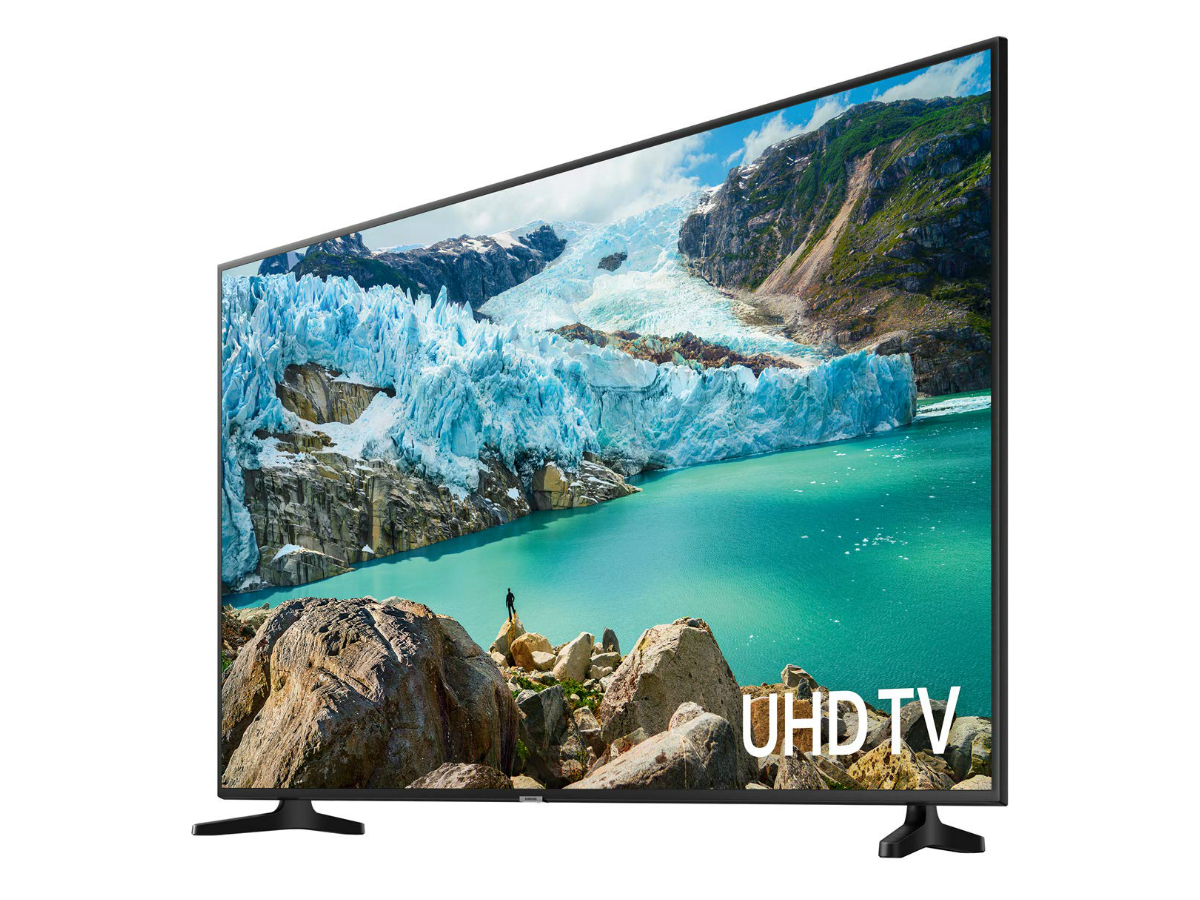 As far as features go, the Samsung has everything you could reasonably expect at the price, and one or two pleasant surprises too.
In terms of what you might 'reasonably expect', this is a native 4K (3840 x 2160) resolution LCD TV with LED backlighting around the edge of the screen. It's fitted with three HDMI 2.0 sockets, on of which is ARC-enabled. It has a couple of USB sockets (although neither can be used for PVR purposes), plus analogue component and composite inputs. The other physical inputs run to a CI slot, an Ethernet socket and a digital optical output. Wireless connectivity is covered by integrated Wi-Fi, Bluetooth and Apple AirPlay 2. Digital TV reception is via RF aerial – there's no satellite tuner on board.
Probably the most pleasant of the pleasant surprises is compatibility with the HDR10+ dynamic metadata standard along the more predictable HDR and HLG. Yes, Samsung was a prime instigator of HDR10+, but nevertheless its appearance of the most humdrum of all Samsung's 4K TVs is very welcome. Anyone with an Amazon Prime Video subscription (or the relevant 4K UHD Blu-ray discs) should be able to enjoy a far more nuanced, punchier and brighter picture than they might otherwise have been served.
There's an equally welcome bit of news for 4K gamers, too. Samsung is claiming a response time of just 10ms when the screen's in 'Game' mode – staggeringly rapid, in other words. No other TV we've seen comes close to bettering that speed.
Interface: Look, Don't Touch (Unless You Have To)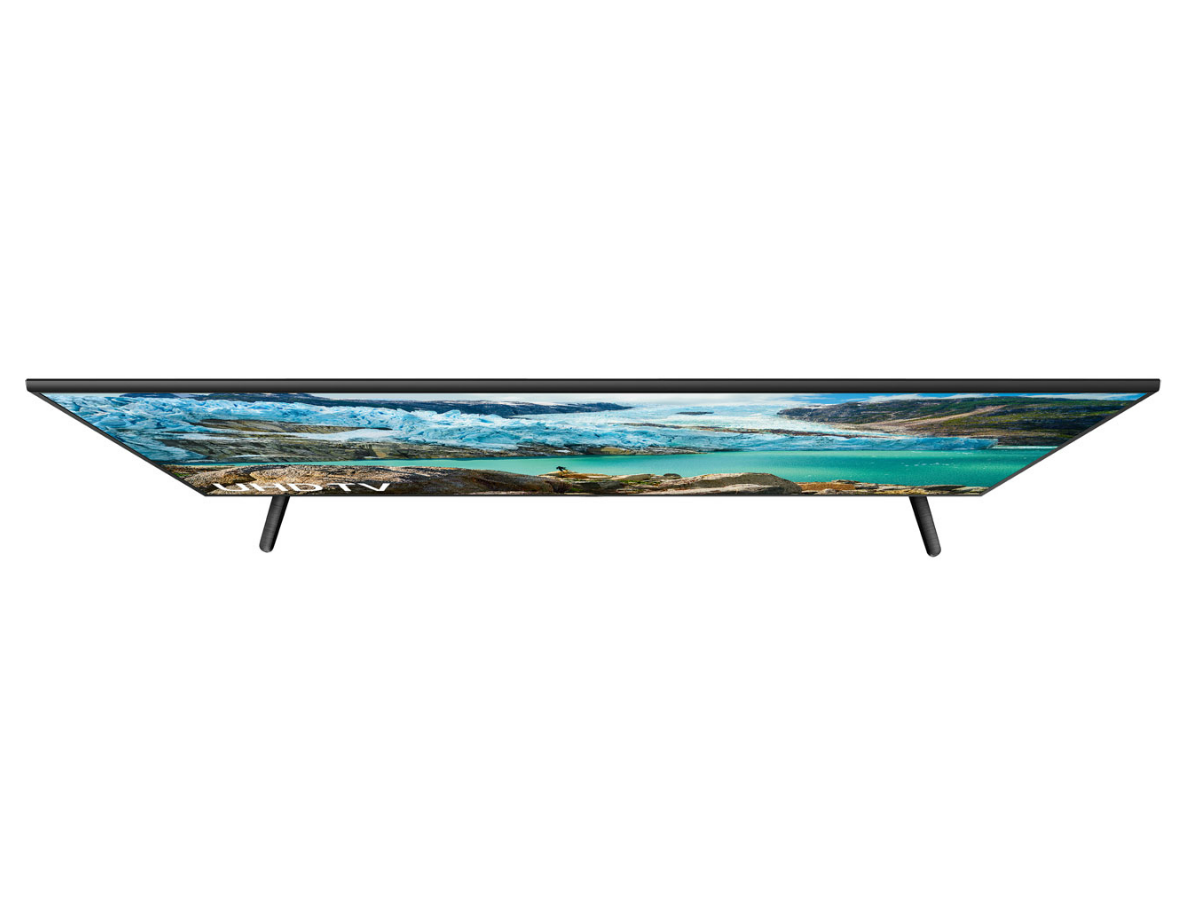 Choose your own cliche here. 'Six of one, half a dozen of the other'? 'A game of two halves'?
In one respect, the Samsung is streets ahead of its nominal competition. Its Tizen-based operating system is the same as that found on its wildly expensive QLED TVs – and it's bright, logical, responsive, easy to customise and fully featured. It only covers half the screen when it's engaged, it has all the apps you might reasonably expect (up to and including Apple TV) and it's simple to navigate. Every other screen at this sort of price looks like a simpleton by comparison.
On the other hand, you navigate these lovely on-screen menus using a remote control that would have been deemed 'unacceptable' back in 2009. Small, plasticky, with too many buttons, too much emphasis given to 'direct access' buttons to the likes of Rakuten TV (for pity's sake), way too crowded… it's unpleasant in every respect. And the RU7020 is not all that quick to respond to button-presses, either.
There's a degree of voice control available if you put the Samsung on the same network as a mic-equipped Amazon Alexa or Google Assistant device, but that's only for the basics. Everything else has to be done using the remote – and it's the one element of the UE43RU7020 that will make you feel like you should have spent a bit more money.
Performance: Look, Don't Listen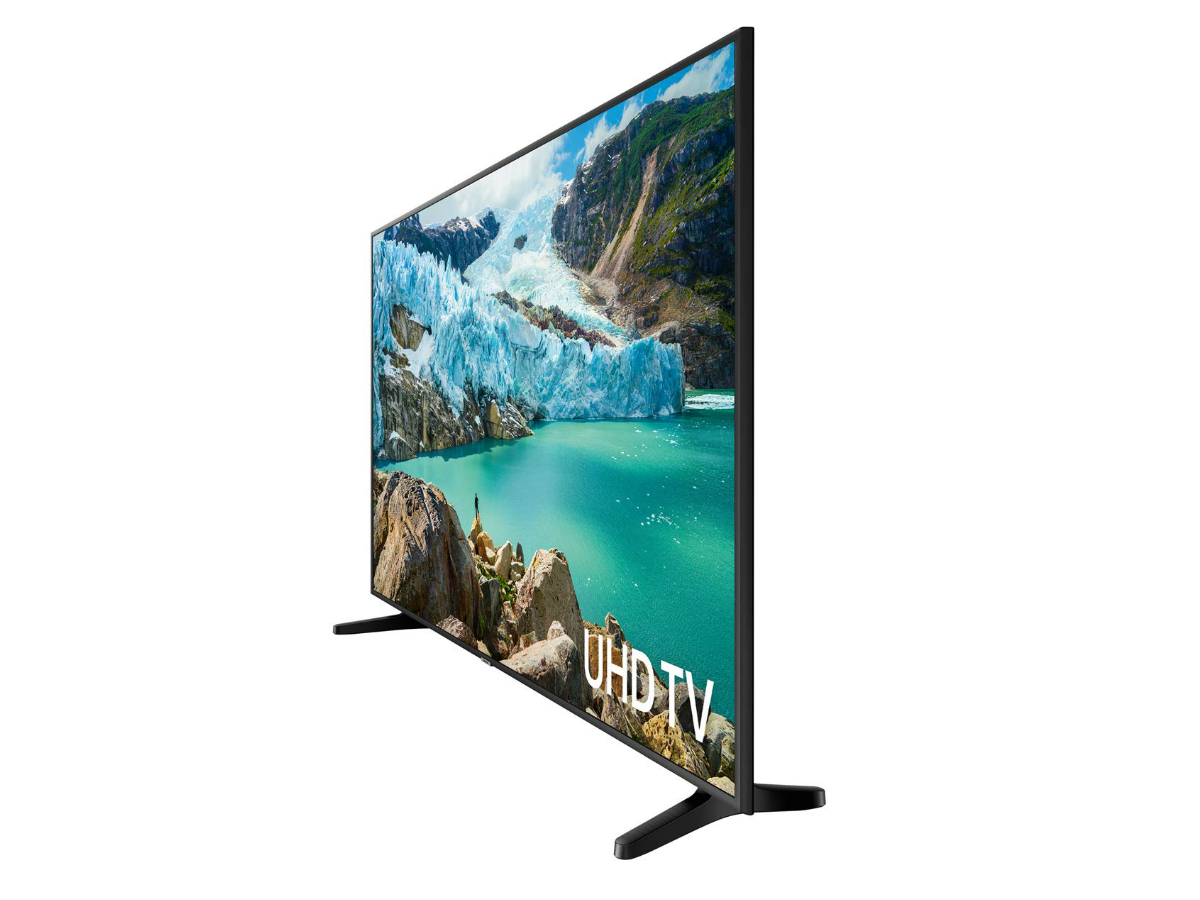 As we said, this is a TV for the real world – and in the real world, a lot of what gets displayed on the Samsung's 4K panel will be upscaled from 1080p sources. Or from even lesser standards, sometimes. So it's good to note just what a capable upscaler the RU7020 is.
The bright (some might say 'garish') colours of BBC Three's RuPaul's Drag Race UK are preserved in all their glory when the Samsung is upscaling the 1080p signal to fit its screen. Movement is handled well, edges are drawn confidently and there's plenty of detail on display. Contrasts are, on the whole, strong and well-defined too – certainly the white tones stay clean and bright. There's noticeable crushing of black tones, though – the subtle gradations of shade and shadow in a black ball-gown (for example) end up rather uniform and featureless.
The Samsung's not immune from picture noise, either, especially in darker scenes, but on the whole it proves a competent and competitive upscaler of content never intended to fill a 4K panel.
Native 4K stuff is, inevitably, more accurate and more enjoyable. It's only a small leap of imagination from RuPaul's Drag Race UK to Amazon Prime Video's starry King Lear, and the Samsung is more than able to make the difference in resolution obvious. Its colour palette, HDR-assisted of course, is wide and convincing – shades are vibrant but not unnatural. Detail levels are sky-high – Anthony Hopkins' skin-tone and -texture is completely convincing – and the difficulties the Samsung previously experienced with black tones all-but disappear.
A 4K UHD disc of Ridley Scott's deathless Alien allows the Samsung to make its case even more strongly. It's skillful enough to let distant stars shine brightly even when they're mere studs on the inky black cushion of space, and there's little suggestion of the dreaded 'haloing' around them. Motion is handled confidently, even in the most testing circumstances, and there's impressive three-dimensionality to the deep long shots Scott is so fond of.
(It's worth mentioning the Samsung's 'Eco' mode at this point. It's to be avoided at all costs, as its impact on HDR images is significant. Indecisiveness and fluctuation between HDR lighting levels is distracting, and it's only when 'Eco' mode is engaged that the UE43RU7020 displays this trait. Save the planet or ruin your viewing experience? The choice is yours.)
The only area of performance where the Samsung seems like a product built down to a price is sound. No one's expecting a small, plasticky TV to produce any worthwhile bass, of course, and sure enough the 7020 can't. But there's no reason a pair of full-range drivers with 10 watts of power each should sound as hard and sibilant as they do here. There's an HDMI ARC socket on the 7020, a digital optical output too, and they're there for a reason. Make use of one of them if you can.
Samsung UE43RU7020 verdict
When you're talking about an entry-level TV you expect there to be compromises, no matter who the manufacturer is. But the compromises here are milder and less numerous than might reasonably be expected, which makes the UE43RU7020 a little bit of a bargain.
Stuff Says…
Way better than its place in the Samsung pecking order might suggest, the UE43RU7020 is an unassuming cracker
Good Stuff
Good colour balance and contrasts
Brilliant OS
HDR10+
Impressive upscaling
Bad Stuff
Rotten remote control
So-so sound
Unhelpful 'Eco' mode