Samsung UE65JS9000 review
Subtle curves and crystal clear colours make for a top Samsung TV
Samsung is the big chief of TVs right now. Every TV the Korean company threw at us in last year was nothing short of stunning.
That doesn't mean every model was born equal, though. We saw improvements climbing up the range, from the budget Samsung UE48J6300 to upper class Samsung UE55JS8500. First class is where the UE65JS9000 belongs though, in that top tier of awesomeness that Samsung awards with SUHD status.
With 2016's new models not set to arrive in the UK until just before the Olympics, this Samsung is one of the best TVs you can buy before the upcoming summer of sport kicks in.
super, splendid, salad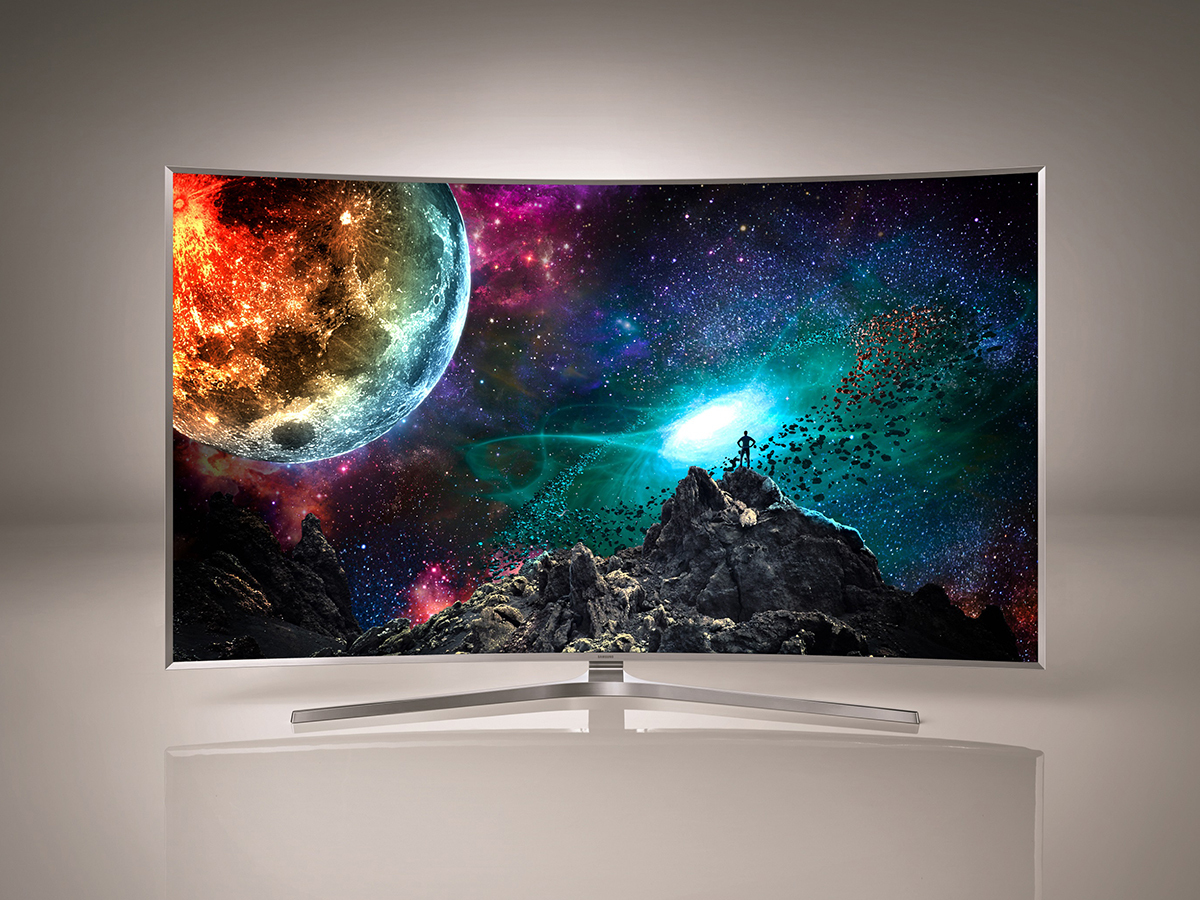 What is SUHD? Well, the 'UHD' is for Ultra High Definition, commonly referred to as 4K. It means a resolution of 3840×2160, or 8.3 million pixels. That's plenty for a 65in screen.
As for the 'S' bit, nobody knows what it stands for. It could be anything from 'super' to 'shepherd's pie' (but probably the former). It refers to the use of nano-crystal technology.
This utilises a thin film of tiny crystals is used in the display panel, which supposedly leads to 2.5 times higher brightness and 64 times greater colour expression compared to regular TVs. And no, Walter White had nothing to do with them.
STURDY AND CURVY
While there's a fair bit of new tech in this Samsung, it doesn't wander far from the same look we saw throughout 2014's range: slim bezel, minimalist stand, with a single skinny column holding it all up. That's no bad thing though.
Some of the lower models have an issue with wobbling, but not the UE65JS9000, which is a lot sturdier and a lot more metallic. That makes it heavy, though. You'll want to phone your most obedient friend to help with installation.
Marketing fluff aside, there's still no real explanation for the curve – a TV design trend that first cropped up in 2013. Some like it, some don't, that's down to individual taste. Wall mounting isn't an issue, however.
Single people or couples sitting in the centre will benefit the most, as the curve has a slight 'wraparound' effect and can aid immersion. Big families or groups with people sitting at the side, however, may find the non-uniform tapering distracting.
This particular curve is gentle, which means viewing angles are fairly forgiving. You could sit around 40 degrees off centre without messing up your picture.
Connections aside
This being a model from Samsung's almost-flagship range, it is thoroughly connected, which is good if you're a fan of plugging things in. The highlights are: four HDMI sockets, three USB ports (one of them a 3.0), optical digital output, ethernet, as well as aerial and satellite connections.
You won't find any of these on the TV itself, however. Samsung does this thing where it puts all the connection on a separate little box they call 'One Connect', an that box connects to the TV via a single proprietary cable.
Why? It saves space on the telly and also means you can plug in your PS4 without fiddling/swearing/getting a cramp at the back. Most excitingly, it's about futureproofing. Samsung sees these One Connect boxes as an external upgrade option, so you won't need to buy a new TV just to get the latest connections, chipsets, and smart features.
Curiously, Samsung doesn't see 3D in the future. This set supports active 3D, but no glasses are provided. We can't say we're heartbroken.
Tizen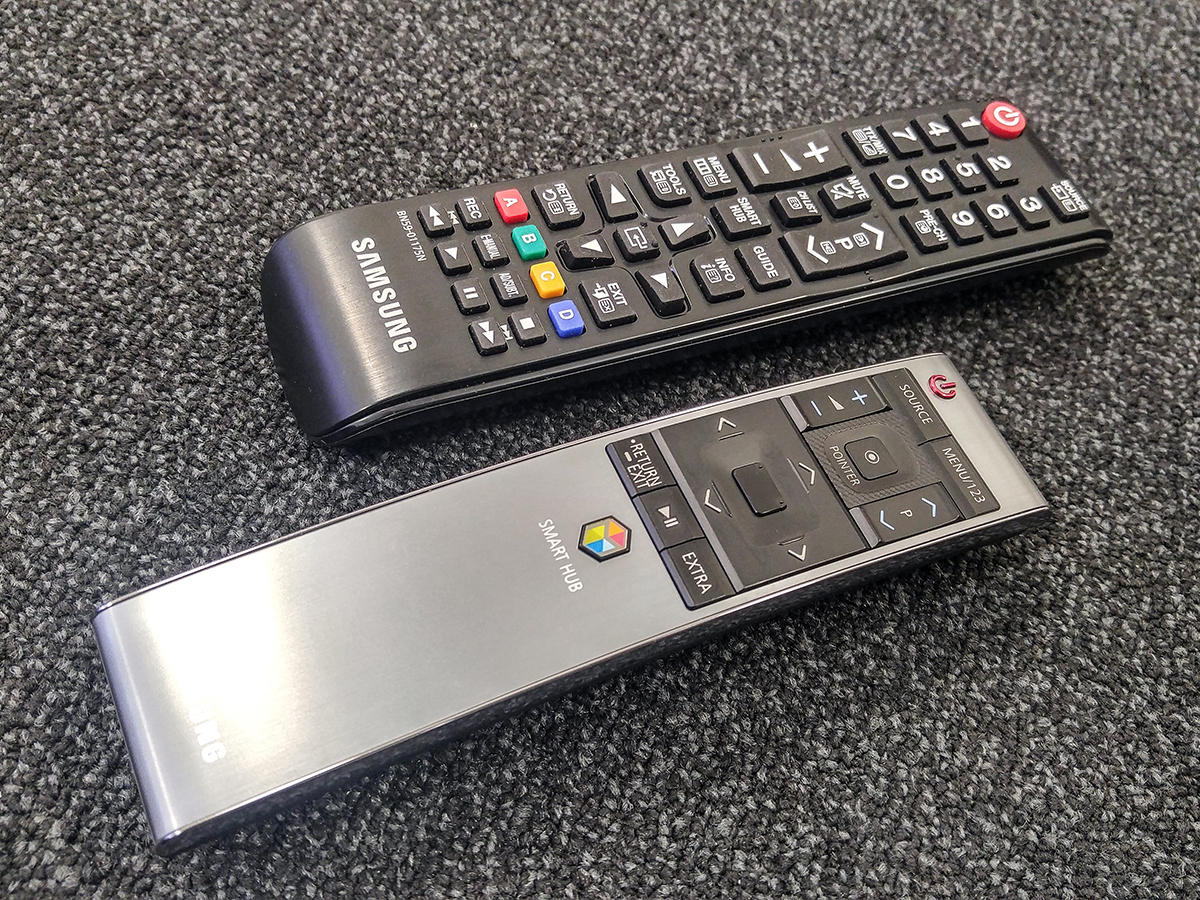 Running everything is Tizen, which sounds like an energy drink but is actually Samsung's open source operating system. It looks, uh, 'inspired' by LG's lovely WebOS interface. You can multitask and switch from TV to input to app as easily as changing channels.
No longer are you kicked out and dragged to a separate smart hub landing page every time you want to switch to an app. Instead you get a colourful pop-up bar that works like a Blu-ray menu: navigation doesn't interrupt whatever you're currently watching.
It's a neat and useful idea, which genuinely helps to juggle your various content sources. It could be a little slicker, however. Even with an octa-core processor, this Samsung isn't as smooth or snappy as LG's offering.
There are two remote controls: a traditional button stick and a futuristic one that curves like a banana. This has fewer buttons, instead relying on its motion-based pointer.
Picture perfect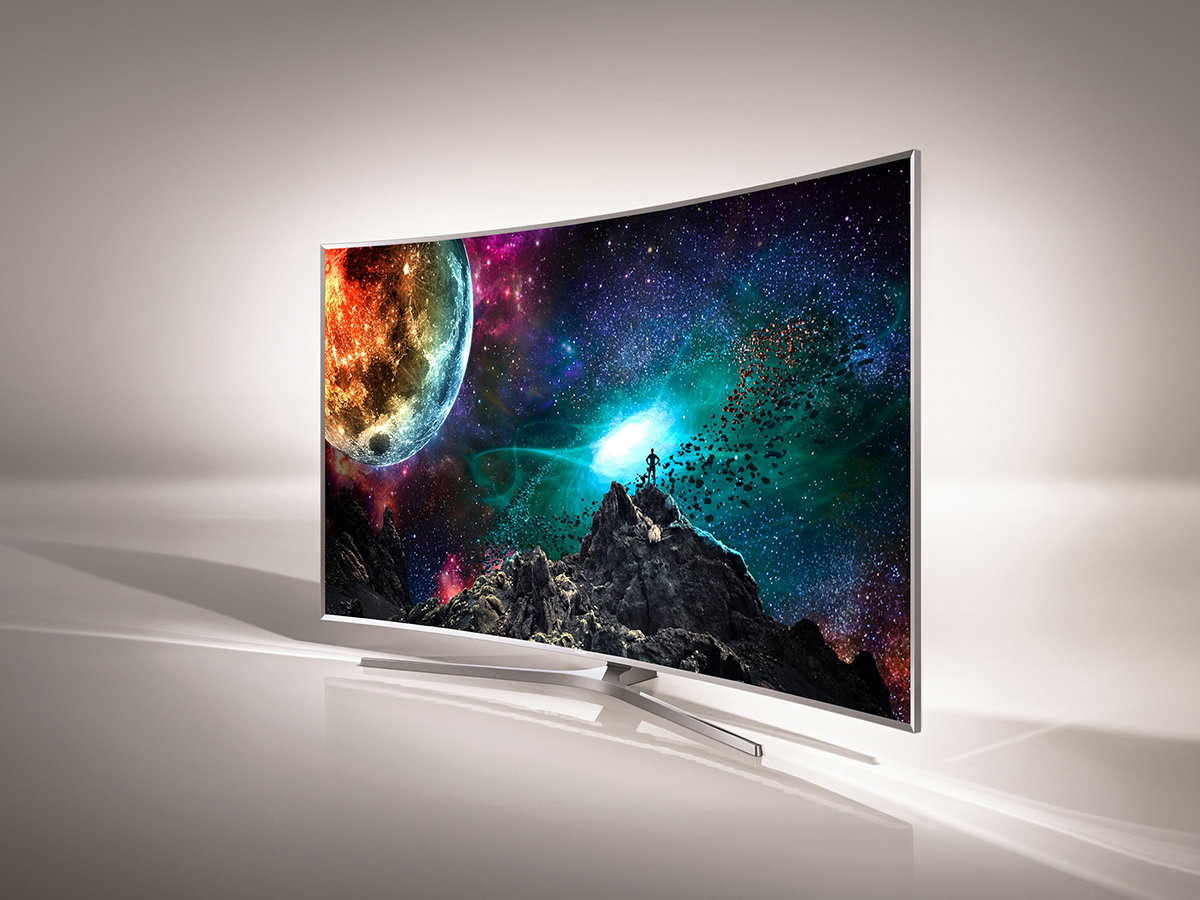 When it comes to picture quality, this thing is absolutely gorgeous. Thanks to Netflix and Amazon, there's a lot more UHD material (like Daredevil, Breaking Bad and House of Cards) to watch these days and that content really makes the most of those 8.3 million pixels.
Images are clean and sharp, and so clearly drawn that you could count the moles on Morgan Freeman's face. If you're into that sort of thing. There's hardly any picture noise either.
This Samsung is a strong upscaler. Step down to a Blu-ray and sharpness is still such that you will never feel the need for extra resolution. Standard definition (DVDs and most TV channels) takes an obvious dip in sharpness and clarity, but you still get impressive definition.
What about those nano-crystals, then? It seems like they work, because those colours are undeniably lush. They're vibrant and dynamic, but never exaggerated enough to look unrealistic. Contrast is great too: bright whites and deep blacks are expertly juggled. Those black levels are surprisingly deep for an edge-lit LED TV. Samsung's local-dimming tech works wonders.
It gets even better with HDR (high dynamic range). There is hardly anything available in HDR right now, but the little we found on Amazon Video looks wonderful. It takes an already gorgeous picture and turns it up to 11: contrast is wider, colours are more vivid, and bright areas just leap off the screen.
Oh, and the sound: flat screens tend to sound harsh and thin, but this Samsung bucks that trend. What you get is hardly the stuff of hi-fi speakers, but there is a decent amount of weight, and it's clear without making you wince. It's widely spread, too.
Samsung UE65JS9000 VERDICT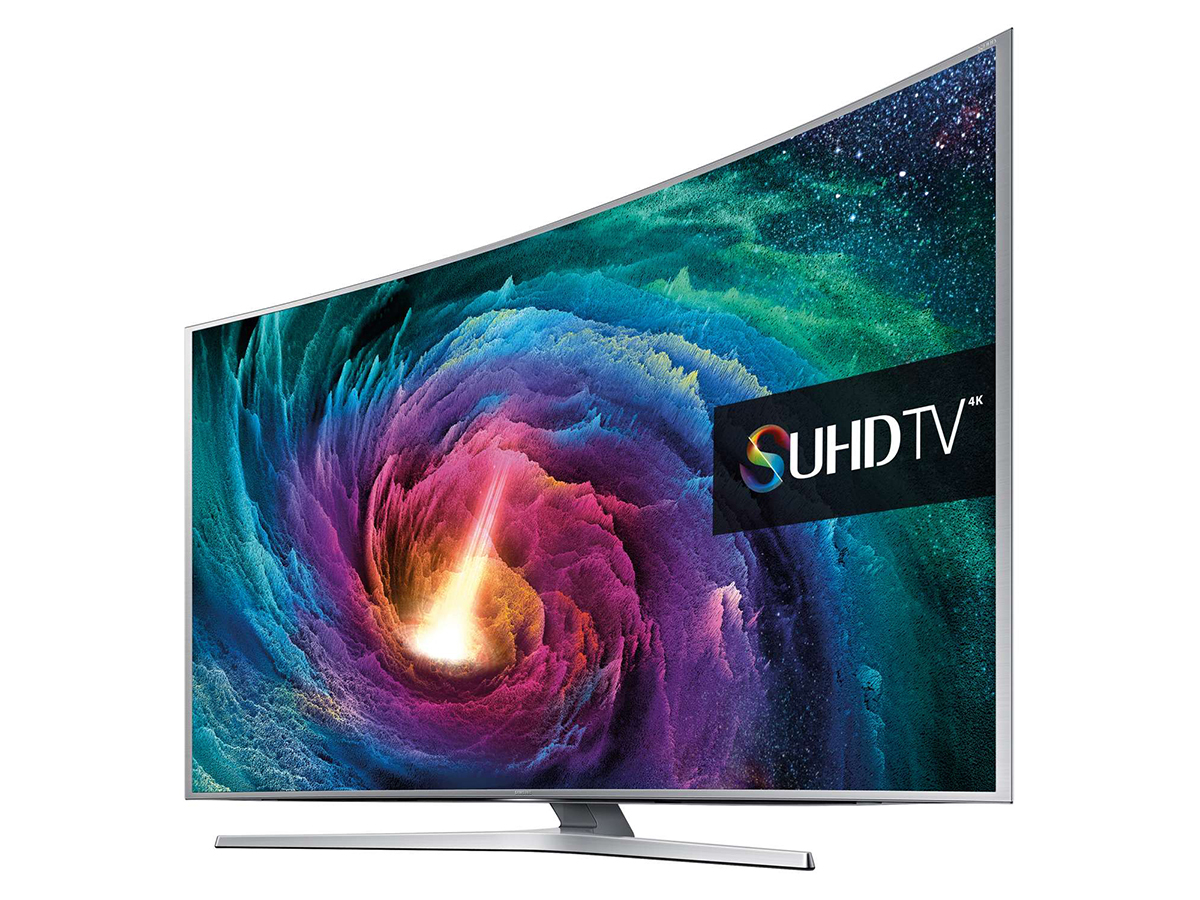 Sure, you could get a more affordable TV than this and be perfectly happy. Samsung's own UE48J6300 is a praticularly great buy for just over £500.
Sometimes you just need something more. Something super. Something special.
Depsite its sizeable price tag, the Samsung UE65JS9000 is deserving of your cash. It's a fantastic 4K TV for anyone with deep pockets or a hefty overdraft.
Tech specs
| | |
| --- | --- |
| Connections | HDMI 1.4 x4, USB 3, Composite, Component, Digital optical output |
| Resolution | 3840×2160 |
| Aspect ratio | 16:9 |
| Screen size | 65″ |
| Dimensions (mm, with stand) | 915.7×1464.6×366 |
| Dimensions (mm, without stand) | 836.8×1464.6×107.7 |
| Weight (with stand) | 33.1kg |
| Weight (without stand) | 30kg |
Stuff Says…
Samsung does it again: this is a thing of beauty.
Good Stuff
Incredible sharpness
High contrast
Lovely colours
That curve
Bad Stuff
3D glasses sold separately
That curve