Saygus V2 hands-on review
Get one or be V squared, could Saygus have made the first giant killing phone of 2015? Time will tell.....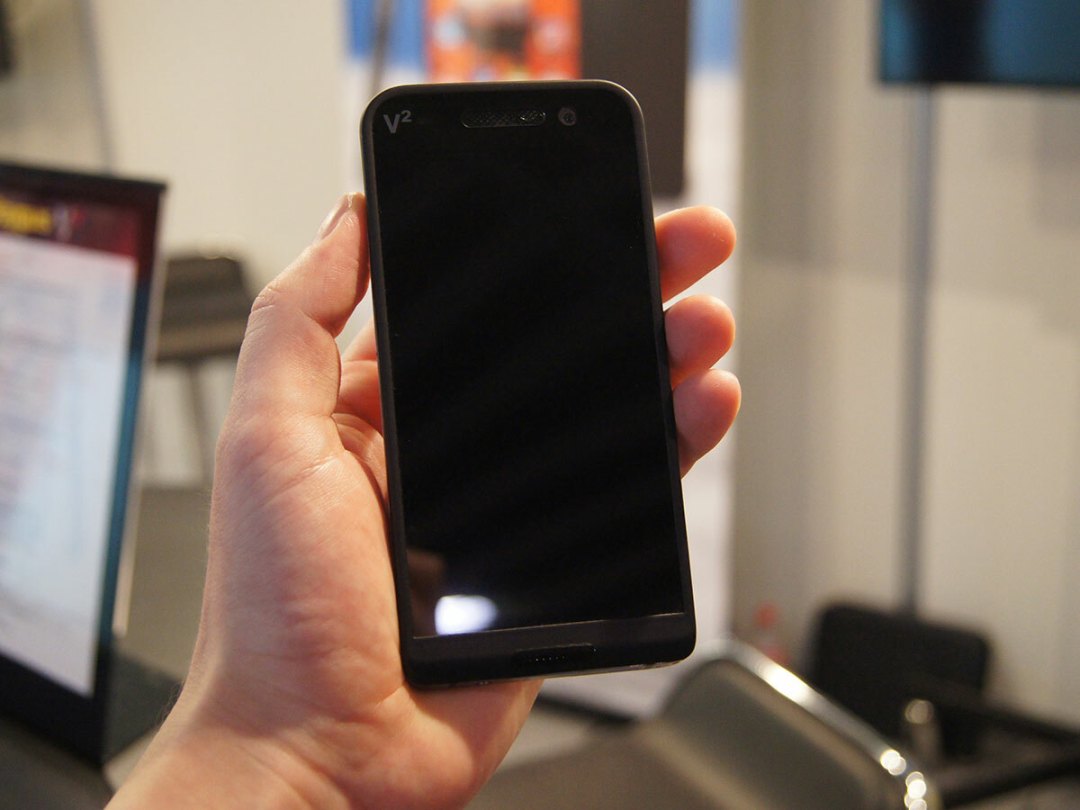 At CES a little known company called Saygus caused some pretty big waves by announcing a phone that ticked practically every box on the nerd phone checklist – and at MWC we're finally able to get a little hands-on time with it.
A big part of the Saygus V2's appeal (that's V squared, by the way) can be expressed in simple specs – a huge battery, loads of storage, plenty of power, abundant megapixels – but one feature is a bit more complicated and unusual. It's called Wireless HD, and it's the crux of the demo at MWC.
You can now play The Room 3 in HD on your TV, satisfied? We think so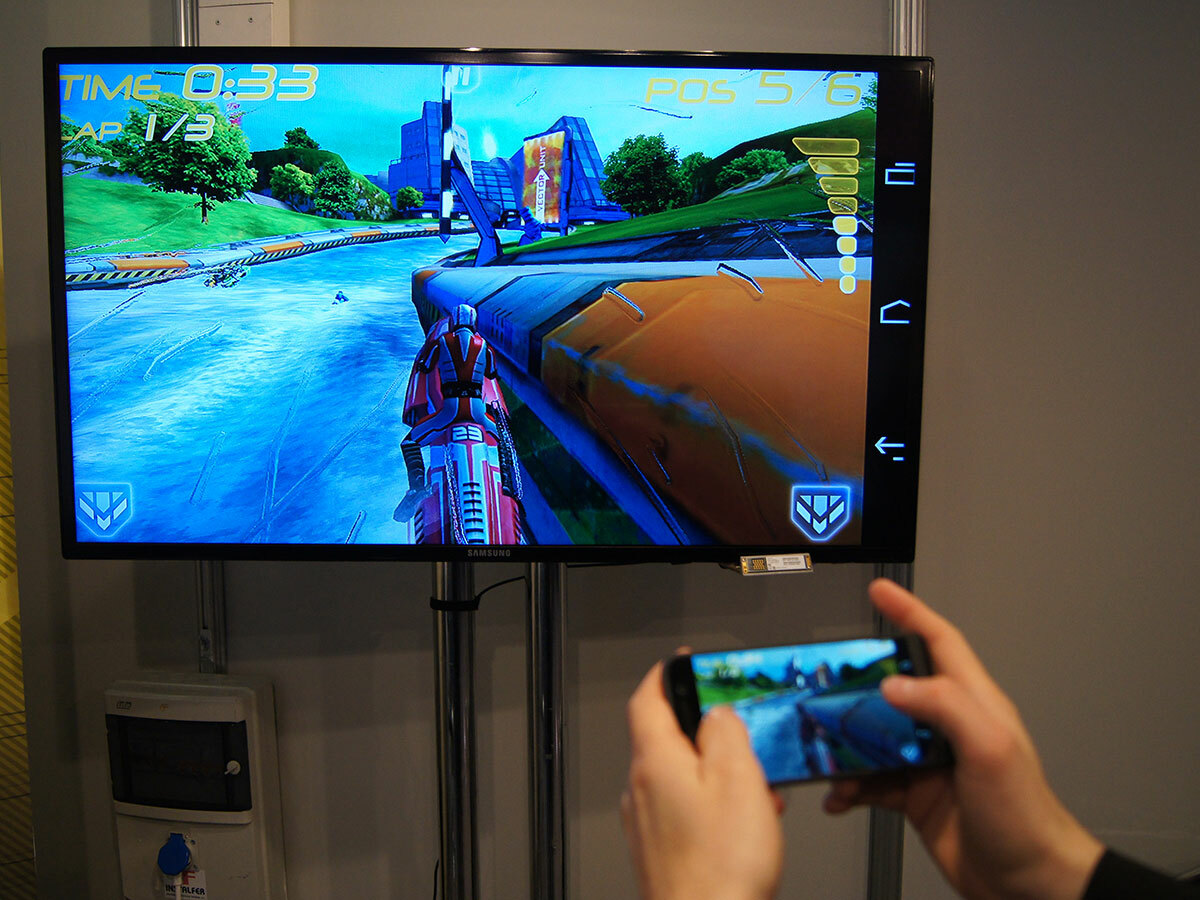 Wireless HD (WiHD to its friends) simply means you can wirelessly transmit whatever you're doing directly to your TV. In 1080p. At 60fps. With 7.1 audio. Obviously that's great for movies, and the Saygus guys "treat" us to a portion of "classic" Costner/Kutcher vehicle The Guardian as evidence. It's pretty compelling (the tech, not the film) – it doesn't look quite Blu-ray-sharp, but this is a fine 1080p presentation. But what makes the tech really impressive is the latency – or lack thereof. Saygus says the delay is 1ms or less, which means it should be as instantaneous as a physical cable.
To prove it I'm given a go on jet ski racing game Riptide. Sure enough, this feels as responsive as you'd expect from a wired connection, and using the TV screen as your display works a treat. Using this method, the phone becomes simply a controller for bigger screen gaming, and when you factor in the ever increasing quality of the graphics and overall experience of smartphone games, this could well be a really worthwhile feature.
There is one issue to overcome, though, and that's the cost. The WiHD transmitter is obviously built into the V2 itself, but you need a receiver that you plug into one of your TV's HDMI inputs – and currently these cost between about $150 and $400. You've clearly got to be very committed to the concept to spend that much, but Saygus says it's working on its own receiver with a target price of under $50. If it manages that I can see every V2 buyer bundling one in.
Is 464GB enough?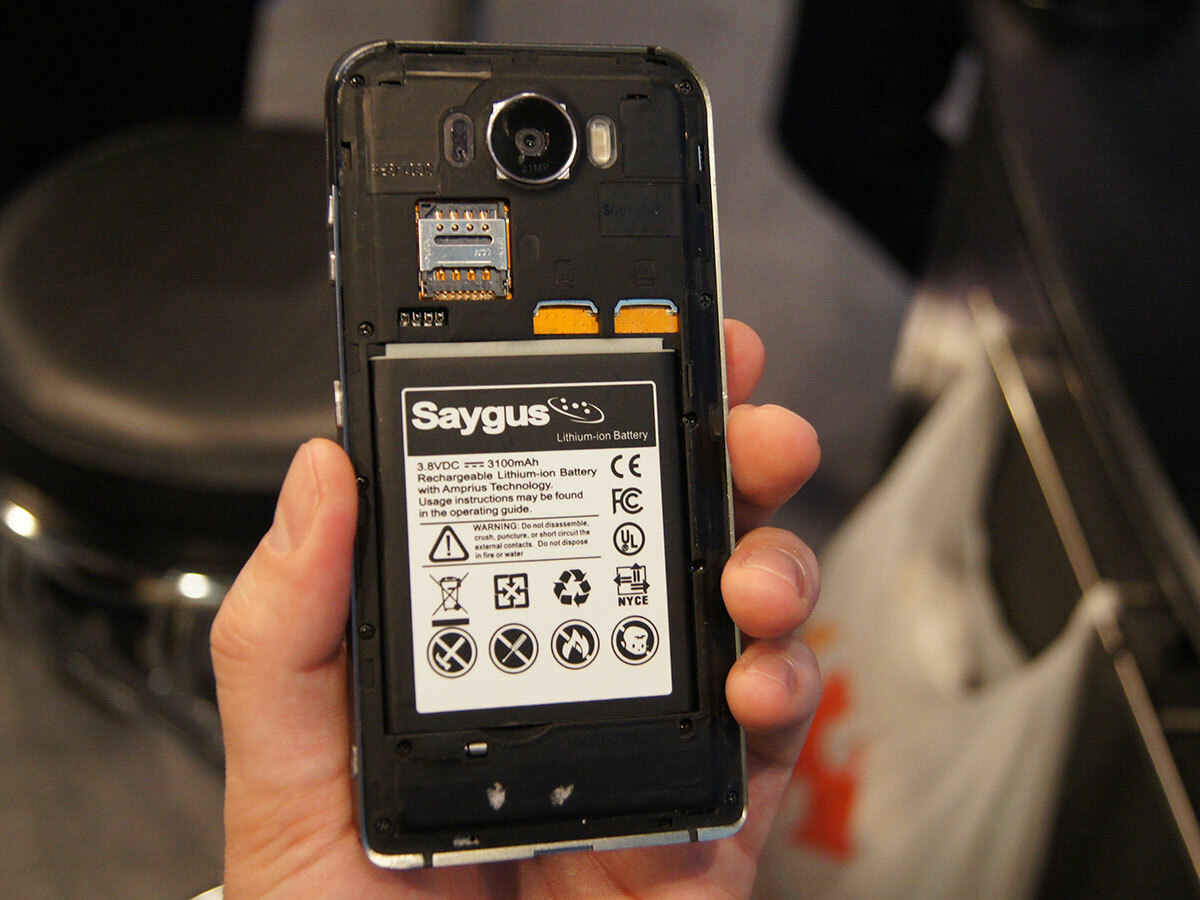 Another interesting bit of new news from Saygus is that it's building in support for SanDisk's freshly announced 200GB SD card. Put one in each of the V2's two slots and you've got 400GB of storage, plus the 64GB that's built-in. Who needs 464GB of storage in a phone? I've no idea, but I'll be damned if I don't think that's nerdily awesome all the same.
There was little time to put the processor, camera and battery to the test during the brief demo at MWC 2015, but it's got the specs to succeed – a Snapdragon 801 processor is no longer cutting edge, but it's fast enough for 2015 and beyond, a 21MP sensor on the back and 13MP one on the front suggest it should take pictures that are very decent, and the 3100mAh battery (which is removable) has turbo boost tech that apparently means it performs more like 4600mAh. Harman/Kardon sound, an edge-mounted fingerprint scanner and an IP7 waterproof rating round-out a package that appears to tick every box.
Is all that enough to turn the V2 into a giant killer? We'll find out for sure when the imminent review sample arrives. But if you're already convinced, you can pre-order one now (for delivery in 6-8 weeks) from the Saygus website.