Sennheiser Ambeo Soundbar review
Sometimes biggest is just the best
Questions, questions.
Why has Sennheiser decided now is the time to branch out from headphones and pro comms products and deliver a Dolby Atmos soundbar? Why is it so big? Why is it so expensive? Shouldn't you spend this sort of money on an actual Dolby Atmos system if that's the sound you're after? And, once again, why is it so big?
There are short answers, but where's the fun in that? The long answers are just below…
Design and build: Carry That Weight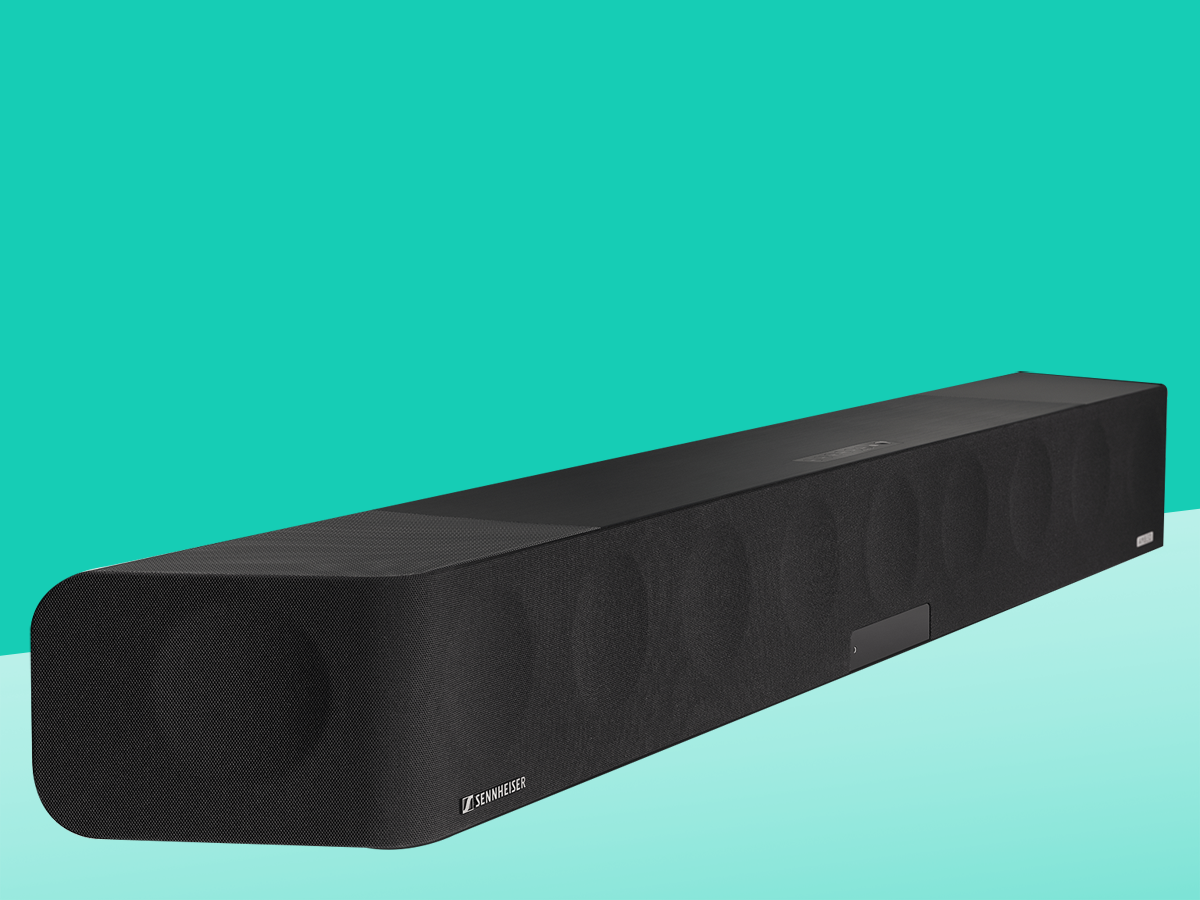 Where do you stand on Brutalism? It's a stark, geometric design language, for sure – and it's not to everyone's taste. But it's the first thing that sprang to mind when I first heaved the madly large (12.5cm x 126.5cm x 17cm, h x w x d), madly heavy (18.5kg) Ambeo Soundbar from its packaging. It's an absolutely uncompromising, unapologetic piece of functional design. It looks like a big, purposeful soundbar, one that's been at the steroids. The fact it's only available in basic black does nothing to reduce the impression of bulk.
So any prospective owner is going to need a) a big TV to put the Sennheiser under, otherwise it's going to look a bit daft, b) lots of space for the Sennheiser to do its Dolby Atmos thing (more on that below) and c) a proper brick wall on which to mount its bigness.
(Despite delivering the most expensive soundbar the market has ever seen, Sennheiser somehow has come to the conclusion that charging another £50 for a wall-bracket is OK.)
As far as build quality goes, there's equally little to discuss. The Ambeo Soundbar is built to last – it feels like it could survive any number of household catastrophes (the most likely of which, let's face it, is its 18.5kg weight towing it off a plasterboard partition wall and onto the floor).
Features: Lucky 13
Part of the reason the Ambeo Soundbar is such a whopper is that Sennheiser was determined it should offer full-on home cinema rumble and scale without the need for a separate subwoofer. As a consequence, the Ambeo Soundbar features a total of thirteen speaker drivers – eight of which are far larger than those in any soundbar alternative.
To replicate a Dolby Atmos 5.1.4 presentation (five speakers in a surround-sound circle, a subwoofer, and four overhead channels bringing true three-dimensionality to the sound), Sennheiser has arranged nine drivers across the front of the Soundbar. Six of them are 10cm mid/bass drivers, the other three 25mm aluminium dome tweeters. There are two more tweeters, one in each of the angled side panels, and then at the edges of the top panel there are a couple of 9cm full-range drivers firing upwards to give height to the sound.
This is why the Ambeo Soundbar needs space to do its thing. Positioning it beneath a surface will prevent the upward-firing drivers from creating the impression of height that's so crucial to the Dolby Atmos effect.
(The Sennheiser can also deal with soundtracks mastered in DTS's rival object-based 3D audio codec, DTS:X. This also relies on the upward-facing drivers to work at its best.)
It also needs a bit of space on account of the 500 watts of Class D amplification that's powering the 13 drivers. Class D is efficient, but 500 watts of it creates appreciable heat – so the vents on top of the Ambeo Soundbar can't be covered or blocked.
There are more than enough ways of getting content into the Sennheiser. There are four HDMI sockets, one with eARC and all able to deal with 4K and HDR (including top-of-the-shop Dolby Vision), so it's possible to get cutting-edge audio and video quality using just a single connection to your TV's HDMI ARC socket (provided you've an Amazon Prime Video or Netflix subscription and fire up some of their HDR/Dolby Atmos content). In addition there's Wi-Fi and an Ethernet socket, a digital optical input and analogue stereo RCAs, Chromecast and Bluetooth 4.2 (with NFC pairing). If you can't find a way of getting sound from the Sennheiser, you're just not trying.
Interface: Don't Speak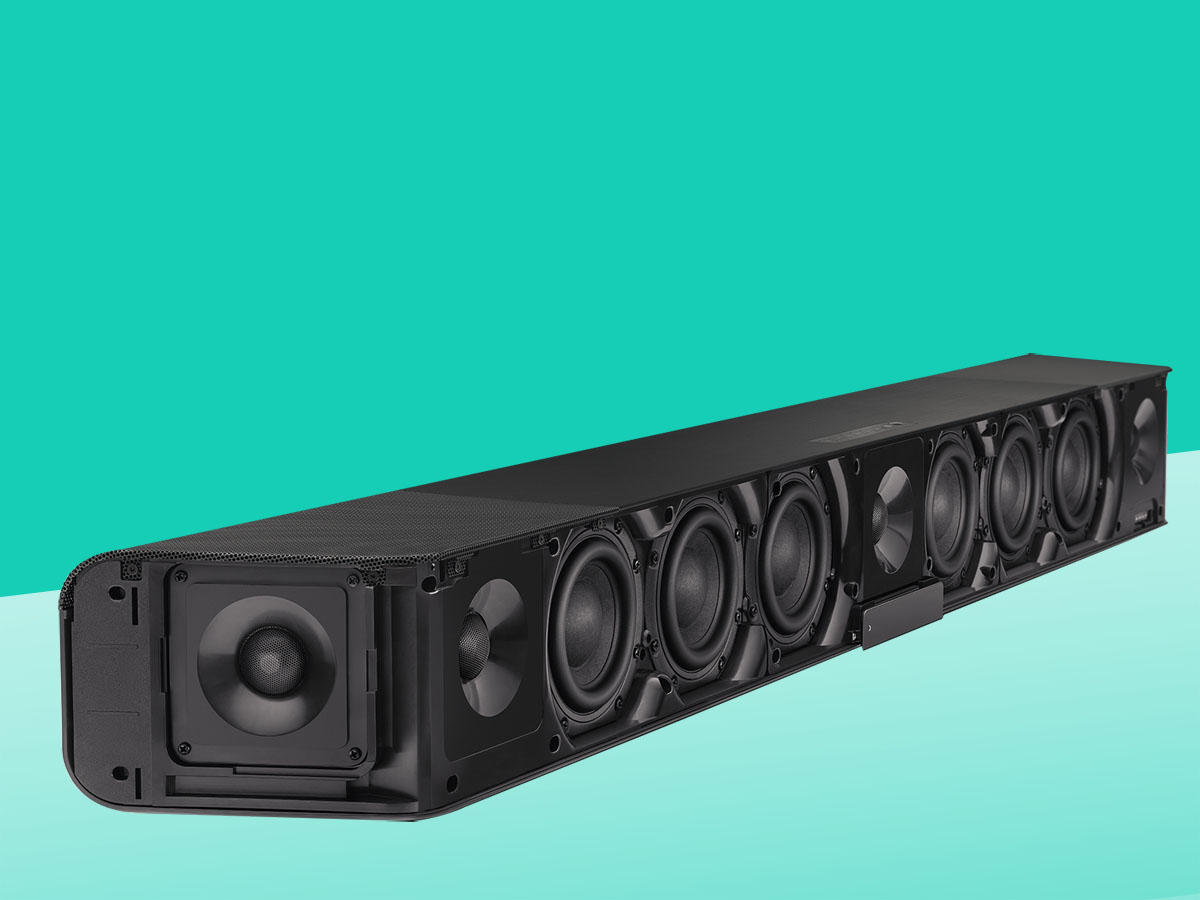 On the front of the bar there's a neat little display. It's high-res and crisp, and breaks up the swathe of black cloth a little.
On top of the bar are physical buttons for the usual controls, and these are duplicated on the remote control. It's quite a nice, weighty handset, much nicer than the plasticky clickers some alternatives come with. The button you're most interested in is marked 'Ambeo' – this engages all the Sennheiser's fearsome processing powers to deliver a 3D sound.
It's also possible to control the Ambeo Soundbar using Sennheiser's Smart Control app (iOS and Android). It's sensibly laid out, easy to use and more stable than some others I could mention.
There's no voice control, though, which will disappoint those who like shouting at their electronics. The rest of us will make alternative arrangements.
Performance: Ain't No Mountain High Enough
There's a predictably big calibration microphone in the Sennheiser's packaging. Set the top of it to head-height, plug it into the Ambeo's fascia, and a rapid sequence of test tones are fired in all directions. The Sennheiser optimises itself to its environment quickly and accurately. And then, well, pin your ears back.
The sheer scale of the Ambeo Soundbar's presentation is remarkable. The stage is wide, and extends to virtually alongside your seated position. And even more remarkably, it reaches way up high, seeming to place sound almost directly above. As a demonstration of processing prowess, it's a more convincing facsimile of Dolby Atmos than any other soundbar can generate.
Netflix's Mowgli: Legend of the Jungle is a hit-and-miss bit of film-making, but its Dolby Atmos soundtrack (and HDR picture) make it very useful – and the Sennheiser absolutely goes to town with the audio.
It's not just the size of the soundstage, the way it spreads out in every direction, that impresses. The separation, space and wide-open character of the stage means effects can be easily located on it, and there's so much elbow room that everything happens in its own distinct pocket of space.
There's brilliance to metallic clashes at the top of the frequency range, real texture and character to the many actorly voices occupying the midrange, and – exactly as Sennhesier intended – so much punch, substance and impetus to the low frequencies that no one in their right mind is going to wish for a subwoofer. The frequency information is balanced expertly, integrated smoothly and served up with such reserves of power that even the biggest dynamic upheavals are dealt with effortlessly.
The Sennheiser can do the majority of this good work with less promising soundtracks, too. No matter if it's the regular 5.1 soundtrack to O Brother, Where Art Thou? or even the stereo sound of Performance, engaging the 'Ambeo' setting results in a tall, wide but relatively subtle 3D effect. It's hard to think of content beyond Newsnight that wouldn't benefit from being Sennheiser Ambeo'd.
Sennheiser Ambeo Soundbar verdict
No other soundbar currently available can do what the Ambeo can. Not with the solidity and confidence of the Sennheiser. That's why, as well as being the biggest and the most expensive, it's the best you can buy.
Stuff Says…
The Ambeo Soundbar is big, but the sound it makes is bigger still
Good Stuff
Utterly convincing Dolby Atmos and DTS:X 3D sound
Ample power
Lots of inputs
Bad Stuff
Really big
Very expensive