Sennheiser Momentum True Wireless review
Typical Sennheiser: big and clever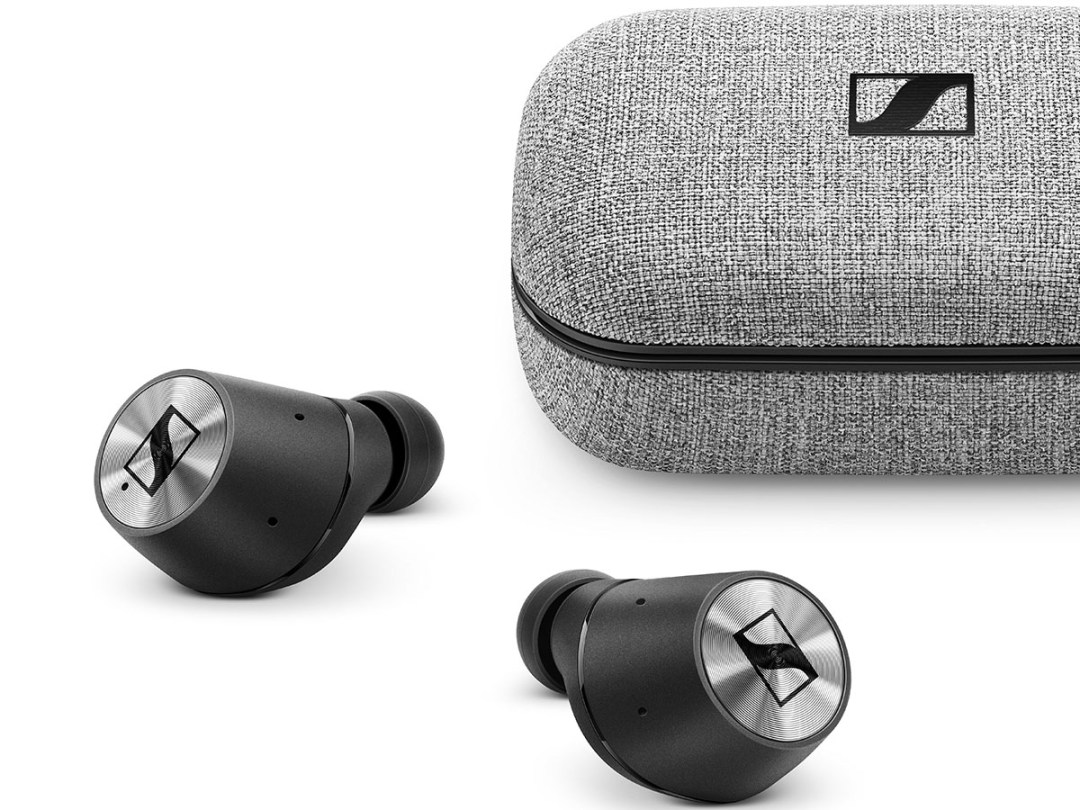 The last few Sennheiser reviews we've published have all followed the same pattern. Roughly speaking, they all go something like this:
"…something something quite big.. something something quite expensive… something something really bloody good… something something five stars."
And sure enough, these Momentum True Wireless dutifully conform to the template. By the standards of most true wireless in-ear headphones they seem pretty big. And even though they're a chunky £40 less expensive now than they were at launch, they're still no one's idea of a budget buy.
So there's just "really bloody good" and "five stars" to go, then.
Design and build: Earing is Believing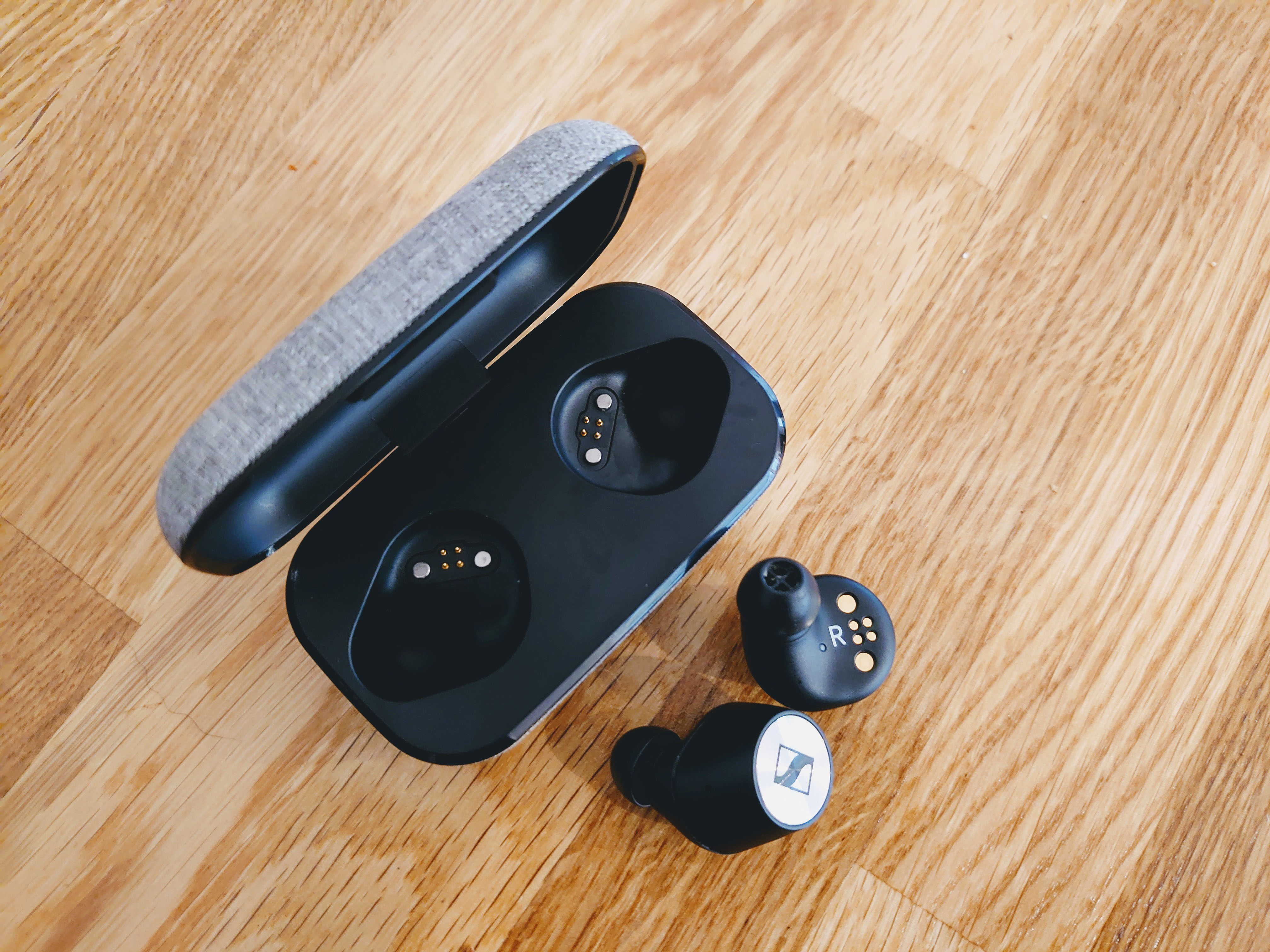 First things first: the Sennheiser Momentum True Wireless are a 'twist to fit' style headphone that remain broadly within the confines of the listener's ear. Which (for us at least) already puts them ahead of the daft 'dangling from the ear like unpleasant jewellery' designs initiated by Apple and slavishly followed by those brands with no imagination.
As seems compulsory with Sennhesier's current product range, though, the Momentum True Wireless are big lads. It's easy to get a good fit, but those with ears that lie reasonably flat to their head (rather than sticking out like the handles of the FA Cup) will find the body of the Momentums project clear of their ears. Anyone familiar with the character of Nyota Uhura in the Star Trek franchise knows exactly the sort of thing we mean.
Despite the relative bulk, though, the design is pretty discreet. And with each earbud weighing just 6.6g, they're hardly a burden to wear. The plastics are the thin side (as is usual with in-ear headphones – we want to keep that weight down, after all) but there's nothing flimsy about the way the Momentum True Wireless are put together. They feel robust and built to last.
Features: Half-Life
As might have been anticipated, the Momentum True Wireless are supplied with a charging case that's just a bit bigger than most competing designs. At 77 x 45 x 35mm it's hardly going to take up that much space in your bag or pocket, and it feels of similar robustness and quality to the earbuds themselves. The fabric-wrapped case is charged using USB-C, and there's the necessary cable provided in the package. Getting from 'flat' to 'fully charged' takes around 90 minutes.
Sennheiser has ensured that wireless connectivity is of a competitive standard. aptX Bluetooth 5.0 promises as-good-as-it-currently-gets sound quality, as well as superior battery life, while aptX Low Latency means the audio/video syncing when listening to and watching video content should be seamless.
Despite that aptX Bluetooth specification, though, life from the rechargeable Lithium battery turns out to be a thoroughly ordinary four hours from the buds themselves and another eight from a fully charged case. These are not catastrophically small numbers, but they compare unfavourably with any number of rival designs – consider Cambridge Audio's Melomania 1s, for example, which have a far more impressive 9-hours-plus-another-36-hours for half the price.
Interface: Touch Me I'm Slick
There are responsive touch controls built into the metallic finish of each Momentum True Wireless earbud. These give control of the usual functions – volume up/down, play/pause, call answer/end, track forward/back, summon voice assistant and so on – and work well. It's difficult, though obviously not impossible, to confuse the Sennheisers with extended touch-controlling.
Call quality is very decent, thanks in no small part to the sensitivity and clarity of the integrated microphones. And that helps no end with voice assistant interactions – the Momentum True Wireless generally respond well to voice commands. It's hardly Sennheiser's fault that Siri is a half-wit, but nevertheless it's good news that Google Assistant is available too.
There's also a very nice app, Sennheiser Smart Control, for use with the MTWs too. It's brief – functionality runs to EQ adjustment and toggling between 'music on/off' when 'transparent hearing' is deployed, but it's good-looking and usable in a way so many alternatives simply aren't. 'Transparent hearing', by the way, allows more background or external noise than is ordinarily the case when the earbuds are in place.
Performance: Iron Fist, Velvet Glove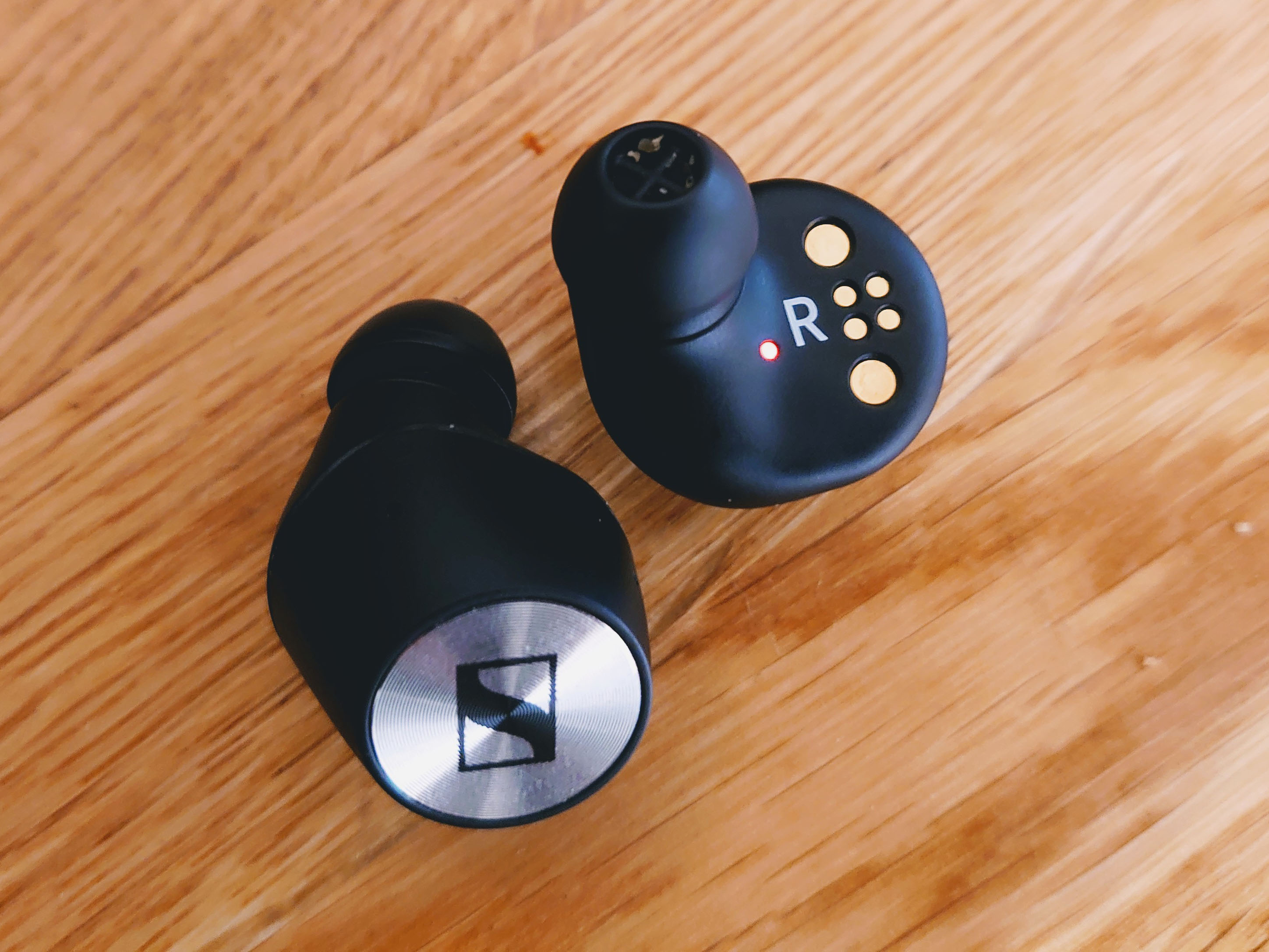 If the most recent swathe of big, five-star Sennheiser gear has primed us for anything, it's for a sound that's as full-figured as the product from which it comes. It's a template the Momentum True Wireless follow – but only up to a point.
Fire up 'DNA.' from Kedrick Lamar's DAMN. and there's no shortage of big, bold bass action for the rest of the frequency range to glide above – but it's not as warm, nor as out-and-out bludgeoning, as some other headphones in Sennheiser's current range. Instead it's expertly judged, with straight edges described at the entry into and exit from individual bass sounds.
And while this tune's bass is designed to drone, it doesn't swamp the information above it as it can in less accomplished hands. In short, there's as much bass wallop as you could reasonably expect, but that's not the be-all and end-all of the Momentum True Wireless's abilities.
Mid-range fidelity, for example, is outstanding. Nina Simone's fulminating pass through Brecht and Weill's Pirate Jenny from her 1964 album Live at Carnegie Hall is given enough detail and insight to raise the hair on the back of your neck. Simone sounds utterly engaged, passionate and completely malevolent – the earbuds allow her to inhabit the story of the song completely, and as a result the reading is just as straightforwardly frightening as its composers intended.
The top end is equally impressively judged, with shine and clatter in Passenger's Let Her Go that never spills into coarseness. There's high- and low-order dynamism in spades, there's ample attack (of the polite kind in this instance, of course), and a pleasantly widescreen overall presentation. Integration and focus all impress, too.
There's not quite the out-and-out scale or volume some listeners might desire, especially those who aspire to tinnitus. And the Sennheisers don't generate quite the same level of outright excitement or, to a lesser extent, musicality as their most accomplished rivals (specifically Sony's mighty WF-1000MX3). But, as we all know, being fractionally short of the very best around doesn't make for a product bad. Far from it, in this instance.
Sennheiser Momentum True Wireless verdict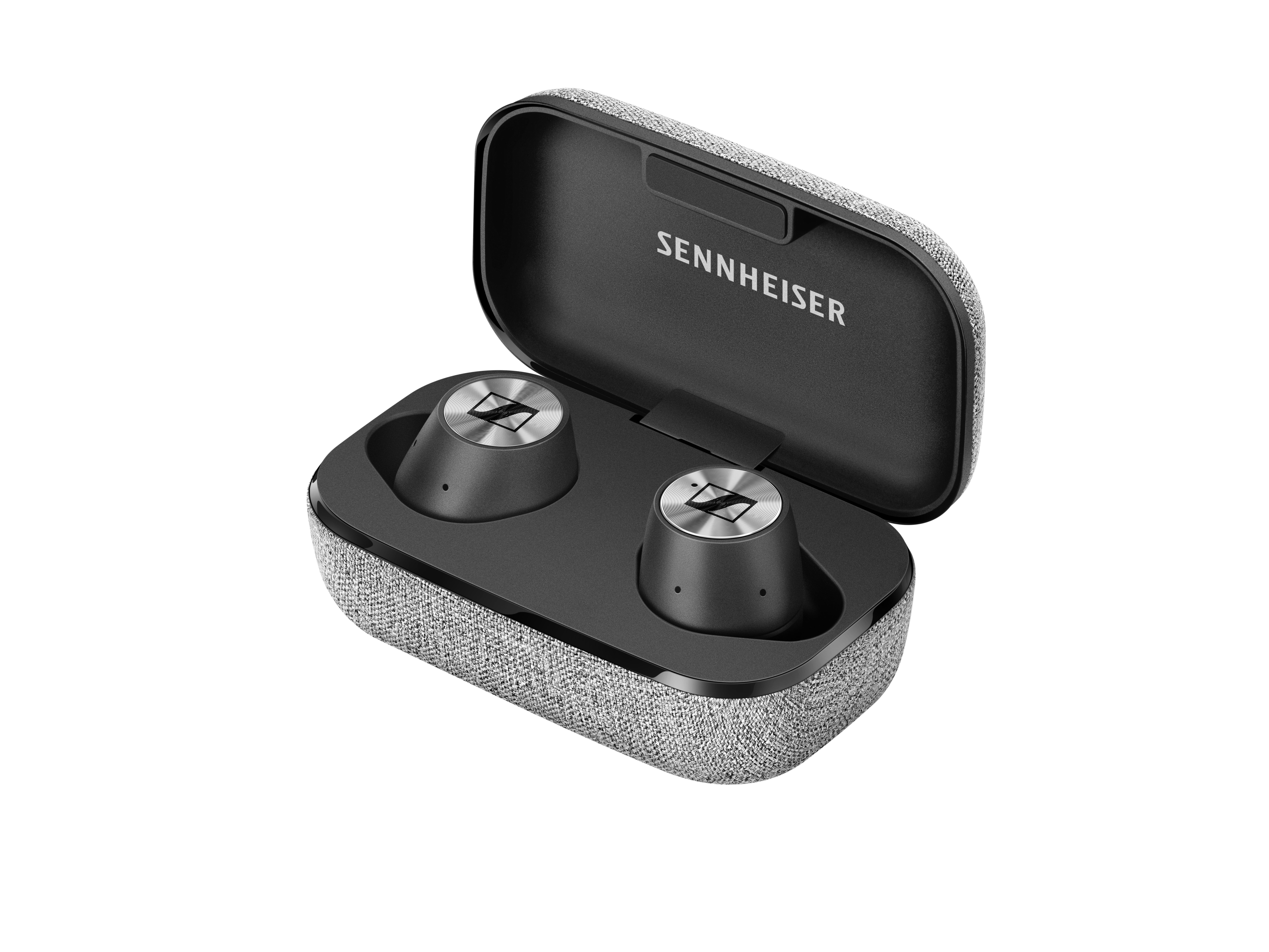 Everyone wants to sell you a pair of true wireless in-ears – but not many companies have what it takes to compete with Sennheiser.
You'll find daintier options, not to mention cheaper ones, but you won't find better-sounding buds at this price.
Stuff Says…
"Go big or go home" – Sennheiser knows which it prefers
Good Stuff
Very accomplished sound
Decent touch- and voice-control
aptX 5.0 and aptX low-latency Bluetooth
Bad Stuff
Biggish buds and charging case
Humdrum battery life