Sony A6400 review
Sony's mid-range mirrorless stops just short of excellence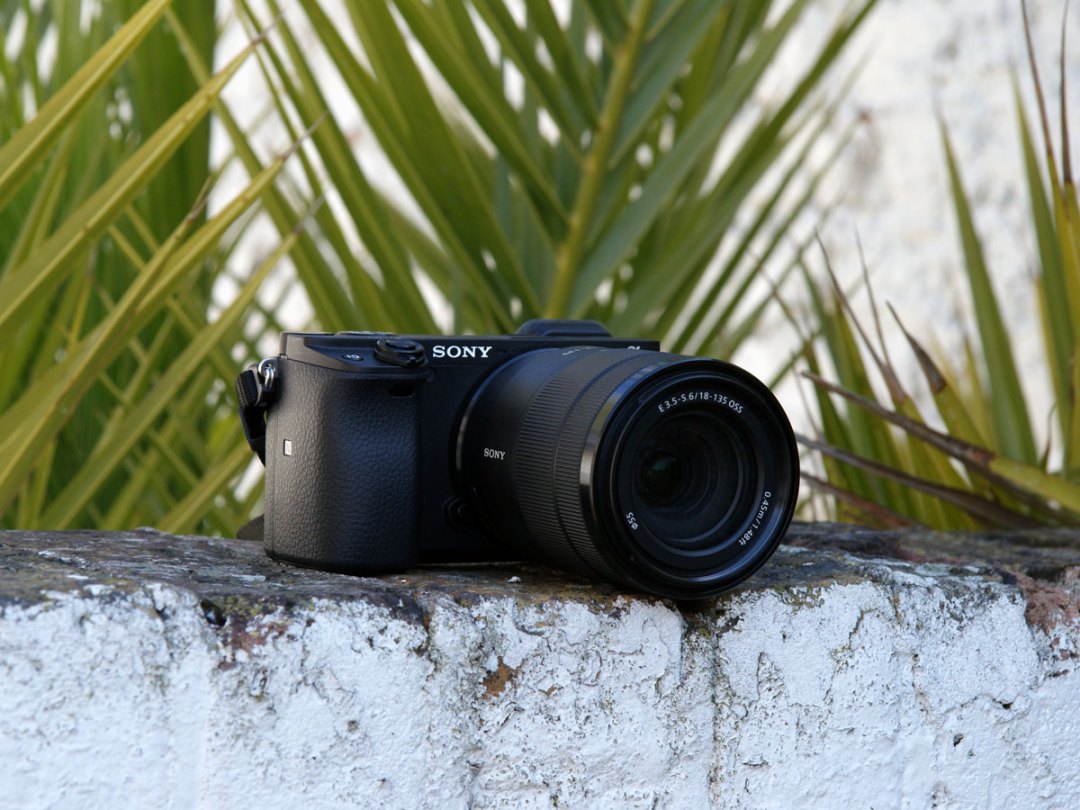 If you're in the market for a mid-priced mirrorless camera these days, the range of choice is wide. Panasonic, Fujifilm, Canon, Olympus and Sony are all out there vying for your hard-earned cash, and most of these photographic giants has at least one mid-range model worthy of it.
With the new A6400, Sony is striving to deliver yet another killer mid-ranger, specifically one that'll appeal to those who want to dabble in both photo and video capture. With standout features being the hybrid autofocus system, wide ISO range, 11fps continuous shooting speed and vlogger-friendly front-facing screen, it certainly looks impressive on paper – but some slightly odd design choices make themselves apparent after a few minutes.
Are these enough to make you skip the A6400 for something made by one of Sony's rivals, or does it still have enough imaging magic about it? Read on and we'll tell you…
Design and build quality: time for tiny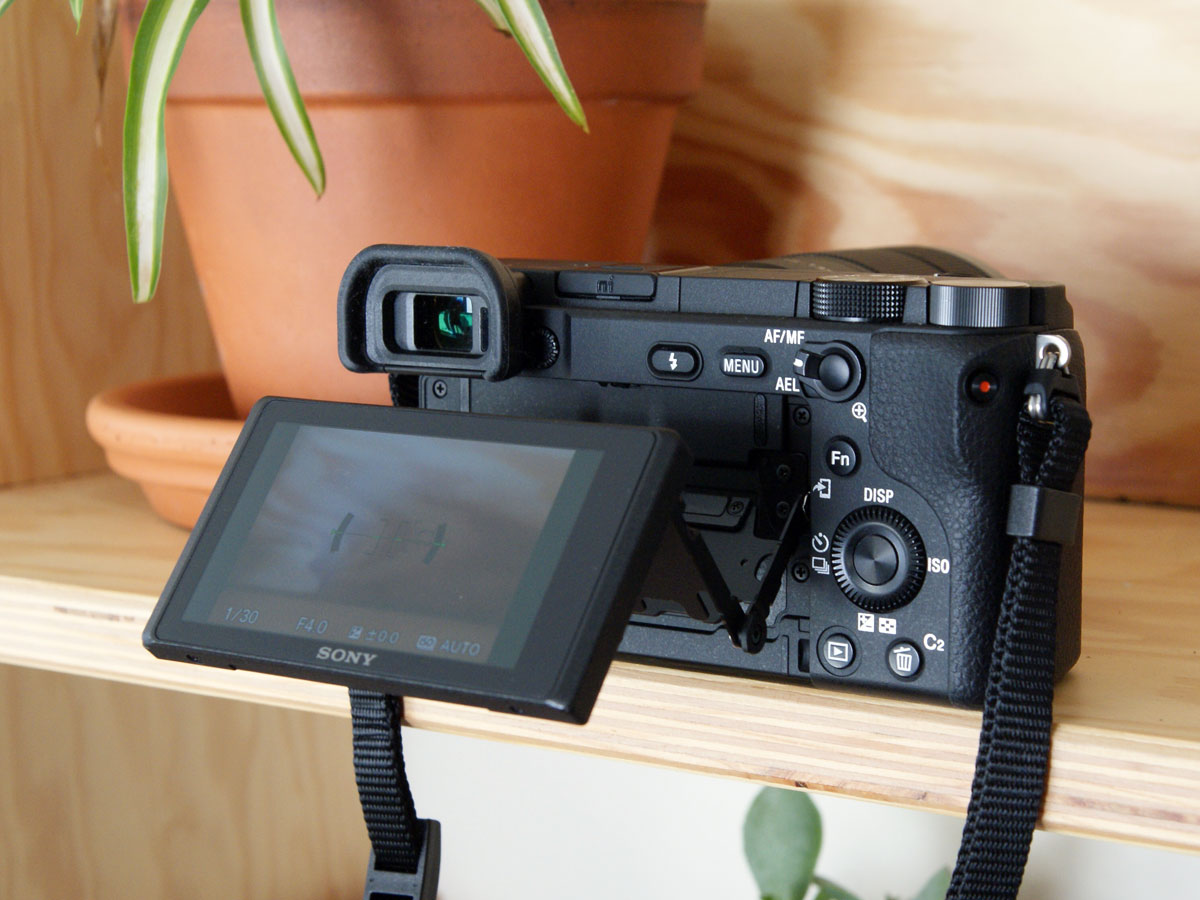 Having been lugging around the heavy, hulking weight of the Panasonic Lumix S1 for the past couple of weeks, the A6400 felt like a welcome breath of fresh air. Tiny and lightweight (only 403g without a lens), it's the kind of camera you barely notice when it's hanging around your neck.
That's not to say if feels cheap, plasticky or lacking in places to hold, either – there's a pleasing sturdiness about it, and a good-sized grip for your right hand with plenty of textured rubber-like material on the outside to stop slippage.
Despite the small size, there's space for both an electronic OLED viewfinder and an LCD touchscreen. Sony's EVFs are generally impressive, and that remains the case here – its brightness, detail and large eyecup feel like a huge advantages when shooting on the sort of bright, sunny day that makes the screen difficult to see.
The screen itself also feels significant, though – and not just because of its handy (no pun intended) touch-to-focus setting, which lets you set your autofocus point to its desired location by tapping your finger on the screen. The screen also flips downwards to about 45 degrees, or upwards 180 degrees to fully face forward, making both self portraits and self-shot videos much easier to frame; in the past, Sony has shied away from forward-facing screens, and this definitely feels like an attempt to appeal to vloggers who don't want to invest in external monitors.
There's a pretty glaring issue with the screen placement, however. Vloggers generally use external mics, and will generally mount these on the hot shoe. In the case of the A6400, that would mean the mic blocking the user's view of the screen when it's flipped forward. You could get around this by buying a cage for the camera and mounting the mic off the side but, well, that means buying a cage. As a design decision, it feels uncharacteristically ill-considered from Sony.
Battery life and UI: no need to write home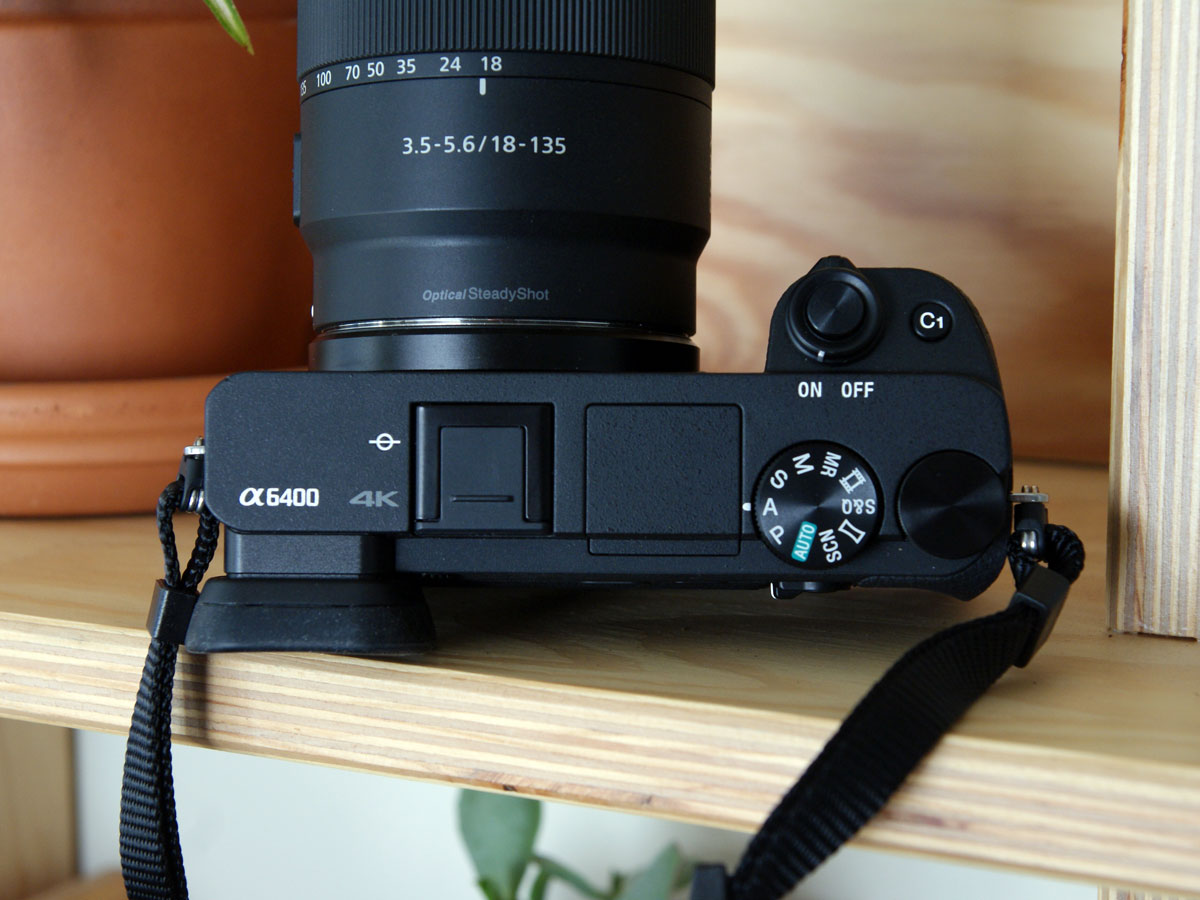 As for the battery life, it's OK – but nothing to shout about. Sony claims you can capture around 125 minutes of video or 400 photos per charge in optimum conditions, but real-world use will likely yield closer to an hour of video recording. That's acceptable, and we do like the fact that you can recharge on-the-go via USB from pretty much any power source.
Finally, a word about Sony's user interface. It's often complained about as being overly complicated and hard to navigate, and we – even as frequent Sony users – did find it occasionally obtuse, and cursed with far too many screens to scroll through when seeking a particular setting.
It feels like it's time for Sony to put in some work on streamlining the menu screens rather than persisting with the current layout but, like the battery life, what's here is acceptable. Just not outstanding.
Features: fastest focus first
The highlight of this camera for us is its autofocus performance. Using both phase- and contrast-detection systems, it offers an incredible 425-point focus area that covers almost the entire frame, and is both extremely fast and (as long you have it set to the appropriate mode) unerringly accurate. It even works reasonably snappily in gloomy conditions, unlike some rivals.
It's able to track subjects well through three dimensions, and able to recognise not only faces but both left and right eyes – making it ideal, again, for vloggers who are filming themselves. In video mode, we found the continuous autofocus to do basically what we wanted and expected of it, rather than messing up a video by suddenly deciding to lock onto the background or a passing car. And that's pretty much what we're after from continuous focus.
The A6400, as its name suggests, slots into the Sony APS-C mirrorless range between the A6300 and A6500, two older models costing around £650 and £1,250 body only respectively. The A6400 has a wider ISO range than both, the only flip screen of the three, and a newer (and faster) autofocus setup, but one thing it lacks in comparison to the A6500 is in-body image stabilisation.
That feels like another strange decision in a vlogger-focussed camera, as IBS (not to be confused with the other, much less desirable, use of that acronym) tends to help out a lot when shooting videos handheld. Sony does make E-mount lenses with built-in stabilisation, but if you stick them on a camera with IBS, you get the benefits of both – with the A6400, one form of stabilisation's your lot, and that does show when you're shooting handheld video, particularly if you're using a telephoto focal length. For wide-angle stuff, which most vloggers prefer, it's less of a problem.
Image quality: Picture me rollin'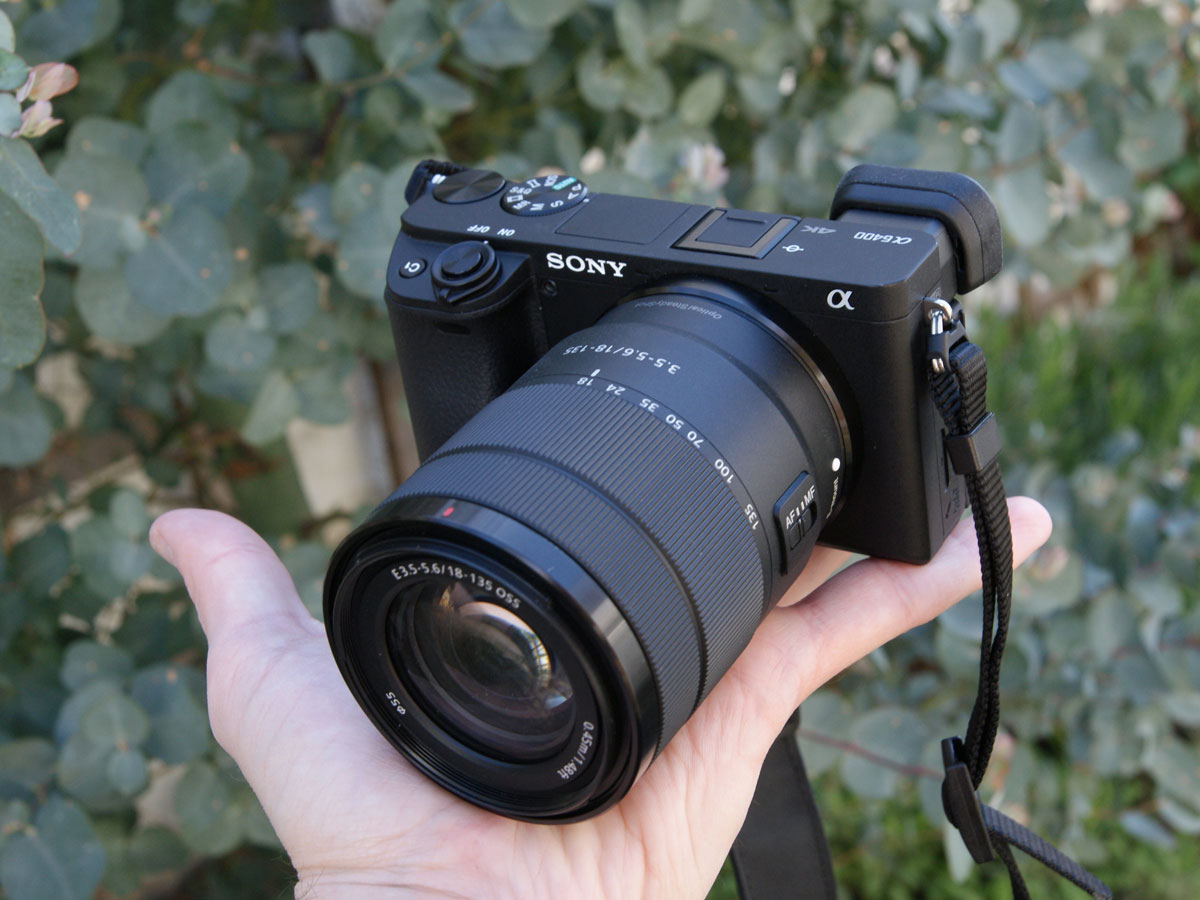 One issue vloggers might certainly encounter is the dreadful rolling shutter that afflicts the A6400's videos. Moving the camera left to right while filming will result in vertical lines – railings, lamp posts etc. – looking extremely wavy and distracting, and while the effect can be mitigated in post production, it's just another job for the user to do.
It's a shame, because otherwise the video performance here is impressive. The A6400 can record crisp, clean 4K footage at 24fps or 30fps, as well as 1080p at up to 120fps, plus slow and quick modes for hyper-lapse and smooth slow motion playback. It can also record in Sony's "flat" S-Log modes for easier colour grading in post, or Hybrid Log Gamma HDR.
Stills performance is good too, with the 24.2MP sensor's wide ISO range (100-32000 native, but going up to 102400 in expanded mode) resulting in impressively crisp images in less than ideal lighting situations. During the testing process, we used only Sony's 18-135mm f/3.5 to f/5.6 lens – hardly one suitable for low light work – and found that it and the camera could do a very decent job indoors on a cloudy day thanks to the relatively noise-free higher ISO modes.
The camera is fast too, able to rattle off stills at up to 11fps and that, coupled with the excellent autofocus, makes it an ideal camera for wildlife and sports photography.
Sony A6400 verdict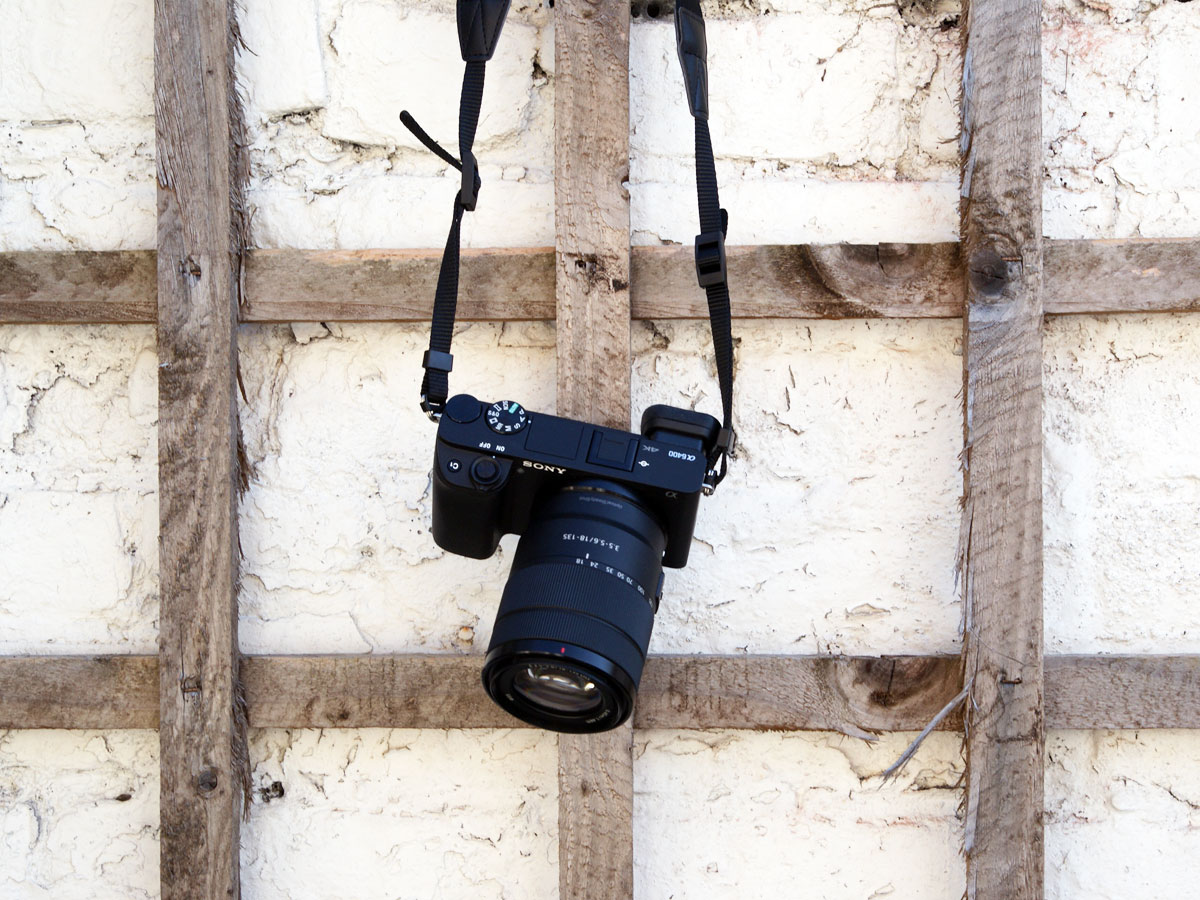 The A6400 is a strong performer in terms of all-round image quality, general speed and autofocus, and its small size makes it easy to live with – but we can't help feel that some of Sony's choices might be enough to put off potential buyers.
The lack of in-body stabilisation, the upwards-flipping screen potentially being blocked by an external mic and the very noticeable rolling shutter appearance in videos are all black marks against an otherwise impressive camera. None of them make the A6400 a bad buy, but they do mean you might be better off with another mid-range model.
Stuff Says…
A handful of key issues prevent Sony's small, fast shooter from being a resounding triumph
Good Stuff
Lightning fast, super accurate autofocus
Small, lightweight body
Generally strong all-round image quality
Bad Stuff
Some awkward ergonomic choices
No in-body stabilisation
Very visible rolling shutter effect