Sony a7 III review
A formidable and affordable entry into full-frame
The war against DSLRs got just a little bit more serious with the introduction of the A7 III…
Right at the front of the battle lines, the A7 III is an affordable entry into full-frame, giving you a surprising amount of bang for your buck. There's every possibility that when we look back at what finally killed off the DSLR (at least for the masses), that we'll be able to draw the line right back to the A7 III.
So, why's it so important?
You get a full-frame 24.2-megapixel sensor, a super-whizzy Bionz X processor, 10fps shooting, a hybrid autofocusing system, a 2.3 million dot EVF and a 3-inch 922k-dot tilting LCD touchscreen. Plus there's the ability to record video in 4K. Whew – in short, that's a heck of a lot of features for less than £2,000. By contrast, Canon's "entry-level" DSLR, the 6D Mark II costs a little more, but offers considerably fewer features.
Read on to find out how else the A7 III ticks all the right boxes…
Design: Box clever
One of the key benefits of going for a mirrorless camera when compared to its DSLR brethren is the size and weight reduction. That's very true of the A7 III, which has a rather diminutive body. Generally speaking however, you don't get too much of a reduction in lens size – the 24-70mm f/2.8 G Master Lens we've been using it with is roughly comparable to something similar from Nikon and Canon.
Speaking of little, some of the buttons on the camera are perhaps just a tad too small – anyone with larger hands may wish to give this some consideration. That said, there's a smattering of very useful dials and buttons, as well as a joystick which you can use to move the focus point around the screen (if you're not doing it by touch, that is).
Meanwhile, the top plate holds a mode dial, an exposure compensation dial and two customisable buttons which you can set to a number of different functions of your own choosing – ISO would seem like a sensible option for one of them. Adjusting aperture and shutter speed is taken care by a pair of dials found on the front and rear of the camera, neatly positioned to be quickly accessed by your thumb and forefinger.
Despite its small size, there's a reasonably chunky grip which makes the camera feel pretty comfortable in your hand. The A7 III can be a little unbalanced if you're using it with some of Sony's larger or telephoto lenses – be prepared to bring a second hand in to steady things up a bit.
There's a touch-sensitive screen which can be used to set the autofocus point, but sadly, you're not able to use it to select menu or quick menu settings, which is a bit of a shame. On the plus side, the screen tilts downwards and upwards. That may not be as flexible as a fully articulating screen, but it's very handy for quickly composing awkward shots.
For those who prefer a traditional approach, there's a 2.3-million dot EVF. This isn't the highest spec Sony offers (naturally, for the entry-level full-framer), but it's still more than adequate in use, while Zeiss T* coatings keep it reflection free.
This is Sony's "entry" proposition, and as such you don't get full dust and moisture resistance. It's highly likely that the A7 III will survive the odd rain shower, but we wouldn't recommend subjecting it to full force gale, nor chucking it in the sea.
Features: silent but deadly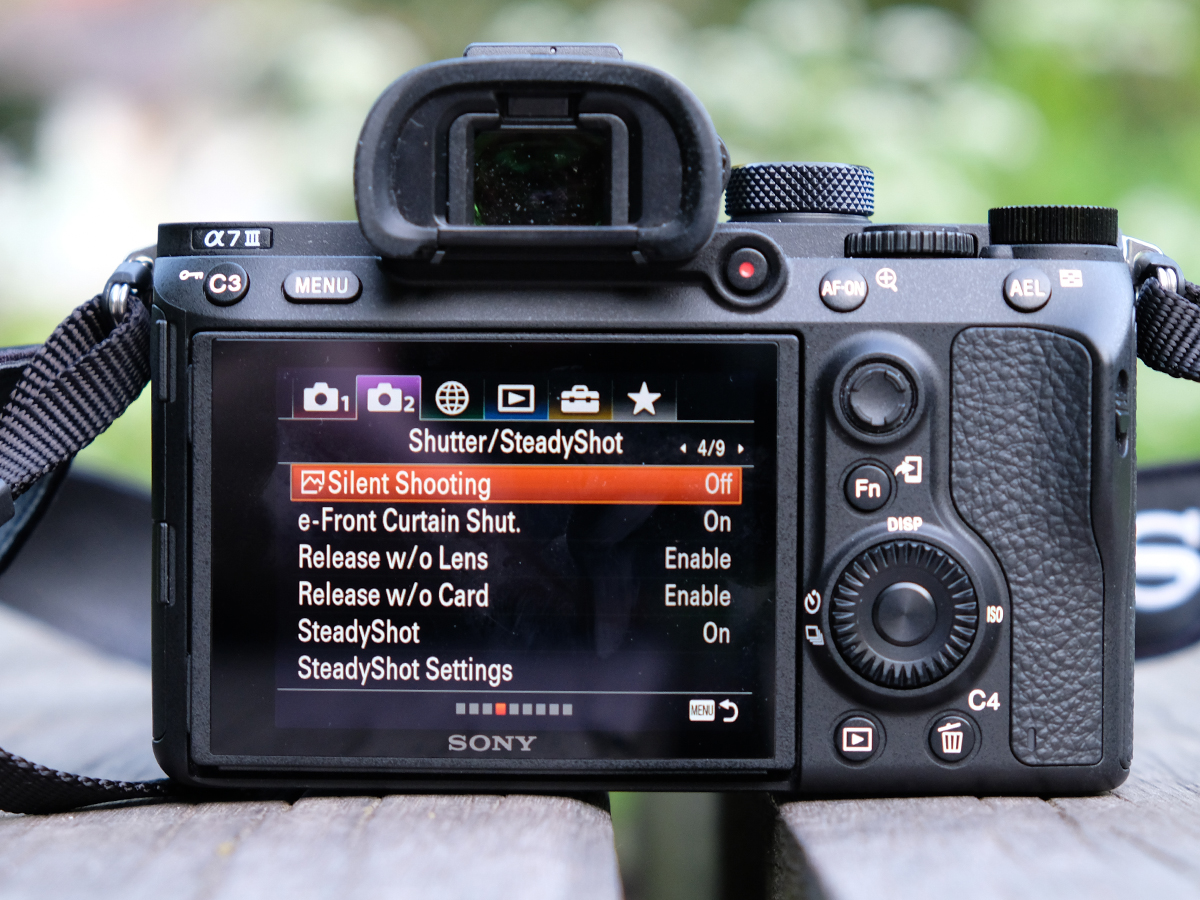 If you're new to the full-frame game, you may be forgiven for thinking that £2000 (not to mention however much you're going to spend on lenses) doesn't exactly sound cheap – but bear with us.
While £2,000 isn't exactly loose change, you do get a heck of a lot of features for that wad of cash – and, it's likely to be reasonably affordable for the average enthusiast – way more so than the £5k Sony A9, for example.
So what are these quality features that we're banging on about then? First up is the brand new sensor – giving you 24.2 megapixels of goodness, which benefits from back illumination and is an extremely capable performer (see more in the image quality section).
The sensor works in combination with a Bionz X processor, plus an LSI that you'll also find in some of Sony's more expensive cameras. The key result of which is the ability to shoot at 10fps – with an impressive buffer of 177 JPEGs, or 89 compressed raw files before it needs a breather. Shooting at 10fps should give you more than enough speed to work with for the majority of situations – it's not the 20fps speed demon that the A9 is, sure, but it's also less than half the price. In practice, we've found it very capable of keeping up with reasonably predictable moving subjects – my dog, in this case.
Another benefit in this area is the fact that you can switch to using an electronic shutter to completely eliminate any noise rattling from the machine. That makes it great for quiet sports shots, but also anywhere else you might want to be discreet.
The autofocusing system we've got here is a hybrid system which gives you 93% coverage across the frame – way more than you'll get from an equivalent DSLR. The A9's autofocusing systems make their way onto the much cheaper A7 III too, including the ability to focus in very dark conditions, and excellent tracking capabilities.
4K is pretty much a norm nowadays, of course, so it comes as not a huge surprise that the A7 III has it, with the ability to record in camera an improvement from its predecessor. Videographers see a lot of functions aimed at them here, including clean HDMI output, zebras, a microphone and headphone socket, S-Log 2 and S-Log 3 gamma modes, and a whole bunch of other stuff which is meaningless to 99% of the population.
Battery life may not yet quite touch on the capabilities of some of the DSLRs on the market, but it's now a very respectable 710 shots / 610 which is likely to see most people through a full day's shooting, but if you're a particularly happy snapper, a second battery could keep your worrysome wibbles at bay.
Image Quality: Flying colours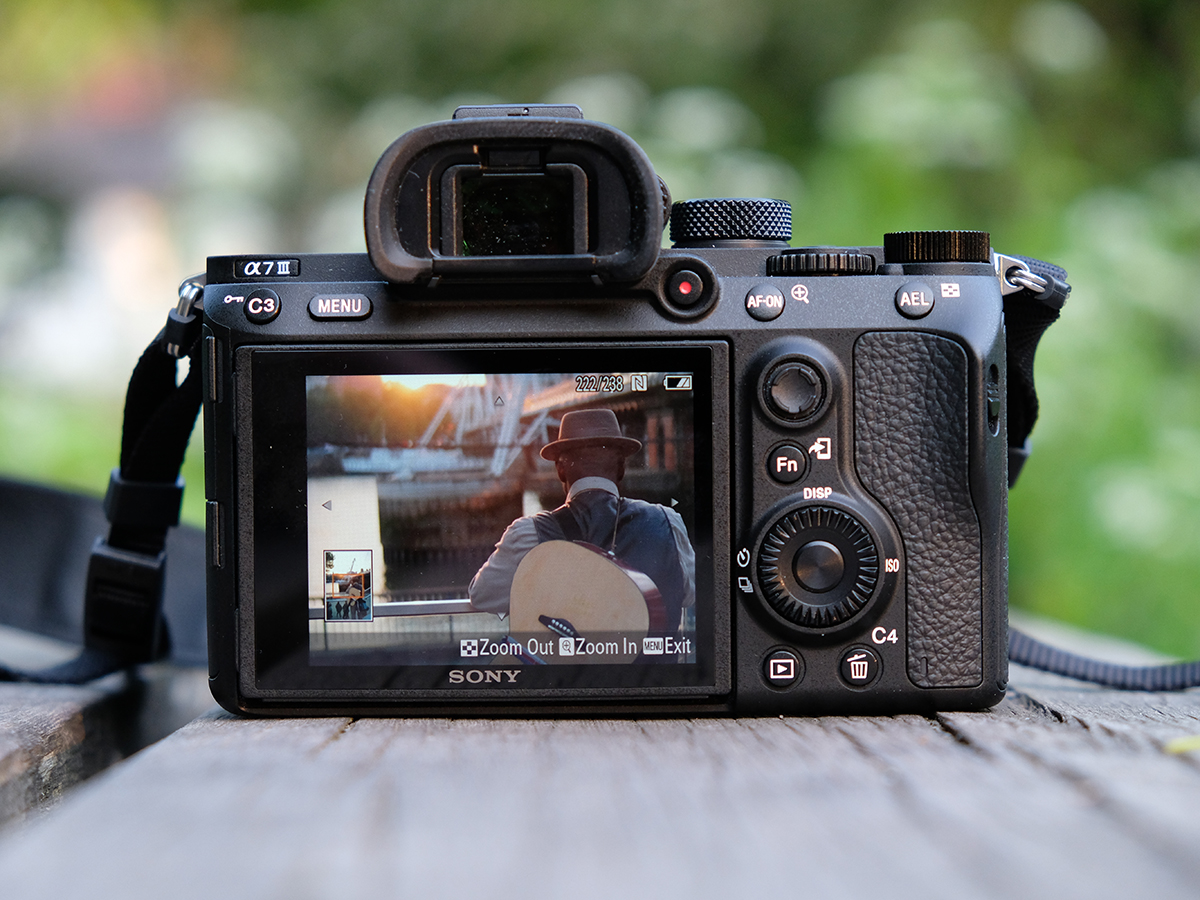 Colours are excellent, with a satisfying level of vibrancy that doesn't veer dangerously into over-saturation. It also keeps things accurate in a variety of lighting conditions, with excellent colour rendition under artificial light, or overcast skies.