Sony a7C review
It's the world's smallest full-frame system camera – and there's no big catch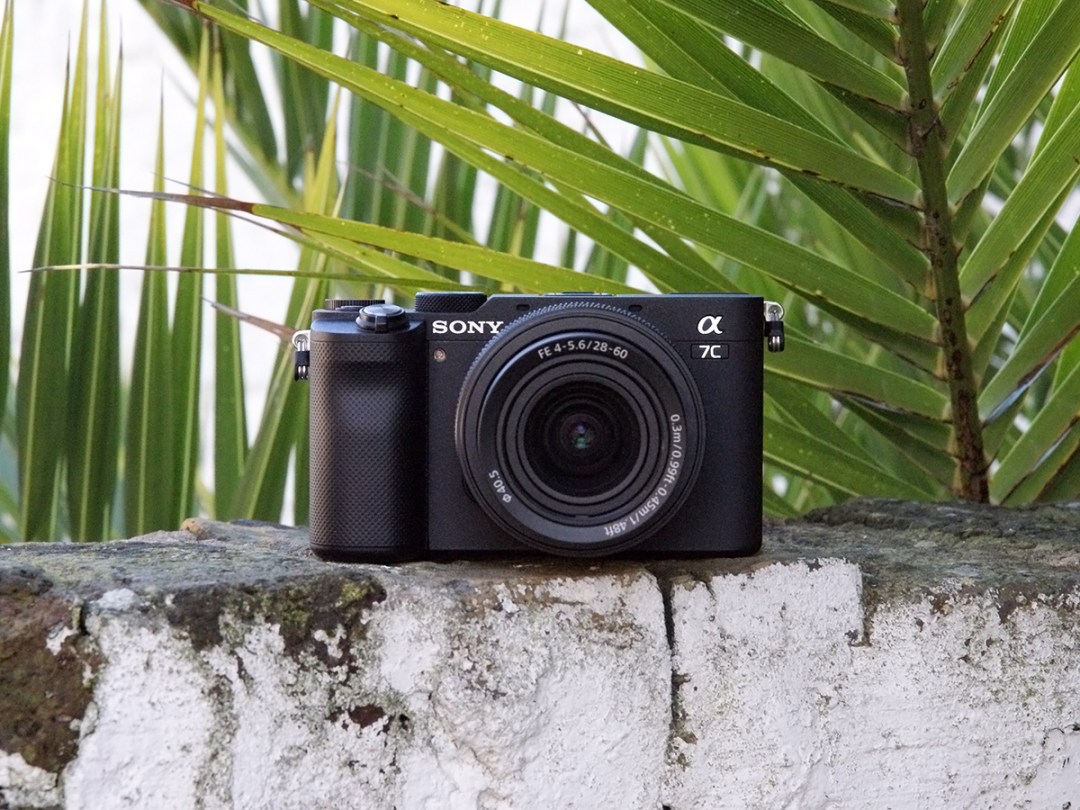 Sony's range of full-frame mirrorless cameras has been a big hit with demanding photographers and filmmakers. From the all-rounder A7 III to the detail-packing A7R IV and the video maestro A7S III, there's a little something here for everyone – even if the cameras themselves aren't, well, very little.
Full-frame sensors are large, which has meant the A7 series cameras of the past have been pretty chunky. Not so the new A7C, which Sony has slimmed down all round – so much so that it's officially the smallest and lightest interchangeable lens full-frame camera on the market. Despite its trim dimensions, it aims to deliver the same premium performance and features as other models in the range. Let's see if it actually does.
Design and build: Mini marvel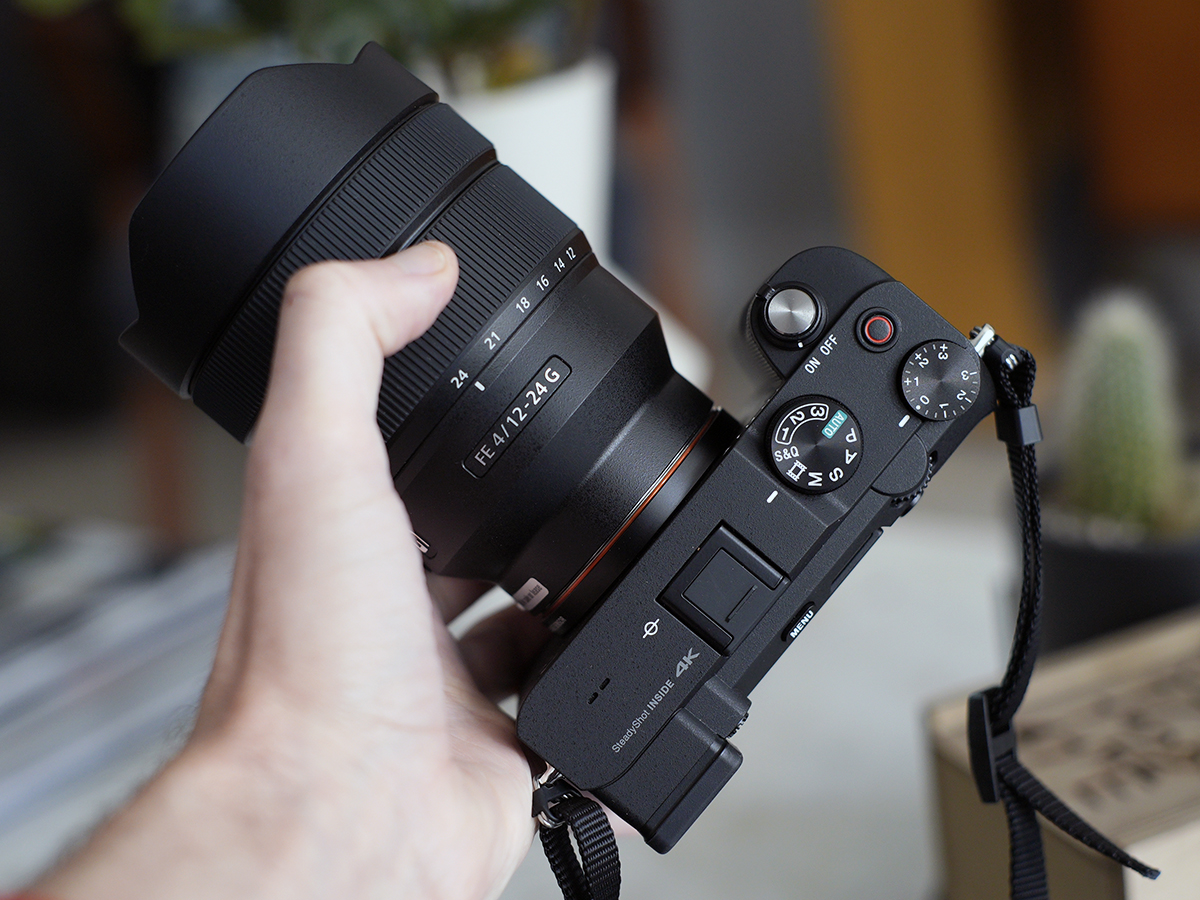 Despite its full-frame sensor, the A7C isn't much bigger than Sony's crop sensor APS-C models like the A6000. It apes the compact rangefinder-style body of the A6000 and its ilk rather than the chunky miniature DSLR-style shape of previous A7 models.
That's quite the design feat, and it's been pulled off without too many of the pricier A7 models' features going missing: you still get weather-sealing, in-body image stabilisation, a vari-angle LCD touchscreen and an OLED viewfinder. That said, the viewfinder is a lot smaller than those on older, larger A7 cameras, and while it does its job well enough it's less pleasing to use.
The screen, however, is able to swing sideways around to face fully forward just like the display on the A7S III. That makes it ideal for self-shooting and, along with the camera's low weight (just over 500g before factoring in a lens) and stabilisation, makes this arguably Sony's best full-frame lens-swapper for vloggers.
The A7C comes with a multi-interface hotshoe up top for flashes and other attachments (including all-digital microphones), plus a decent connection selection. Video makers might have appreciated an HDMI output, but they do get both mic and headphone sockets, while the USB-C port can handle both fast data transfer and battery charging duties. There's a single SD card socket rather than the dual setup you'd find on the A7S III.
Features and performance: Fast focus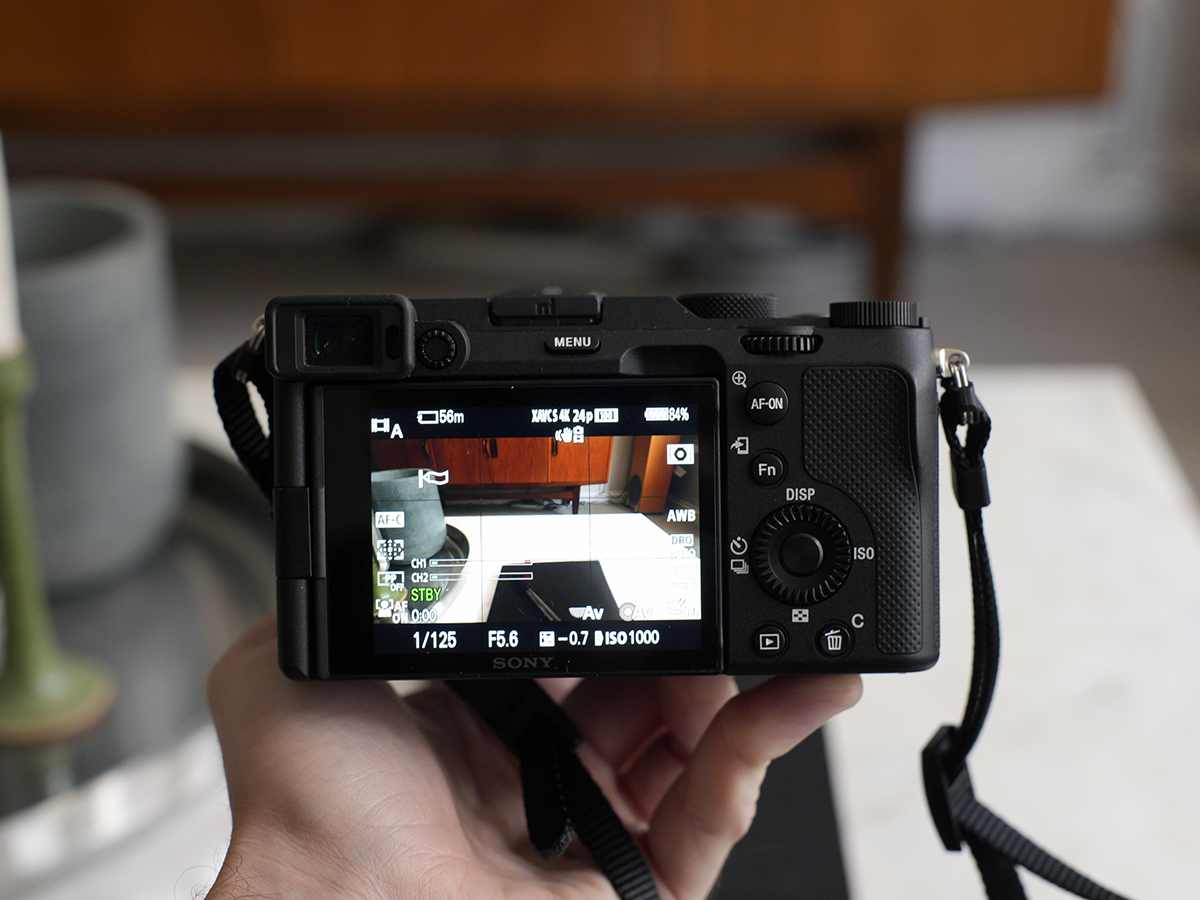 With 10fps continuous shooting and Sony's fast, accurate autofocus system on board, the A7C is quite the speed demon. You can rattle off shots at a nice brisk pace, while the AF's tracking and uncanny ability to focus on what you want it to means that capturing elusive or fast-moving subjects is relatively painless. The AF system has excellent eye- and face-tracking, which works really well for video too: you can wander back and forth within the frame and the A7C will keep your face in focus the whole time. Oh, and it works for animals' eyes as well as human peepers.
The in-body 5-axis image stabilisation gives you plenty of leeway when shooting handheld or in difficult conditions, but the A7C also comes with a built-in gyroscope which embeds motion metadata in image files. In post-production, Sony's Catalyst Browse desktop software can use this data to automatically stabilise videos. This method isn't perfect (it requires at least a slight crop to the frame, and that you turn off in-body stabilisation before recording) but it's extremely effective, particularly when it comes to compensating for the jerky motion that arises from walking. It's almost as impactful as using a gimbal, without all the fuss and fiddliness that actually using a gimbal entails, and vloggers in particular will adore it.
The A7C's battery life is also a strong point. It uses the newer Sony battery design (the same as seen on the A7S III), which gives it a big chunk of power to feed on. Sony claims you can can record over well 200 minutes of video on a single charge, or take over 700 photos. That's best-in-class level – and our field testing suggests it's broadly accurate.
One thing that disappoints is the menu system. The A7S III, which arrived earlier this year, had a fully redesigned UI that made the on-screen menus much easier to navigate; Sony hasn't used that design here, instead sticking with the older, labyrinthine system. It's not particularly intuitive and sometimes finding an option takes too long, and we're a little confused why Sony made this choice.
Video and photo quality: Sensor-sational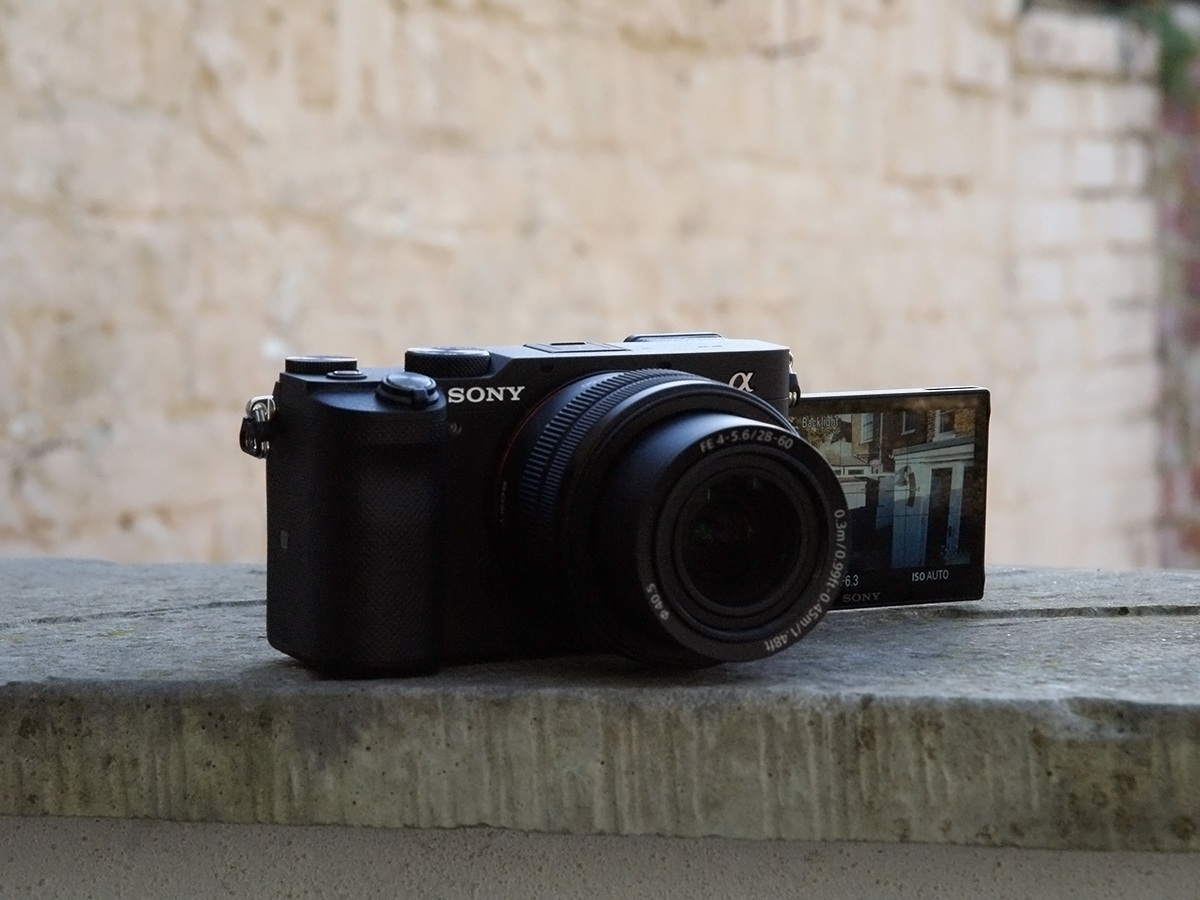 While not everyone needs or wants one, the benefits of a full-frame sensor (better low light performance, dynamic range, noise control and better ability to create bokeh to name a few) are all on display here.
In partnership with Sony's in-camera colour science and processing, the big 24.2MP sensor delivers fantastic stills and videos.
Video quality: Post-production powerhouse
We've put together a couple of sample videos (one in 1080p at 120fps, one in 4K at 24fps) to illustrate what you can achieve straight out of the camera, but it also offers various picture profile modes like S-Log2, S-Log3, Cinema and Hybrid Log Gamma that will appeal to videographers who want to grade and tweak footage in post-production.
After using the A7S III, with its ability to record in 4K at up to 120fps, the A7C's 30fps limit for UHD material feels restrictive – but then again the A7S III costs twice as much as the A7C, so perhaps we're just being unreasonable. For most, 30fps for 4K will feel fine.
Sony a7C verdict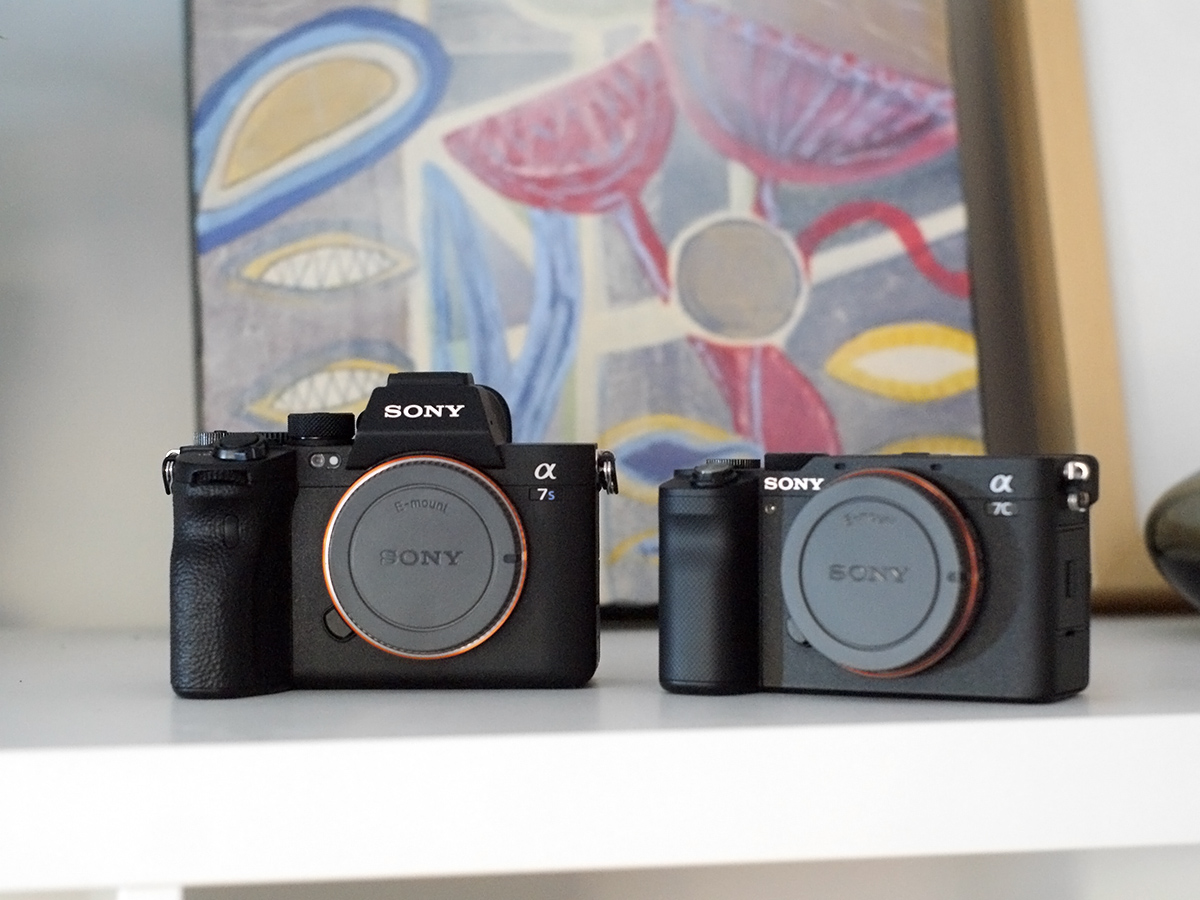 Putting a full-frame sensor in a smaller body has been one of the A7 series' greatest strengths over the past few years, and now Sony has made things even smaller. The a7C stuffs a lot of imaging power into a package that's small, lightweight and possesses plenty of battery life.
For photographers and video makers who want a compact body they can carry with them everywhere in a small bag (or even hanging round their neck), this fits the bill better than any other interchangeable lens camera around. At £1,900 without a lens, it isn't a budget model by any means, but despite its small size this isn't a starter model – it's an enthusiast camera, capable of producing stunning photos and videos.
Stuff Says…
Full-frame goodness from a half-pint camera
Good Stuff
Superb all-round image quality
Compact, lightweight build
Accurate autofocus
Bad Stuff
4K limited to 30fps
Older menu system
Small viewfinder