Sony A99 II review
Fast, fluid and flexible: Sony's flagship is fantastic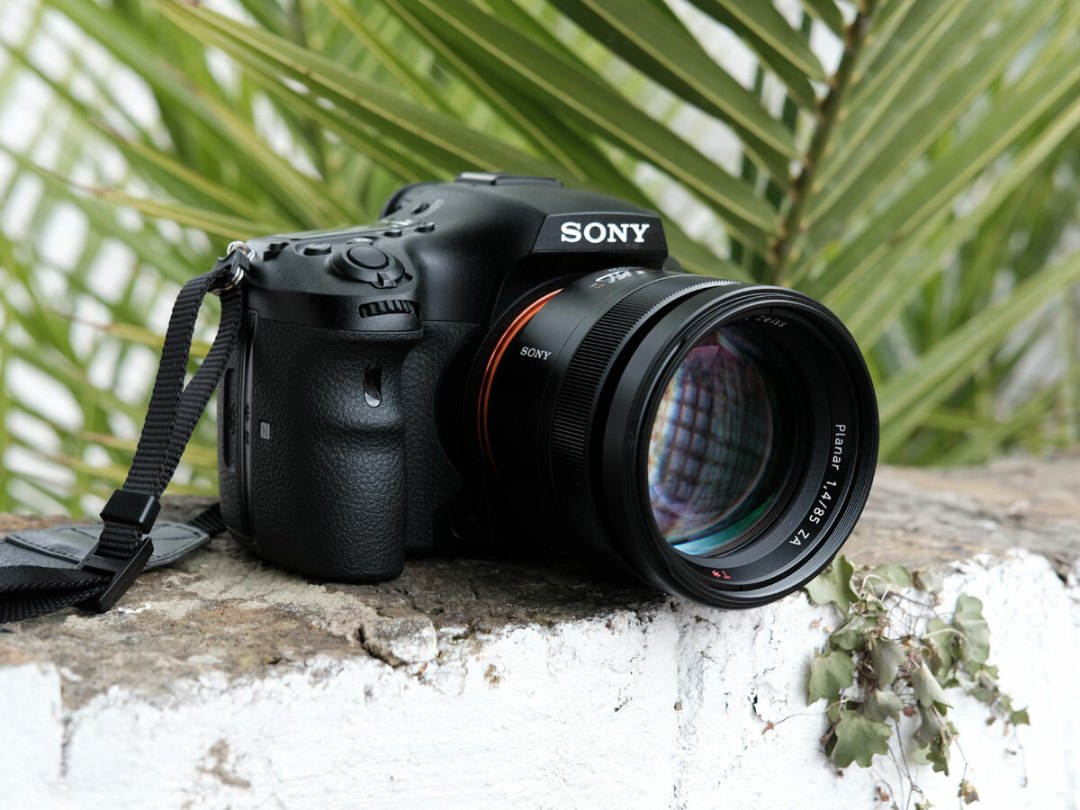 A giant sensor, turbo-charged autofocus, 4K video recording… cameras don't come much better-equipped than the Sony A99 II.
While it's no longer the most expensive snapper made by Sony (that honour falls to the new £4500 E-mount A9, which we'll be reviewing soon), the A99 II is the flagship model in Sony's A-mount range, which are the company's DSLR equivalents.
With a translucent mirror and a viewfinder that's electronic rather than optical, Sony's newer A-mount cameras can't strictly be called DSLRs, but to all intents and purposes the A99 II is the company's answer to the top full-frame models from Canon, Nikon and Pentax. Hence its £3000 asking price.
It might not be cheap or particularly pretty, but this camera is a thing of striking beauty beneath its unassuming skin, offering not only superb all-round performance but features you won't find on any rival model, all in a compact, lightweight and weatherproof body. Read on for all the juicy details.
Design: Dinkier than a DSLR
Due to the lack of a traditional DSLR mirror-and-pentaprism setup for bouncing light through the lens to an optical viewfinder, the A99 II (like all Sony's SLT cameras) is more compact than an equivalent DSLR. Where most have a huge bulge to accommodate the viewfinder, the A99 II needs nothing more than a mere bump for its OLED viewfinder's eyepiece.
We're not talking mirrorless CSC-style dimensions here, but for a high-end interchangeable lens camera with a full-frame sensor, it's impressively bijou; it's actually 8% smaller than its predecessor, the A99. It's on the lightweight side too – well under a kilo without a lens attached – which makes it fairly easy to carry around for long periods.
Like most high-end DSLRs, the body is built on a magnesium alloy frame for toughness, and the controls, dials, ports and so on are weather-sealed, allowing for use in rainy or dusty environments. A large grip on the right side, and a rubbery material wrapped around most of the body, will also keep it locked in your hands no matter the conditions.
There's a 3in LCD on the back which tilts out and twists, allowing you to view it from almost any angle, including from in front of the camera lens. It's a good quality screen in terms of detail and brightness, but it's not a touchscreen, which means the A99 II misses out on touch-to-focus capabilities. That's a bit of a shame.
Controls: Button bonanza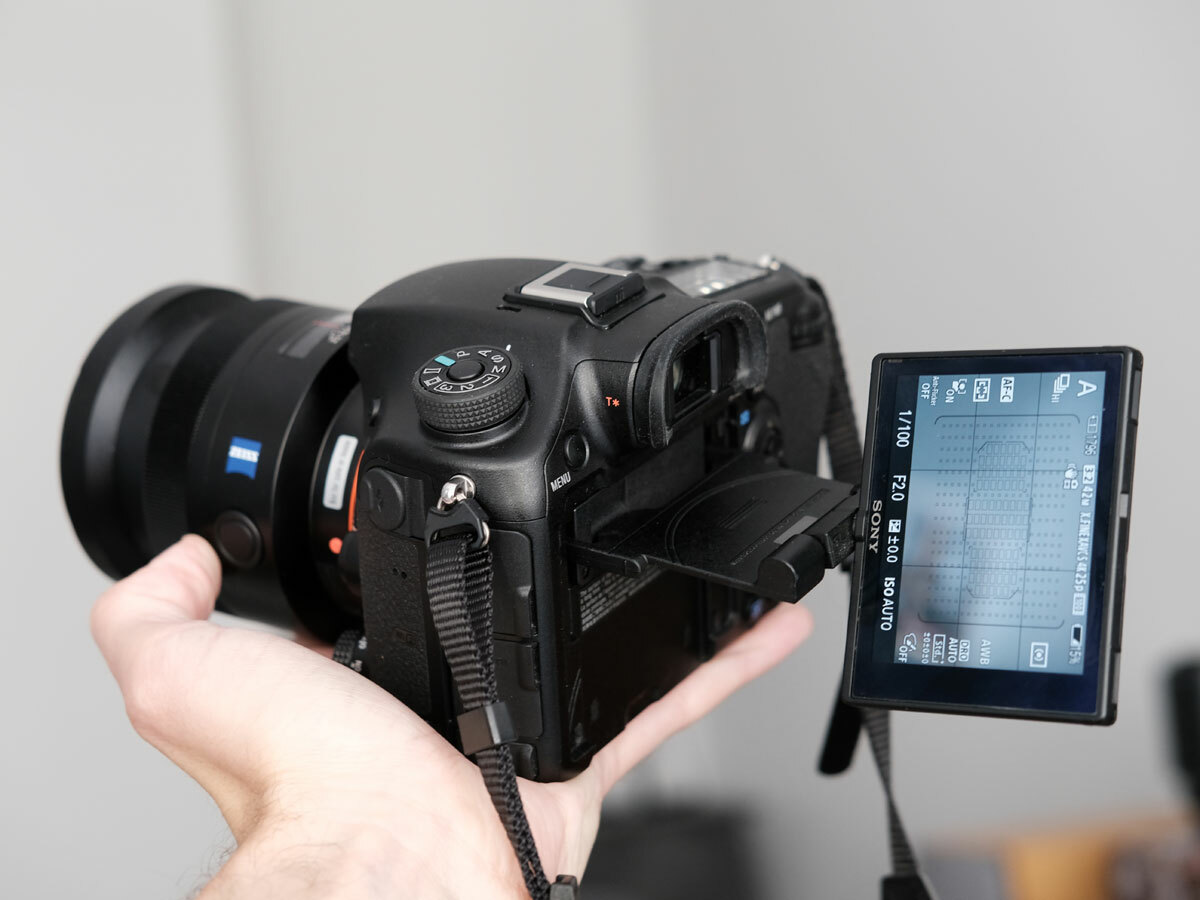 No touchscreen? Not a huge problem given the sheer amount of controls Sony has placed at the user's fingertips. The A99 II is bristling with physical controls – dials, buttons, a thumb-controlled joystick – and once you're familiar with the layout, you shouldn't have any trouble swiftly adjusting your settings to cope with any change in your shooting needs.
There are some areas where improvements could be made. I immediately missed having a quick way to toggle between auto and manual focus, rather than just a button which, when held down, engages manual. For this, and a lot of other more minor settings, you must venture into the A99 II's vast, labyrinthine menu system, which can be a chore until you start to get a feel for where everything is. This is a versatile camera, you see, and there are a lot of options you can play with.
Thankfully, you can assign custom controls (including AF mode, I was happy to learn) to certain buttons from within the menus, which means you can set up the camera to suit your favoured method of shooting.
Features: More than gimmicks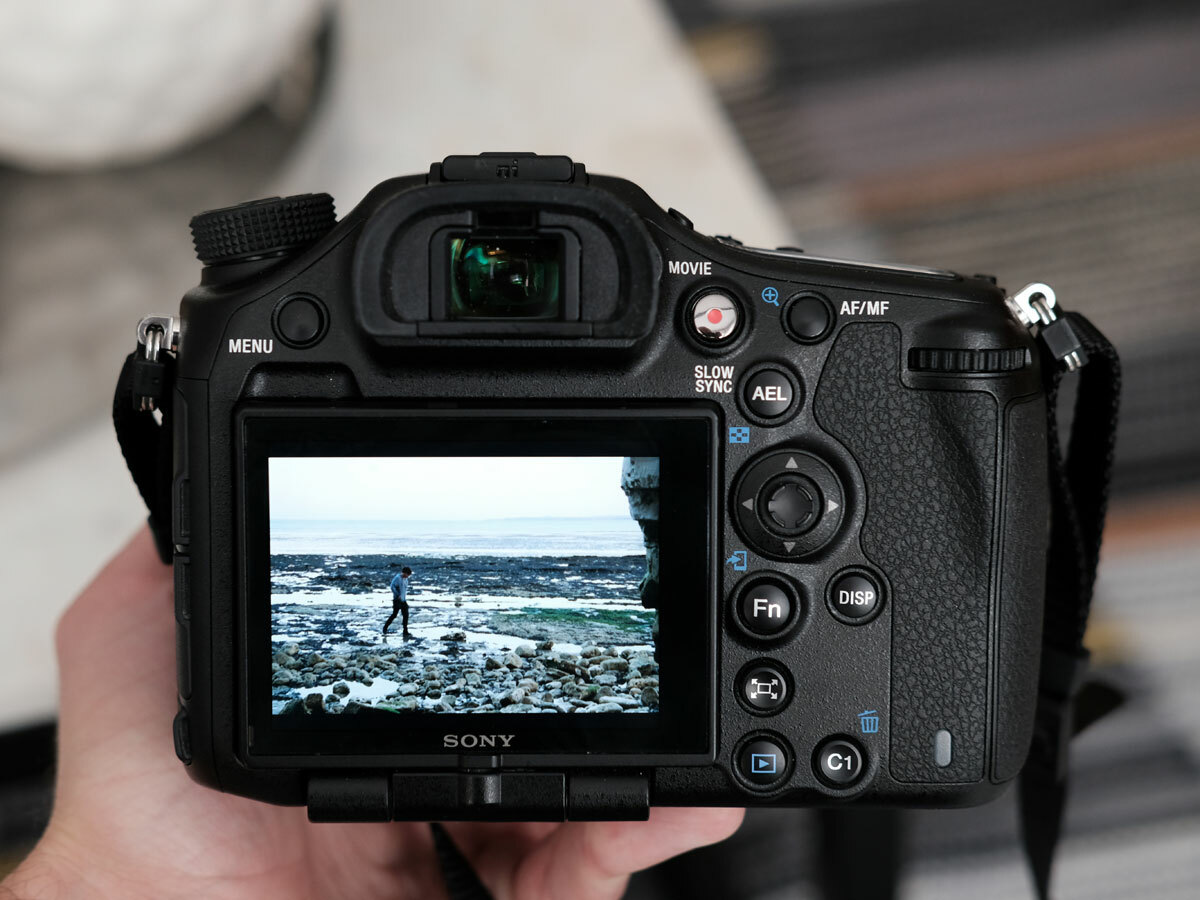 The A99 II is packed with more features than I could possibly detail here, but some stand out. The five-axis image stabilisation, for instance, works in-body rather than requiring lenses to have optical image stabilisation built into them. This means any A-mount lens you attach gets the benefit of IS, even those classic Minolta lenses from the 1980s.
The hybrid autofocus here is superb, with all 79 AF phase-detection points working as hybrid points. That means a responsive continuous autofocus that tracks motion accurately – ideal for shooting tricky, unpredictable subjects.
There's even an Eye AF mode that recognises and maintains focus on human eyes, which works well when you're shooting portraits with a narrow depth of field, when even a movement of a few millimetres from your subject can results in their eyes being blurry while the tip of their nose is sharp. AF also works well in gloomy conditions; it's all-round great.
Also, a quick word about the OLED viewfinder. Time was, an electronic viewfinder was regarded as the poor relation to an optical viewfinder, but that has changed rapidly over the past few years and it's mostly down to Sony's efforts. This viewfinder is large, beautifully crisp and natural-looking – almost indistinguishable from an optical viewfinder, really – and has the added advantage of being capable of previewing and reviewing shots and video clips.
Image quality: Best of both worlds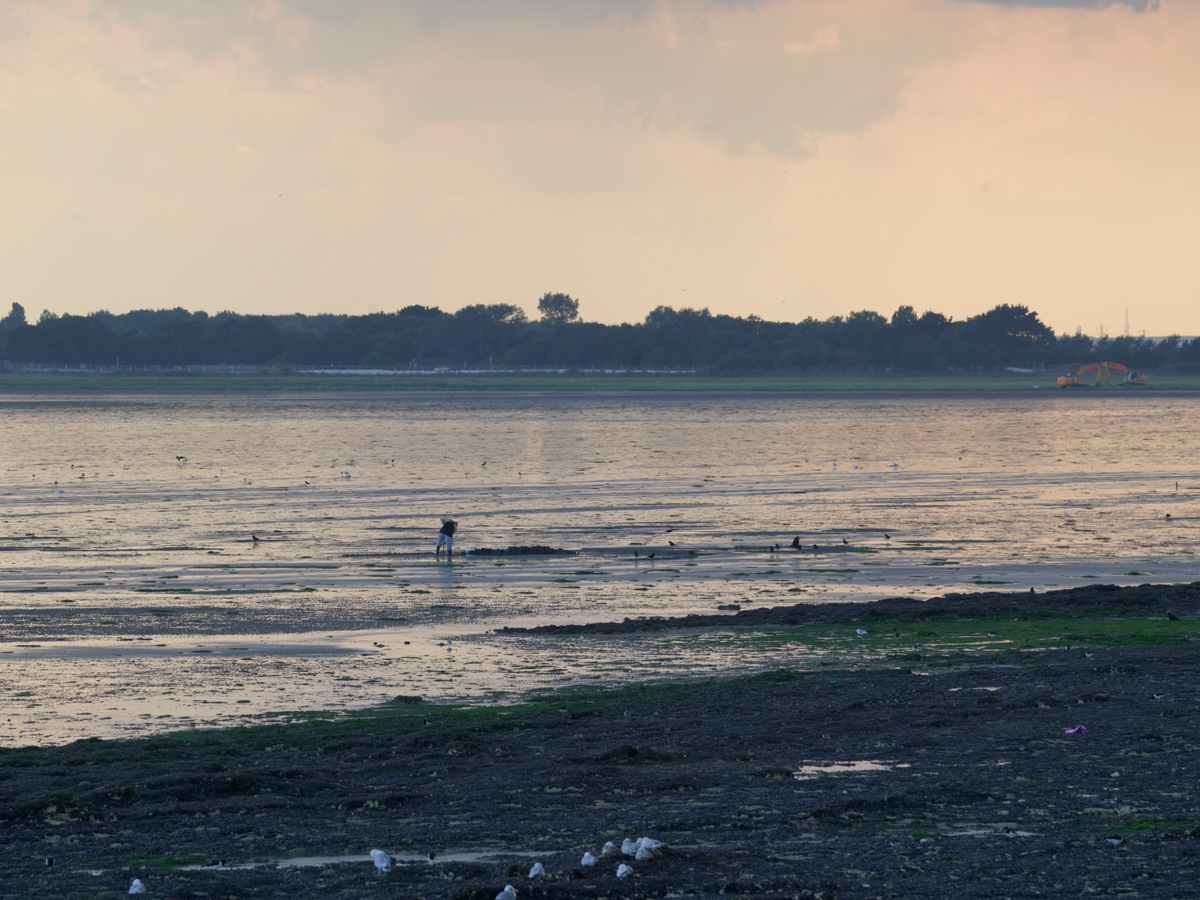 The A99 II is as much a videographer's device as it is a photographer's, and with a high-data 4K mode (up to 100Mbps in XAVC S format) and pro-level workflow features such as the ability to output uncompressed footage to an external recorder via HDMI, it could easily be used to make a movie or TV show with the right lenses attached.
Video quality is excellent in-camera though, and while I'm no budding Tarantino I managed to capture some lovely-looking stuff simply by pointing, focusing and hitting the record button. Footage exhibits natural-looking colours – perhaps a little muted – strong dynamic range and crisp, clean detail. The five-axis IS helps a lot with handheld video too, negating some of the effects of the wielder's less-than-steady mitts.
The 46.4MP sensor is great for stills work too. There's no low-pass filter, which increases the sheer amount of detail the A99 II can resolve.
The JPEG photos embedded above and below speak for themselves, really, but if you don't trust the on-board processor to deliver the goods, or are simply a control freak, you can always shoot in uncompressed 14-bit RAW and manually process the resulting images in your favourite PC photo editor. Prepare to wrangle with some huge file sizes, though: this camera's RAWs are about 85MB each.
As you'd expect from a full-frame camera with a maximum ISO of 102,400, low-light photography works well here. I wouldn't call it a master to the degree of the Sony A7S II, but with a fast lens attached, you can snap away in a dimly-lit pub and go home with some fantastic images.
Sony A99 II verdict
With its price tag and DSLR-like build, the A99 II isn't for everyone. Even those demanding a full-frame camera have cheaper, more compact and easier to live with options in Sony's own E-mount cameras including the A7, A7S and A7R. And if you're already invested in the Nikon or Canon systems, you're probably better off going with those company's respective full-frame models so that you can use your existing lenses.
But for those willing to invest in a new system or already using A-mount glass, the A99 II is a hugely powerful flagship that can tackle any photography or video task with aplomb. In fact, it's probably the only camera you'll ever need – which it might well have to be considering that price tag.
Tech specs
| | |
| --- | --- |
| Sensor | 42.4 full-frame Exmor R CMOS |
| Lens system | Sony A-mount |
| ISO range | 50-102400 (inc. expanded range) |
| Continuous shooting speed | Up to 12fps |
| Movie modes | 4K at up to 30fps; 1080p at up to 120fps |
| Movie formats | XAVC S; AVCHD; MP4 |
| Screen | 3in LCD w/ 1,228,800 dots |
| Viewfinder | XGA OLED w/ 2,359,296 dots |
| Connectivity | Wi-Fi, Bluetooth, NFC, micro HDMI, USB, 3.5mm mic, 3.5mm headphone, remote trigger, power, 2 x SD card slot |
| Battery life | 390 shots |
| Dimensions/weight | 142.6 x 104.2 x 76.1mm/849g |
Stuff Says…
Too expensive for mass appeal, but the A99 II is packed with ability and clever features
Good Stuff
Superb image quality for stills and video
Compact compared to peers
Huge, bright viewfinder
Fast AF and continuous shooting
5-axis IS
Weather-sealed magnesium alloy body
Bad Stuff
Expensive
Huge menu system