Sony KD-55A8H hands-on review
On sale: Spring 2020
Everyone knows an exhibition space isn't the ideal environment for assessing a new TV. And that goes double for a new Sony TV, because that company's exhibition space at CES2020 is roughly the size of a couple of football pitches and even more brightly floodlit.
Nevertheless, chances should be taken when they present themselves, so we are very pleased to get hands, eyes and ears on Sony's new A8H range of OLED TVs. Because if any Sony OLED range is going to hit the price/performance sweet-spot in 2020, this ought to be it.
Design: You Lift Me Up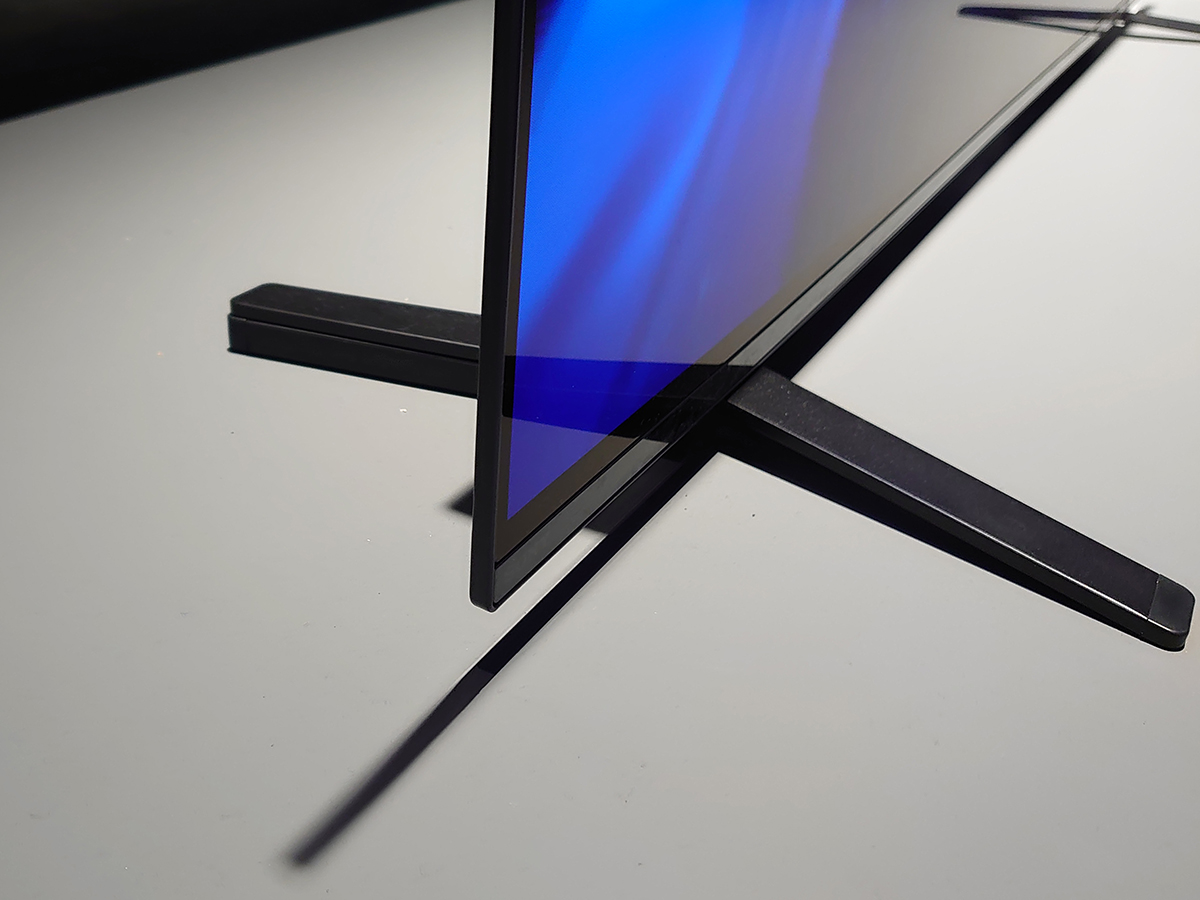 There are three basic elements to the A8H's design. From the front, it looks really good: it's almost entirely screen and, where it isn't, its bezel is both shiny and minimal.
From the side or the back, it's quite un-OLED in its bulk. Even the slimmest OLED TV around has to keep its electronic essentials somewhere, but the A8H has a bigger enclosure than most. It's hardly a deal-breaker, but the relative bulk of the A8H should at least confirm it's going to be far from the most expensive of Sony's 2020 TV ranges.
The adjustable feet are a nice touch, though. They're nothing special to look at, but the A8H can either sit very low on its two feet, or be rearranged so there's maybe seven or eight centimetres between the bottom of the screen and the surface it's standing on. So if you want to add a soundbar into your home cinema mix, there should be space to do so.
Picture quality: Deal With The Real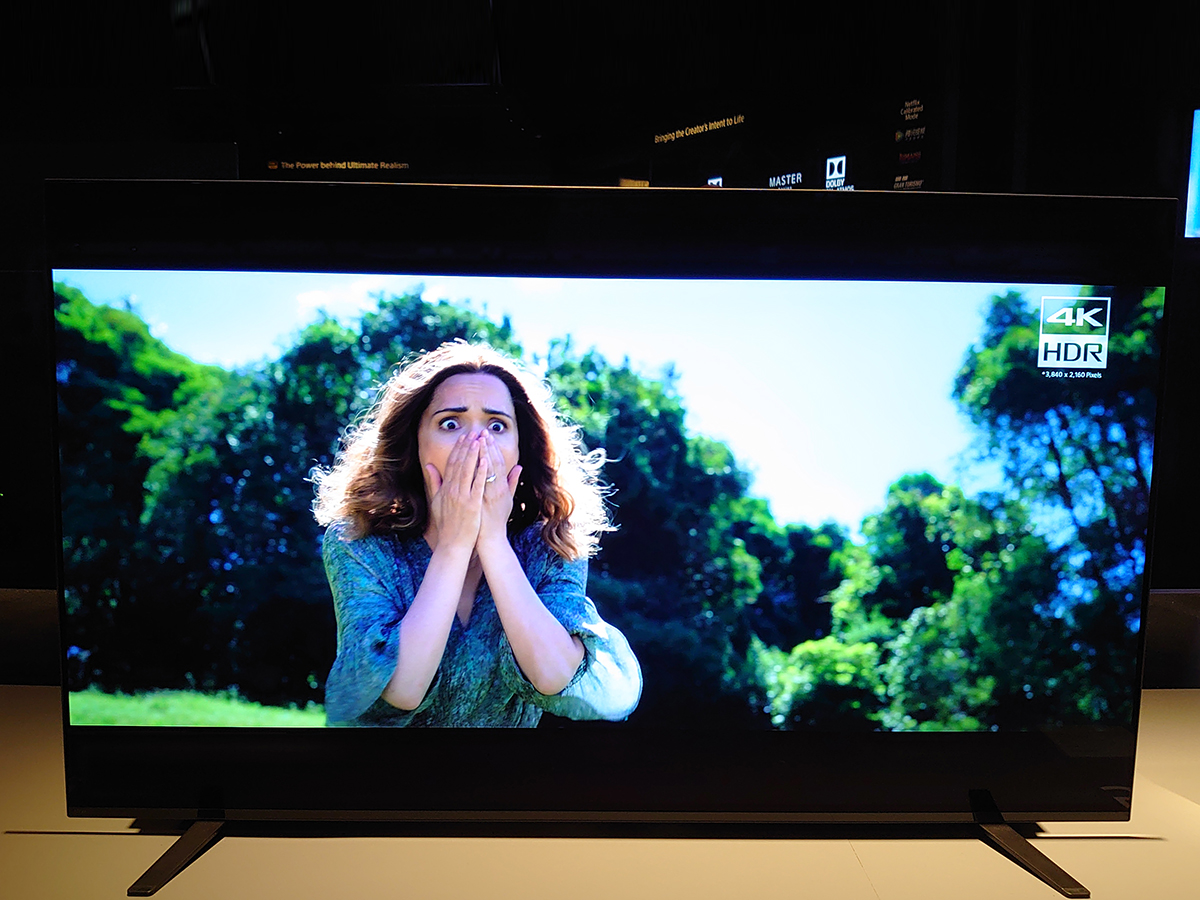 The A8H uses the same X1 Ultimate processor as last year's Sony OLEDs were fitted with. It's got a couple of new tricks up its sleeve, though, both of which seem to have been implemented really well.
'Ambient Optimisation' is Sony's latest, and most sophisticated, attempt to have its OLED TVs adjust themselves to the lighting conditions of the room they're being viewed in. And even in as unpromising an environment as a trade show, it allows the A8H to maintain dark-tone detail without overdriving the brighter areas of the image at the same time. Even though the A8H doesn't seem to be the out-and-out brightest OLED you ever saw, it maintains a really pleasant balance even if the room's lighting conditions keep changing.
There's impressive confidence about the way the A8H handles motion, too – which is presumably why Sony (unlike some rival exhibitors) is happy to showcase it using real, actual commercial content rather than 'filmed only to look amazing' demonstration footage. Sony's developed the X-Motion Clarity tech it's been using in its LED TVs for OLED, and the result is a TV that looks grippy and clean with motion in a way that last year's Sony OLEDs couldn't quite manage. HDR content in particular looks a treat. The colour balance is well judged and wide-ranging, dynamic contrasts are obvious, and detail levels are high. I reckon the A8H can be bettered for overall brightness, but that's not the be-all and end-all. The neutrality and naturalness of the A8H's images seems a fair trade-off.
Sound quality: Genuine Excitement
At the rear of A8H there are a couple of small subwoofers – which isn't helping the Sony be any slimmer. But up front, Sony's using its Acoustic Surface audio system. By using exciters to produce sound from the screen's surface, rather than a more traditional driver arrangement, the A8H simultaneously looks clean and uncluttered while sounding really open and precise.
That's by OLED TV standards, of course. No doubt some viewers will be more than happy with the A8H's sound (and, to be fair, it's better than quite a few rivals), but it's no accident that the Sony levitates to accomodate a soundbar.
Sony KD-55A8H initial verdict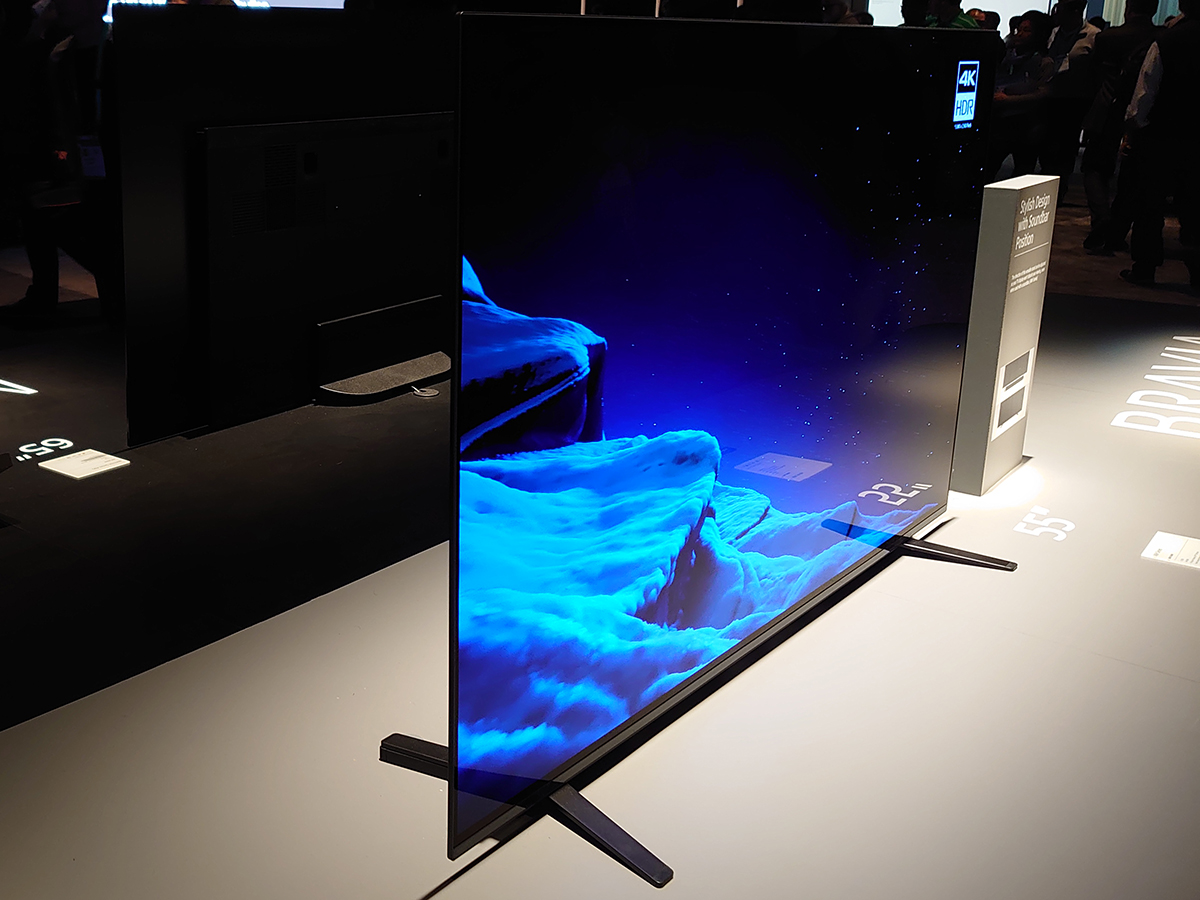 As per usual, Sony's version of Android TV is smarter, cleaner and more expansive than most. The A8H's operating system looks good and is simple to get to grips with, and can be easily customised to suit your viewing habits. Voice control is available via Amazon Alexa or Google Assistant, there's support for Apple AirPlay 2, and with both Vision and Atmos capability the Sony ticks all the Dolby boxes too.
There's no HDR10+ functionality, which is a pity no matter how much Sony evangelises about Dolby Vision's superiority. And there's no Filmmaker Mode either, which wouldn't have been an issue a week ago.Now, though, it's definitely a box that some prospective buyers will want ticked.
As with virtually everything else on this website, price is all-important – and Sony's not yet come up with the figures. But unless it's got completely carried away, the A8H seems to have pretty much everything a mainstream OLED TV should have.