Sony KD-65A8 review
"...there's a difference between 'cinematic' and 'dark'..."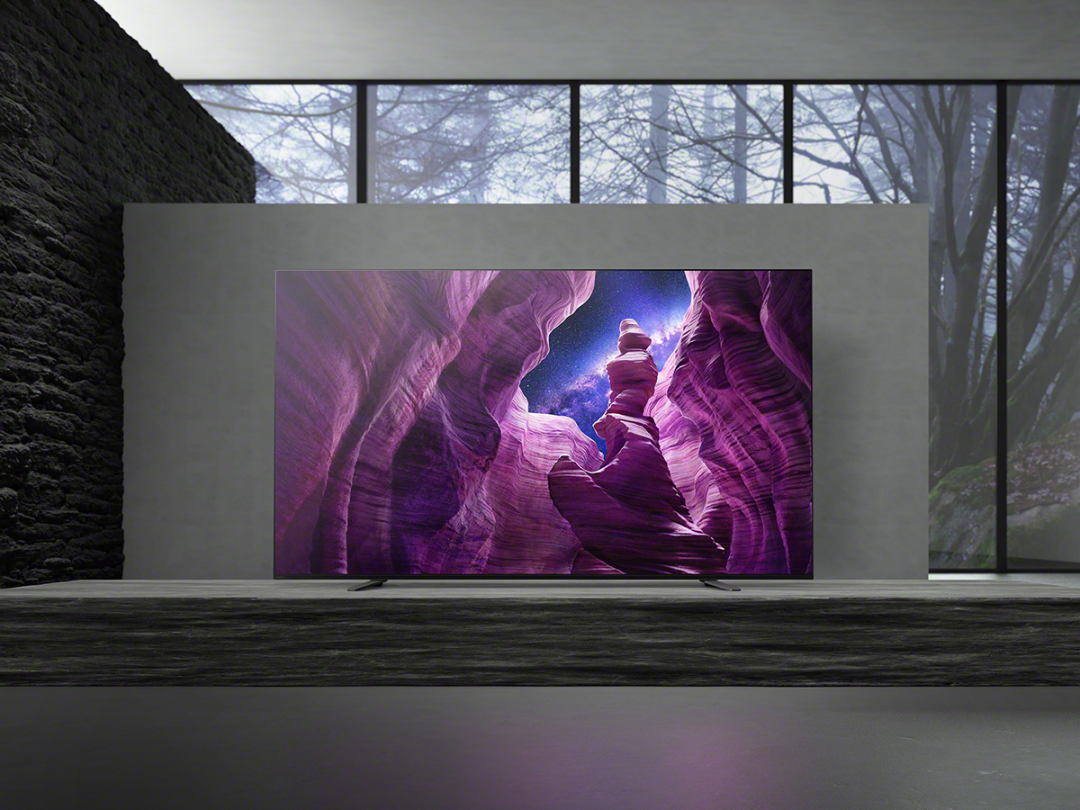 It's just as well for Sony, really, that nobody with any sense makes big purchasing decisions based purely on measurements or spec-sheets. Because if they did, its new A8 range of OLED TVs (this 65in KD-65A8H plus the smaller, more affordable 55in KD-55A8H) might be quite a difficult sell. It doesn't tick as many spec-boxes as its most obvious rivals.
It doesn't measure as impressively as some of those rivals, either. But sit in front of the KD-65A8. Watch it, experience it. Then all of the nagging concerns about lack of full HDR compatibility, or a measurable lack of peak brightness, or its efficacy as a gaming monitor, become pretty much irrelevant. Because the KD-65A8 is a beautifully realised OLED TV, regardless of its on-paper shortcomings. 
Design and build: Happy feet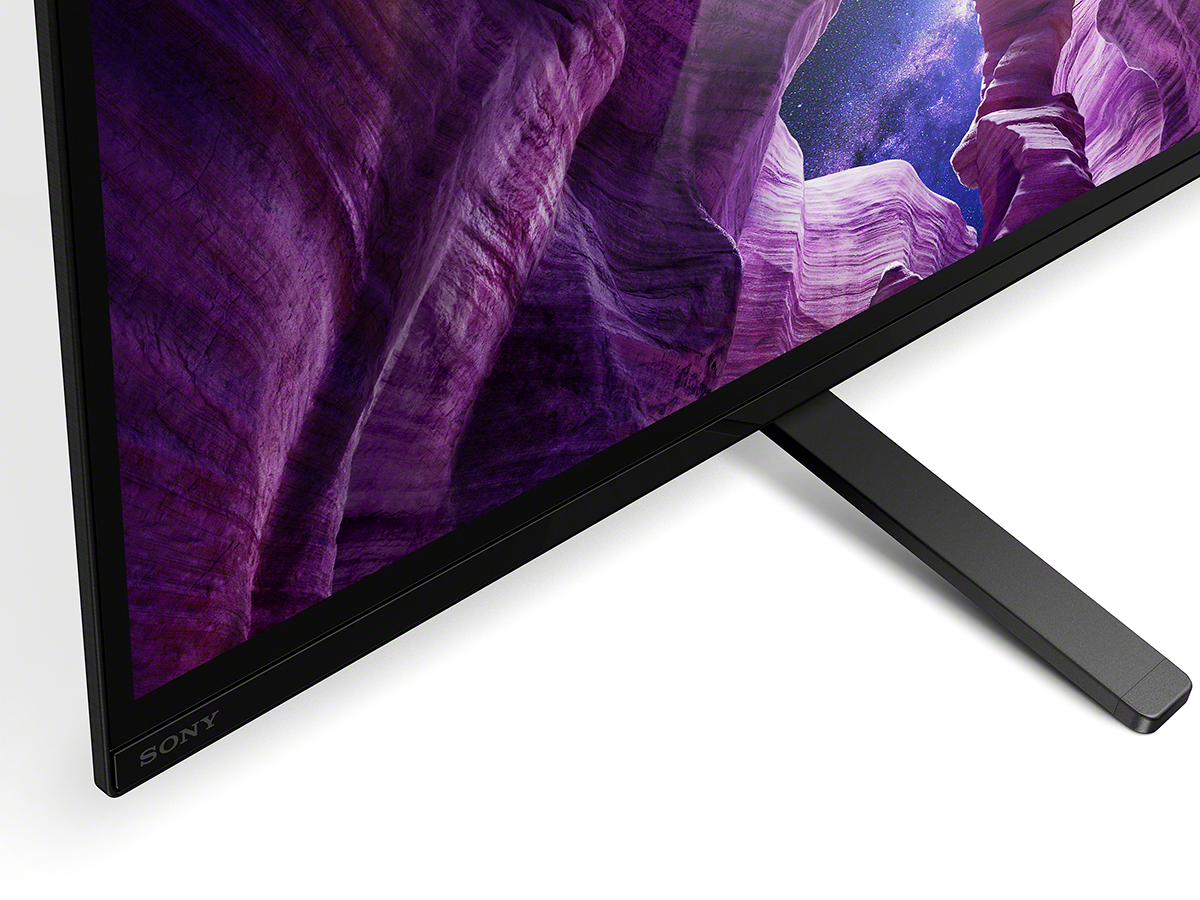 Only in the third dimension does the design of the Sony KD-65A8 fail to impress. Look at it head-on and it's pretty much perfect – a great big screen, surrounded by an absolute minimum of bezel. Unless you're one of those oddballs who worries what their TV looks like when it's not switched on, it's difficult to know what more Sony could realistically have done here.
The gunmetal grey bezel is extremely slender, and gives every impression of being fashioned from a single strip of metal. Only along the bottom of the screen does the bezel bloat from 'almost non-existent' to 'slightly more than minimal'.
In the third dimension, though, the A8 is a bit of a disappointment. For a fair portion of the chassis, the depth of the Sony is just a few millimetres – but there is a quite obtrusive box of connections, electronics, speaker drivers and what-have-you that makes the A8's practical depth a touch over 5cm.
It's hardly the end of world, admittedly, and LG's new, similarly priced (and very, very good) OLED65CX isn't that much slimmer at its deepest point – but it's slimmer nevertheless and, what's more, the LG's box of bits'n'pieces is smaller than the Sony's.
At almost 22kg the Sony isn't the heaviest OLED TV ever to be offered with the ability to hang it on the wall. But if you want to stand it on a surface, there's a nicely thoughtful aspect to its wide-spaced feet. They can be fitted so that the bottom of the screen sits gratifyingly close to the surface the Sony's standing on, or they can hoist the screen upwards enough to make space for a soundbar.
In terms of the way the A8 is put together, though, there's no opportunity for a moan. The Sony is, like the vast majority of Sony products, built from superior materials and put together impeccably. No matter if you hang it on the wall, put it flat on its feet or raise it up on tip-toe, the KD-65A8 will be obsolete long before its quality of construction lets it down.
Features: Got. Got. Need.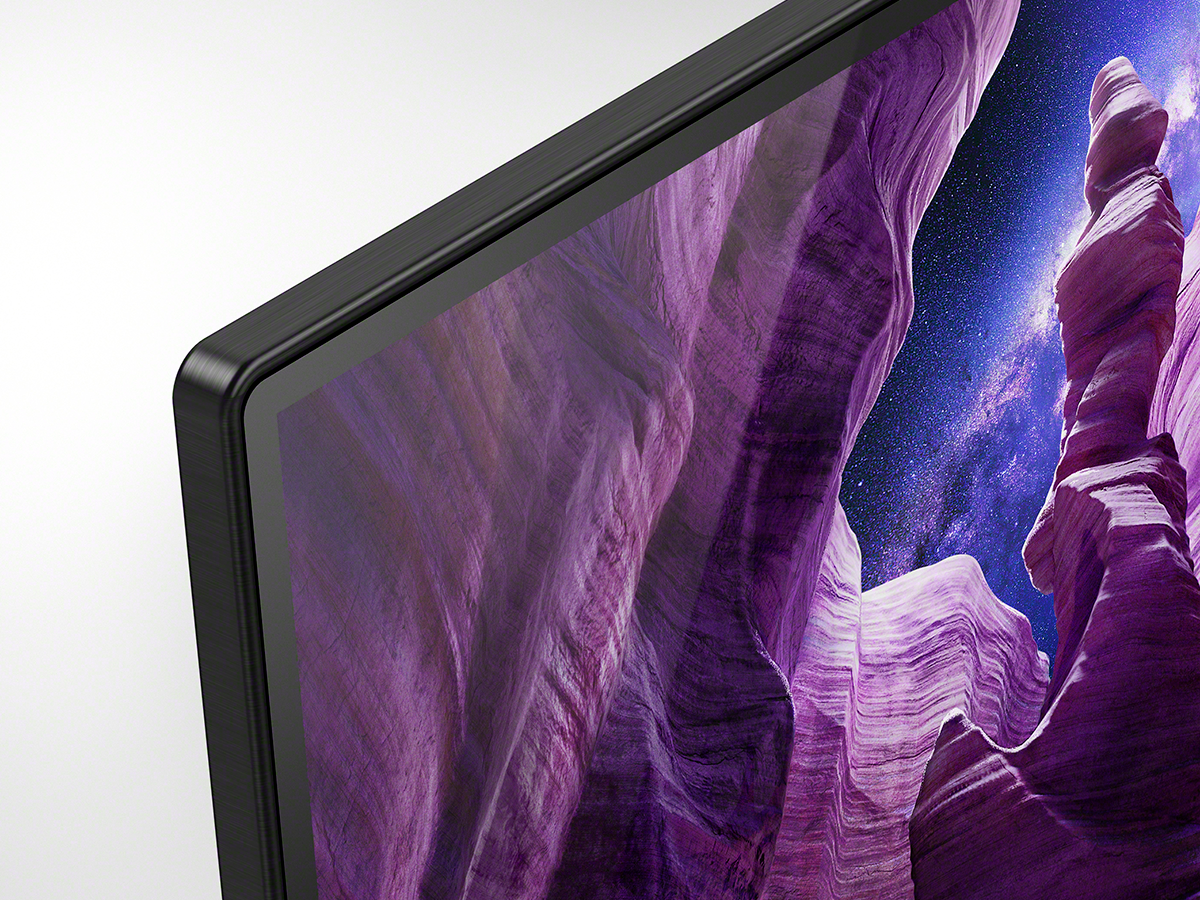 If companies like Panasonic and Philips can include a full suite of HDR compatibility on their 4K TVs, it's obvious the reason that LG, Samsung and Sony can't has nothing to do with engineering. But still, here we are: the Sony KD-65A8 is a 4K OLED TV with HLG, HDR10 and Dolby Vision HDR functionality. There's no HDR10+ – and there's no Dolby Vision IQ, which in some ways is the more baffling omission.
Getting that 4K content (or any other sort of content, in fact) into the screen is straightforward enough. The A8 has four HDMI inputs, one of which is eARC-enabled and all four of which feature HDCP2.3 – but, on the subject of baffling omissions, none of the Sony's HDMI inputs are compatible with 4K @ 120Hz, Virtual Refresh Rates or any of the other exciting features coming on the next generation of games consoles. It's almost as if no one has told Sony's TV division that the company has a new Playstation due before the year's out.
In addition, there are three USB inputs, an Ethernet socket, composite video input, an aerial post for a terrestrial TV tuner and a couple for satellite equivalents, and a CI card slot. Wireless connection is available via wi-fi, Bluetooth 4.2, Chromecast and Apple AirPlay 2. Outputs extend to a digital optical socket and a 3.5mm analogue line-level output intended for use with headphones.
Unlike a lot of flash 4K TVs, though, the A8's audio system is more than just an afterthought. Sony's continued with the Acoustic Surface Audio arrangement it revealed to such winning effect with 2017's A1 OLED range – and that's unarguably a good thing.
A pair of actuators excite the screen itself so that it acts as a speaker – and Sony is able to give the impression of sound following the on-screen action. At the back of the chassis there's a more traditional subwoofer delivering a little low-end reinforcement.
Interface: A8 = A9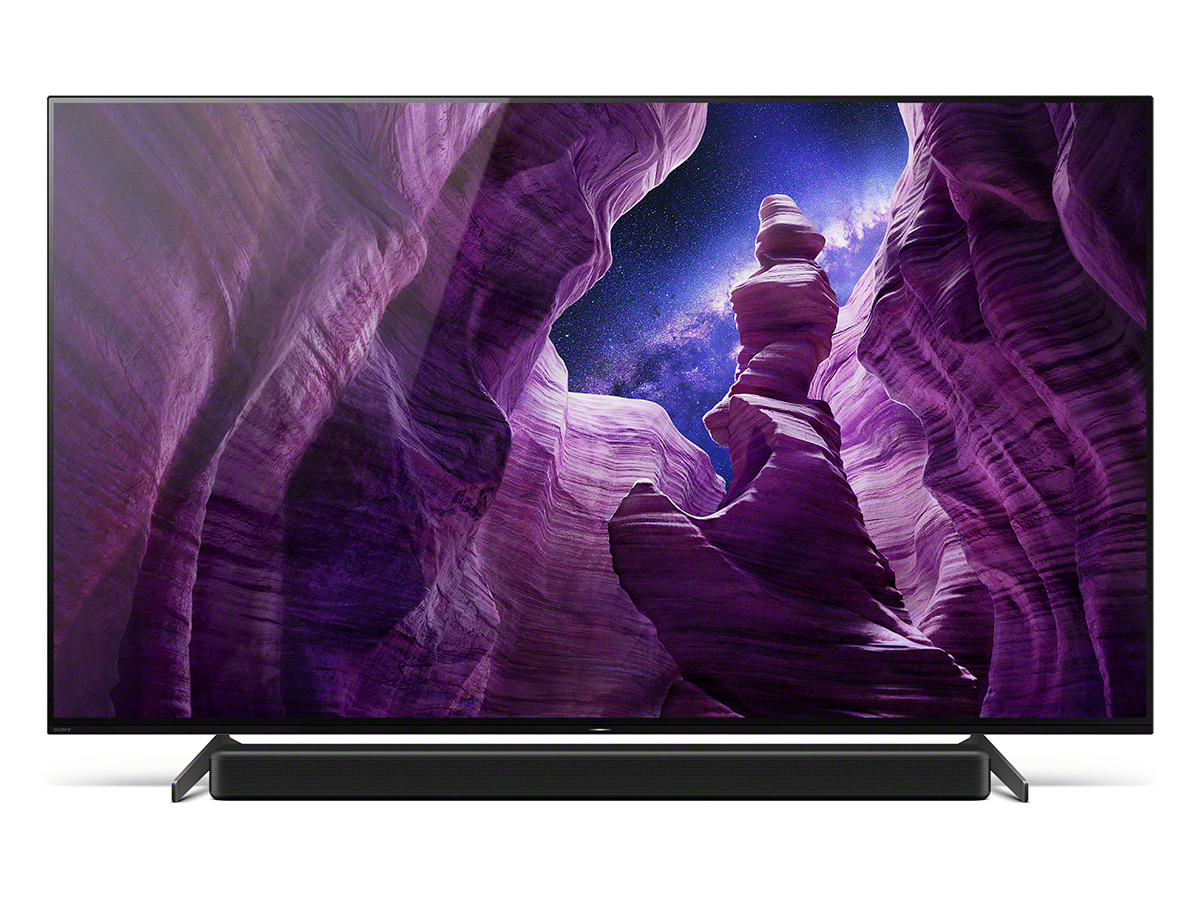 The A8 uses Android 9.0 as its operating system – and, as is the case with the majority of Android-powered TVs, that's mostly but not entirely a good thing. On the plus side, UK versions of the Sony have YouView bolted on to deal with domestic broadcasters' catch-up apps.
There's a very decent EPG, a comprehensive collection of streaming service apps (although no Apple TV+, of course – this is an Android device, after all), a common-sense layout and an overall impression of stability.
Android still covers the entire screen when it's activated, though, which gets increasingly annoying the longer you live with the TV. At least Sony has managed to tidy up access to set-up menus and what-have-you for this implementation, though.
As this is an Android-powered device, of course, it's possible to navigate the interface using Google Assistant (up to a point, at least). There's a 'mic' button on the remote control, which means you don't have to raise your voice to get your commands carried out.
The remote control itself doesn't have too many buttons (good), very few of the buttons are too small (very good) and it's very positive in its action (also good). It's finished in a sort of faux-metal effect, which is fooling no one (not so good).
Performance: Turn away from the dark side
Some OLED TVs go with the 'shock and awe' approach of over-vivid, over-punchy images in an attempt to impress the viewer – but that's the visual equivalent of being yelled at, and that's not how Sony rolls.
With the 4K Dolby Vision remaster of The Shining playing, the KD-65A8 turns in a performance of remarkable subtlety and nuance. No detail is too fine to elude it, no movement is too difficult to perplex it, no skin-tone or pattern or texture is too complicated to confuse it.
The Sony simply gets on with handing over every single shred of information contained on the disc, and lays it out in the most natural and convincing manner. As an OLED TV, of course, it's able to produce deep and satisfying black tones – but what the Sony can also do (which is by no means a given, even in the best OLED TVs) is differentiate extremely small gradations of black tone. There's no crushing of dark scenes, just a convincing description of the differences between 'entirely black', 'very dark black', 'quite black' and so on.
As far as lustre and intensity of contrasts are concerned, the Sony is admittedly a little short of punch. There's a difference between 'cinematic' and 'dark', of course, and a little finessing of the A8's settings is in order to get on the right side of these alternatives – but while the Sony may not have the peak brightness of, say, an LG OLED65CX (that rival again), it keeps its white tones clean and detail-packed. So contrasts are perfectly satisfactory – or, at least, they are as long as you're not watching in an overly bright room.
As well as complete command of detail and black levels, the A8 delivers an exceptionally broad colour palette. And it's adept at drawing edges with sufficient sharpness to make them convincing, but not so much sharpness that they get restless or look artificial. As an upscaler, too, the Sony does sterling work.
A DVD of Jeunet & Claro's Delicatessen leaves the A8 with an awful lot of work to do to fill its resolution – and, sure enough, there's some picture noise in evidence pretty much throughout. But in every other respect, the Sony serves up outstanding pictures – the red/orange/brown colour scheme is judged beautifully, and darker tones retain just as much detail as lighter/brighter equivalents.
Motion is handled with assurance, and even the Sony's insistence on applying some HDR remastering can't make the images look anything other than natural. Pressed into service as a games monitor using a Sony Playstation 4, the A8's sub-20ms response time is respectable if not class-leading. But the lack of support for those features the Playstation 5 will be packing (including Variable Refresh Rates and HGiG HDR tone-mapping) make this OLED TV a less compelling choice than its obvious rivals. And that's before you consider how some alternative screens' support for 4K @ 120Hz will make their response times even more rapid than the A8's.
As far as sound goes, the Sony's strongly in the 'half-decent' camp – which is a better result than many of its more obvious rivals can muster. It serves up a pretty expansive sound that escapes the confines of the screen's bezels quite easily – the sonic motion-tracking of on-screen action is actually quite impressive, and a fair bit more convincing than Samsung's vaunted 'Object Tracking Sound'. Bass extension is respectable by TV standards, too, and there's decent sonic balance to the Sony's presentation which makes buying an accompanying soundbar something to put on a 'to do' list rather than a 'must do absolutely right now' list.
Sony KD-65A8 Verdict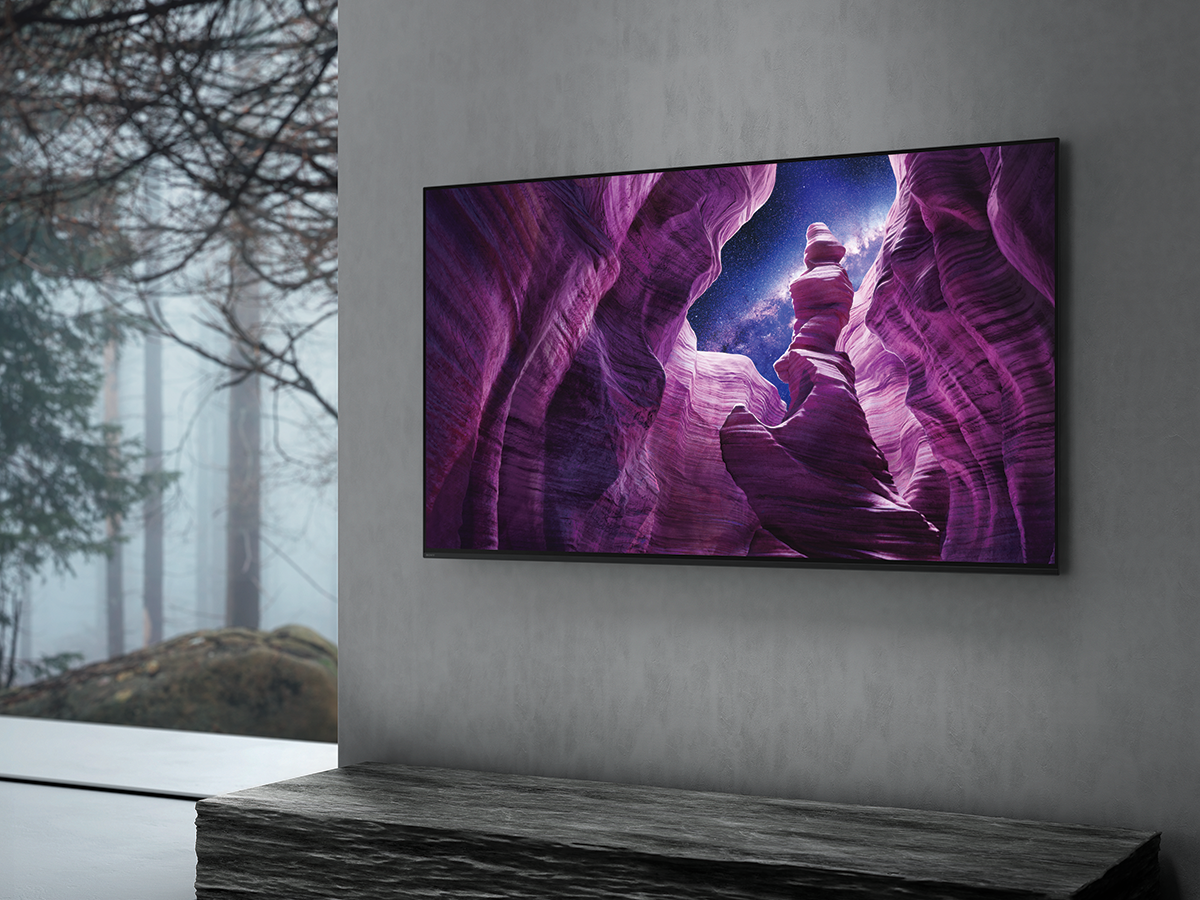 In the end, the gaps on the Sony's spec-sheet don't turn out to be automatic deal-breakers after all.
The A8's relative lack of brightness is more than compensated for by the accuracy and breadth of its contrasts, and its lack of HDR10+ support proves a niggle rather than a catastrophe.
The shortage of console-friendly features will put some folks off, for sure, but the rest of us will just go ahead and marvel at the consistency and fidelity of its images.
Stuff Says…
An oddball in a few ways, but the KD-65A8 has it where it counts
Good Stuff
Nuanced, lifelike 4K pictures
Fine upscaling
Impressive audio system and performance
Bad Stuff
No HDR10+
No support for some next-gen console features
Not the brightest OLED TV around