Sony KD-65XF9005 review
Flagship features make this something of a mid-range marvel...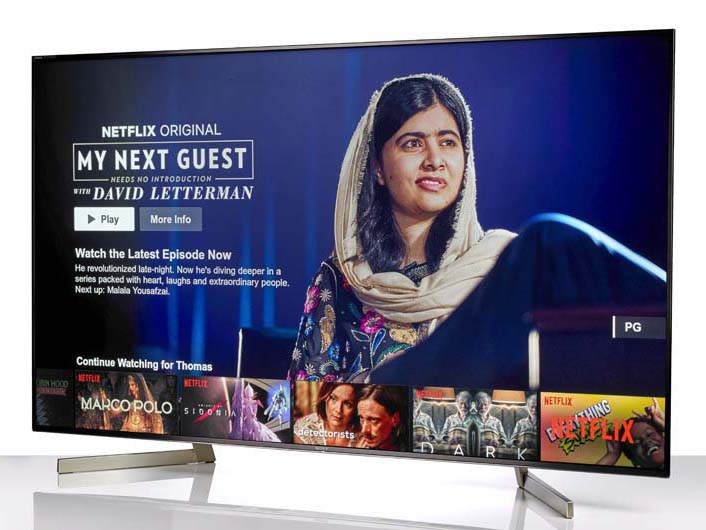 The mid-range can be a dark and dreary place for any product, let alone a TV.
Without the bells and whistles of a flagship or an attention-grabbingly affordable price tag, how are you going to generate excitement?
If you're the Sony KD-65XF9005 (sweet name, bro), you generate excitement by bringing flagship features within the reach of those of us who don't have a property portfolio. Features such as a direct LED backlight similar to that of the vastly more expensive Samsung Q9FN.
Or the X1 Extreme engine that was previously only available on Sony's top-end models and brings with it fancy processing features such as the 4K X-Reality Pro upscaling engine and new X-Motion Clarity motion handling.
Translated into English, what we've got here is a TV that offers many of Sony's most advanced features at a cut-down price. We're not saying £2300 is chump change but, as you're about to find out, in the case of the XF9005 it is exceptionally good value.
Picture: a more affordable Samsung Q9FN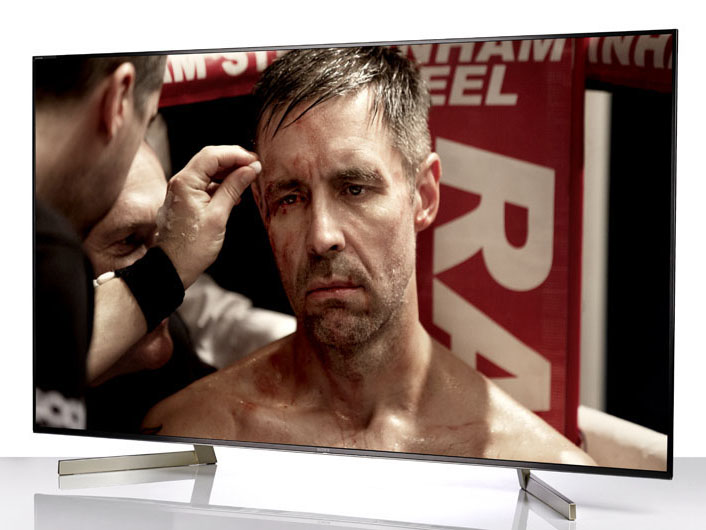 Surprisingly, given that they're made by two different manufacturers, perhaps the simplest way to think of the Sony XF9005 is as a more affordable alternative to the Samsung Q9FN – at least in terms of picture quality.
Both TVs leverage direct LED backlights to maximise brightness without sacrificing the depth of blacks, both delight in digging up details, particularly in the brightest and darkest parts of the picture, and both approach colour reproduction in remarkably similar ways.
If you're wondering why, given these apparent similarities, you'd spend the extra £1500 on the Samsung, it's because it takes what this Sony does and takes it even further, almost across the board, but in its own price bracket the XF9005 is exceptional.
The TV is predictably at its best when playing HDR, which is supported in HDR10 and HLG forms out of the box (Dolby Vision will apparently come via a future software update), so we kick off with the stunning Planet Earth 2 4K Blu-ray.
The crispness of the snow-covered peaks, the warmth of the sun-baked desert and the vivid, inviting aquamarine and blue hues of the ocean surrounding a tropical island are all handled in stunning fashion, and the disc has only been spinning for a couple of minutes. The brightness and vibrancy on offer here really is a step above the alternatives available for the same money.
And this isn't punch for punch's sake. Everything is controlled and natural, so the stars of the documentary series are all accurately represented, from the bright reds of the forest-dwelling crabs to the scaley greys and sandy hues of the komodo dragons and even the ruddying skin of Attenborough himself. It's just an expertly judged, effortlessly dynamic but realistically coloured image.
What's more, the Sony's extra brightness and vibrancy brings with it more detail and subtler hues. Clouds have more detail and definition than similarly priced rivals can muster, and at the brightest end of the spectrum the TV reveals colours that others lose to over-exposure.
The zonal backlight also does a very good job of producing these highlights while sacrificing very little in terms of black depth. There's a bit of blooming around white highlights in otherwise dark scenes that's less apparent with the Samsung Q9FN and simply isn't a thing with an OLED, but in its own right the way the XF9005 combines bright and dark elements is extremely impressive.
And there's even a way in which the XF9005 trumps the more expensive Samsung: motion. Sony has long been a master of the art of motion processing, and the XF9005 continues the trend, producing slow pans and fast action with sharpness and clarity, and without introducing the dreaded soap opera effect.
Disappointing though it is to admit, you can't yet spend all of your time gorging on HDR content – standard dynamic range (SDR) stuff is going to make up a very big chunk of your TV diet for a long while yet. Upconversion of SDR to HDR is by no means unusual, but Sony has taken the bold decision to make it a default setting of the XF9005. In fact, it's automatic and unturnoffable on all but one of the TV's picture presets.
The good news is that the feature is very impressive, particularly with films and bigger-budget TV shows. Again, the quality lies in the combination of extra vibrancy and natural realism, the set avoiding overcooking colours in the way that many such processing modes do.
This combines with very good sharpness and detail to make 1080p content from a Blu-ray, streaming service or HD TV channel look really rather fabulous. Standard-def is handled fairly well, too, although we hope that at this point you're cutting that out of your diet as much as possible.
Gaming, though, well we hope that's you're daily evening meal, and games are pretty good on the XF9005. That brightness and vibrancy makes it an excellent choice for big budget HDR titles such as God of War, and an input lag measurement of around 42ms means that, while the Sony isn't as fast as some, it's more than quick enough for all but the most competitive of gamers.
Tweaking the picture
Another great thing about the Sony is how easy it is to get it performing at its best. Start off by turning the Light Sensor off, then switch to the Standard preset. You need to calibrate this mode twice; once for HDR and again for SDR.
Our preference is to turn off Reality Creation and all noise reduction features for all sources. That's all you need to do for HDR content. For SDR we'd suggest reducing Brightness by a few points and switching Live Colour to Low.
Design and sound: looks smart, sounds smart
We've been putting it off until now but the moment has come to tackle the question on everyone's lips: just what is going on with those ridiculous feet? Odd, aren't they? The splayed feet of a penguin with a preposterously wide, George Osborne-like stance (look it up if you can't remember).
There is, thankfully, a reason for the design: the angle and distance between the feet are designed to accommodate Sony's new HT-FX9000 soundbar, the addition of which presumably makes the whole thing look a lot less daft, but that doesn't seem reason enough for one of the most awkward TV designs of recent memory.
The feet do at least feature simple but effective channels for your cables, and the TV's bezel is stylishly slim and on-trend with its brushed aluminium finish. The TV itself isn't super-slim, especially in comparison to a recent OLED, but it's equally not thick enough to be at all off-putting.
Make no mistake – this is a good-looking set. It sounds pretty good, too, particularly given the lack of visible speakers. It's rather bass-light, which is a problem for action movies and the like, but the audio is otherwise direct, clear and detailed, particularly where voices are concerned.
Of course, the quality of the picture really needs audio to match, and you'll want to add at least a soundbar to get that. We can't vouch for the aforementioned Sony model as we haven't yet reviewed it, but in the meantime we'd recommend the Yamaha YAS-207 as a starting point.
Features: all the apps in a disappointing package
Sony has decided to stick with Android TV as its operating system for another year, and that's both a good and bad thing.
On the positive side, the depth and breadth of apps on board is superb. Netflix and Amazon in 4K HDR, every major UK catch-up service, Google Play Movies & TV, PlayStation Video and Rakuten for pay-as-you-go blockbusters, and Deezer and Spotify for music – you're certainly not going to run out of things to do with your new TV.
On the negative side, Android TV can be a real pig to use. At times it's almost unbearably slow, responding to your commands only after you've lost patience and issued another, resulting in the TV finally responding to everything at once and doing something far different to what was intended.
That fancy X1 Extreme processor appears to be no match for the poorly optimised operating system. Perhaps the upgrade from Android 7.0 to 8.0 will help – Sony's promised it's coming but not given a date.
Sony KD-65XF9005 verdict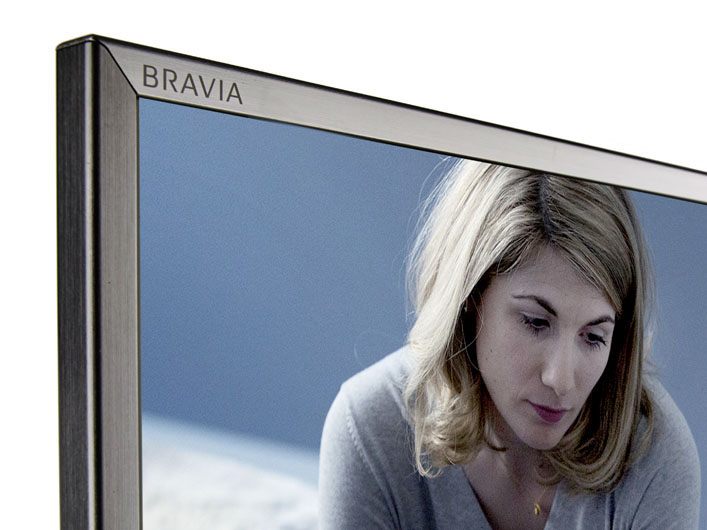 But the performance of the Sony and this price makes it worth putting up with Android TV's irritations. For the money it's an exceptional TV, giving you a fairly flagship experience with a hefty discount.
If you want a piece of what the stunning Samsung Q9FN offers but can't stomach the nearly four grand price tag, this Sony is the telly to get.
Stuff Says…
At this price, the XF9005 is an absolutely stunning TV with flagship touches
Good Stuff
Really bright and punchy
Great detail, particularly in the brightest and darkest areas
Vibrant but natural colours
Apps, apps and more apps
Clear sound
Bad Stuff
Bass-light audio
Android TV is still pretty horrible to use