Sony KE-48A9 review
"Because even relatively small can be beautiful"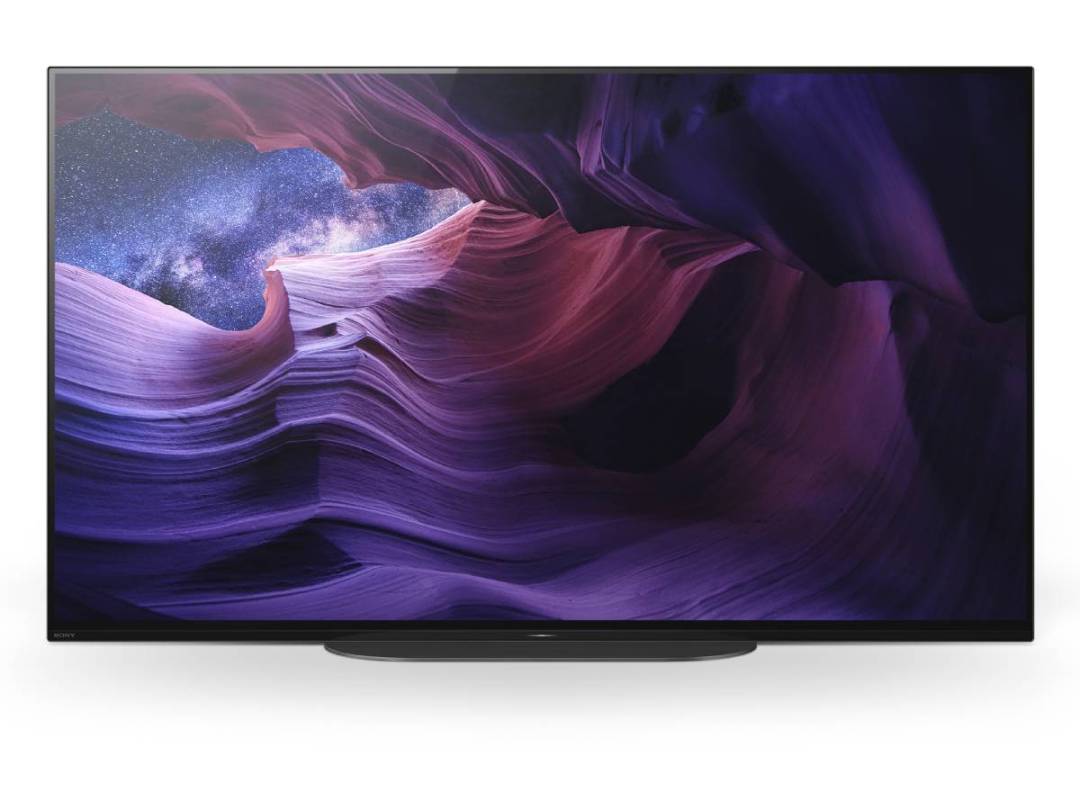 Finally, people in smaller homes get to think big. After quite a few years of complaining that flagship TV technology only ever appeared on mahoosive televisions, finally we're starting to see OLED televisions at more realistic sizes, like this, the Sony KE-48A9.
Naturally enough, LG – vendor of raw OLED panels to every other TV manufacturer – was first out of the blocks with its OLED48CX. But it hasn't taken Sony – a company that manages to be intrepid and judicious all at the same time – long to follow suit. Its OLED TVs have always been among the mainstream's best, and now those of us with space considerations can enjoy some Sony expertise on a smaller scale.
That's always provided that reducing screen-size hasn't somehow reduced performance at the same time, of course…
Design and build: the lowdown
Is it possible to be blandly handsome? Well, I suppose it must be – look at Ryan Reynolds, after all. The KE-48A9, then, is a blandly handsome television, with minimal bezel surrounding its screen and a pedestal stand that leaves no space whatsoever for a soundbar beneath the screen.
As far as chassis depth is concerned, the Sony – like the majority of OLED TVs, to be fair – over-promises and under-delivers. The area of uncanny OLED skinniness is briefer than usual here, and the unsightly bulge where all the electronic bits and bobs are housed is bigger and deeper than the norm. An effective depth of 5.8cm means the KE-48A9 is no one's idea of a particularly flat flatscreen.
As per usual with Sony, though, there's nothing to take issue with where build quality is concerned. KE-48A9 is flawlessly constructed, feels built to last and delivers that intangible-yet-definite pride of ownership that comes with virtually every product in Sony's colossal portfolio.
Features: the sound of the screen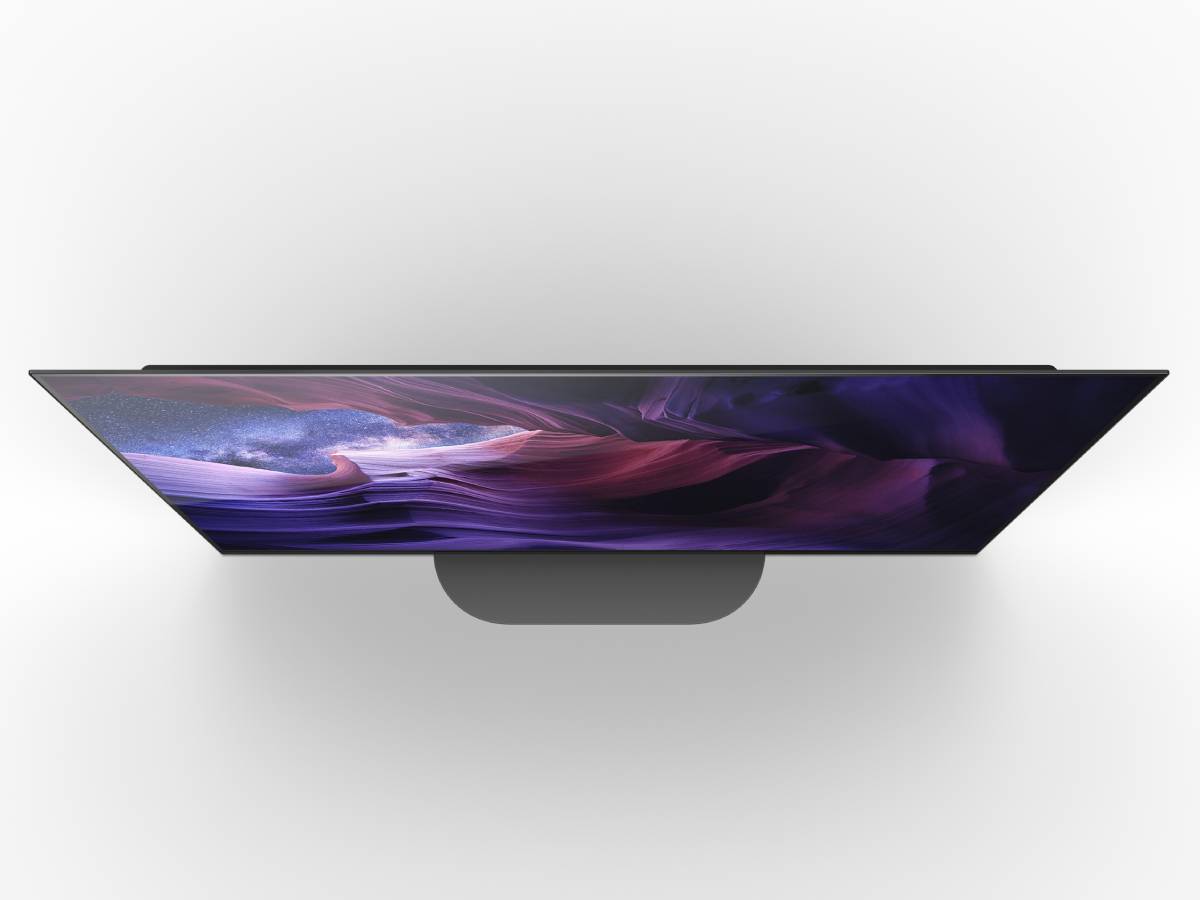 Well, first and foremost this is a 4K HDR OLED TV. Broadcaster's favourite HLG, HDR10 and Dolby Vision HDR standards or catered for – HDR10+ is absent, but in all honesty if you're going to be short of one of the obvious HDR standards, let it be HDR10+.
As far as connectivity goes, the Sony has a stack. Four HDMI inputs, three USB sockets, an Ethernet input, a pair of satellite TV aerial posts plus a terrestrial TV equivalent, and composite video inputs for your real legacy equipment, ought to be enough physical connections for anyone. The dual-band wi-fi on board too, naturally, plus Bluetooth 4.2, Google Chromecast and Apple AirPlay 2 wireless connectivity for good measure. Outputs extend to a digital optical socket and a 3.5mm headphone jack.
It's worth noting that there's no HDMI 2.1 support here – so all of the clever features incorporated into both Microsoft's Xbox Series X and Sony's own Playstation 5 can't be exploited. There's eARC capability for a fancy soundbar, though, so the HDMI news isn't all grim…
…mind you, Sony's employed its Acoustic Surface Audio technology here – so the KE-48A9 may well be one of the few TVs on sale that doesn't automatically require a soundbar to make it sound half-decent. Using actuators to effectively turn the entire screen into a speaker is clever and, certainly in previous applications, effective. A rather more traditional subwoofer is incorporated too.
Interface: Android intelligence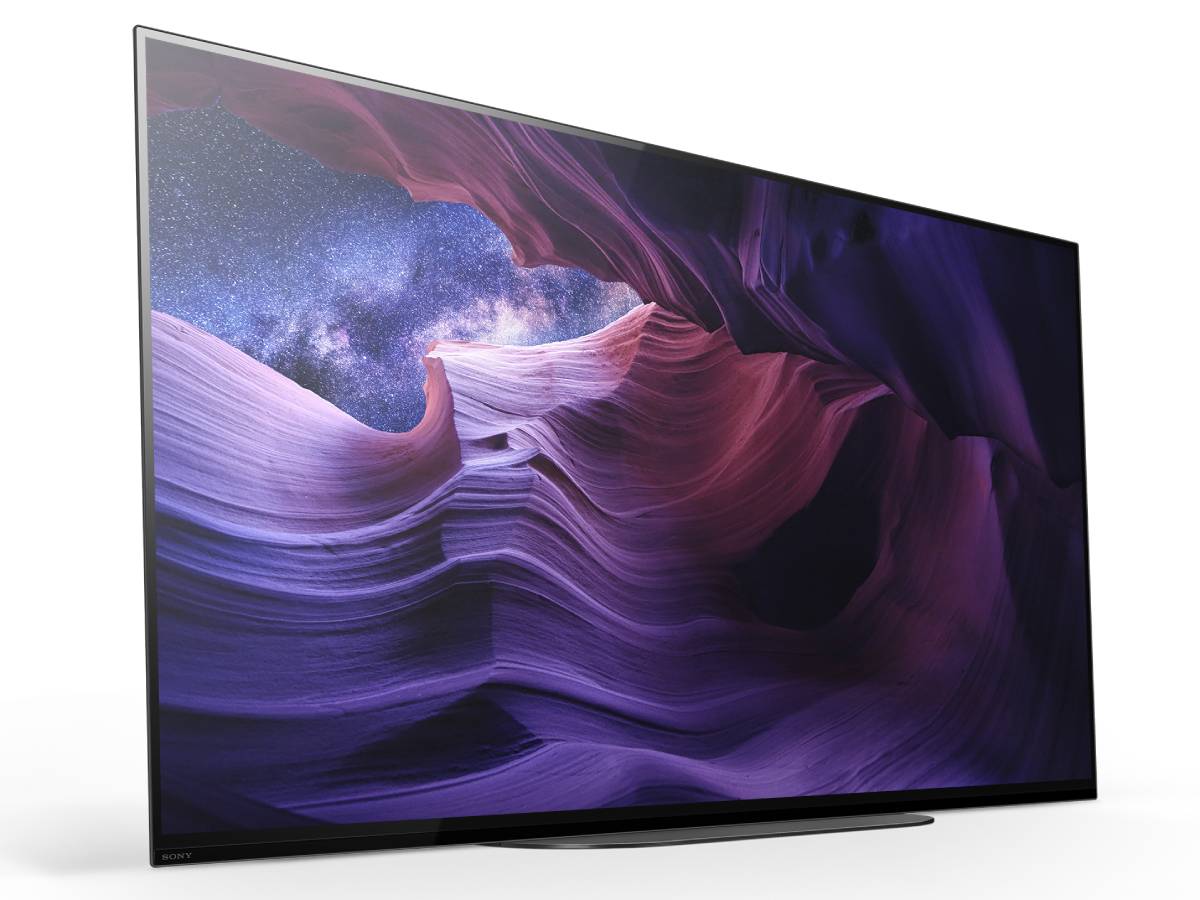 Sony seems determined to persevere with Android TV as its portal into the world of Smart TV – and, while progress is painfully slow, Android TV is starting to make at least a little sense.
It's certainly packed with functionality here. Every streaming service worth discussing, and quite a few that aren't, is available – with the likes of Netflix and Disney+ complete with Dolby Vision HDR. Catch-up TV and music-streaming apps are available too, and the interface isn't quite the logistical nightmare it has been in the past.
The KE-48A9 ships with a 'premium' remote control, and it's one of the nicer handsets around. The combination of aluminium and textured plastic feels both good and grippy, and Sony is to be congratulated for not including too many tiny buttons. In conjunction with on-screen menus that are logical, thorough but not too exhaustive, set-up and operation of this TV is about as painless as it ever gets.
Picture quality: the vision thing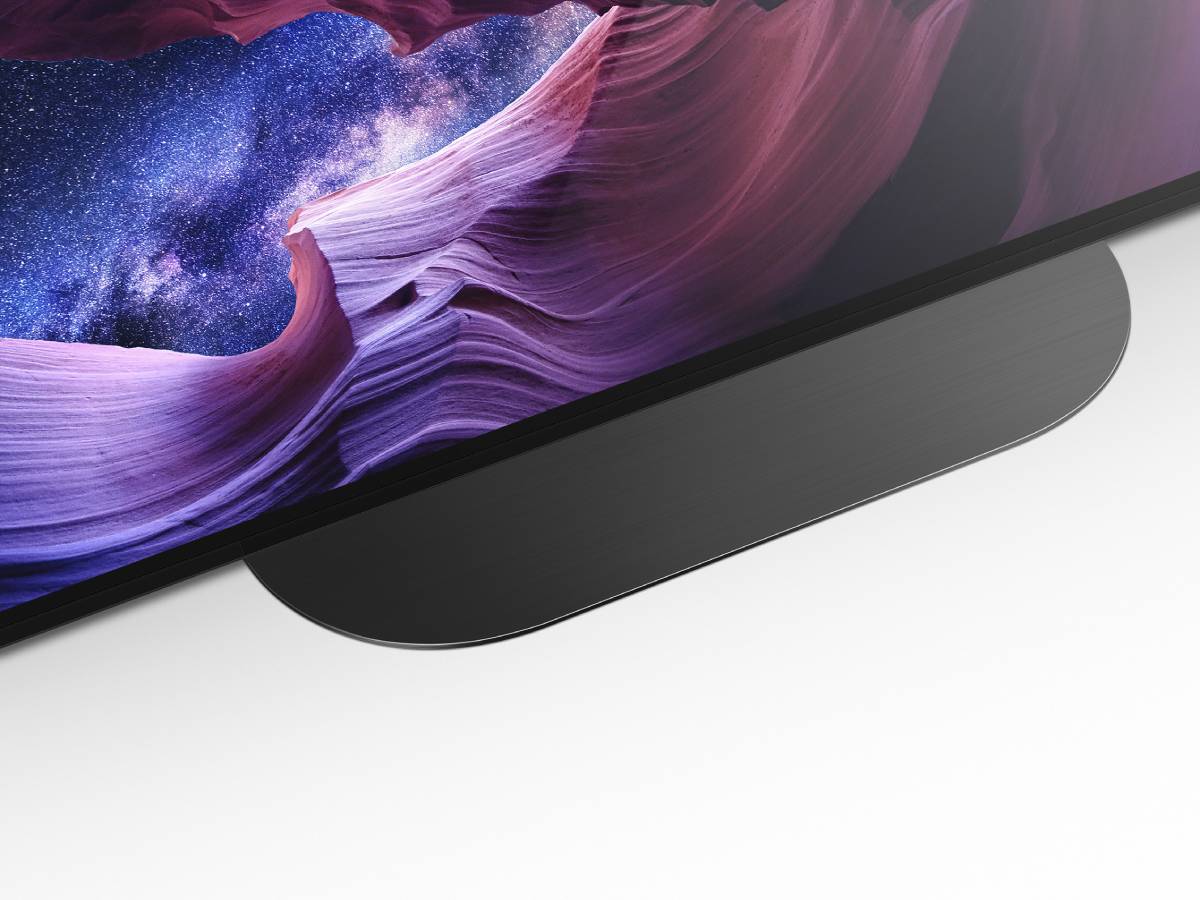 There seems very little point in beating around the bush here, so let's just come right out with it: as far as picture quality goes, this is the best little OLED TV you can buy. Admittedly there aren't all that many to choose from, but 'the best' is still 'the best', right? And besides, the KE-48A9 is more than capable of giving some bigger and more expensive alternatives a run for their money.
There just doesn't seem to be a flaw in its game. Displaying a Netflix stream of the Dolby Vision/Dolby Atmos extravaganza Drive to Survive (not the first time a deathly dull sport has been turned into some compelling docu-drama, and almost certainly not the last), the Sony is casually, effortlessly impressive.
It has those endlessly deep black tones that are the OLED trademark, but freights them with stacks of detail. Its ability to deliver clean, notably bright whites makes contrasts pop from the screen. The colour palette it draws from is extraordinarily wide and varied, with punch, subtlety and detail available in every shade. As far as this aspect of picture-making goes, the Sony is second to none.
And in most other respects, too, it's formidable. A programme about motor-racing is, inevitably, quite heavy on the on-screen motion – and the KE-48A9 has no problems controlling it, describing it, and making it look as natural and convincing as can be. There's no shimmering of edges, no hesitancy, no doubling of images – just rigorously organised and confidently described movement.
These levels of control, crispness and detail of image, subtlety of colour, extensiveness of contrast and utterly naturalistic ability with skin-tones almost takes the Sony out of the equation altogether. When it's working at its maximum, it's almost like looking out of a window.
Not even Netflix 'Calibrated' Mode can hamper the A9. Yes, images get a little ruddier, a little dimmer and a little less exciting – but, unlike some rivals that are seemingly in thrall to the streaming service's authority, the Sony displays a light and deft touch.
Downsides are almost comically few. Ask the Sony to upscale some properly vintage content and, inevitably, its images soften and sag somewhat – but given some half-decent standard-definition stuff to work with, the KE-48A9 is a composed and informative watch.
Sound quality: shake your body
There's novelty value in the Sony's audio system, certainly – but it's a serious proposition and, in many ways, superior to the more traditional arrangement most alternatives TVs employ.
Sticking with the Formula 1-fest on Netflix (if for no other reason than to prove how professional I am), the KE-48A9 manages to present a decently open, spacious yet well-focused sound. Detail levels are respectably high, dialogue is direct and projects well.
The little subwoofer makes the most of its 5W of power, offering worthwhile punch with admirable control. The fact that the majority of the sound is coming from the screen helps unify audio and video information, too.
Having said all this, though, it's fair to observe the Sony is no fan of bigger volumes. You don't have to wind the control too far north for the presentation to get a little hard a flat – punches become slaps, and the spaciousness disappears somewhat. Ultimately, you're advised to investigate an affordable soundbar, though Lord alone knows where you'll put it. Certainly it won't fit between the bottom of the screen and the surface it's standing on.
Sony KE-48A9 verdict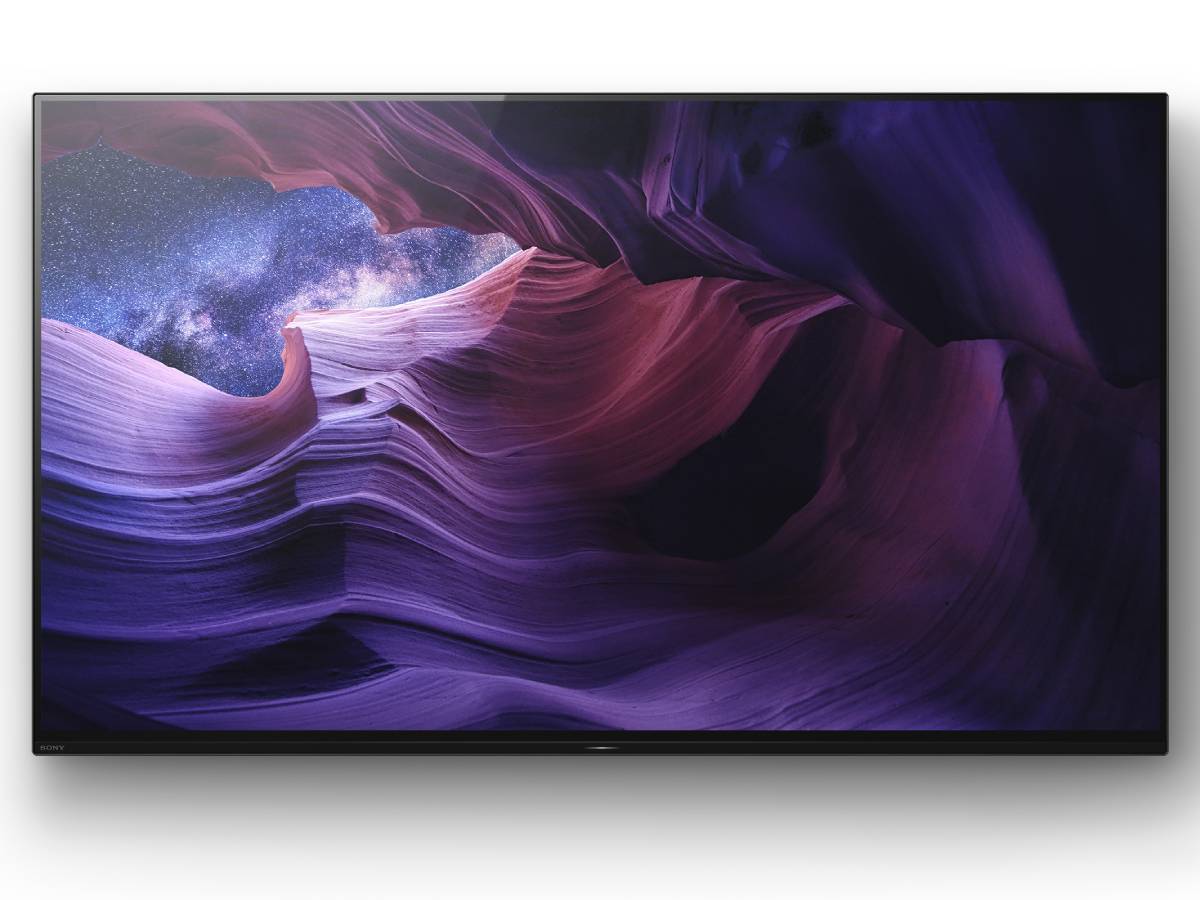 Finally, those for whom a 55in TV is just too big are starting to get some authentic high-end choice. The Sony KE-48A9 is a great TV in almost every respect – and if it had proper support for next-gen consoles it would be even greater. Still, this will do to be going on with.
Stuff Says…
Sony takes its winning OLED formula and shrinks the screen-size without affecting performance in the slightest
Good Stuff
Outstanding picture quality
Impressive selection of apps
Novel and effective audio system
Bad Stuff
Needs some next-gen console compatibility
Sound can get a bit shouty at volume
Not all that slim