Sony PlayStation 4 Slim review
Smaller, lighter, quieter, cheaper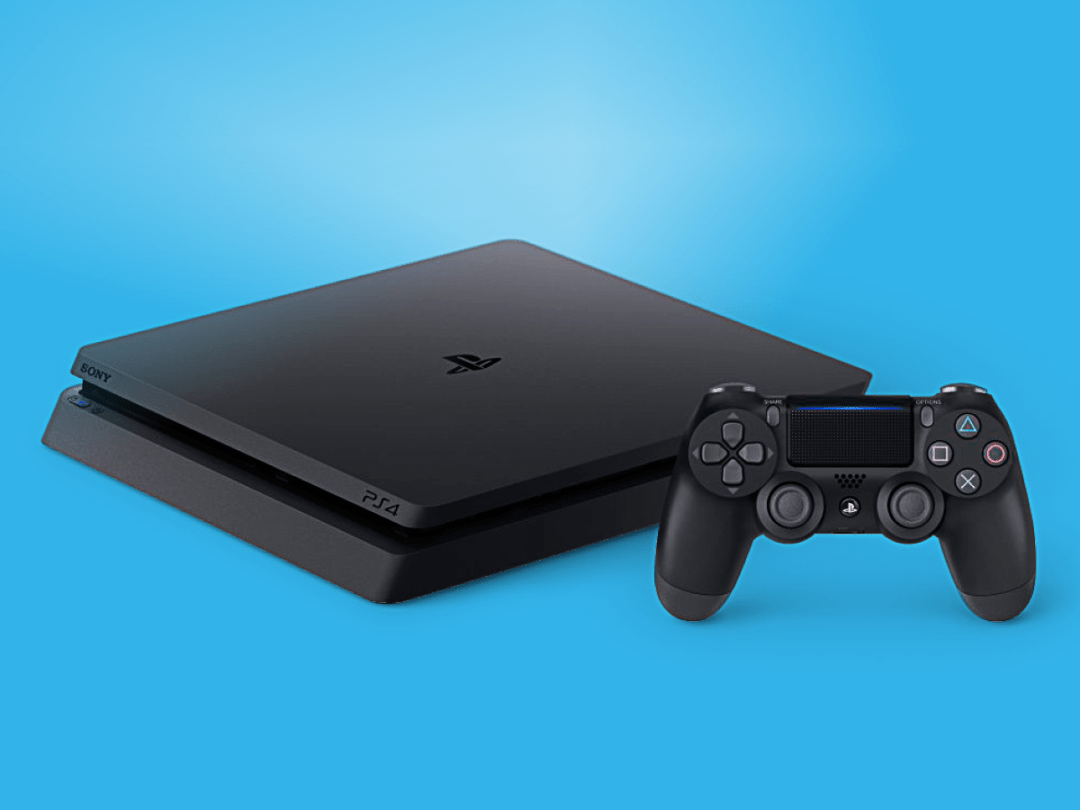 Have you heard? There's a new PlayStation! It's loads more powerful! It plays games in 4K! And… this isn't it!
Yep, I hate to break it to you, folks – but this might not be the PlayStation you're looking for. If you're after the ultimate in console excellence, it's probably the PS4 Pro, due out on 10 November.
But on the other hand, perhaps this – the PS4 Slim – actually is the PlayStation you're looking for. It is, after all, the PS4 in its most affordable, most svelte and (spoiler alert) quietest form. And if you've not got a 4K TV or are a gamer of a more casual persuasion that should be a very tempting recipe.
So is the PS4 Slim as tasty as it sounds? To drag this food analogy to its painful conclusion, let's say it's just a pinch of seasoning short of winning Masterchef.
PS4 Slim design: the clue's in the name
Guess what? The PS4 Slim is – wait for it – slimmer than the existing PS4. How slim? Lying flat on a desk it's just 3.9cm tall compared to the outgoing model's 5.3cm. A centimetre-and-a-half might not sound like a big deal, but given that the PS4 was already pretty compact it's pretty impressive.
Like the original PS4, the Slim looks sort of like a sandwich on the lean, but here the top and bottom surfaces are completely square, giving the console a much squatter appearance. And while at 2.1kg it's a fair bit lighter than the old model, it still feels reassuringly solid – with the exception of the cover for the hard drive. On the one hand it's nice that Sony has made it even easier than before to swap the factory HDD for something bigger and/or faster (you will still need a screwdriver though), on the other hand the fact that the flimsy panel tends to slip off whenever you move the console feels just a little weird.
The little touch-sensitive strips that acted as the on/off and eject buttons on the old console have been replaced with actual buttons on the Slim, and despite that sounding like a technological backwards step it's actually a good thing. Anyone who's owned a PS4 will know how easy it is to accidentally turn the machine on or eject a disc (one Stuff staffer's cat even managed it once), and these buttons, tucked onto the console's bottom lip, take a good old-fashioned press to activate.
The oval-shaped power button also contains the console's only lights. That's right, the seductive, glowing strip that runs right up and along the original PS4 has been replaced by a row of 10 tiny LEDs on the Slim. They still switch between blue and white as necessary and light up sequentially as the console boots up, but they're also significantly harder to see from across the room. That's probably not a big deal to many people, but the more you know and all that.
Something that will bother a fair few people is the fact that the Slim, unlike the original PS4 and upcoming Pro, does not have an optical output. Most of us send our console's audio to our TV or home cinema via HDMI, but there are a fair few soundbars, speaker setups and even posh gaming headsets that use optical as their only audio connection. Put simply; those will not work with the PS4 Slim.
If that's a big deal to you you're probably best off getting an original PlayStation 4 while they're still available or waiting for the Pro. Let's be honest, though, in the grand scheme of connection culls, this is hardly up there with ditching the headphone socket.
Should you move the hard drive from your old PS4 to the Slim?
While physically moving the hard drive from your old PS4 to the new Slim is dead easy, requiring nothing more than a small screwdriver and 10mins of your time, it's much more of a faff on the software side.
You see, your hard drive is encrypted to your original PS4, so when you put it into the new console it won't be recognised – instead you'll have to reformat it, do a manual software update and download all of your games again. (Don't worry – you can move all of your save games to the PS4's online storage – if you're a PS Plus member – or to a USB stick so you don't lose any progress).
Unless you've already upgraded your PS4's hard drive to a higher capacity HDD or super-fast SSD, it's probably quicker and easier to simply start afresh with the Slim's own disk. You can still move your gamer profile to it simply by logging in via the PlayStation Network.
PS4 Slim controller: a DualShock 4 with a difference
At first glance it's very tricky to spot the differences between the new DualShock 4 (which comes with both the Slim and Pro) and its predecessor. Until, that is, you turn it on, at which point you see the small strip of light along the top of the controller's touch panel.
It always seemed a bit silly that the lightbar would be used to deliver instant information (flashing red for low health, for example) considering its position meant you couldn't really see it, and now that's been rectified by this front-facing window. That's right; this is a window rather than a separate light, which seems a sensible move from the point of view of battery life.
One other little change is that the new version of the controller can transfer data over USB, whereas the previous version used it only for charging. Why is that a big deal? It isn't. At least it isn't unless you're a pro gamer who thinks the teeniest, tiniest drop of lag is going to make a difference to your performance. In fairness to those guys, maybe it will, but the rest of us can safely file this little change in the *shrug* file.
Finally, the D-pad and face buttons have been changed from gloss black to matte grey. This could well be Sony reducing costs by a tiny amount (matte grey must be cheaper than gloss black, right?) but the difference is barely noticeable, let alone something worth getting upset about.
In every other way the new version of the DualShock is identical to the existing one, and that's no bad thing – to these hands the PS4 controller is probably the best there's ever been.
PS4 Slim performance: just like before, only quieter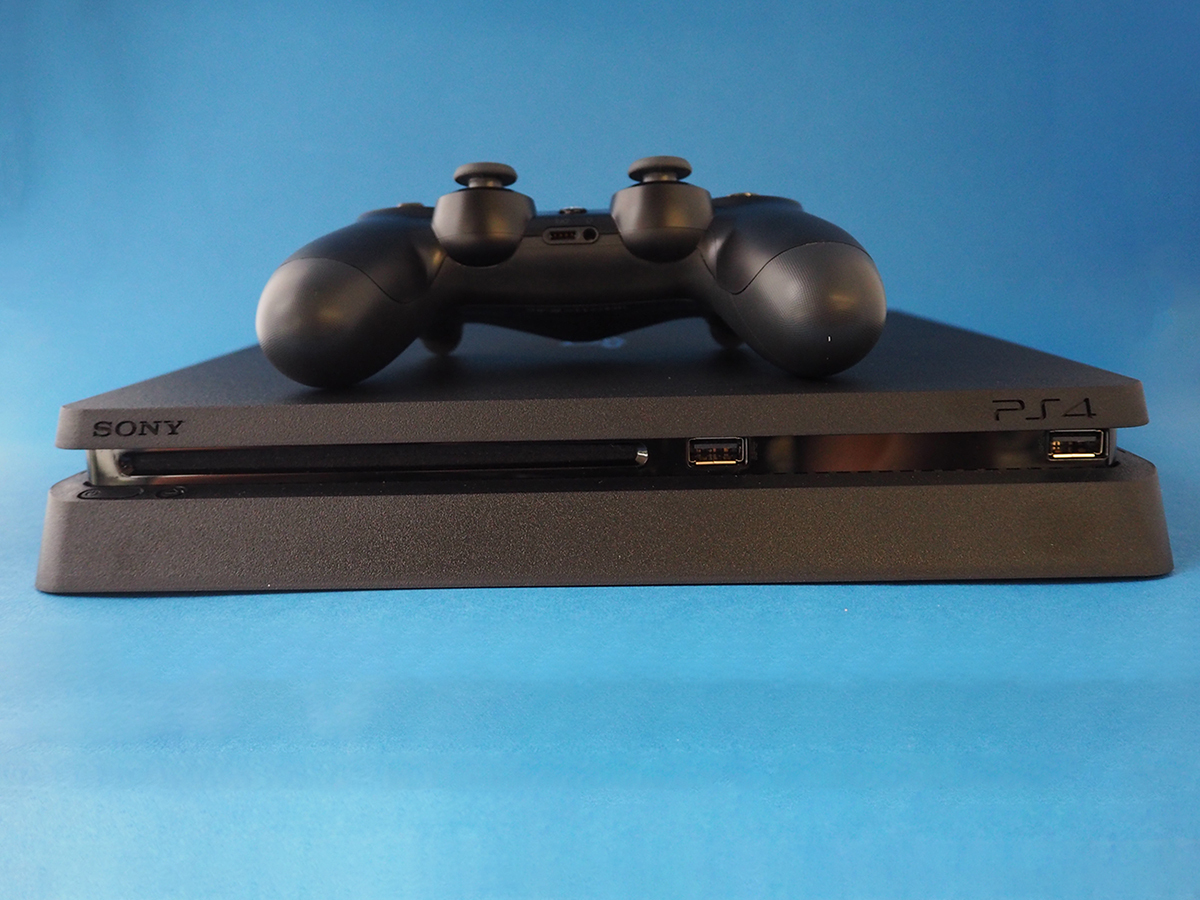 As mentioned above, if you're after a PS4 performance boost, you need to wait for the Pro. To all intents and purposes, the Slim performs essentially identically to the standard PS4. I've measured no install, load or boot-up differences worth noting, and there's no noticeable difference to in-game action.
This is the same gaming experience you already know and love then, except it comes with far less background noise.
True, the Blu-ray drive is still pretty rowdy. In fact, I'm pretty sure it's exactly the same drive as before – it certainly feels and sounds the same. But as has always been the case, the optical drive isn't engaged all that often (at start-up, when booting or installing a game), and when the Slim's not spinning a disc it's much quieter than the original PS4. At times it's essentially silent, the faintest of faint hums it emits not registering even a single decibel from our sound level meter. This practical silence is what you get when hanging out on the homescreen, playing a simple game or streaming from Netflix.
Play a more serious game and sooner or later (generally quite a bit later than the old console) the fans will kick in, but even then the Slim makes around 5dB less noise than its predecessor. Believe me when I say that's a pretty substantial reduction in volume.
PS4 Slim: the same great PS4 experience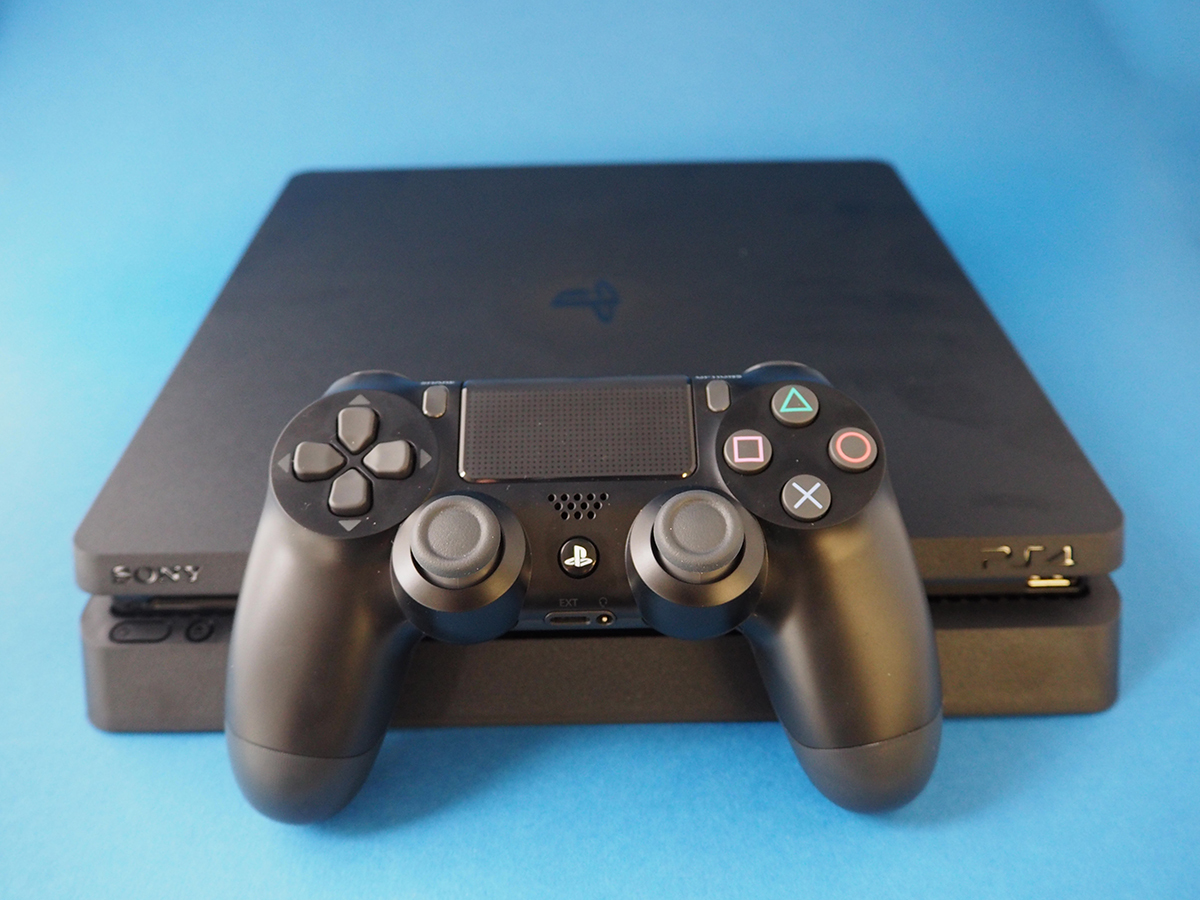 I realise I've written this review with the experienced PS4 player in mind, but what if you've been living in a cave and have no idea if the PS4 is actually any good? Here's the skinny: it's great.
Need more than that? Okey doke.
There are around 650 games available on the PS4 right now. That's a hefty back-catalogue to get stuck into, and around 200 of those games aren't available on the Xbox One. The Xbox does of course have its own raft of exclusives, some of which are awesome (the Forza series, Ori and the Blind Forest and State of Decay for example), but to my mind the PS4 has the lead here, with the likes of Journey, The Last of Us, Bloodborne, Ratchet & Clank, Uncharted 4, Until Dawn all being brilliant and unavailable anywhere else.
Of course, there are plenty of people who hate the games I like and love the ones I don't, but I firmly believe the PlayStation 4 still has the edge when it comes to the catalogue of available games. Given that there were something like double the number of PS4s out in the wild than there were Xbox Ones at the last count (about six months ago), there's little reason to expect third-party game developers to change priorities from PS4 to Xbox One in the near future.
Xbox fans often bring up backwards compatibility as a big advantage for the Xbox One, and while it's true that being able to simply slide an Xbox 360 game into your Xbox One is nice, it's worth pointing out that only around 200 games are compatible. Conversely, the PlayStation Now service, which allows you to stream older PlayStation games to your PS4, currently has a catalogue of around 400 games. Sure, you have to pay for those (either individually or via a £12.99 monthly subscription) but the point is that it's far from impossible to scratch that classic game itch if you're a PS4 owner.
It's also fair to say that while the PlayStation 4's menus are far from perfect, they're miles ahead of those of the Xbox One's messy operating system, and while Sony's PSN network began this console generation a bit behind Microsoft's Xbox Live, at this stage in proceedings there's little to pick between the two in terms of performance, features or reliability.
On top of all that, the PS4 is about to get a killer add-on in the form of PlayStation VR – a cut-price virtual reality headset to rival the HTC Vive and Oculus Rift. If you want VR for Xbox, you're going to have to wait for next winter's Project Scorpio.
Microsoft counters with 4K Blu-ray support, now available with the Xbox One S but not coming to either the PS4 Slim or Pro. It's a trump card for sure, and one to seriously bear in mind if you're a home cinema nut.
Bring on the HDR
The PlayStation 4 Slim doesn't do 4K for gaming or video, but it will do HDR (high-dynamic range). In fact, every PS4 will do HDR very shortly, thanks to the imminent 4.00 software update. The Xbox One S can handle HDR too.
So far only four HDR games are confirmed for Xbox One S, none of which have yet been released, and Sony hasn't confirmed which of its games will be getting the HDR treatment or when.
Nevetheless, we're really excited about it. HDR drastically improves contrast, and that has an awesome knock-on effect for colours and even perceived detail. In short, HDR is awesome, and it's arrival on consoles is a Very Good Thing.
PS4 Slim: the verdict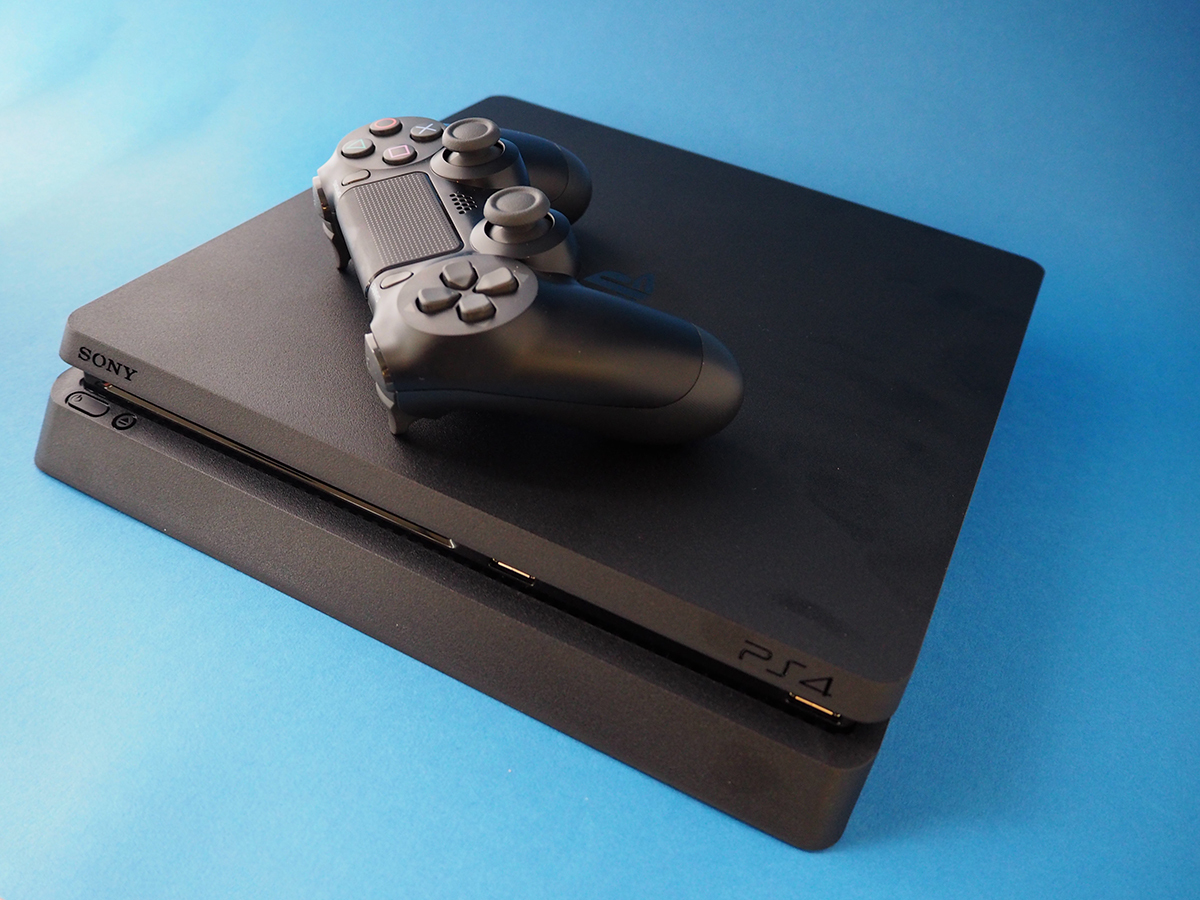 All told, the PS4 Slim improves on its predecessor in almost every way. It's much smaller, lighter, quieter and cheaper. Some people will miss the optical connection, but otherwise this is a job well jobbed.
But should you buy one? If you already own a PS4 there's probably not much reason to do so unless you're looking to replace an old one that now sounds like a Harrier Jump Jet. Even in that case it's worth considering whether waiting another couple of months and paying an extra £90 for a 4K-toting PlayStation 4 Pro is a better idea – if not for now, for a future in which you own a 4K telly.
But if you don't already own a console you're presumably not the kind of hardcore gamer that the Pro's aimed at, in which case you're probably eyeing up the freshly affordable PS4 Slim and Xbox One S.
If 4K Blu-ray support really matters to you, the Xbox One S is the only way to go, but otherwise the most important question to ask yourself is which console your friends have got, because gaming with mates is a real fun-multiplier.
They've probably all got PS4s seeing as there are so many more of them out there, and when you buy your Slim you'll have a better one than all of them. At least until they all get Pros in November.
Stuff Says…
Better than the original PS4 in almost every way, the Slim is an awesome console if you're not a Pro-style gamer
Good Stuff
Always significantly quieter than the original and often silent
Usefully smaller and arguably better looking
Tiny, handy tweaks to the controller
Bad Stuff
No optical output or 4K Blu-ray drive