Sony Xperia 10 IV review: feature-packed and fuss-free
Far from perfect, but a glorious two-day battery life is hard to beat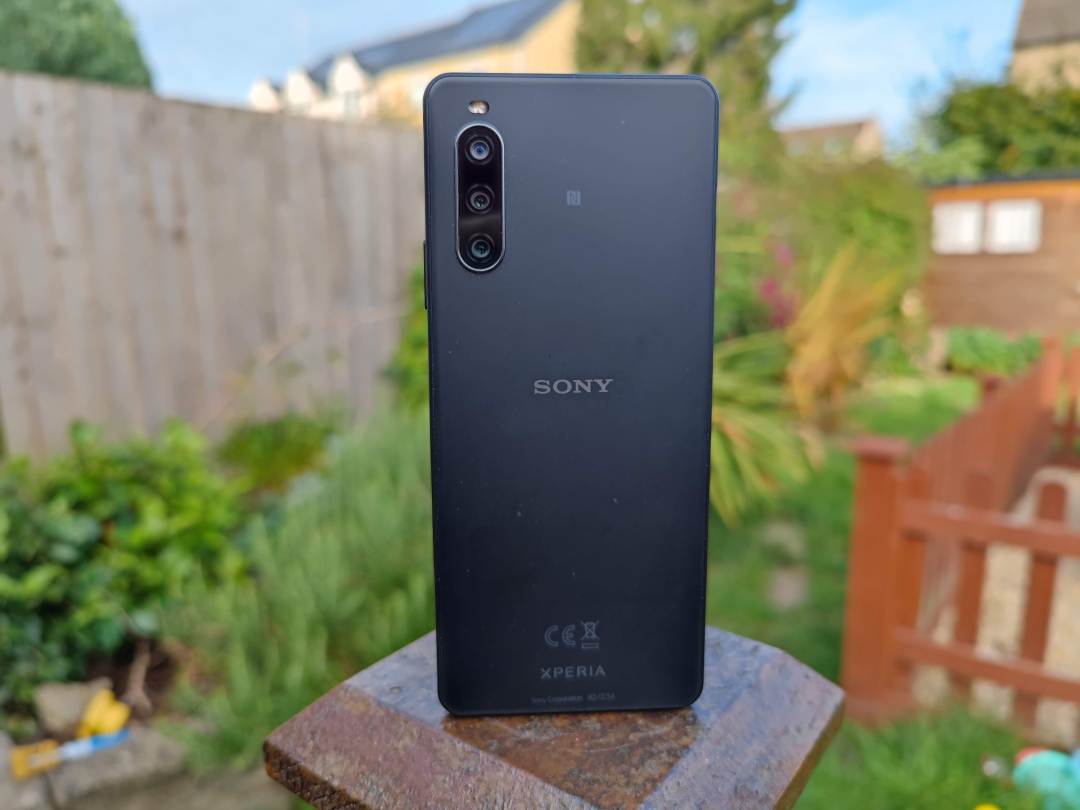 Die-hard Sony fans love sticking it to the rest of the iPhone/Android crowd with boasts of headphone jacks and microSD card slots – but such luxuries don't often come cheap. The Xperia 1 IV flagship? That'll set you back an eye-watering £1300. If only there were a way to get the firm's extensive features for less. Oh wait – there is.
At £420, the Sony Xperia 10 IV is firmly in the low to mid-range category. With Sony's classic design (including the usual elongated screen), three rear cameras and the promise of exceptional battery life, thanks to a combination of a mid-range processor and generous 5000mAh battery, there's plenty to get excited about on paper.
Can you get similarly specced handsets for less? Yes. There's no shortage of OnePlusses, Xiaomis, and Pixels. Are you paying more for the Sony prestige? That's what we're here to find out.
Design & build: mid-sized monolith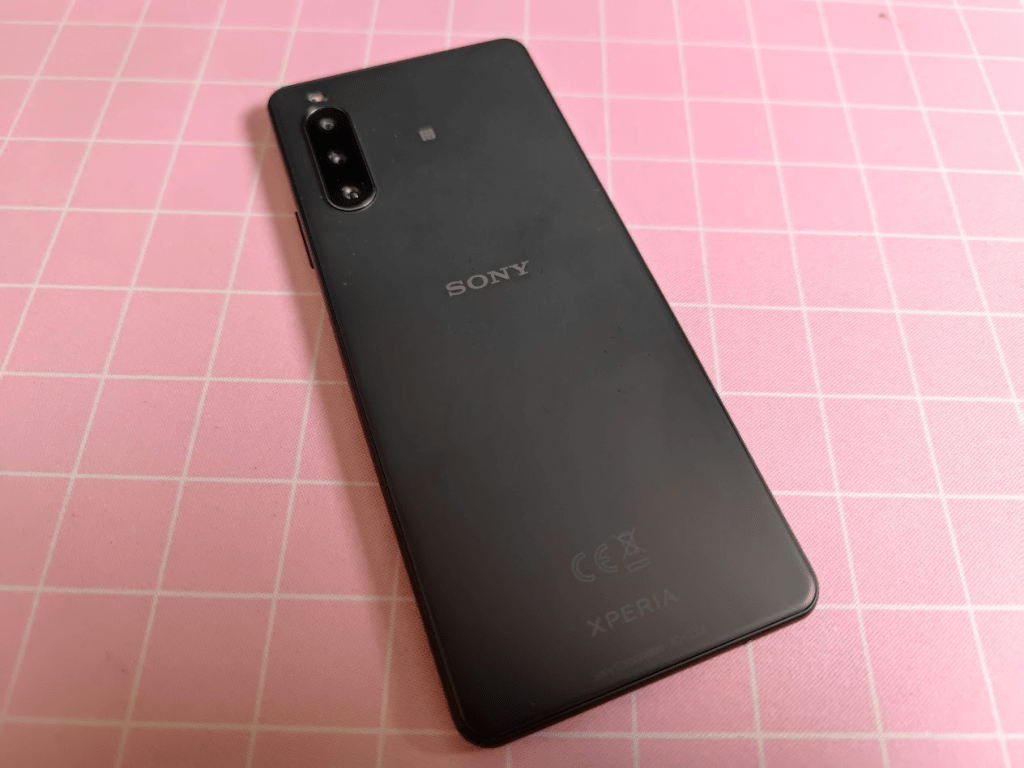 Visually, Xperia 10 IV is a Sony handset through and through, with the company's tried and tested minimalist design very much in full force. Like other Sony handsets, it stands out from the crowd with an elongated body, thanks to the screen's more unconventional aspect ratio.
This makes it pleasantly compact in the hands, and it feels more premium than its price tag suggests, thanks to a lack of any garish patterns and a solid plastic body. And if you're put off by the mention of plastic, don't be. Sony's opted for a matte finish which, combined with the overall shape and thinness, make for a phone that feels great to hold and use.
Hardware-wise, you've got the usual volume buttons on the right-hand side, along with a side-mounted power button complete with built-in fingerprint scanner — a classic mark of a Sony smartphone.
We don't normally bother pointing out the SIM card slots in reviews, but in this instance, it's worth mentioning because it also doubles up as an expandable memory slot. Coupled with the 3.5mm headphone jack at the top, the 10 IV joins its Xperia brethren as one of the last remaining handsets to keep these useful physical traits alive, and we applaud Sony for that.
Available in four colours — black, white, mint, and lavender — it's IP65/IP68-rated too, which means it's both dustproof and waterproof, and can survive 30 minutes underwater at a depth of one and a half metres. That's a pretty big boon for accident-prone users, especially at this mid-range price point.
Screen: cinema-scope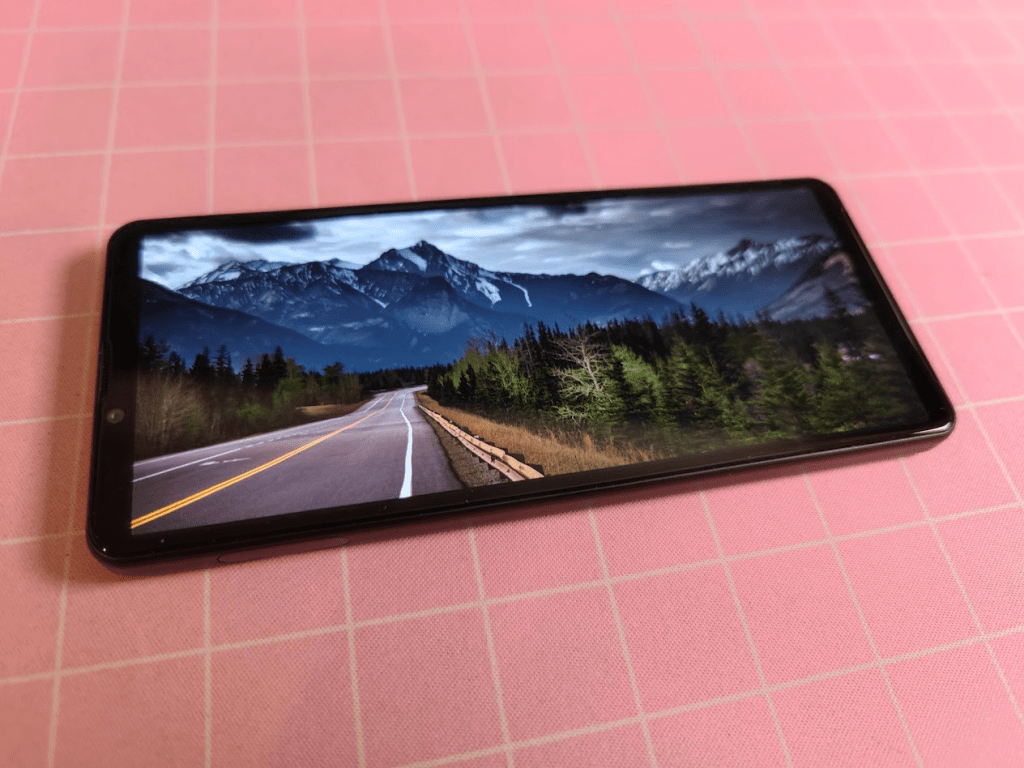 The Xperia 10 IV has a 6in, 1080 x 2520 OLED display that, in true Xperia fashion, is narrower and taller than those found on other handsets. This makes it comfortable for one-handed use, especially when typing, as you don't have to stretch your thumb as far.
The downside, of course, is that it's trickier to reach the top if you've got particularly small hands, but there are numerous apps available (like Pie Control) that let you pull down the notification bar with a simple gesture. Sony has even included its own swipe-down gesture shortcut on the home screen, to make life a little easier.
On the quality front, we have no complaints, as you'd expect from an OLED display. Punchy colours and rich blacks make for a pleasant viewing experience, and it's plenty sharp enough for films and reading fine text too.
Spec fiends will be disappointed by the 60Hz refresh rate, especially when plenty of other handsets are hitting the 90Hz and 120Hz marks, but the extent to which this really matters will depend on how fussed you really are. We'd warrant most casual users will be perfectly happy with the still-smooth refresh rate of 60Hz, but if you're coming from a 90Hz+ handset, you might notice the difference.
Sony Xperia 10 IV cameras: three's a charm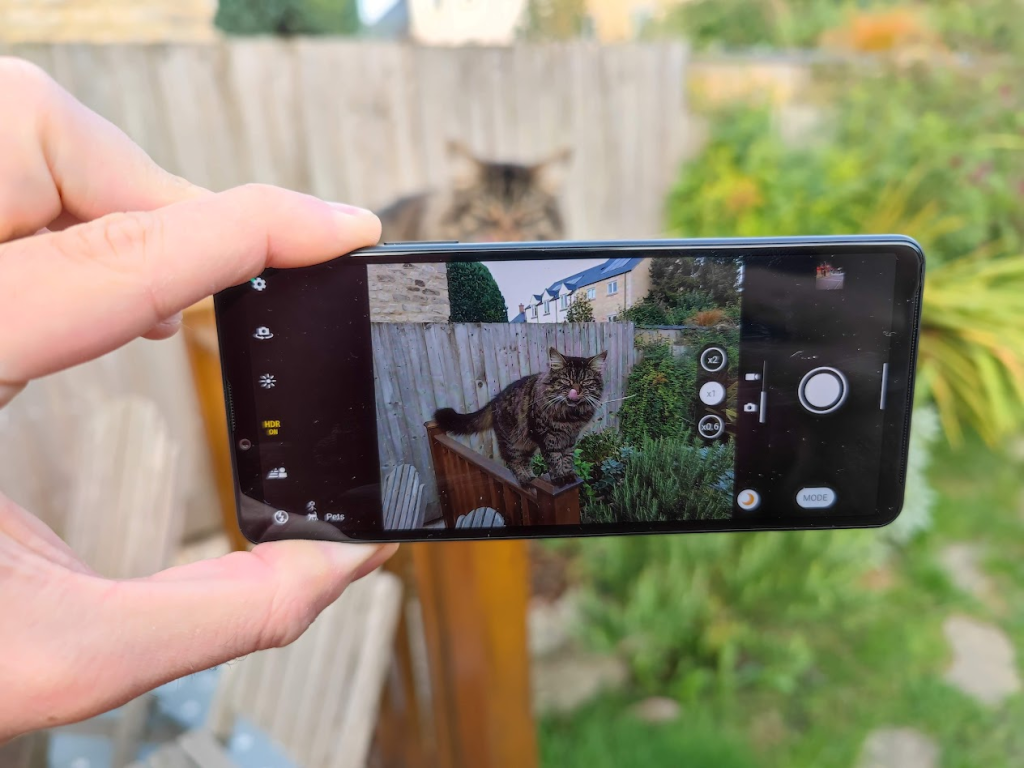 Flip the Xperia 10 IV around, and you'll spot its triple-lens camera setup arranged neatly in a single column. It consists of a 12MP wide, 8MP telephoto and an 8MP ultrawide affair, covering a decent amount of bases for most situations.
Using the main 12MP wide camera, you'll get sharp, crisp shots in daylight and well-lit conditions. The only time it might struggle is when it's faced with challenging shots which feature particularly bright and dark areas. Turning on HDR goes some way to maintain some balance, but we found the dark areas lacking in detail. It certainly isn't the best HDR implementation we've seen — especially as we've been spoiled by the performance of flagship devices from Samsung and Apple, as well as mid-tier offerings like the Google Pixel 6. But then again, all of those handsets cost more than double the 10 IV's price. In general, stick to standard shots, and you'll be pleased with the results.
The ultrawide camera performs well in bright conditions, retaining details well, although the colours seem a little warmer compared to the more accurate renditions served up by the main camera. While it's fine with simpler shots with a subject squarely in the middle of the frame though, it struggles in more complex scenarios. Taking a shot of a church in the centre of a frame is fine, for example, but if you're snapping a picture with bushes and trees at the edge of the frame, you'll easily notice some pretty bad distortion, fuzziness, and general all-round lighting nastiness (aka, chromatic aberration). As a result, we'd reserve the ultrawide camera for situations where we know we could avoid this poor edge performance.
When it comes to night shots, the main 12MP wide camera performs relatively well, though it won't magically transform night into day like the more expensive flagship handsets out there. Details soon drop off the further back an object is too, though overall, you'll get a reasonable photo. As is the case in most phones however, the ultrawide camera performs noticeably worse at night, with the resulting shots being too grainy and blurry for our tastes.
On a more positive note, the 2x optical zoom provided by the 8MP telephoto camera works well, retaining crips details in good lighting conditions. It's obviously not as robust or as useful as the 5/10x optical zoom offered by more premium handsets, but it's still nice to see it offered in this price bracket, and it's far more useful than the normally worthless macro lenses that are often thrown in to pad out the specs of other low-mid range smartphones. If the lighting is good, you can even get useable 10x digital zoom shots out of the Xperia 10 IV, which is a nice bonus.
Round the front, you'll find a capable 8MP selfie camera that will produce perfectly usable shots with enough detail for most people. You'll have to be wary of where you take them though, because bright backgrounds like clear skies can be blown out, though at least the most important subject (your face), remains sharp and balanced. The artificial background blur for that all-important bokeh effect works reasonably well, but you definitely won't want to crank it up to max, because the edge detection loses the plot and it becomes very noticeable.
Performance & software: safe bet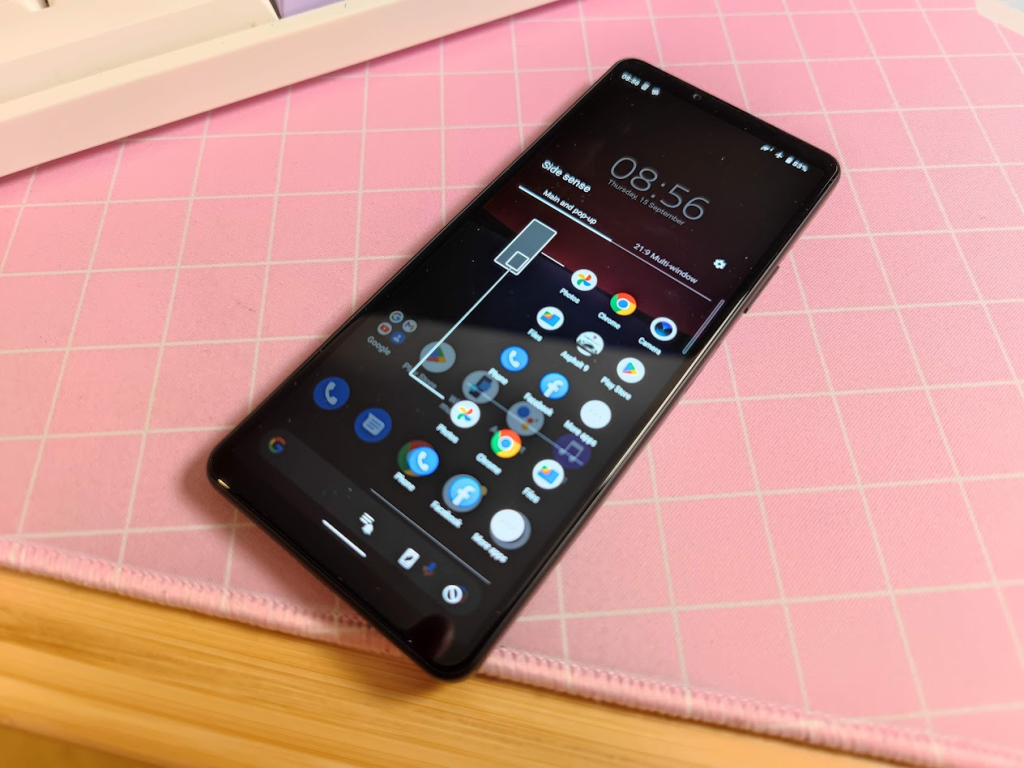 With a Qualcomm Snapdragon 695 processor, a 5G antenna, 6GB of RAM, and 128GB of (mercifully) expandable storage, the Xperia 10 IV is a perfectly specced phone for most people's needs. It handled everything we cared to throw at it with ease, including more demanding games like Asphalt 9: Legends.
Bar the occasional stutter with things like processing night shots in the camera app, we have little to report on the performance front. Again, those who want the latest and greatest chips will be looking elsewhere, but the reality is that smartphone CPUs have improved so much over the years, that even these lesser slices of silicon are more than enough to handle everything the average user needs.
Running Android 12 out of the box, Sony has continued its delightful tradition of not messing around with Google's stock experience too much. If you hate the bloated apps and features that come with other Android handsets, the Xperia range offers a safe, minimalistic haven. Apart from a shortcut launcher that you can swipe in from the side to access app shortcuts (which you can turn off), there are very little extra tricks thrown in, and we love the pure experience it offers as a result.
Battery life: overnight effort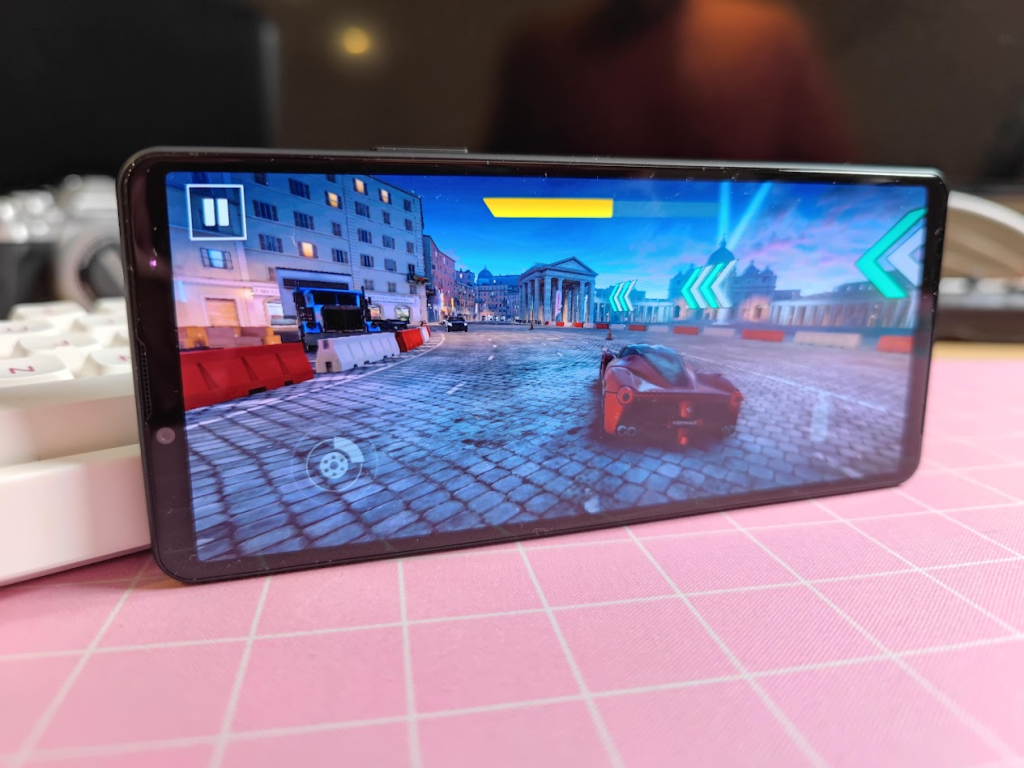 Battery life is where the Xperia 10 IV really shines. Its less power-hungry processor, coupled with a very generous 5000mAh battery, means that it could last you up to two days of use on a single charge. By today's standards, that's pretty damn impressive, especially as we managed to eke out way more than a full day with very heavy use — namely navigation, a lot of Reddit browsing, some gaming, and Bluetooth audio streaming.
The downside though, is that it can take more than a few hours to charge back up to full capacity, which is a far cry from the sub-one-hour charge times offered by super-fast charging handsets from the likes of OnePlus and Xiaomi. There's also no charger included in the box, though you've more than likely got a drawer full of USB-C cables by now.
Sony Xperia 10 IV verdict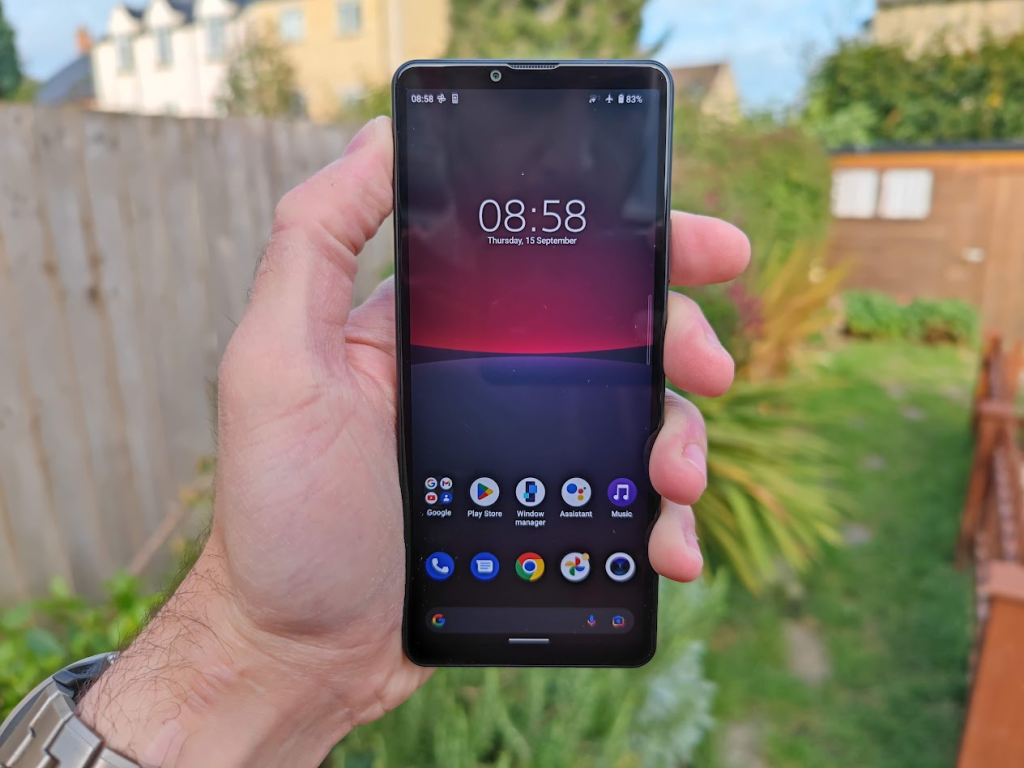 Can you get cheaper handsets than the Xperia 10 IV from the likes of Realme, Poco, Xioami and more? Yes. Will they out-spec various components of the 10 IV? Yes. From screens with higher refresh rates, to faster charging and individual cameras that might perform better, you can pick up a rival handset that might fit your needs better, for the same (or less) money.
As with all of Sony's handsets though, the Xperia 10 IV fills a niche. If you're drawn to Sony's unique fuss-free design, more compact screen, and want amazing battery life, the Xperia 10 IV could be the phone for you. Its main camera and zoom capabilities will serve you well, though if night photography and wideangle photography are more your bag, you'll want to look elsewhere, like the formidable (and cheaper) Google Pixel 6a.
That makes the Xperia 10 IV sound like a hard sell, and for most people, it is. If you're still drawn to its design and positive features after reading this review though, then chances are you'll get along with it just fine.
Stuff Says…
A solid build, decent main camera, and minimalist design might not sound particularly exciting, but the Xperia 10 IV's incredible battery life definitely stands out from the crowd
Good Stuff
Superb battery life
Solid main camera
Waterpoof build
Minimal bloat
Bad Stuff
Wideangle camera suffers from distortion and noise
Night shots could be better
Sony Xperia 10 IV technical specifications
Screen
6in, 2520×1080 OLED
CPU
Qualcomm Snapdragon 695 octa-core
Memory
6GB RAM
Cameras
12MP, f/1.8 w/ PDAF, OIS + 8MP, f/2.2 telephoto w/ PDAF, 2x optical zoom + 8MP, f/2.2 ultrawide rear.
8MP, f/2.0 front
Storage
128GB on-board, microSD expansion
Operating system
Android 12
Battery
5000mAh
Dimensions
153x67x8.3mm, 161g