Sony Xperia M4 Aqua review
Can Sony's miniature waterproof budgetphone smash it out of the park?
You don't always want to worry about your phone, but that's what ends up happening when you spend hours and hours of your day glued to it. You can resist becoming a phone victim however, with something hardy like the waterproof Sony Xperia M4 Aqua.
Not only does it cost well under half the price of something like the Sony Xperia Z3+, but it still gets you an Android experience that's not totally budget.
Sure, you can get a bit more for your cash if you side with a lesser brand (and the camera performance ranges from fine to totally disastrous), but if the camera doesn't matter too much to you, it's a decent bet.
Aqua Team
At £200 SIM-free, the Sony Xperia M4 Aqua falls into a mid-range category we like. It's cheap enough to snap up SIM-free, and expensive enough to expect a flat-out good phone from a big brand like Sony. It's a good place to be if you're after a new mobile.
The Sony Xperia M4 Aqua retains the same style as Sony's much more expensive phones, but sure enough, it's not quite as fancy.
You get the same handily-placed Omnibalance power button that sits half-way down the side of the phone, and a pretty slim frame. But in pricier models you get metal and glass, here you'll find plastic and — that's right — more plastic.
Its sides are impostor aluminium, and while the back tries to pass for glass, only the front is real glass.
Can you get real deal materials at this price elsewhere? Yes, but not often. Check out the Huawei Ascend G7 if you want an affordable but legit metal phone.
Slim benefits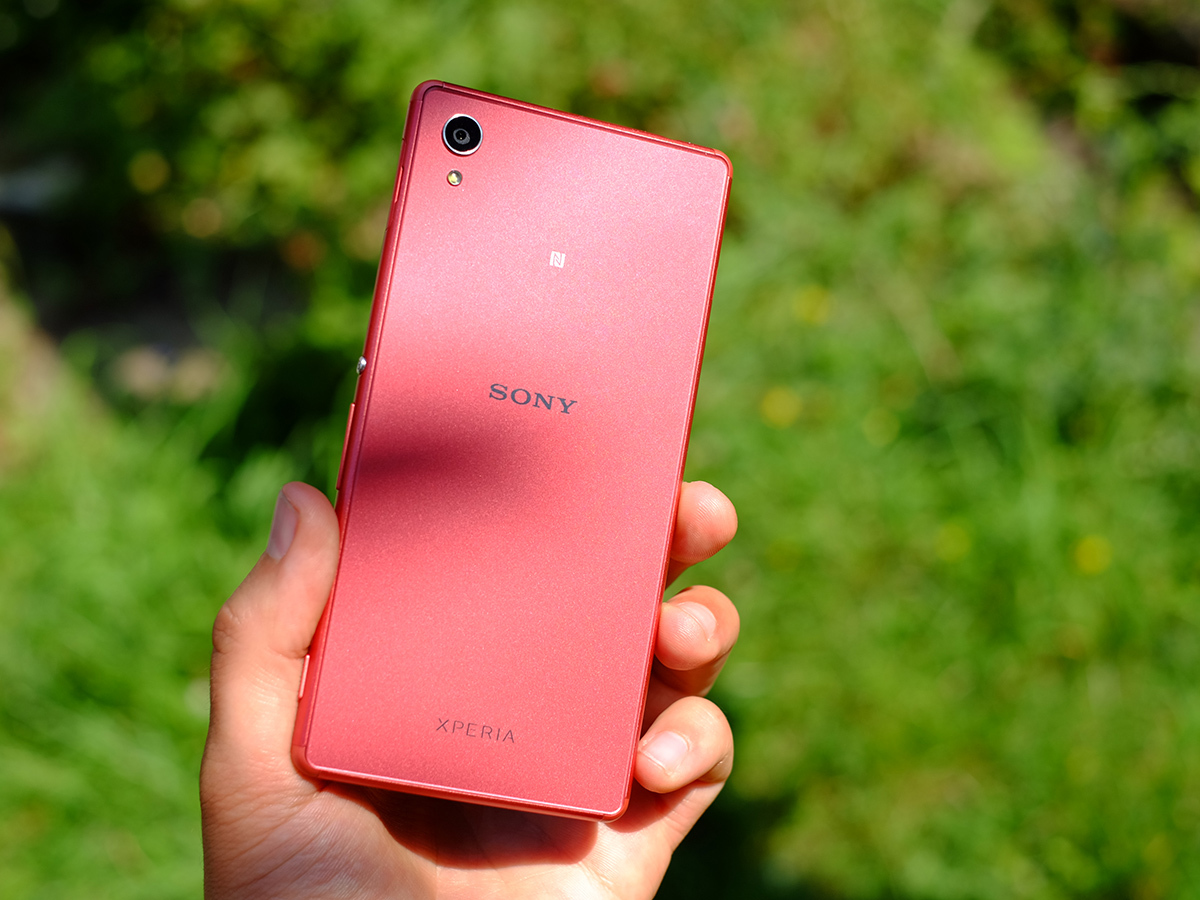 Thanks to that glossy plastic plate on the back, you'll want to pick your Sony Xperia M4 Aqua shade carefully. The pink one I'm using right now hardly shows up scratches at all, but I expect the black version will be a total scratch magnet.
The downside to the pink model is that it makes the back panel look a bit… tacked on. As ever, you pay your money and take your choice.
To live with, though, the Sony Xperia M4 is pretty easygoing. It's slimmer and a bit less of a handful than the Motorola Moto G. The big bonus here, though, is water resistance.
The speaker, USB port and headphone jack are all designed not to let in water or dust despite looking totally normal, meaning only a pair of rubber-sealed flaps are needed, which cover the SIM and microSD slots.
As flaps you'll generally leave in place 24/7, the Xperia M4 gets you the best kind of water resistance – the kind you can forget about. And as there's a dedicated camera button on the side, it doesn't become completely useless when wet (capacitive touchscreens don't work properly underwater). For a phone of this class, it packs in a few neat extra bits. There is one annoying problem, though.
Sony packs in so many extra apps that the 8GB of storage is pretty much decimated as soon as you turn the phone on. You won't get much more than 1GB to play with, which is closer to what you'd get from one of those shoestring phones that only come with 4GB memory.
While there is a microSD slot for music and pictures at least, it's the apps and that will do you in. Install one high-end game and, bam, you're done. Out of memory.
While some apps and games support microSD installs, you'll have to root the device if you want to move all of your installed apps ot the microSD by default, which is an extra bit of hassle you'd probably rather do without.
Happy with the spotlight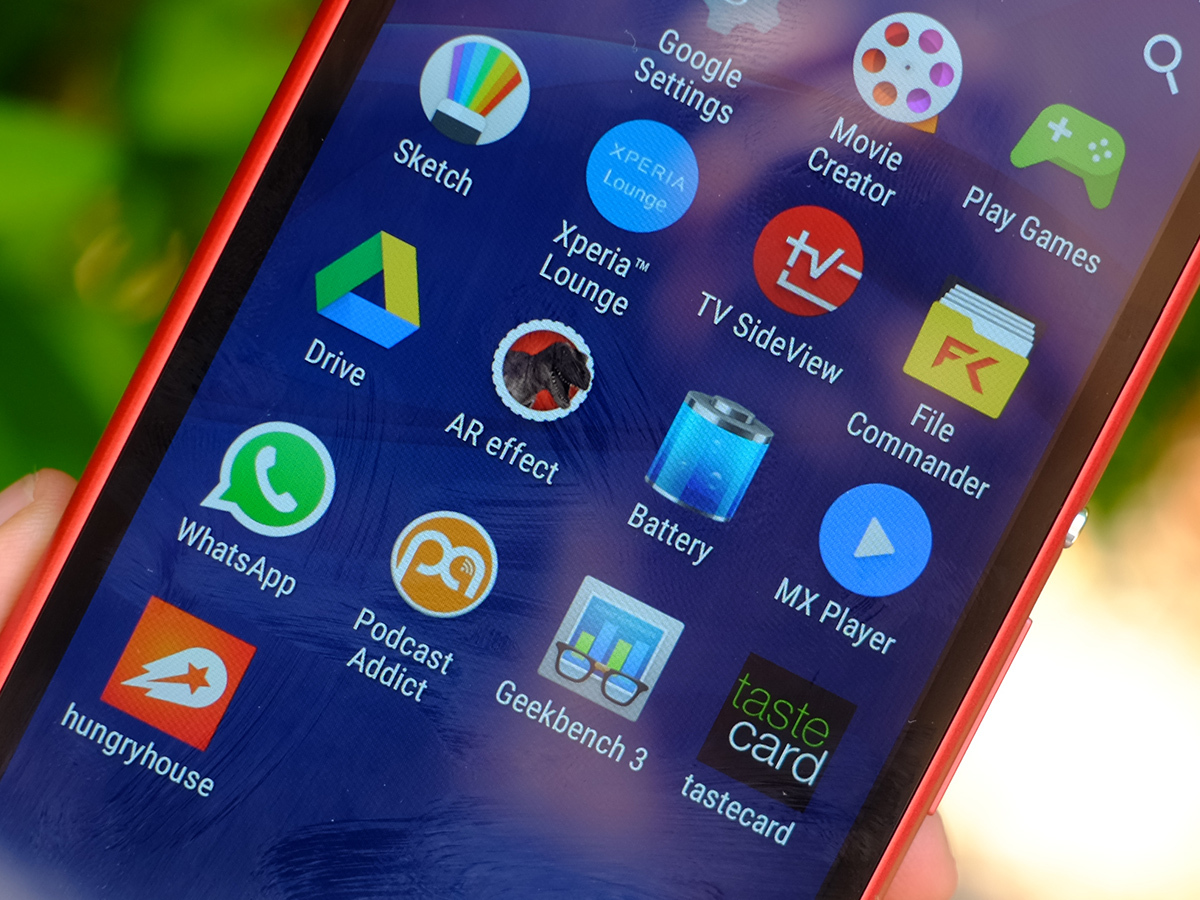 Let's lighten things up with a look at the screen. The Sony Xperia Z4 Aqua has a 5in 720p screen, similar to what you get in a Moto G.
It's not top-end. It's not even high-end. But this screen has a pretty satisfying blend of characteristics we're happy to live with.
First, it's fairly sharp. Get close-up and you can see it's not a 'Retina' screen, but after a couple of days your eyes will bed-in, even if you've experienced 1080p delights before.
Next up: colour. The Sony M4 Aqua has a natural but fairly well-saturated tone that's a lot less overblown than that of the Sony Xperia Z3+. Does it also look less vivid and punchy as a result? Absolutely.
However, it's a nice-looking screen that has enough backlight brightness to take on super-sunny days, and there's even customisation options available for the white balance.
The RGB slider controls aren't the friendliest, but bump up both the red and green and you can give the Sony M4 Aqua display a relaxed, warmer look.
Software hardlines
The Sony M4 Aqua runs Android 5.0 Lollipop, skinned with Sony's usual Android UI. Sony hasn't made masses of changes, which is why it remains one of the better-looking interfaces out there.
There aren't loads of extra core features, keeping things relatively simple rather than trying to alter how you use your phone day-to-day. That said, as mentioned earlier, Sony has packed the M4 Aqua with bonus apps.
As well as killing the available storage, it clutters up the apps menu a bit, although you can bung bits into folders if you don't want to see them. And while you can uninstall a few of the extra bits, you can't do so with the lot. If you could, we wouldn't be so bothered.
Extras we could do without include an office suite, a handful of Sony multimedia apps and a few that are little more than shortcuts to modes you get in the camera. Talk about superfluous.
Camera time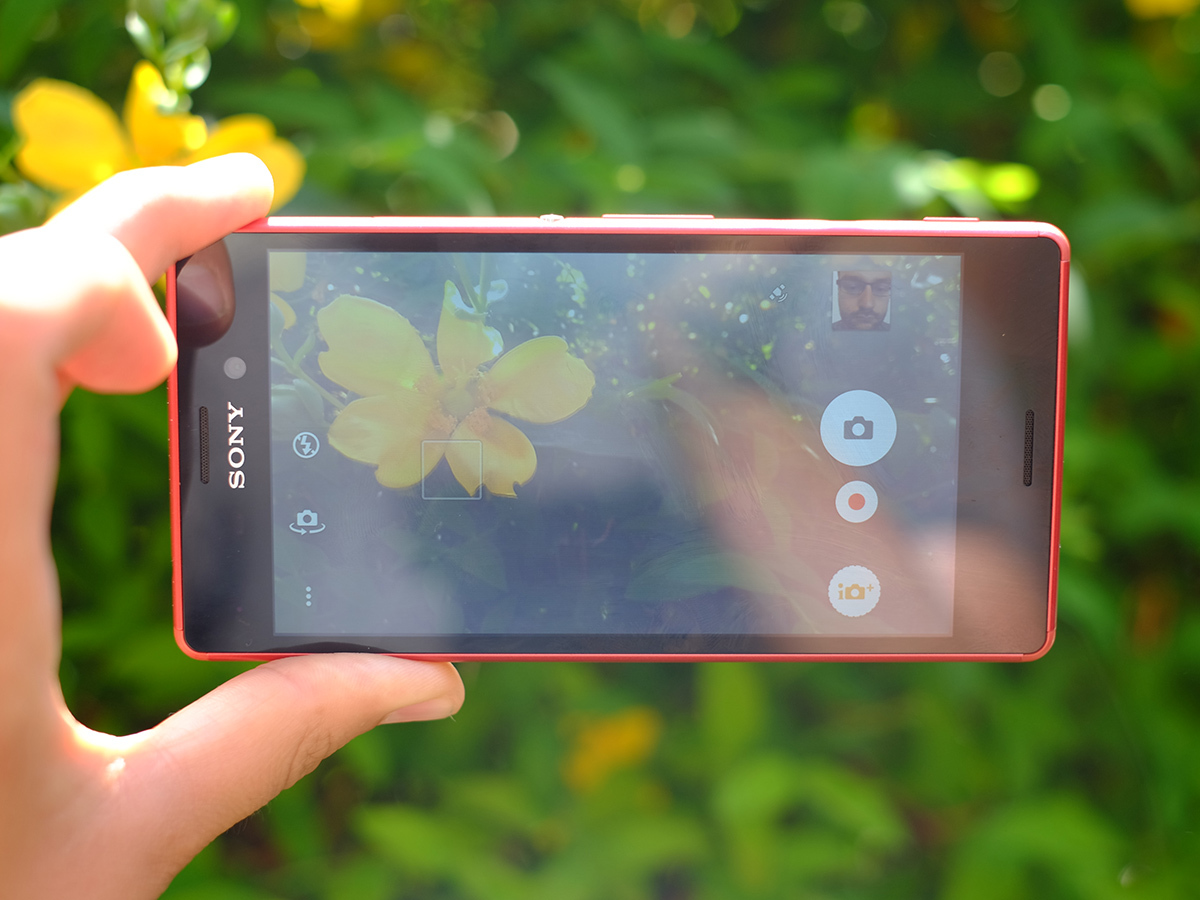 As usual, Sony packs the M4 Aqua camera with reams of extra modes designed to let you embrace the more… frivolous side of your photography genius with some fluffier filters.
There's nothing quite as advanced as the AR mode of the Xperia Z3+, which lets you imprint a 3D animal face onto your own, but there is a more basic one that lets you draw on the environment and, err, throw bombs at your own face.
It's for the kids, basically.
Actual camera performance veers pretty wildly between perfectly-fine-for-a-cheaper-phone to utterly dreadful depending on whether the Sony Xperia M4 Aqua is dealing with a bright blue sky or a much more challenging overcast one. Shooting indoors? Good luck with that.
White balance, exposure and contrast levels are all pretty faulty at times, leading to plenty of pictures that are very low-contrast (washed-out) and have a colour cast. There's quite a lot of purple chromatic aberration too, with bright objects becoming fringed with purple where no purple should be,. And for the Sony Xperia M4 Aqua's 13-megapixel camera resolution, the detail here is pretty poor.
For the sake of comparison I spent a while shooting alongside the 8MP £80 Vodafone Smart Prime, and there were at times little to separate the two on pure detail.
Pretty strong bleed tops off what is a pretty terrible camera, at this spec. You really have to be careful about what you show the camera in order to avoid ending up with a total mess.
Battery life: reeling it back in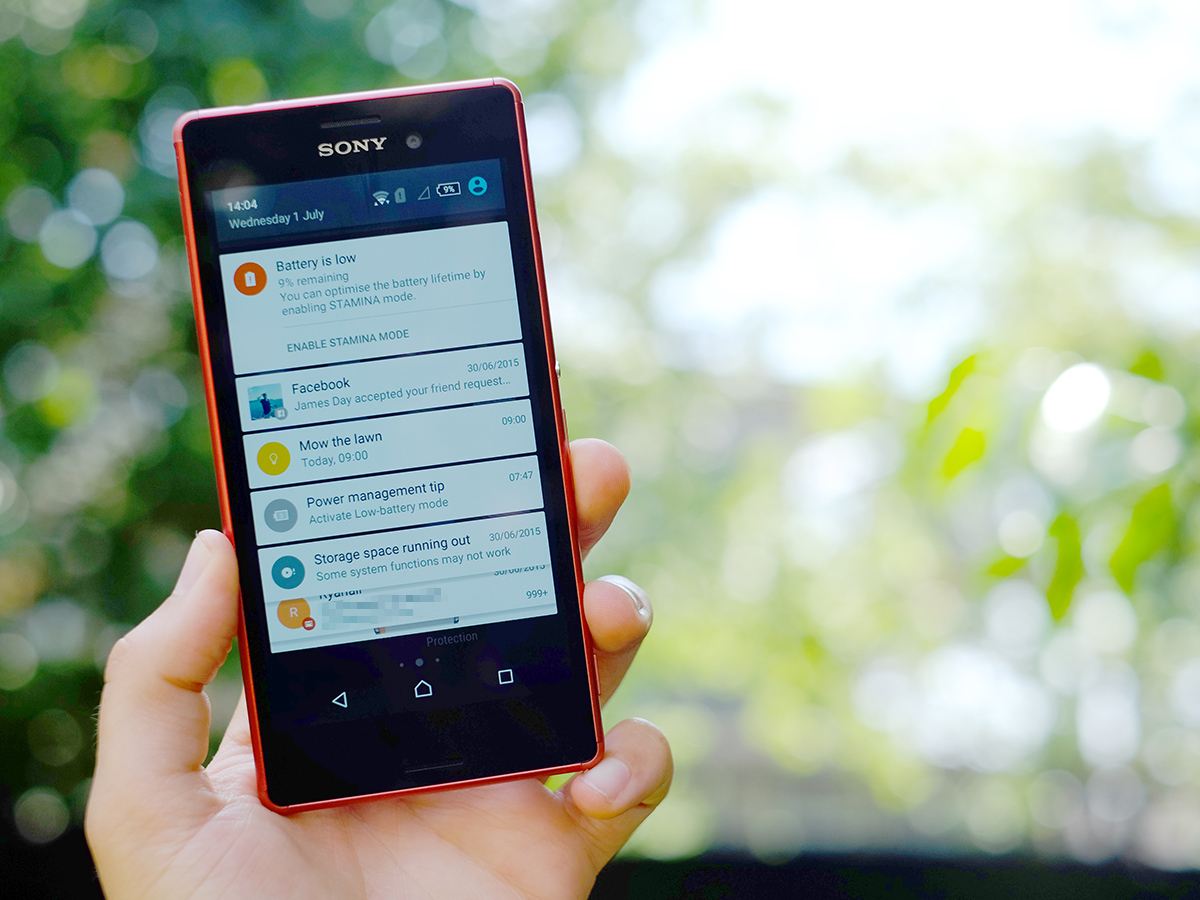 It's a good job, then, that the Sony Xperia M4 Aqua's battery life makes up for things a bit. Its 2400mAh sealed-in unit doesn't sound all that jaw-dropping, but it's one of the better options in this class. It'll outlast the Moto G 4G 2015 model, for example.
You have to hammer the phone pretty hard to make it drain down to nothing by bed time, and if all you want is to send a few dozen WhatsApp messages each day and snap a couple of pics you should squeeze almost two days' use out of a charge.
Left playing a looping 720p MP4 video, the Sony Xperia M4 Aqua lasts just under ten hours. In my experience that's almost two hours more than you'll get from the 5in Moto G. And that's despite the fact that the M4 Aqua has more power.
The phone has the Snapdragon 615, rather than the Snapdragon 410 we'd normally expect to see in a 5in 720p phone. You get eight cores revving their engines at up to 1.5GHz, and from Geekbench 3 you'll score around 2347 points, around 1000 more than the Moto G.
While its GPU isn't as good as the one you get in the Sony Xperia Z3 Compact, it's enough to play just about all Android games with no major slow-down.
The Sony Xperia M4 Aqua is a patchwork of good and bad bits, with more good than bad. But joining the camera in the box of shame is the speaker. It doesn't really rise about the thin-sounding phone norm, and uses just a single driver facing out of the bottom of the phone, rather than dual front-facing speakers. It's worse than the Moto G's speakers, and they don't exactly make the table shake either.
Sony Xperia M4 Aqua verdict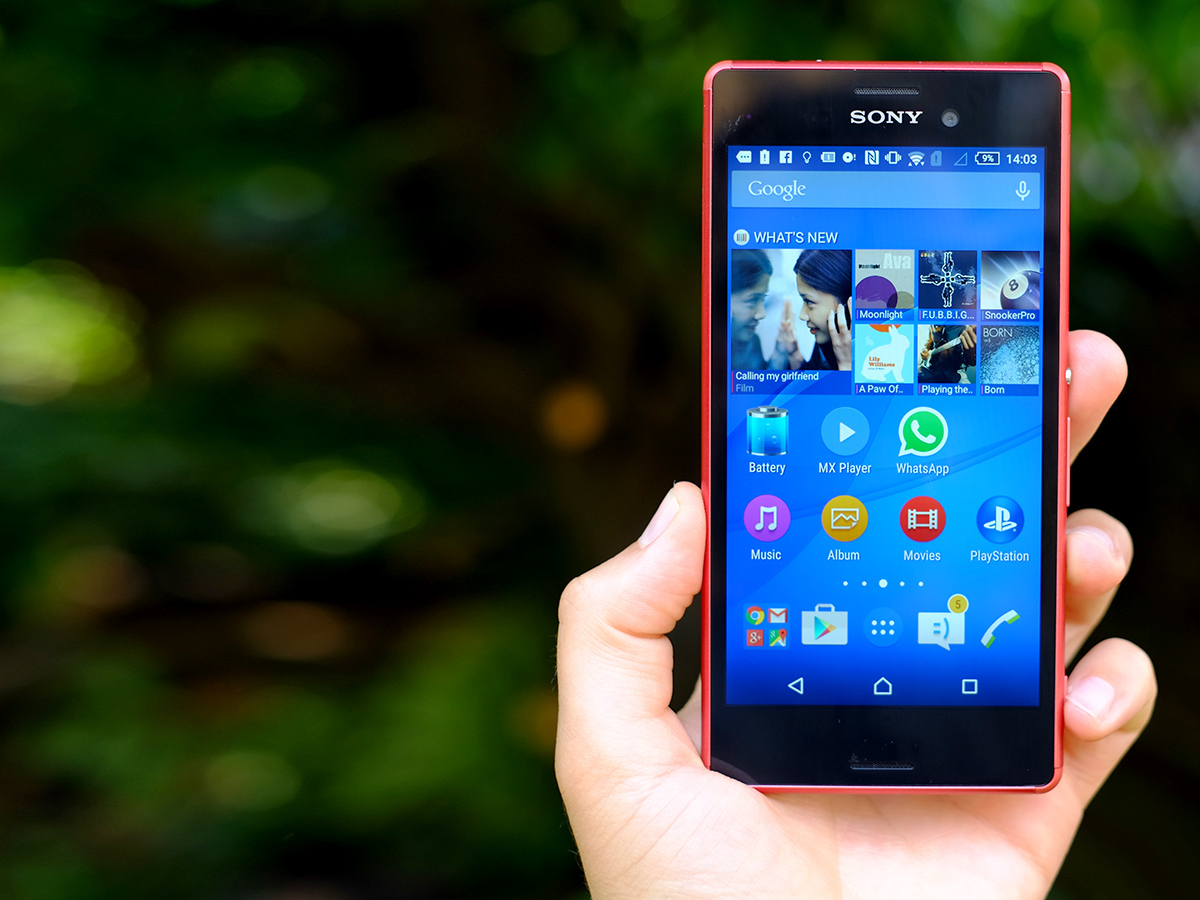 Some phone sins are harder to forgive than others. And while the Sony Xperia M4 Aqua is guilty of only a few, they are pretty annoying ones.
It's fairly long-lasting, won't destroy your bank balance, and feels well-made despite being crafted of plastic rather than Sony's signature glass and metal.
However, it shoots itself in the foot by letting preinstalled apps gobble up almost all of its limited storage space and the camera, while well-specced, is pretty awful.
Not an outright smash, then. But the neat-feeling Sony UI, a bright, clear screen, and a similar on-contract price to the Moto G 4G 2015 make it a fair choice if you're not buying SIM-free.
Tech specs
| | |
| --- | --- |
| OS | Android 5.0 |
| Screen | 5in IPS LCD 1280 x 720 |
| CPU | Snapdragon 615 CPU 1.5GHz |
| GPU | Adreno 406 |
| RAM | 2GB |
| Storage | 8GB with microSD |
| Connectivity | 802.11, microUSB, microSD |
| Cameras | 13MP rear, 5MP front |
| Dimensions | 145.5 x 72.6 x 7.3 mm |
| Weight | 136g |