Sony Xperia XZ Premium review
Eye-popping specs alone aren't quite enough to lift Sony's latest flagship into the top tier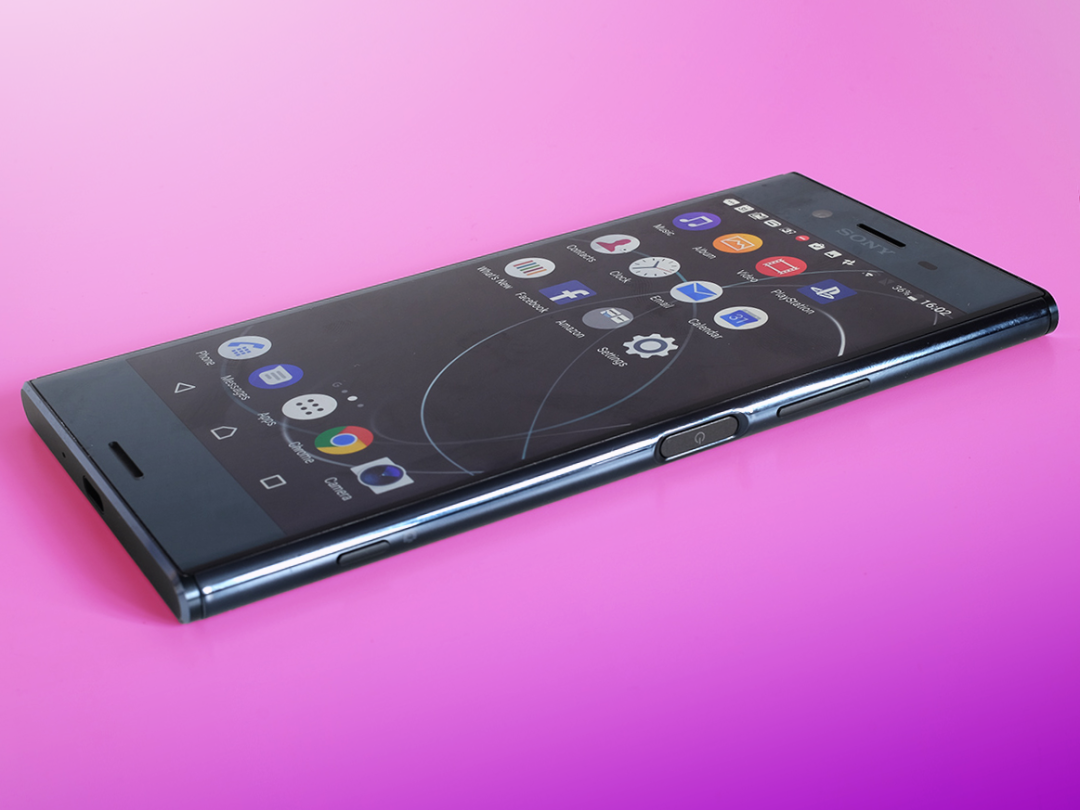 Ever wanted to go to a restaurant and ask for everything on the menu?
The burger, the crab, the puttanesca and the ribs? Tell them it's your Birthday, when it's actually just a Wednesday? This sort of excess is what the Sony Xperia XZ Premium is about.
It has a 4K HDR screen, one of the fastest phone processors currently available, 64GB storage and a 19MP camera. The only downside, other than the Samsung Galaxy S8-style price, is that a couple of elements have a whiff of fast food about them.
Sony Xperia XZ Premium Design: Heart of glass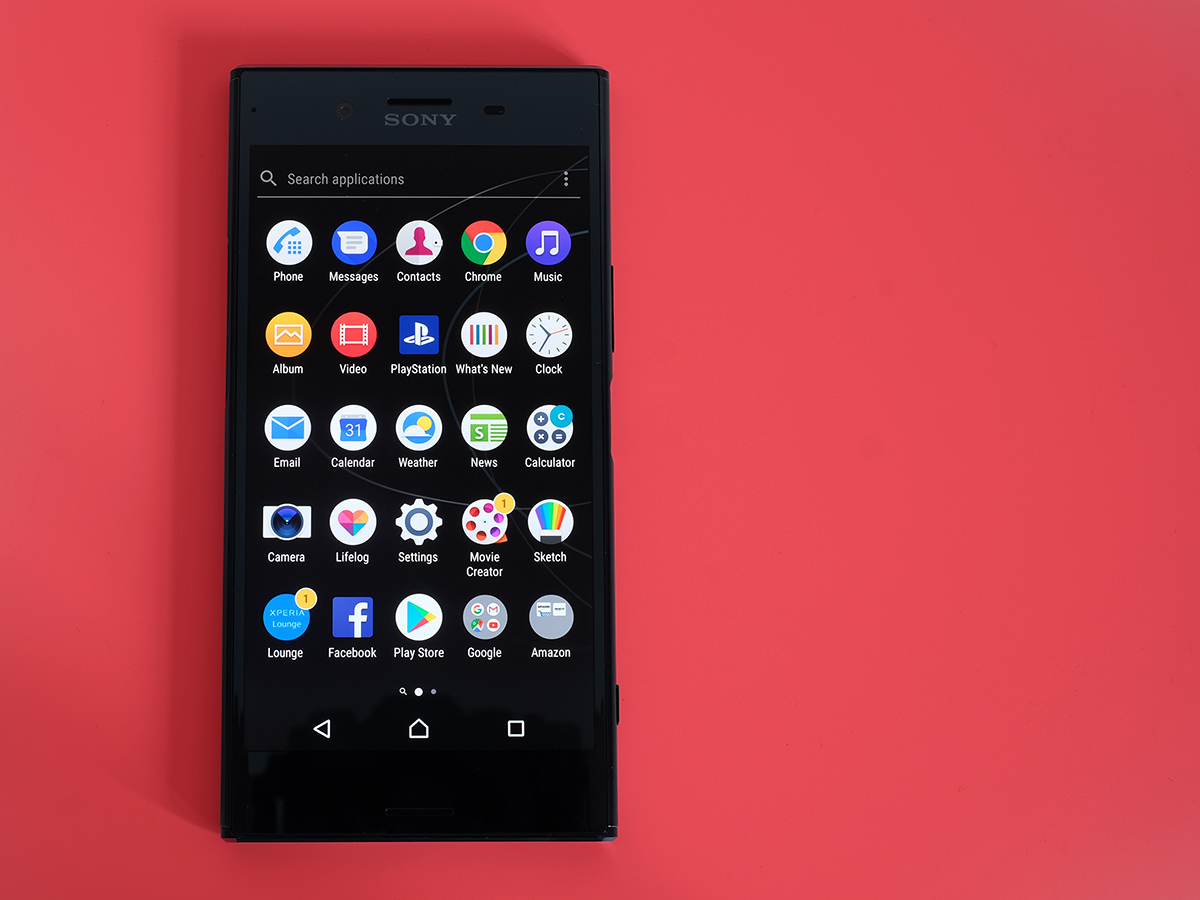 The Sony Xperia XZ Premium seems to have a mission statement to blow up the competition with eyeball-melting extra tech. However, it looks pretty familiar.
Where the Samsung Galaxy S8 pushes its screen right into the corners as if it wants to make your thumbs homeless, the Xperia XZ Premium is a classic sharp Sony rectangle with clear borders. There's glass on the front and back like the Z5 Premium, and while it's curved, it's the ever-so-slight curviness of 2.5D glass. Only the last millimetre or two is curved, to avoid any severe edges.
The worry with glass is that if it gets near your keys or ends up kissing tarmac, it'll be ruined. However, Sony has done its best to avoid tears by using Gorilla Glass 5. It's designed to take being dropped from shoulder height on to a hard surface.
One slight surprise is that the Sony Xperia XZ Premium does still use some plastic: the glass tapers down into curved plastic-coated sides with a finish that almost looks like glass. We'll hand it to Sony: glass on the sides would probably be a step too far.
The top and bottom of the Sony Xperia XZ Premium are aluminium, giving you a greatest hits holy trinity of smartphone materials.
Don't dwell too long on the plastic, because the Sony Xperia XZ Premium feels great. However, it's about time Sony considered moving on from this phone format. It's getting crow's feet. The Galaxy S8 has a 5.8in screen and is 68mm wide; the LG G6 a 5.7in screen and is 72mm wide. This 5.5in phone is 77mm across, almost a centimetre wider than the S8. It's a wide load, and you can feel it.
Still, there's a very good side-loaded finger scanner under the power button and great water resistance. A classic rubber-sealed flap over the SIM and SD card slots lets you dunk the Sony Xperia XZ Premium in water without it heading to the great Carphone Warehouse in the sky.
Sony Xperia XZ Premium: All the pixels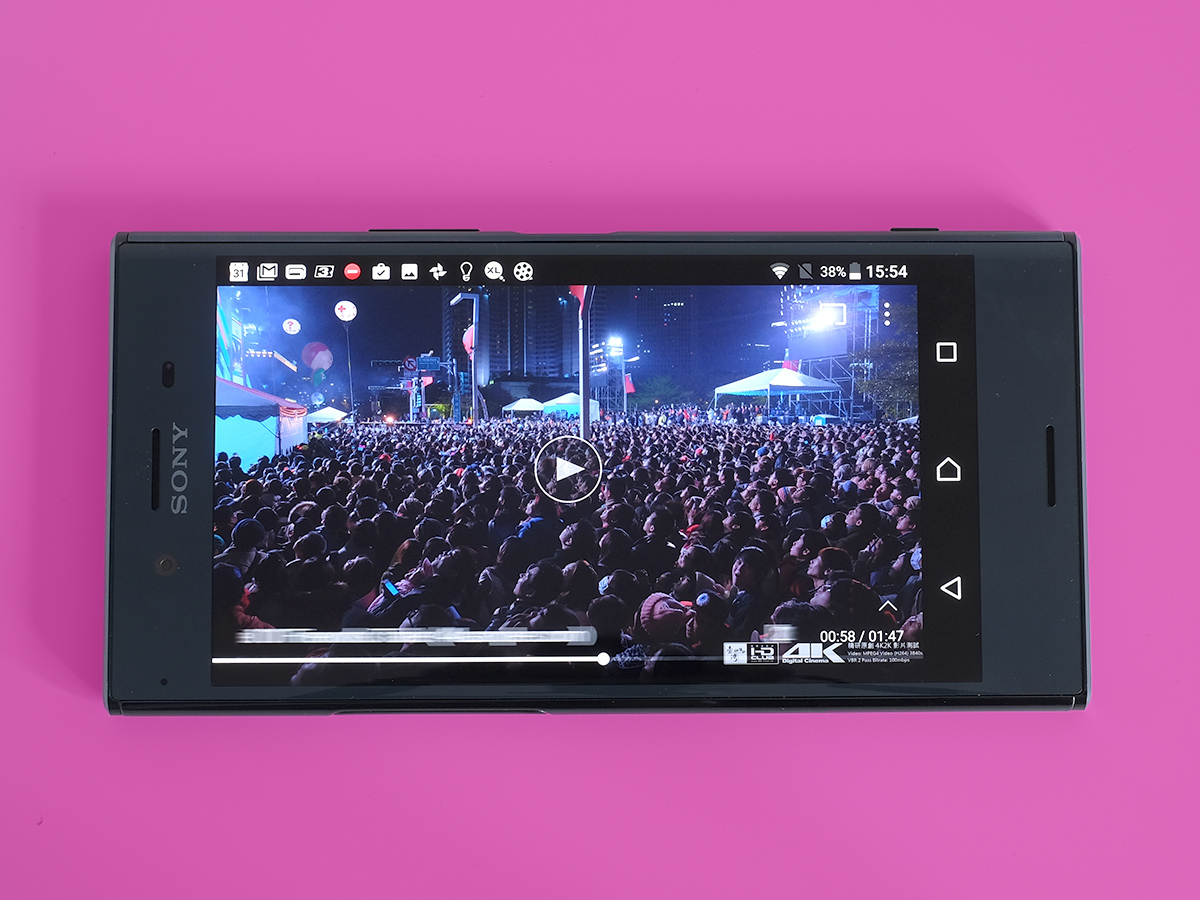 One of the big questions is: how is this different from the Xperia XZ? Well, other than using glass on the back instead of metal, the big deal here is that this phone has a 4K screen.
That's 3840 x 2160 pixels, way more than the 2960 x 1440 of the Galaxy S8. Yes, Sony has been down this route before, in the Xperia Z5 Premium. But unlike that phone, the XZ Premium isn't 4K on a 24/7 basis – it only switches to true 4K when used with a compatible app, such as the Sony video player.
Zooming right into a capture of the homescreen, you can see the phone upscales a 1080p rendering of good old Android. You have to try pretty hard to notice the difference, and the best argument for a 4K phone screen right now is VR, anyway.
So, how good is it for VR? I fired up a few of the best DayDream VR apps, Coastality and The Lost Future, a VR shooter. It's quickly clear that these apps do not render at 4K: side-by-side with the OnePlus 3 you see the same 'jagginess' from the polygons.
However, you'll also see much less of the space between pixels when using a VR headset, thanks to the mammoth 807ppi pixel density. Even if you don't get 4K graphics, all of those pixels are still firing. It makes a difference.
That said, this isn't quite the VR dreamphone in every respect, as it has an LCD screen. OLEDs are the preferred type because their ultra-fast pixels cause less screen smearing. I haven't noticed much of it here, but if you're susceptible it's one of the things that'll make your lunchtime panini threaten to make a reappearance after a spell with a VR headset.
4K phone screens are kinda cool, but not yet as great as you might hope, particularly now that Android does actually support them natively in version 7.0.
This is one of the first phones to support HDR video too, and here the LCD screen is handy because its top brightness is pretty powerful. Even if you don't have an HDR video, the Sony player app seems to fiddle about with the dynamic range anyway. It certainly did with the 4K video I tried, doing its best to pull out a bit more detail out of the shadows.
Regardless of its 4K and HDR headlines, the Xperia XZ Premium's screen is one of the most impressive IPS LCD displays you'll find. Like former top brass Xperias, it can deliver colours that'll make your TV look weak and desaturated if that's what you're after.
Sony boasts it can fling out 138% of sRGB, which in real life equates to Galaxy S8-matching jammy doughnut red realness. Unlike some older Xperias, you can rein this in too. There are standard and Super Vivid modes that embrace deep colour, but there's also a "Professional" mode that gets the tones looking more relaxed. It's not a bad idea to use this, as otherwise your photos will look way more vibrant on the phone than on just about any other screen.
Sony Xperia XZ Premium Software: Branded Nougat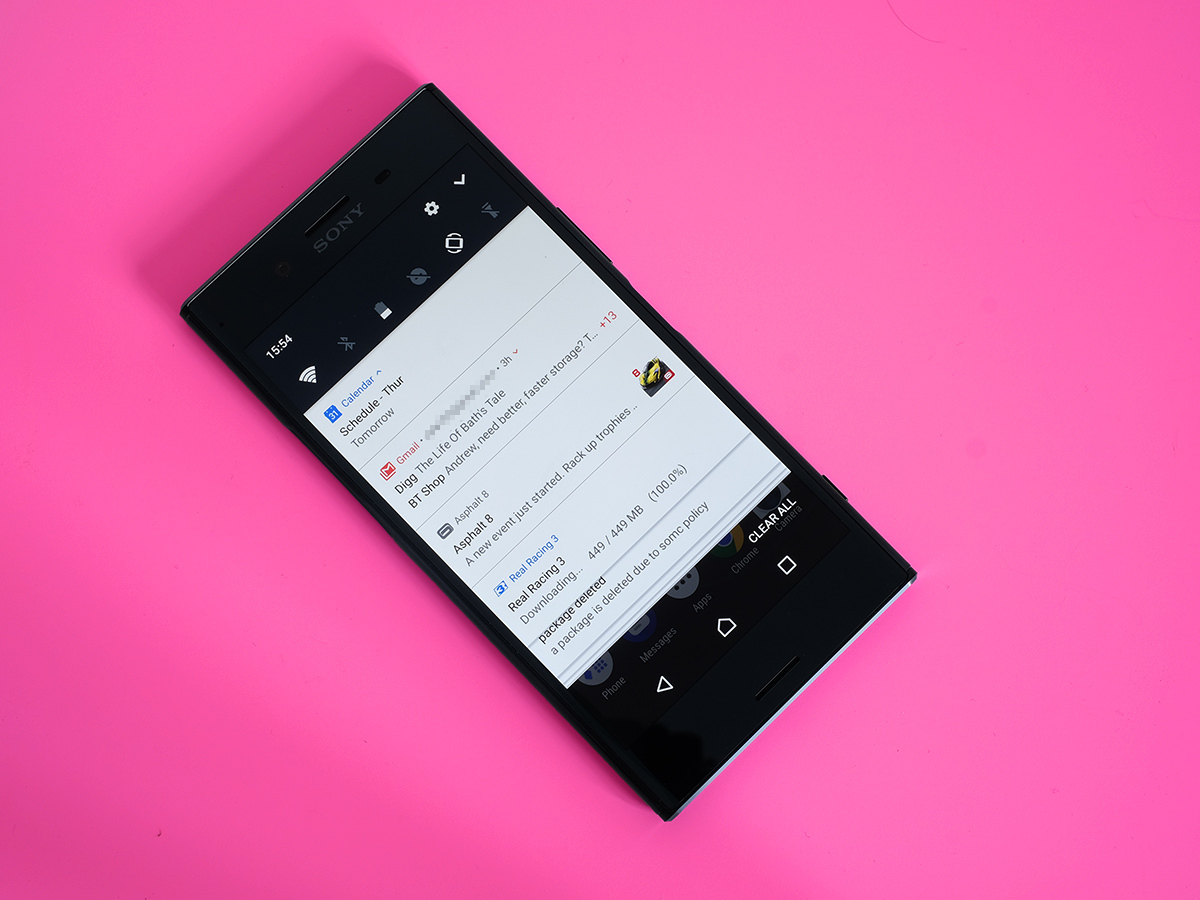 Of course, if you just want Android to 'pop', the XZ Premium can easily handle that.
The phone runs Android 7.1.1 with Sony's own custom interface. Other than the Android 7.0 additions such as advanced notifications, it's much as it was last time around. You get loads of Sony services, for video, PlayStation, Music and the lifestyle drill sergeant Lifelog, but the XZ Premium doesn't feel too bloated because they're just Sony takes on Google apps. And while the Google versions are here, they're filed away in a folder memory box like letters from an ex.
Sony's trademark swooshiness is back too. The default "loops" live wallpaper flies about gracefully as you move through the interface. And it's all part of the Sony Xperia XZ Premium personality.
The main change in the feel of the interface is that instead of using a big long scroll of apps like normal Android, the Sony Xperia XZ Premium's apps menu comes in pages. However, you can also put them into folders and 'disable' most system apps that most phones don't let you touch.
Some say the Xperia UI looks a bit dated, but I'm happy living with it. There's plenty of customisation too, with icon packs, themes and the ability to choose exactly how many app icons are squeezed on to each homescreen.
Sony Xperia XZ Premium Performance: Power Fiend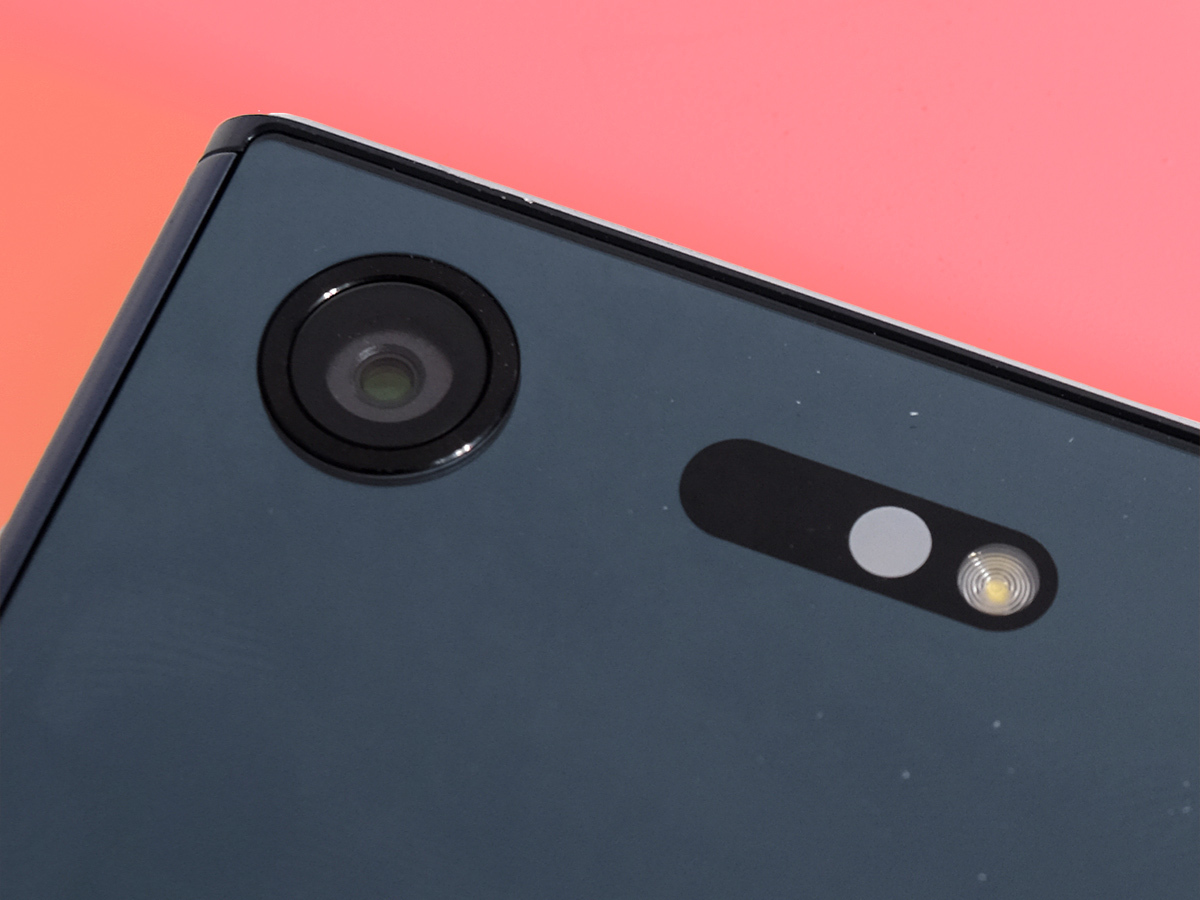 As you'd hope, the Sony Xperia XZ Premium feels fast too. Not faster than the last super-duper Xperia, but the phone's reactions feel more-or-less instant.
It has a Snapdragon 835 CPU with 4GB of DDR4 memory. This is an octa-core CPU with the latest Kyro cores, four at 2.45GHz and four at 1.9GHz.
I'd love to tell you how its benchmark scores compare with other recent phones, but Sony has blocked the relevant apps from being installed on our review device. Handy, that.
Tech specs tell us the graphics chip is 25-30% faster than that of the normal Xperia XZ. It's a bit wasted here when for the most part this is a 1080p phone that lightly upscales content for the 4K screen. However, with so much RAM and juice to spare, you can expect the phone to feel fast until even the most careful owner has left its body looking a bit tatty.
Sony Xperia XZ Premium Camera: Life in Slo-mo
Sony has also maxed-out the spec of the Sony Xperia XZ Premium's camera. It has a 19MP rear camera with a 1/2.3in sensor. That's the same size as your average dedicated compact camera, bigger and more megapixel-packed than the Samsung Galaxy S8's.
Your photos often end up pushing 12MB, which is pretty massive for a simple JPEG image.
I'm not blown away by the results, though. It all comes down to what Sony does with this impressive-sounding hardware. Using the Sony Xperia XZ Premium out and about on a sunny day, it tends to overexpose parts of your photos more than the top-tier competition. Dynamic range is clearly worse than the best, and, as in the past, Sony's processing is not great.
It's far too aggressive, making the natural patterns of grass and tiny-leaved trees look unnatural and, at times, fizzy. Zoom in far enough and the Sony Xperia XZ Premium's pics turn into a strange-looking impressionist take on reality at times.
The phone also lacks proper optical stabilisation. Instead it uses its software counterpart, EIS. What this does is to make the camera talk to the gyroscope to tell between when you're moving a bit, and when you're not.
It helps you get non-blurry night shots, but doesn't give you the boost in image quality OIS can. It's not bad, though. Side-by-side with the OnePlus 3, you get similar levels of low-light detail and the Sony is a pro at making dim shots look bright. For low-light shooting I'd take an iPhone 7 Plus, Galaxy S8 or LG G6 over the XZ, though.
This phone's real boasting point is video, though. This phone can shoot ultra-slo-mo video, right down to 960fps, which plays back real life at 1/40 of the speed.