Sony Xperia XZ2 review
An Android comeback story with a sort of happy ending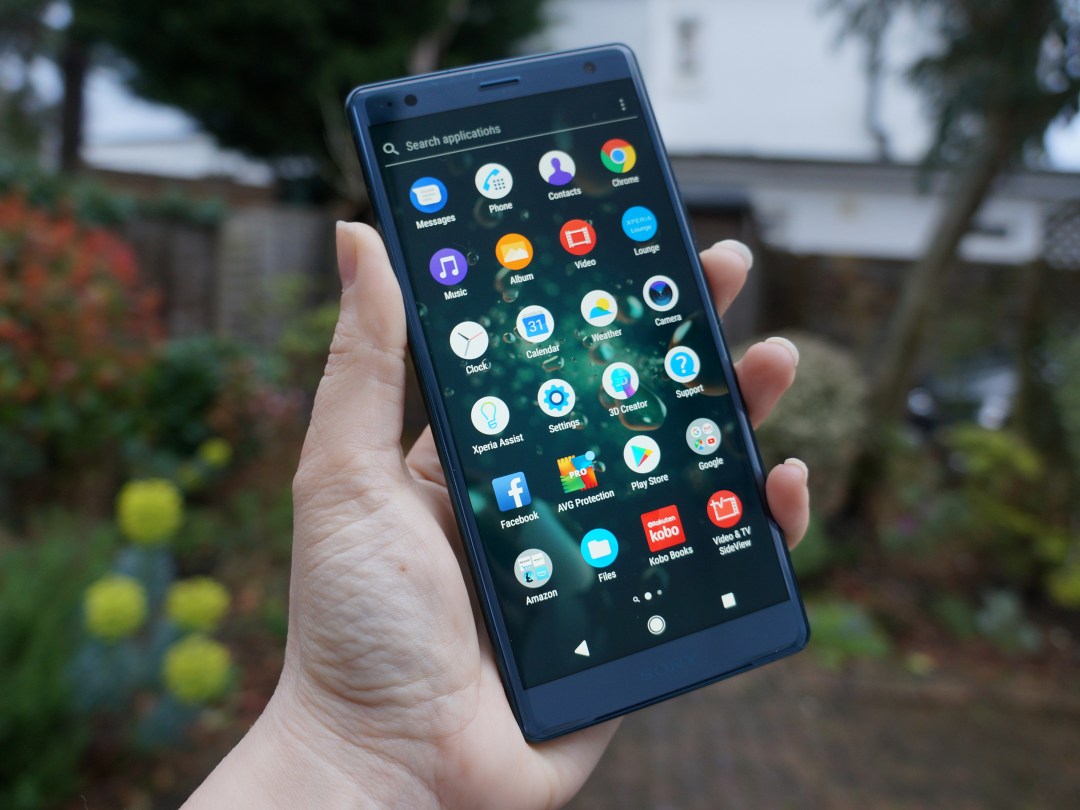 It's been a long time since Sony made a truly great phone, which means its latest creation is kind of a 'make or break' deal.
The Xperia XZ2 can't just be another also-ran compared to the Samsung Galaxy S9, iPhone X and Google Pixel 2. It needs to be special in its very own right.
The solution to such mediocrity? Sony's betting the house on High Dynamic Range, with a 'world-first' boast as the first smartphone to capture 4K HDR video. Y'know, the same tech that's made its TVs quite so astounding of late, and featured in last year's so-so Xperia XZ Premium.
Everything from the Xperia XZ2's display tech to its camera smarts have been built to go big on features that you'd usually expect from the big screen sat in your living room. And you'll be able to see the difference a lot more often now. Plus there's an improved design, upgraded display and super-fast performance to boot.
So does the HDR 'wow factor' truly translate into the palm of your hands? We've had our hands on the Xperia XZ2 to find out.
Design: Out with the old…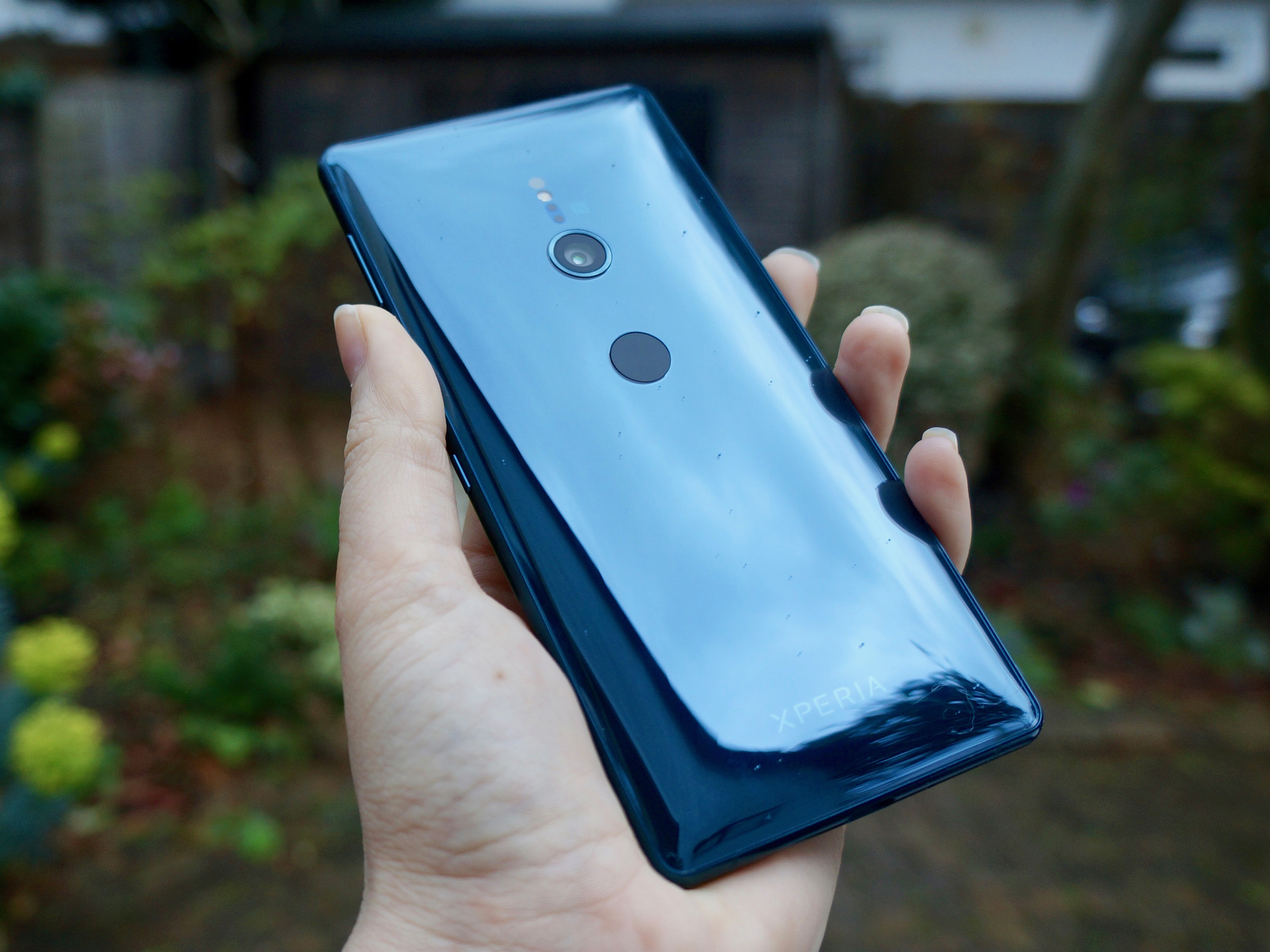 Sony's phones have always felt a bit second-rate in the design stakes. While its competitors have worked hard on making their handsets even more beautiful, the Xperia range has often boasted of software and battery life tweaks. Honourable, perhaps, but not what draws punters in through the window of Carphone Warehouse.
Sony seems to have finally clocked on to this with the Xperia XZ2 and has given the phone rather flashy makeover. With its new 'Ambient Flow' design, the XZ2 is the best-looking Xperia phone to date.
Can it stand shoulder-to-shoulder with something like the Galaxy S9 or the iPhone X? Well, I'm rather taken by it. The boxy design and angular edges of old are gone and have been replaced by something softer, with a curved back panel that means it tapers at the edges to nuzzle more easily into your hand.
Its bezels have been pushed back too, helped by the use of an 18:9 display. There is still more dead space to the top and bottom than you'd find on most flagship Android phones, but it doesn't stick out as much as it did before.
The XZ2 feels solidly built with Gorilla Glass 5 front and back, and an anti-twist, anti-bend aluminium frame running around the edge, making it the most durable Xperia handset yet. It might need to be – its glass design feels classy, but also very slippery, and getting extra grip from a case might be wise. At 198g, this Xperia slightly heavier than some similarly sized competition but it's not a difference so drastic as to cause you an issue.
It comes in a choice of black, silver or a blue/green colour, which stretches across the back panel around the sides and onto the front. The finish is almost as reflective as the chrome finish from XZ Premium, but it's thankfully not quite as much of a fingerprint magnet – it'll pick some up like any glass-backed phone, but our blue sample seems to fare pretty well indeed.
Speaking of fingerprints, the scanner that was so awkwardly located on the side of the handset on the XZ1 has now been relocated to the back panel. The only problem? It's the same shape as the camera, so it's easy to mix them up when you're just feeling around back there.
That's not helped by the fact the camera is actually better positioned for it too – the scanner is just a touch too low, which means I often found myself having to shift my grip downwards to reach it.
Display: The joys of HDR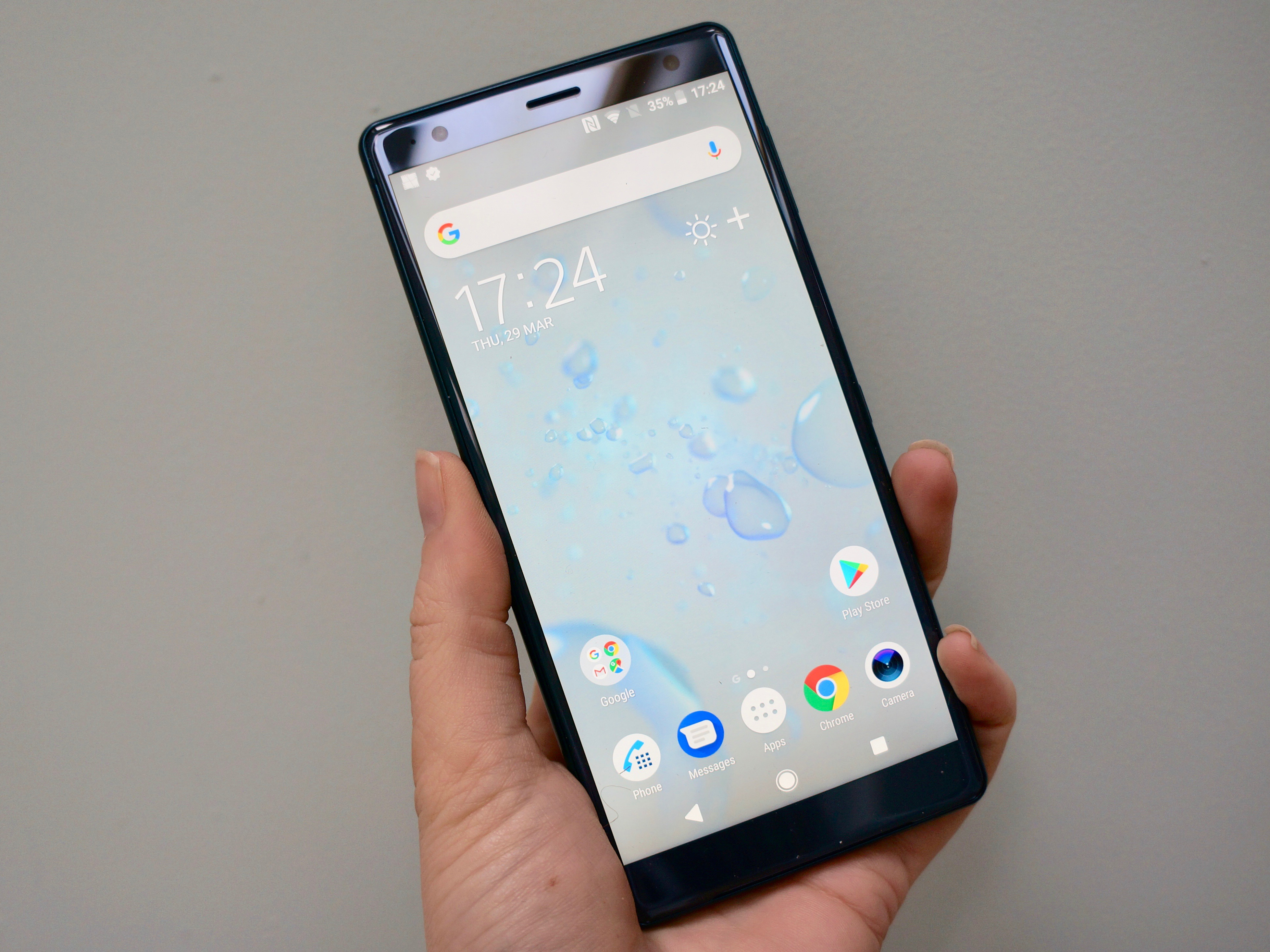 The Xperia XZ2's new 18:9 display means Sony has been able to squeeze more screen into its body than ever, with a 5.7in display up from 5.2in last year. In fact, the aspect ratio trickery has even enabled Sony to shave a millimetre or two off of its design, so it's now slightly narrower than it was before too.
The XZ2 makes use of a full HD+ resolution, which equates to 2160 x 1080 pixels. It also boasts support for HDR for mobile, meaning you can watch compatible HDR content on Netflix and Amazon. That said, none of the content we tried to watch – such as Stranger Things, Mindhunter and The Defenders – was badged up as HDR on the Netflix homescreen, whereas it is when viewed on the Galaxy S9.
That's a little confusing, and colours certainly don't seem as rich as those on the S9, and highlights aren't as detailed either. We're confirming with Sony why this is and will update this review when we hear back. Watching video is still enjoyable of course, though we'd argue it's still not up there with the best. There's not quite as much detail to go at as you'll find on the Galaxy S9, plus contrast isn't as stark and colours aren't as punchy.
It's just a touch softer across the board – almost like looking through a filter – though it might just pip the S9 for its handling of skin tones, which are a touch warmer and more natural. I would suggest going into the display settings and switching off X-Reality Pro before watching any video though – Sony's processing for creating clearer, sharper images, apparently.
When streaming from Netflix, it not only affected colours and contrast negatively, it also introduced a lot of noise and motion processing annoyances, which far outweigh anything of merit it does to the picture.
Cameras: video star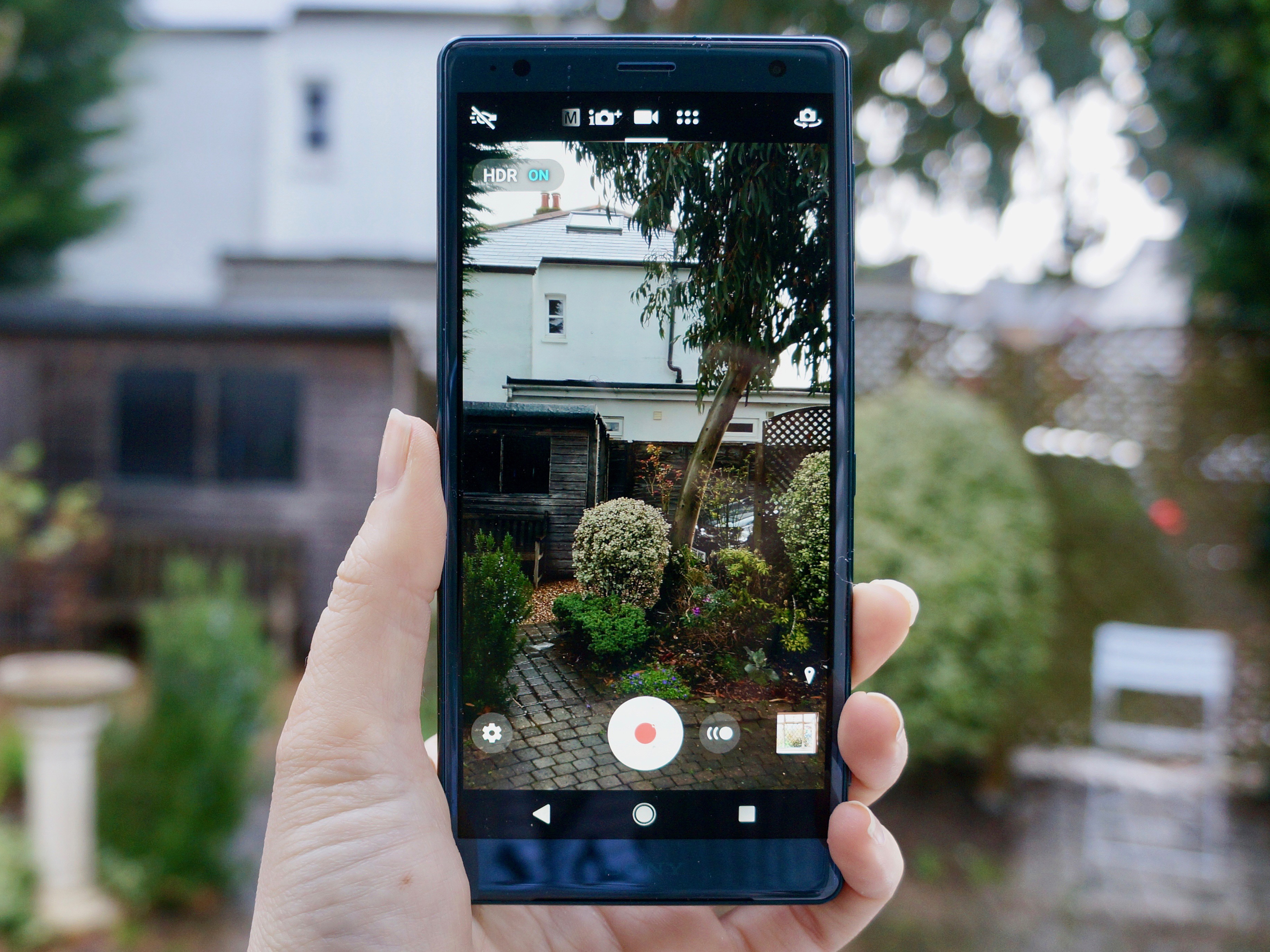 Sony has left its camera set-up alone this year, keeping the whopping 19MP lens on the rear, and a 13MP selfie cam on the front. That doesn't mean there isn't new stuff to unravel here, but it's more on the video side than it is the stills. I'm not sure that's exactly where Sony should be focusing, considering its pictures have always fallen slightly behind the competition, but a 'world first' boast is always worth a go.
That world first is its ability to record video in 4K HDR to a 10-bit colour depth. It's impressive but probably somewhat limited in how much you'll actually make use of it. For a start, you'll obviously need an HDR-capable screen to view it on, otherwise you won't see any difference in the footage at all – in fact, colours can look a little more washed out than shooting without HDR turned on.
Sony also recommends turning off SteadyShot for the best results when shooting HDR, which introduces a lot of wobble into your shot. There's still no OIS here, so it's all done via software, and the lack of steadiness in filming with it switched off is noticeable.
If you can handle the wobble, HDR footage does look very good indeed when viewed back on the XZ2's screen. It's at its best when accompanied with a 4K resolution, showing off a good handle on contrast, detail and natural, nuanced colours.
Sticking with video, Sony has improved its super slow-mo mode at 960fps, upping it from 720p to 1080p, beating Samsung in the process.
It halves the time you can capture slow-mo for though (from a six second slow-mo clip down to three seconds), but the extra detail there will be worth it if you don't need the longer footage. Just be sure to shoot in the best light possible – lower light situations can introduce a lot of grain.
As for regular shooting, Sony's performance falls behind the very best of the S9, iPhone X and Pixel 2 XL, but is still capable of great shots in certain circumstances.
As with most phones, you'll get the best results in good light. Colours look fanatstic and detail is pretty good too, though zoom in and you will spot some noise lurking in even the best-lit shots. You can't really distinguish any extra insight you're getting from the extra megapixels here compared to the S9 either.
Low light shots aren't helped by the lack of OIS, plus its f/2.0 lens is not the brightest aperture we've seen in a flagship phone. In dim light, you'll still get a good enough photo, as long as you don't mind a little grain and a touch of detail softness. However, once light gets really low, photos become very smudgy indeed.
Performance: Ample power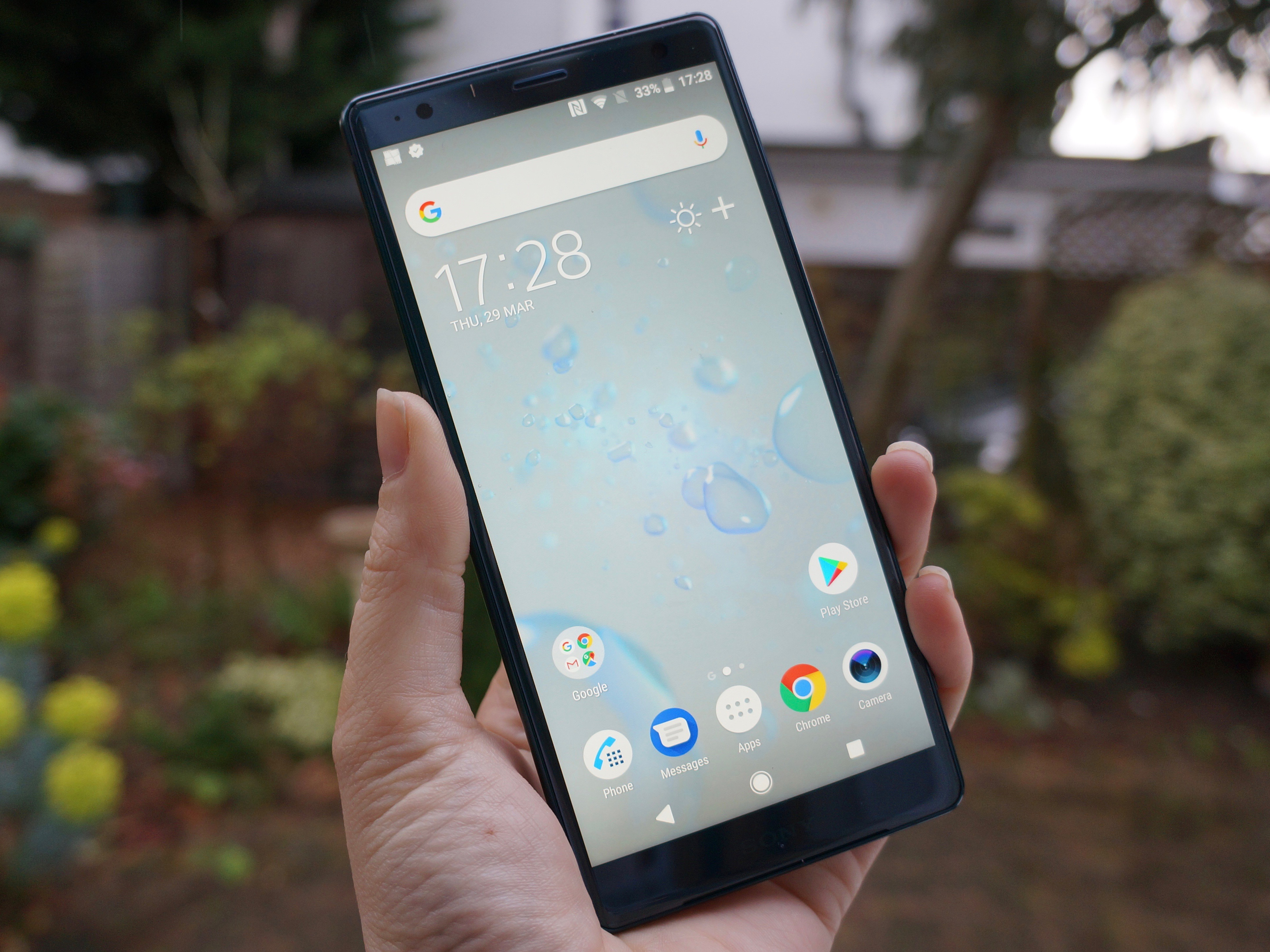 The Sony Xperia XZ2 joins a growing list of flagship handsets powered by Qualcomm's octa-core Snapdragon 845 processor, and with 4GB RAM supporting it, it blazes through every task you can throw at it. Even just moving around the menus feels noticeably slick, and whizzing through multitasking with my usual impatience doesn't throw up a single issue.
There's 64GB of storage on board here, plus expansion via microSD, with a 3180mAh battery to keep the phone going for a good day, unless you're blitzing through 4K video and 3D gaming.
At half brightness, streaming via Netflix, it dropped 10% battery, faring better than the Galaxy S9, which dropped 14% in the same time. I found it did better in day-to-day use too, and could usually make it to bed time before charging – the S9 was calling out for a boost by mid-evening.
There's lots of clever battery tech going on in the XZ2 too as well, with its usual excellent Stamina modes for when you're caught short, alongside smart charging to keep your battery healthier for longer.
You also get built-in wireless charging using the Qi standard, though as with most phones carrying this tech, you'll need to fork out extra for the charging pad. Standard charging is done via USB-C.
Features: Turn and face the strange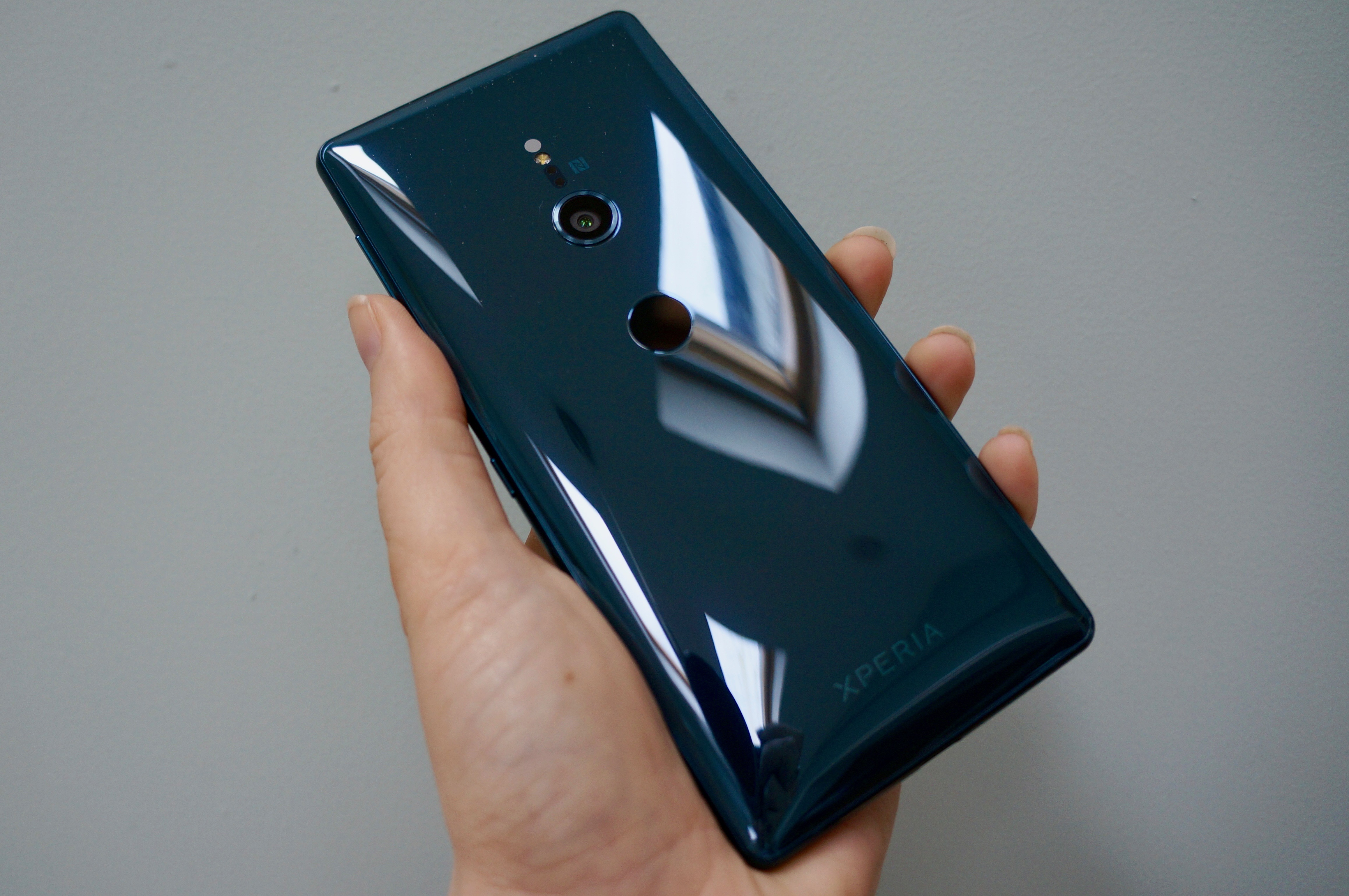 Sony has been supporting waterproofing and dustproofing in its flagship phones before most others caught on, so you can expect the same here with a rating up to IP65/68.
That means it'll take a dunk in the bath without any worries at all – but remember it's protected against fresh water only, so dropping it in the sea is a no-no.
Elsewhere there are a few more gimmicky features for you to try out, including the new built-in Dynamic Vibration System.
Working a little like a DualShock controller for the PS4, it analyses the audio data coming through the phone and injects haptic feedback at appropriate points to create a more "immersive" experience.
You can adapt the strength of it, and the settings for each individual app, so we chose to have it off for music and video. You might, however, fancy giving it a go for gaming, where it can be quite effective. Just be prepared for it to have a knock-on effect to battery life on those longer gaming sessions.
There's also the 3D Creator, which can now whip up a 3D render of your face using the selfie cam (previously you needed a friend to do it for you using the rear camera).
Once captured, you take a good look all around your face in 3D, but it is a static image – nothing like a competitor for Animoji or AR Emoji.
I actually found it pretty difficult to use and failed to capture a render of myself effectively. While I could capture the initial bits just fine, it often lost the render right at the end when I was "filling in" the missing bits.
To be honest, I can't really think of any time I'd want to have a 3D render of my face anyway, though a new update for Facebook means you can send them directly to your feed should you wish.
Audio: Hit the road, jack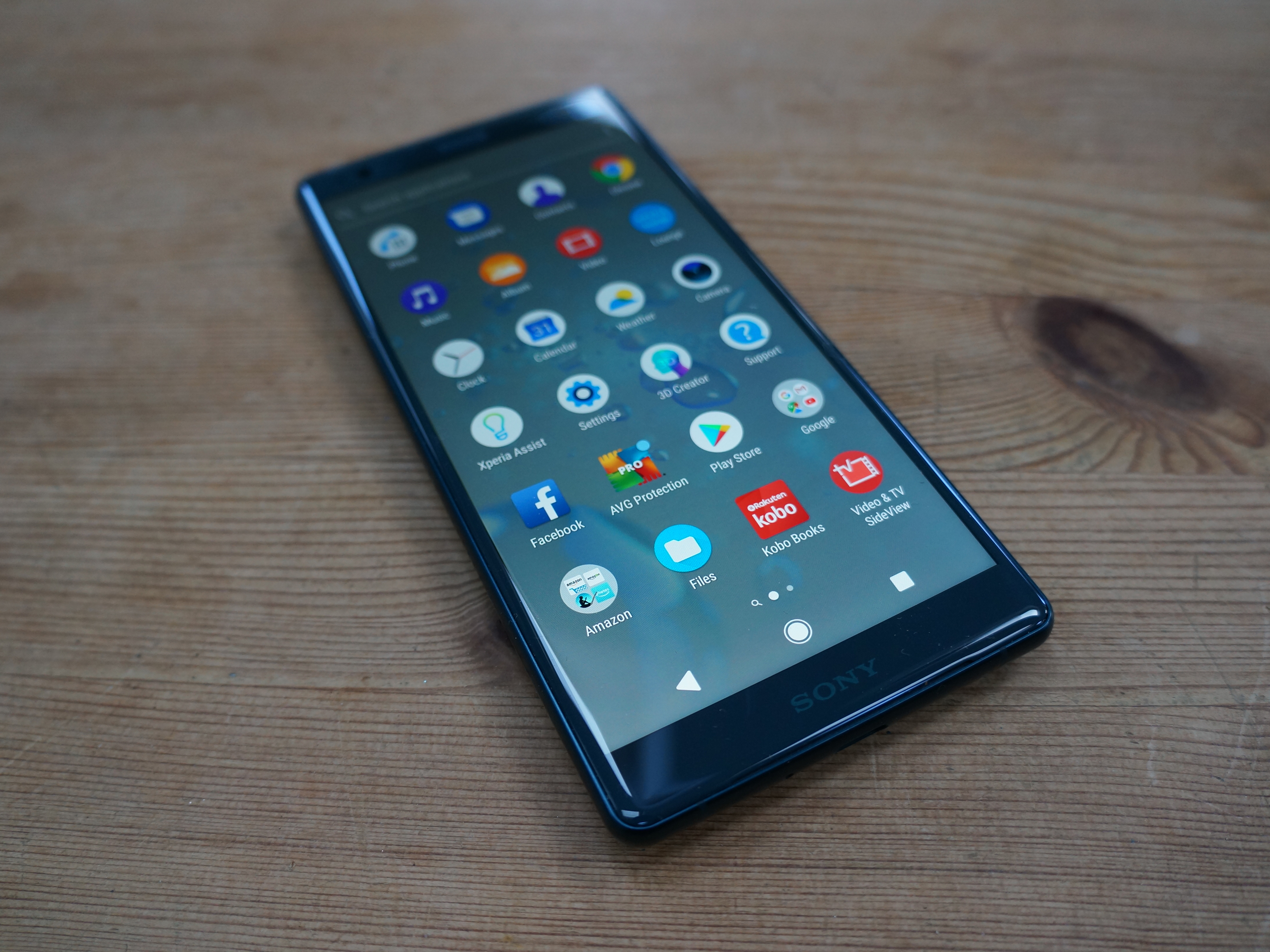 It was only a matter of time, and now the most divisive trend in portable audio has taken Sony in its grasp – the headphone jack is nowhere to be found on the XZ2. That means you're going to need a pair of wireless or USB-C compatible headphones to listen to your music, which it supports up to 24-bit/192kHz high resolution as usual.
The stereo speakers here are better than ever, at least, and go louder, with Sony's S-Force Front Surround Sound processing for a wider audio performance too. It works, and I prefer the balance of Sony's stereo speakers to those on the S9, which are arguably weightier, but less detailed.
Of course, you won't get anything like the kind of detail and clarity you'll get through a pair of headphones, but for quick videos and the odd YouTube clip they sound clear and loud.
Sony Xperia XZ2 Verdict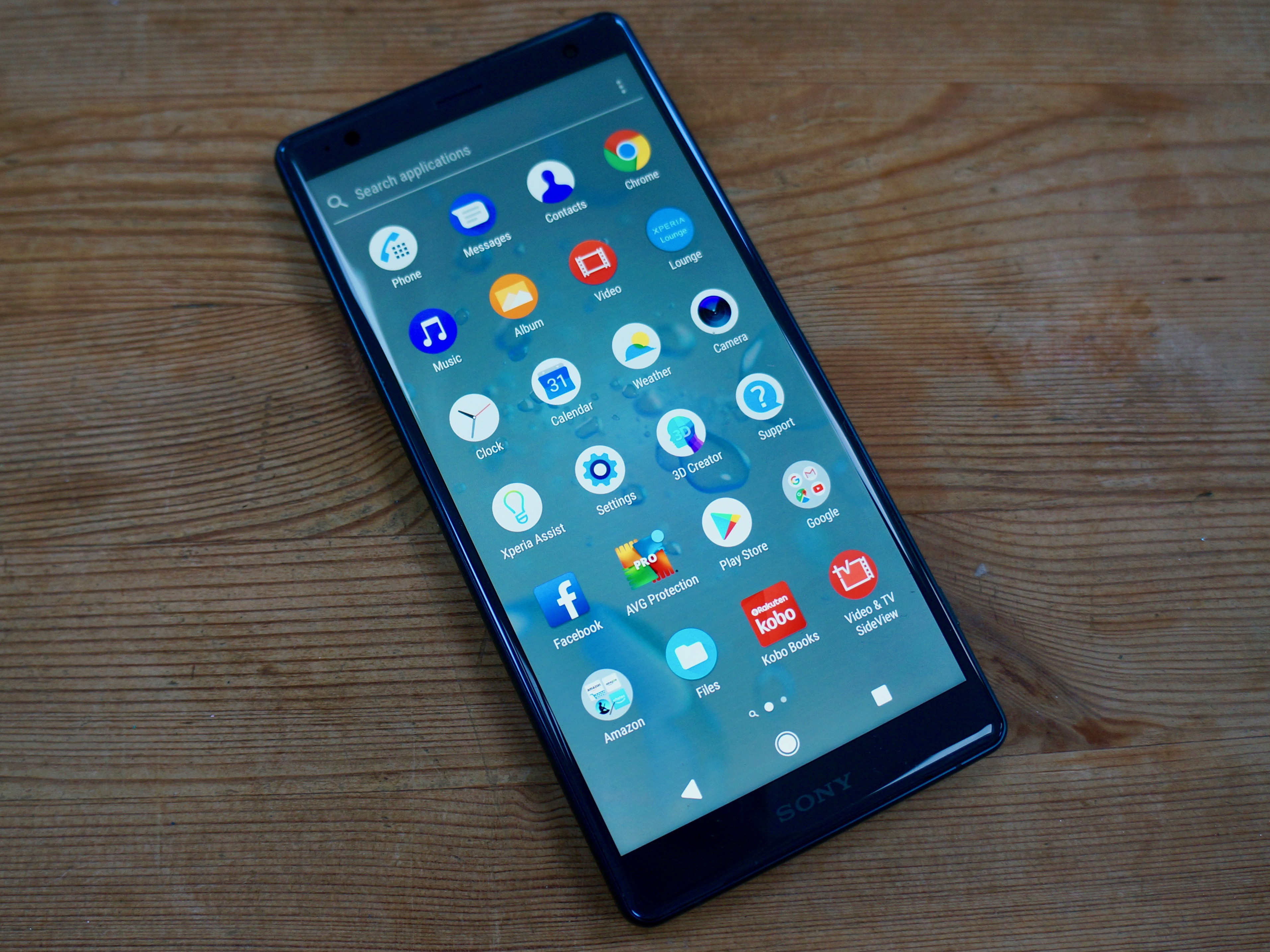 There's no doubt that the Sony Xperia XZ2 is easily Sony's best phone to date. But as is so often the case with Sony's handsets, its shortcomings are only emphasised by its competition's ability to do that little bit better.
While the Xperia XZ2 gets a thumbs-up for its improved design, powerful performance and great battery life, its camera performance puts its emphasis in the wrong place for me. I'm all for the 4K HDR innovation, but nailing the core stuff is arguably more important, and its photos still need work.
Its screen struggles to match up to the likes of the Galaxy S9 too, and while it's plenty bright enough and handles colour well, we'd like a little more sharpness and detail when viewing video.
Despite that, it's fair to say that for the first time in a little while, Sony has put itself in the running for a spot in your pocket, by offering a powerful, good-looking phone with plenty of promise. It might not be king of the kennel right now, but this Android underdog could finally be starting to biting back.
Stuff Says…
Sony's best handset yet offers plenty, but despite big strides forward, its competitors have still made bigger
Good Stuff
Much-improved design
4K HDR video
Powerful performance
Bad Stuff
Camera still not as good as the competition
No headphone jack