Sony Xperia Z1 review
The Sony Xperia Z1 is more powerful and more waterproof than the Xperia Z it follows, but is it worth the upgrade?
Sony's second flagship of 2013 – third if you count the Z Ultra gigantophone – is waterproof to 1.5m, making it ideal for a trip to the beach or a soak in the tub. Of course its predecessor, the Xperia Z, was similarly waterproof (although to just 1m), so what else is new?
It's less harsh in the hand, for a start, with curved corners and smooth lines replacing the odd dust-welcoming trench. It also has a bigger 3000mAh battery, meaning its luscious 5in full HD screen can pump flicks to your face for longer. Oh, and it's got a new 20.7MP camera. But is that enough to make it a worthwhile upgrade over the original Xperia Z? And can it take on the current crop of flagship phones?
Design and build: businesslike in all conditions
An impressive slab of tech, the Z1 is all sleek glass and rounded aluminium corners. It looks more business accessory than rugged gadget, but it is in fact waterproof. To enable this, all the ports are hidden behind flaps that sit flush to the edges of the phone.
It's great for keeping the water out, but annoyingly fiddly when you have to pick open one of the small doors with your fingernails to charge it every night. Nail-biters will need to find a suitable tool to have any hope of penetrating its defences.
At 170g, it's also pretty heavy and its flat, square shape isn't the most natural fit for a human palm. But the power and volume rocker are well positioned in the middle of the right-hand edge of the phone, and the handy notifications LED sits just at the top edge of the screen.
UPDATE: the Z1 a bit on the big side for you? Check out the Xperia Z1 Compact.
Camera: not as perfect as ex-specs-ted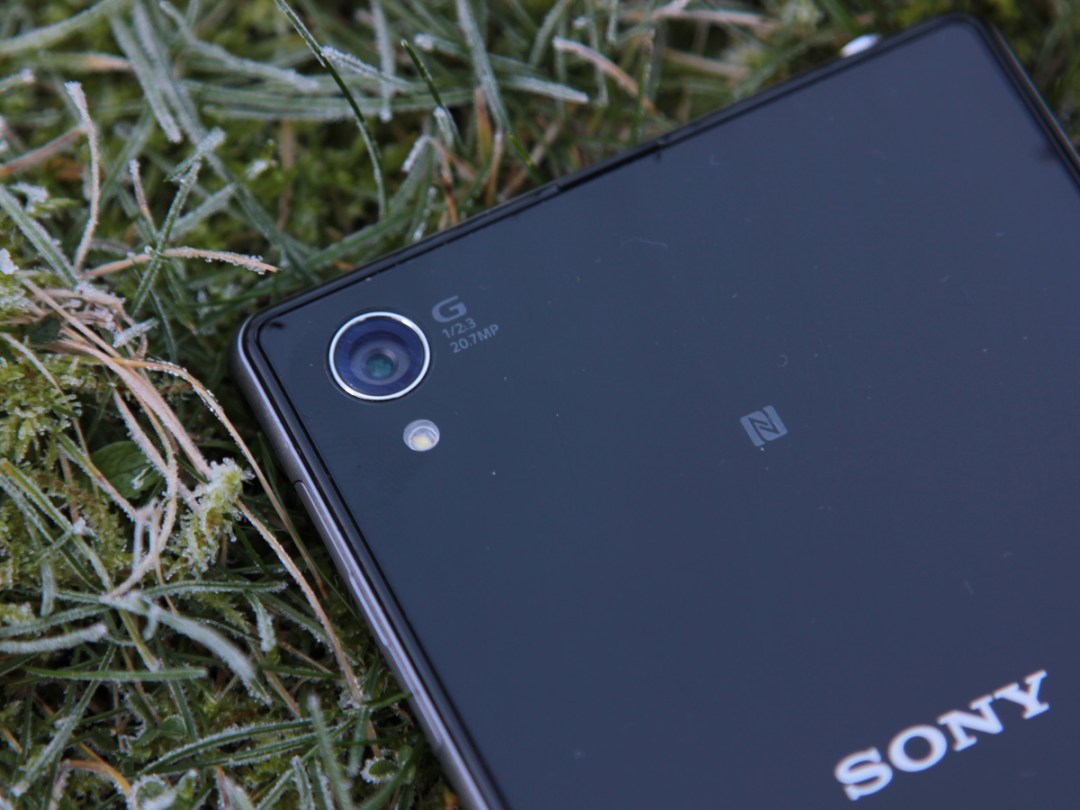 Ah yes, the camera: this big- sensored 1/2.3in, f2 snapper (straight out of the Sony HX50, our No.1 compact camera) is capable of taking beautiful shots with bags of detail to zoom in on or lovely out-of-focus backgrounds. Sadly when it comes to low-light skills, it often falls further down the pack.
As on the Z, the Superior Auto mode (which shoots 16:9 by default) is superb and very fast at switching between scenes (for example landscape and macro). There are manual settings if you'd prefer to tweak things yourself, plus Timeshift Burst, which takes 60 snaps in a row. And whichever option you choose, the Z1 is a fine everyday snapper. It's not the best 100% of the time – shots are detailed but colours can look washed out in direct sunlight, zooming in and out is juddery and it struggles to match the the likes of the HTC One or LG G2 for low-light shots.
The story is better for video, with smooth 1080p footage and Sony's neat Social Live feature, which live-streams footage straight to Facebook: probably one to warn your friends about first.
OS – Less is more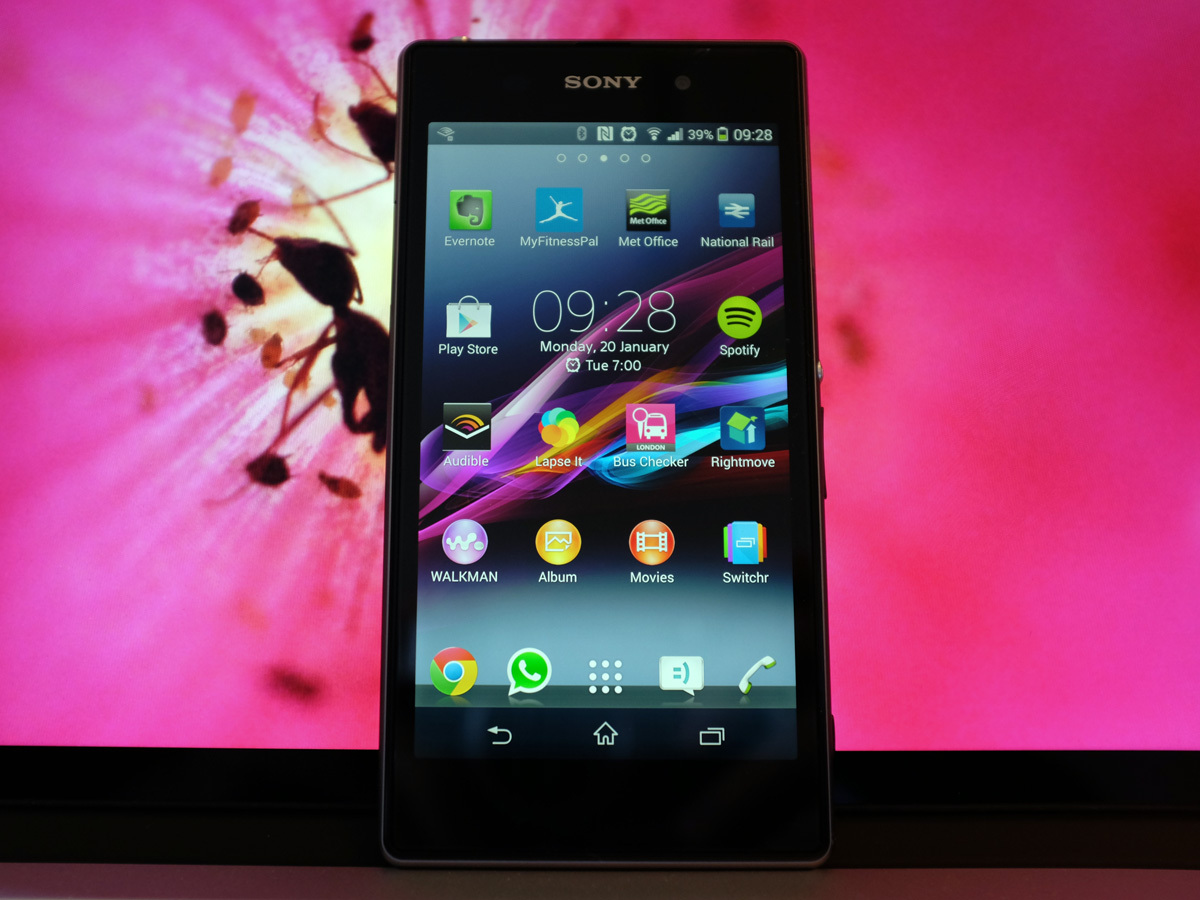 Like HTC, Sony's cloaked Android in a grown-up, cohesive skin, while keeping the core Jelly Bean experience. It's also ditched some of the bloatware, if not all of it. Still, the likes of its Unlimited and Walkman services are comprehensive, well designed and close to rivalling Apple's iTunes ecosystem.
The Smart Connect app is handy for keeping track of which headsets and accessories you're hooked up to. Small apps, too, are a cut above the usual – you can choose either from existing ones such as Active Clip, Browser and Calendar or you can make your own widgets run on top of what you're viewing, putting that big ol' 5in screen to full use.
There's still lots to ignore, though, as Sony feels the need to develop and pile on tonnes of its own apps. Turns out the Xperia Lounge is really not worth spending time in.
READ MORE: The 25 best free apps for Android
Screen: X-Reality check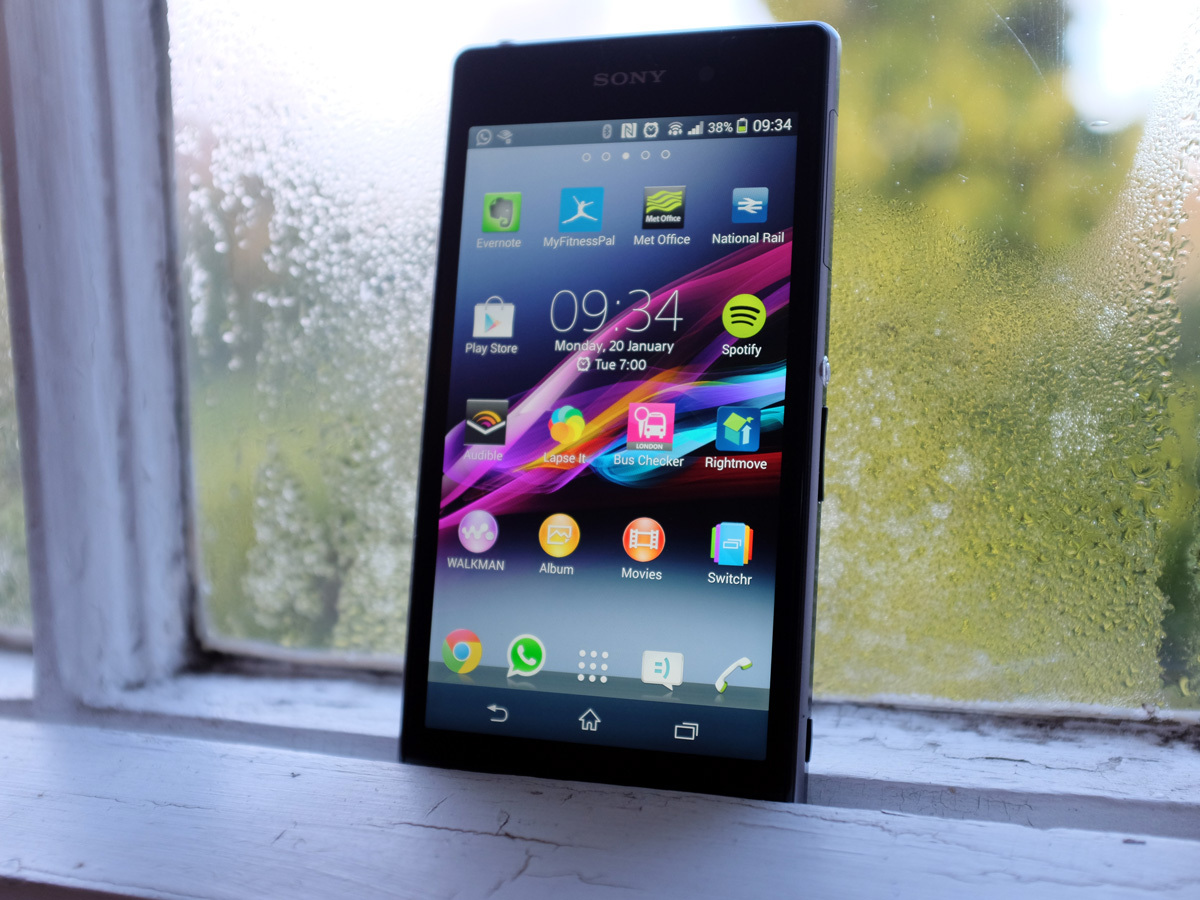 Sony's X-Reality tech can make pics look more vibrant on your phone than they do anywhere else. The Z's struggles with viewing angles persist, though – lay it flat on a table with a bright wallpaper and watch in horror as the colours fade out.
Otherwise it's bright and sharp – that 441ppi 1080p screen rendering web pages in crisp detail and really making video shine. And as long as you're not watching films with friends, you shouldn't find its narrow viewing sweet spot too much of a problem.
Battery life: it's got stamina if you need it
With a (non-removable) 3000mAh battery you'd expect the Z1 to last quite a while, though with the power and the screen it's packing, it needs all the help it can get. In our video rundown test with Wi-Fi on, no power saving options, a SIM inserted and X-Reality turned on the Z1 lasted 7.5 hours.
In average daily use it gets a full day, overnight and until lunchtime the next. If you need longer, Sony's 'Stamina' mode will increase this figure dramatically by automatically switching off Wi-Fi and mobile data when the phone is in standby. It'll mean you won't receive notifications but, especially overnight, it's a simple way to stop your battery going flat and getting the Z1 to easily last a couple of days.
Performance: Z for zippy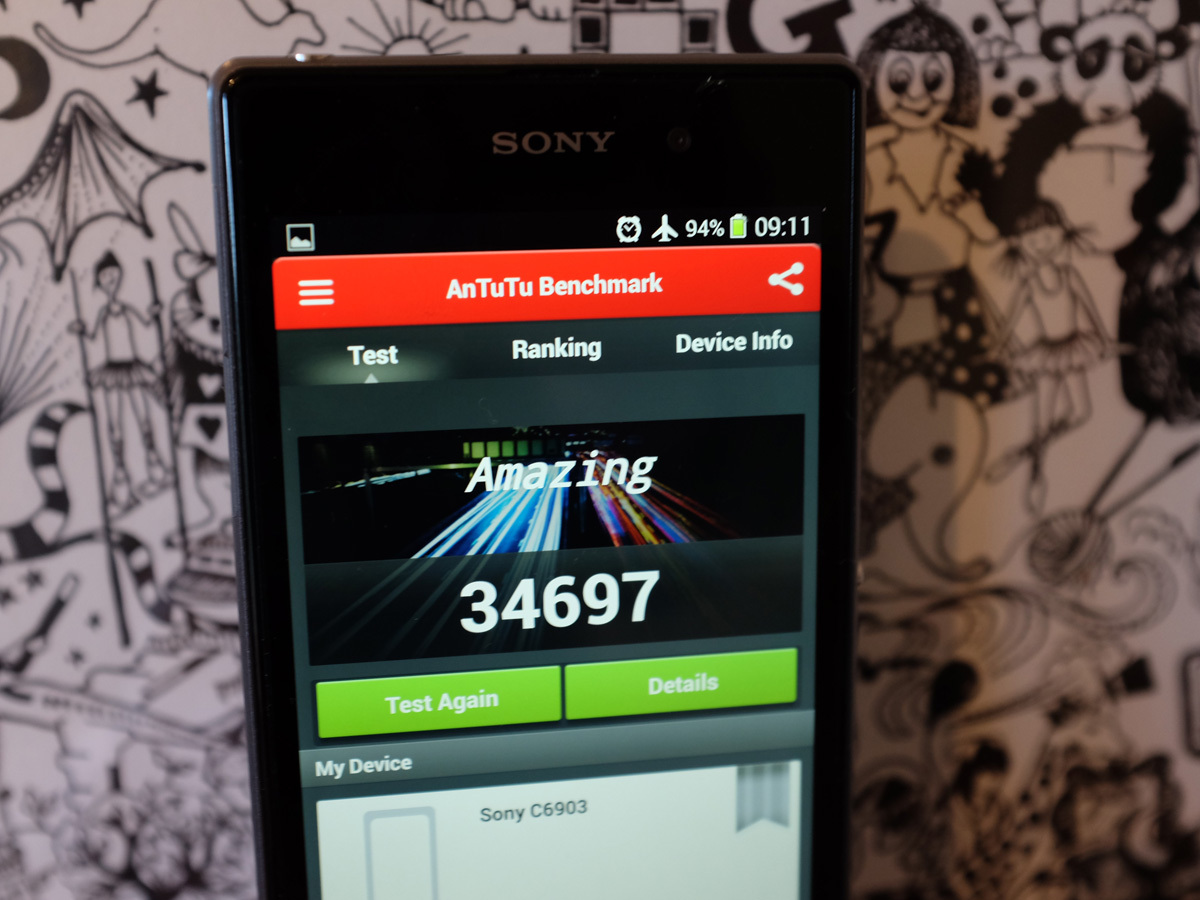 With Qualcomm's 2.2GHz Snapdragon 800 chip and 2GB of RAM, this should be one fast phone, and the benchmarks agree: AnTuTu puts it at a staggering 34,697. Compare that to the LG G2's score of 34,191, the Samsung Galaxy S4's 24,280 and the Sony Xperia Z's 20,582 and you start to get an idea of its pace.
GFX Bench (formerly GLBenchmark 2.7) pins it at 5929 frames at 52fps for the onscreen Egypt HD test, smashing the Galaxy S4's 4591@41fps and the HTC One's 3573@32fps.
On the storage front, theres a very welcome microSD slot, letting you add up 64GB of storage to its standard 16GB internal offering.
Our only concern with the Z1 is that when tested to the limits, downloading, filming or gaming, it gets very hot – no slowdown, no lag, just the slight worry it's about to combust in the hands. Still, that hasn't happened yet and at least it'll keep your mitts warm in the winter.
Verdict
A beautiful slab of smartphone, the Xperia Z1 improves on the great start made by the Xperia Z. It's great-looking, fast and has a lovely screen – if you ignore the narrow viewing angles.
Sony's light skinning of Android 4.3 Jelly Bean works well (an update to 4.4 Kit Kat is rumoured to be coming in early February), with some useful own-brand apps such as Video Unlimited, although you can certainly bin a couple of others. We love a smartphone that's designed to resist the punishment of everyday use, and while it's not the most rugged of phones, the 1.5m waterproofing is the sort of feature that we'd like to see more manufacturers adding as standard.
So the Z1 is a decent step up from the Z that irons out the kinks of its predecessor and makes us feel that Sony is really starting to come into its own. So much so that the Z1 could just be a footnote in Sony's quest for smartphone greatness. We look forward to seeing what Sony comes up with next.
UPDATE: the Z1's successor is now leaking all over the place. Check out our Xperia Z2 (aka Sirius) Preview.
Stuff Says…
It's not a massive upgrade over the original Z, but Sony fans will still find a lot to love about this waterproof slab of glass
Good Stuff
One of the quickest Android phones on the planet
Good battery life
Waterproofing
Bad Stuff
Narrow viewing angles
Camera could be better
Still not especially ergonomic