Sony ZV-1 review
Sony's after the vloggers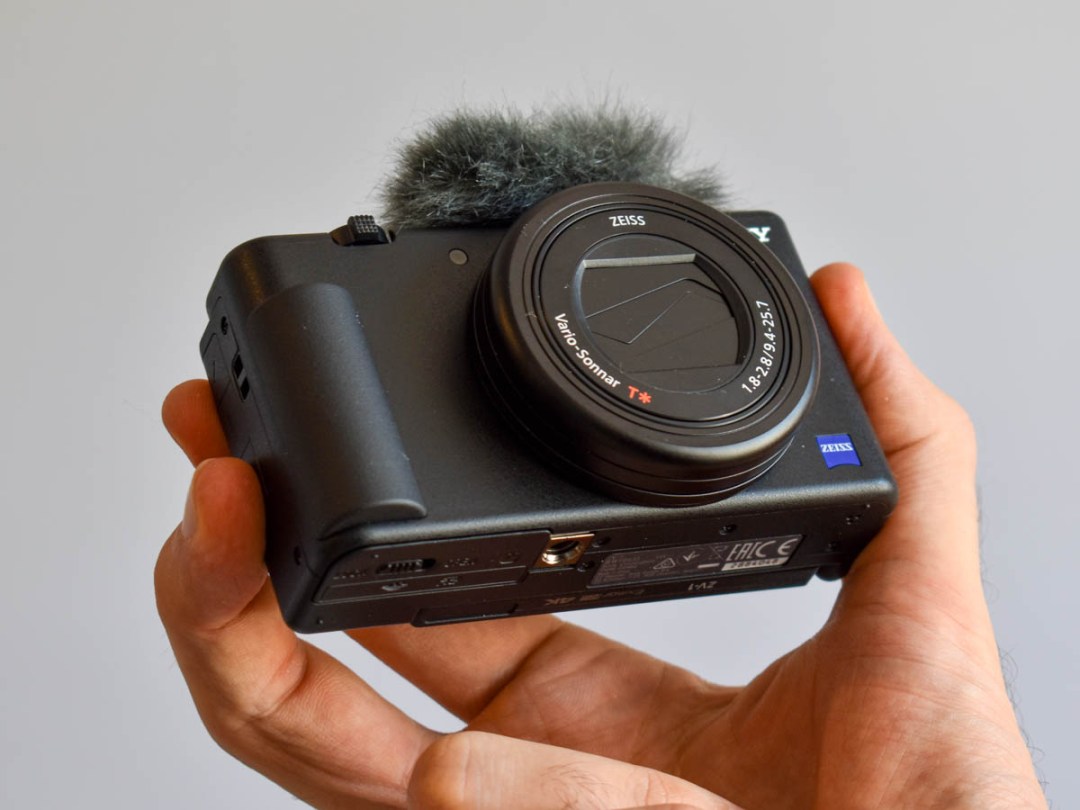 Sony's gone and done it – it's made an RX100 alternative designed with video in-mind. That means almost DSLR-grade image quality and control, a wide-open F/1.8 lens, and Sony's fantastic eye-tracking and continuous autofocus in a compact body! Too good to be true?
At £699, the ZV-1 isn't cheap, but it still undercuts the RX100 VII, despite packing the same sensor and comparable photo quality. What the ZV-1 adds to the mix is a fully articulating screen (a must-have for vloggers), more versatile video capabilities, improved audio capture, and more.
The boost in video skills isn't without some photography sacrifices though. For starters, the ZV-1 doesn't pack a viewfinder or a flash. What's more, it loses out on the zoom of the RX100 VI and VII. But surely these are a small price to pay for infamy in the vlogosphere?
Design – Sony nails design – shocker…
Keep it simple, stupid – and Sony does just that with the ZV-1's design, combining a solid, handsome compact metal body with a handful of bells and whistles.
The majority of the cameras topside is taken over by a hot shoe mount and a massive microphone grille packing three mics, which can be shielded by a custom wind muff that's included in the box.
Next door are the power, mode, shutter release, depth effect and record buttons. Around the back of the ZV-1 is the star of the show – an articulating screen which, unlike virtually every Sony camera known to man/woman/thing, flips out to the side and twiddles.
This is huge for vloggers and videographers. Sony also put the ports – microphone, micro USB and micro HDMI – on the side the screen doesn't flip out, so you can get an unobstructed view of yourself nattering away to the camera, unlike on some vlogging alternatives.
At the base of the ZV-1 is a standard tripod thread, as well as a battery door, which houses the battery and an SD card slot. Whack a tripod plate on the camera, and the battery door is blocked, so hot-swapping of memory cards and spare batteries will be a faff. No biggy for handheld shooters, but if you use a grip or tripod, take note.
In addition to the buttons at the top, there are a handful of controls around the back too – a rotating dial with four-way navigation buttons, as well as a menu, function, select, gallery, and delete button. These are a tad fiddly when trying to change settings in a pinch, and if you're coming from a DSLR and love shooting in manual mode, you'll really feel the limitation when handling the ZV-1. That said, for video, they suffice for the most part – though we're really miffed about that touch screen.
Screen and interface: Out of touch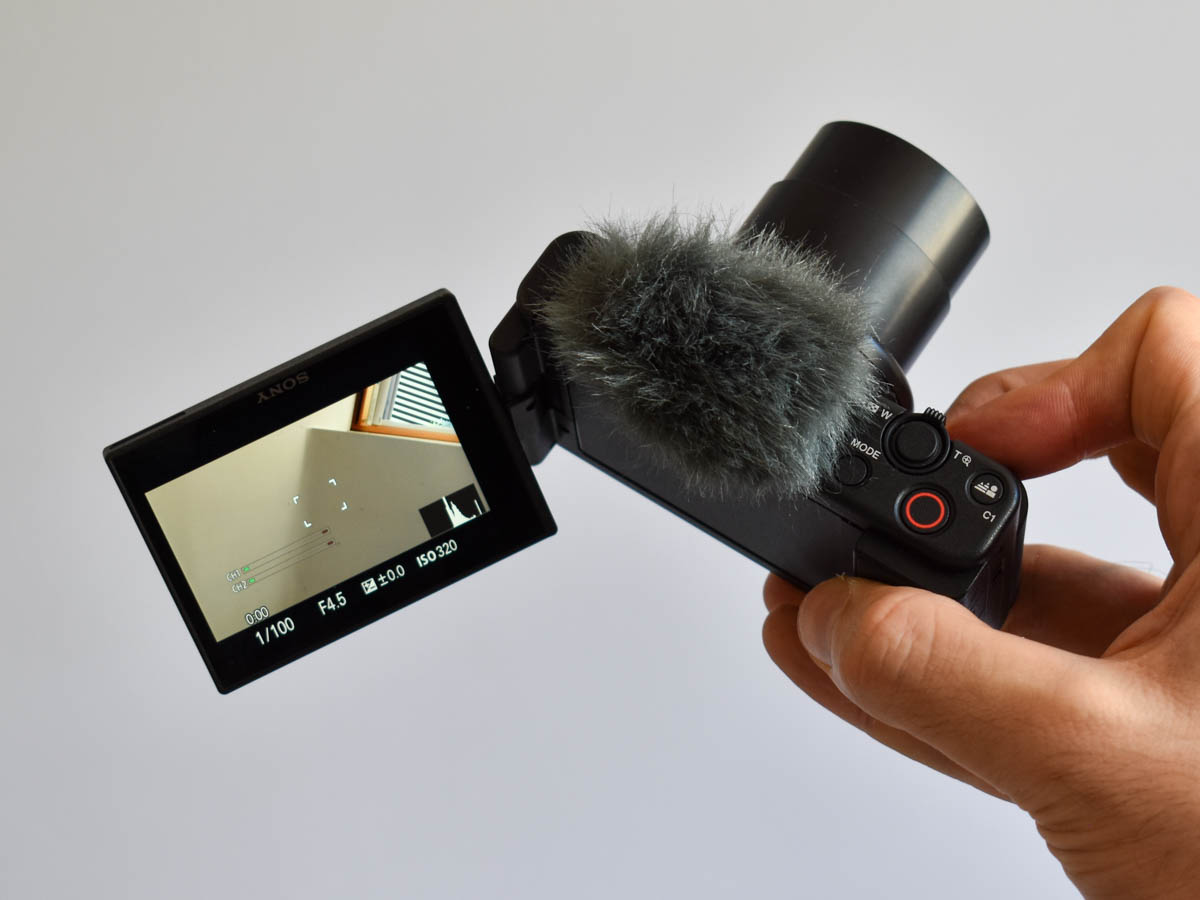 Sony has dug its heels in when it comes to making its UI touch-sensitive – or not. Despite packing a fully-functioning touch screen, which supports touch to focus, the interface has to be controlled by the camera's buttons – and it's infuriating.
That isn't to say it's a bad interface or a bad screen – they're both perfectly functional, but the fact Sony has missed the trick of making its UI touch-optimised for the umpteenth time is a total head-scratcher.
When it comes to screen quality, the ZV-1's 3-inch screen is great. The LCD tech clocks in with 921,600 dots – identical to that of the RX-100 VII, so it's as sharp as it needs to be.
Unsurprisingly, indoors, it smashes it, with great viewing angles and brightness levels, though in direct sunlight, it does struggle, and photographers will miss a viewfinder. That being said, videographers with an external display like the Atomos Ninja can output clean HDMI video through the micro HDMI port. T
he screen aspect ratio is traditional 4:3. Seeing as this is a video-first camera, a wider 16:9 screen, as found on the Blackmagic Pocket Cinema Camera would have been a nice point of differentiation, even if it would have made the ZV-1 slightly longer. There are some video-centric options within the menu that help it stand out though, from the in-built ND filter, granular Steadyshot control through to the zebra display.
Camera performance: Almost DSLR-grade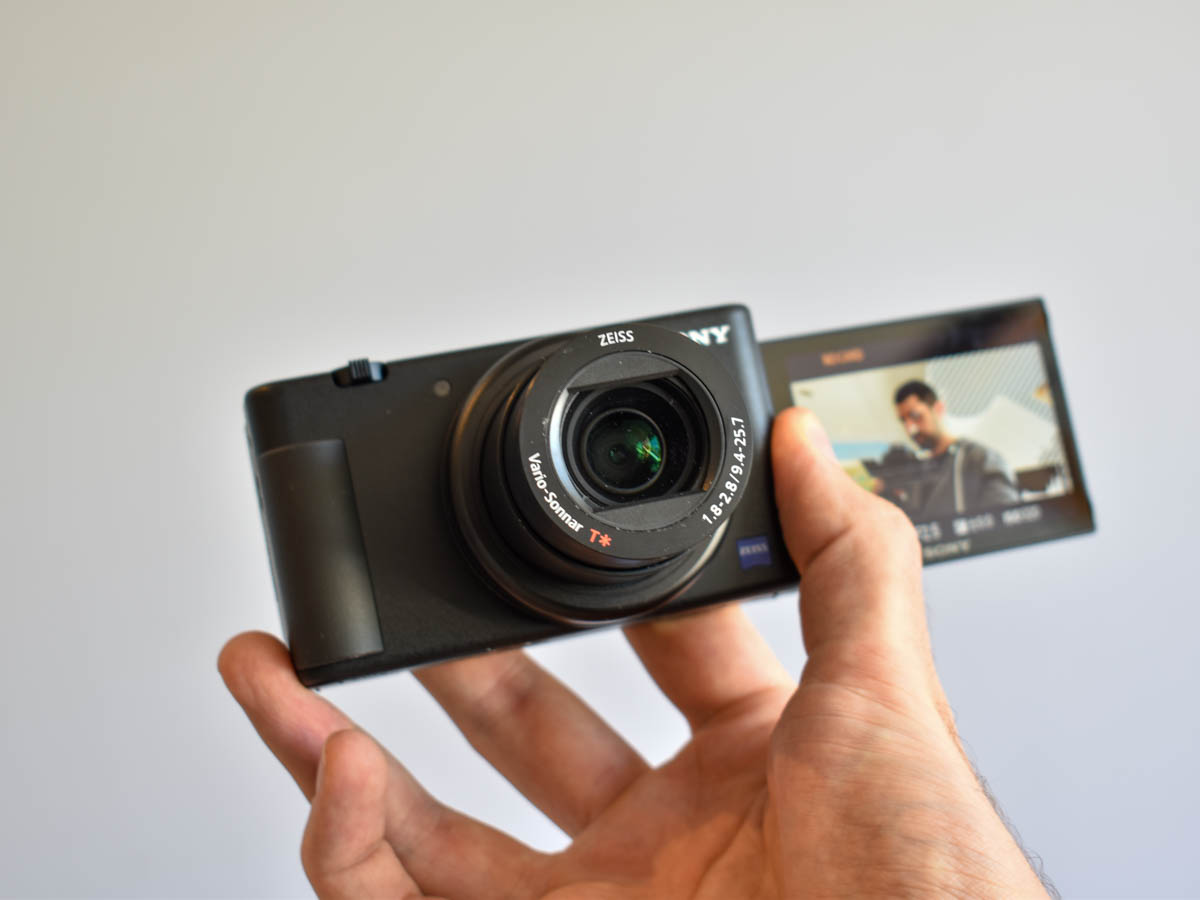 The 1-inch sensor on Sony's premium compacts has been a top-notch performer for generations of RX-100, but how does it stack-up on the video-first ZV-1? Very well indeed.
Out of the gate, it's quick to focus, packs eye-tracking, and face detection, not to mention a range of traditional focus modes from continuous AF through to single-point AF. The image quality across photos and videos isn't as tack-sharp as those captured with APS-C sensor cameras, but for a compact, it's spot-on when the light is right.
Skin tones look natural and warm, with the Soft Skin beauty mode available to iron things out when you're not feeling your finest. We love Sony's eye-tracking, and on the ZV-1, it makes sure your face is crisp – until you hold up an object.
Thanks to a new ProductShowcase feature, the camera can shift focus-priority to a product being held by a vlogger while it's in frame, then shift right back to their face. It turns this compact into both camera and camera person for a certain kind of user, and works very well.
With a 24-70mm lens, packing a widest aperture of F/1.8, through to f/2.8, the ZV-1 gets plenty of light in, and delivers a decent amount of versatility. The camera combines both OIS and Sony's SteadyShot EIS to deliver a held-together image, but if you're a walker and a talker, the crop-factor might be an issue. When you shoot 4K on the ZV-1, there's a crop-factor when compared to shooting Full HD.
Additionally, when you fire-up SteadyShot, there's an additional crop-factor. In turn, vloggers may struggle with how wide the angle of view is if you're vlogging without a selfie stick. You're definitely not getting ultra-wide scenes with groups of friends in-frame when shooting hand-held here, though you should manage with your own face provided you don't mind slightly tight framing.
Despite framing limitations, one thing's for sure, if you're vlogging with the ZV-1, you'll sound seriously clear. The included rabbit tail/wind muff, both dodgy terms for the same thing, does a decent job of keeping interference to a minimum. The directional recording is perfect for chatting away down the barrel of the lens, even in relatively noisy environments.
If you're behind the camera, sound recorded won't be as crisp as if you're in front of it, so you'll want to use an external mic. Nonetheless, given the ZV-1's size, it does a sterling job of both audio and video. The camera shoots photos at up to 20.1MP and captures video at up to 4K, 30fps, with support for live streaming when combined with a capture card thanks to that clean HDMI out.
Battery and connections – yays and nays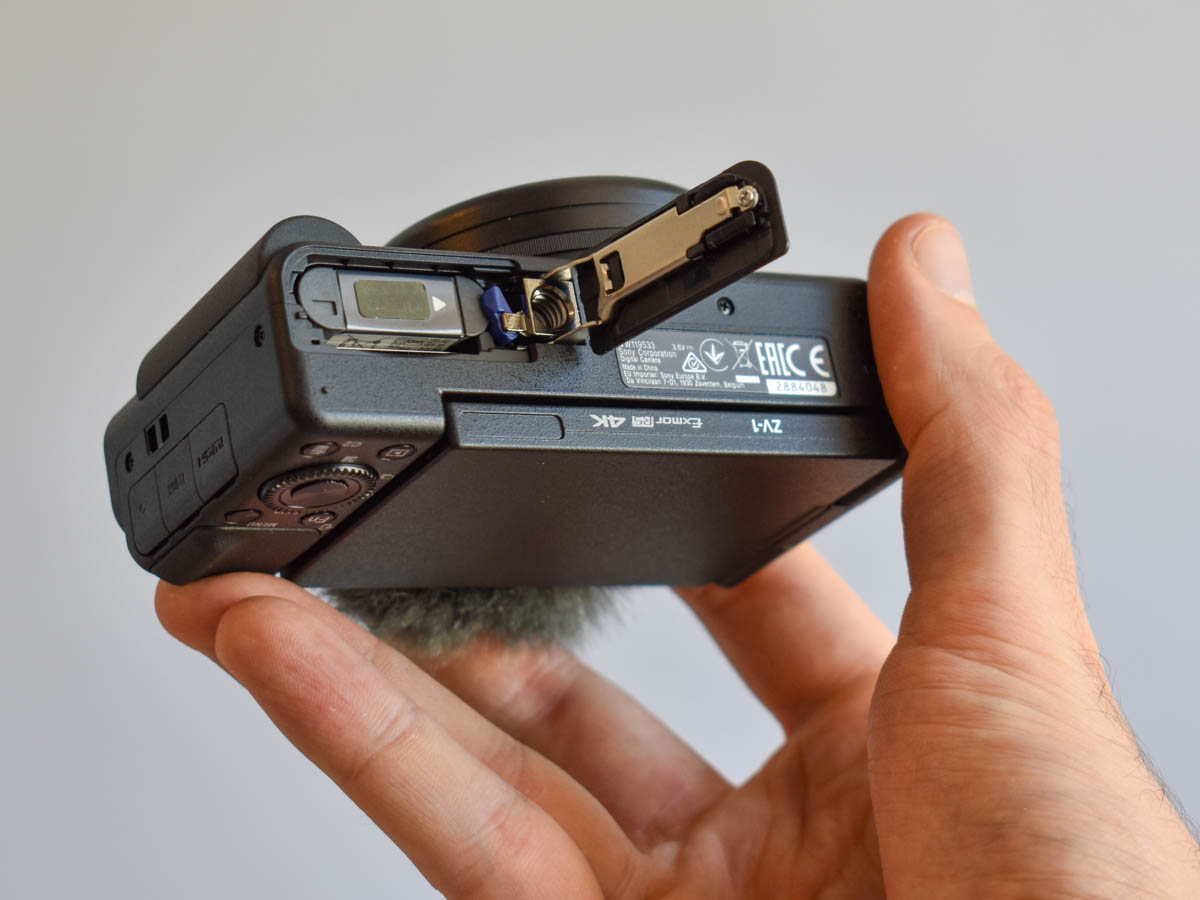 The worst thing about the battery of the ZV-1 is something we've already covered – you can't swap it when the camera is mounted. That being said, you can run off a battery pack, plugged in via the micro USB port, and keep going for hours. This helps make the sub-40-minute 4K shooting time on a single charge we encountered more bearable. When it comes to photos, we found battery performance to be comparable to the RX100 when using the screen.
Photographers will eke more out if using the RX100's viewfinder though, so if photography and great battery life are key deciding factors, the ZV-1 probably won't be for you.
That being said, we'd still pick the ZV-1 over the RX100 as a video camera first, and a stills camera second any day of the week. There's no NFC on-board, though the ZV-1 plays nicely with Sony's Imaging Edge Mobile app, and the USB-port can be used for file transfers as well as charging.
We would have loved to see a USB-C port rather than a last-gen micro USB port – a move that would bring Sony in line with the likes of Canon and Fujifilm.
Sony ZV-1 verdict
The Sony ZV-1's articulating screen really does set it apart from its main rival, the Canon G7 X Mk III.
It feels robust, and the fact opening the screen out powers the camera from cold is a neat little time-saving party trick. Footage captured on the vlog-star also looks exactly how we want it to in middling to good light.
The included ND filter is a saving grace in sunlight, and the only out-of-bounds environment for video capture is low-low-light. Naturally, with the same guts as the excellent RX-100, the ZV-1 is a stills-star as well as a filmstar, with its images looking rich, and in-focus thanks to its smart eye-tracking. You won't get the shallow depth of field a DSLR delivers, but for a compact, the ZV-1 is still exceptional. A great camera at a stomachable price, given everything it does.
Stuff Says…
After reviewing it, we bought one for our on-the-go video… 'nuff said
Good Stuff
Great stills, video, and audio
ND filter
No record time limit
Bad Stuff
Touch screen limitations
Battery/card inaccessible if mounted
Narrow field-of-view