Soundcore VR P10 review: reality check
True wireless in-ears that are purpose-built for virtual reality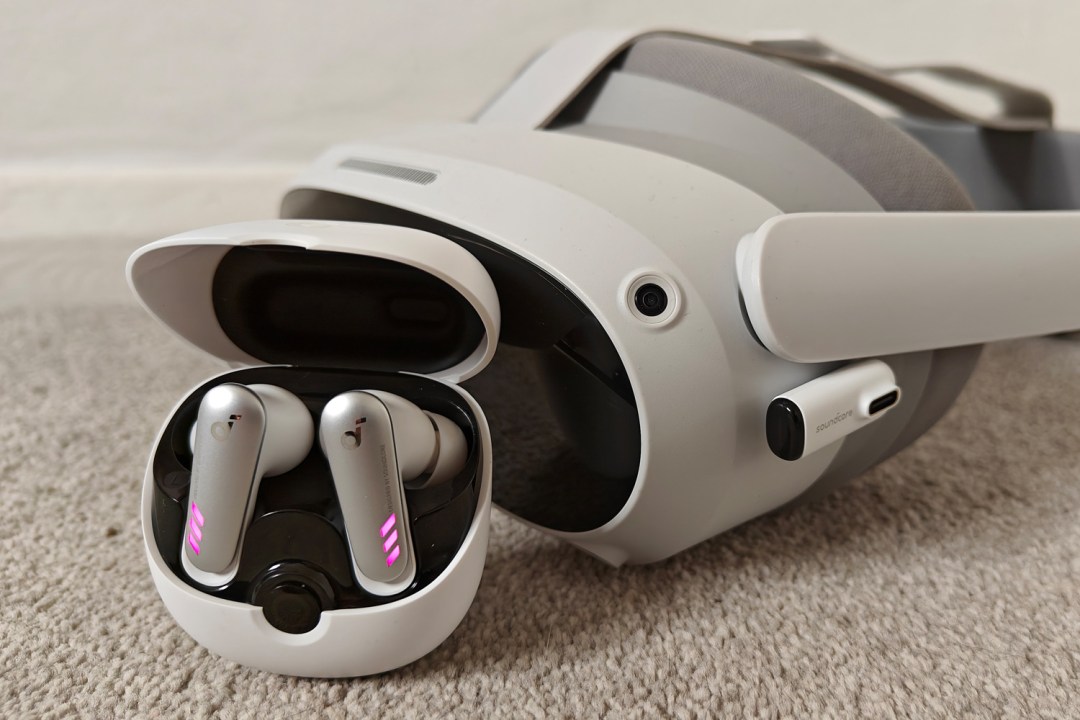 Bluetooth headphones and virtual reality just don't mix. Not only will wireless latency mean the sound you hear never matches what your eyes are seeing, but the disorienting desynchronisation can actually heighten the feeling of motion sickness many VR users suffer from. The Soundcore VR P10 true wireless in-ears have a neat solution: a tiny usb-C dongle that swaps Bluetooth for proprietary wireless, eliminating latency almost completely – while still being pocketable for use with your other gadgets.
Anker's audio division has designed the dongle to work flawlessly with the Meta Quest 2, but they'll also hook up just fine to rival headsets like the Pico 4 – plus other hardware including the PS4 and PS5, Nintendo Switch and Steam Deck. Does that make them a tasty choice for gamers everywhere? And can they cut it for music and movies as well?
Design & build: light me up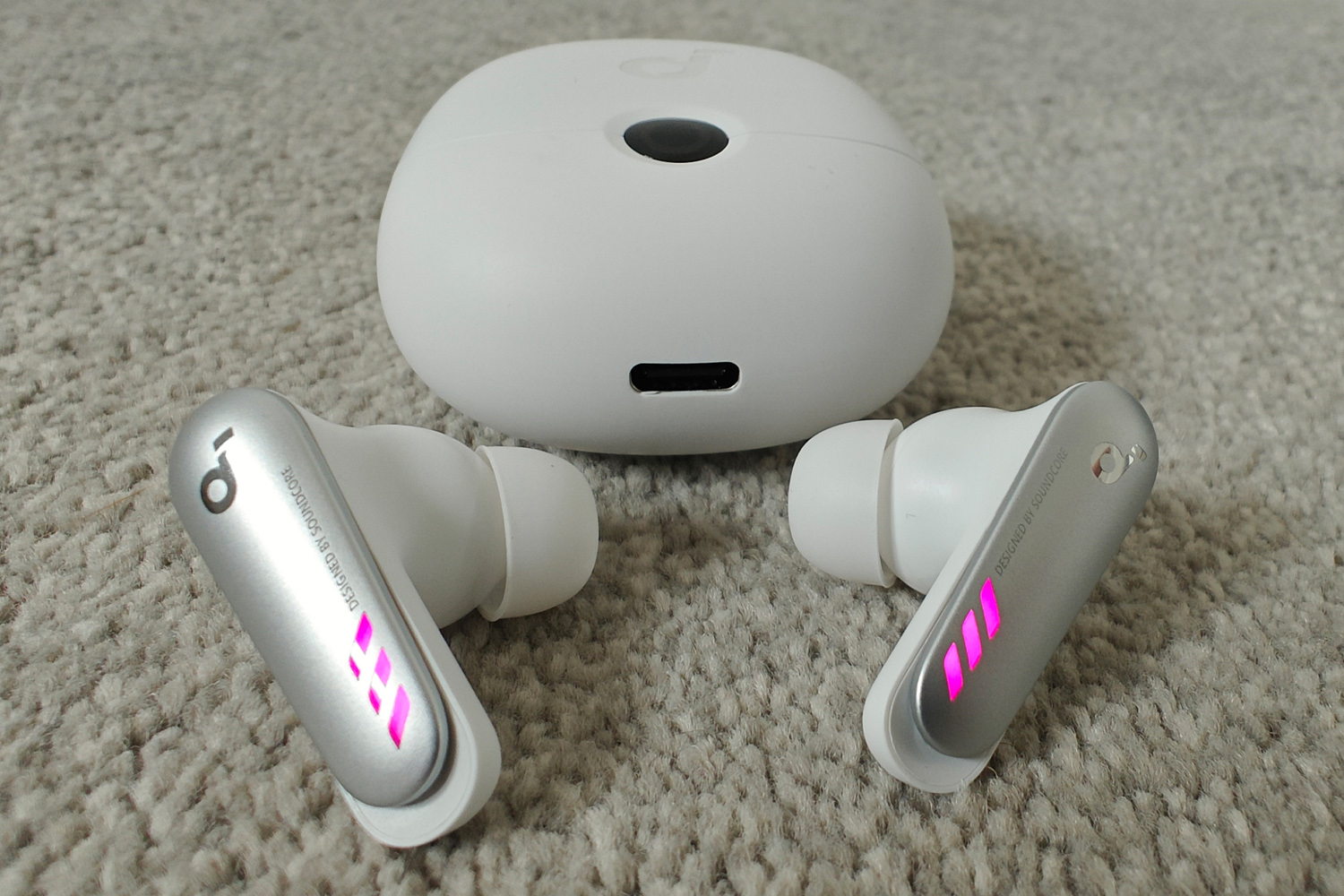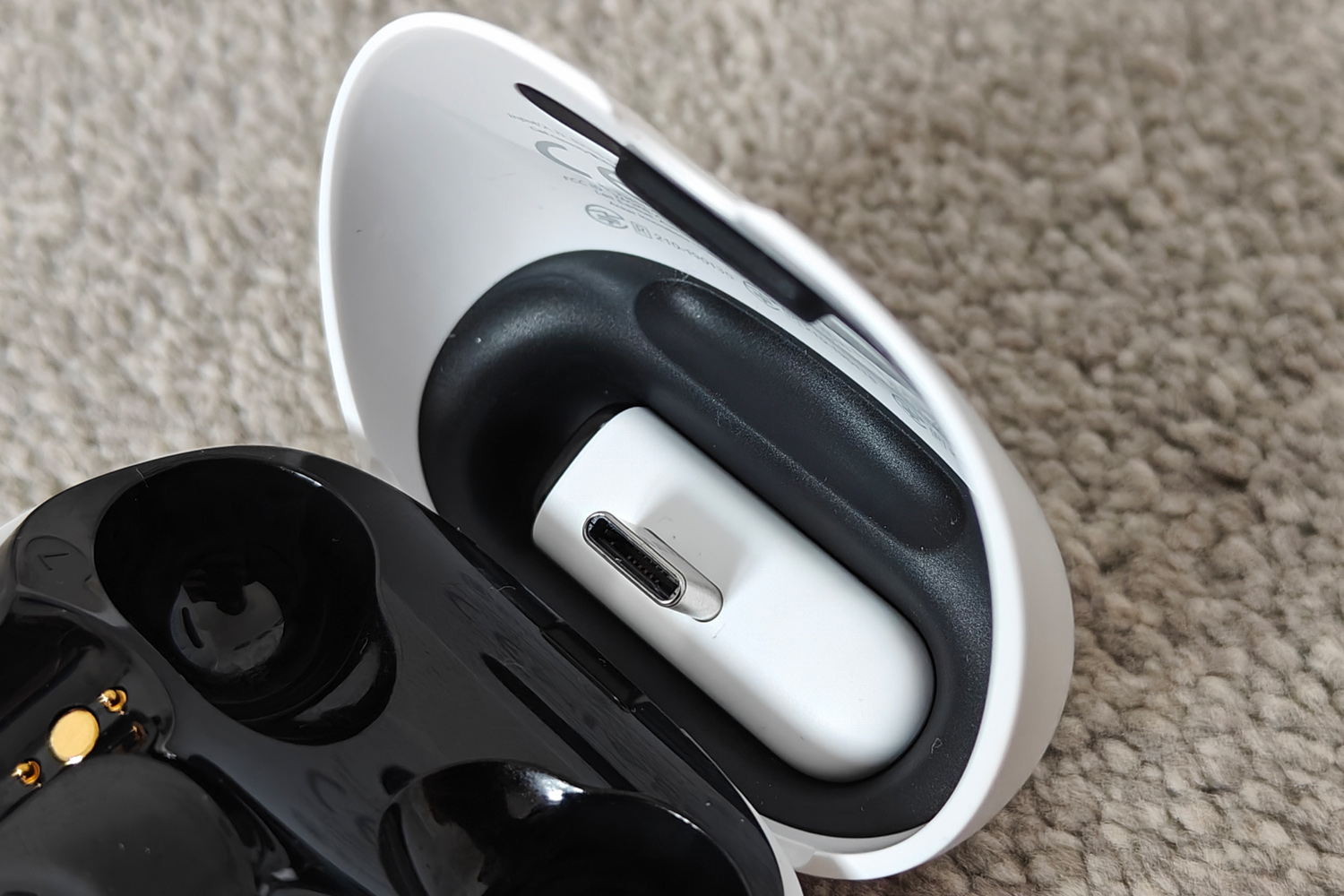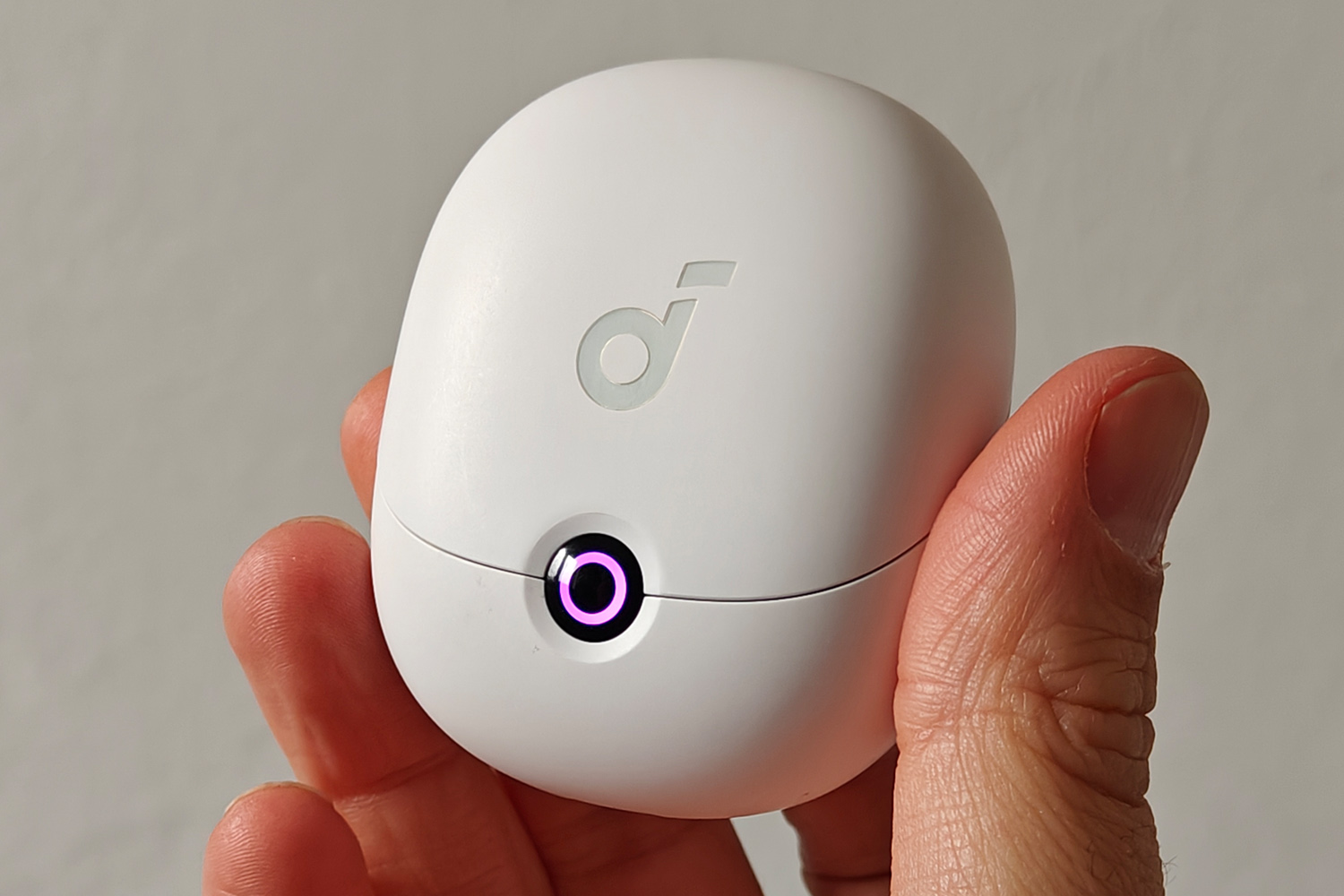 Flipping up the lid on the pebble-like charging case reveals a pair of fairly standard-looking true wireless earphones, albeit ones with flashy RGB light effects built into the stems. The mix of glossy plastic and matte silver are a good match for the Quest 2, but we reckon they're a bit shouty for wearing outside the house. You can change the colour of the LEDs (or switch 'em off altogether) using Soundcore's smartphone companion app.
The case isn't that much larger than the ones that hold Apple's AirPods or Google's Pixel Buds, with an obligatory USB-C charging port at the bottom and a pairing button on the back. The only design flourish is the activity LED up front. But look inside the lid and you'll find the all-important USB-C dongle, held in place with magnets for easy stowage and to ensure it doesn't go flying should you drop the case. You've got to reach in to grab it (easier said than done when the buds are in the way) but we wouldn't say it was overly fiddly.
It's properly tiny, subtly protruding out the side of your VR headset once plugged in. The activity LED isn't too obtrusive, either. The pill-like shape does mean it has the potential to block other ports on gaming laptops, and it may not plug into a phone wearing a thick case, but that's hardly a dealbreaker when you can just fall back to Bluetooth.
With an IPX4 rating, you don't have to worry about the buds getting damaged from a sweaty Beat Sabre session. They're comfy enough to wear, with a trio of silicone tips to choose from in order to find the best possible fit, and didn't come loose while playing some of the more energetic games in our VR library.
Features & battery life: learn to adapt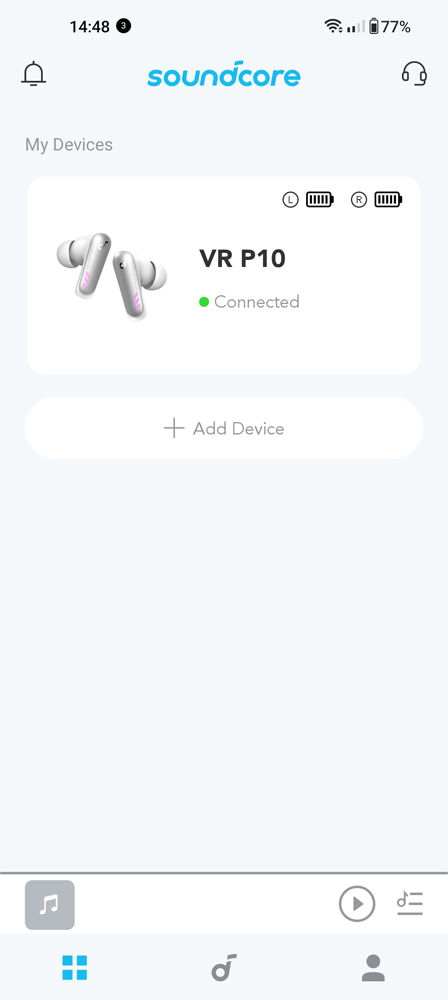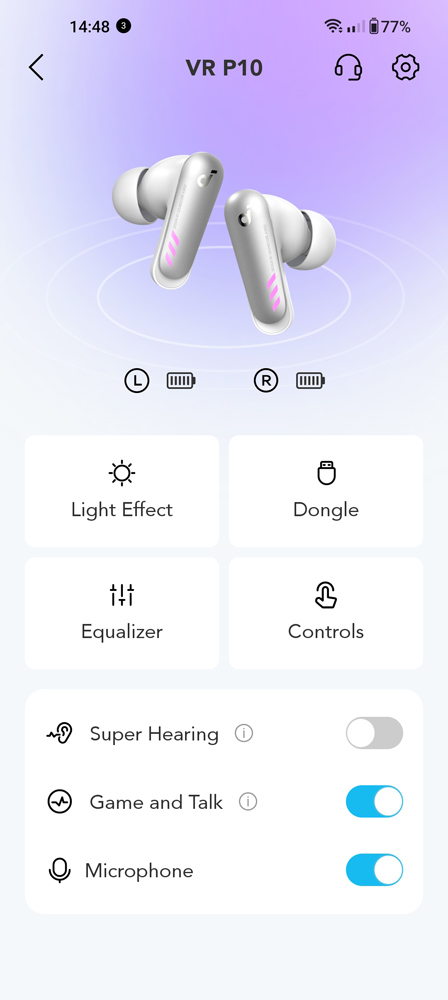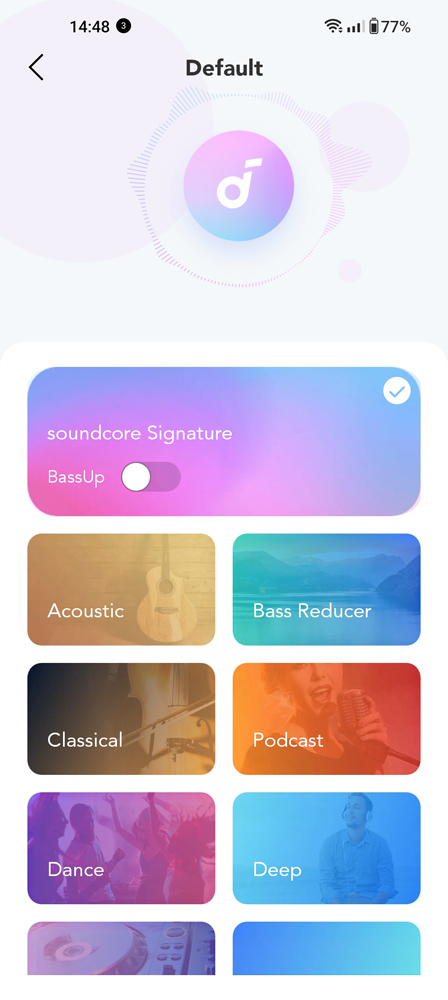 The Soundcore app isn't a must-download: the buds pair automatically to the USB dongle whenever the device it's attached to boots up, and the button on the case lets you pair over Bluetooth to a smartphone or other gadget. The buds themselves have tap and hold gestures to control music playback set up by default, too.
For equaliser adjustment or to tweak the lightning effects, though, you'll want to free nab the app from the Google Play or iOS App stores. We're not talking full RGB customisation here, just blue, magenta, orange, pink and purple, but it's neat to have the option. There are far more EQ presets (twenty one, to be precise), plus a custom mode using an eight-band equaliser. The app also supplies firmware updates, for both the buds and the dongle, and lets you swap between multiple dongles (if you buy them separately) in case you want one for each of your gaming gadgets.
That dongle has USB-C passthrough, which lets you listen while also charging the connected device. It's a crucial addition for standalone VR, where headsets typically last for a few hours at a time before they need plugging in. If you have the stamina for longer sessions, you'll be able to plug in and continue playing. It worked flawlessly on our Pico 4 headset, with no impact on charging speeds, and meant we could play our Steam Deck without disturbing anyone while staying tethered to a mains socket.
Dual-device connectivity means you can be paired to your phone and your VR headset simultaneously, answering calls with a double-tap then jumping straight back into the action. This isn't multipoint Bluetooth, mind: the buds can only handle one Bluetooth connection in addition to the wireless dongle.
Soundcore says the buds themselves should last up to six hours between trips to the charging case, which is usually a lot more than we can stomach in VR. The case holds three top-ups, for a total of 24 hours of listening before it needs charging itself. We came pretty close to that figure in testing, although you should expect less if you plan on listening at especially high volumes. Better to save your eardrums and stick to 60% or below.
These are stereo 'buds, with no on-board surround sound cleverness, but they'll play nicely with the PS5's 3D audio processing or your PC's virtual surround effects via the dongle. Sadly no matter how you plug 'em in there's no support for Microsoft consoles, meaning these aren't a good choice for Xbox owners.
Sound quality: a light touch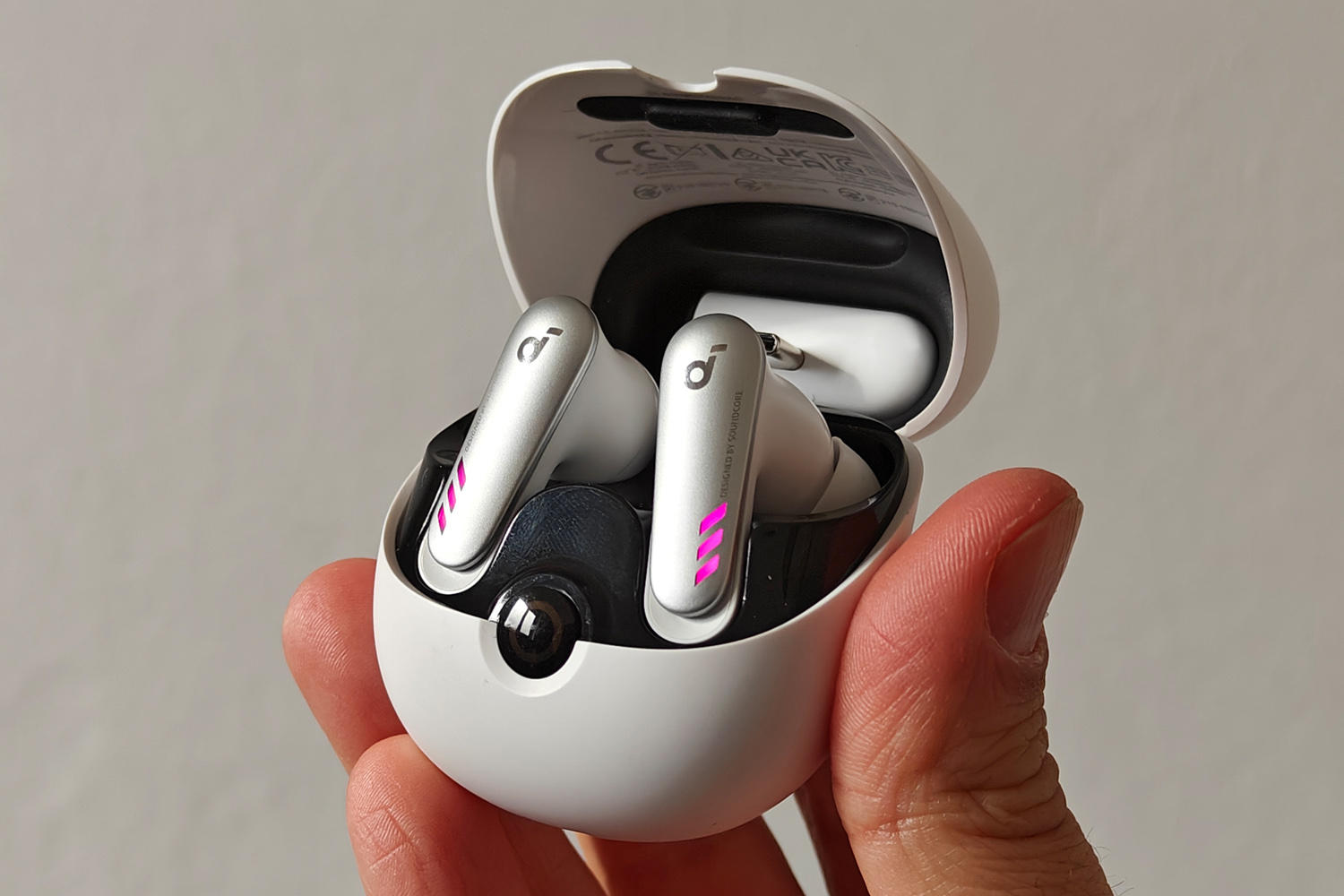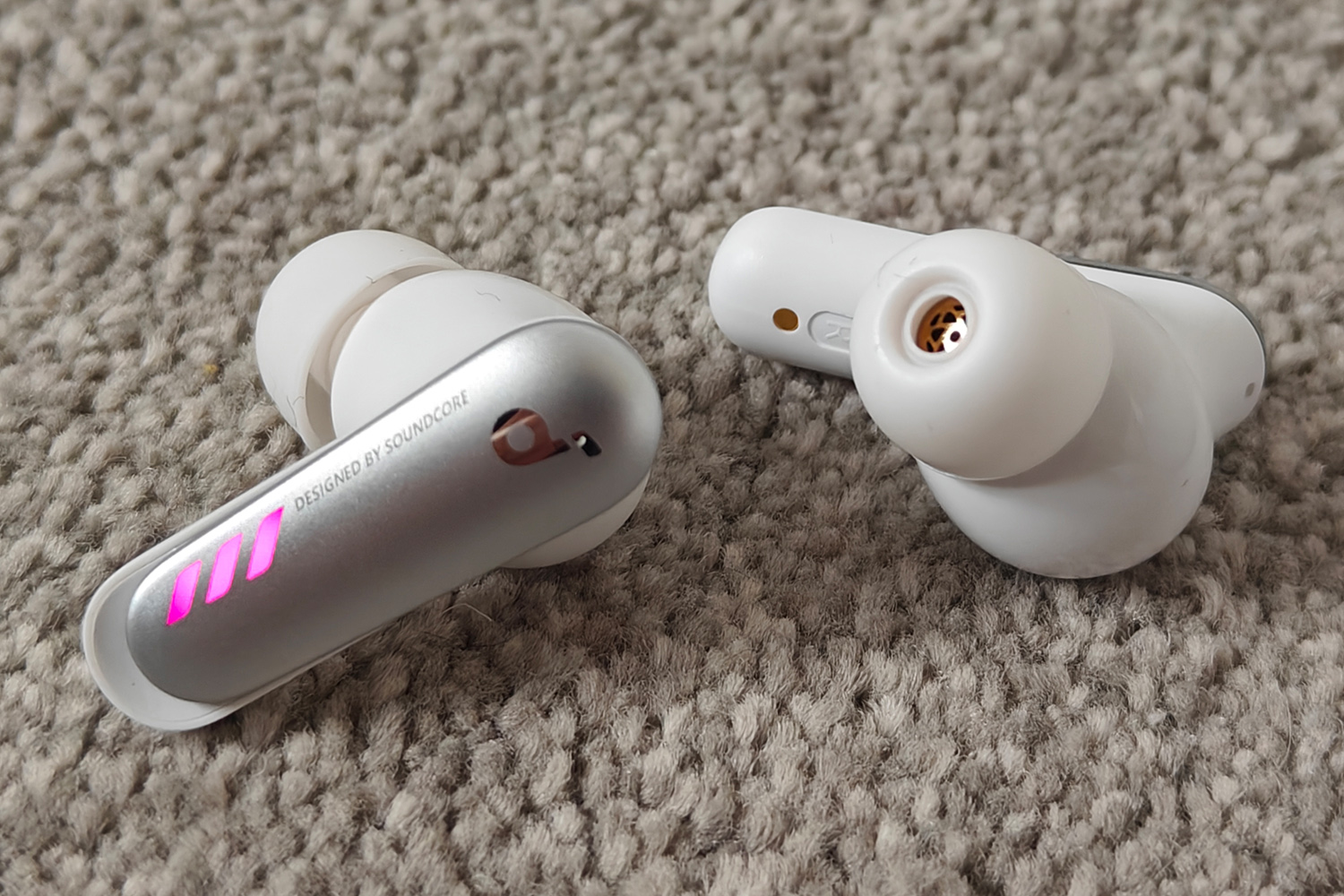 For gaming, the VR P10 has little to complain about. The buds sound clear and detailed enough to differentiate footsteps from background noise, with a moderate soundstage that worked well with most of the VR titles we tried. Directional audio was convincing enough, although the headset's processing was largely to thank.
Explosions, gunshots and the like aren't very impactful though, with a lack of low-end oomph. Sub-bass is present, but everything between that and the mid-range felt a little vague. A bass boost feature inside the Soundcore app helps sharpen things up a little, but there's still a woolliness here you don't get from higher-end gaming headphones. At least the other frequencies are given room to breathe, rather than stepping over one another.
These wouldn't be our pick for critical listening, even after creating a custom EQ preset. Mid-range and high-end frequencies are more prominent in the mix, which is fine for vocals but can leave certain tracks sounding too airy, with a weak low end. Again, the bass boost feature is an improvement.
Voice clarity through the onboard microphones was fairly run of the mill. They'll do just fine for in-game comms or making voice calls, but you aren't going to be recording podcasts with them.
Soundcore VR P10 verdict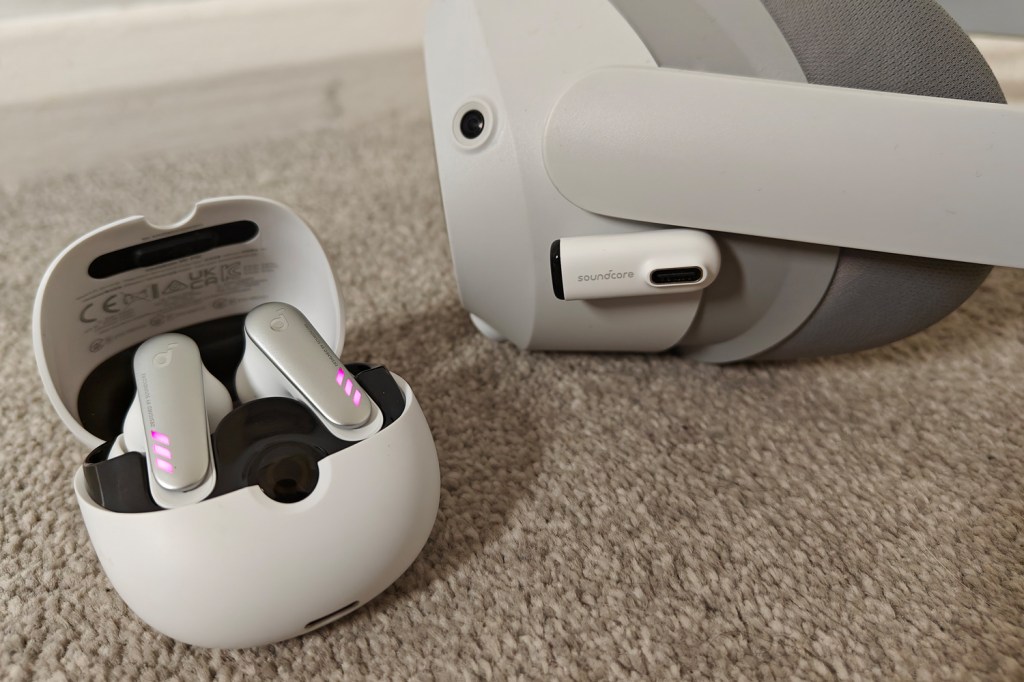 The Soundcore VR P10 make perfect sense for anyone with a virtual reality headset. Clever connectivity and zero latency also make these plug-and-play buds a handy dandy companion for games consoles and handhelds.
The flashy design and RGB lighting won't be to all tastes though, especially if you're looking for one pair of 'phones to use wherever you go. The lack of ANC might also stop them from entering regular rotation on your commute.
Music lovers aren't going to be rushing to replace their existing earphones with a pair of these either, as the sound signature lacks a little low-end delicacy. But gamers will probably give them a pass for their undeniable convenience factor.
Stuff Says…
Dual connection cleverness makes these true wireless in-ears a fantastic partner for any VR headset. Sound quality isn't fantastic, but little else comes close for sheer ease of use.
Good Stuff
Seamless integration with VR headsets
Decent battery life
Plays nicely with lots of other gaming hardware
Bad Stuff
Could use more low-end precision
Styling suited to at-home use
Mic merely OK
SoundCore VR P10 technical specifications
| | |
| --- | --- |
| Drivers | 11mm dynamic |
| ANC | No |
| Bluetooth version | Bluetooth 5.2 |
| Codec support | AAC, SBC (buds) LC3 (dongle) |
| Durability | IPX4 |
| Battery | 6 hours (buds), 18 hours (case) |
| Dimensions | 55x30x65mm, 59g (case) |