SoundMagic TWS50 review
SoundMagic still has the magic sound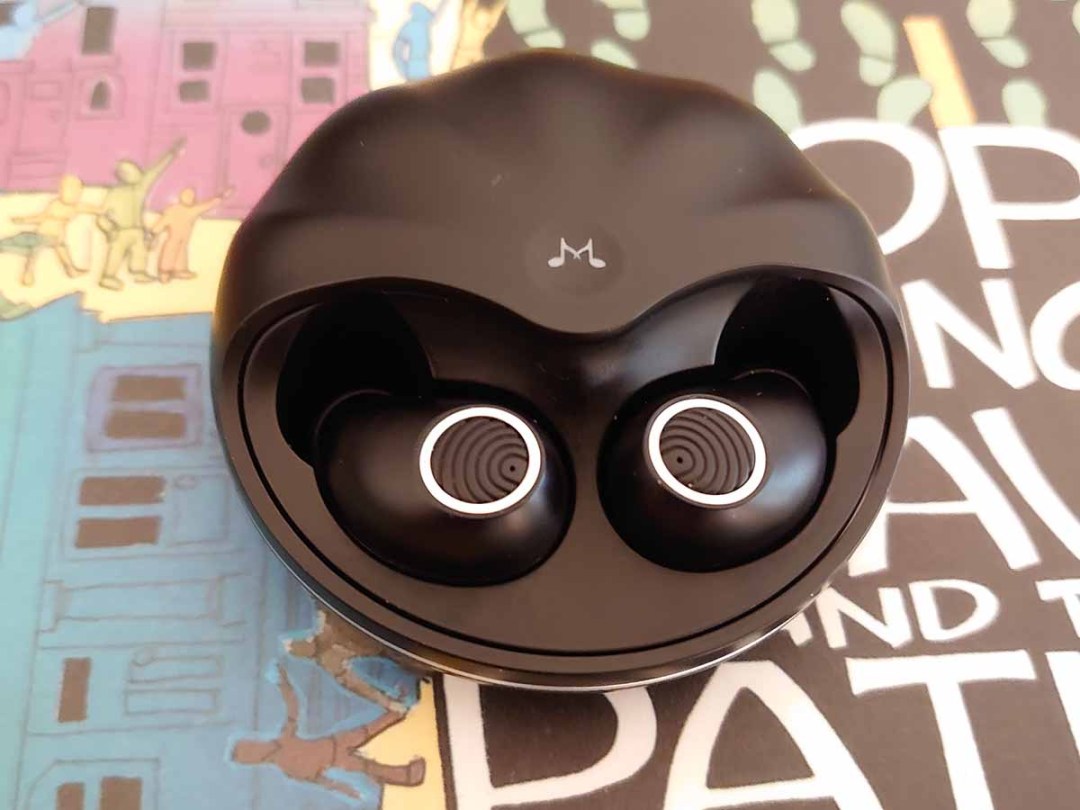 There's always a gap in the market for a great-sounding, affordable alternative to the leading products. That's why we've lately been wondering if SoundMAGIC might get around to crashing the true wireless in-ear headphones party.
After all, it's safe to say we never met a pair of SoundMAGIC headphones we didn't like. From our first experience with the brand in 2013, it's been five stars and loads of complimentary remarks all the way. If anyone knows about combining 'great-sounding' with 'affordable' where headphones are concerned, it's SoundMAGIC.
So our hopes are high for the TWS50. They've got the pedigree and, even as Cambridge Audio and Audio Technica and all the rest of them are trying to make £100 the new true wireless norm, they've got the price. All they need is the performance and it's job done.
Design and build: Plastic/fantastic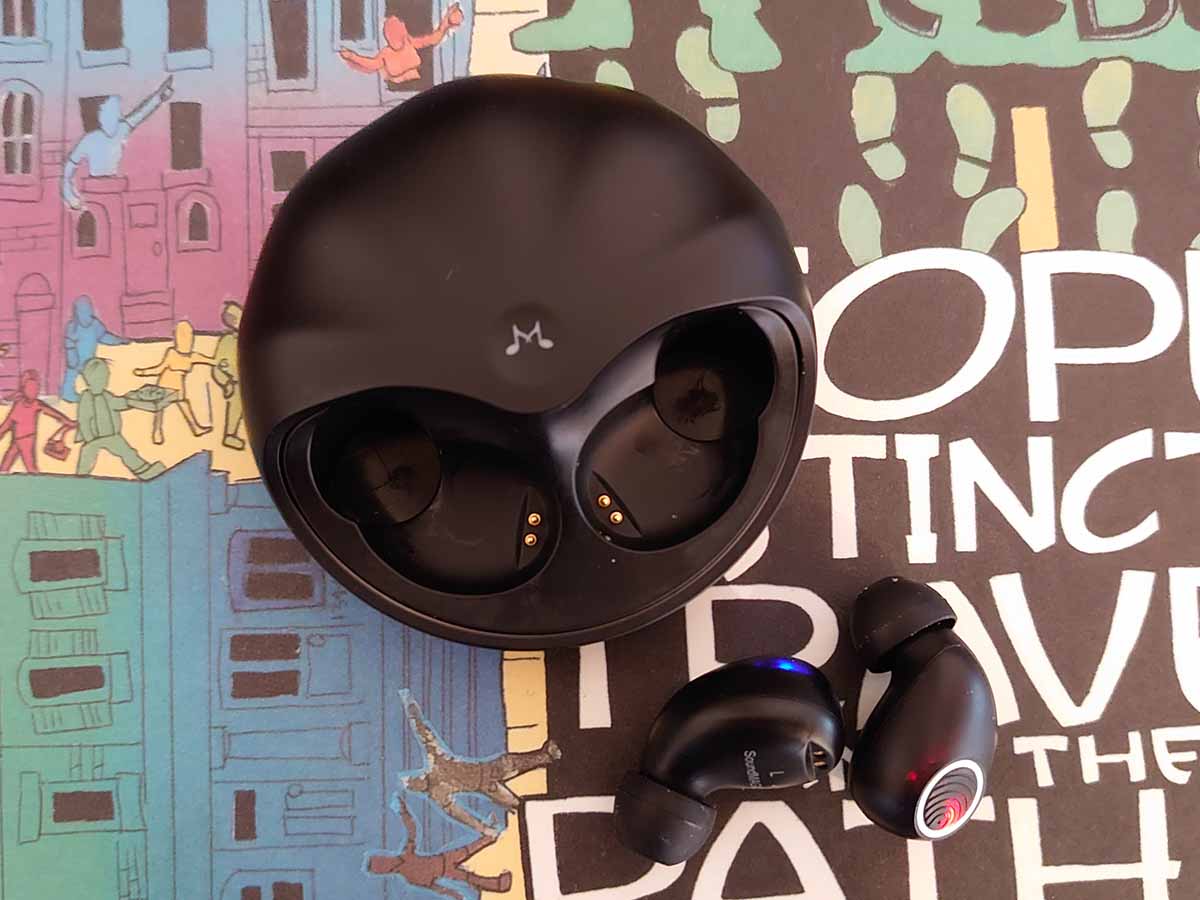 No one should let designers get too carried away when it comes to in-ear headphones, and thankfully whoever sketched the TWS50s was kept on a tight leash. The earbuds are compact by true wireless standards, light at just 4g each and, consequently, easy to position comfortably (the selection of silicone ear-tip in the package helps here, too).
They're supplied in a round, partially contoured charging case. It features a rotating top which moves to reveal the ear-buds – they're just a tiny bit tricky to extract if your fingers are wider than toothpicks. With the case closed, a rudimentary digital display indicates how much charge is left inside – the buds themselves hold six hours, while the case is good for another 24. Charging is via micro-USB – there's a charging cable for your collection in the package along with the ear-tips.
There's no denying the TWS50s and their case feel built down to a price. That's not to say they're in any way unsatisfactorily made, it's just that the plastics feel hard and shiny and thin. The only time you'll need to keep reminding yourself of the price is when you're holding the case or the 'buds.
Features: Got five on it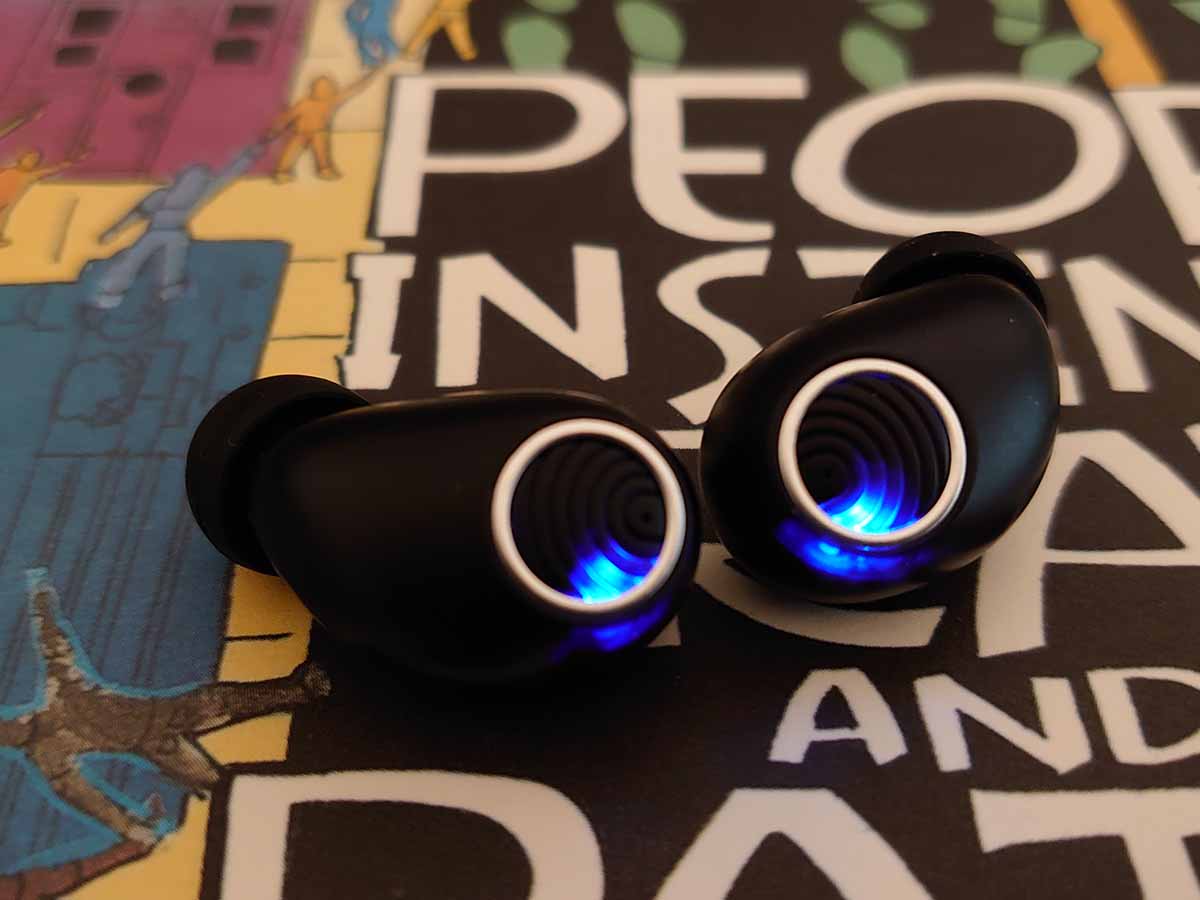 Nothing in the SoundMAGICs' brief feature set suggests cost-cutting, though. It uses Bluetooth 5.0 for wireless connection, and so is able to handle TIDAL Masters streams or high-res audio files stored on your phone (or whatever you're driving the TWS50s with). And despite the ear-buds' modest dimensions, SoundMAGIC has found space to fit each one with a 6mm full-range neodymium driver.
SoundMAGIC is claiming a 20Hz – 20kHz frequency response, which would be truly remarkable if it were true*.
(*it's not true)
The TWS50s are IPX7 rated, too, which means no harm should befall them in water. Not for the first half an hour, anyway. That's your lot, and there's nothing else you could realistically ask for.
Interface: Getting touchy
There's a tell-tale light in each ear-bud to tell you what they're up to – red or blue covers all eventualities. And each little ear-bud has an even littler touch-control surface, from where it's possible to issue the most basic 'skip forward/back' and 'play/pause' commands. These are also handy for answering or rejecting calls, or summoning Android or iOS voice assistants.
They're not absolutely the most sensitive or responsive touch controls we've ever used, but at least they're difficult to trigger accidentally.
Performance: Quietly confident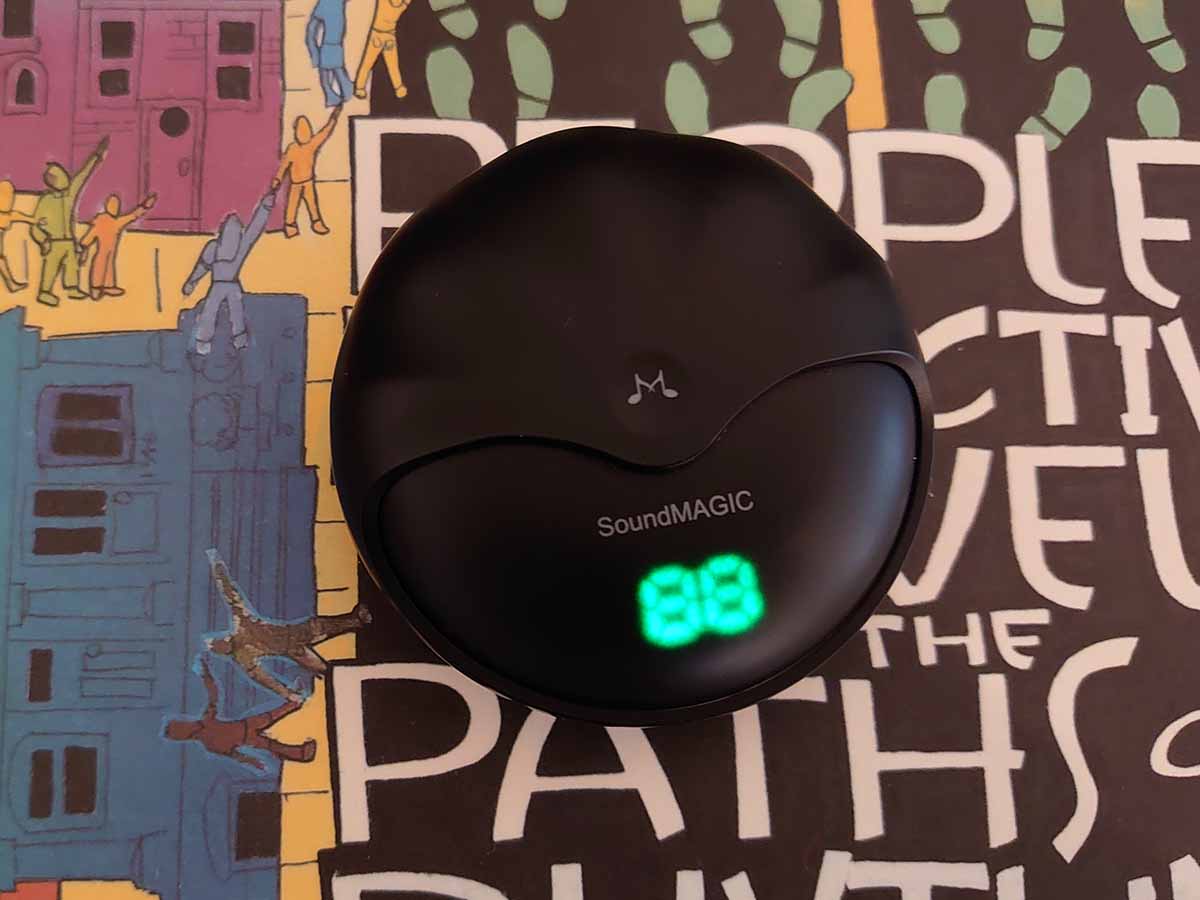 Once they're snugly positioned, wirelessly connected to a Sony Xperia 5 and playing a TIDAL Masters stream of Solange's Stay Flo, we're rapidly reminded of just how SoundMAGIC got its reputation in the first place.
No, the TWS50 aren't the loudest earbuds you ever heard – their sensitivity rating of 107dB is nothing unusual, but nevertheless you're in no danger of developing tinnitus from listening to these. And no, they aren't the most dynamic earbuds you ever heard, either – even quite steep peaks and troughs in a recording are flattened out somewhat. But in every other respect, the TWS50s are £79 extremely well spent.
They handle the lazy rhythm and tempo of the Solange tune really well. It sounds natural, and confident, and it's politely but insistently on the front foot. The low-frequency drone is deep and detailed, but it's controlled enough to steer clear of the midrange above it. At the top end, there's more politeness – the TWS50s don't attack the treble frequencies like some rival designs, but then again they don't sound splashy or harsh like some rival designs.
In between, there's more than enough space on the (pretty wide) soundstage for a vocalist to do their thing. Thanks to the levels of focus, separation and straightforward detail retrieval the SoundMAGICs are capable of, Solange's voice is immediate, intimate and alive with character. Even if a singer has deliberately buried their voice in the mix, the TWS50s still manage to make it distinct and coherent – we have a listen to a Spotify stream of The Wedding Present's version of Make Me Smile (Come Up And See Me) to prove the point. Thanks to a pleasant unity of tone, the entire frequency range sounds convincingly smooth from top to bottom. And despite their ability to identify and deliver the real subtleties of a recording, the TWS50s aren't clinical – they have a reasonably energetic sonic signature, and sound more concerned with momentum than they are with analysis. And for a product of this type, at this sort of money, that's both sensible and admirable.
It seems unlikely anyone who's shelled out for a dedicated portable music player will be shopping at the entry level of true wireless in-ears – we're confident every pair of TWS50s SoundMAGIC sells will be paired with a phone or a tablet. And while there are some fine-sounding phones (and a few tablets) out there, there are plenty more that will gladly have their rough edges smoothed by the TWS50s' overall attitude.
SoundMagic TWS50 verdict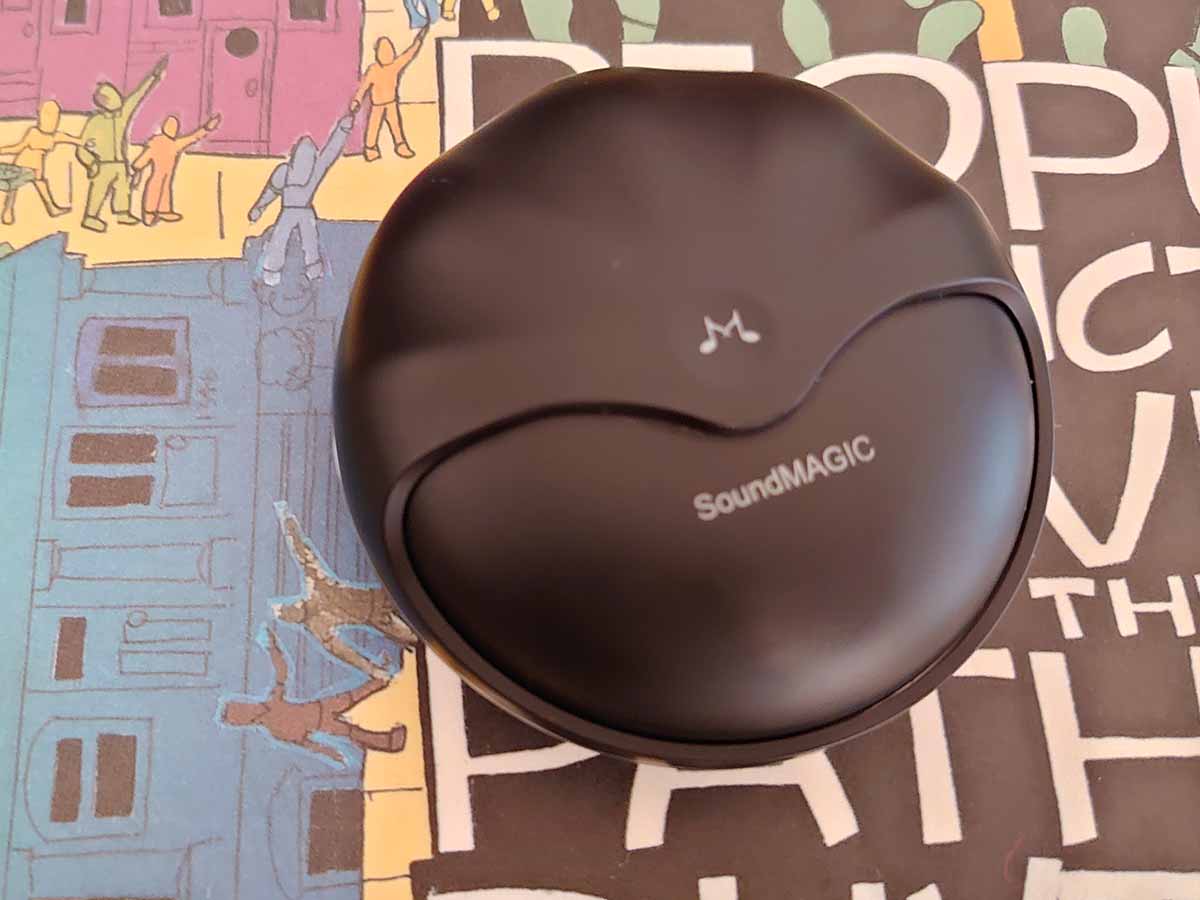 The TWS50s aren't short of competition – everyone from Audio Technica and Cambridge Audio to Urbanista and Amazon wants a piece of the affordable true wireless action – but that's because SoundMagic was uncharacteristically late to this particular party.
But it's here now and, thanks to the TWS50s' combination of expertly judged performance, a slightly weird charging case and a very eye-catching price, it could well continue to be the life and soul. Your shortlist of realistically priced true wireless in-ear options just got a little bit longer.
Stuff Says…
Not for the first time, the SoundMagic cat is amongst the pigeons
Good Stuff
Poised, articulate, full-bodied sound
Bluetooth 5.0
Light, comfortable design
Bad Stuff
Not the most dynamic listen…
…nor the loudest
So-so battery life