Sphero Bolt review
Can a rolly robot help you learn to code?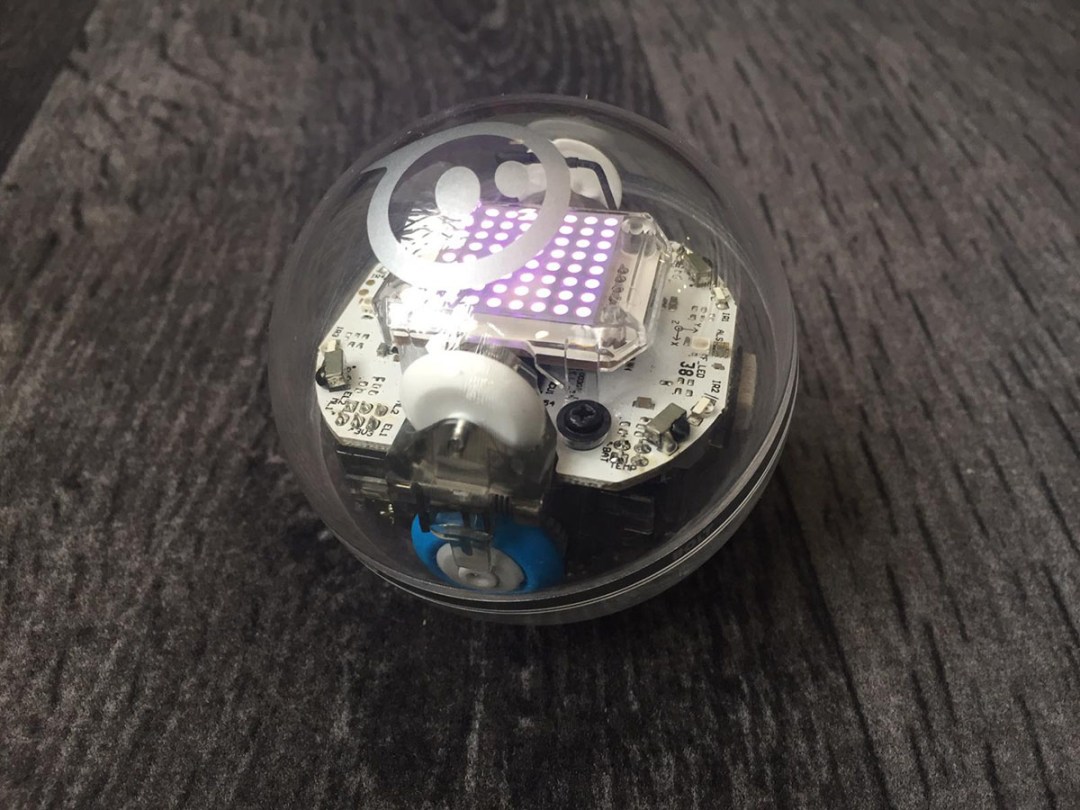 Raspberry Pi, Kano, Lego Boost… there's no shortage of devices aimed at getting kids into coding. Sphero Bolt is Sphero's latest attempt.
Such devices might make you recoil in horror, like the try-hard maths teacher who wanted to make trigonometry relevant.
But hold on there. Sphero is the company behind the awesome BB-8 and Spider-Man toys.
Surely if anyone can Make Learning Fun, it's them?
Sphero Bolt Design: Well-rounded
If you've ever seen one of Sphero's robots before, you know what to expect. It's basically a ball that you control from your phone. It has a hard, scratch-proof plastic shell, which is good, because it's going to crash into your walls. A lot.
The Bolt has a matrix of mini LEDs that can flash, change colour, display emoticons, spell out words and more.
The shell is see-through, giving you a good view of the LEDs, and of the magnetometer and other innards as well. Which will undoubtedly intrigue curious kids.
You control Bolt with two apps: Sphero Edu and Sphero Play. Pairing over Bluetooth is as simple as linking to a Bluetooth speaker, so no complaints there.
Sphero Bolt Edu App: Making coding fun
Sphero Edu is the edumacational app. Once you sign in, you choose a role: Learner (which lets you build programmes and complete activities), Educator or Parent. Connect to Bolt, and you can programme a set of manoeuvres, sounds and flashing light patterns, then hit Start and set it going, acting out what you just programmed.
The manoeuvres appear as blocks that you drag into place. Within them you can alter their settings (say, how long the lights flash for). You can also programme it to play random sounds, or to read something out ("Hello you," for example).
The only issue? The Bolt doesn't have a built-in speaker, so it plays through your phone. Which lessens the impact a bit if you're driving it up to a house guest/terrified pet. Speaking of fun… You can also name each programme ('terrify dog', for example).
The programmes work very well, and if you're willing to put in a bit of time, they can be quite involved. There is a bit of a delay between certain actions, however. It might flash its lights once, then wait a couple of seconds before doing so again.
But generally, the movements flow pretty seamlessly. And there's something really gratifying about watching it act out what you programmed into it. If you're new to it all, there's a set of activities to help familiarise you with how the Bolt works.
You mark these as completed as you go, giving you a sense of achievement. There's also a free driving mode, which gives you a joystick on-screen and puts you in the driving seat. There's no coding involved, so it's not really educational, but it is a lot of fun, careening around like a mad person.
Sphero Bolt Play App: Let the games begin
The Play app is more colourful and simplified. It includes three games that involve you moving the Bolt yourself to control what happens on-screen.
In Exile II, moving the Bolt moves a Space Invaders-style spaceship on-screen while it shoots baddies, for example. Lightspeed Drifter is an F-Zero style futuristic racer, while Round Trip sees you rotating the Bolt to make a bouncing ball hit every side of a floating shape.
If we're being picky, we'd say that none of the games are all that innovative. In fact, if we're being really harsh, we'd say they're a little derivative. But they're undoubtedly fun. And they could well be the gateway drug you need to get your kids into coding with the Bolt on the more serious Edu app.
The Play app also has a free drive mode, along with some more innovative control methods. Scream Drive lets you control it using your voice – the louder you shout, the faster it goes (parents are going to hate it).
Slingshot lets you pull back and release to fire to forward, and there are a couple more. Sadly, you can't drive it using facial expressions, as you can with the Sphero Mini. Ho hum.
Sphero Bolt Verdict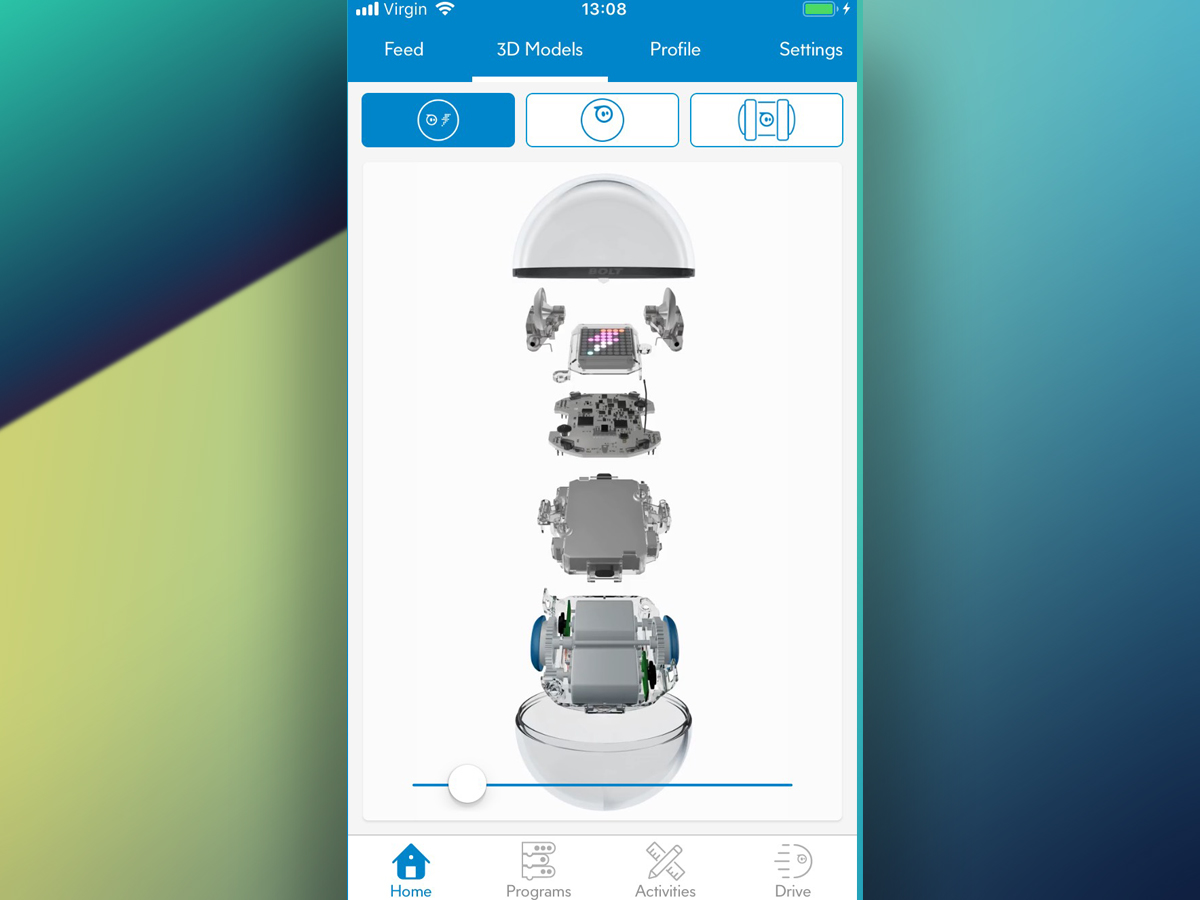 The Bolt is great fun, and educational to boot. Driving it can be a bit sluggish, and we hope your skirting boards are up to taking a few knocks. But once you get the hang of it it's pretty intuitive.
You have to reconnect to Bolt every time your phone goes to sleep, which is a bit of a pain.
And it seems an odd decision to leave out facial expression controls when they're available on the cheaper Mini. But still, if your kids have the curiosity, it'll keep them entertained for months to come. And if they don't get on with the coding part, it's still great fun – though it might reduce your dog to a nervous wreck.
Stuff Says…
Bolt proves learning can be fun. Even if coding isn't your thing, there's a lot to enjoy for kids big and small alike.
Good Stuff
Tough enough to take plenty of knocks
Plenty of modes to keep you busy
It teaches you stuff without you realising
Bad Stuff
Have to reconnect each time your phone goes to sleep
No facial control
Games lack inspiration