Tado Smart Thermostat + Smart Radiator Thermostats review
Get a warm glow from the hottest smart heating system around...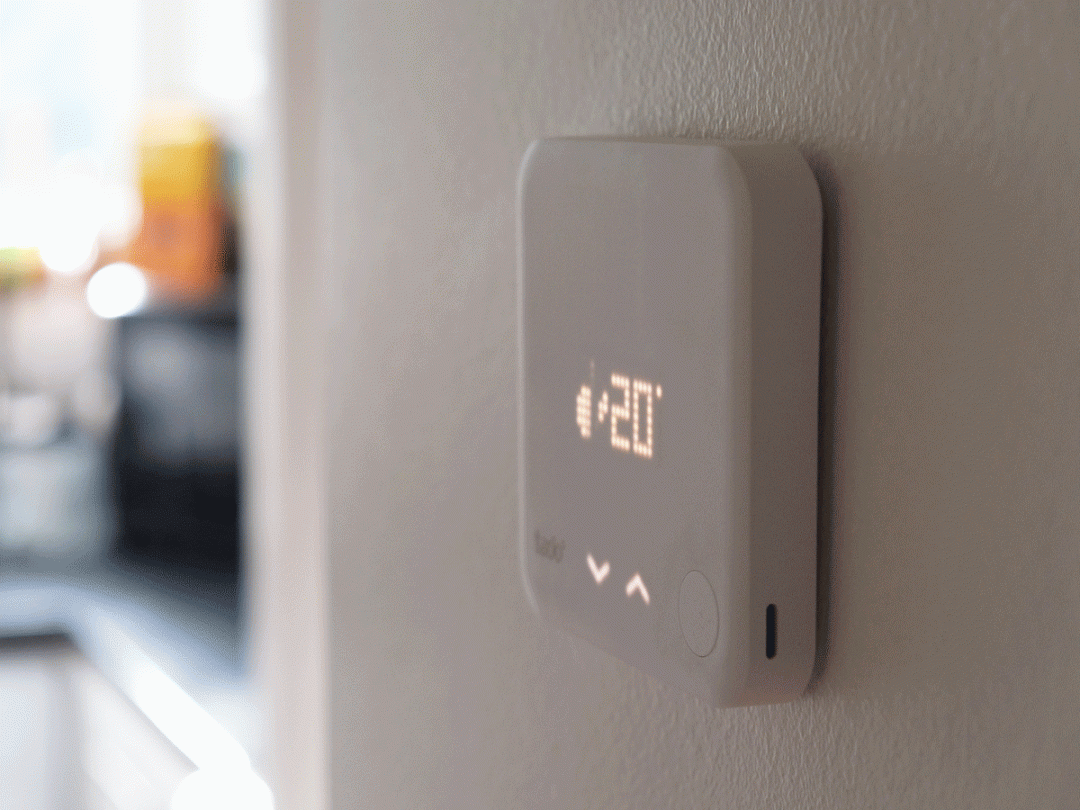 There's something reassuring about having a German managing your football team – and now I feel the same about my heating, thanks to Tado.
When the Munich startup launched in 2012, it was an inexperienced outsider trying to compete with the flashier, besuited Nest.
Back then, it was bold and a tad overambitious, promising to use its geofencing to become a hands-free autopilot for your heating. While that worked well enough, it was a bit harder to temporarily tweak the temperature for grandma and it didn't then have zonal heating.
That's all changed now. With a polished app and its own Radiator Thermostats (£59 each) for controlling the heating in individual rooms, Tado has matured into the best all-round smart heating system around…
Design: the minimalist approach
Okay, let's get the obvious out of the way – Tado's thermostat isn't as pretty as Nest.
That's because Nest has pretty much perfected the thermostat as attention-grabbing shiny thing. Tado takes the opposite approach, with its minimalist look blending into the background (particularly if you have white walls).
Unlike Nest, which uses your old thermostat's power cables, Tado is battery-powered. This means you can stick it anywhere you like, rather than being constricted by the placement of your old one. Stick in three AAAs, and they should last a couple of years. You get an alert when they're running low too.
Once you've figured out what all of its symbols mean, the thermostat's dot matrix display and button let you or guests temporarily boost the heating.
In reality, you'll hardly ever interact with this white rectangle, because Tado's geo-location and app work so well. If you've got an Amazon Echo or Google Home, you can now bypass finger control altogether by just shouting at your heating (more on that later).
This basic setup works fine on its own, but to see bigger benefits and savings you'll want to add Smart Radiator Thermostats.
At £59 each, these can add up into quite a hefty outlay if you get one for every room. But with Tado claiming that the £199 Smart Thermostat pays for itself in the first year, you'll get at least some of that back in a few years. And if the wallet still says no, you can always rent both on a rolling yearly basis.
Naturally, the white Radiator Thermostats rock the usual Tado design: clean, white shirt and dot matrix display.
And installing them is a cinch, once you've got the brains of your system up and running…
Installation: getting warmer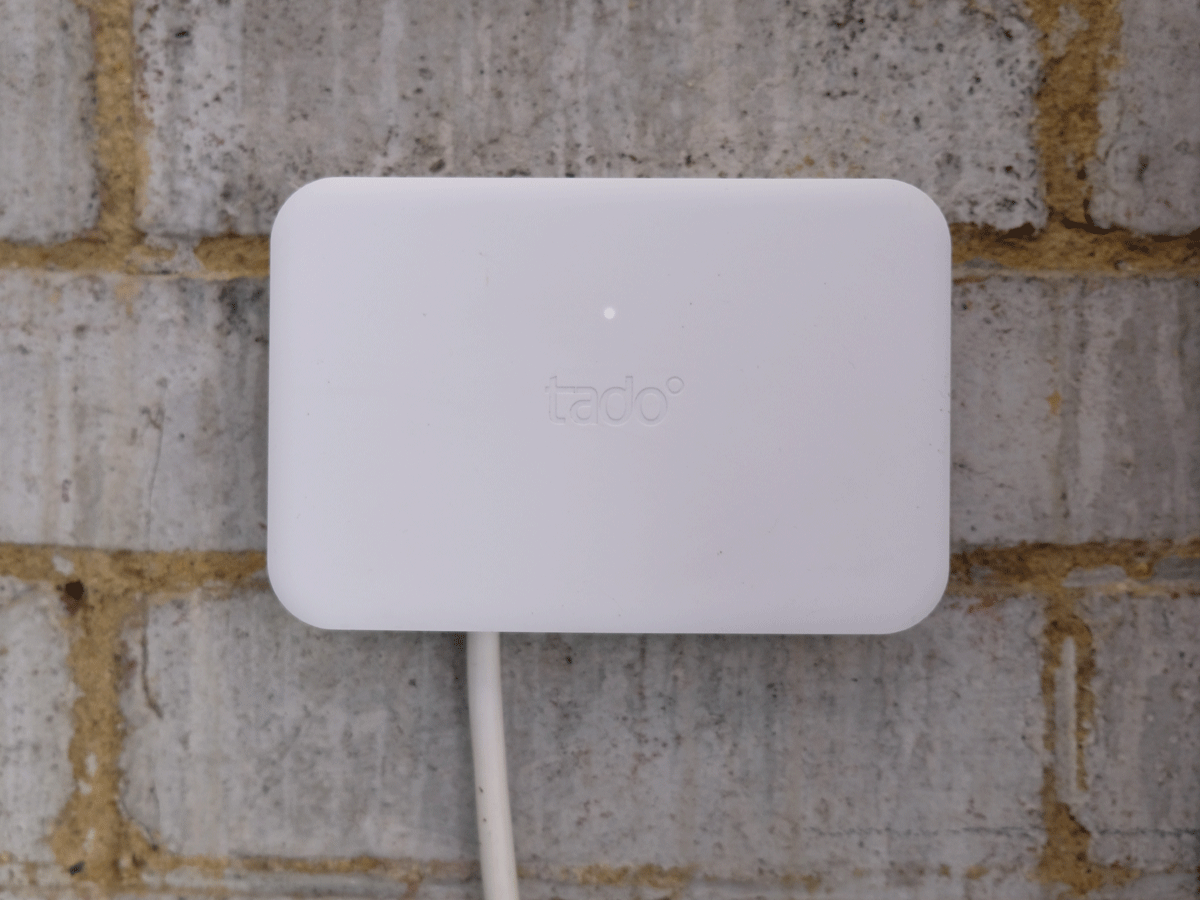 If you already have a wall thermostat and don't mind doing some basic wiring, you can install the Tado thermostat yourself.
It's just a case of connecting the bridge to your router, wiring in the thermostat, then pairing the two to get them talking.
I didn't have an existing thermostat, though, so needed the Extension Box (£79) to get my boiler talking to the thermostat. With my DIY skills bordering on 'dangerously incompetent', I decided that this extra wiring demanded a professional Tado installation (which costs an extra £50).
Still, even I had no trouble setting up the Smart Radiator Thermostats. As long as your radiators already have thermostatic valves (old-school manual ones are obviously not compatible), it's just a case of taking off your old heads and putting the Tado in place with a half turn.
The only thing to look out for is how tight your current your valves are too the wall – one of mine is so close that there wasn't enough room to fit the wider Tado radiator head properly. Luckily, that was in the bedroom, where I never have the heating on anyway.
Once you're all set up, you'll then see individual rooms in the app – and this is where the real fun begins (depending on how nerdy you like to get about your heating)…
Features and app: hitting a hot streak
So if Tado is a smart autopilot for your idiot boiler, why do you need an app?
Well, sometimes you need a quick way to manually turn the heating up or down a notch without wrecking your temperature presets.
It's also a good place to both set up these schedules and get properly nerdy about your heating. For example, you can create several 'time blocks' throughout the day with a temperature for Tado to aim for, as long as someone's at home. If they change their plans and no-one's at home, it'll stick to the cooler 'away' temperature.
With Smart Radiator Thermostats, you can specify by room too – I like to get my bathroom extra toasty on weekday mornings, but delay the heating by a few hours on Sundays.
In settings, you can now set the size of the 'Home Area' (the area where Tado considers you to be 'at home'), making it larger to make sure the heating's perfect by the time you get through the front door.
The app is also where you add other family members or housemates (so that the heating reacts to whoever's first home or last to leave), look at graphs to see when and why the heating's turned on or off, and smugly peruse your Energy Savings Report to see an estimate of how much it's saved you.
So does all of this really cut your annual heating bills by 31%? It's tricky to say to that degree of accuracy, but it's certainly had a decent impact on mine since I started using it two years ago.
The main difference is its ability to react to irregular movements – an unplanned pub visit, a random day working from home, a last-minute holiday. This means it's more likely save you cash if you're a social butterfly or work irregular hours.
Still, I'm expecting to see more noticeable savings from now, thanks to two of Tado's newer features – zonal control and weather detection. Those Smart Radiator Thermostats are now heating up certain rooms when I'm home, rather than the whole house, which is a big advantage over Nest.
Weather detection also means that when sunshine's predicted, Tado turns down the heat to avoid the room getting too hot when it's in 'away mode'.
Even with all of these extras, though, its coolest feature might just be voice control with Alexa or Google Assistant…
Smart home extras: talk to the radiator
I'm not suggesting you splurge all of your heating savings on an Amazon Echo Spot or Google Home Mini, but if you already have one of those voice assistants then Tado works very nicely with both of them (as well as Apple HomeKit).
Voice control works particularly well when you have Smart Radiator Thermostats, because you can put your feet up and say "Hey Google, raise in the temperature in the lounge by two degrees" and it'll do it without roasting the person who's trying to get to sleep in the bedroom.
It's far from essential, of course, and the energy savings are a bigger deal. But talking to your boiler is a hell of an upgrade from fiddling with a dumb beige rectangle, particularly if you have people in your house who are (for whatever reason) immobile.
If that's not enough, Tado does also have an IFTTT channel for making extra tweaks, like connecting it to your calendar. This recipe turns the heating off completely (rather than just putting it into 'away' mode) when it sees a 'holiday' event in there.
But really, the Tado app now gives you more enough control without the need to spend a Sunday afternoon faffing about with IFTTT. You'll be a heating swot in no time, and that can only be a good thing.
The competition and Tado verdict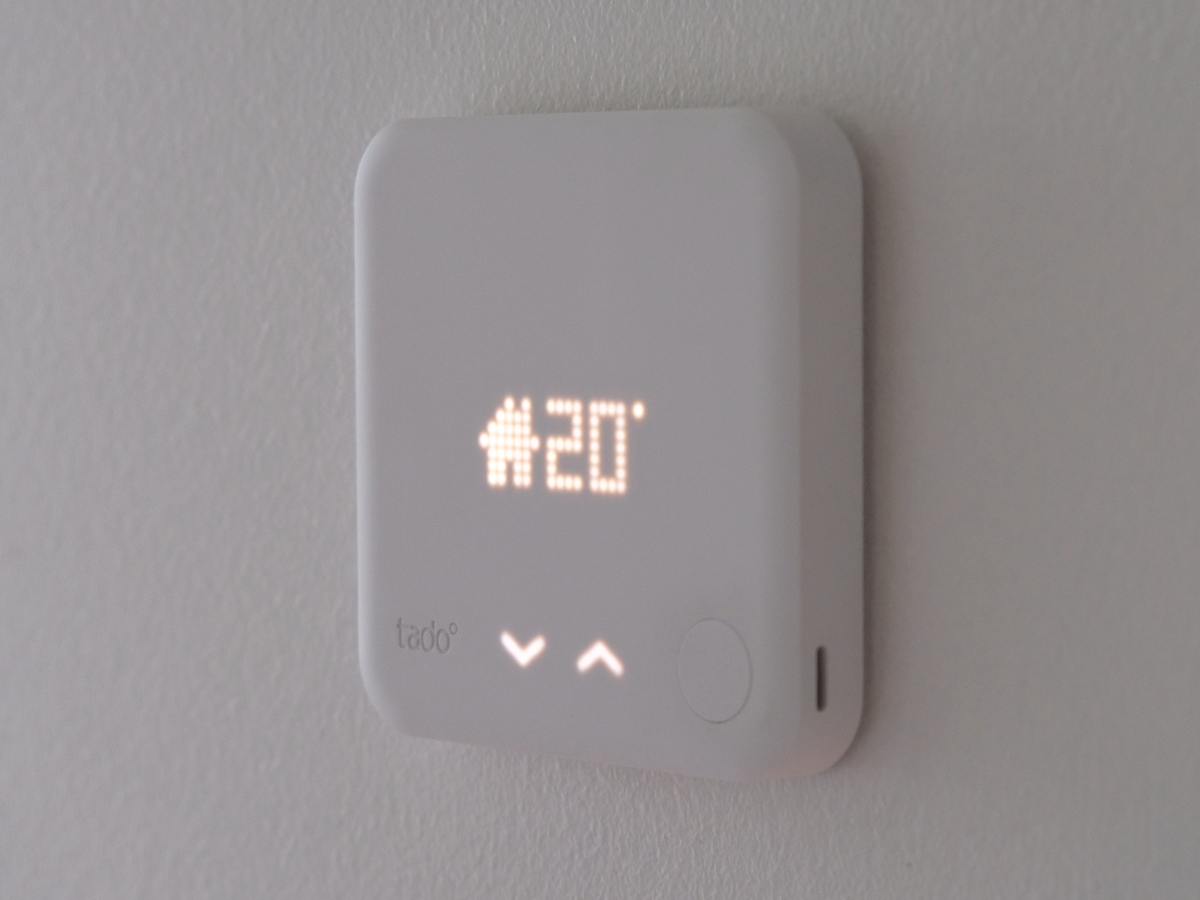 Tado has blossomed into the most versatile smart heating system you can buy right now.
Nest has the prettiest thermostat and its habit-learning skills are still clever, but it doesn't offer zonal control (without buying a thermostat for each room). In a similar boat is Hive, which is intuitive and connects well with other smart home kit, but again doesn't let you control individual rooms.
For bigger houses, Honeywell's Evohome and Netatmo's Smart Thermostats remain good bets, thanks to their connected radiator valves. But they both lack built-in geofencing for automatically adjusting things when you change your usual schedule.
Which leaves Tado as the standout all-rounder. On its own, the Smart Thermostat remains a good buy and costs about the same as its rivals. You get geofencing and a polished app with weather detection, smart scheduling and compatibility with Alexa, Google Assistant, Apple HomeKit and IFTTT.
But if you want to embrace the real benefits (and nerdy joy) of smart heating, Tado also gives you the option of zonal control from its Smart Radiator Thermostats.
While this can be a pricey initial outlay (a Starter Kit plus four Radiator Thermostats comes to £435), it pays you back in heating savings and the ability to talk to your radiators.
And as we head inexorably towards the chilly, dark nights of winter, I certainly don't want to give up the warm glow that both of those things give me.
Stuff Says…
Tado has evolved into a smart heating mastermind and the new king of the boilerbrains
Good Stuff
Excellent app
Geofencing works well
Optional zonal control with radiator thermostats
Voice control from Alexa and Google Assistant
Simple installation
Bad Stuff
Big initial outlay if you add radiator thermostats