Tag Heuer Connected Modular 45 review
The priciest Android Wear watch around is also one of the best...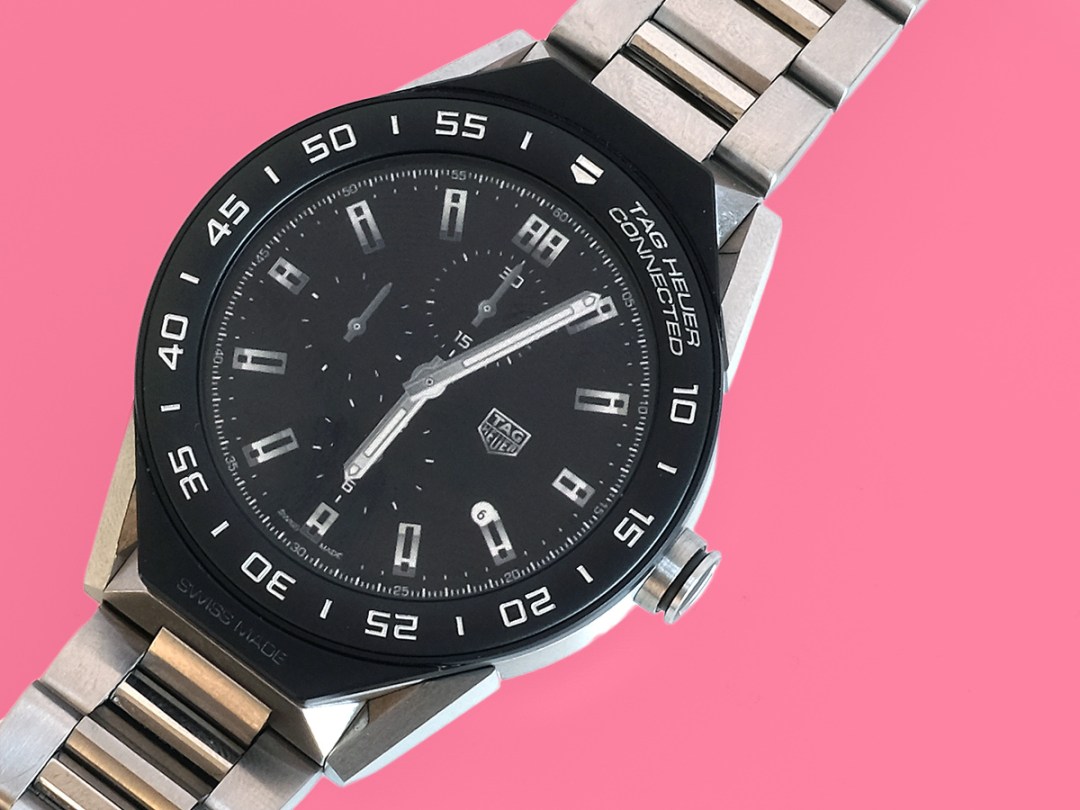 Gadgets rarely age well. Or, to be more precise, they have to get really wrinkly before wrinkles circle back into fashion again. Just look at the Nokia 3310.
The Tag Heuer Connected 45's gamble is that an Android Wear watch made with no-holds-barred tech and design won't look too bad in five years. Because who aside from an oil baron is going to spend over a grand on a smartwatch like this if that's not the case?
Starting at £1200 this is the priciest Android Wear watch that hasn't simply been pelted with diamonds and bling. And if your coffers are overflowing, it's also one of the best smartwatches available.
Design: a man's man's watch
Tag Heuer is one of the few high-end watch brands that clueless types like me have heard of. I've owned a few Rotary and Casio watches in my time, but in the last decade almost the only watches I've worn are fitness trackers and smartwatches.
Even I can appreciate the Tag Heuer Connected 45's design, though. On a surface level, it's not dissimilar to the Huawei Watch 2: plain face, numbers on the bezel, nothing too flash. But in the flesh it looks and feels like a serious designer watch, while Huawei's latest wouldn't look too out of place in a toy box. Sorry, Huawei.
The Tag Heuer Connected 45 is a big, deliberately bulky thing with the heft of one of Tag's analogue watches. It's a masculine look, but a confident one that few others get close to beating.
There's only one Wear watch I've had better reactions to in person, and that's the Michael Kors Access. It's cheaper, less macho, but is also a much worse smartwatch. With the Connected modular 45, you get 50M water resistance, which is the best seen in a watch like this.
And because it's modular, you get to choose exactly what it looks like – including an analogue, mechanical chronograph…
The modules: digital or analogue?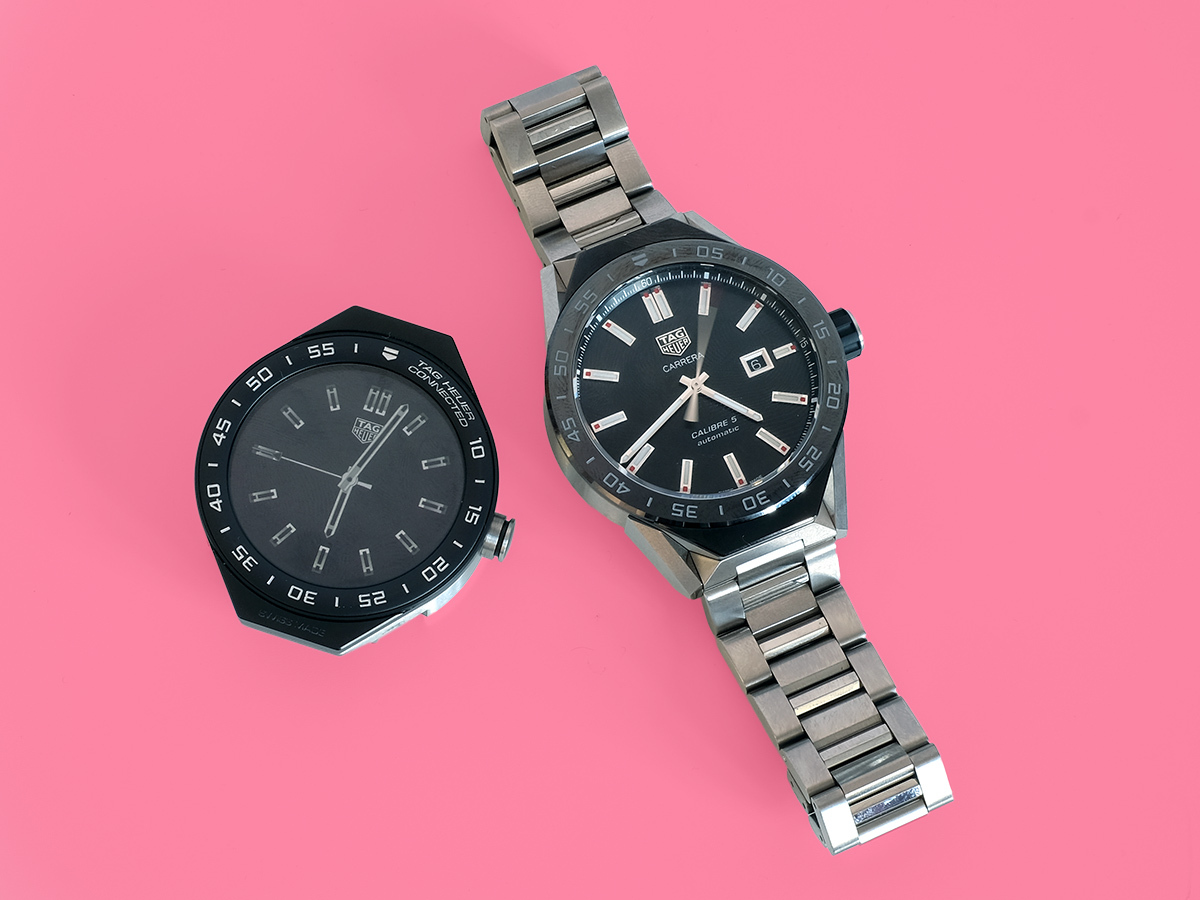 Unlike most smartwatches, you can also choose what the Connected 45 is made of. The standard casing is titanium, but buy direct from Tag Heuer and you can pick from a whole army of designs.
Some have a totally different personality, clad in diamonds or cast in bright colours. There are several materials to choose from, including aluminium and stainless steel.
This is where the "modular" bit steps in. Paying more for aluminium than titanium seems a bit weird though: for now we'll stick with the default version, thanks.
As the watch I'm using has a stainless steel link strap, it costs £1950. Prices start at £1200 with a silicone strap, so we're talking about various shades of breathtakingly expensive. But this is Tag Heuer, what did you expect?
You can also buy a mechanical module to swap in for those black-tie-on-a-superyacht occasions. Tag Heuer sent us one (which costs £1400 on its own) to check out. It's not overflowing with personality but looks fantastic and may be of interest to collectors given this watch will only be available to Connected 45 buyers. It'll probably still look good in 30 years, forget a mere five.
Changing between the Android Wear unit and the analogue one takes about 30 seconds. You just press down on a button on each side of the underside to release the strap, then click the new main unit into place. Simple.
The screen: even fake watch faces look good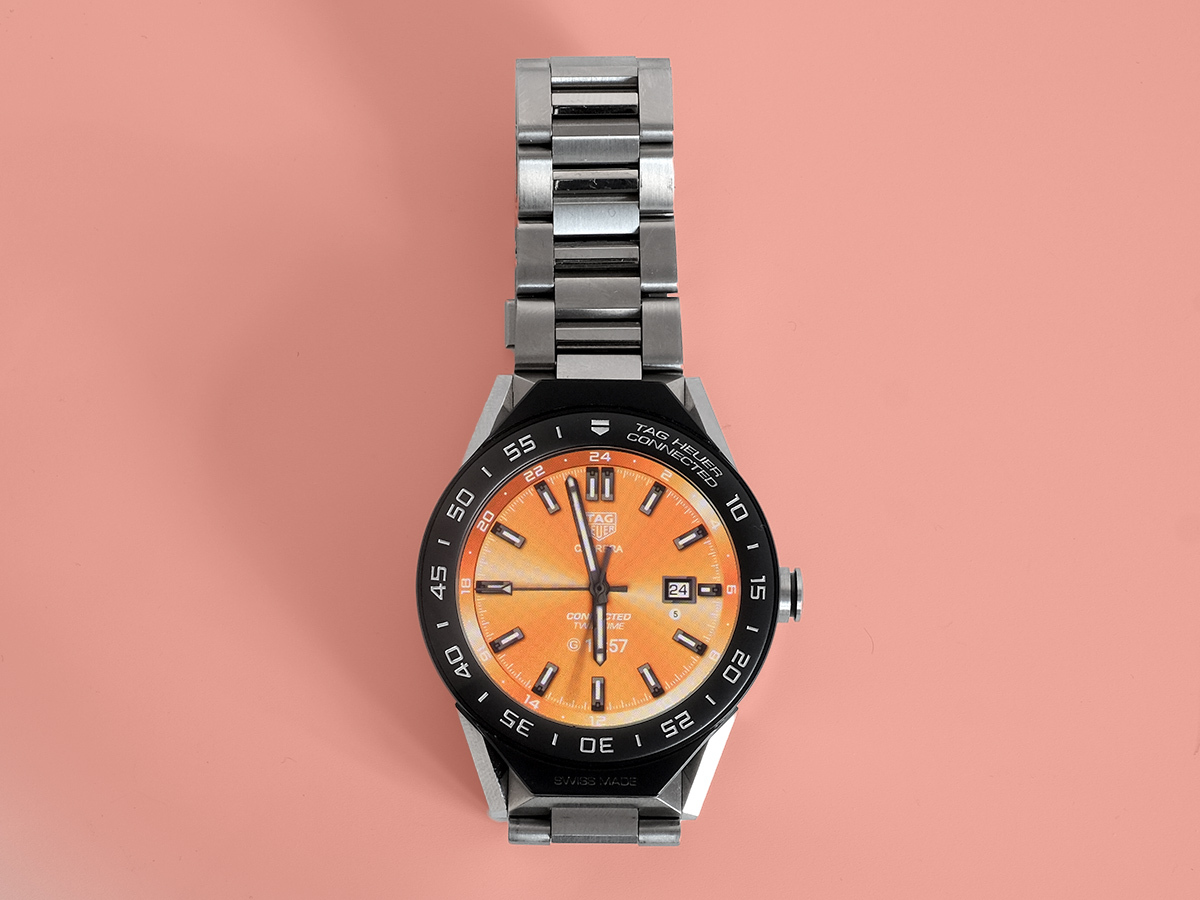 For now at least, the Android Wear Tag Heuer Connected 45 plays the cutting edge card pretty well.
It has a 1.39in, 400×400 pixel screen, as big and sharp as you'll find on any smartwatch. It doesn't positively blow away watches like the Samsung Gear S3, but Tag Heuer has to pick from the cast of readily available display panels, just like everyone else. Even if the Connected 45 costs more than a grand.
It's an OLED screen, delivering perfect contrast, and colours are punchy and vibrant. On a phone I might call them oversaturated, but this is a smartwatch.
And, unlike the Michael Kors Access, there's no ugly, flat-tire shape at the base of the screen. If it had one at this price, the Connected 45 would be heading straight for the bin (before being carefully removed from the bin and re-boxed for a refund).
This is also the first Android Wear watch to make me actually like fake analogue watch faces. I usually find them tacky and cheap-looking, about as convincing as a watch given away as a free toy in a box of Rice Krispies.
Thanks to a top-quality screen and very matter-of-fact design approach, these faces look right. There's no weird shading, no unnecessary effects to make them look like an intern let loose on Photoshop designed them.
There's also a decent Tag Heuer face designer packed into the watch itself. This lets you play around with different faces, backgrounds and colours, straying further from the sober look I prefer. After all, one person's "classic look" is another's "boring". If you want a bright orange or gold look, that's here too.
As a smartwatch: Wear as Google intended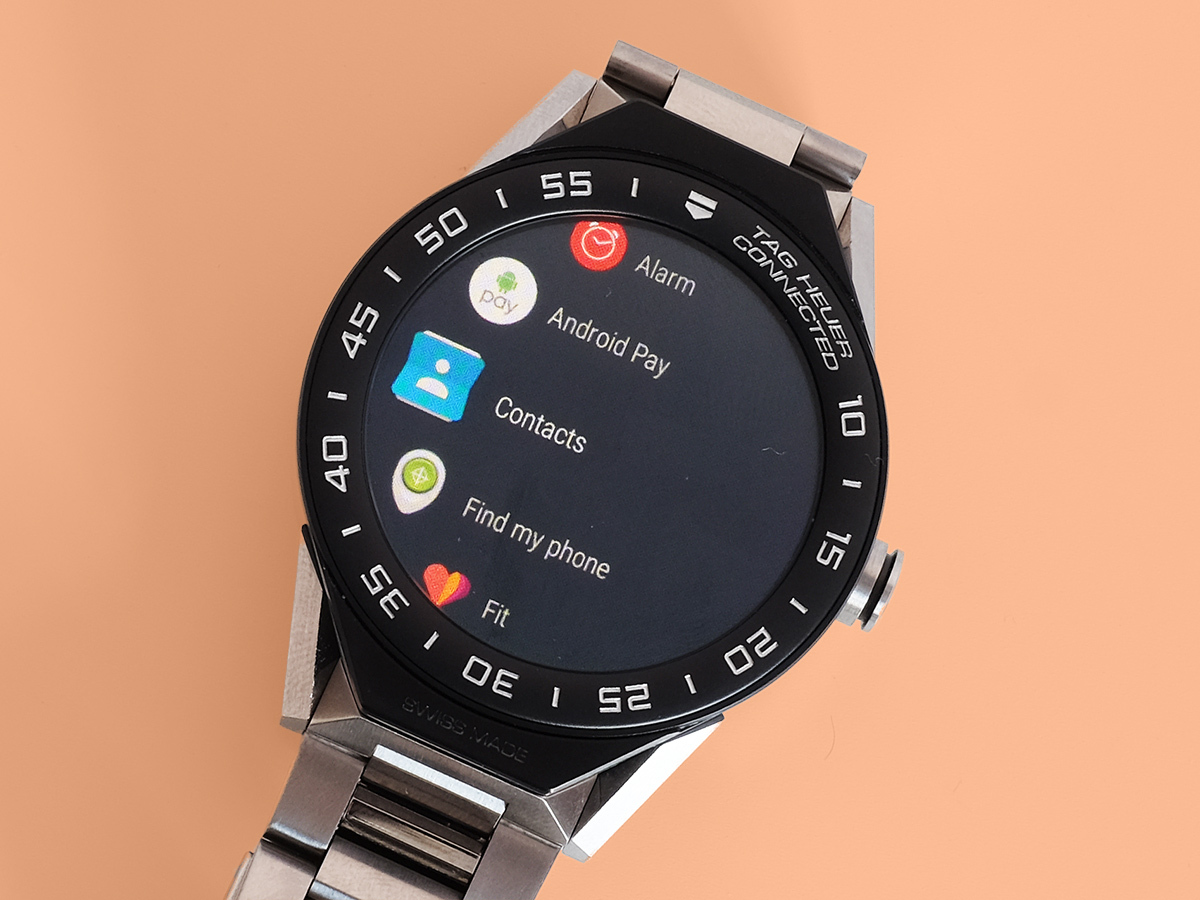 Get past the faces and you'll find Android Wear 2.0. It's refreshing that one of the first watches to launch with it is a style watch like this. Smartwatches aren't just about Apple and Samsung.
If you want to know all about Wear 2.0 you can read our full review. But let's just say it's a lot better than the last version. It's less confusing, less awkward and finally lets you install apps directly from the watch.
Wear feels great on the Connected Modular 45. An Intel Z34XX CPU runs the show, alongside 1GB RAM, and it seems at least as fast as the more popular Snapdragon Wear 2100 in use.
Wear watches are also moving towards giving us more standalone apps that aren't designed to be used tethered to a phone. This is doubly important on the Tag Heuer Connected 45 because it has GPS, which alongside 4G (not present here) actually makes this idea appealing.
For example, there are loads of fitness apps that let you fully GPS-track your runs, cycles and walks without having to carry your phone around. Tag Heuer has left this to the experts, though. Other than the watch face designer, a Tag Heuer stopwatch and a timer, there are no extra apps here.
Fitness features: no heart-rate sensor, but otherwise rock solid
Some parts of the hardware are stripped back too. There's no heart rate sensor, and just one control other than the touchscreen – a button on the side.
The bezel doesn't rotate, neither does the crown. Wear 2.0 supports extras like this, but we'll have to wait for someone else to make such a next-gen watch. I'm looking forward to it, as the rotating bezel Samsung used in the Gear S3 is a treat.
To test out the Tag Heuer Connected 45's chops as a fitness tracker I took it out to track a run using Google Fit Workouts, while wearing a TomTom Runner 3 on the other wrist. That's a dedicated run-tracking wearable.
The Tag Heuer took a few more seconds to hook onto GPS, but after that was rock-solid. Similarly, looking back over the route Fit Workouts recorded, the TomToms's appeared a little more clean, snapping to roads rather than displaying the slightly more jagged route you get with Google.
But this is because TomTom uses algorithms to clean-up your route rather than using raw GPS data. In other words, it seems just as accurate when you take the trickery away.
Battery life: same old Wear stamina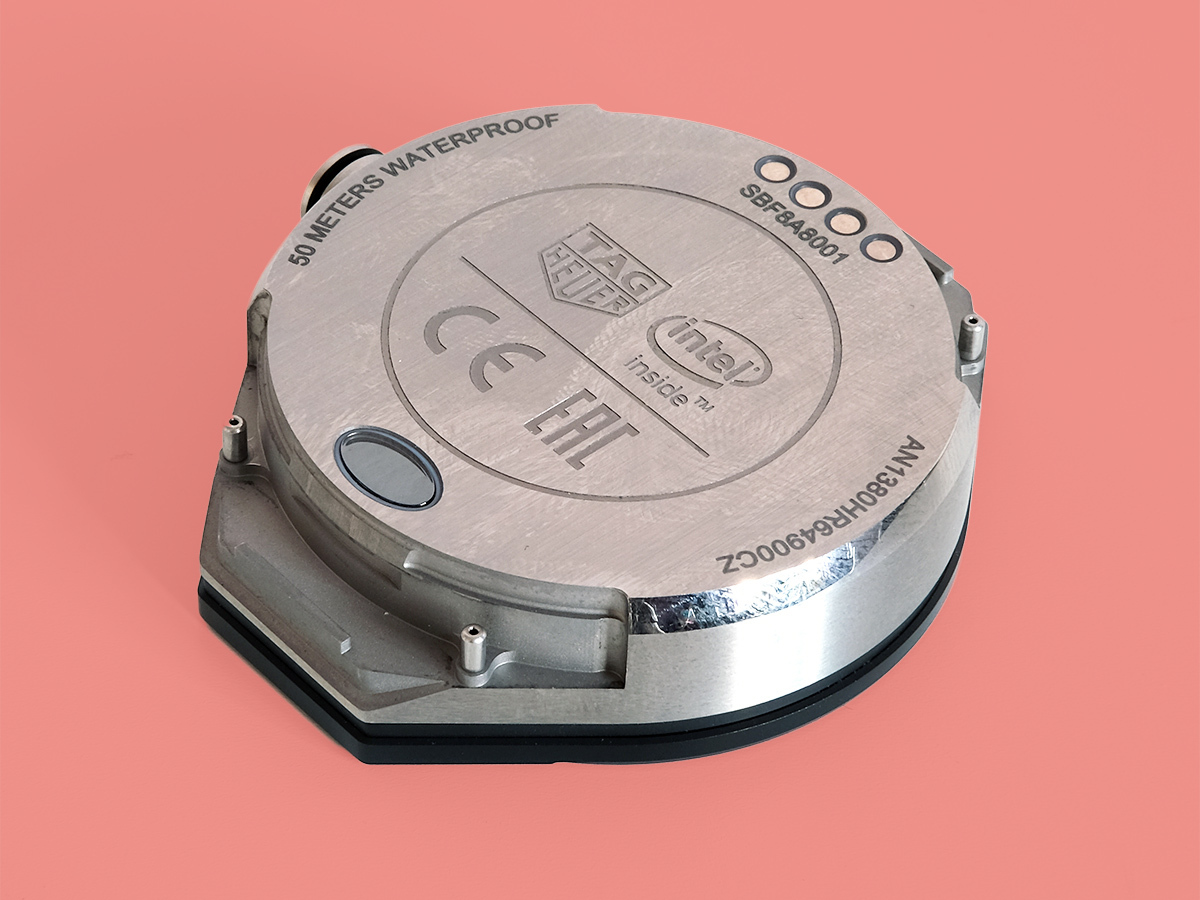 As with any Android Wear watch, I wouldn't recommend the Tag Heuer Connected 45 for training or regular run tracking, though.
First, do you really want to risk a £2000 watch like that? But the more practical concern is battery life. Even without any GPS, I could only get the watch to last 24 hours with the always-on screen enabled.
This isn't a watch to use to track marathons – not if you want to know the time on the way home at any rate. Still, the Tag Heuer Connected 45 uses a magnetic charging pad, rather than wireless charging. It has a set of little metal pins that hook up to contacts on the back of the watch, which is a little simpler than some fiddly smartwatch chargers.
Tag Heuer Modular Connected 45 verdict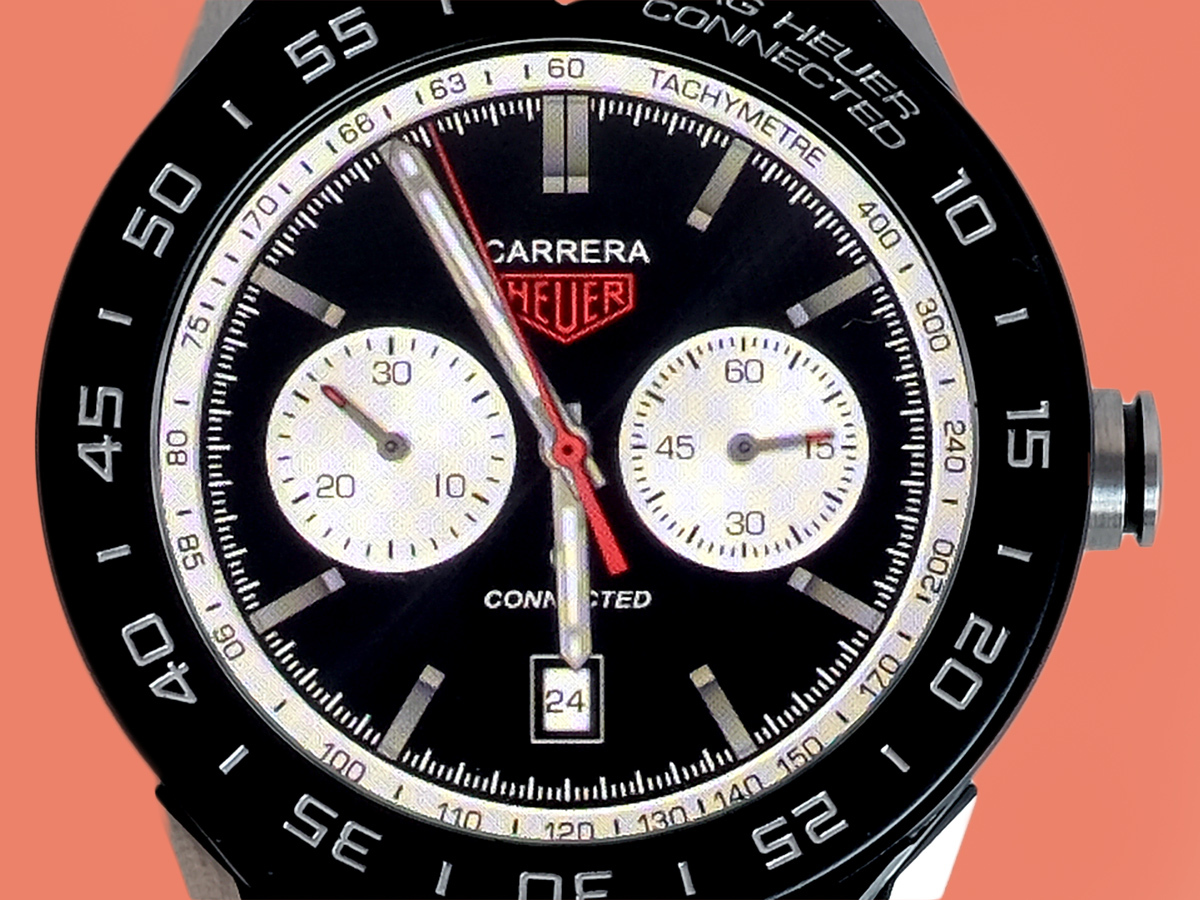 If you squeeze out the best savings from each Boots meal deal or feel a warm glow on pay day, then the Tag Heuer Connected 45 probably isn't for you.
This is a very expensive Android Wear watch that doesn't actually do anything new. However, it isn't much more expensive than some entry-level Tag Heuer watches, and it really does inject some of that Tag class into a smartwatch.
We can't stop the haters from hating, but Tag Heuer has done a good job here. Now you just have to decide whether the expense is worth it given the Connected 45 will age quicker than any other Tag Heuer watch.
Buy the Tag Heuer Modular Connected 45 here from Goldsmiths (UK) | Walmart (USA)
Stuff Says…
The price is scary, but Tag Heuer has put Android Wear into a high-end watch and it works
Good Stuff
Smart, bold design
Solid GPS
Great watch faces
Bad Stuff
Very, very, very expensive
No dynamic hardware features
24hr battery life