Tesco Hudl review
The Tesco tab is here – the supermarket is flogging a great all-rounder Jelly Bean slate for a tidy £120. What's the catch?
It may seem initially weird, but Tesco launching a tablet probably shouldn't come as a huge surprise in a world in which drinks companies parachute men from space and a record label launches people into it. Besides, we suspect Tesco these days sees itself more as a do-it-all Amazon rival than a simple supermarket, and as Google, Apple and Amazon have found, if you have an online store, what better way to promote it than by building a device around accessing it and consuming things bought from it?
Tesco's clearly going for the same tablet virgins as Amazon, using an almost identical formula: a pocketable 7in size, cheap £120 price tag (less if you've got Clubcard points to spend), and widgets, apps and portals that push users into using Tesco's services, from watching Blinkbox movies to ordering real-life chicken wings and cereal for home delivery.
But Tesco hasn't gone as far as Amazon. This isn't an extra user-friendly version of Android, but rather a simple Jelly Bean tablet with some glorified web bookmarks layered on top, and that rather leaves the Hudl in a no-man's land between the ultra-accessible (and now also £120) Kindle Fire HD and more accomplished full-fat Android tabs such as the Asus MeMOPad.
Solid and durabl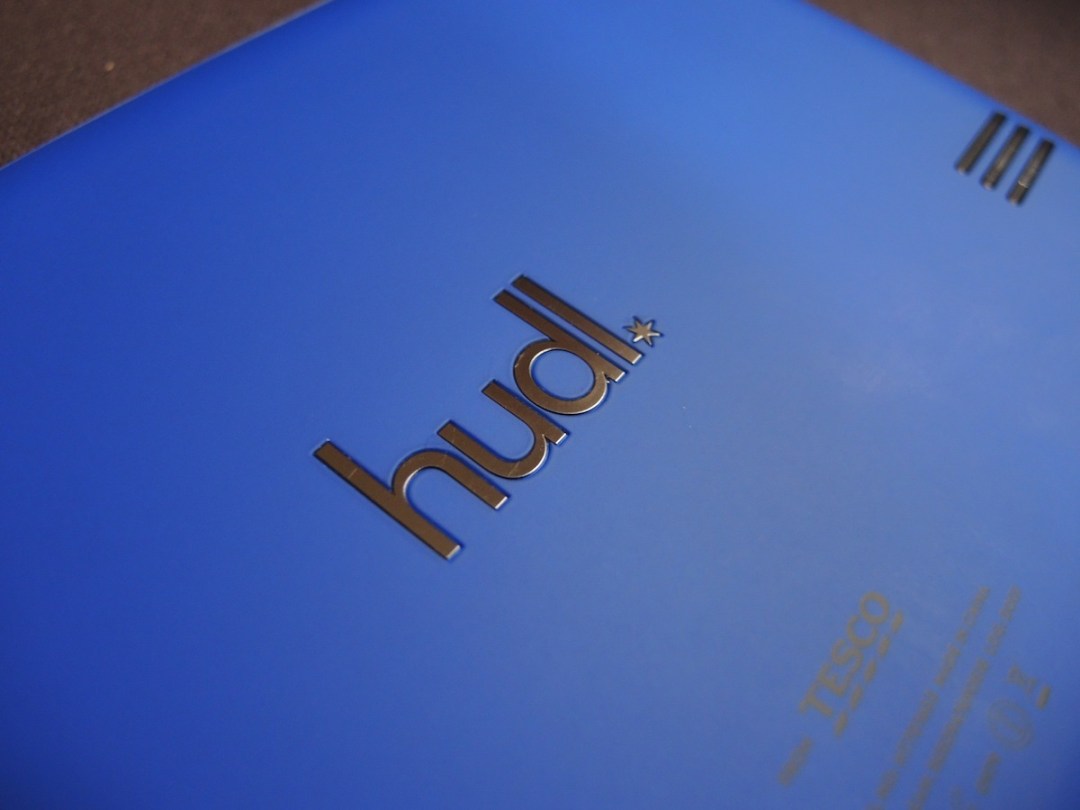 Of course, even £120 isn't outrageously cheap for a tablet these days, but most of us have by now experienced the kind of build you find in the bargain bin end of the market. You know the sort – the kind of tablet you think will come apart any second or that you can push your fingers through the back to press against the screen. The Hudl clearly, instantly proves it deserves more respect than that.
Built for Tesco by Archos, the soft-touch, matte plastic build is perfectly sturdy, even next to similarly priced but flimsier slates such as the Asus MeMOPad HD 7. A bit too big to use one handed, it sits in two paws nicely in landscape mode but pushes the scales at 370g. The Hudl comes in four kid-friendly colours, too, and around the back alongside to a – thankfully small – Tesco logo you'll find two speakers and a 3MP rear camera.
So it doesn't look particularly expensive, but crucially the Tesco tab doesn't look or feel cheap either. A good start, but that could all be undone by screen skimping…
Watchabl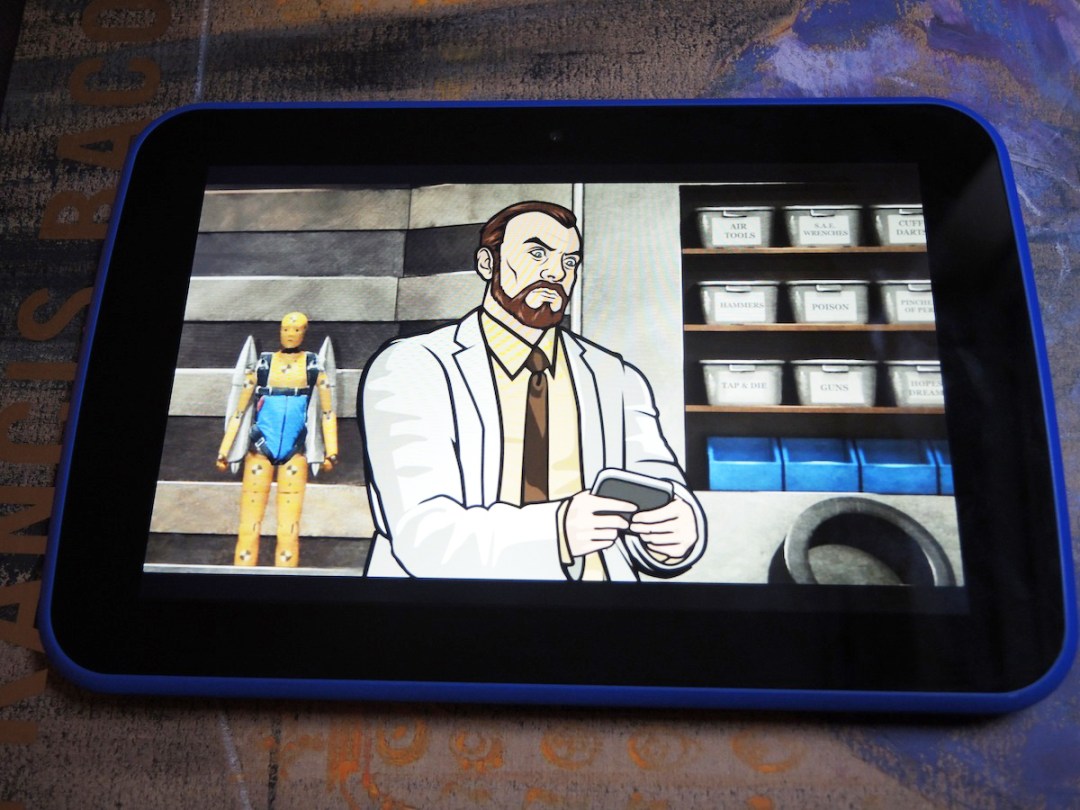 At first glance, Tesco has overcome that crucial second obstacle – the 1440×900 IPS display has a respectable 242ppi that's perfect for browsing the web and running Android apps (which often aren't optimised for higher resolutions anyway). Viewing angles are good, but whites aren't quite Daz-standard and we've found ourselves constantly cleaning the front of the Hudl – it's an absolute smudge-lover. We wish it were a touch brighter too – unless it's at full whack the screen disappoints.
Put simply, though, there are similarly priced slabs of Android out there with better screens. The Asus MeMOPad HD 7 is one – far better contrast, a punchier, more vivid colour palette and sharper streaming put it in front of the Hudl, even though it's got a slightly lower resolution of 1200×800. Unsurprisingly the more expensive, Full HD Nexus 7 kicks these budget tabs into next week.
Reliabl in use but they bungl'd the camera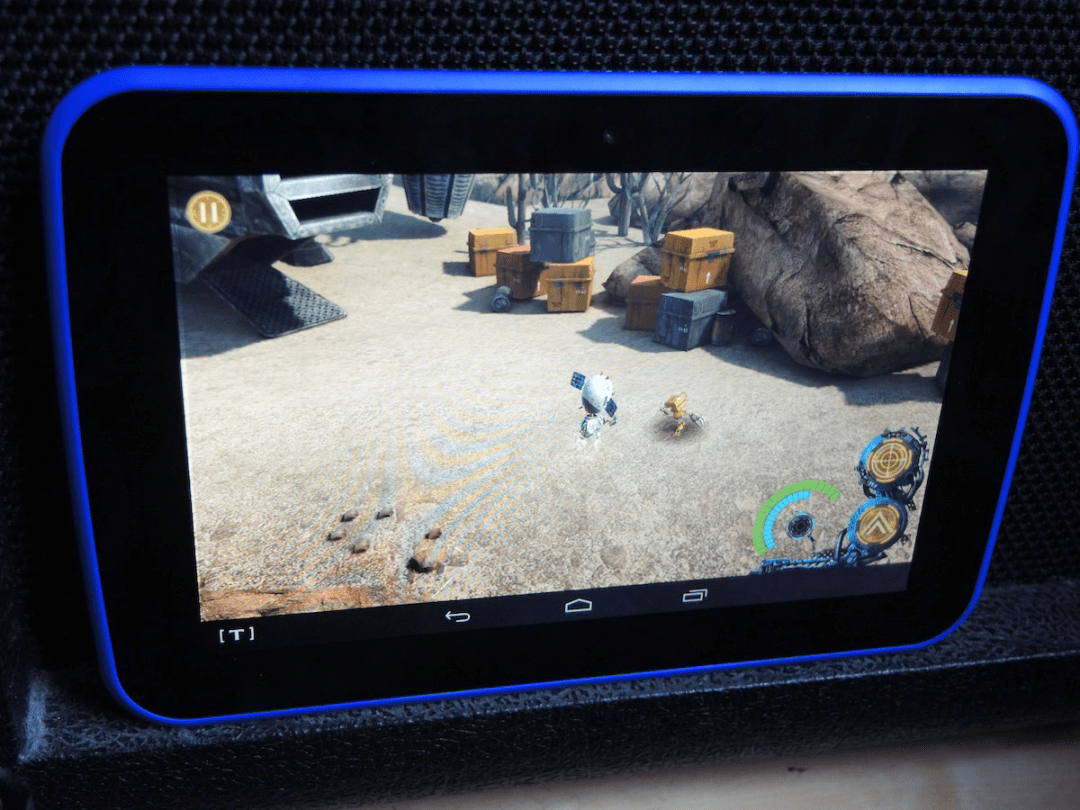 There's the odd stutter in the home screen and when loading apps, but running an almost untouched version of Android 4.2.2 Jelly Bean, the Hudl generally flies, tearing up HD movies and games such as Bounty Arms like a turbo trolley tearing up Aisle Six at 3am in the morning. Web browsing is smooth enough, though we were surprised to see the Hudl struggle with streaming movies compared to its rivals amid talk of dual-band Wi-Fi.
If you're after benchmarks to justify your choice, the Hudl scores 19112 in AnTuTu's 3D benchmark – that's behind the Google Nexus 7's score of 20438 but not too far and in some individual scores, the Hudl pips it.
The microSD card slot on the right-hand edge of the Hudl is another bonus with 16GB of storage on board and the option to add another 32GB on top. That might come in handy for loading the Hudl up with movies for soul destroying commutes.
The only disappointments are the cameras. Both the 2MP front-facer and 3MP main snapper are rubbish, and in anything but very good light will make you look like a dark, fuzzy creature from a horror movie lagoon. Just focusing seems to be a tall order. Not good enough at any price.
Tesco love-in (questionabl)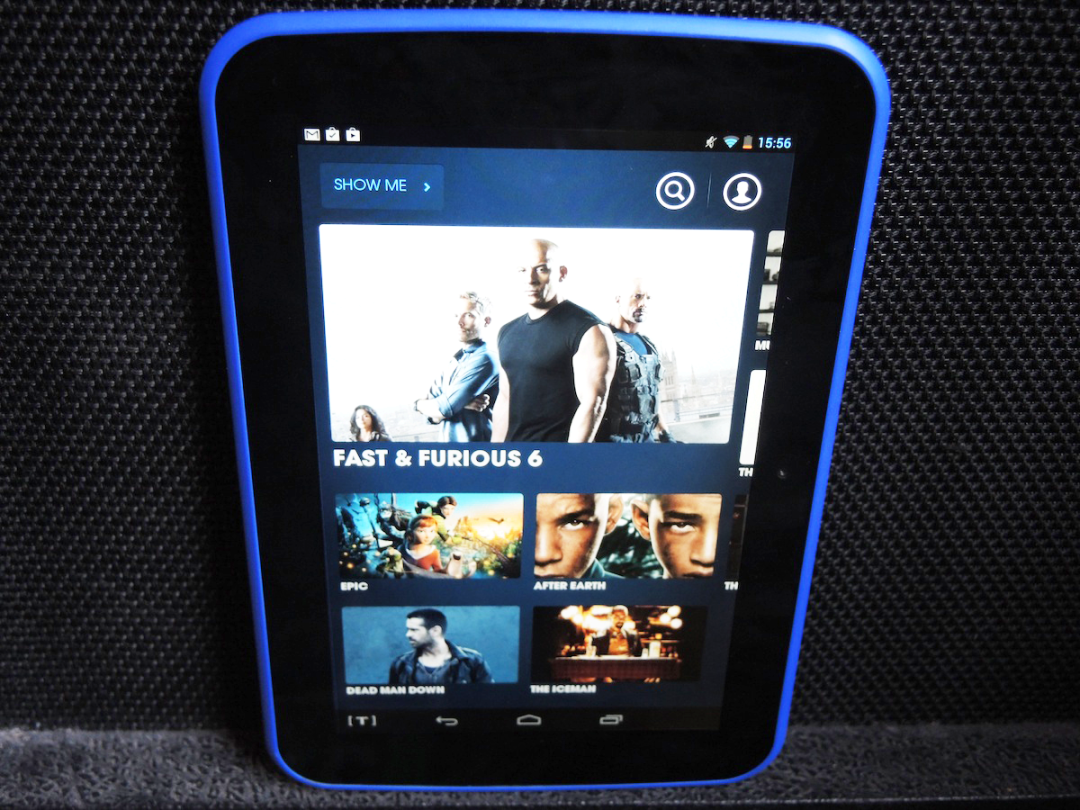 That almost untouched Jelly Bean does have a thin Tesco skin, and unsurprisingly it's geared towards making you even more dedicated to the supermarket behemoth. When you first set up the Hudl it asks for Tesco account and Clubcard details. Two homescreen widgets then show you Clubcard points and track Tesco groceries deliveries – here's where the Hudl could become a life-saver for busy parents with options to order straight from the image-heavy Groceries app, book delivery slots and browse recipes.
There's also a [T] symbol that joins the usual multi-tasking, home and back buttons at the bottom-left of every screen – more Tesco goodies can be found here, including Tesco Mobile, Tesco Direct, F&F (its clothing line) and Tesco Bank. We suspect only the most ardent of Tesco shoppers will find these bits exciting, and even they will probably be disappointed to discover that they're actually nothing more than links to the relevant web pages.
Tesco's own video streaming service, Blinkbox, is a good pay-as-you-go alternative to the likes of Lovefilm and Netflix and has the odd newly released movie, although the selection is still a little limited, especially if you want HD quality. That said, there's a microHDMI socket for pumping downloads to your TV if you don't own a smart TV box, and that will work with other video on-demand apps, such as Netflix and Google Play Movies. Clubcard users get some free Blinkbox movies via the Clubcard TV option on the [T] menu.
Compared to Amazon's Kindle Fire tablets, this really is simply Android with a few links to Tesco websites tacked on. It's clearly gunning for tablet beginners but a few handy hints on how to arrange apps into folders in Jelly Bean doesn;t really go far enough. Vanilla Android isn't the friendlist OS to get to grips with for first-timers and the Hudl could have done with a big, bold user-friendly skin to help its grocery addicts along.
Power users may struggl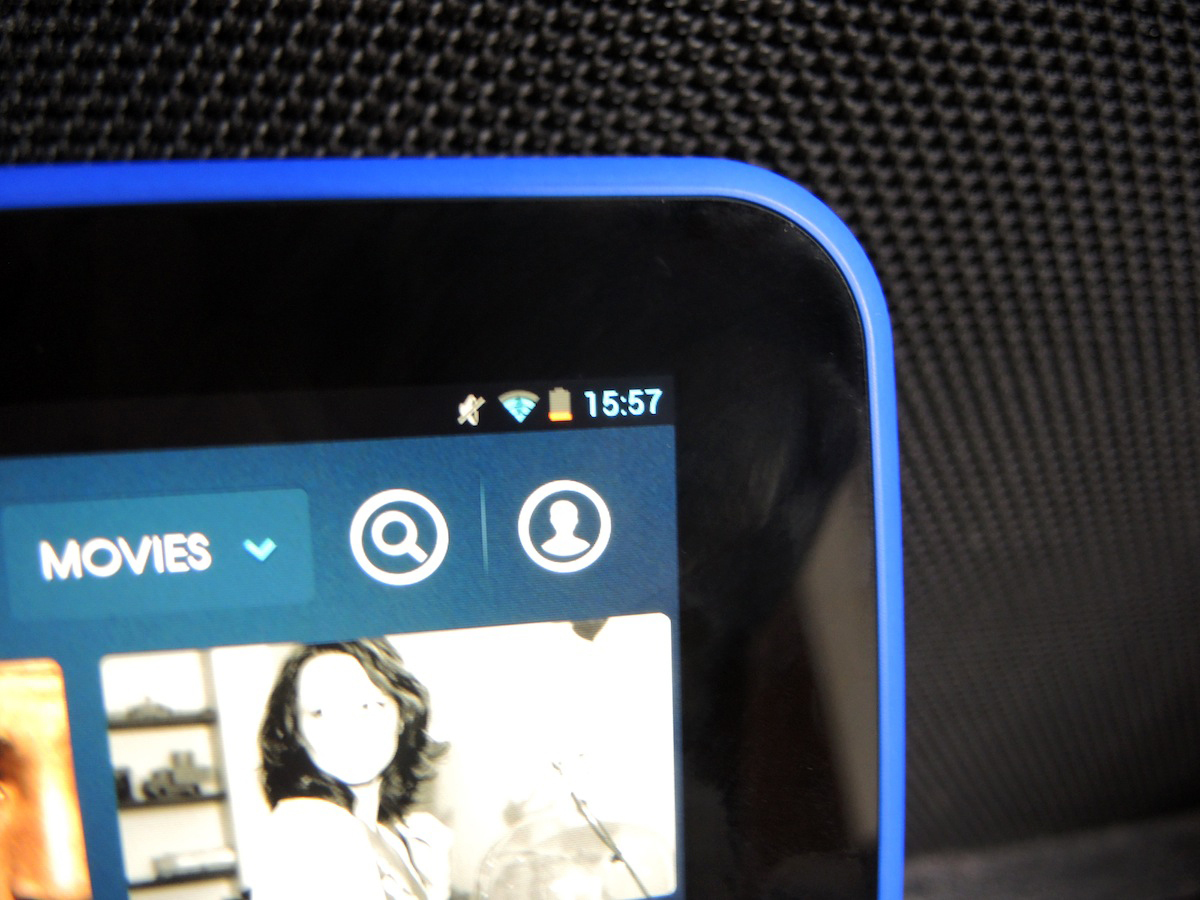 The Hudl may have stumbled slightly on the screen hurdle but it doggedly pushes on with a decent performance for the price. That performance doesn't last long, though, and you may well find the battery flat before reaching the finishing line. Even Tesco's claimed nine hours seems optimistic to us.
With light use, the Hudl lasted almost a day, packing up just before bedtime, and that's with the screen set to very low brightness. Put it to 75% or higher, which is where it needs to be to stay readable, and you're looking at more like six to seven hours.
Verdict: an admirabl first tablet from Tesco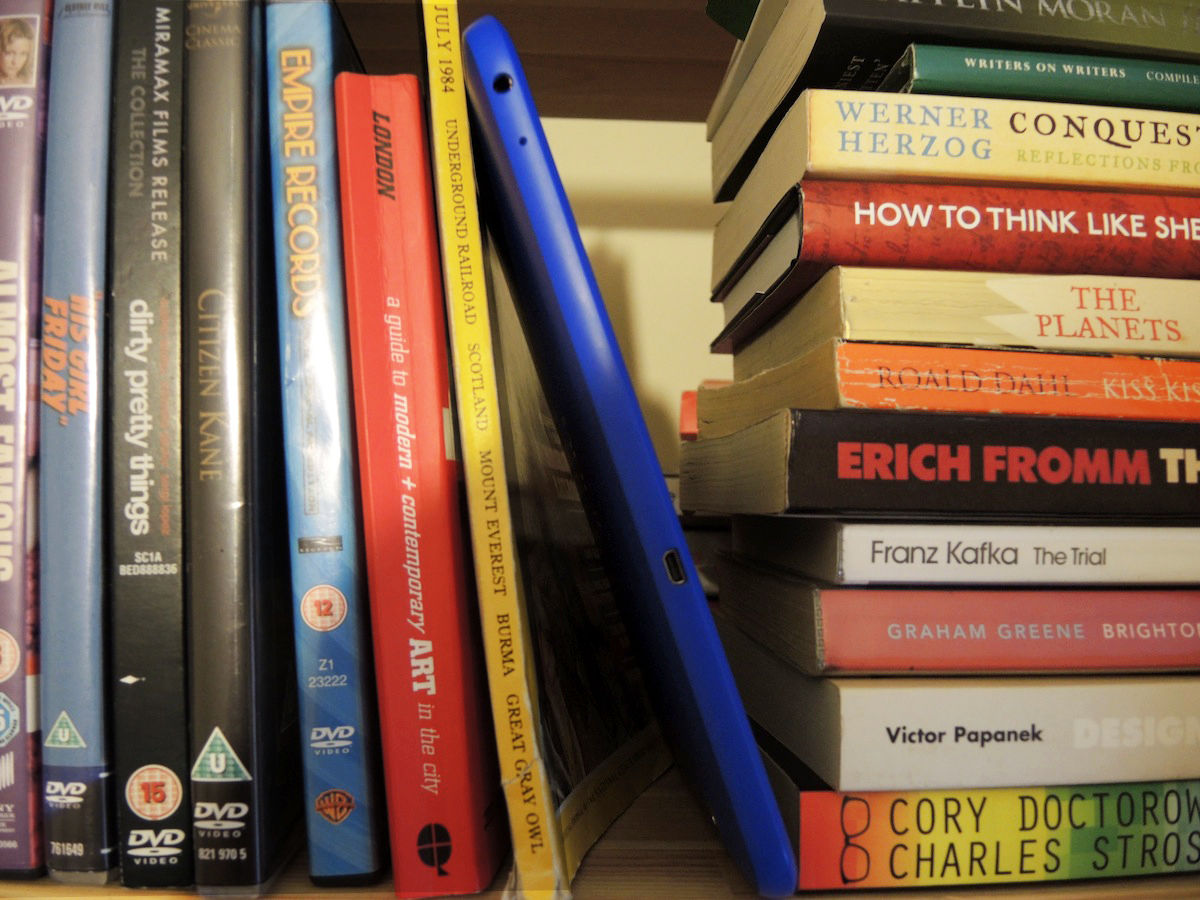 Thanks to a decent screen, largely brilliant performance and solid build quality at a very affordable price, the Hudl easily deserves four stars, but we'd recommend it to gadget geeks who already know their way around Android and are looking for a knockaround tablet (or one for the kids) on the cheap rather than total novices.
We also suspect that the Tesco widgets and shortcuts are less exciting to Joe Public than Tesco thinks they are, but perhaps they're just the start of greater grocery integration to come. Even so, the Amazon's Kindle Fire HD goes much further in terms of bringing its users into the shop's fold and creating a very simple and welcoming user experience.
On the other hand, unlike the Kindle Fire skin, Tesco's bits or bobs can be binned or ignored, leaving you with a fairly vanilla Android experience for fairly little cash, and for some that will be a very appealing proposition.
Stuff Says…
Falling just short of Kindle Fire standards, the Hudl doesn't have us worshipping at the Clubcard altar just yet
Good Stuff
Good all-rounder for the money
Full access to Google Play apps
Surprisingly solid build
Bad Stuff
Weak screen compared to some rivals
Saunters through some basics tasks, needs to get its jog on