TicHome Mini review
This splashproof Google Assistant is only a lukewarm shower speaker…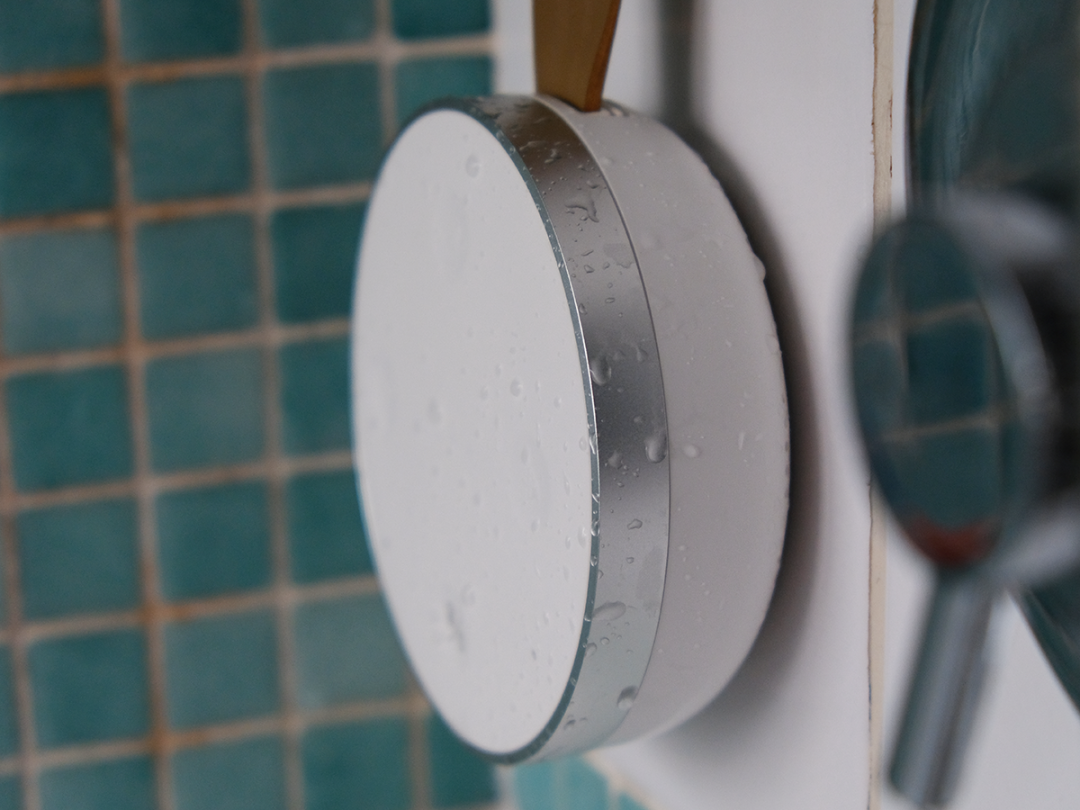 In theory, the TicHome Mini brings together of my favourite things – voice-controlled music and hot showers.
How so? It's a smart speaker, much like the Google Home Mini, but excitingly adds a splashproof design and portability into the mix, thanks to its rechargeable battery.
This combination has only previously been matched by the pricier Ultimate Ears Blast, which plays for Team Alexa instead. And it got me dreaming of the wondrous possibilities a shower-based voice assistant: one that would play me morning radio, podcasts, take reminders and tell me about the day ahead, all without pressing a button.
In reality? While the TicHome Mini is a perfectly decent Google Assistant smart speaker, some restrictive practicalities meant it couldn't quite match my unrealistic, bathroom revolutionising expectations…
Design: puck it up
The TicHome Mini is a bit like a bulkier Google Home Mini that's wearing a wetsuit – it's a bit wider and taller, and has a rugged, rubberised finish.
It certainly feels like it could take a few knocks and seems much more suited to life in a household full of kids than Google's more refined alternative.
Where it differs from Google's speaker is with its controls – rather than rely on touch-sensitivity, it has four physical buttons for power, volume up or down, and mute.
These work well enough and I also found the leather strap a useful addition, particularly for hanging it in the shower.
Calling the TicHome 'splashproof' is actually underselling it a bit too – it has an IPX6 rating, which means it can handle direct hits from jets of water, if not complete submersion.
But a few design niggles start to surface once you've used the TicHome for a few days. Firstly, it doesn't have any kind of battery indicator, other than a flashing light when juice levels are critical. This meant I found myself talking to a dead TicHome on a few occasions and having a distinctly unmusical shower.
It also takes a while (around thirty seconds) to turn on and, unlike the Echo Dot, doesn't have a line out for connecting it to other speakers. Still, you can fling music to it via Bluetooth, which is something you can't do on the Google Home Mini.
Features and performance: not quite a free spirit
At times, the TicHome Mini is certainly capable of moments of brilliance.
Sure, you can talk to Google's Assistant on an Android phone easily enough, but there's something liberating about toting this megabrain around your house when it has splashproof armour and an infinitely better speaker.
For example, I used mine to help out with cooking timers in the kitchen, then hung it up in the bathroom for shower music. The Echo Dot and Home Mini are great smart speakers, but it's annoying to have to pick one place for them to live.
Unfortunately, despite its portability, that's increasingly what I found myself doing with the TicHome Mini. That's because it doesn't have a great battery life or the ability to manage it very efficiently.
It claims to last six hours in standby mode (so without switching it off), but I found the battery warning light flashing after just a few hours. Leave it in standby mode, and it'll definitely be dead by the next day.
It's shame the TicHome Mini can't automatically shut down to save battery. And it'd really benefit from a charging stand like the UE Blast's optional one.
It sounds spectacularly lazy to suggest that plugging in a microUSB cable is in any way arduous, but the reality is that this (or alternatively, switching the TicHome Mini off then waiting thirty seconds for it to start again) simply creates too much friction for you to use this smart speaker in the free and easy way it promises.
Still, if you do leave the TicHome Mini plugged in somewhere, it's a perfectly decent alternative to the Home Mini, with the added option of taking it out into the garden on sunny days. Aside from making phone calls, it does pretty much everything a Home Mini can do, including controlling your smart home, playing music from Spotify or the radio, and answering obscure trivia questions. For more details on what the Google Assistant can do, check out our Google Home Mini review.
The only comparative downside is that the TicHome Mini's directional mics did struggle to pick up my increasingly shouty demands (more so than the Home Mini), particularly when it was playing music. But it does partly compensate for this by sounding a lot better…
Sound quality: better than its Google and Amazon rivals
The Home Mini and Echo Dot don't exactly go all out on sound quality, preferring to leave standalone music playback to their bigger brothers.
The TicHome Mini trumps both of them here – it's nowhere near a Sonos One, of course, but its down-firing speakers manage to create more bass than you'd expect from its size, and it can go surprisingly loud before distortion kicks in.
It's not quite as versatile as the Echo Dot (which also has a 3.5mm output), but unlike Google's mini speaker the TicHome does also have Bluetooth for picnic tunes.
Bear in mind, though, that you'll need Wi-Fi to talk to the Google Assistant, so without it the TicHome becomes just another Bluetooth speaker.
TicHome Mini verdict
The TicHome Mini does a lot right, but not enough to justify being over twice the price of a Google Home Mini.
It does sound better than Google's mini smart speaker (and Amazon's Echo Dot) and you do get some extra versatility from the splash-proofing, internal battery and Bluetooth.
But the slightly disappointing battery life and inferior mics slightly negate these advantages, and it'll most likely spend most of its time living next to a power socket rathet than in your shower.
It'd certainly make a nice backup to Google's mini speaker, particularly if you want one that could occasionally venture out into the garden.
But unless you almost exclusively use Google services or particularly value the Google Assistant's trivia-answering abilities, we'd probably stump up the extra cash for a UE Blast instead.
Stuff Says…
A versatile little smart speaker that doesn't quite justify being twice the price of a Google Home Mini
Good Stuff
Good sound quality for its size
Shower-proof and portable
Has Bluetooth for music streaming
Google Assistant is more knowledgeable than Alexa
Bad Stuff
More than twice the price of the Home Mini
Needs a Wi-Fi connection for voice commands
Battery life only so-so
Mics not always reliable