TicWatch C2 review
A simple, stylish smartwatch that's good value for money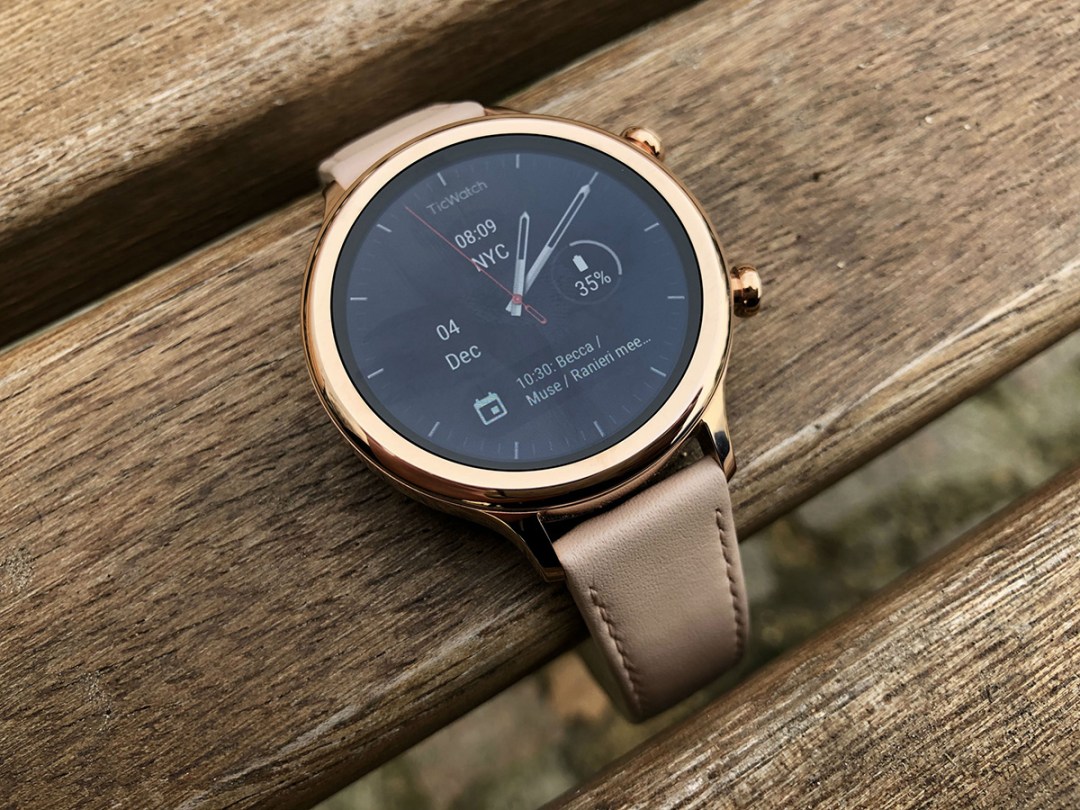 Although Mobvoi hasn't been in the smartwatch game for long, over the past few years it's created some quality smartwatches that give some of the bigger, more established brands a run for their money.
The TicWatch C2 is the latest addition to its range and it's a notable upgrade to the original TicWatch Classic with a refreshed design and a bunch of new features.
Price and performance-wise it fills the gap between the cheaper TicWatch E and S models and the more advanced and expensive TicWatch Pro.
The result is a simple, stylish wearable that has everything you'd expect from a modern day smartwatch, including NFC payments, heart rate monitoring and notifications for both iPhone and Android users.
At £161.99 the C2 is among the most affordable smartwatches currently on the market. It's certainly good value to get all of its features for under £200, let alone under £170.
However, it is packing the Qualcomm Snapdragon Wear 2100 chipset rather than the newer 3100 and its battery only lasts a day with medium to heavy use.
For some users (especially those on a budget), those specs will still make for a solid smartwatch for its price. Whereas others may want to hold out or shop around for upgraded performance, a slicker UI and better battery life.
Design and build: simple style
The TicWatch C2 has a simple design that straddles the line between stylish accessory and functional wristwatch.
It has a stainless steel body that feels robust and leather straps that feel premium. In fact the whole watch is a noticeable upgrade design-wise to previous TicWatch models, barring the Pro.
The underside of the watch isn't stainless steel, but plastic. That's where the heart rate sensor is located and although this plastic section looks a little cheap and bulky when the watch is off, it's barely noticeable when it's on your wrist.
In many ways it doesn't look too dissimilar to Fossil's latest line of smartwatches, particularly the Q Venture HR.
Except the TicWatch C2 is slightly chunkier, measuring 42.83mm x 42.83mm x 12.8mm for the 18mm strap version and 42.83mm x 42.83mm x 13.1mm for the slightly larger 20mm strap version.
The C2 is available in three styles. There's Onyx, which has a black stainless steel body and black leather strap, Rose Gold, which has a rose gold stainless steel body and cream leather strap and Platinum, which has a silver stainless steel body and grey leather strap.
The Rose Gold option is the one we've been trialling for this review and that comes in the smaller 18mm version. Both the Onyx and Platinum editions come in the bigger 20mm version.
Annoyingly, all three options only have a choice of leather, leather and leather when it comes to their straps. We'd have preferred one that feels more like a gym buddy, but you can quite easily grab yourself a more workout-friendly strap and switch it out for the leather one it comes with.
The C2 has a 1.3″ AMOLED 360 x 360 px display that looks bright in all different lighting environments and can easily be adjusted in the settings.
Size-wise it's perfect for swiping between screens, viewing stats and notifications and providing great visibility for everything else the watch has to offer.
There are two buttons located on the right of the watch, which stick out a fair bit but don't take long to get used to, and they both help you to move around the interface.
The top button has a little indentation that looks kind of like a star and opens up apps and takes you back to the main screen. The bottom one opens up the C2's fitness settings.
The TicWatch C2 is IP68 dust and waterproof. We asked TicWatch what that means in terms of day-to-day wear and we were told it's technically splash and sweatproof and you'll be fine in the rain or running with it, but TicWatch wouldn't recommend submerging it in water for long periods of time.
So it's not suitable for swimming and showering isn't recommended either. If you want a new wearable to track your time in the pool, the C2 isn't your best choice. For most other people it isn't a huge issue, but is likely to be an annoyance for those who don't like having to take accessories off to shower.
Software and features: a slick experience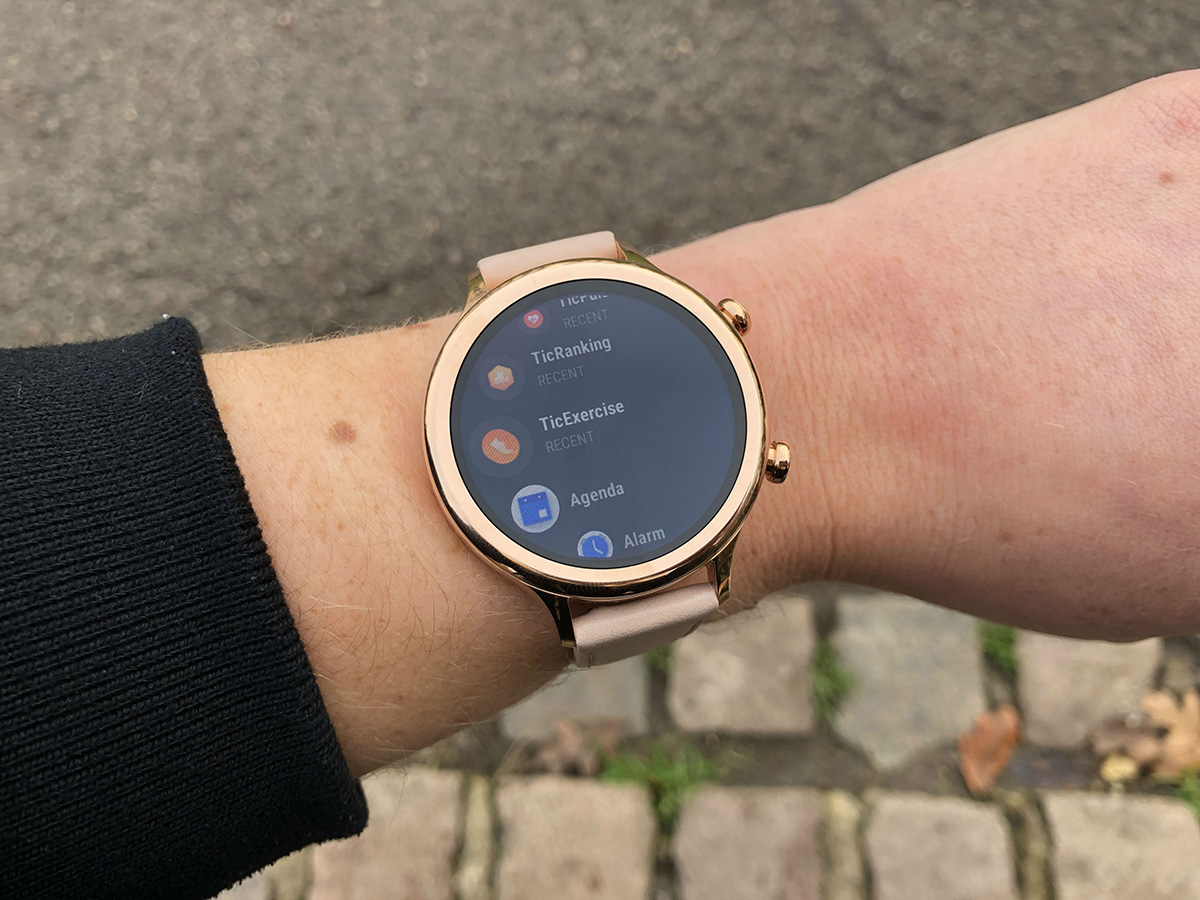 The TicWatch C2 is running the latest Wear OS by Google and this provided a good experience for us. Apps loaded up within a second or two and everything else felt slick with easy-to-understand gestures and a super responsive touchscreen.
Everything you'd expect from the latest Wear OS is baked in, including heart rate tracking, music playback, notifications that allowed us to view a good chunk of the app notification or message in question, and newly-added Google Pay.
It's a little disappointing that the chip in the watch is the Qualcomm Snapdragon Wear 2100, which has recently been given an upgrade in the form of the 3100.
But as no other smartwatch has introduced the 3100 yet it's not like the C2 will lag behind anytime soon, it may just not offer a significantly better experience than any other smartwatches on the market in terms of battery life and performance oomph.
To get the C2 up and running (we were using an iPhone) you'll need both the Wear OS and Mobvoi apps.
This didn't take too long, but there was a bit of friction because you needed to wait for a code to your emails to set up the Mobvoi app. The C2 did then keep disconnecting a lot, which meant I had to go to a notification on the smartwatch itself and hit Reconnect.
But why two apps? Well, the Wear OS app is where you can view Google Fit data, as well as change watch faces, change notification preferences and set accounts, including your preferred calendar settings.
The Mobvoi app is where all of the data collected via TicWatch's own apps, like TicExercise and TicPulse Live. It's a very minimal, but easy-to-use app, which lets you tap through all the most important health and fitness data of the day.
Like most smartwatches these days, you can customise the watch faces on the C2. The loaded favourites weren't our favourites, but there's 21 in total to choose from and most of the others are nice-looking and minimal.
You can also download more from the Google Play store if you need to, but most analogue and digital tastes should be covered.
Fitness tracking and smarts: top notch tracking
As the TicWatch C2 is running the latest Wear OS, it has Google Fit built-in, which shows your Move Minutes and Heart Points throughout the day.
Scroll down and you'll also see your step count each day, as well as calories burned, miles covered and heart rate data. There's also Fit Workout, which keeps tabs on a huge range of activities, including walking, running and strength training.
But as well as Google Fit, TicWatch also has its own set of health and fitness apps. There's TicExercise, which tracks an outdoor run, outdoor walk and cycling using GPS, or an indoor run freestyle, which covers weight workouts and other gym activities.
The GPS locking for outdoor runs, walks and cycling can take a good three minutes to find your location and other times worked within seconds.
If you start running or walking before that the location data is a little iffy. Having said that, we're still amazed that a wearable under £170 has GPS tracking at all, which made the slightly long wait times worthwhile.
Once it's locked on, the tracking was mostly accurate and much better when you're walking, cycling or running in an open space. We found the locking didn't always work so well in built up areas, but that's pretty standard.
As you're clocking up steps and fitness with TicExercise, the watch will chart them on colour-coded swirls, the idea is you get a quick snapshot of your day and it works quite nicely once you remember what the various colours mean.
Overall, the fitness tracking features built into the TicWatch C2 are good. They likely won't compete with dedicated sports tracking wearables, but stand up against most smartwatch rivals.
Although if Google Fit and TicExercise aren't your cup of tea, you can also go to the settings in the Mobvoi app to send your data to Strava and Runkeeper too.
As well as TicExercise, there's also TicHealth, which is a dashboard that shows you steps taken today, distance covered, exercise minutes, active hours and calories burned.
You can also swipe through to see your goals and how you're doing for the day in meeting them, like steps, exercise and active minutes.
There's also TicPulse, which you can load up to get a real-time heart rate reading. In our testing, this took between 30 seconds and a minute and was always accurate in relation to the Fitbit Versa which we used to compare.
Finally, there's also TicRanking, which is a steps leaderboard for other TicWatch owners you might know.
Battery: fairly standard, fairly short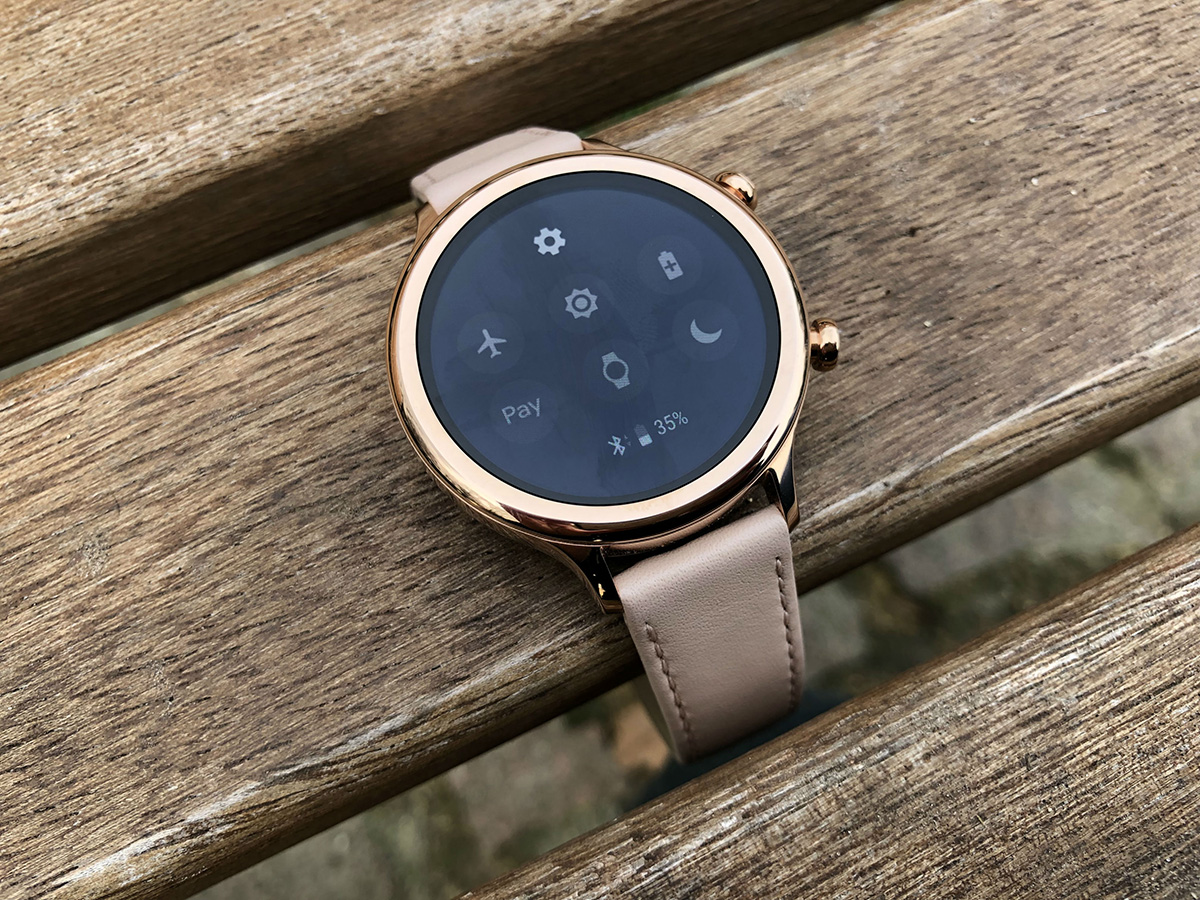 The C2 has a 400mAh battery that, according to TicWatch, should last 2 days with light usage and 1 day with heavy usage.
During our testing we found these claims to be accurate. With light use, which we define as wearing all day, using apps a few times and checking on a few notifications, it lasted just over 2 days.
With heavier use, which we define as checking apps around 10 times a day and taking it for a workout that we tracked, it lasted just over 1 day.
Plenty of users are happy with around a day's battery life and given there aren't any sleep tracking features to write home about here, we imagine many people will take off the C2 and charge it overnight. For them, the 1 to 2 day battery life promise won't be an issue.
However, if you want to use it to track a lot of fitness activities or prefer to charge up your devices every few days instead of every night, this might not be the watch for you.
Charging is straightforward, you just need to attach the C2 to the small charging cable and then plug it into a USB port, whether that's on your laptop or into a compatible plug.
Charging from empty to 100% was fairly quick and took about 1.5 hours in our testing.
TicWatch C2 Verdict
The TicWatch C2 ticks the boxes. It's a nice-looking smartwatch with screen and strap customisation options, as well as a choice of sizes. Its display is bright, its UI works well and it's packed with all the features you'd expect, like heart rate tracking, slick notifications and NFC payments.
At times we struggled to understand exactly who this watch is for. That's because it tracks fitness well, but not well enough for those super serious about working out. It looks stylish, but not quite as well put together as Fossil's own brand smartwatches or its tie-ins with high-end brands.
And it performs well, but isn't as high performing as the biggest players in the smartwatch market, like the Apple Watch 4 or the Samsung Galaxy Smartwatch.
But at £169.99, we wouldn't expect it to be an all-singing, all-dancing smartwatch. Just a good one.
So with that in mind, we think that rather than appealing to fitness, style or high-performing niches, this might be a smartwatch for, well, everyone else.
It'll suit anyone in the market for a sub £200 option that'll work well as a first smartwatch if they're after a simple, smart and stylish device that doesn't cost the earth.
Stuff Says…
There's lots to love about this well-priced wearable for anyone who doesn't want to pay an eye-watering premium for smarts at their fingertips
Good Stuff
Comparatively affordable
Support for Google Pay
Looks nice and minimal
GPS and heart rate tracking
Bad Stuff
Mediocre battery life
Only leather straps
Doesn't like swimming
Bulky back