Toshiba Chromebook 2 review
A brilliant Chromebook for thrifty folk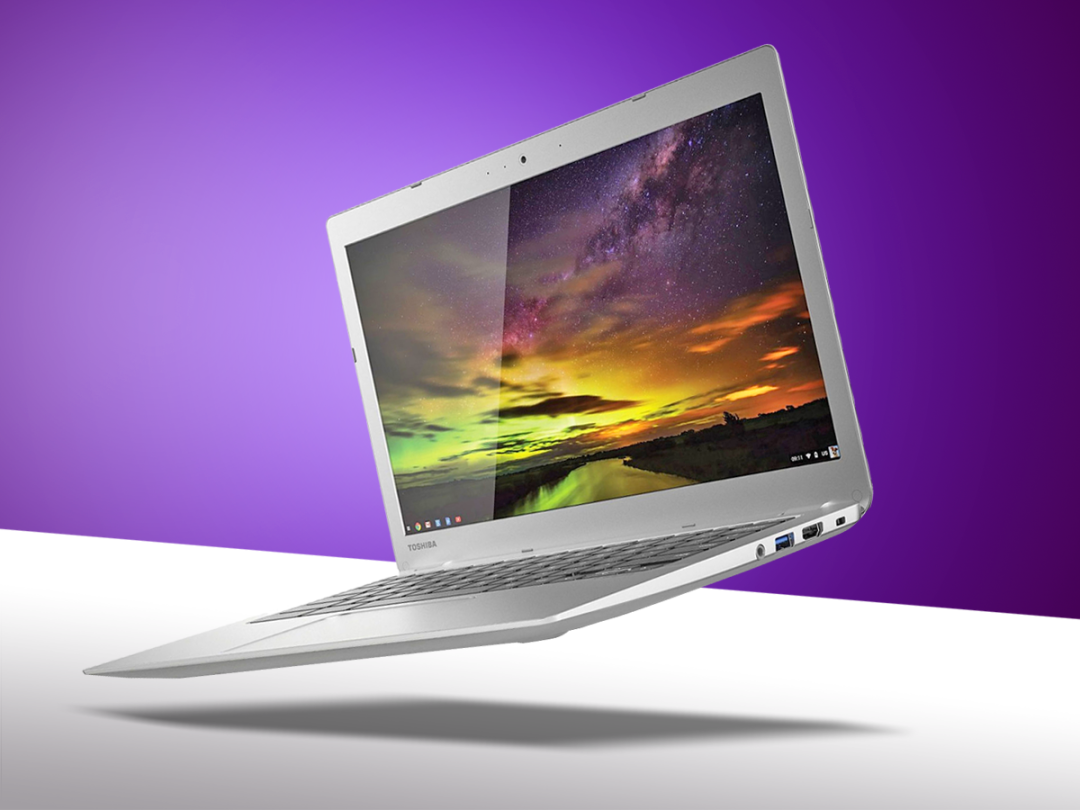 You might think you know the score with Chromebooks.
Bargain basement laptops, low specs and low resolution screens, right? Useless without a live Internet connection? Only good for running simple web-based apps in Google's cut-down, stripped back Chrome OS?
Well, it might be time you revised your opinion. The Toshiba Chromebook 2 (CB30-B-104) is a great showcase for what a low-cost Chromebook can be and do, giving you a brilliant, lightweight laptop at a price you might not believe.
Luxury looks – at a distance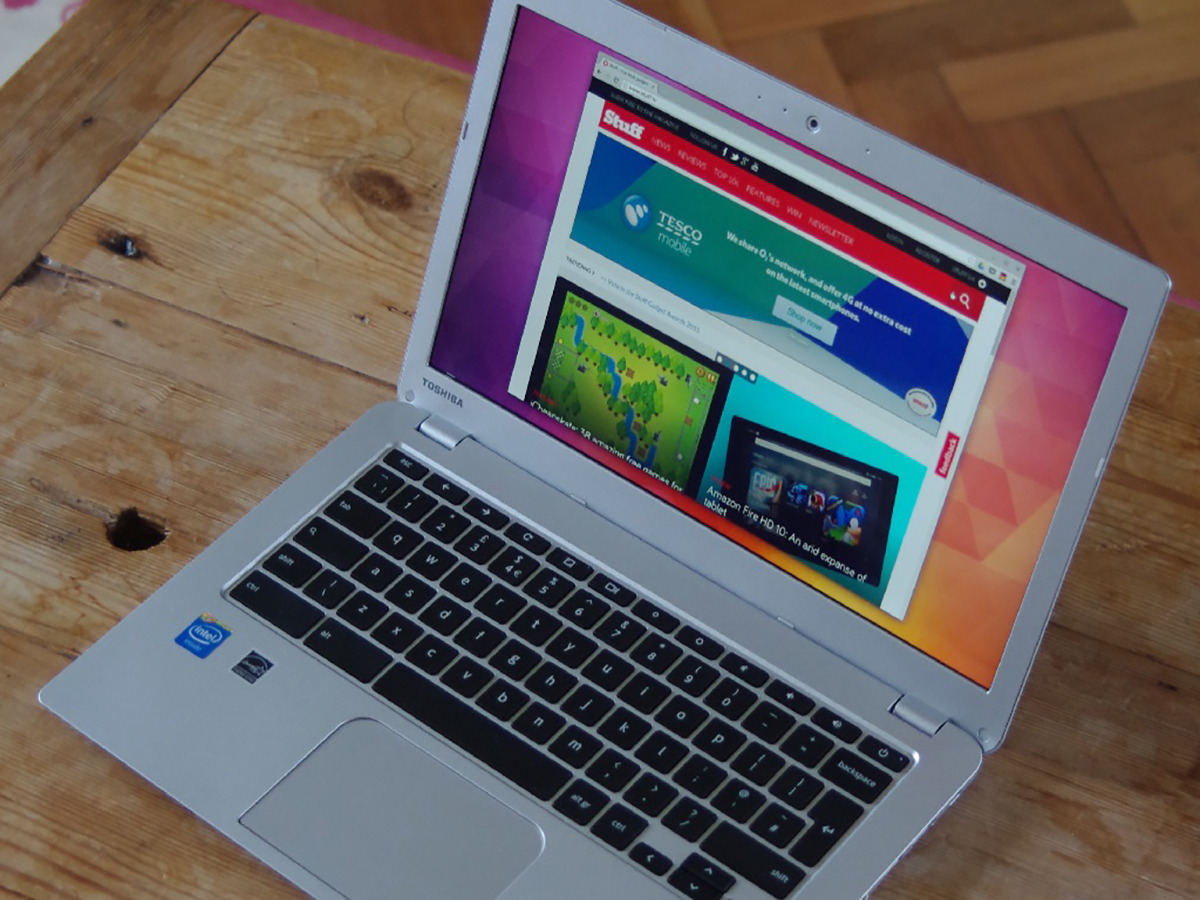 From a few metres away you could mistake this Tosh for a 13.3-inch ultrabook, thanks to its sleek looks, thin frame and sculpted lines. Get up close and the illusion evaporates, as it becomes clear that all the silver stuff is plastic and that there's no flashy aluminium to be found.
Despite this, the Tosh doesn't feel half-bad. Its base is solid and the hinge robust, while if the lid is as flexible as a TOWIE star's morals, at least it has an industrial sort of texture that makes the laptop easier to grip. The other good thing about all this plastic is that it makes the Chromebook light.
Less than 2cm thick and tapering away towards the edges, it weighs in at just 1.35kg. There aren't all that many 13.3-inch ultrabooks that can claim that, and it makes the Tosh the kind of laptop you can happily lug around all day.
Like most Chromebooks it's absolutely silent, with no fan or hard disk inside the case to make a noise. It does get a little warm on the base as a result, but not to the extent that it becomes at all uncomfortable.
Feeling good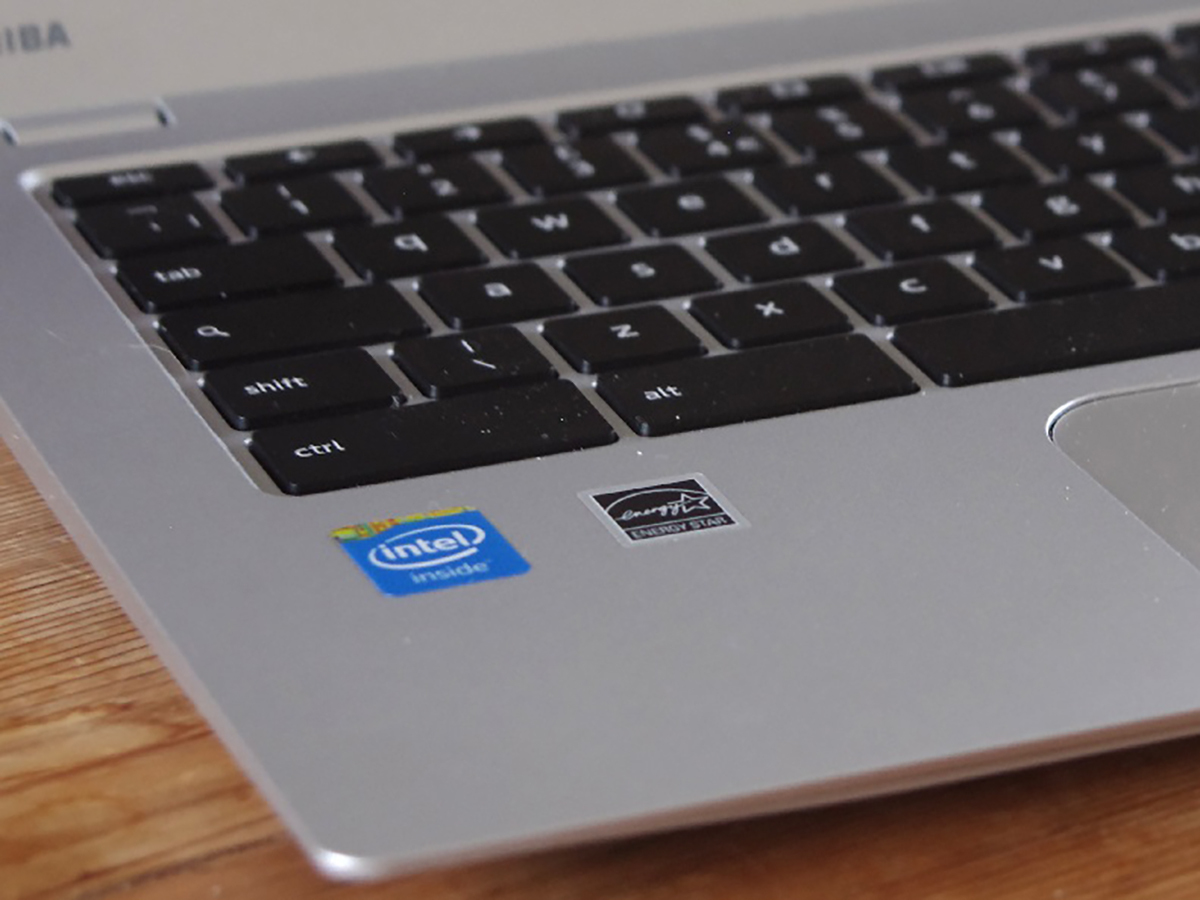 So the Chromebook 2 may not be half as cheap-looking as you'd expect, but it must be a nightmare to work on, right? Surprisingly, no.
The area below the keyboard is big enough to support your wrists while typing and the low profile makes for a comfortable angle. We're not so keen on the trackpad's textured surface, but it's big and accurate, handling Chrome OS's multi-touch gestures with ease.
The keyboard, meanwhile, is better than the ones you'll find on most budget laptops, with flat low-profile keys and a light but positive action. I've browsed the web, adjusted photos and written several lengthy pieces on the Chromebook since it appeared, and while the lack of a delete key takes some getting used to – Chromebooks sport an on/off button there instead – I haven't had much trouble adjusting.
In fact, I've had more grief from some lightweight Windows laptops.
More pixels than you might expect
The biggest delight this Chrombeook offers is its screen though. Up until now even 13.3-inch and 15.6-inch Chromebooks have sported bog-standard 1366 x 768 resolution screens, with only the gorgeous but pricey Google Chromebook Pixel offering anything more.
Yet the CB30-B-104 comes packing a 1920 x 1080 full HD display. It's not a bad one, either. Put it side-by-side with an £850 ultrabook and it's not as bright, the colours aren't as vibrant and the viewing angles aren't as wide, but in isolation it seems crisp, bright and punchy; easily good enough for general web use or watching catch-up movies and TV.
Sound isn't half-bad, either. The Skullcandy-branded speakers might struggle with the subtleties of music, but there's enough depth and general welly to make your films and shows sound half-decent. Want better? Connect a Bluetooth speaker or plug in some headphones on the right-hand side.
Is software a problem?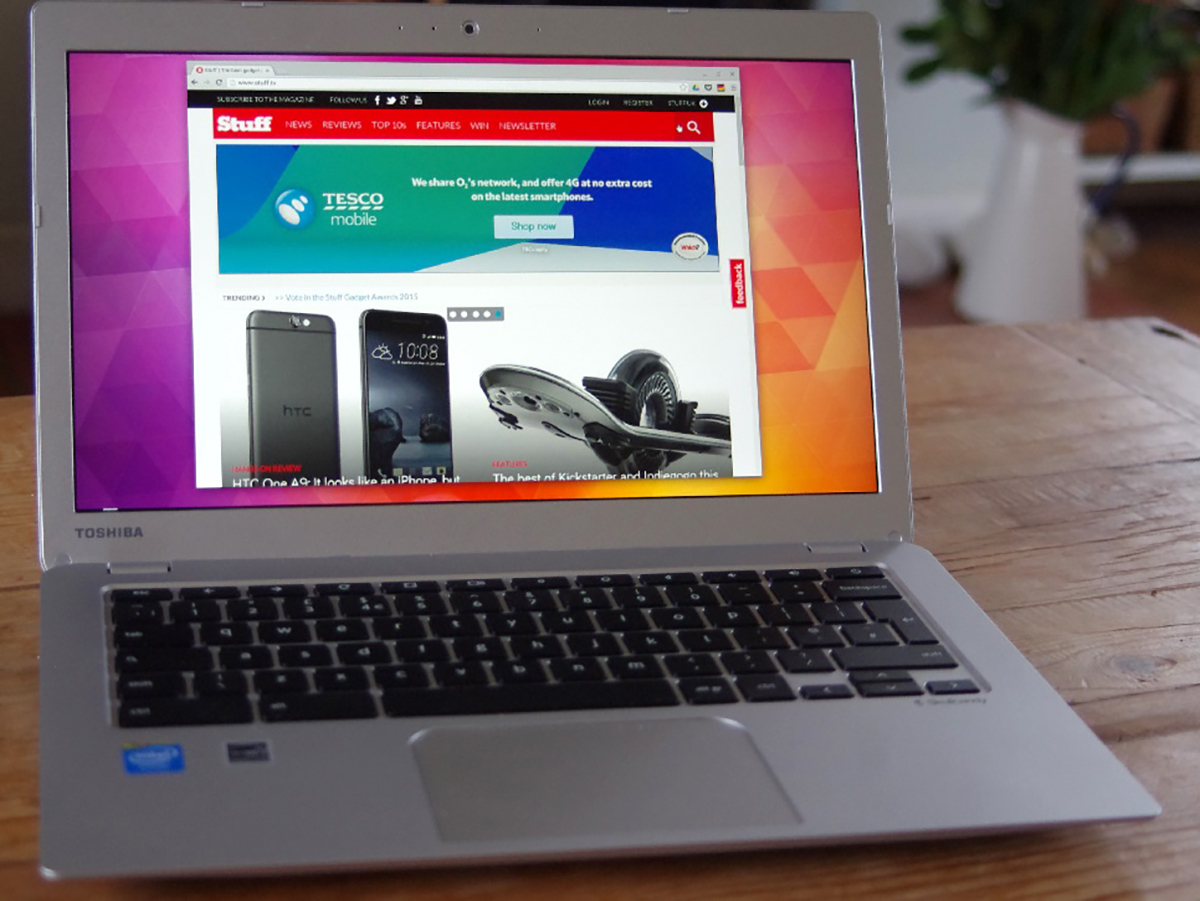 Software is the usual sticking point for Chromebooks. Not only is there a comfort factor about Windows or OS X, but prospective users worry that Web-based applications won't cover their needs and that the Web-focused nature of Chrome OS will leave them high-and-dry if they don't have a live connection.
All of this used to be true, but Google has made big changes over the last few years. It's introduced a slick, effective and more conventional interface complete with windows, a desktop and a toolbar, while also adding support for working offline and syncing when you're back online.
What's more, the growth in cloud-based services has made life easier for Chromebook users. Google's own Gmail, Docs, Sheets and Slides apps are the obvious choice if you need to get some work done, but Microsoft's own Office Web apps can be used through OneDrive if you prefer. Evernote, Wunderlist, To-Doist, Dropbox and more all work perfectly well with Chrome, and you can use Pixlr or Polarr for photo-editing.
Want entertainment? Spotify, Netflix, iPlayer and Rdio will work on Chrome OS, while Google's own Play Music and Film and TV services also work fine. Chromebooks also play well with Chromecast video streamers, with controls integrated in the interface itself.
Does this mean a Chromebook could be your one and only laptop or replace your PC? Not on your nelly. The limited amount of storage here – just 16GB – is an issue, and while you can work offline in many apps, you're still using online services most of the time. That's fine when you're just checking your email or sharing a few photos, but not when you're trying to edit your latest GoPro video or dragging holiday snaps from your DSLR.
Chrome OS scores big when it comes to getting a few things done quickly, but a Chromebook isn't as versatile or powerful as a Windows or OSX machine.
There's not much speed, but does it matter?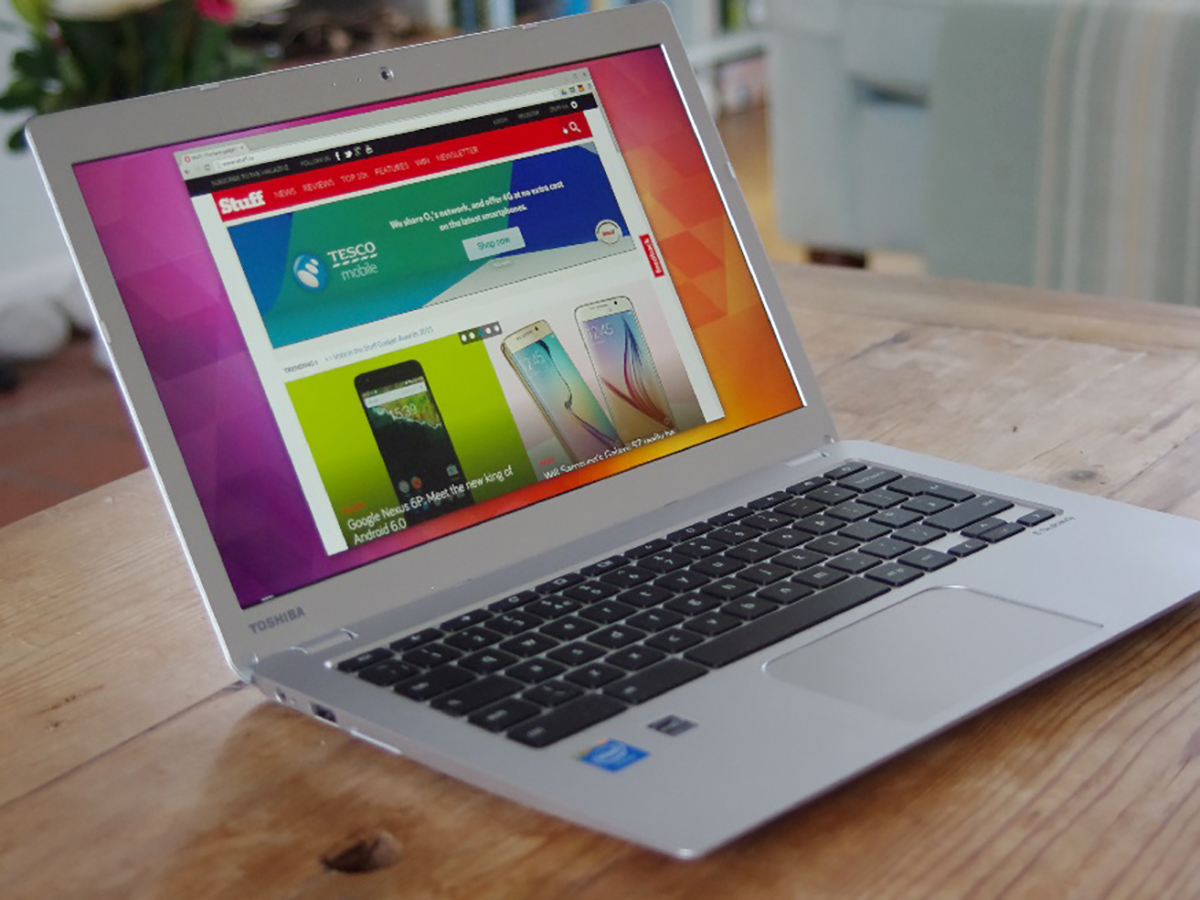 That's partly because Chromebooks aren't powerhouses. Most come with a slowcoach Celeron processor and 2GB of RAM, yet still start faster and feel snappier in general use than Windows laptops with a stronger spec. This Tosh has 4GB of RAM, but its Celeron N2840 processor is totally par for the course.
Most of the web apps you'll be running are pretty light on system resources and the only thing that will really stretch the processor is games. Gaming has always been a Chromebook weak point, and that's not going to change any time soon. While there are some cool games like Bastion that will run from the browser using the Chromebook's own hardware, the experience generally isn't that great.
If you want games buy an Android tablet or save up for a half-decent Windows laptop. A £249 Chromebook isn't going to be up to the job. That said, this Tosh was born to run and run.
Budget Windows laptops have tended to have appalling battery life, but the Chromebook 2 managed a little over seven hours of looping 1080p video from a single charge. We've seen premium ultrabooks that can't match that.
So, where's my stuff stored?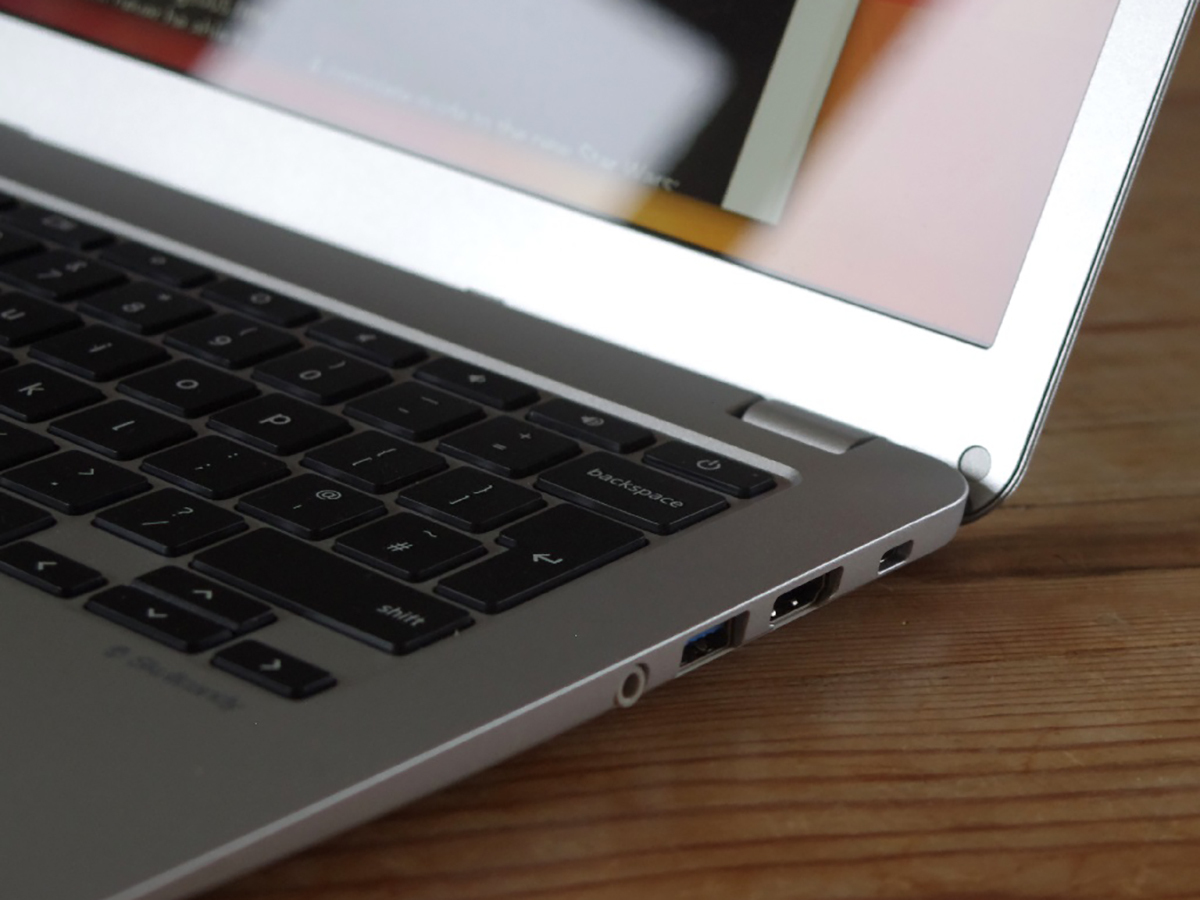 As we mentioned, the Chromebook only has 16GB of storage, some of which is occupied by the OS and some of which will be snatched immediately by Google Drive to store files it thinks you might use next.
This is kind of how Chrome OS works – you don't store files on a hard disk, but on Google Drive or other services in the cloud, and Google Drive tries to be smart about syncing the stuff it thinks you might need fast or offline. This makes additional storage a bit of a waste, though you can connect a USB memory stick or hard disk to one of the two USB3 ports if you wish.
Otherwise the Tosh has an HDMI output and an SD memory card slot. There's one final surprise when it comes to wireless connectivity. Unlike most budget laptops, the Chromebook stretches to the faster 802.11ac standard, which is a boon.
Toshiba Chromebook 2 (CB30-B-104) verdict
We all know that Chromebooks aren't for everyone, but if you're after a cheap, lightweight laptop for basic web-browsing, email and word processing then the CB30-B-104 is practically unbeatable at this price.
It has a great screen, decent ergonomics and starts fast and stays snappy in use. Plus, its low weight and good battery life make it an effective option for moving from place to place – particularly if you can rely on having Internet connectivity when you get there.
Chrome OS has limitations, of course, and it's down to you whether these are acceptable or dealbreakers. This is, however, the best Chromebook bar the Chromebook Pixel, and at literally one-third of the price it's arguably the better deal.
Tech specs
| | |
| --- | --- |
| Operating system | Chrome OS |
| Screen | 13.3in IPS LCD with 1920 x 1080 resolution |
| CPU | Intel Celeron N2840 2.16GHz |
| GPU | Intel HD Graphics |
| RAM | 4GB |
| HDD | 16GB |
| Optical drive | None |
| Connectivity | Wi-Fi 802.11ac, 2x USB3, 3.5mm, HDMI |
| Dimensions | 320 x 214x 19.3 mm |
| Weight | 1.35Kg |
Stuff Says…
Toshiba ups the screen and sound – and creates the most desirable Chromebook to date
Good Stuff
Light, portable and practical
Excellent full HD screen
Starts up fast and feels nippy
Good connectivity and battery life
Bad Stuff
Not at its best offline
Limited storage