Toshiba Satellite Click Mini review
The tiniest hybrid tablet in town - for better and for worse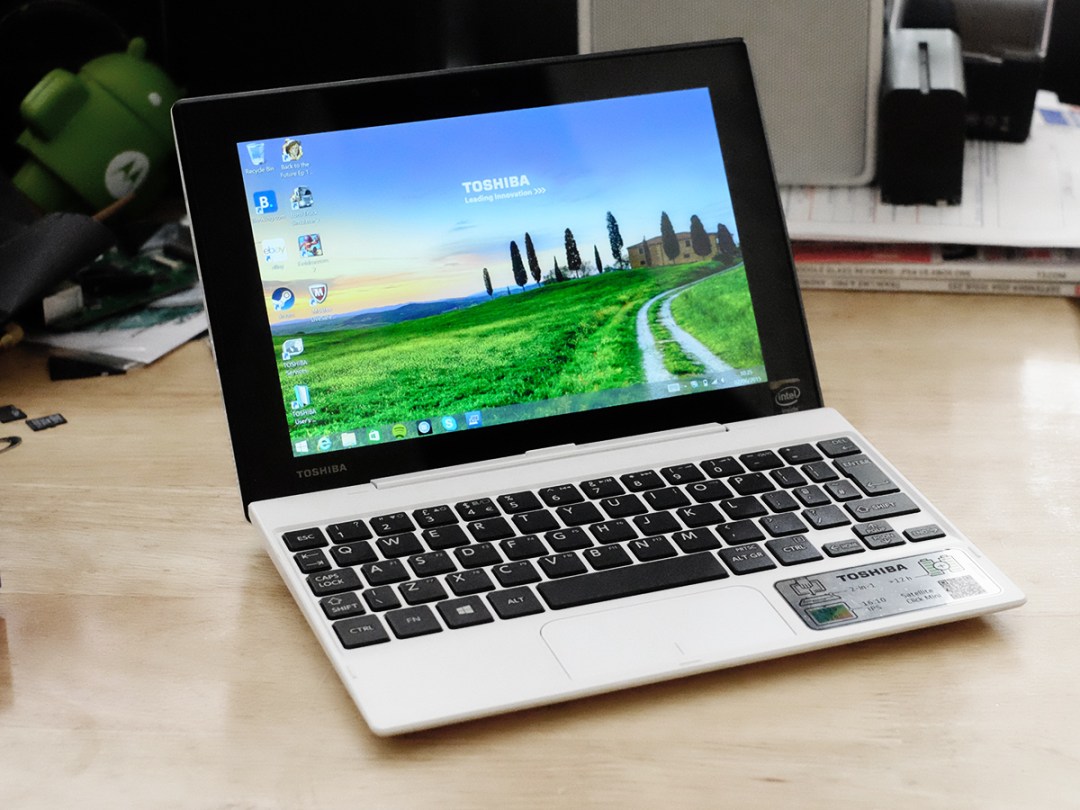 Some areas in tech move faster than others. Phones push forward so quickly that they now have features and power we can't even use yet, but the pool of budget tablet-laptop hybrids is a bit stagnant.
Asus set the standard with the Transformer Book T100 in 2013. But since then? Not all that much has changed. Sure, the Surface 3 is pretty great, but that's over £500 once you add the keyboard so isn't properly cheap.
The Toshiba Satellite Click Mini is, though.
For £250 you get the full Windows experience, a battery-packing keyboard dock, and the first ultra budget tablet-laptop hybrid to boast a Full HD screen. On paper it's a real budget belter, but it's not without compromises.
Netbook redux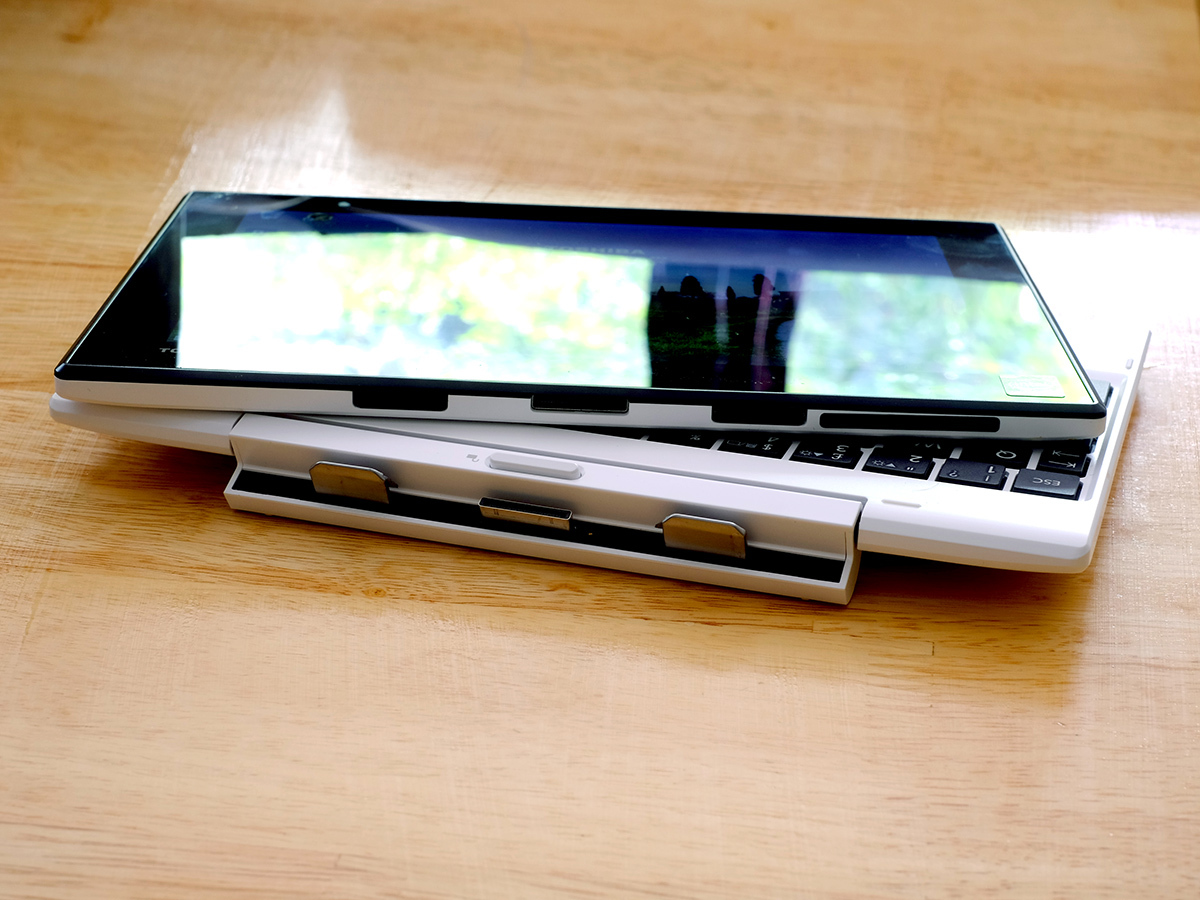 The first thing you'll probably notice is, crikey, that screen is a bit small. Despite having a frame that looks as though it could probably house a 10in screen, the Toshiba Satellite Click Mini only has an 8.9in display.
Remember those netbooks that were all the rage back in the late noughties? It's a bit like one of those.
But of course the Toshiba Satellite Click Mini is a hybrid. There's a button just above the keyboard that releases the screen, letting it work as a tablet on its lonesome.
As with any hybrid, you have to ask whether you'd really want to use the Toshiba Satellite Click Mini as either a tablet or a laptop. So would you? Just about, but you need to sidle up to this little hybrid with the right expectations.
Not for giants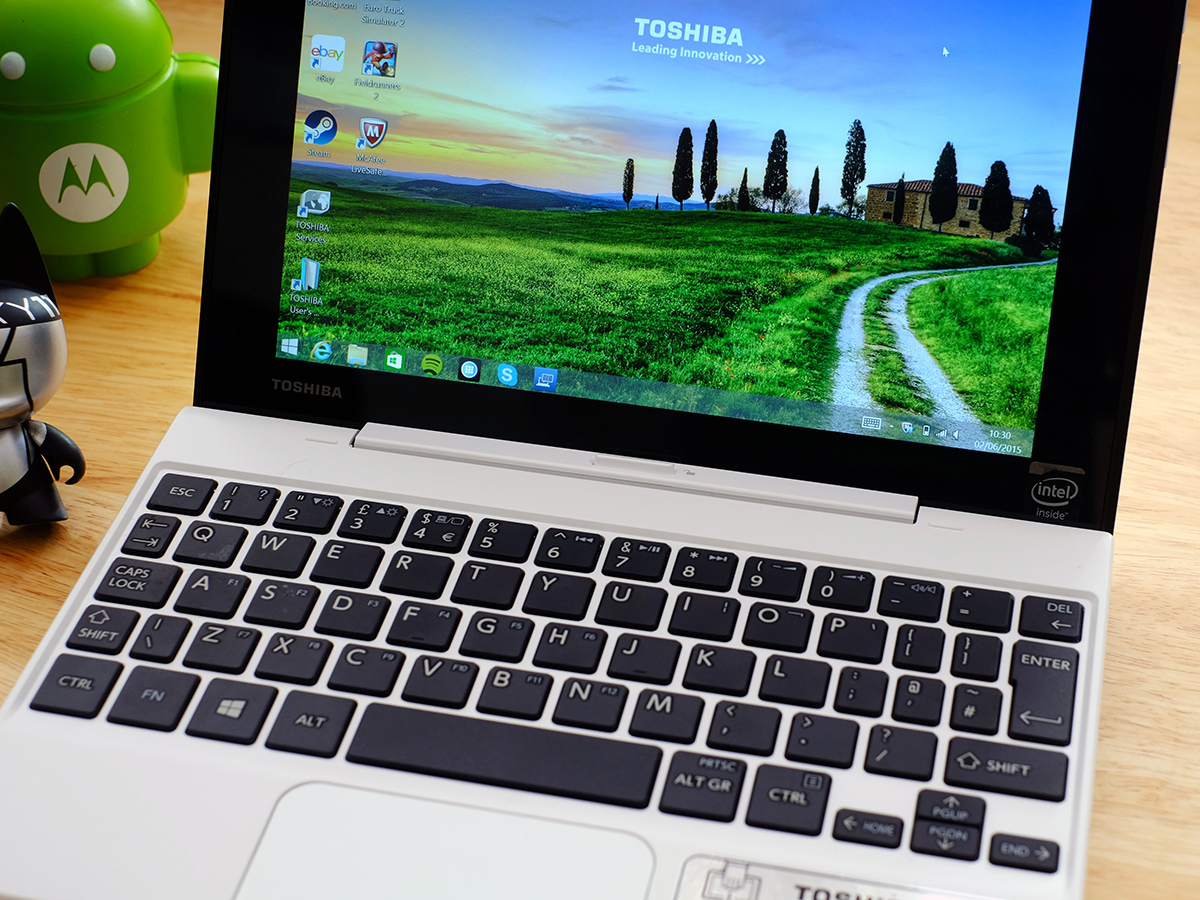 The teeny size of the Toshiba Satellite Click Mini makes it a bit cramped to type away on for long periods and, just as important, looking into the display feels like peering into a window that's a bit too small for its own good. It's a bit like having to sleep on a single bed after you've been kipping in a double for years. Fine for a less luxurious holiday or the odd night, perhaps, but is it what you want every day?
It really is just an issue of pure size, too, because the Toshiba Satellite Click Mini has a screen that's in one way significantly stronger than its two obvious, older rivals, the Asus Transformer Book T100 and last year's Acer Switch 10. Where they have 1366 x 768 pixel screens like entry-level laptops, this one has a 1920 x 1200 pixel screen.
Having loads more pixels in a smaller display makes the Toshiba Satellite Click Mini the sharpest hybrid at this price – by quite a way. I just wish the screen was also a smidgen bigger.
This isn't a top screen in every respect, either. Colours are a little muted, and off-kilter white balance means they're not entirely accurate either. There's also a texturing to the top layer of the screen that makes it look a bit mottled. To my eyes it looks like the effect of the touch layer on top. And it's a high-gloss screen, too, so you get plenty of reflections when using it outside.
When you consider how cheap this hybrid is, the screen isn't too bad at all. It's just not the miracle it looked like on the spec sheet.
The key issue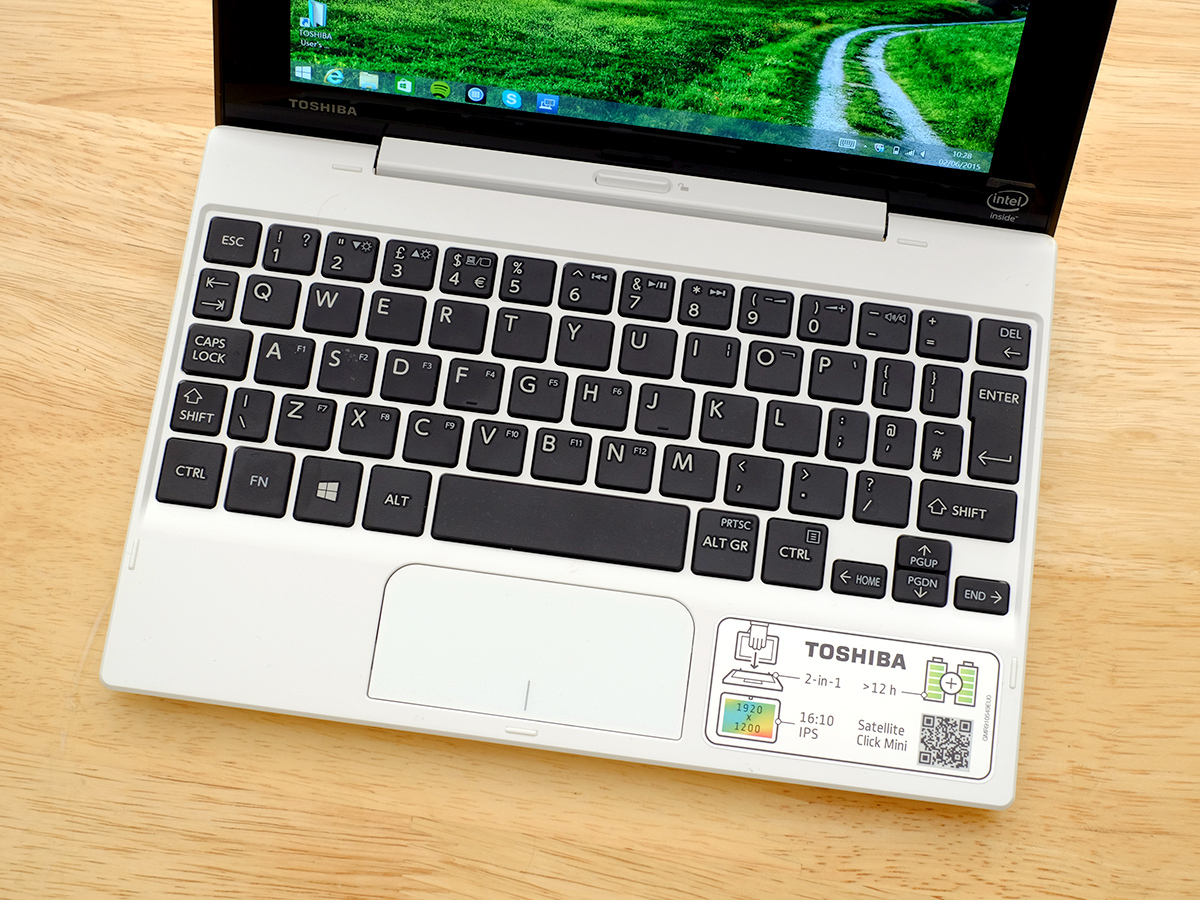 The other side of the Toshiba Satellite Click Mini's tiny size concerns the keyboard and trackpad. Many hybrids these days use full-size main keys, but that's just not really possible with an 8.9in screen frame. The keys here are around 2mm less wide and less tall than the industry standard.
That might not sound like much, but when it's spread across the whole of a Qwerty board it can make your hands touch when poised them in the normal typing position. Not really what you want, is it?
Then there's the question of where to rest your hands. As the keyboard surround is so tiny, it's not actually big enough to fit your palms on. To be fair to Toshiba, it has absolutely done the best with what it has to work with. But make sure you keep this in mind before deciding a 9in hybrid is for you. As someone who types thousands of words out in the field (sometimes literally) every week, I find it a bit too cramped.
After accepting the slightly cramp-tastic typing feel, the only bit that continues to grate after a few days is the trackpad. It is, no surprise, tiny, but also momentarily unresponsive at times. That gets annoying. It also uses pretty aggressive palm rejection, meaning you can't use the touchpad while pressing a keyboard key. And I've not been able to find a way to switch it off in the software, which isn't good news for the Toshiba Satellite Click Mini's gaming potential, without plugging in a mouse at any rate.
At least there's a touchscreen to help out. Even when the keyboard is attached, you can still use the screen to flick around the interface and any web pages you might be cruising through.
Extra, extra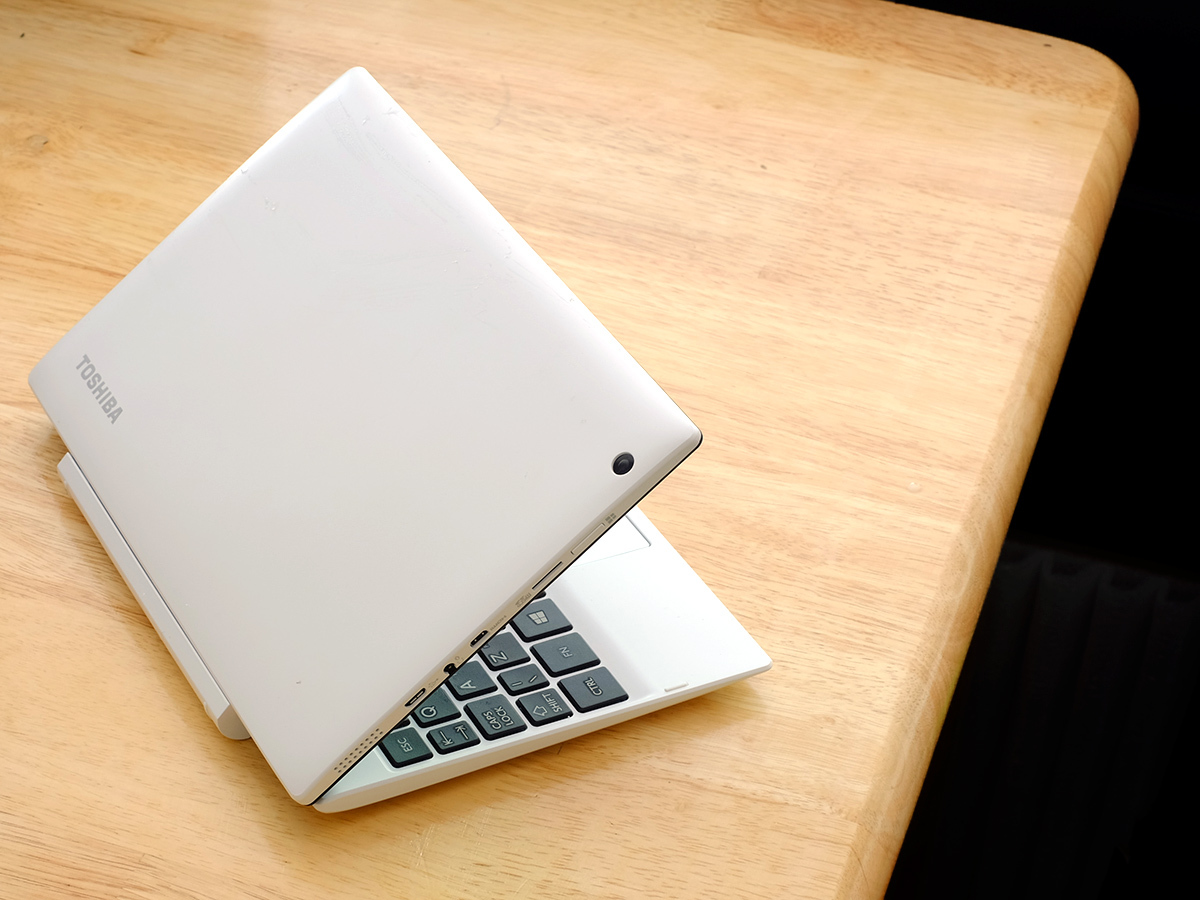 Every part of the Toshiba Satellite Click Mini is a balancing act: there's not much wiggle room on a device this small and cheap. Toshiba seems to know this, because while the all-plastic shell isn't going to wow anyone, it certainly does try to pack in an awful lot of extras.
Just check out its sides. You couldn't really ask for better connectivity. Not only does it have a full-size USB on the base, letting you ditch the naff trackpad by plugging in a mouse, there's a micro HDMI video output, microUSB for charging and data transfer and two memory card slots.
Yep, while the £1050 MacBook 12in doesn't even offer a single card slot, this one has two: a microSD on the screen and a full-size SD slot on the keyboard base. You can even use them both at the same time.
Of course, with only 32GB on the internal storage, only around 18GB of which is available, a decent card is a must unless you're only going to be browsing and typing on the thing.
Has a thing for knees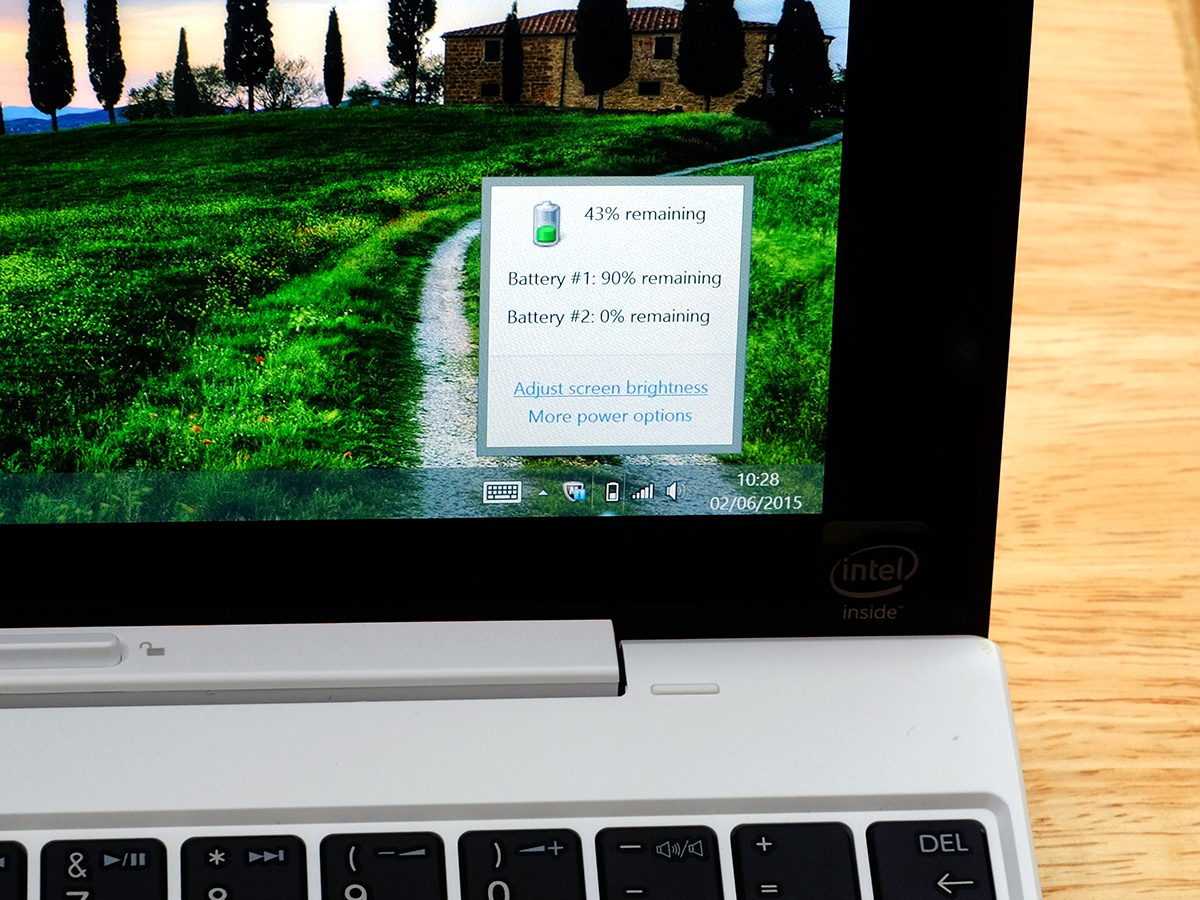 Back to the good stuff, the slots are by no means the end of the thoughtful bits – the hinge design is also smart. Many hybrids tip back as soon as you try to use them on your knees without support. But this one doesn't. Somehow it just stays right where it should be. I guess being stubby does have some benefits. Part of this is because the screen only actually tilts back about 110-115 degrees, but that's still better than ending up with a smashed screen lying on the floor of a train carriage.
There are also batteries in both the base and the screen. Together they'll get you stamina of up to 12 hours. You'll get all-day use out of the Toshiba Satellite Click Mini unless you're gaming, but I did find that it takes a good old while to charge. This is one of the issues with using 5V microUSB charging, convenient as it may be.
Then there's the core hardware. The good news is that the Toshiba Satellite Click Mini is a full-fat Windows machine and you can have a crack with running just about anything on it. But it certainly can't handle everything.
Splitting the Atom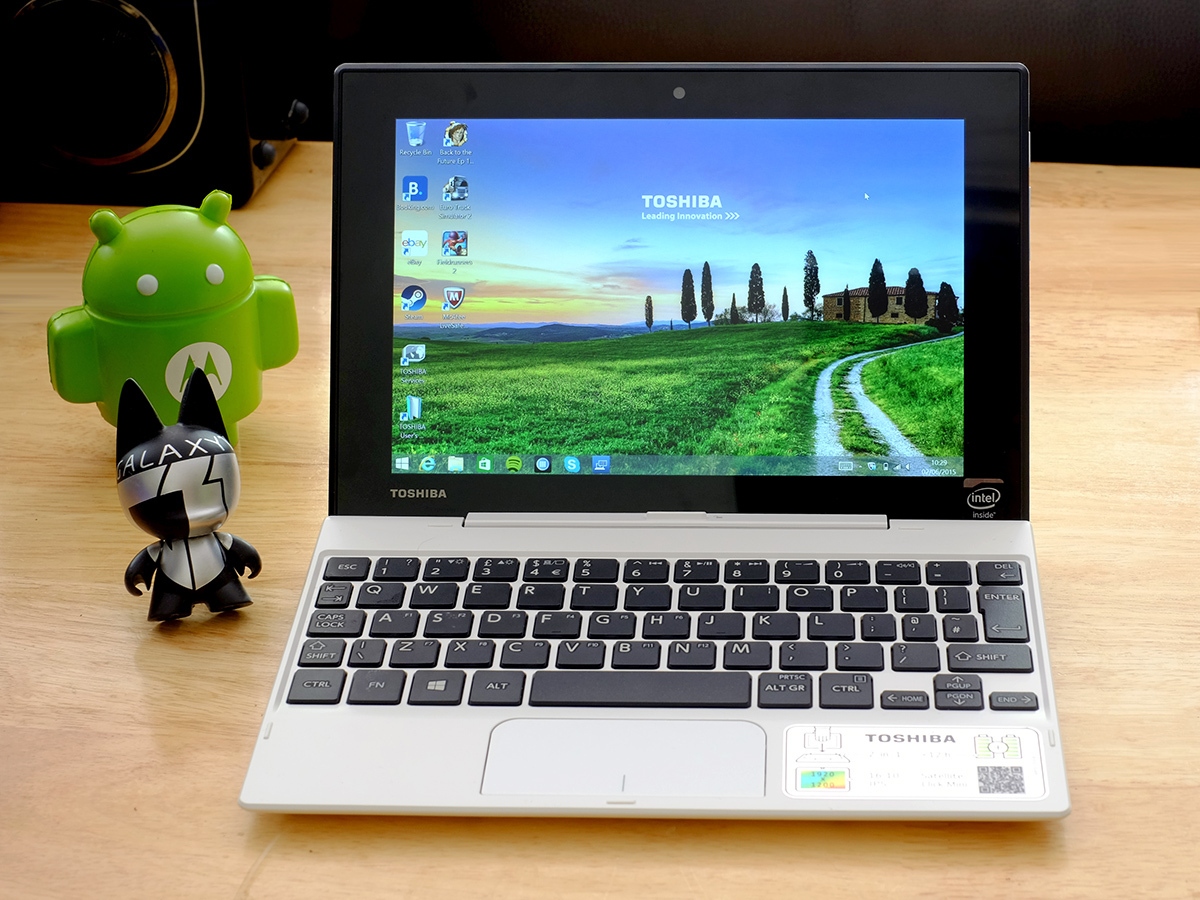 The Toshiba Satellite Click Mini has an Intel Atom Z3735F CPU with Intel HD graphics and 2GB RAM. In day-to-day use, it's the RAM more than anything else that'll show up the system's limits.
When you have a few web pages open, and perhaps have something running in the background, pages might scroll with a jaggedy motion. And switching between apps loses a bit of smoothness. 2GB RAM just doesn't go that far in a proper computer.
I do love how far you can push low-end computers like this these days, though, when a couple of years ago something like this might have run Windows RT, which could barely do anything. To really pile on the pressure I installed a few games, namely Euro Truck Simulator 2 (don't knock it 'til you've tried it), Back to the Future Ep1 and Fieldrunners 2.
ETS2 can challenge some actual gaming PCS, and sure enough it runs like a dog using anything but the lowest visual settings on the Toshiba Satellite Click Mini. However, drop down the visual fidelity and, if you want really smooth fps results, resolution, and it is playable. Back to the Future runs fairly well if you drop down the graphical extras to nil and Fieldrunners 2 works perfectly with the Toshiba Satellite Click Mini touchscreen.
Is it good for gaming? Of course not. But there's loads of stuff it can try to play that Android tablets and iPads just can't. It doesn't get particularly hot under pressure, and stays totally silent as there are no fans here.
Tablet test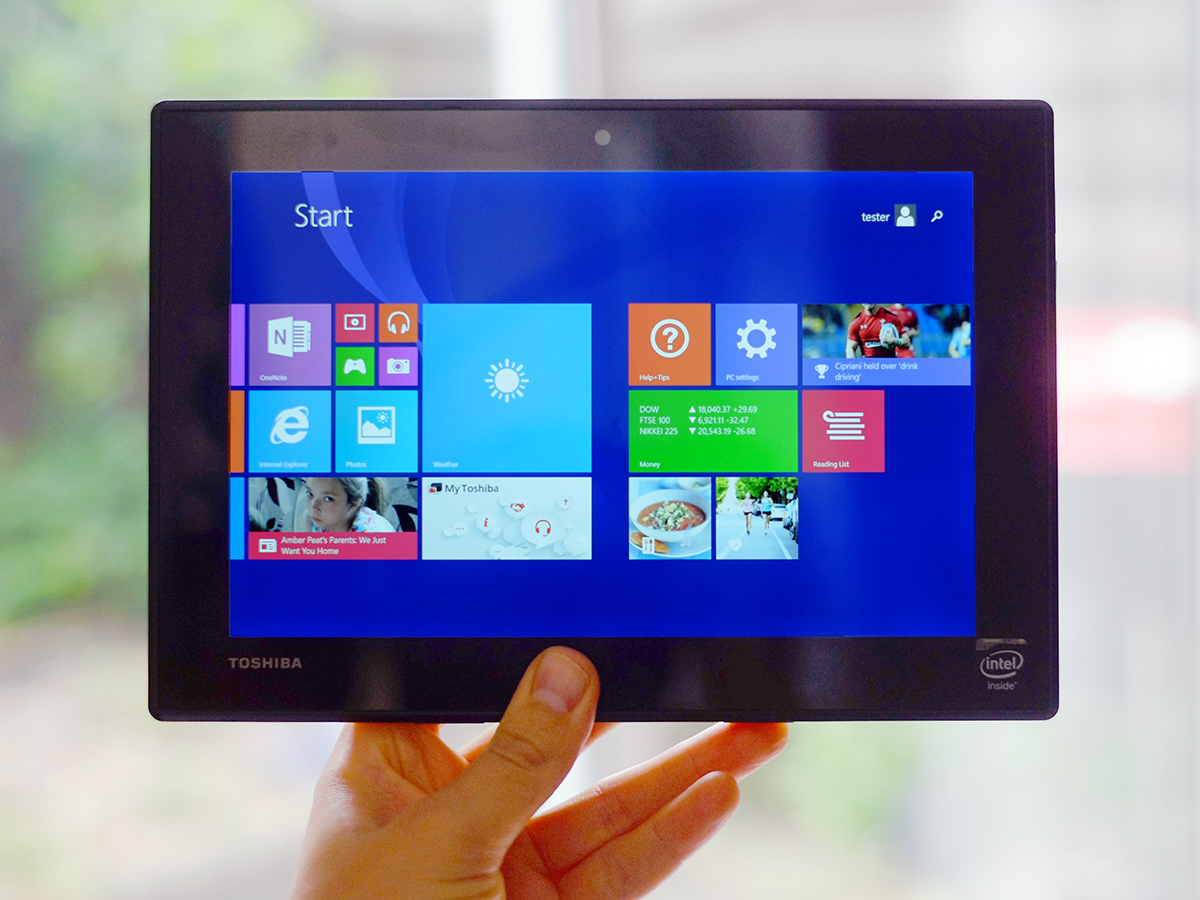 If you're buying the Toshiba Satellite Click Mini more for fun than work, it's good to have an appreciation of what sort of nerdy Windows potential this opens up. Because otherwise those expecting a tablet may find this just a bit more awkward than an Android or iOS.
Windows 8.1 still isn't all that well-optimised for use with a touchscreen, and things such as flicking the aspect of the screen show up both this and that a 2GB RAM device just isn't very slick. Browsing in particular feels a lot less smooth and quick when the Toshiba Satellite Click Mini is treated like a tablet.
Hopefully Microsoft will improve this with Windows 10, due for release at the very end of July 2015. The Toshiba Satellite Click Mini will get a free update, if you're betting on that.
Toshiba Satellite Click Mini Verdict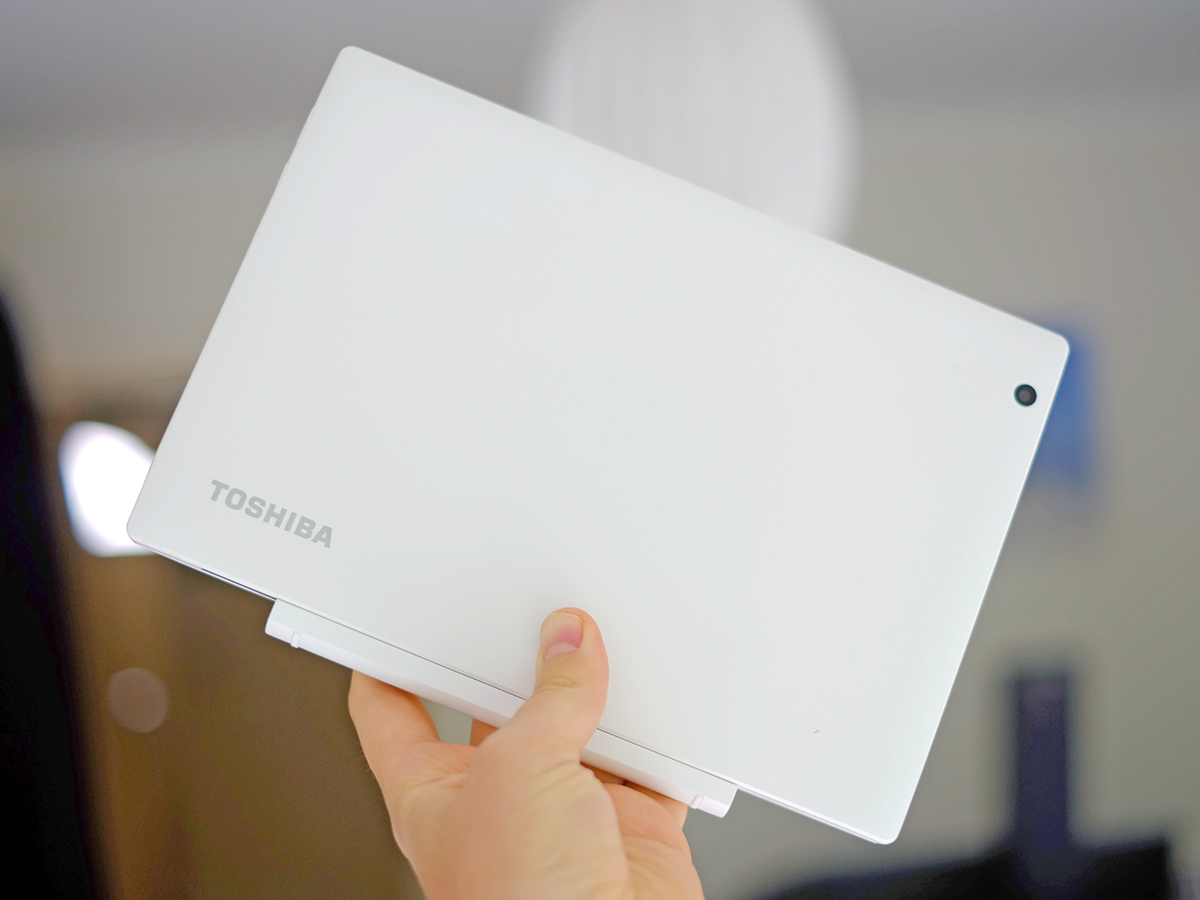 The Toshiba Satellite Click Mini does require a bit of patience, for a number of reasons. Was an 8.9in hybrid the right idea? I'm not too sure about that. But you can't deny that Toshiba has crammed a lot in for the money.
There are even stereo speakers, which sit on either side of the tablet part. They're fairly weedy-sounding, but at least they get you a bit of a sense of stereo.
Overall the Click Mini is a bit like what you might get if you took a netbook from the late-noughties, made the screen removable and updated all the insides and the screen spec. And maybe that's what some people are after.
However, if you're after something to type away on every week or even every day, you'll likely find it that bit too cramped. 8.9in-screen laptops feel tiny these days, and when you can snag 13in Chromebooks for £160, it's not as if there aren't plenty of other choices that leave enough cash for a separate tablet.
Working with such limited space means the Toshiba Satellite Click Mini really isn't for everyone. Perhaps it could be a winner for kids. Perhaps you only very occasionally need to work on the move and want to go as small as possible. If you're aware of the limitations inherent in the tiny chassis it could still be right for you.
Tech specs
| | |
| --- | --- |
| Operating system | Windows 8.1 |
| Screen | 8.9in IPS LCD glossy finish 1920 x 1200 |
| CPU | Intel Atom Z3735F |
| GPU | Intel HD |
| RAM | 2GB |
| Storage | 32GB |
| Optical drive | None |
| Connectivity | 802.11, USB 3.0, SD, microSD, micro HDMI, microUSB |
| Cameras | HD webcam, 5MP rear |
| Dimensions | 235 x 171 x 20mm |
| Weight | 0.98kg |
Stuff Says…
Does a lot for little cash, but too compromised by its tiny size
Good Stuff
Very affordable
High-res screen
Great battery life
Bad Stuff
Everyday performance just OK
Just too cramped for regular or prolonged use
Tiny, finicky trackpad