Ultimate Ears Hyperboom review: large and loud
It really will shake-shake-shake the room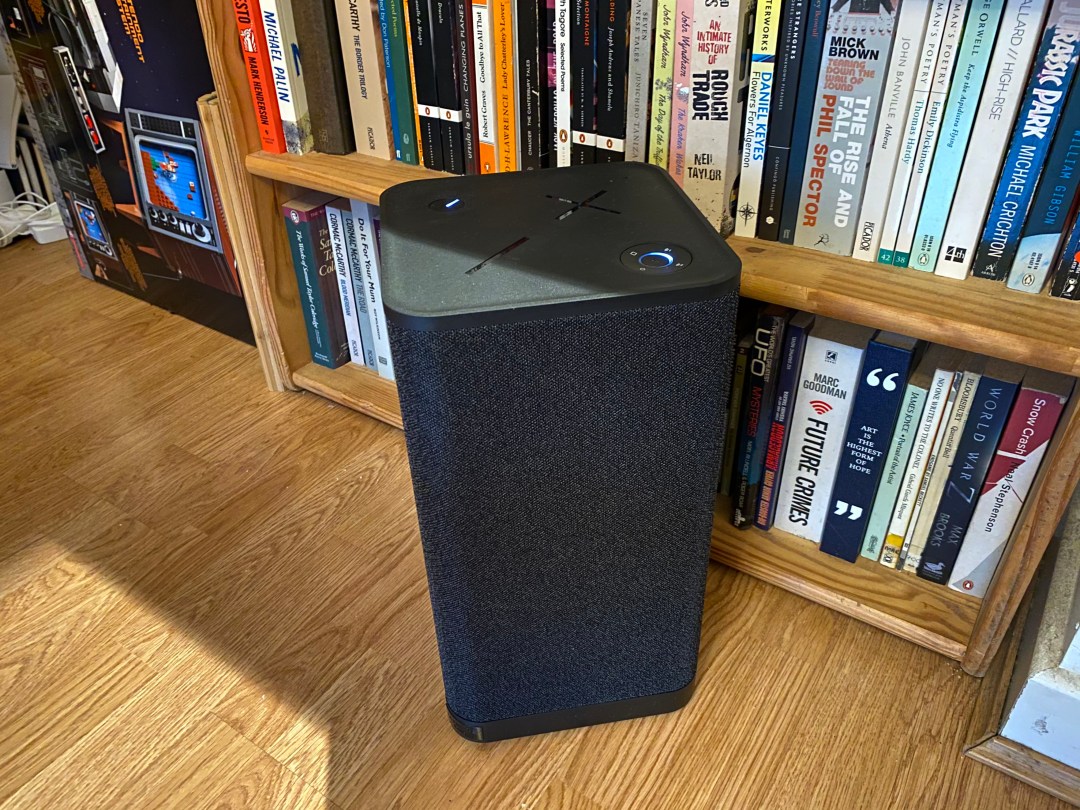 When that ever-curious fellow Joe Bloggs asks us what Bluetooth speaker to buy, we nearly always tell him to have a look at Ultimate Ears' ever-expanding range of rugged noise-makers.
From the bargain-priced music grenade that is the Wonderboom, right up to the Alexa-enabled Megablast, UE has a speaker for everyone. They're portable, colourful and, regardless of model, always stupidly loud.
At least, we thought they were loud. Sat next to Ultimate Ears' newest speaker, the Hyberboom, its other speakers are polite – meek, almost. The Wonderboom's most wholehearted bellow is drowned out by a nonchalant yawn from the enormous Hyberboom, which is now available in white as well as the well-worn shade of black.
We're talking three times the loudness and 10 times more bass than the Megaboom. This is a floor-shaking, turn-it-up-much-higher-than-halfway-and-the-neighbours-are-dusting-off-their-pitchforks, Very Loud speaker.
So what's it for? Parties of course! You know, those really fun celebratory occasions that are currently banned? Numerous inputs make sharing DJ duties easier than ever, so if you're looking for a big speaker for the big occasion (they will return eventually), the Hyperboom could well be it. But it's going to cost you.
Design: Big impression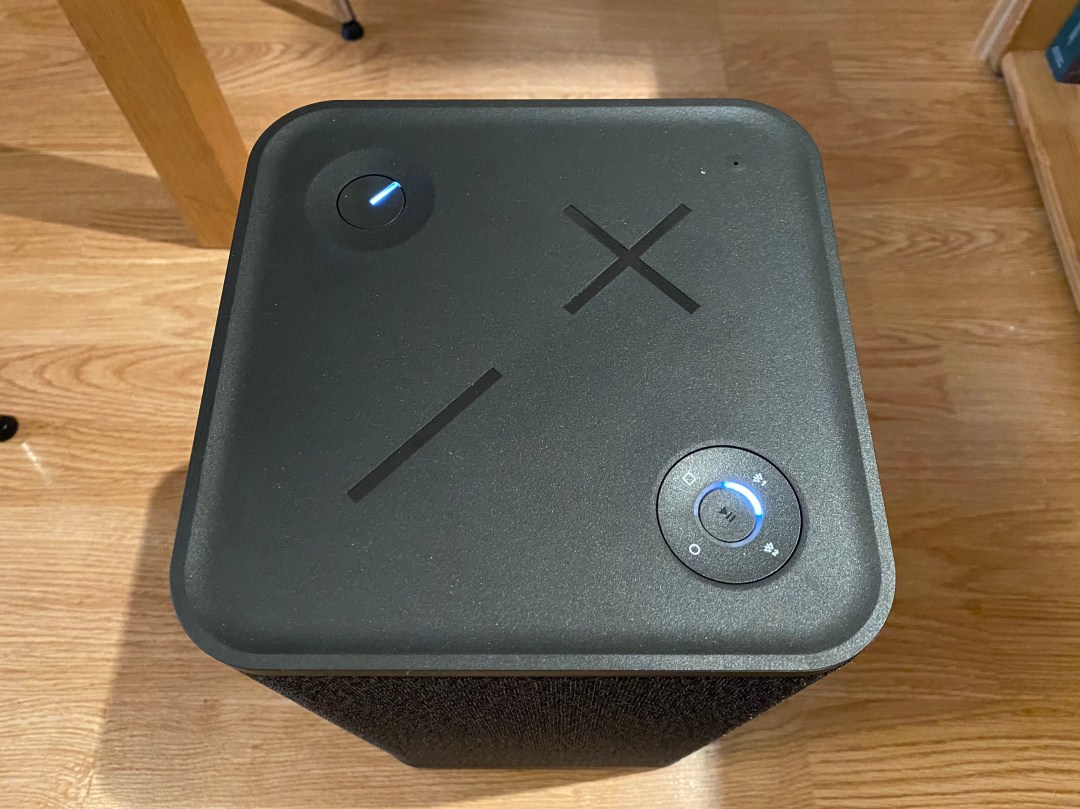 Ultimate Ears made its name with highly portable Bluetooth speakers. If you do somehow manage to ram the Hyperboom into your backpack, you're only going to get as far as the front door before toppling backwards. At 14.3in high, this is a tall speaker, and weighing in at 5.9kg, it's also a pretty heavy one. While it's completely road-ready if you need it to be, the Hyperboom is probably best left at home, and a pull-out rubber handle makes it easy to lug it between rooms.
UE speakers are also traditionally brightly colourful, friendly-looking things. In contrast, the mesh-wrapped Hyperboom's design makes it look like a more Serious Piece of Tech, which given its price, probably makes sense. Also a departure for the company is the speaker's shape. It's a cuboid, rather than cylindrical like most of the rest of the family. And while they're all 360-degree speakers, the Hyperboom is only capable of 270-degree audio. More on that in a bit.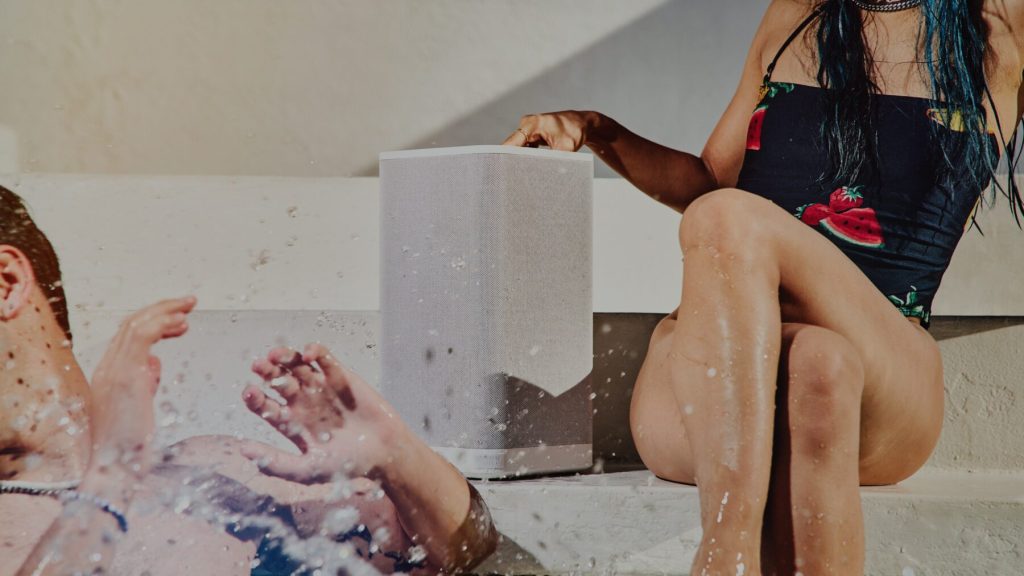 What have been brought over from UE speakers past are the comically massive (in a good way) plus and minus volume signs, which sit on a control panel at the top of the Hyperboom. To the left of these is the power button, and to the right the input buttoms, where you can jump between your two simultaneously connected Bluetooth devices, as well as aux and optical, the latter being theree should you want to use the Hyberboom as a TV speaker. Between them is the play/pause button, which can be long pressed to start one of your chosen playlists, as selected in the app.
The optical and aux inputs, a USB-out for charging your phone and power ports are hidden underneath a flap on the speaker's spine, just below the handle.
We quite like the Hyberboom's more industrial design. It's not as fun as the various Boom speakers before it, but will blend into any room, and an IPX4 water-resistance rating means you won't have to worry if your (currently imaginary) beer-swilling party guests get a bit too enthusiastic on the dancefloor.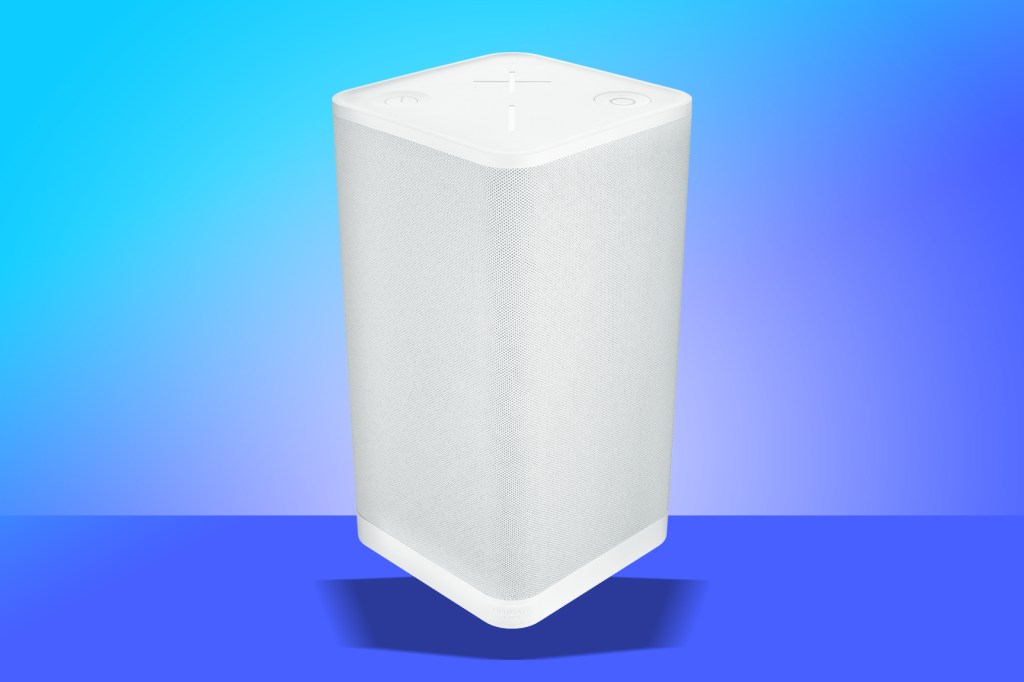 Features: With a little help from my friends
From what little we can remember of them, there's nothing worse than a party soundtracked exclusively by one person's awkwardly naff music choices. Happily, you'll have no such issues with the Hyperboom as your audio centrepiece.
At once, you can have four devices connected to the speaker, two via Bluetooth, one auxiliary and one optical. Hopping between them is as simple as pressing the corresponding button on the speaker, or doing it in the Boom app (iOS and Android), where you can fade in and out between devices. It works as well as you'd hope, and really does position the Hyberboom as the ultimate party speaker.
The app also allows you to 'partyup' with other UE speakers you have for a potentially terrifying multiroom setup, and it's where you're able to add one-touch playlists from your connected streaming services.
The other feature worth mentioning in the Boom app is a fairly comprehensive five-band EQ that you can fiddle with to your heart's content, or toggle between three sound modes: Bass Boost, Game/Cinema and Podcast. The Hyperboom also has an Adapative EQ, which automatically optimises its sound based on the environment it's in. This can be toggled on and off in the EQ section of the app (we'd recommend leaving it on).
It's a shame there's no built-in voice assistant support (the Hyperboom is a strictly Bluetooth-only speaker), especially at this price, although to those wary of how many of their gadgets are listening to them, that might instead be seen as a plus.
Performance and battery life: Loud and (very) proud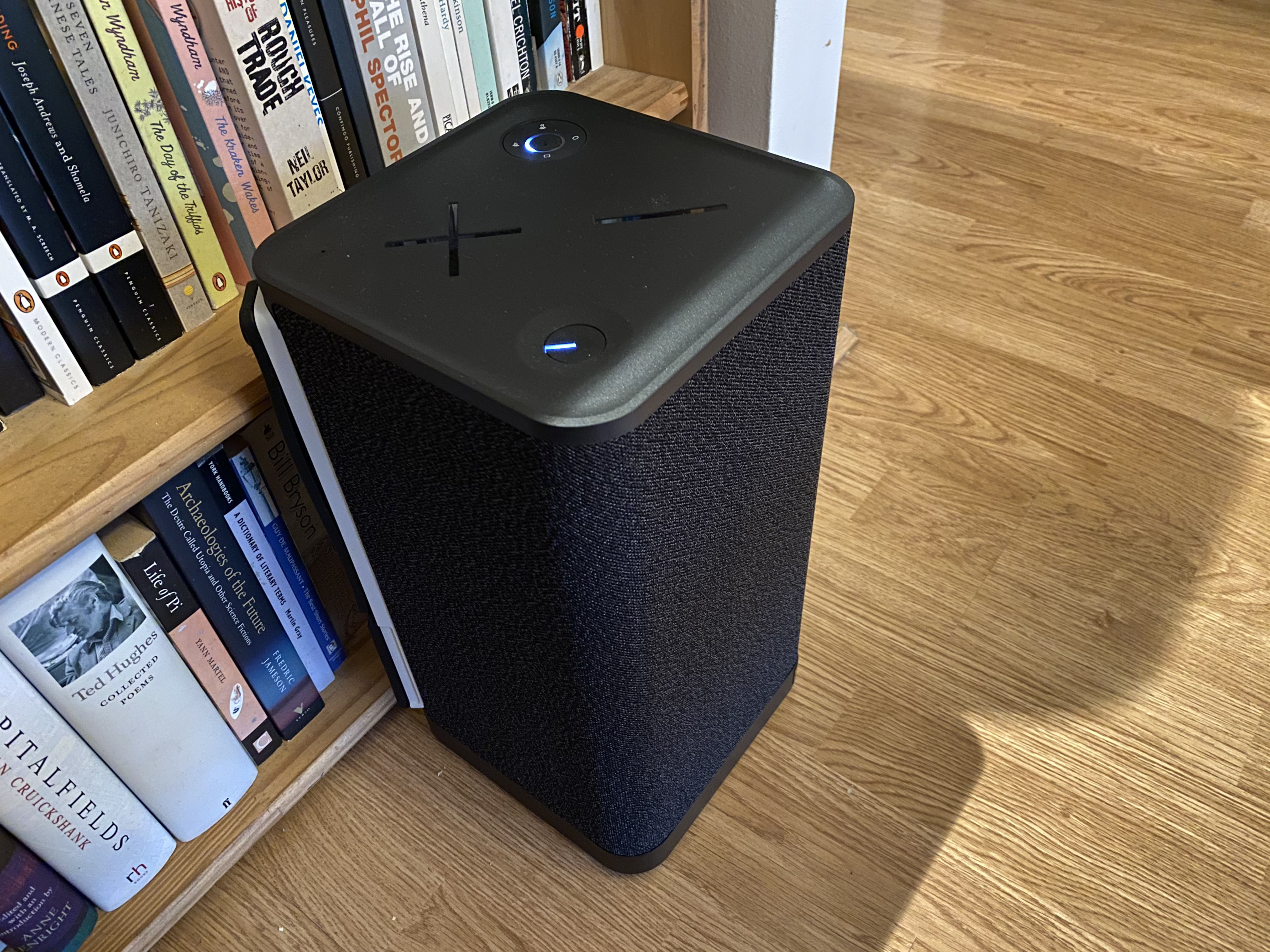 As we've mentioned, Ultimate Ears wants you to know that the Hyperboom is by some distance its biggest, bassiest and loudest speaker to date. And it more than lives up to the promise. In our third-floor London flat, we didn't dare push the thing beyond 75% of its max 100 decibels, but put it this way: this thing will fill a barn without breaking a sweat.
Of course, volume wouldn't be much use if the speaker didn't sound good, but it's good news here. While the Hyperboom is undoubtedly a big bass monster, at no point does the low end flood your tunes. Detail remains in tact as you increase the volume, and as a result the Hyperboom's soundstage is more satisfying than any Bluetooth speaker we can think of. That said, it costs a lot more than most of them too.
In our testing we blasted some old-school Frankie Valli and the Four Seasons, Van Halen's greatest hits (naturally), a few Anderson .Paak tunes and the excellent new Róisín Murphy album, all of which were handled excellently by the Hyperboom, which particuarly likes a hip-hop bassline. And the more daring you are with the volume slider, the more you're going to be rewarded sonically. A modest speaker this should not be.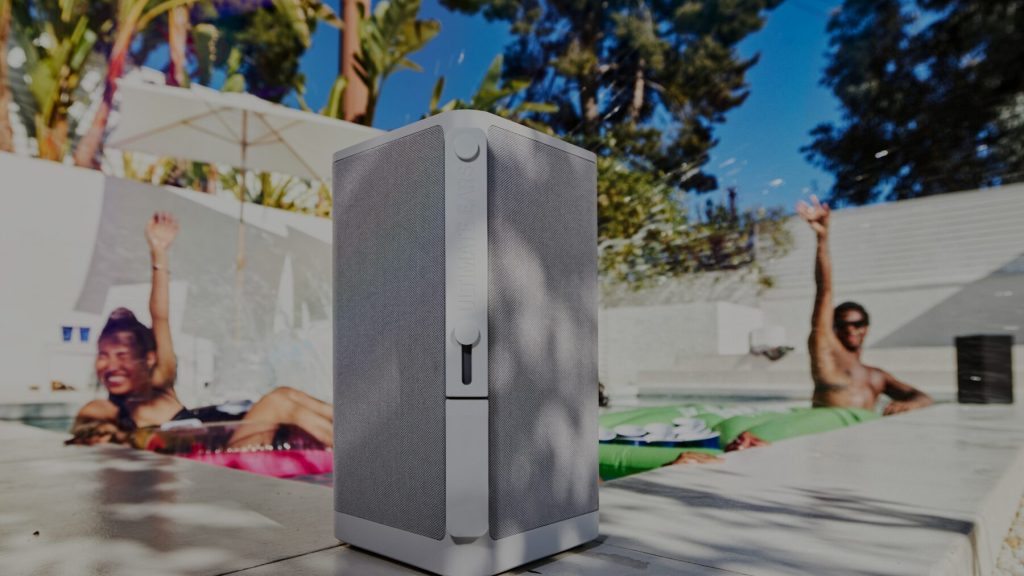 The Hyberboom is capable of 270-degree audio, unlike the 360 speakers UE is known for. It makes sense, as really the Hyperboom should be up against a wall anyway, and you're going to get a more impactful sound if it is.
As a monster of a speaker, you'd expect the Hyberboom to have a monster battery to boot. UE says 24 hours, and this seems to be accurate, provided it's kept at a reasonable volume. On a full charge, it'll comfortably go the distance at your (IMAGINARY) party.
Ultimate Ears Hyperboom verdict
If you're after the loudest portable(ish) Bluetooth speaker out there, the Hyperboom is it. And it isn't volume for the sake of volume. Put simply, if you're getting noise complaints, it won't be because your music doesn't sound good.
Couple its impressive performance with the brilliantly implemented music-sharing features, and the Hyperboom really does have a lot going for it. It looks good too.
But there's no getting away from it: for a Bluetooth speaker, the Hyperboom is on the expensive side, and if a Bluetooth speaker is all you're after, there are far more affordable options that will still do a fine job at a party.
And while this is technically a portable speaker, its size and weight mean you won't want it to be, so you have to ask yourself if you'd prefer it to a Wi-Fi smart speaker like the Sonos One or Amazon Echo Studio. Both high-fidelity, both excellent, both considerably cheaper.
But if money is no object and big sound is what you crave above all else, it's difficult to see anyone being disappointed with Ultimate Ears' latest. Party on…eventually.
Stuff Says…
Big, loud and lots of fun, if you can justify the price
Good Stuff
Brilliantly bassy
Switching between connected devices is a breeze
Handle helps with portability
Long battery life
Bad Stuff
No voice assistant support without connecting one
Bluetooth-only
Very expensive