Vertu Metavertu review: smartphone Web3 debris
Buzzwording its way out of your pocket.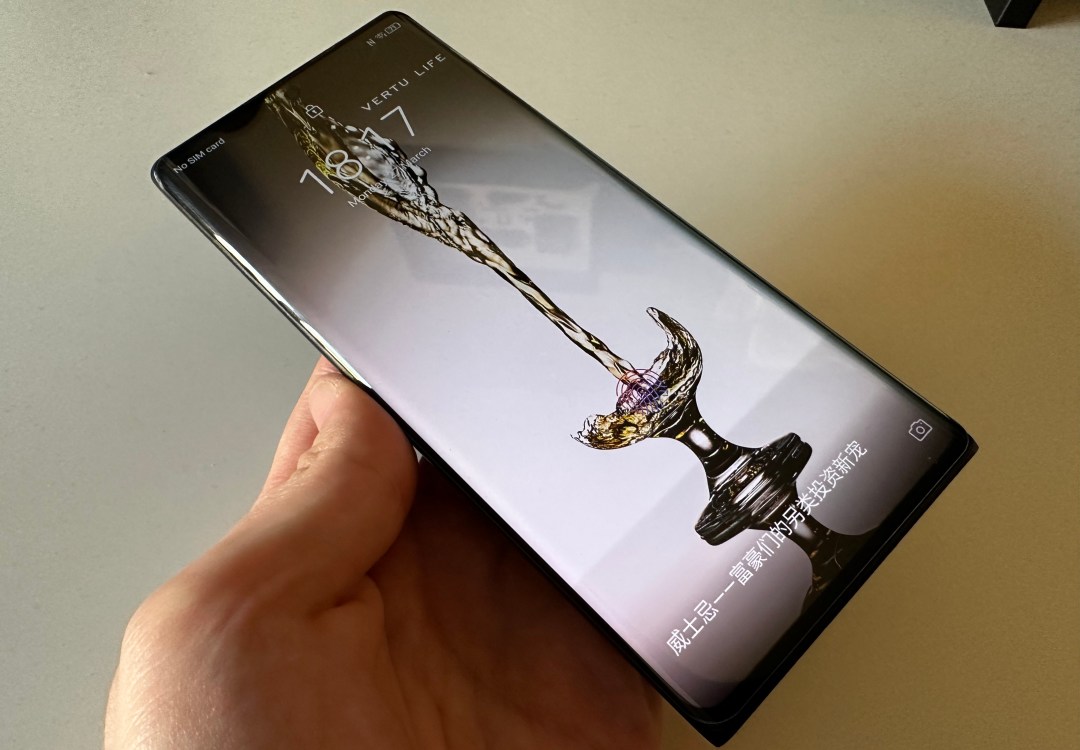 Web3 is one of the biggest tech buzzwords around right now. Did you know NFT was the most searched-for word of 2021? That's right, those obscenely priced monkey pics. It was inevitable the phone world would try to capitalise on the fad – we just didn't expect it to come from Vertu. The long-dormant seller of fashion-focused 'luxury' handsets is back with the Metavertu phone, which packs a suite of web3 apps and blockchain-connected services on top of more familiar smartphone features.
The 6.7in AMOLED screen, Snapdragon 8 Gen 1 chipset and triple camera system at the rear might not turn heads, but a selection of precious metal finishes including gold and platinum, bespoke diamond detailing service and an optional alligator leather finish that can bump the price from £2000 to well over £34,000 surely will. That sort of money could buy you almost every phone on our best smartphones list – does web3 help justify the cost?
Design: carbon fibre's back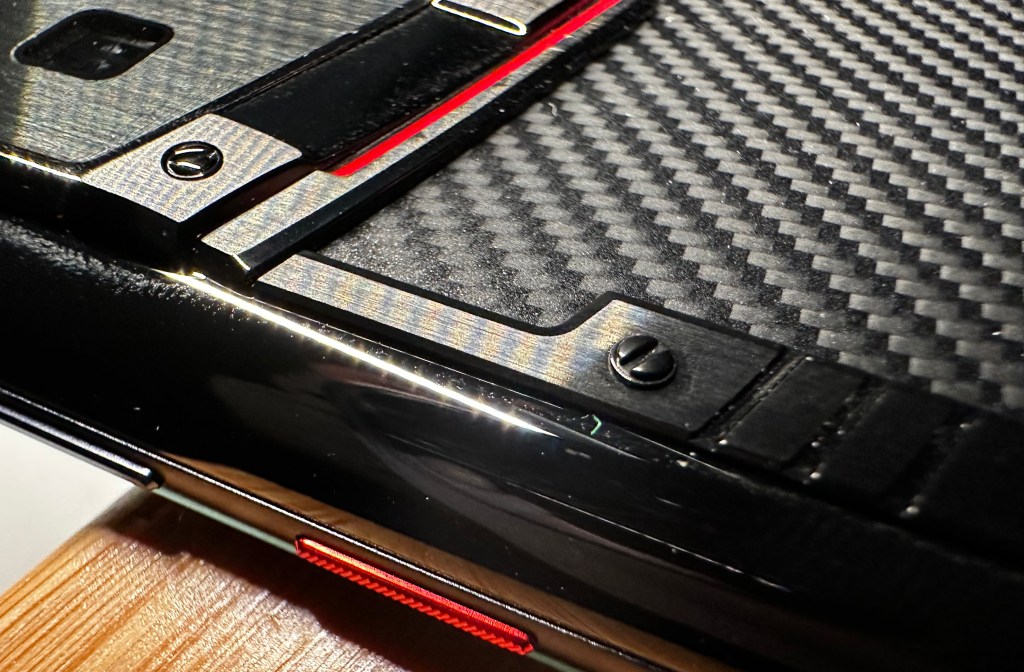 A boxy shape outlined by an aluminium frame? Sounds pretty typical for a phone, even one costing over £2000. Except the Metavertu mixes things up with a carbon fibre rear panel, surrounded by chunky metal trim that's held in place with flat-head screws. Add in some red trim and it's quite an eclectic mix.
We think it's got real steampunk vibes, and there's no doubt it stands out from the regular smartphone hoo-ha. And that's if you're merely happy to stick with the off-the-shelf looks. Vertu offers 23 different design options through its website, ranging from bright pink alligator leather to 18ct gold. Carrying one of those around will certainly demonstrate that you've got a colossal credit limit.
Around the front, the Metavertu swaps boxy angles for a curved edge display, which swoop neatly into the metal frame. A 72-degree curvature is quite extreme, so you'll notice a bit of glare from ambient light from most angles. These sorts of panels can also be prone to extra damage, but the rectangular shape of the device should offer some extra protection. It also comes with a pre-attached tempered glass screen protector, although with no official IP rating you'll still need to be careful around dust and water.
It doesn't stand out quite so much at the sides, with the usual mix of power and volume keys, SIM tray, USB-C port and speaker grille. You might expect such an expensive phone to have all the trimmings, but Vertu has followed the more mainstream crowd in deleting the 3.5mm headphone port. There's also no microSD card expansion, although even the entry-level model comes with a healthy 512GB of on-board storage.
Weighing in at 219g, the Metavertu isn't especially light on its feet. It's still lighter than an iPhone 14 Pro Max, but still considerable enough to clunk every time you place it down. Though perhaps that's a good thing, if you're hoping to draw attention to such an expensive handset.
Display: size with plenty of substance
At 6.7in, the Metavertu's AMOLED display is a similar size to that of the more mainstream competition. But unlike the considerably cheaper Samsung Galaxy S23 Ultra (a phone which by any other metric is incredibly pricey), it makes do with a 2400×1080 resolution. 1440p would have been nice, given the price – and 4K would have been nicer still. To Vertu's credit, the display looks sharp enough to do justice to streaming video.
There's HDR10 support, which gives Netflix shows and compatible YouTube videos a greater sense of depth thanks to brighter highlights sharing screen time with deep and dark shadows. Brightness tops out at just 1000 nits, though, which is a long way off the best smartphones on sale today.
The snappy 144Hz refresh rate does have a lot of premium Android devices beat, with options to also pick between 60Hz and 120Hz to save on battery life if you don't need the extra smooth motion. An Auto mode does drop down to a lower number when the screen is static, but Vertu isn't clear if it's using LTPO tech for maximum power savings.
Camera: point and hope for the best
Surely at least part of the few thousand pounds spent on a Metavertu buy you a capable trio of rear cameras? Unfortunately not. In our testing, the phone produced results that looked like they came from a mid-tier device, rather than a premium flagship. The Google Pixel 6a takes significantly better photos than the Metavertu.
The main snapper uses a 64MP Sony IMX787 sensor, which is a little on the older side. It's got a fairly wide f/1.6 aperture, optical image stabilisation and laser autofocus. The high resolution helps preserve details when zooming to 2x, although detail does soften, but the bigger issue is the overall tone: colours seem muted, and definitely aren't as bright as they are in real life.
A similarly sizeable 50MP sensor is on ultrawide duties, with an f/2.2 aperture and 116-degree field of view. Those extra megapixels can't make up for the image processing, though: it keeps detail, even from a distance, but with muted colours. It struggles with shadow details and falls apart in brighter scenes, opting for blown-out skies.
An 8MP periscope telephoto completes the trio, with OIS and a 5x optical zoom. Surprisingly it delivers the most accurate colours of all three cameras. The detail and sharpness isn't quite there, particularly when zooming in, so it seems like there's a trade-off for colour accuracy.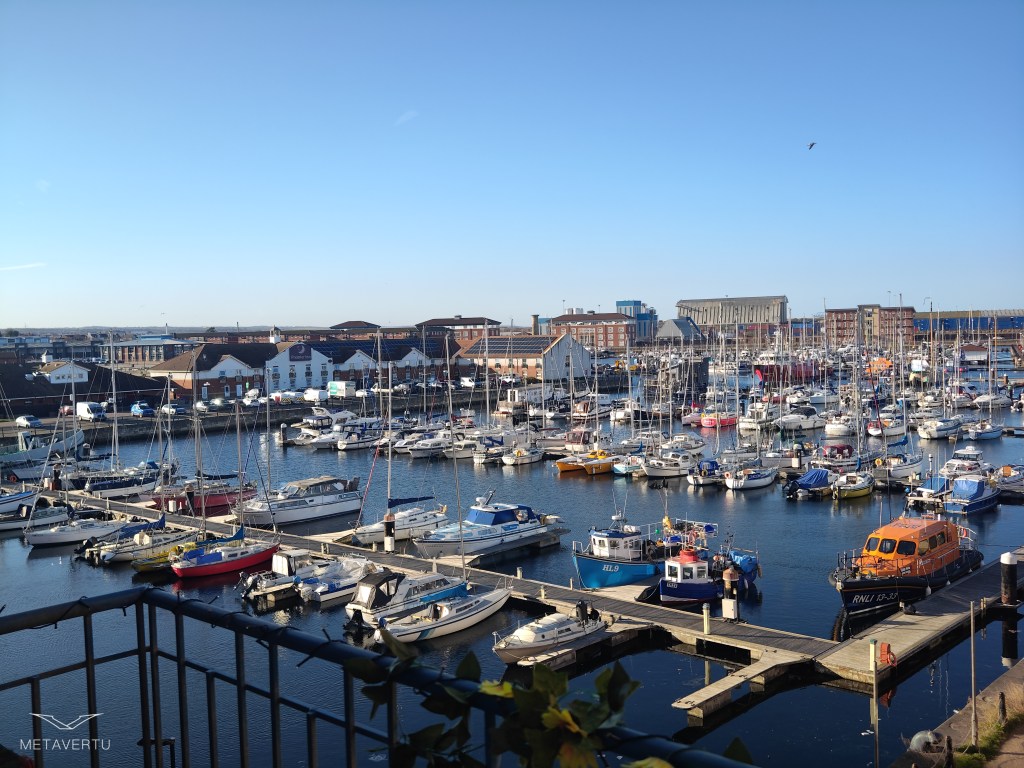 It's a shame that images aren't particularly consistent across the cameras, as you're left with a question of which you should use. Across the board, HDR processing needs improvement in order to remedy the blown-out sun in the sky. If you're after a more natural background blur, the telephoto lens does a surprisingly good job at shorter distance shots. Unfortunately, the 5x zoom isn't particularly usable, as you start to lose most detail beyond about 2.5x.
You'll find a Pro mode to tweak camera settings, a street mode for outdoor shots, portrait mode, video, and night mode. Portrait mode works alright on simpler subjects, but completely gives up on more complex subjects that would require some tricky edge detection. Macro shots, meanwhile, definitely go macro, but aren't particularly clear or detailed. It's fairly middle of the road – better than the typical 2MP macro cameras, but not quite as good as on the latest iPhone. The Metavertu can also shoot up to 8K video in 30fps. Footage looks sharp and moves smoothly, but videos suffer the safe colour and HDR fates as regular photos.
Flip over to the front, and you'll find a 15MP selfie snapper. It can be used for Face Unlock, and supports HDR. However, it suffers the same fate as the telephoto lens. While shots are bright and colours are accurate, there really isn't much detail behind the pictures. This is particularly noticeable when zooming in to images behind the main subject.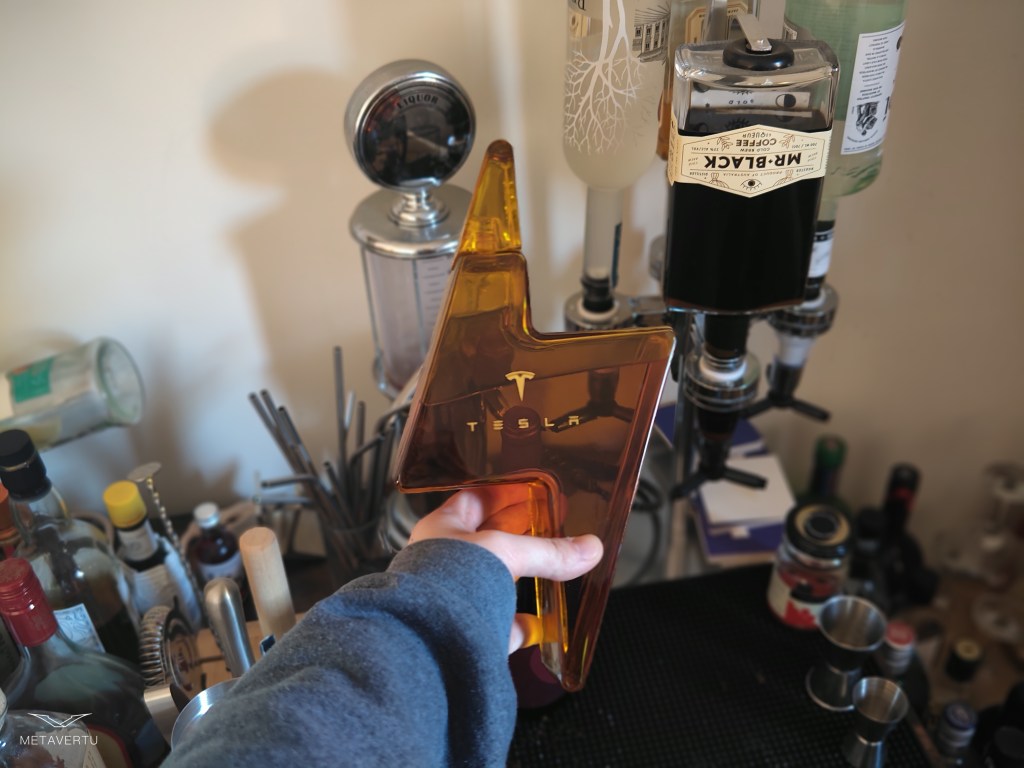 Another criticism is that shutter button takes far too long to press, giving ample opportunity for missed shots. It becomes even more noticeable in portrait mode or night mode shots, where the smartphone processes images before saving them. Plus, every image comes with a Metavertu logo overlaid in the bottom corner. It's on every image, and it doesn't look like you can turn it off. An interesting choice for sure, and not one that we're best pleased with.
Web3 features: yes, really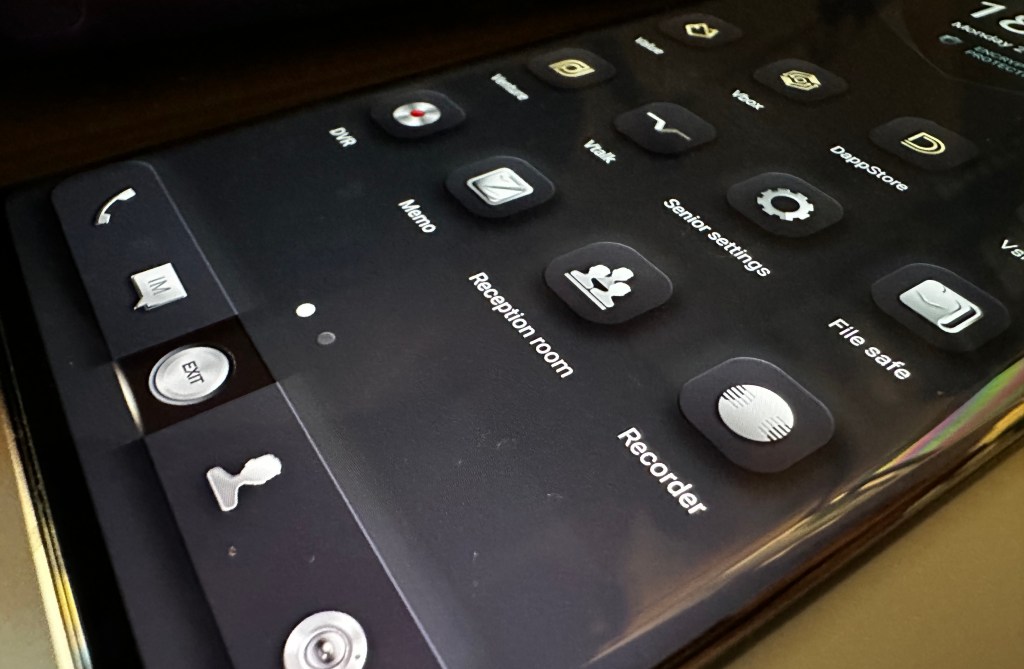 The Metavertu leans heavily into Web3, with the focus clear right from the smartphone's name. But what exactly does this mean? For most users, the answer is really not a lot. But for anyone that's particularly clued-up on all things blockchain, there are a few features that might appeal.
To access any of the Web3 features, also called dApps, you first have to go through the Meta Space app. Vertu claims that everything inside here is encrypted, but beyond a passcode requirement, we can't see anything else pointing to this. Once you're in, you'll be greeted with a second home screen. It contains the Vbox cloud storage app, Value crypto wallet, and Venture browser. It's filled with web3 links including Opensea for NFT trading and Coinbase to buy more crypto. The VShot camera app lets you take up to five photos a day and mint them as NFTs.
If those apps aren't enough, you can try to download more from the Dappstore. The selection of apps in here is extremely lacklustre, though, with most redirecting through the browser. We'd assume Vertu wants developers to create more apps, but there's no sign of if or when this might happen. The company also highlights a "high-end membership pass" for Web3 and a validator for Ethereum mining in its marketing, but neither of those can be found on the actual device.
While you can open up the Meta Space app without a Vertu Life account, you'll need one to use most of the services. Apart from the inconvenience of signing up to yet another account, it poses some serious security risks. You need to enter heaps of personal data, including a picture of your ID. All of this is a "requirement" from China, where this latest incarnation of Vertu is based. It's very much unsecure, and not data that you want to be sending off on a whim. And to top it all off, the app is entirely in Chinese (despite the rest of the system being in English), and nobody from Vertu could figure out how to fix it for us.
Vertu also advertises its concierge service, which has featured on all Vertu phones from days gone by, although this has nothing to do with Web3 and is merely a dedicated customer services portal that just asks you to fill out forms.
Performance and battery: a waste of potential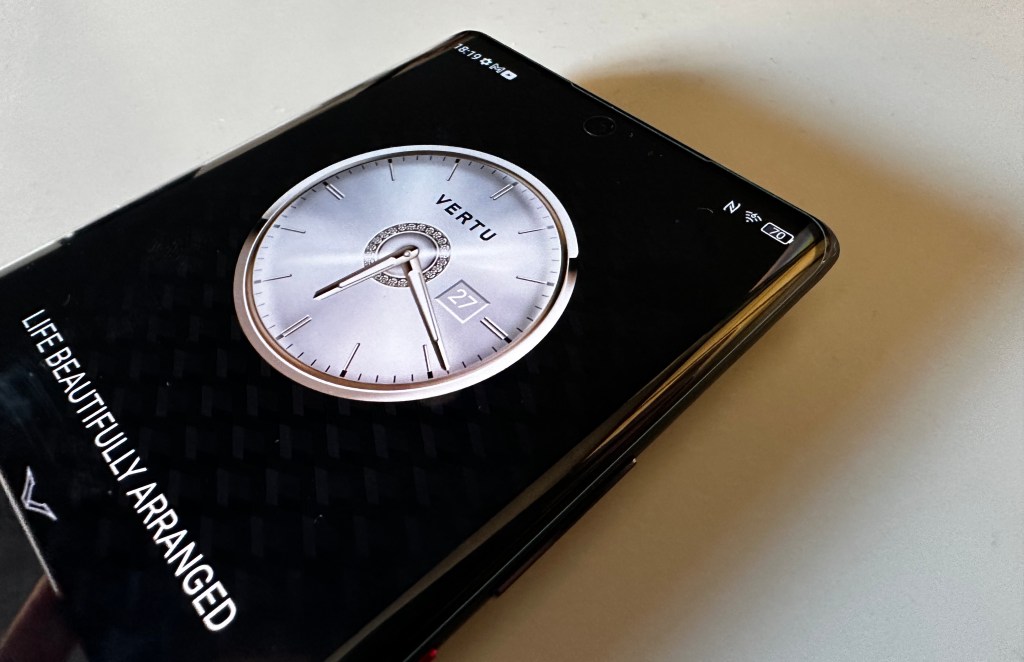 Using the Metavertu might seem a little confusing at first. Although the phone's operating system is based on Android, it's covered with plenty of Vertu-ness. Everything from the widgets to app icons have been skinned to fit the brand. It's good news if you like the Vertu approach, but hard to escape from without some serious tweaking if you don't. Plus, all of the Web3 malarkey we covered above is dripping in Vertu clobber.
Thankfully, once you get past all of this, you'll find the same Play Store and suite of Google apps that you'd expect from any other Android smartphone. Swipe right on the home screen and you still end up on Google's Discover page, and you can still use the Google Assistant as per usual. As hard as Vertu might try to make you forget it, this is an Android device at the end of the day – which we'd argue is one of its few redeeming qualities.
With a Snapdragon 8 Gen 1 chipset inside, you'd expect some pretty powerful performance – even if this CPU is now two generations old. Unfortunately, you'll quickly notice that it starts to lag in places. It happened when opening up the Vertu branded apps or dApps, trying to get past the always-on display, and when using the multiasking window. On top of all this, the Metavertu seems rather prone to the occasional random reboot. It's not what you want from a phone with some of the latest tech, never mind one that's costing you nearly three grand.
You'll go through an obscene number of animations when using the device, including just to unlock it. The lockscreen cycles through different wallpapers and displays headlines (albeit in Chinese) at the bottom, and the clock changes its reflections based on the time of day. All of this can be turned off… somewhere – it's rather hard to find. But it all puts a dampener on the power of the pretty recent processor inside.
Battery-wise, the Metavertu has reasonable 4600mAh store of juice inside. We easily got through an entire day on just one charge, and it holds charge well over time. The device only lost 10% of its charge after being switched off for a few weeks, which is rather impressive.
Vertu Metavertu verdict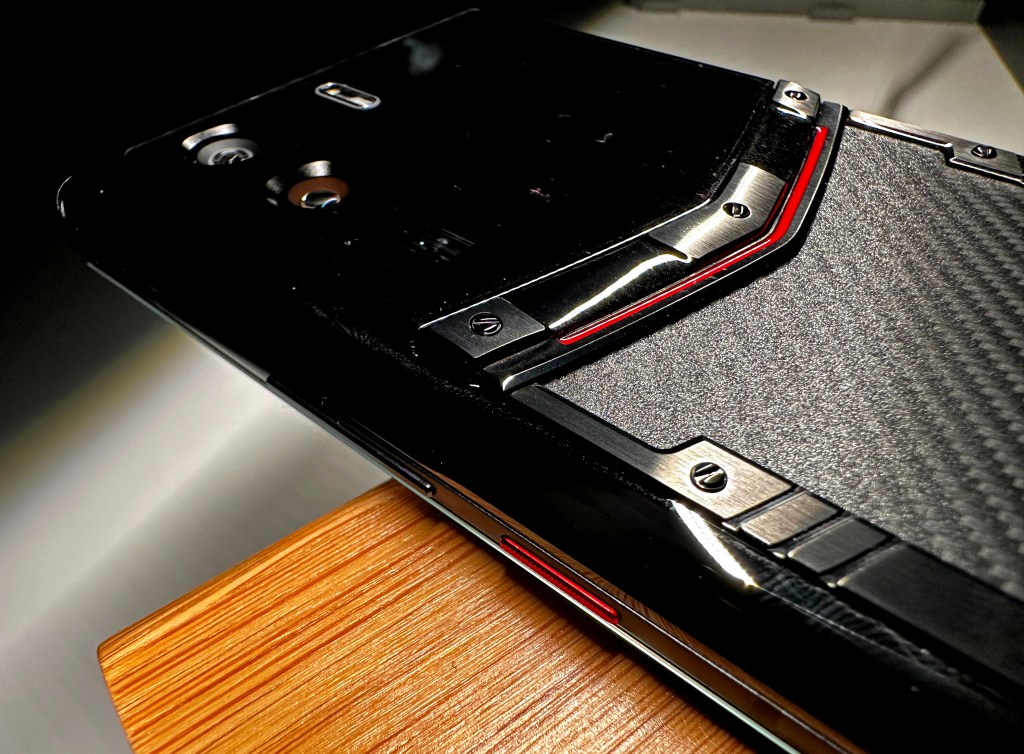 While we're all for the latest tech and trying out new things, the Metavertu simply isn't it. The device falls over both as a smartphone and as a Web3 device that's designed for the future. Thanks to a shockingly poor camera and slow performance given the price, this just isn't a phone you'd want to have in your pocket – and that's before we even get to the Web3 side of things. All of the Web3 features touted for this phone are confusing for the average user, and raise real security concerns.
It does come with some redeeming qualities, like the solid display. But you can get that from the ZTE nubia Z40 Pro the Metavertu appears to be based on. If you simply must have a smartphone that's capable of Web3 tech, maybe wait for the next one.
Stuff Says…
Falling over as a smartphone and a Web3-enabled device of the future, the Metavertu arrives with a huge question mark, and for an obscenely high price.
Good Stuff
Stand-out design options available
Curved edges protected by frame
Display is bright, colour accurate, and large
Bad Stuff
Web3 features clutter the phone, and introduce security concerns
Performance lags and feels slow, especially in dApps
Camera is shockingly unreliable
Obscenely expensive price tag
Vertu Metavertu technical specifications
| | |
| --- | --- |
| Screen | 6.7in 1080×2400 FHD+ AMOLED at 144Hz |
| Processor | Qualcomm Snapdragon 8 Gen 1 |
| RAM | 12GB/18GB |
| Storage | 512GB/1TB |
| Operating system | Android 12 |
| Cameras | 64MP main, 50MP wide-angle, 8MP periscope zoom; 16MP front-facing |
| Battery | 4600 mAH |
| Dimensions | 161.9×73.2×9.85mm, 219g |