Vuze XR review
360 and VR 180 recording in a single pocket-sized package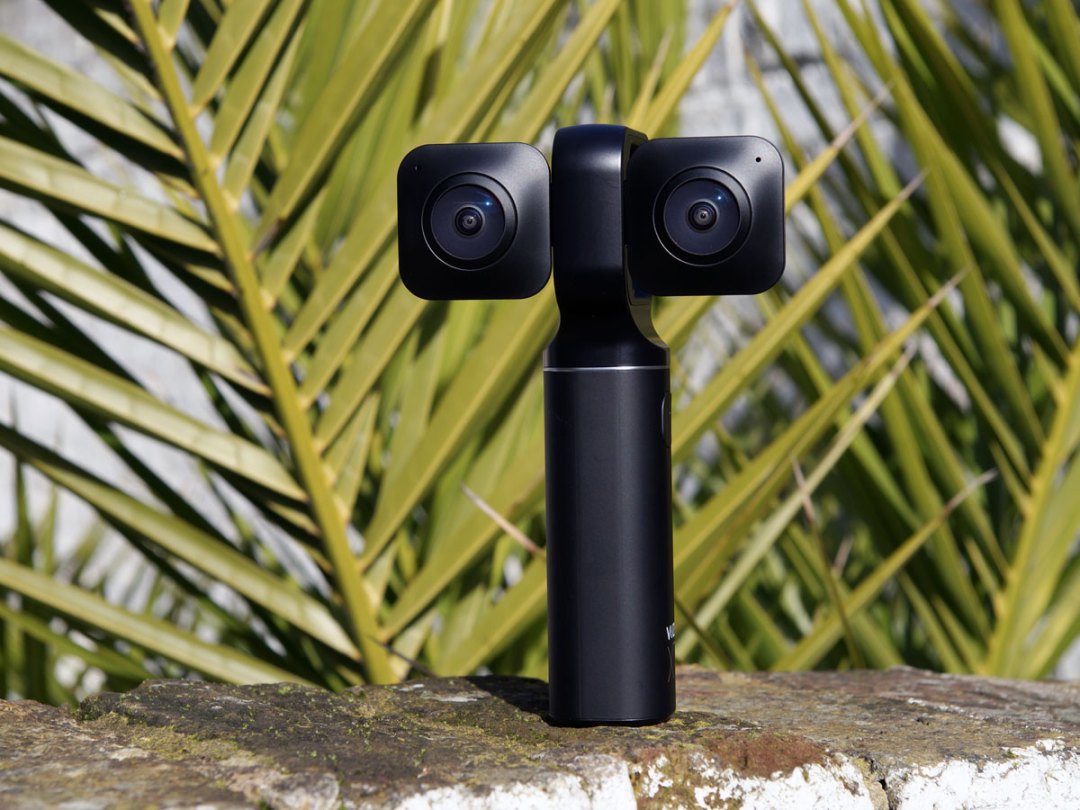 You've heard of 360 cameras; you've heard of VR cameras; well, get ready to have your tiny mind blown, because the Vuze XR is both in a single package.
OK, so perhaps that's over-dramatising the significance of this product just a teensy bit, but there's no denying the ingenuity of its concept: it looks like a pocket-sized 360 camera one moment, with two lenses pointing away from each other, but can transform into a VR camera with two front-facing lenses the next.
As far as we know there's nothing else like it on the market (yet, at least – there looks to be at least one direct rival in the works) but is this really a one-size-fits-all camera for anyone looking to create both main types of immersive visual content? We took it for a spin to find out.
Design: Virtually versatile
Out of the box, the Vuze XR looks a lot like other 360 cameras we've seen. It's a longish shape with a handle at the bottom, a clutch of physical controls in the middle and two ultra-wide angle lenses at the top – one facing in one direction, another the exact opposite.
Push a button between the two, however, and they each spring out on a hinge to face the same direction. In this arrangement – with positioning that means they're distanced equivalent to a pair of human eyes – they can capture 180º 3D VR footage or photos. When you want to go back to shooting 360º material, you simply push them back until they click into place.
While the XR is by no means ruggedised (and you won't want to let it get wet either), the mechanism seems sturdy enough to withstand years of pushing, and the entire thing feels solid, weighty and well-made. Partly in order to accommodate the moveable lenses, it's quite a lot larger and heavier than its closest current rival, the Insta360 One X, but don't worry: you'll still be able to fit it in a jacket pocket.
There's no screen or LED display on the camera, so feedback-wise it relies purely on indicator lights and noises. The latter pipe up far too often by default, and one of the first things we did after pairing the XR with its app was to turn them completely off.
In terms of included accessories, you'll find a USB-C charging cable, screw-in wrist strap and soft carry case in the box, but no microSD card and no selfie stick. A card is absolutely essential, as the camera has no built-in storage, while a selfie stick is pretty much a must if you're planning on making on-the-move 360º videos.
Accessories (and the wrist strap) can thread into the standard tripod mount on the bottom edge, while a flap on the handle opens up to reveal the USB-C port (for charging and data transfer) and card slot.
Features: App unhappiness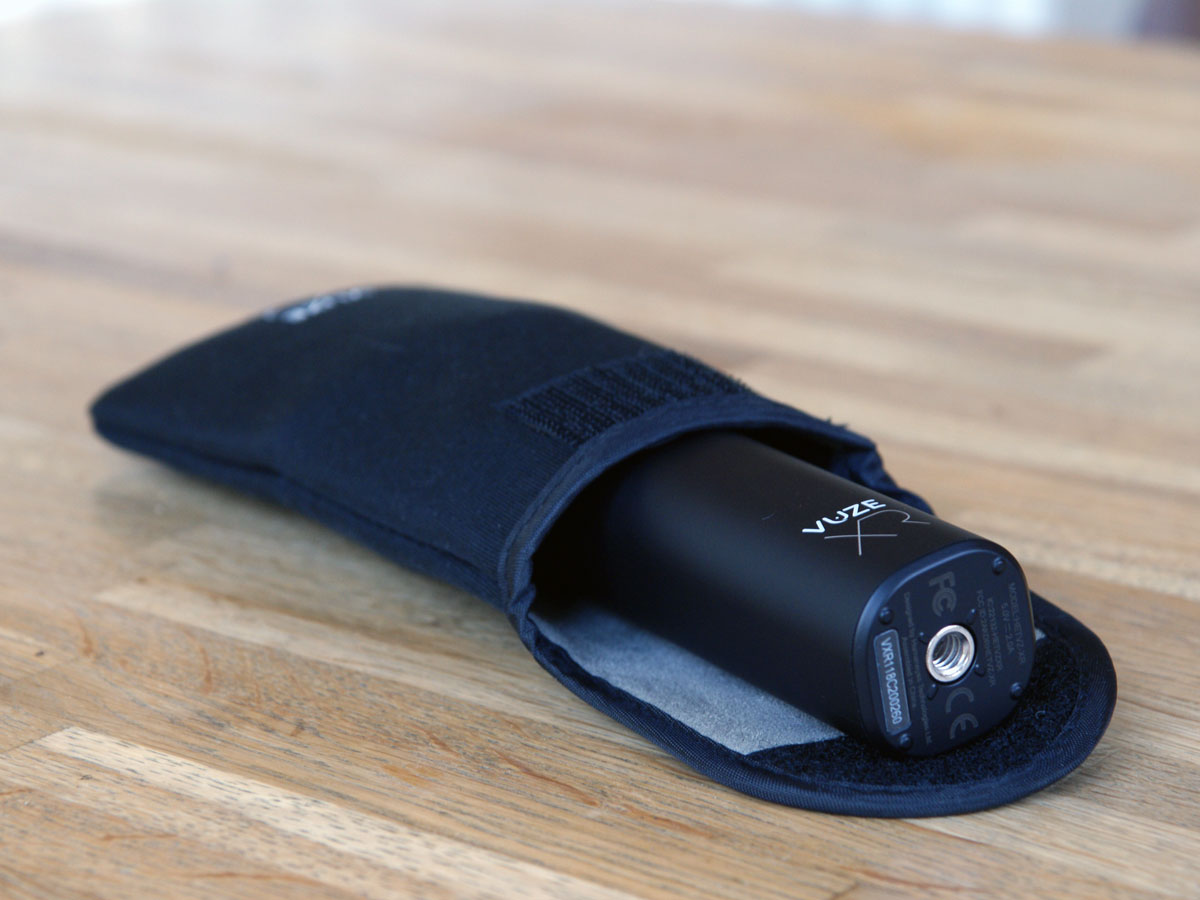 While strictly speaking you can use the Vuze XR solo, it requires the companion app to get the most out of it. The app is free and available for both Android and iOS devices, and you'll need to connect whatever device it's running on to the XR via a direct Wi-Fi link – a fairly painless process to repeat, once you've successfully performed it the first time.
Unfortunately, the Vuze XR app is a bit of a dog. It lags a long way behind, say, the Insta360 One X's app in terms of usefulness, user-friendliness and polish. While the latter gives you easy access to camera controls and settings, plus rich editing features and social media sharing functionality, the XR's is really only useful for composing and capturing shots – at least when you're shooting at the camera's best resolution or frame rate.
The app has a menu for changing basic camera settings, but you can't even view footage you've taken at the camera's maximum 5.7K/30fps quality or even 4K at 60fps, let alone edit it. You'll need to drop the resolution down to 4K at 30fps before recording, then transfer videos to your mobile device if you want to edit and share them directly.
Even then, the editing options aren't as varied as Insta360's. If you want to crop down a frame of your 360º video to change the perspective, for instance, there isn't a clear in-app way to do it – while in the One X's companion app, there are three.
If you do want to edit the 60fps or 5.7K files, you'll need to export them from the XR to a PC or Mac running the Vuze VR Studio app, do the trimming, stitch refinements and more there, then render the file in order to share it online. It's a decent app, fairly simple to use and offering with some handy features (the ability to add image stabilisation is particularly useful), but it's still a bit barebones. We'd have liked (again) a built-in way to change perspective and field-of-view several times during a 360º video, or to slow down and speed up parts of the clip.
Battery life is acceptable – we'd estimate a full charge will give you around an hour of video recording time. However, as the battery isn't removable, you'll likely need to pack a power bank if you're planning a day out and about shooting.
Performance: resolution revolution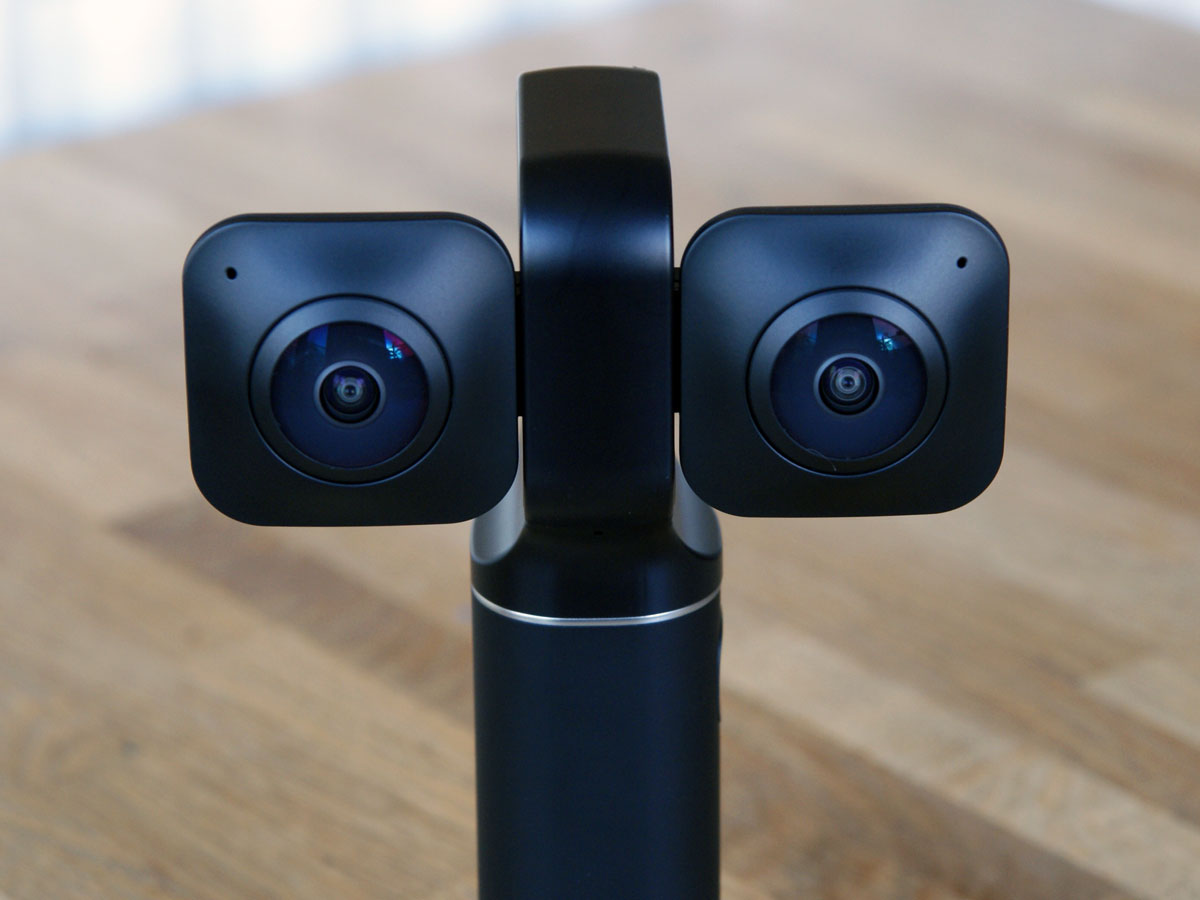 The XR is armed with two 12MP Sony IMX-378 sensors, each with a 210º f/2.4 fisheye lens bolted onto it. Together, these are capable of capturing stills at 18MP resolution or videos at up to 5.7K resolution.
The latter sounds incredibly high – after all, not that many people own a 4K TV or monitor yet – but it's really just a starting point to work down from, being that most people will crop down their 360º videos (or watch them using a headset in which they'll be viewing only a small cropped-out section of the video at any one time).
In terms of actual image quality, the XR is pretty decent. Comparing 360º stills shot with this and the Insta360 One X, the One X's image (also 18MP) looks slightly sharper and more detailed.
But for a small camera with ultra-wide lenses, we couldn't call the quality "bad" – there are some weird artefacts around edges at times, bright sunshine causes purple lens flares, and the automatic stitching isn't always totally seamless, but overall you can achieve some good-looking photos and videos.
We exported our 5.7K videos and 18MP photos onto an Oculus Go headset and the results on a high-quality headset like this are impressive – you really do notice the extra resolution compared to 4K files, and for this kind of immersive content that's a major benefit.
Vuze XR verdict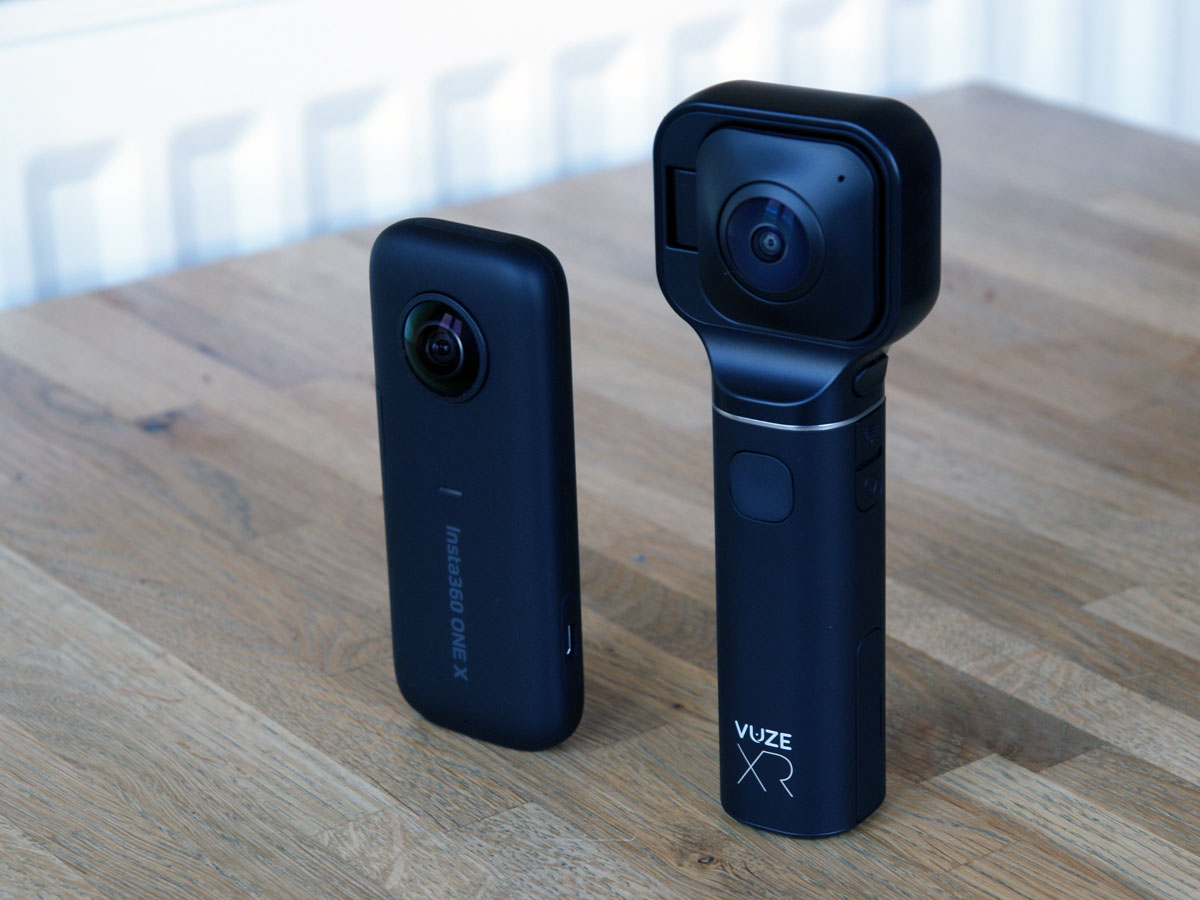 As a compact all-in-one solution to shooting two different types of content, the Vuze XR works well enough, but there's plenty of room for improvement on the software side of things.
Both the mobile and desktop apps feel too basic at present (Insta360's mobile app is streets ahead when it comes to 360º video features, editing and sharing), and we feel like you'd need to use third-party programs on your PC or Mac to achieve the same sort of results other cameras' mobile apps could produce in minutes.
A lot of that disappointment falls away when you actually pull a headset on and view your photos and videos, but we suspect there will be more user-friendly competitors arriving soon – and that might leave the Vuze XR looking like a distinctly second-rate option.
Stuff Says…
The XR's clever hardware yields immersive 3D and 360º videos – but the software underwhelms
Good Stuff
Clever 2-in-1 design
Good image quality on a good headset
Bad Stuff
Underwhelming mobile app
5.7K or 60fps video requires desktop app