Withings Pulse HR review
No frills, no thrills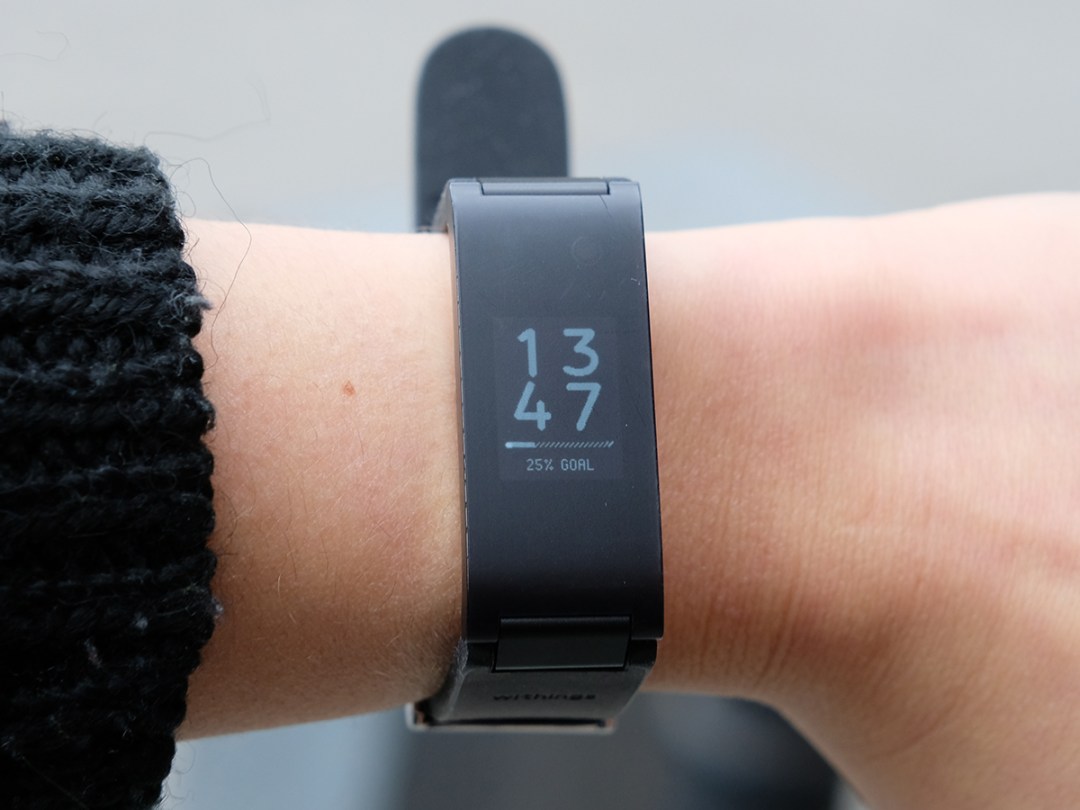 The Pulse HR is tantamount to folding all your clothes into Swiss Roles Marie Kondo-style. It's dull, but there are blatant benefits.
Withings' latest fitness offering is a swerve away from classic looking watch faces with hidden smarts such as the Steel HR Sport, to an innocuous rectangular band, just like the Fitbit Charge HR or the Huawei Band 2 Pro.
What you get is this: a waterproof tracker with fairly accurate hear-rate monitoring, connected GPS (with the help of your phone), a sprinkling of smart notifications, sleep tracking, and something that looks so subtle, it won't catch the prying eyes of curious strangers.
Not taken yet? Neither were we. That's until we discovered that although it sounds as dull as Theresa May's misspent youth, it'll last for 20-days, blowing most of the competitors out of the water, for battery life if nothing else.
We've tested it over the past month to see if it stands the test of time…
Design: Mainly in the plain
Nothing jumps off the page here. It's all black and sleek like Posh Spice in the 90s, with a rubber strap and a matte plastic screen and a metal under-carriage housing the heart-rate monitor which sits comfortably on the wrist.
At only 45g, you'll forget you're wearing it for the most part, which is handy – especially when sleeping.
It feels solid and after taking a couple of inevitable knocks, there's not a scratch in sight. It's not over ambitious design-wise and that's a good thing. A swift press of the only button on the right gives you access to the menu system. Click through the options using the button or tap the fascia, you'll find: time, date and progress bar on the first screen, heart-rate, step-count, miles covered, calories, battery, and an activity screen.
On the activity option, a long press opens the exercise options, you can have up to five activities and can customise which ones you want from the extensive list on the Withings Health Mate app. Highlights include Zumba and kite-surfing.
Another long press starts the tracking, and then yet another long press ends it. A newbie could get the hang of it very easily.
Unlike the colourful Fitbit Charge 3 screen, the monotone OLED screen isn't particularly sharp and only takes up about a third of the hardened plastic fascia. The brightness level automatically senses the environment and will adjust accordingly. You can overrule this using the Health Mate app, though I never needed to.
The screen will generally be black, but raise your wrist to wake it up. There's a couple of seconds delay, but this feature is much appreciated and in-line with the overall subtlety of this dainty compadre.
So the design and build isn't ground-breaking, but it's nice. Just nice.
One tiny gripe is that little rubber loop to thread the strap through keeps rolling to the end, meaning you get a long flappy bit dangling. Whilst it's encouraging to see it wanting to take part in the psychical activity, it's mighty annoying when you're trying to get in a 5k in on a wet Sunday morning.
Features and performance: Pure and simple
Its heart-rate monitor is reasonably reliable when tested against a more serious Garmin tracker. Miles are accurate too. You won't get any notifications of encouragement or vibrations when you hit a milestone. You merely get a buzz after 30 mins of exercise.
There's also a little buzz for any notification from any third-party apps like WhatApp, Instagram or Slack.
There's no standalone GPS like with the Huawei Band 2 Pro and that can be annoying for runners who don't want to take smartphones along for the ride. I found this particularly annoying as it's one thing taking along a regular sized blower, but when you're toting a large super-sized one – it's just not convenient.
For swimming, the 5-ATM water-resistance rating means it's content to swim 50 metres deep, but it won't track your strokes like many other smartwatches or identify sea creatures which is still something we're waiting for from wearable manufacturers.
Also – if you forgot to track your workout, you can fill in the blanks through the app manually as to not sell yourself short when you review your activity at the end of the week.
The app has a useful and joyfully bright user interface. It'll display graphs illustrating pace and elevation which is handy for running training and knowing your average pace.
All this exercise makes us mortals exhausted. Fear not, the Pulse HR will stay awake and continue to track your shut-eye, really capitalizing on that tremendous battery life. The sleep-tracking is something Withings have had in its arsenal for some time and it makes this somewhat average tracker the whole, yet casual package for lifestyle trackers.
It'll detect light and deep sleep judging by your heart-rate and give you an overall sleep score. There's also a load of advice on the Heath Mate App to help you improve sleep scores with lifestyle tips. I've set an alarm on the Pulse HR to stop using my phone by 10.30pm to improve my sleep score and it works. I knew this already, of course, but there's nothing like a know-it-all app to remind you.
Battery life: Day-in Day-out
20-days Withings promised. During the 4-week testing period I only had to charge it three times. And I started with it at about 20%.
After a run with GPS tracking, it only dropped 2% – which is impressive.
I was never worried it would conk out mid workout – even when I was chancing it on 9%. It's a huge perk.
The battery life means that you can get as much sleep data as possible as it won't require a substantial rest like more chunkier gruntier smartwatches. So although it doesn't put in a Freddy Mercury performance in the park or pool, it makes up for it with pure endurance.
Withings Pulse HR verdict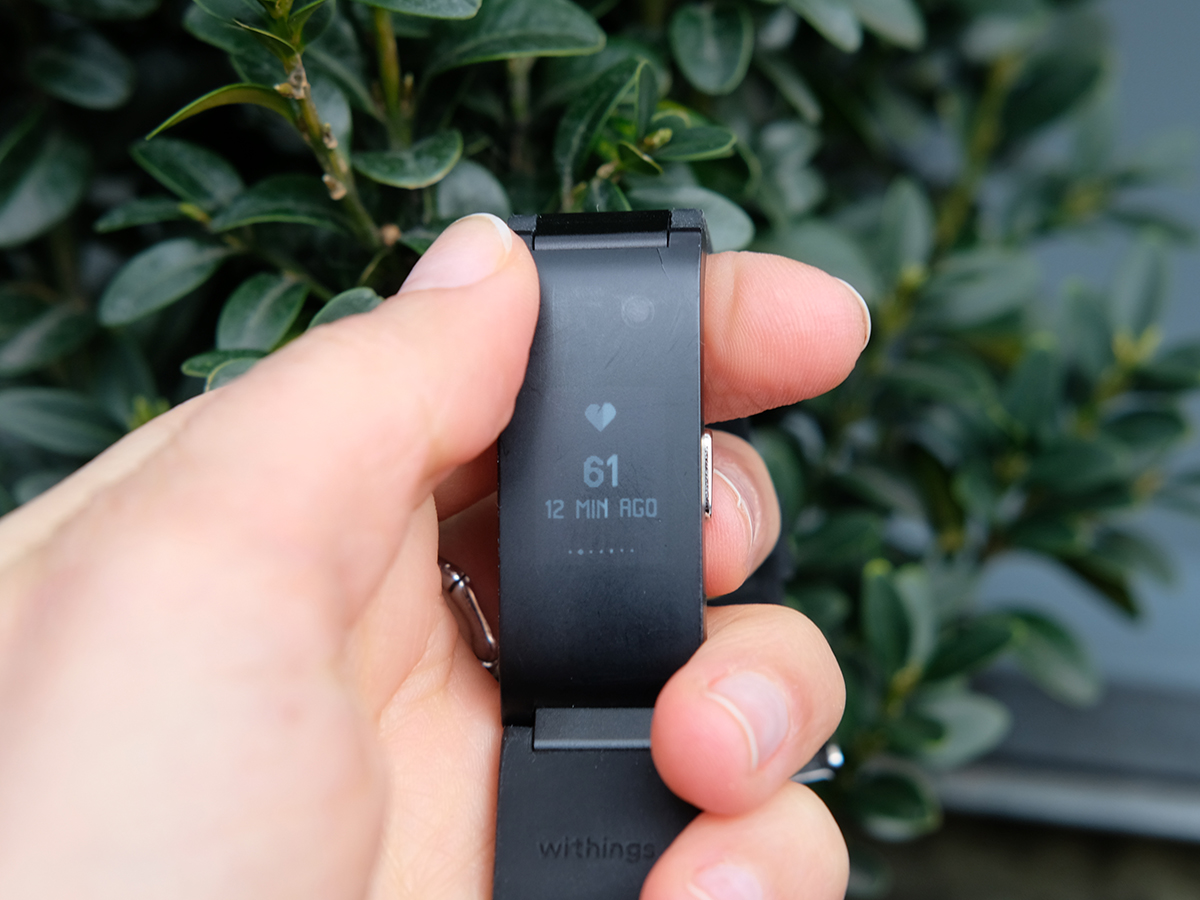 The Pulse HR is a no-thrills no-frills health tracker.
It's very low maintenance, middle-of-the-road pricing, and the sleep tracking is on the money.
That, coupled with the impressive battery life make it a neat choice for casual gym-goers, step-o-meter obsessives and for those who have a touch more than a passing interest in fitness tracking and improving their lifestyle.
Stuff Says…
No thrills for fitness fanatics, but a casual health tracker with serious juice, barely putting a foot wrong
Good Stuff
Ridiculously good battery life
Neat design
Decent basic fitness tracking
Bad Stuff
No onboard GPS
Doesn't track swim strokes
Limited smarts with no interaction possible