Xiaomi M365 review
Wheel talk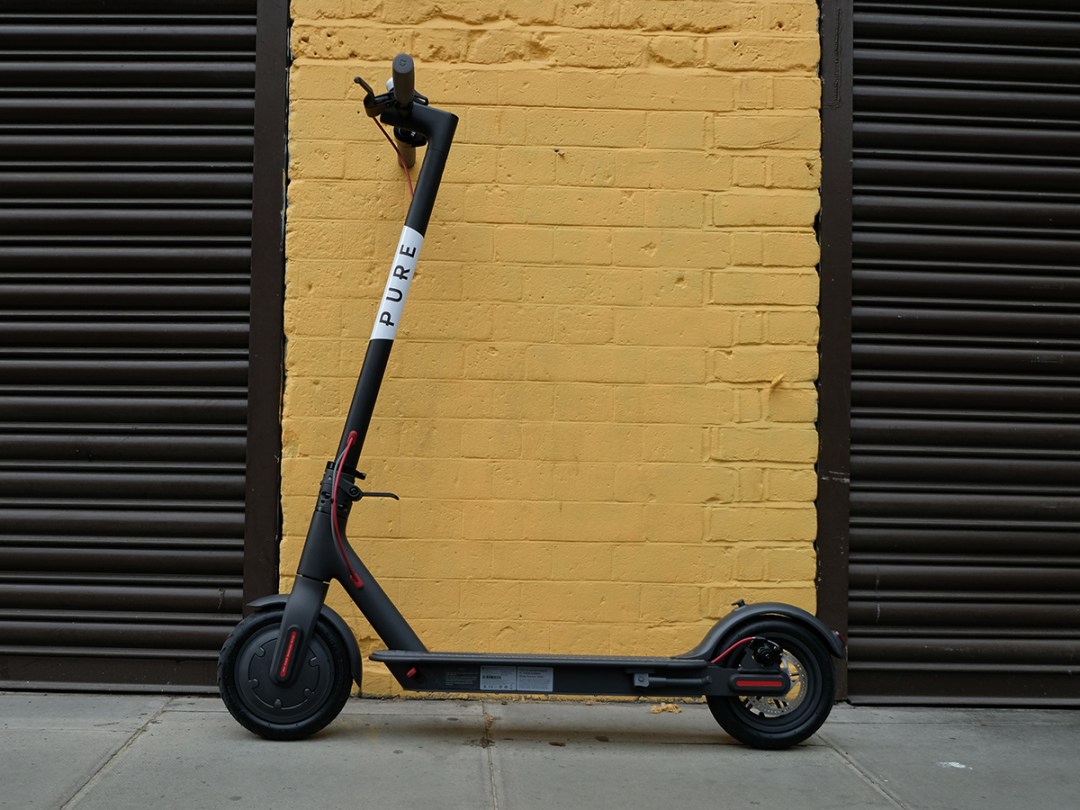 Technically they're still illegal to ride anywhere other than private land, yet there are suddenly as many electric scooters lining roads and pavements in UK cities as there are dishevelled pigeons.
And it's not hard to see why. They're much easier to lug around than a bike, more efficient than a car, less skill-demanding than a skateboard and faster than your feet. For a convenience like that, who wouldn't put up with a few angry lorry horns?
Leading this burgeoning market, arguably, is Xiaomi's M365, a scooter that manages to find the sweet spot between features, price and portability. Our pals at Pure Scooters thought it was about time we braved the busy backstreets of South London to see what all the fuss is about.
Design: Can you handle this?
At first glance, the black and red M365 is hard to tell apart from a regular adult-size kick scooter, its most immediately notable feature being the two 8.5in air-filled tyres that indicate its versatility.
Pick it up, though, and its weight will quickly remind you that this is no regular scooter. Although the frame is constructed from lightweight aluminum, it can't hide the heft of the battery and motor hidden in the base. The whole thing weighs in at 12.5kg, and while there are no doubt heavier alternatives, you won't want to carry it far.
Folding and securing the M365 is easy as pulling the little lever, and the whole process takes just a few seconds. I should say the scooter I was given to test began to fold involuntarily while I was riding it, a safety hazard that was found in a limited number of products and resulted in Xiamoi recalling them. We're told that all affected model numbers have now been recalled, and no currently on-sale stock is at risk. Phew.
Across the handlebars (left to right) you've got a break, a bell, a power button with four LED lights to indicate which mode the scooter is in, and an accelerator that you push slightly unnaturally with your thumb. Handily, it'll only work once the scooter is moving, so no unexpected lurching into the road.
One thing I did notice while testing the M365 is that it takes a bit of time to work out the most natural placement for your feet. The base is wide enough for you to have them side-by-side if you want, but I tended to have my back foot leant against the heel of my leading foot.
Features: Just needs a push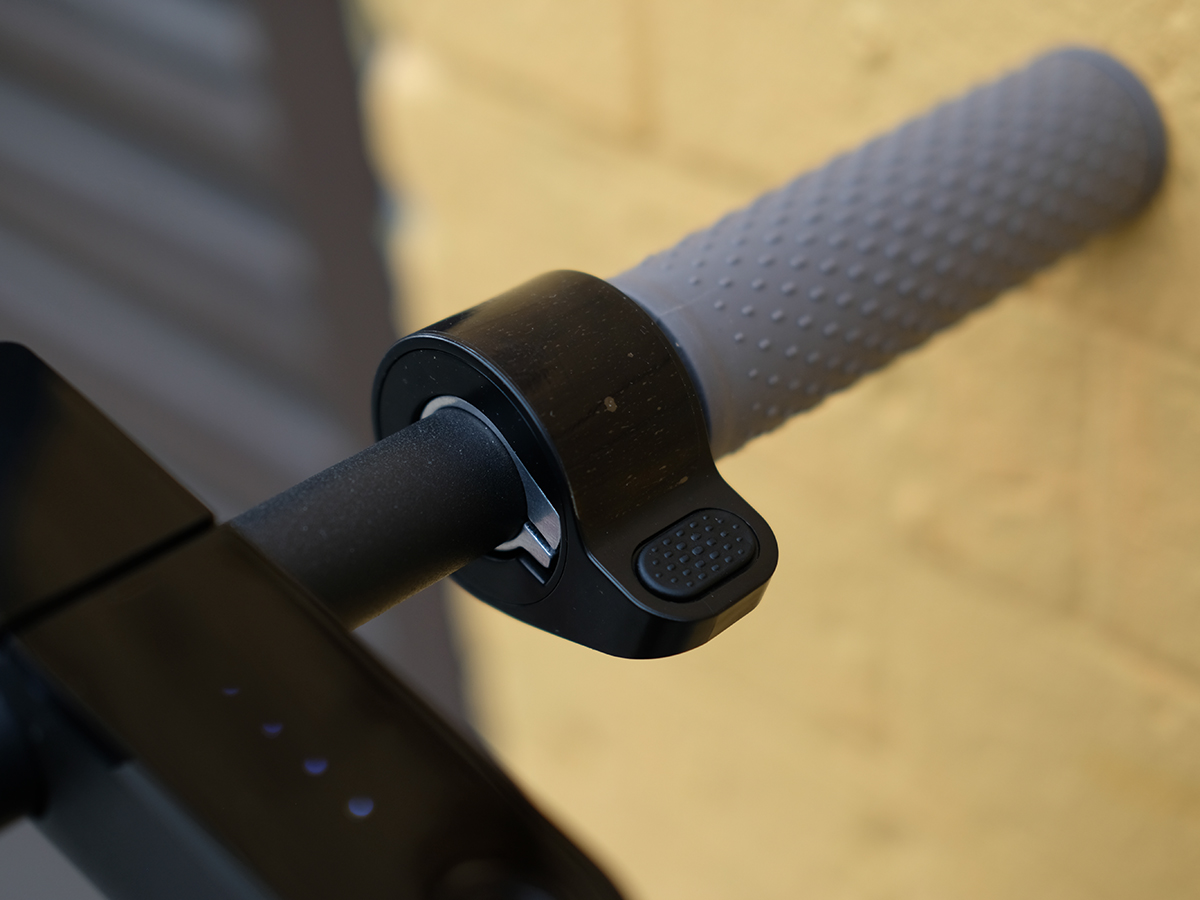 Pressing the scooter's one and only button turns it on, and holding it down turns it off. A short press while on will toggle the headlight, while energy saving mode – indicated by the fourth LED turning green – is activated with a double tap.
If you know how to ride a scooter, you already know how to ride the M365. Push off and once it detects motion you'll be able to engage the throttle. Naturally you'll accelerate much faster if you press it quickly, which probably isn't advisable in a busy area. There are three acceleration modes to switch between in the M365 app, depending on your confidence, as well as cruise control for power-preserving efficiency.
The app can also track your speed, battery status and distance travelled, although checking any of this on the fly sounds a bit daredevil to us. I'm not sure that the majority of people will regularly make use of these features anyway, but the software is nicely designed for those who do want the extra information.
Performance and battery life: pavement to be
For short commutes and avoiding public transport, the M365 is hard to fault. While I felt pretty unpopular with drivers, pedestrians, and huffing cyclists I'd just overtaken alike, the scooter is a smooth ride, and its tyres mean it'll handle rougher terrain if need be – although the lack of suspension means you'll want to stick to pavement if you can. It's quiet too.
You'll pretty easily get it up to the top speed of 15mph on a long straight, which feels faster than it sounds, but is very manageable once you're comfortable with the scooter. There are zippier alternatives on the market if you were born with a need for speed. For most people, though, the M365 will be quick enough.
Maximum range is 30km, so getting from A to a reasonably distanced B should be a cinch, and you might even be able to stretch to C if you make use of the battery-saving speed modes. In testing I mainly used the scooter to whizz around Southwark, so it took a while to run out of juice. If you're after something to travel to work every day, it's worth doing the maths before you buy, especially as Xiaomi has plans to release the M365 Pro in the UK, which has a more capacious battery.
Fully charging the M365 takes just over five hours. That sounds like a long time, and will definitely feel like it if you've got somewhere to be and need ol' scooty to get you there. An overnight zap every few nights is probably the best way to approach it.
Xiaomi M365 verdict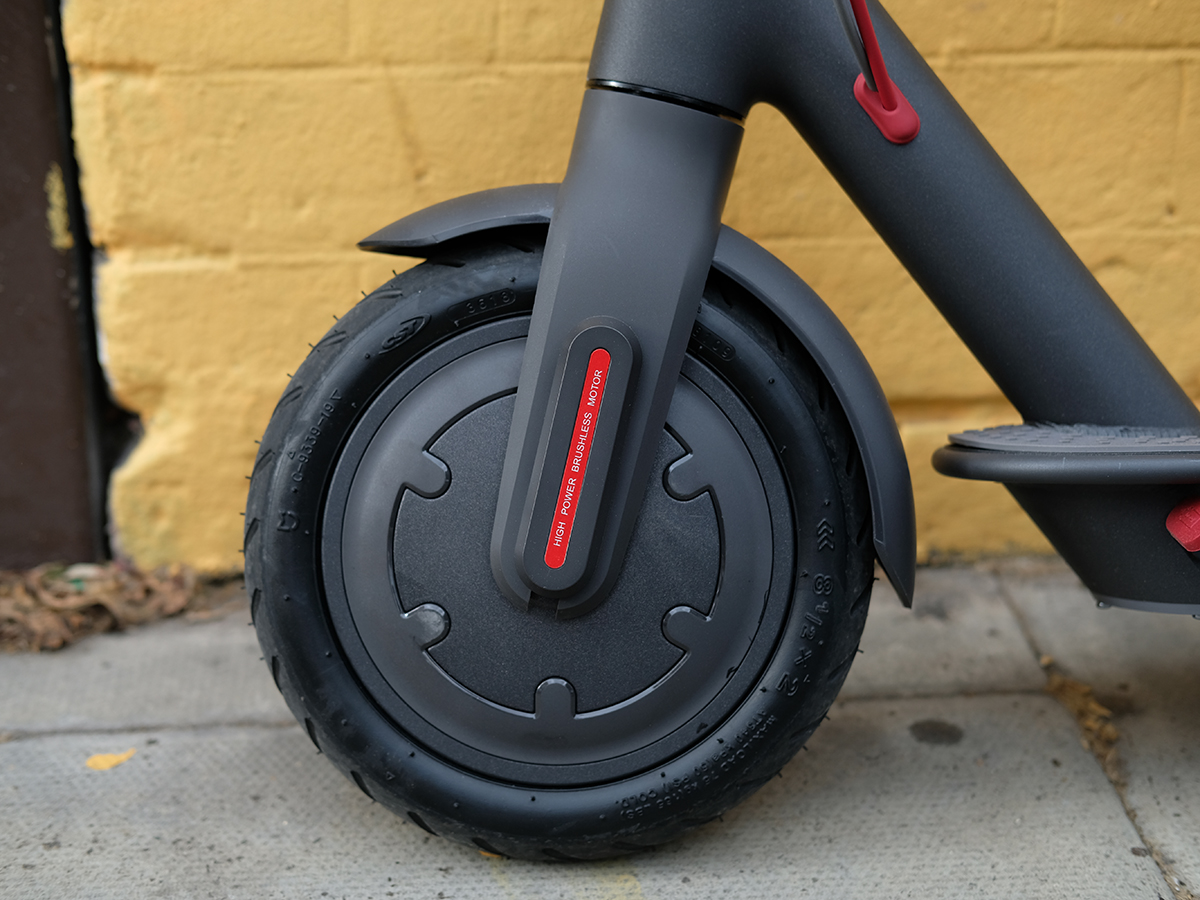 You've got a couple of decisions to make before you invest in the Xiaomi M365.
First, are you OK with dropping nearly £400 on something that is bizarrely illegal to ride to work at the time of writing? Realistically, this probably isn't going to be an issue; we're yet to see a policeman haul a bewildered scooterer into the back of a van. But it's something to ponder on.
And secondly, are you tempted by the idea of a bigger and better M365 Pro, which should be released in the UK in the coming months? You'll pay a fair but more for the privilege, but again, something to consider.
If neither of the above are a concern, the M365 is a great choice. It feels great to ride, pairs with a useful app, and can be picked up for a very good price. You'll struggle to find a better all-rounder.
Stuff Says…
Thanks to its combination of great performance and affordable price tag, this is the commuter scooter you're likely to see most of on the roads
Good Stuff
Easy to ride
Good app
Multiple speed modes
Bad Stuff
Quite heavy
Battery life won't be good enough for everyone