Xiaomi Mi Band 5 review
Value-tastic tracking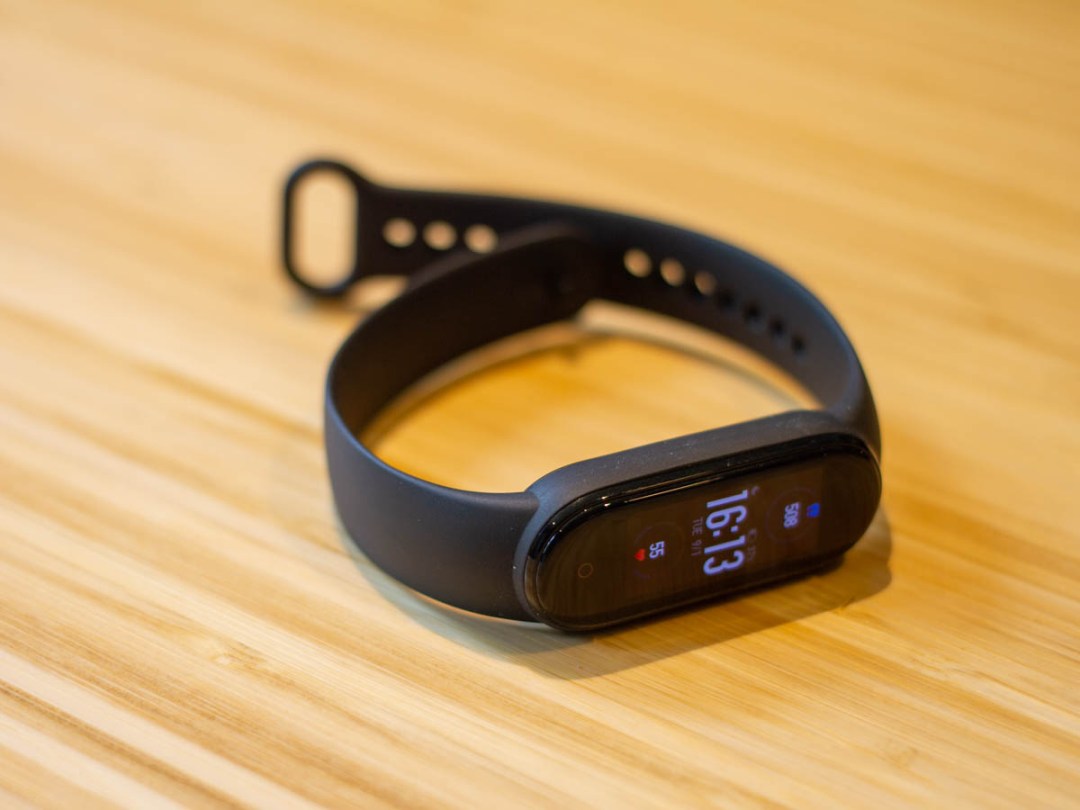 If you're after a dinky wearable to help you shift the lockdown love handles, then the Xiaomi Mi Band 5 is a very smart choice (for an unsmart fitness band).
Sure, it can't stack up to smartwatches – there are no installable apps and you can't reply to notifications, but it still does an admirable job of relaying alerts, and it tracks everything from sleep to workouts reliably.
Hang on a minute though. The Mi Band 5's battery life is worse than that of the Mi Band 4, and it's £5 pricier on launch, what gives? A bigger screen, that's what. The Mi Band 5 also includes stress tracking, 11 sports modes instead of six tracked by its predecessor, and menstrual cycle tracking as well.
When all this is taken into account, the Mi Band 5 is back in our good books.
Design and screen: Keep it simple stupid
The Xiaomi Mi Band 5 is clean, simple and about as inoffensive as a wearable gets. You'll hardly feel it on your wrist, with the band weighing in at 11g, and as a result of its weight and simplicity, it's comfortable day-in-day-out, and during long bouts of exercise.
On the front of the Mi Band 5 is a screen, a bit of bezel and a capacitive button. Swipe and tap the touch display to interact with it, and navigation is simple, responsive and intuitive.
The buckle strap is secure and is made from thermoplastic polyurethane. Our version ships with a black strap which is very traditional, though you can grab a lot of zingy strap options online for a few quid. A point to note – the old Mi Band 3 and 4 straps won't provide a lock-tight fit, so be mindful to buy Mi Band 5 designed accessories.
The screen on the Mi Band 5 is bigger than that of the Mi Band 4, measuring 1.1 inches and packing more pixels too. What's more, at 450 nits, it's brighter, which makes outdoor viewing that bit easier in direct sunlight.
Fitness tracking: Legs 11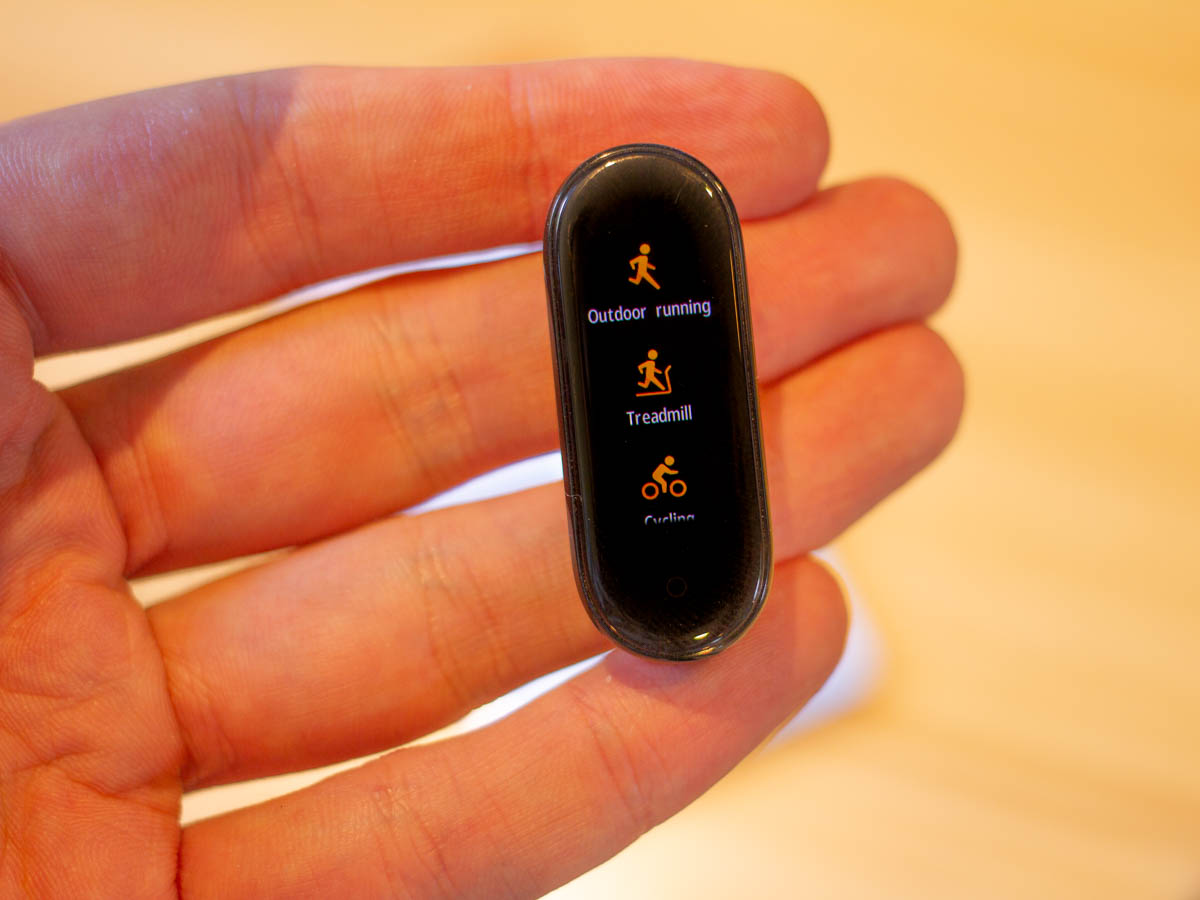 Steps and sleep – the two basic tracking staples have been covered on Mi Bands for generations, but the headline features this time around are the extra exercise modes – 11 versus six on the Mi Band 4.
Additionally, stress tracking and menstrual cycle tracking set it apart from many other bands in the Band 5's price range. Exercises tracked include outdoor running, treadmill running, cycling, indoor cycling, walking, elliptical machine, rowing machine, yoga, jump rope, pool swimming and free weights.
The heart rate tracker around the back of the Mi Band's core chicklet does a great job for the price, keeping within a roughly 5-7 BPM range of our chest strap. It also tracks distance when you're running too, just like the Mi Band 4, by buddying up with your phone's GPS.
That said, it doesn't pack its own standalone GPS for phone-free runs. The main issue with the Mi Band 5's tracking is that features like the stopwatch or timer can't be accessed during a workout. Circuits, for example, which benefit from timed exercises leave you making a choice – tracking or timer?
This was also the case with the Mi Band 4, and we really hope we're not saying this again in our Mi Band 6 review. Irrespective of that limitation, it covers most other bases.
Features: Ya basic
The Mi Band 5 does a great job of balancing basic fitness tracking while adding enough functionality to make it better than many comparably priced alternatives. You can also fire a variety of notifications to your wrist, including calls and texts, as well as set alarms, with advanced features customisable through the smartphone app.
There are a lot of watch faces for the Mi Band 5, accessible both through the band itself, or the app. Many of these can also be customised, with Apple Watch-esque complications, which is a really handy touch you don't often see on fitness bands.
The Xiaomi Mi Band 5's battery is 125mAh – smaller than that of the Mi Band 4, and the screen's bigger; so no surprises it doesn't last as long. Dying a death at between 10 and 14 days, depending on how much we kept the screen on, however, we could still get away with charging it every 10 days or so which practically speaking isn't too much of a pain.
Charging the Mi Band 5 is also a much better experience than charging the Mi Band 4 was. There's no more popping the inner chicklet out of the strap every time. Now, you just hover the magnetic charging mount below the Mi Band and the two click into place like magic. Sure – it's a proprietary charger, and that's not ideal, but at least Xiaomi's improved the experience.
Xiaomi Mi Band 5 Verdict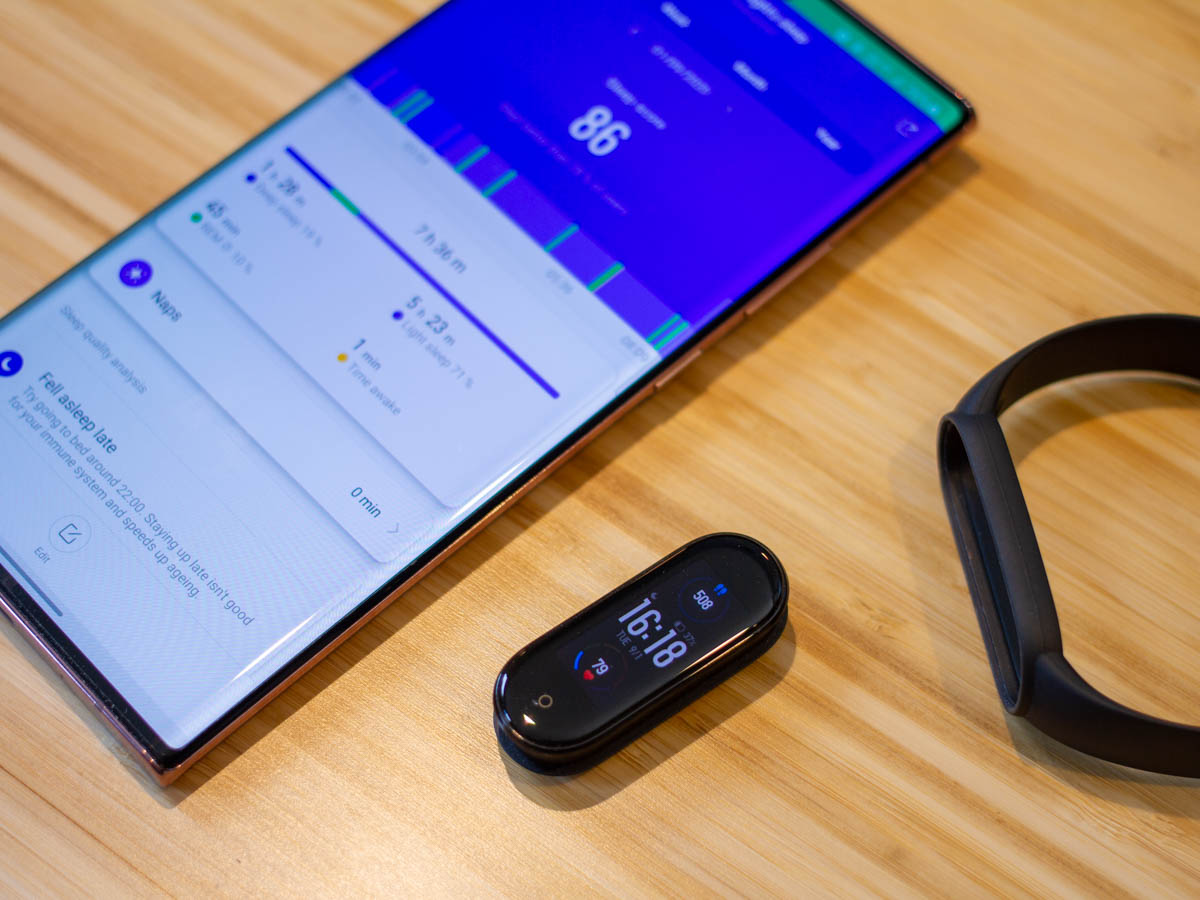 The Mi Band 5 is better than the Mi Band 4, even if you can't tell by looking at its specs.
Its screen is bigger and brighter, its software is smarter and its charger is much less fiddly.
The reduced battery life would be an issue if we felt that the battery life was poor, but it isn't, and with the additional tracking options – five more exercises than the Mi Band 4, not to mention stress and menstrual cycle tracking, the Mi Band 5 is the £39.99 gift that keeps on giving.
Stuff Says…
Fantastic value and decent features make the Mi Band 5 an easy to recommend tracker
Good Stuff
Affordable
Slimline design
Heart rate monitor
Bad Stuff
No GPS
No headphone jack
No multi-tasking