Xiaomi Poco M4 Pro 5G review
A sequel with even more bang-per-buck?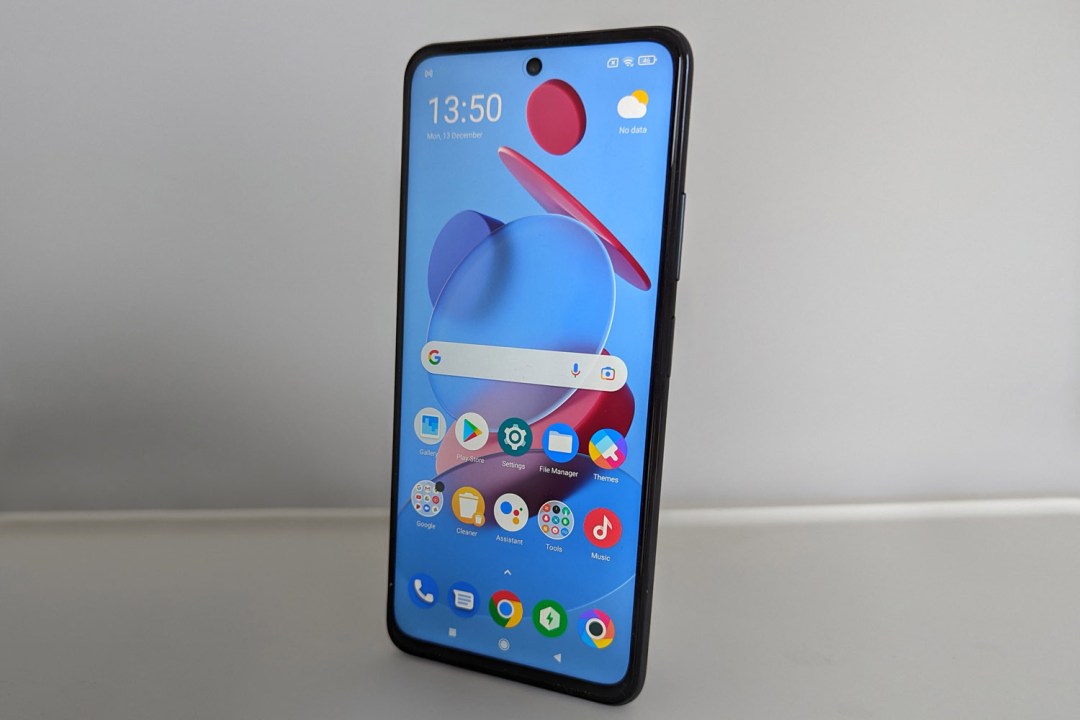 Poco might sound more like a Gwyneth Paltrow lifestyle brand than a phone company, but what began as one of Xiaomi's cost-conscious offshoots is now a big deal among bargain smartphone shoppers.
Its latest effort, the M4 Pro 5G, follows a familiar recipe: good looks, sensible hardware and more features than you can shake a stick at, at a price that won't make you wince. By taking an existing, China-only model (in this case the Redmi Note 11) and rebranding it for us Brits, Poco is able to undercut not just big-name rivals like Samsung, but also budget darlings OnePlus, Motorola and Nokia.
There's only been six months since the firm's last M-series phone landed, though. Are the changes enough to make this quite as big a deal?
Design and featured: Looks expensive. Isn't.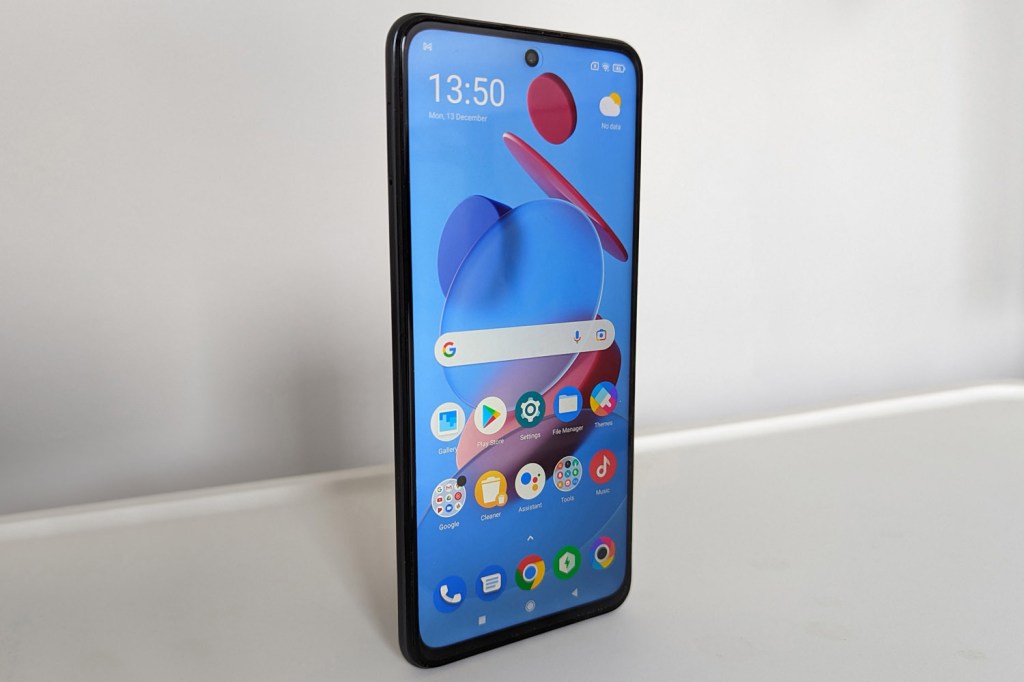 There's no missing the giant camera window on the back of the M4 Pro 5G, complete with attention-grabbing POCO logo.
It's certainly distinctive, and the glass-like finish does a great impression of a more expensive phone, though running a finger across it confirms this is actually plastic. It's also a real fingerprint magnet, so you'll want to keep it clean to maintain the illusion. Oh, and don't look too closely at the camera bump: there might be five 'lenses', but only two of 'em have sensors behind them.
The handset looks fairly smart and subtle in 'Power Black', but Poco also has attention-grabbing yellow and blue versions to cater to extroverts.
All get IP53 splash resistance, which isn't too shabby for a sub-£250 phone, along with welcome additions like expandable storage, NFC, and even an IR blaster – a real rarity at any price point in 2021.
There's also a side-mounted fingerprint sensor, which is reasonably quick and accurate, but all too easy to trigger accidentally. It's worth changing the detection mode to 'press' rather than 'touch' to cut down on unwanted unlock attempts.
The whole thing has a reassuring heft, the curved rear edges sit nicely in your hand, and the screen bezels up front are as skinny as we'd expect from a budget phone. The top-centre holepunch camera isn't too distracting, either.
Display and sound: Hertz to admit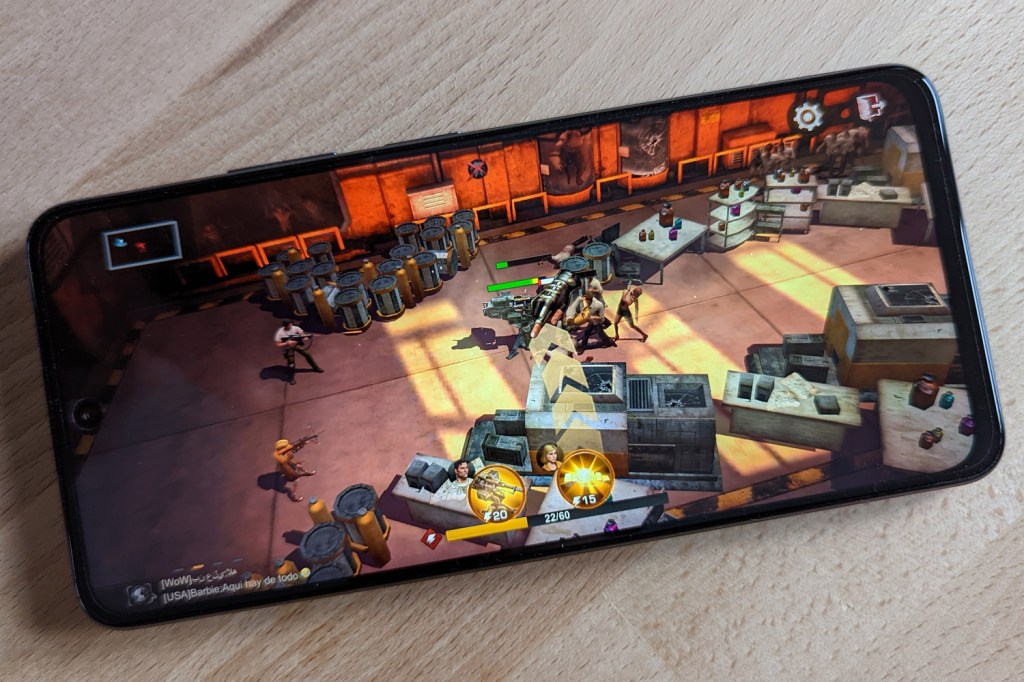 On paper, there's plenty to like about the M4 Pro 5G's 6.6in display. The 1080p-and-a-bit resolution is a major improvement over rival Motorola's Moto G50, which makes do with a 720p panel, and it supports the DCI-P3 colour space – something the old M3 Pro 5G lacked.
It also has a dynamic 90Hz refresh rate, switching between 50Hz, 60Hz and 90Hz based on what content is onscreen for the smoothest appearance, without compromising on battery life. It's not as easy on the eye as the 120Hz screens you'll find on flagship phones, but still slicker than a basic 60Hz panel when scrolling.
We're talking LED tech here, so image contrast was never going to impress in the same way as a OnePlus Nord CE 5G, but it keeps pace with similarly-equipped rivals. Colours are just on the right side of being too vibrant, so streaming video has plenty of punch, although HDR support sadly doesn't make the cut. Display brightness in general is on the weak side; it's fine indoors, but step out into direct sunlight and you might struggle to see what's on screen.
It hasn't seen much use lately, but the M4 Pro 5G has given us reason to sound the "It has a 3.5mm headphone port" horn. There's no dongle needed here. You can probably go without headphones altogether for quick YouTube catch-ups, as there's stereo sound onboard, albeit with the bottom speaker doing much of the heavy lifting. Volume is good, but general clarity isn't all that special, so you'll still want a set of 'buds for critical listening.
Camera: doing the double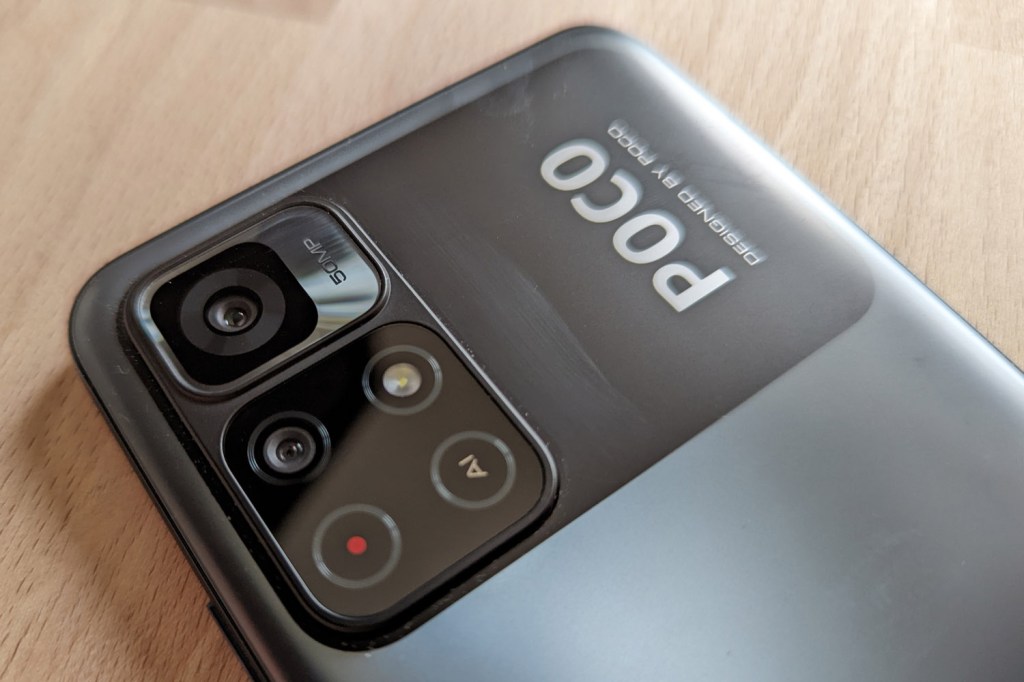 The M4 Pro 5G gets a big thumbs up from us for ditching the near-pointless depth and macro lenses of the M3 Pro in favour of a far more useful 8MP ultrawide snapper. It's paired with a 50MP main sensor, and both can produce some decent daylight photos given the phone's budget nature.
Even with a high pixel count, detail isn't the M4's strong point, with complex patterns like trees and brickwork often start to look smeared as you zoom in. The ultrawide sensor captures even less detail, and relies on basic fixed focus, but the 119° field of view lets you squeeze an awful lot of a scene into every snap.
Still, colours are handled well, and dynamic range is very good, even without auto-HDR switched on. A scene recognising AI mode will boost saturation and contrast, with eye-pleasing (though not always true to life) results.
There's a 2x zoom in the Camera app, and although it's purely digital, the image processing is handled very well. Shrunk down for social media, the results are perfectly usable, as long as you're shooting outdoors.
Step inside or let the sun go down and the phone's limitations are clear. Even with the main camera's dedicated night mode, there's a lot more noise and a lot less detail.
Overall performance is fairly standard for the class, and it comfortably has the edge over rivals that insist on depth sensors. The software-only portrait mode found here works just as well.
Image gallery:
Performance and battery: Eight ways from Funday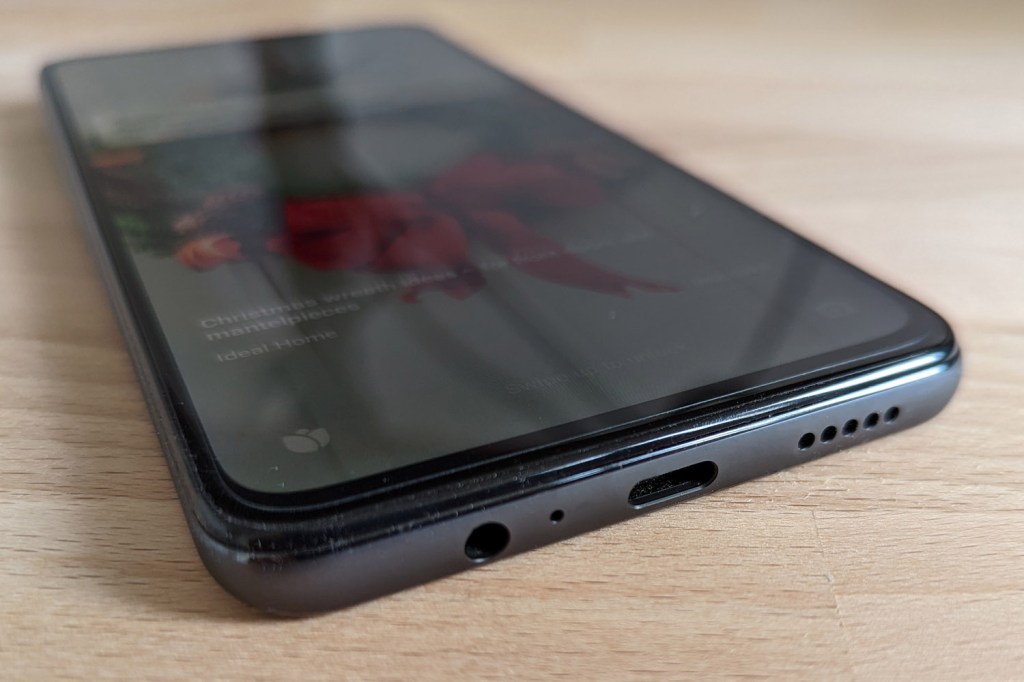 Snapdragon snobs might insist you need a Qualcomm CPU to have a good Android experience in 2021, but don't listen to 'em: MediaTek's Dimensity 810 is an eight-core slab of silicon that gets the job done perfectly well for a wallet-friendly phone.
It's fully 5G ready, which might have been headline news a year ago, but now super-quick mobile speeds are hardly a rarity, even at this end of the budget spectrum.
With 6GB of RAM, our handset was a little more adept at multitasking than the entry-level M4 Pro 5G (which makes do with 4GB of memory), but performance is largely on par with close rivals. Apps open quickly enough, and the homescreen UI feels fluid. Basic web browsing or social media doomscrolling won't be a problem, but the odd hitch or stutter shouldn't come as a big surprise.
It's a similar story with games: basic puzzlers and 2D click-em-ups will play pretty flawlessly, and more demanding 3D titles like Call of Duty Mobile or Genshin Impact will run at 30fps with sensible graphics settings – just don't expect to max out that 90Hz display on Ultra details. This isn't a flagship phone, after all.
Where the M4 Pro 5G does impress is on the battery front. A 5000mAh cell sounds beefy enough for all-day use, but the Poco thrashed our estimates and comfortably lasted into a second day before needing a top-up. If you're bingeing on Netflix shows or addicted to a particular game you'll still want to plug in overnight, but for general use this phone has great longevity.
33W fast charging means you won't have to spend long chained to the mains, either: expect a full recharge in a little over an hour. That's about 30% faster than the old M3 Pro, and on par with certain flagship handsets from Samsung.
OS & Software: overwhelming
As far as Android overhauls go, Poco's skin of choice is one of the more dramatic. MIUI blends elements from both Apple and Google, with a control centre-like notification tray, ultra-colourful icons and an app drawer that's fit to bursting right out of the box.
Unwanted apps are a big deal here, with what we'd consider 'bloatware' hitting double digits – and that's not including the MIUI-branded versions of Google apps you'll probably end up downloading from the Play Store anyway. At least you can uninstall the worst offenders.
Some software features don't seem to do much, like the RAM extension that borrows 2GB of storage space for virtual memory. You'll only be able to keep three or four apps open at once before they start reloading, whether it's turned on or not. Other, more useful settings, like swapping the onscreen navigation buttons for gesture controls, are buried deep in the menus.
You wouldn't know it to look at it, but the M4 Pro 5G is running Android 11 out of the box. Parent company Xiaomi reckons customers can expect two years of OS updates and three years of security patches, which is fairly standard for a budget phone. Still, for a longer lifespan, it's worth saving some more cash and picking up a Google Pixel or OnePlus handset.
Poco M4 Pro 5G verdict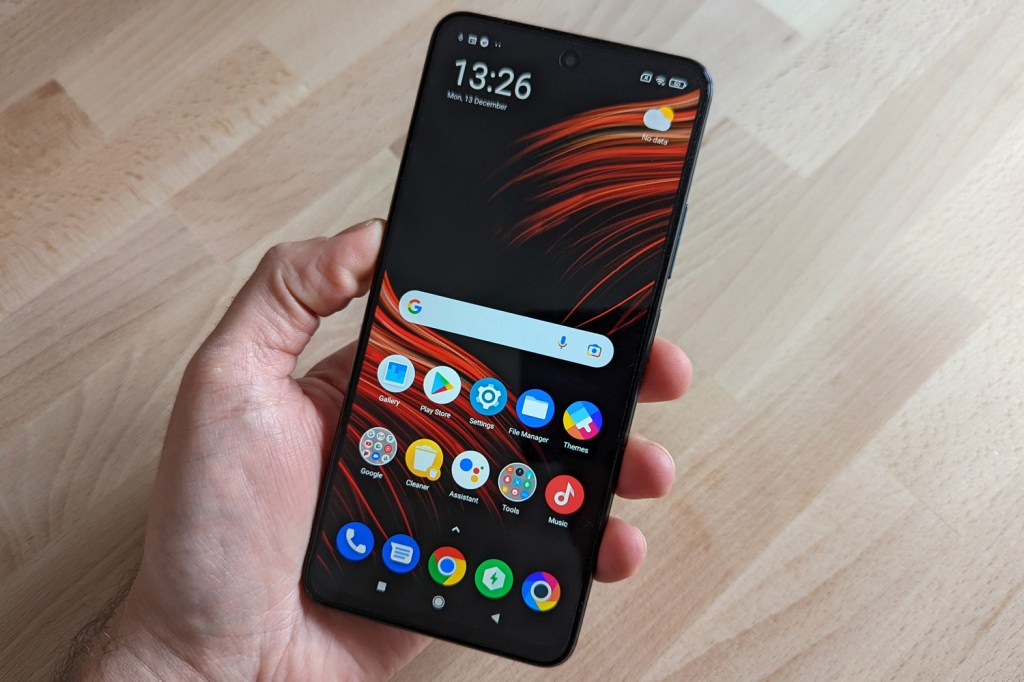 If you've got a tight budget, but still demand a lengthy feature list, the Poco M4 Pro 5G won't disappoint. A capable CPU, rapid battery charging and a sensible camera selection make it a step up from the M3 Pro (albeit a fairly minor one), and it hasn't sacrificed useful additions like expandable storage in order to keep the cost in check.
With no shortage of bargain competition, though, the M4 Pro isn't as big a steal as previous Poco handsets, and spending a little extra on something like the OnePlus Nord CE 5G will get you luxuries like an OLED screen and in-display fingerprint sensor.
You'll need to accept that low-light photography won't be on the menu, and prepare to spend some time tweaking the interface for the M4 Pro 5G to earn a place in your pocket.
Stuff Says…
A thrifty phone that doesn't take too many shortcuts. It may not be a true bargain like previous Poco phones, and the cut-price competition is fierce, but the M4 Pro 5G still does a lot for not a lot.
Good Stuff
Well-rounded hardware at a great price
Dependable battery life
Decent daylight cameras
Bad Stuff
Low light snaps aren't all that
Overbearing OS
Not a massive improvement over last year
Tech specs
| | |
| --- | --- |
| Screen | 6.6in, 2400×1080 IPD LCD w/ 90Hz refresh rate, 20:9 aspect ratio |
| CPU | MediaTek Dimensity 810 octa-core |
| Memory | 6GB RAM |
| Storage | 128GB on-board, microSD expansion |
| Camera | 50MP, f/1.8 w/ phase-detect autofocus, LED flash. 8MP, f/2.2 ultrawide. 16MP, f/2.5 front |
| Operating system | Android 11 w/ MIUI 12.5 |
| Battery | 5000mAh non-removable, 33W fast-charging |
| Dimensions | 16.4 x 7.6 x 8.8cm, 195g |