Yuneec Breeze 4K review
It's no aerial acrobat - this drone is more concerned with simplicity. And selfies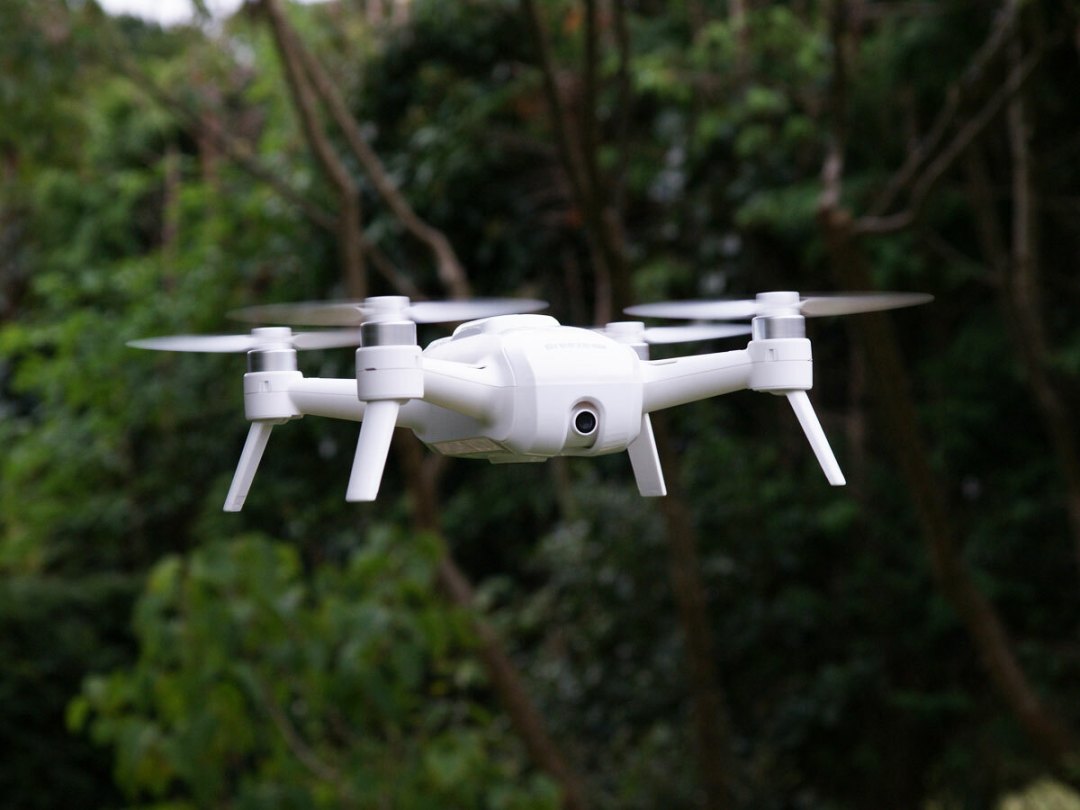 If advanced, £1,000-ish consumer drones like DJI's Phantom 4 and Yuneec's own Typhoon H are aimed at serious aerial filmmakers, the Breeze 4K is taking aim at a much more casual market.
In fact, the Breeze seems just purpose-built for social media mavens who want to take shareable aerial videos and snaps.
It's relatively affordable, easily portable, has a bunch of automated flight modes, and doesn't even need a controller – just your phone.
With 4K video recording and a host of sharing options available built right into the smartphone companion app, could this be the way to take the ultimate Like-worthy Instagram selfie?
We spent a couple of weeks with one to find out.
CLEARED FOR TAKE-OFF
The Breeze is a simple-looking drone, with four folding rotors, fold-out feet, a removable rechargeable battery and a front-facing camera integrated into its nose.
It's made of a lightweight but solid plastic that seems strong enough to stand up to (god forbid) the odd minor crash or two.
On that note, it also comes with a set of prop guards, which can be fitted if you plan on doing a spot of indoor flying.
The rotor arms don't fold into the body to reduce size, but the Breeze is already small enough to start with that you can easily bung it in a backpack. It's even got a compact carry case made from hard plastic to keep it safe until you find the perfect flying location.
And unlike a lot of other drones, you won't need a carry a twin-stick controller, because it's all taken care of through the smartphone app.
AIR TRAFFIC CONTROL
After connecting your Android or iOS smartphone to the drone over Wi-Fi and firing up the app, you get the choice of five different flight modes: Pilot, Selfie, Orbit, Follow Me and Journey.
Pilot is a "normal" mode that lets you fly the drone using on-screen controls. It's not as responsive as flying with a physical controller – it's stilted and awkward compared to the fluency of, say, the DJI Phantom 4 – but it does give a degree of fine control over the position, facing and height of the Breeze.
The Wi-Fi only connection means you're limited compared to other drones I've used when it comes to distance – you can only fly up to 100m away, and up to 80m in altitude. Still, that's a more realistic estimate than Parrot's lofty claims for the Bebop 2.
The other modes are all fully automated, with the drone's sensors and electronic brain taking charge.
Selfie flies up and out to a preset distance and altitude, facing you the whole time (who needs a selfie stick, right?); Orbit circles a central point with the camera facing it; Follow Me tracks a moving subject through GPS, physically flying along with them; and Journey takes the drone away a set distance, and then back to you.
Take-off and landing are automated, too – you can't do either any other way than by tapping an on-screen button. The Breeze isn't what you'd call a funtime flyer, then; it's more about getting the job done (and the selfies taken) with a minimum of fuss and effort – and on that front, it succeeds.
GPS and downward-facing camera sensors keep it flying relatively steadily whether you're outside or indoors. The latter still requires a lot more space than you might think – you have been warned.
I did find a tendency for it to drift around disconcertingly on occasion, forcing me at one point to swiftly hit the land button before a nearby rosebush got an unscheduled trimming. And, as with most drones, GPS means you can simply tap a "return-to-home" button when you want to bring the Breeze automatically back to its take-off point.
The biggest problem I had with flying this drone is how long I could do it for: the battery only lasts about 12 minutes, and charging takes 30-40 minutes, so just as you're getting into it you have to pack it up and go home (or somewhere with a mains socket) to top up again. You'll probably want to buy at least one extra battery, which will set you back £37 a pop.
COME FLY WITHOUT ME
But what about image quality? After all, flying is only one half of the aerial selfie equation. Well, I'm happy to report that it's… fine?
Let's face it: despite the fact that the Breeze records in 4K, its tiny sensor means it's never going to be much use for, say, an epic Michael Bay-helmed remake of The Ten Commandments.
Video quality comes off a tad flat, no matter if you're recording in 4K, 1080p or 720p, although the latter two resolutions do add some electronic image stabilisation to the mix, which helps steady the ship somewhat.
There's no three-axis gimbal to keep the camera level though, so if the drone tilts – either from the wind or because it's moving over a certain speed – your video tilts along with it. The juddering and buffering from the wind can get quite noticeable when you're flying higher.
Still photos clock in at 13MP, but like the videos they can be a little lacking when it comes fine detail and contrast. You can't shoot in RAW, but you can adjust a few settings like white balance and shutter speed, should you think you can do better than the default automatic exposure mode.
YUNEEC BREEZE 4K VERDICT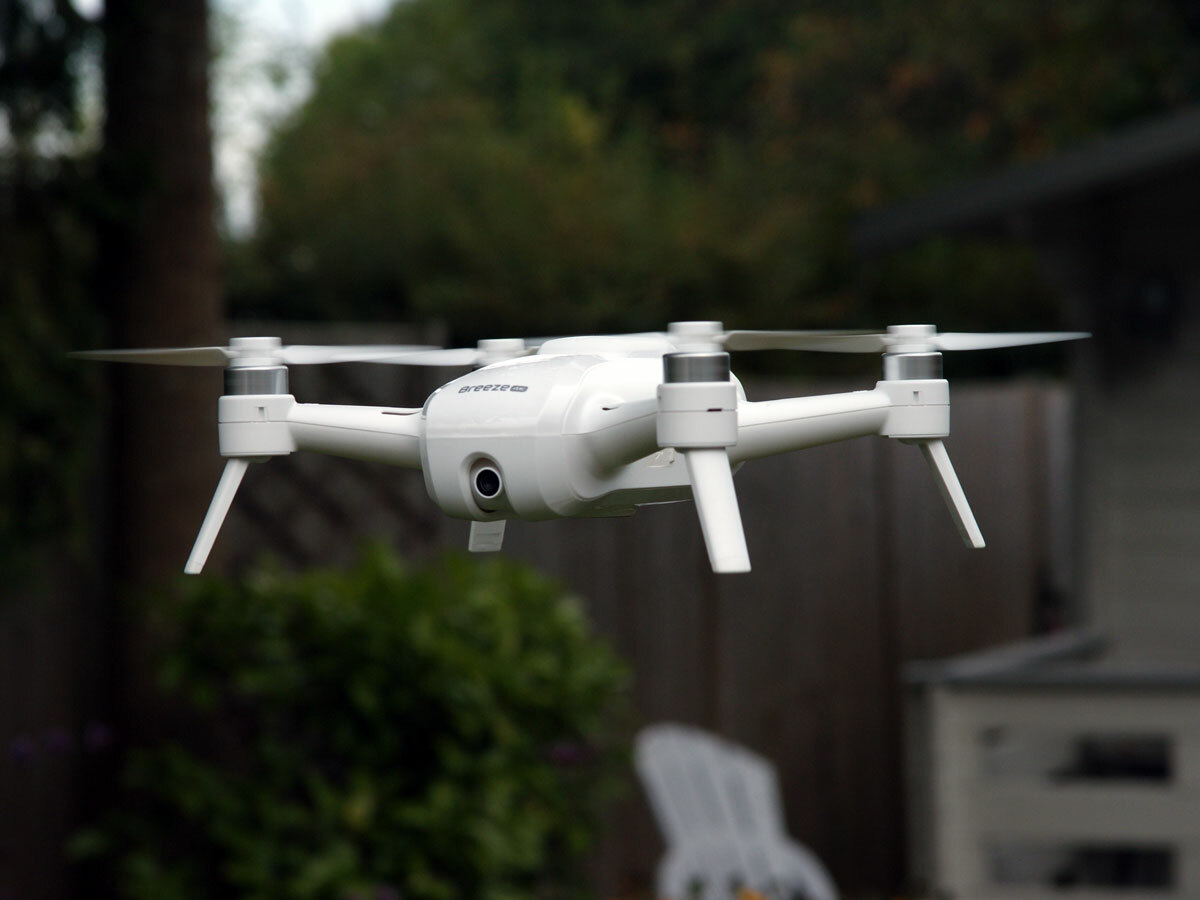 Yuneec is clearly pitching the Breeze as an alternative to Parrot's similarly portable Bebop 2. At the time of writing both quadcopters cost £440. The 1080p Bebop 2 has a longer 25 minute flight time per charge (and a proper physical controller if you spend a bit more), but the Breeze beats it on weight (385g to 500g) and video resolution. 

Which should you buy? It's a tricky one, as both have their good and bad points, but I feel the portability of the Breeze and its automated modes make it the better choice for those who aren't fussed about flying, just about footage.
If you want something that can fly far, fast and free, as well as do a bit of passable aerial shooting, go for the Bebop 2.
Tech specs
| | |
| --- | --- |
| CAMERA SENSOR | 13MP CMOS |
| VIDEO RESOLUTION | 2160p @ 30fps / 1080p @ 30fps / 720p @ 60fps |
| FLIGHT TIME | 12 minutes |
| MAXIMUM ALTITUDE | 80m |
| DIMENSIONS: | 196x196x65mm, 385g |
Stuff Says…
A solid social media drone, but not a fine flyer
Good Stuff
Easy to fly and use
Bad Stuff
Battery life feels a little too short