Yuneec Typhoon H review
A drone shows us the joy of six (rotor blades)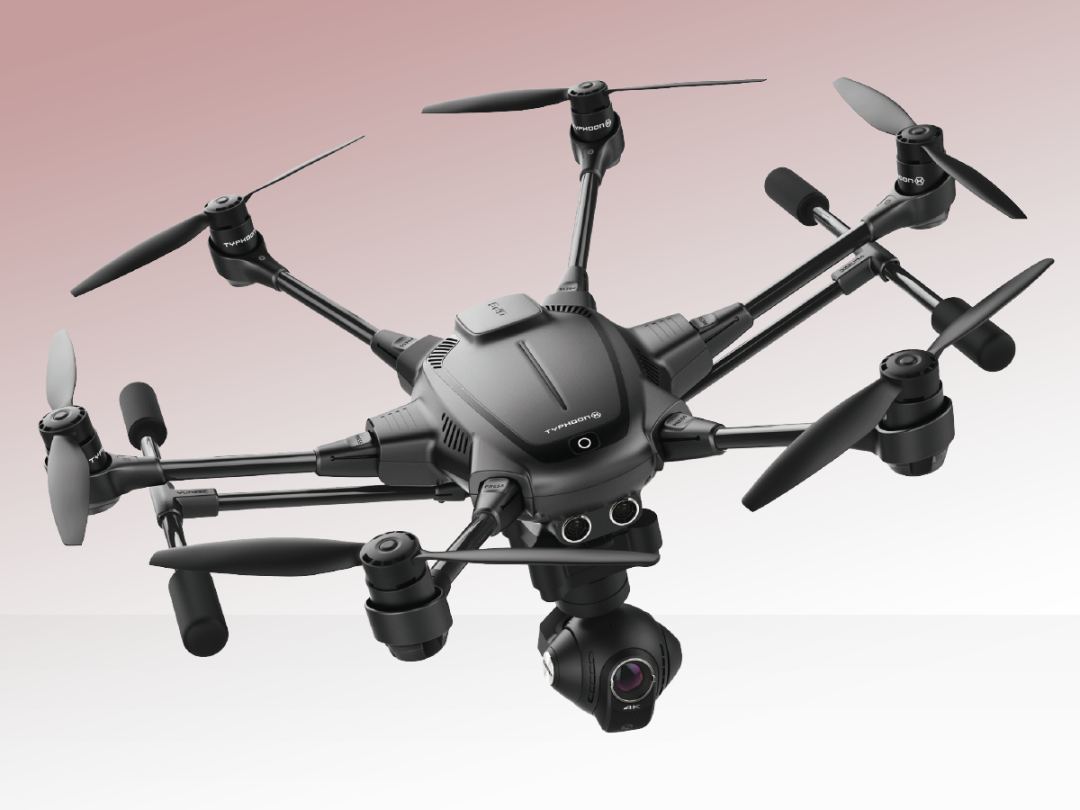 If DJI is the Coca-Cola of consumer drones, Yuneec is Pepsi – a big, successful name, but still second best. We're not sure if it's got the same funny taste if you lick one, though.
The Typhoon H wants to tip the balance in Yuneec's favour, and on paper looks like it has the chops to do it: at £1,100, it's cheaper than DJI's Phantom 4, but has a beefier features list.
How does retractable landing gear, dual-operator flying and a 7in touchscreen built into the remote controller sound? If that doesn't get your motor running, the Typhoon has six of its own – two more than than the Pantom's four. All while packing in a similar blend of 4K video recording, clever trick flying modes and user friendliness.
In fact, the Typhoon H seems a more worthy rival to DJI's step-up model, the Inspire 1 (£1,769 at the time of writing), than the Phantom 4.
So does it deliver the drone to finally knock DJI off its perch? Not quite – but it comes really, really close.
SIX APPEAL
This isn't a drone that's too tubby for take-off, even with six rotor arms. It's a fair bit larger than a Phantom with all six arms extended, sure, but you can fold them down to make it much easier to lug around between flights.
There's no carry case like the Phantom 4, though, so unless you want to lug it everywhere in the original box, it's a good idea to invest in the rugged backpack – a £110 option. I can throw (or rather carefully place) my Phantom 3 in a tote bag at a pinch for a discreet drone drop-off, but the Typhoon H is just that bit too wide for that.
At 1.85kg, it's a little heftier on the scales than the 1.38kg Phantom 4, too, but still far from back-breaking. You've got the lightweight carbon fibre rotor arms and landing gear to thank for that.
Ah yes, that landing gear. After take-off, flicking a switch on the controller will swivel the feet up about 90 degrees, letting the gimbal-mounted camera pan around a full, unobstructed 360 degrees. It's a party trick shared by DJI's Inspire 1, but not the Phantom 4, so it's a quite the coup for Yuneec to squeeze it into such an affordable drone.
Rotary club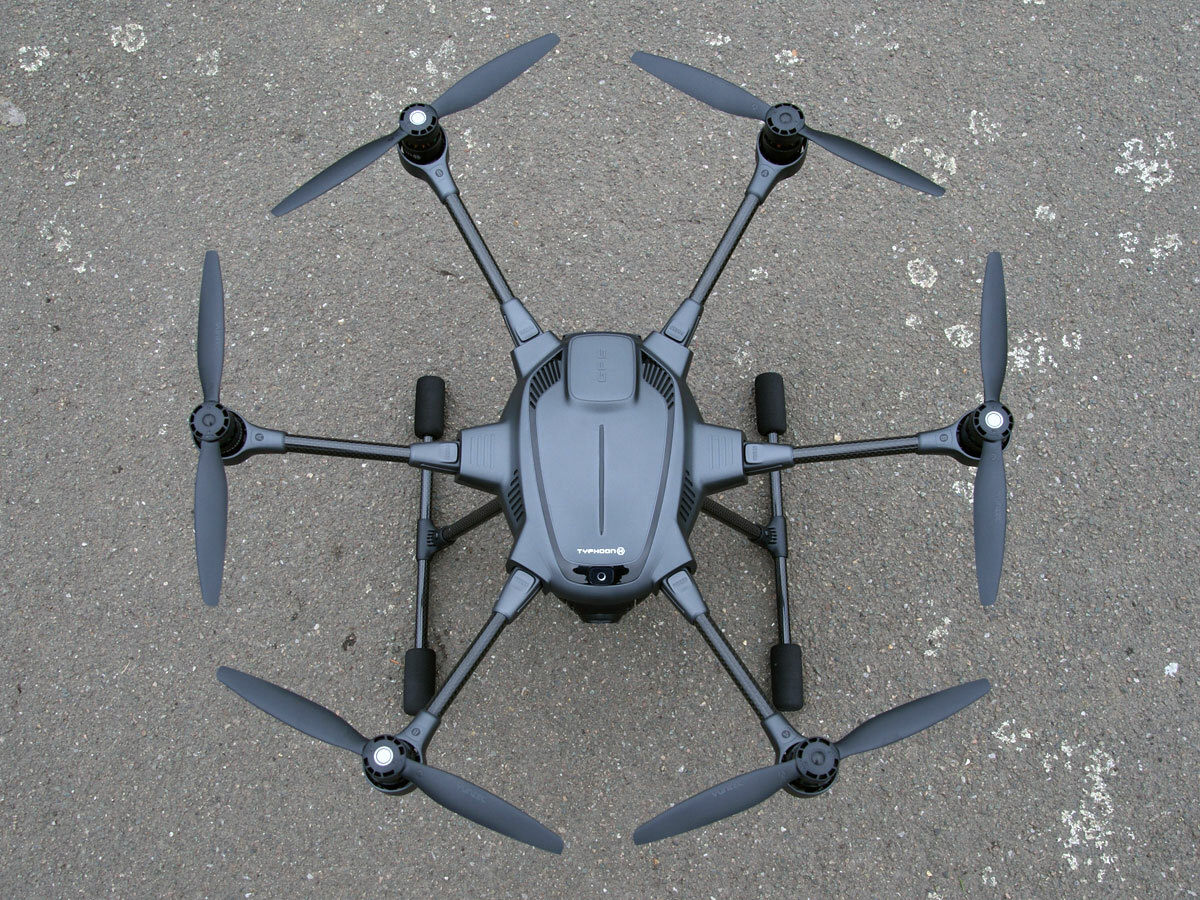 With six rotors, the Typhoon should, in theory, be more stable in-flight than any four-rotor rival. Flying round my local park on a cold, windy June morning (never change, British summertime), it certainly felt very stable – with the footage looking like it was taken from a crane rather than a dinky flying platform when I played it back later.
Then again, I've never found DJI's quadcopters to be particularly susceptible to gusts of wind either, thanks to the gyroscopes and IMU sensors doing a bang up job to keep themselves level at all times. I'm not sure how much of the Typhoon's stability is down to an abundance of motors.
The other advantage to putting hex appeal before quad goals is that, according to Yuneec, if one motor fails the drone will stay in the air. Short of sabotaging an £1100 loaner, this wasn't a claim I could test, so I'll have to assume Yuneec isn't telling porkies here.
Take Control
Flying the Typhoon H is a cakewalk with the remote controller, which links up to the drone over Wi-Fi and radio. It's got a 7in touchscreen built in, for changing settings and getting a 720p real-time feed of what the drone's camera is pointed at.
OK, the reflective screen coating can make flying a bit trickier when the sun's blazing, but the three-sided shade included in the box blocks out direct sunlight. Basically, you'll always be able to see what's going on, without having to stuff the controller up your jumper.
There are a ton of physical buttons and switches for controlling flying and camera modes, and it recharges over USB so you don't have to mess about with battery packs. It's a little on the large and heavy side, so the bundled neck strap definitely comes in handy when you're heading off to do some flying.
Overall, this Typhoon's remote is better than the Phantom's, mostly because you don't have to faff about plugging in a smartphone or tablet. It's basically an Android tablet itself – you can even run apps on it.
Turn on the controller and the drone should pair automatically – at least, that's the theory. Most times, the RC would pair but the Wi-Fi wouldn't, so I was diving into the menus to try and re-bind the two together. If this happens once or twice, it's forgivable, but it happened most times I used the drone.
I suspect it's a problem that can be fixed through a software update, but right now it's an annoying time-waster.
Up, Up and Away
There might be an extra pair of props, but once you'e up in the air the Typhoon feels a lot like the Phantom.
It's zippy and responsive, holds its position well if you take your fingers off the sticks, and has collision detection to stop itself ploughing into obstacles directly in front of it. Don't expect it to dodge anything if you're flying backwards or from side to side, though – that'll just end up with a shashed drone and an expensive repair bill.
Software restrictions make anything above 400 feet a no-fly zone, but you can still get a fair old distance away from the controller without losing connection. Yuneec reckons it's about a mile, but given how flying out of your visual range is illegal (and we're all law-abiding drone pilots here at Stuff), I didn't put that limit to the test. It's certainly fine to a few hundred feet.
If you do lose sight of the drone for whatever reason, flicking the flight mode switch to "H" makes it automatically fly back towards you and eventually land within a few metres. Spot it coming back and have some flight time left? Jump back on the controls and you can pick up where you left off.
A bunch of other handy autopilot modes are included, to circle a point of interest for a perfectly steady shot, follow a route you draw onscreen using map waypoints, or even lock the camera on a subject and track it – handy if you want an aerial shot of your bike ride or running route.
THE BIGGER PICTURE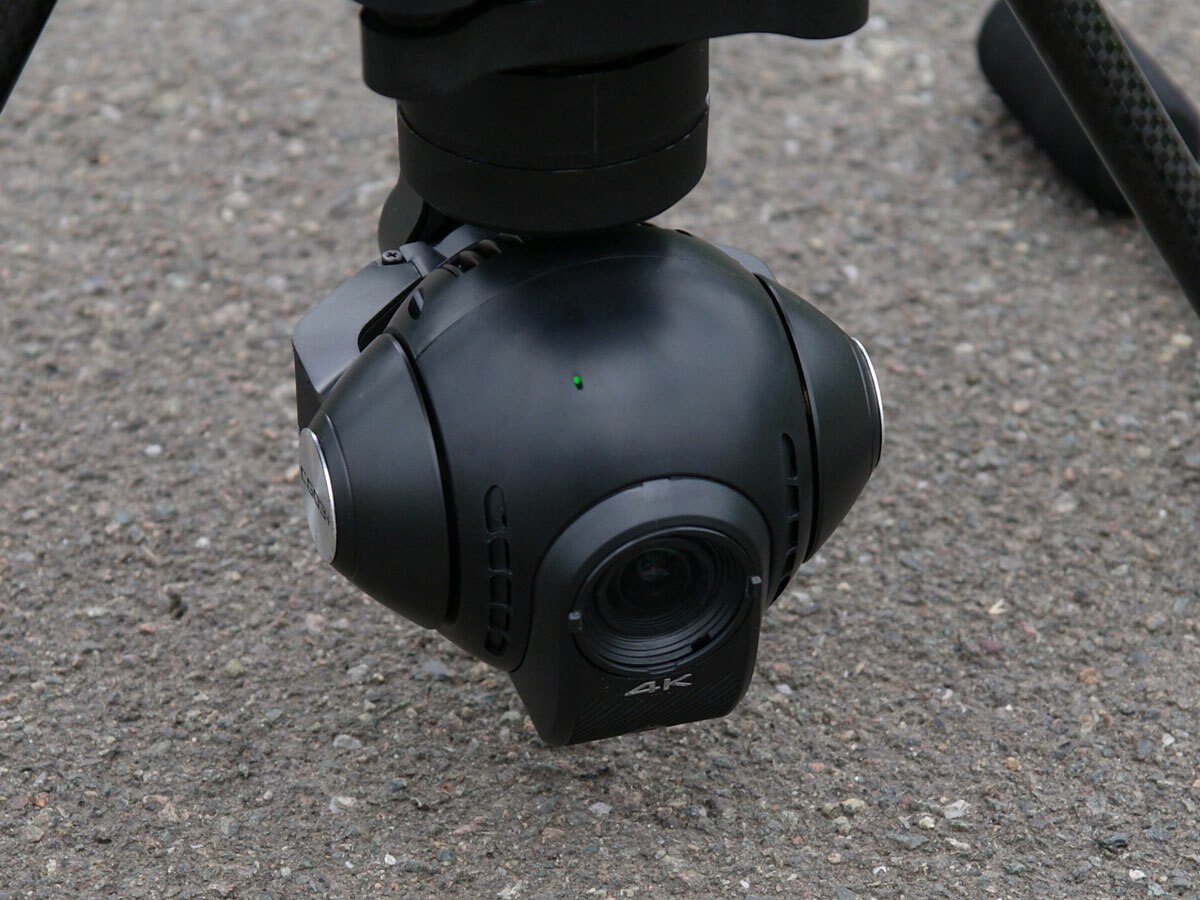 With a mix of video modes and resolutions, from 1080p at 120fps to 4K at 30fps, plus 12MP stills in either JPEG or RAW, the camera ticks all the boxes for a top-end consumer drone. It's a very similar setup to DJI's Phantom 3 and Phantom 4, with automatic settings that do a great job in most conditions. You've also got full manual controls for getting that perfect shot.
4K footage is, as you'd expect, incredibly rich in detail. 1080p is better for filming fast-moving subjects, thanks to the faster frame rate, but I found the 4K aerial stuff the most impactful.
Is it better than the Phantom 4's footage? There's very little to separate them, with both drones pumping out gorgeous stills and video. I couldn't point to one or the other as the obvious choice when it comes to quality, but Yuneec might have the edge for serious filmmakers.
That's because the Typhoon H ships with a second "Wizard" controller. It might look like a tiny TV remote, but it'll actually let one person fly the drone, while another uses the main controller to operate the camera. Those shots that are either tricky or impossible for one person to pull off should be a lot easier as a two person team. You'd normally buy the second controller separately, but Yuneec is throwing it in with the drone for a limited time. Bonus.
You've probably got about 25 minutes of flight time per battery charge, which is roughly the same as DJI's Phantom 4. The problem is how long it takes to top up once you've drained it.
The Phantom's battery is ready to go in under an hour, but the Typhoon H's takes about two. That's too long, and really puts the limiters on how much aerial photography you can get done in a day – unless, of course, you buy more batteries (at £115 a pop). You get an in-car charger in the box, but really a second battery would have been a much better choice.
Yuneec Typhoon H verdict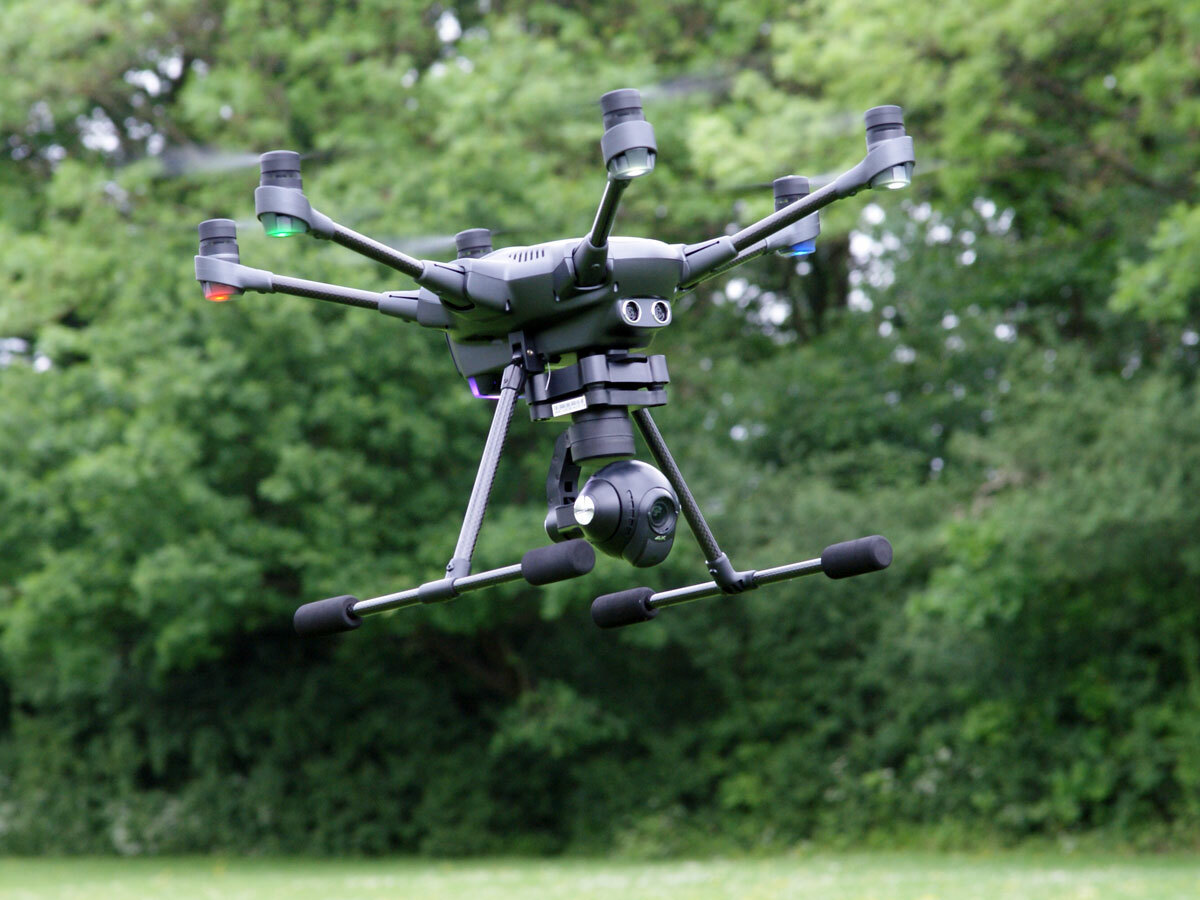 On its own terms, the Typhoon H is a fantastic hexacopter that nails everything you'd expect from a camera drone: it's easy to fly; has a lengthy flight time; takes great footage and photos; and folds up to a (reasonably) portable size. A really classy product, in other words.
It's got a few advantages over the Phantom 4, too: landing gear that folds up out of the way is potentially a godsend, as is the dual-operator option for serious filming.
However, the whole thing is just a bit hamstrung by the two-hour battery charging time, which is comfortably trounced by rivals from DJI. Sort that out, and the Typhoon H would be the Yuneec model we'd recommend over a Phantom 4.
For now, it's still lagging just behind – but the gap is closing.
Stuff Says…
Another fantastic camera drone hits the market – albeit one that's held slightly back by its snail-liking charging times
Good Stuff
Stable in windy conditions
Good quality footage and photos
Supports dual-operator controls
Retractable landing gear
Bad Stuff
Battery takes far too long to recharge
Annoying Wi-Fi pairing issues