Acer ConceptD 9 hands-on review
Flip reverse it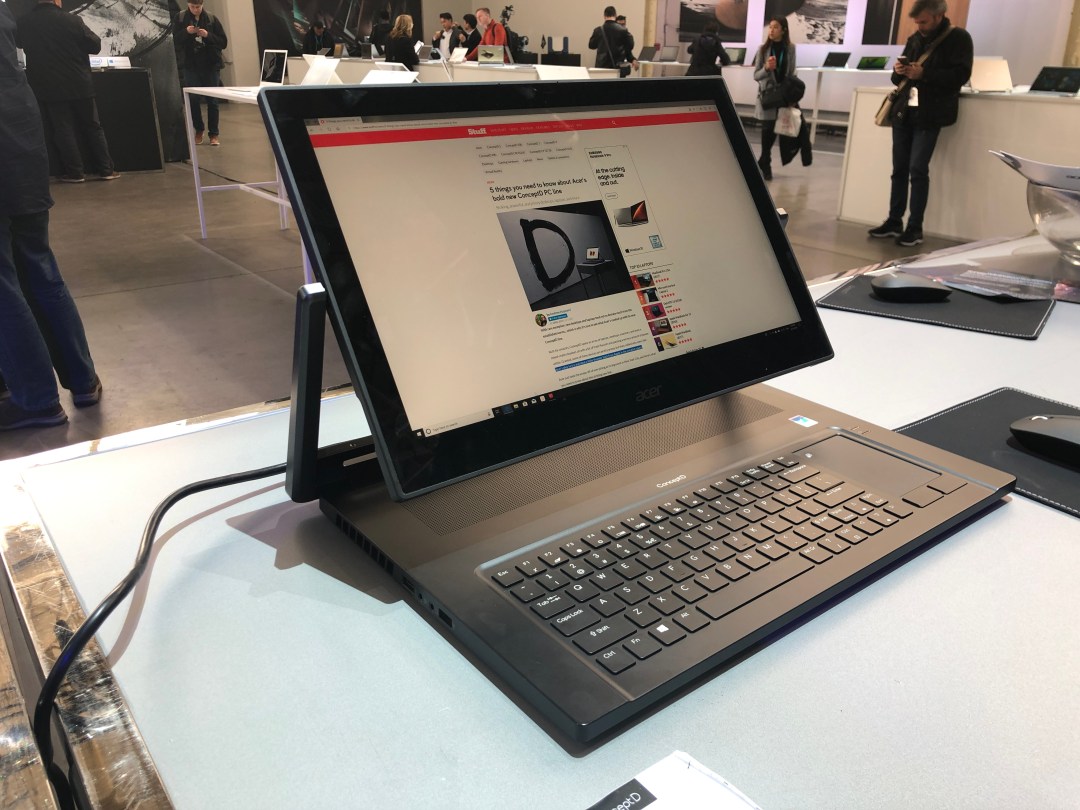 Acer's ConceptD collection is aimed firmly at creators – the sort of people who claim to have legitimate need for a stylus – and comprises desktops, laptops, monitors and even a Windows Mixed Reality headset.
The kit comes courtesy of a collaboration with iF Design, so as well as promising powerful performance it aims to impress in the style stakes too. So can its range topping "creator laptop", the ConceptD 9, tick all the boxes (with or without a stylus)?
An adaptable 17.3in 4K display, a new 9th Gen Intel Core i9 mobile processor and NVIDIA GeForce RTX 2080 graphics mean the ConceptD 9 should be a creative force to be reckoned with, but then there is the small matter of that price tag.
Design: It all hinges on this
The 9 is the head turner of the ConceptD laptop line-up thanks mainly to an Ezel Aero Hinge™. This allows you to flip, recline or pull the screen closer to you, even over the keyboard if so desire. It's a fluid mechanism with bags of versatility for different uses, such as sharing, sketching or even gaming, and first impressions left us feeling confident we could flip reserve it to our heart's content without something breaking. Generous dimensions mean enough space for a trackpad next to the keyboard, although this is situated to the right of the keys rather than under it. Some might argue it's where you'd usually find a mouse, but it just feels odd and leaves left-handers totally hampered. A sizeable speaker sits above the keys, but the ConceptD 9 still seems to have plenty of vacant space going spare and for a device conceived in partnership with a celebrated design agency it's not particularly attractive. In fact it feels unnecessarily clunky with out of proportion controls.
Display: Pantone pro
Scroll up to the 17.3in 3840 x 2160 4K display and things don't immediately get much better, because there's an overbearing bezel to contend with that's around two fingers thick. Still, there is a lot of display to support and one where the ConceptD 9's piste de resistance comes into play. The screen is PANTONE validated, supports 100% of the Adobe RGB colour gamut and has a DetalE colour rating of less than one (closer to zero the better). For designers and editors especially this means the capability to reproduce a wide range of colours with incredibly detailed accuracy. There's no denying the 400-nit display is a stunner, with rich and vibrant reproductions, although the glossy screen wasn't done any favours by a demo area caked in daylight from above. There's also plenty of fun – sorry, serious designer-type work – to be had with the Wacom® EMR stylus that magnetically attaches itself to the ConceptD 9 in a similar fashion to the iPad Pro. With 4,096 levels of pressure sensitivity, our five minutes of doodling felt entirely comfortable and responsive.
Performance: Specs appeal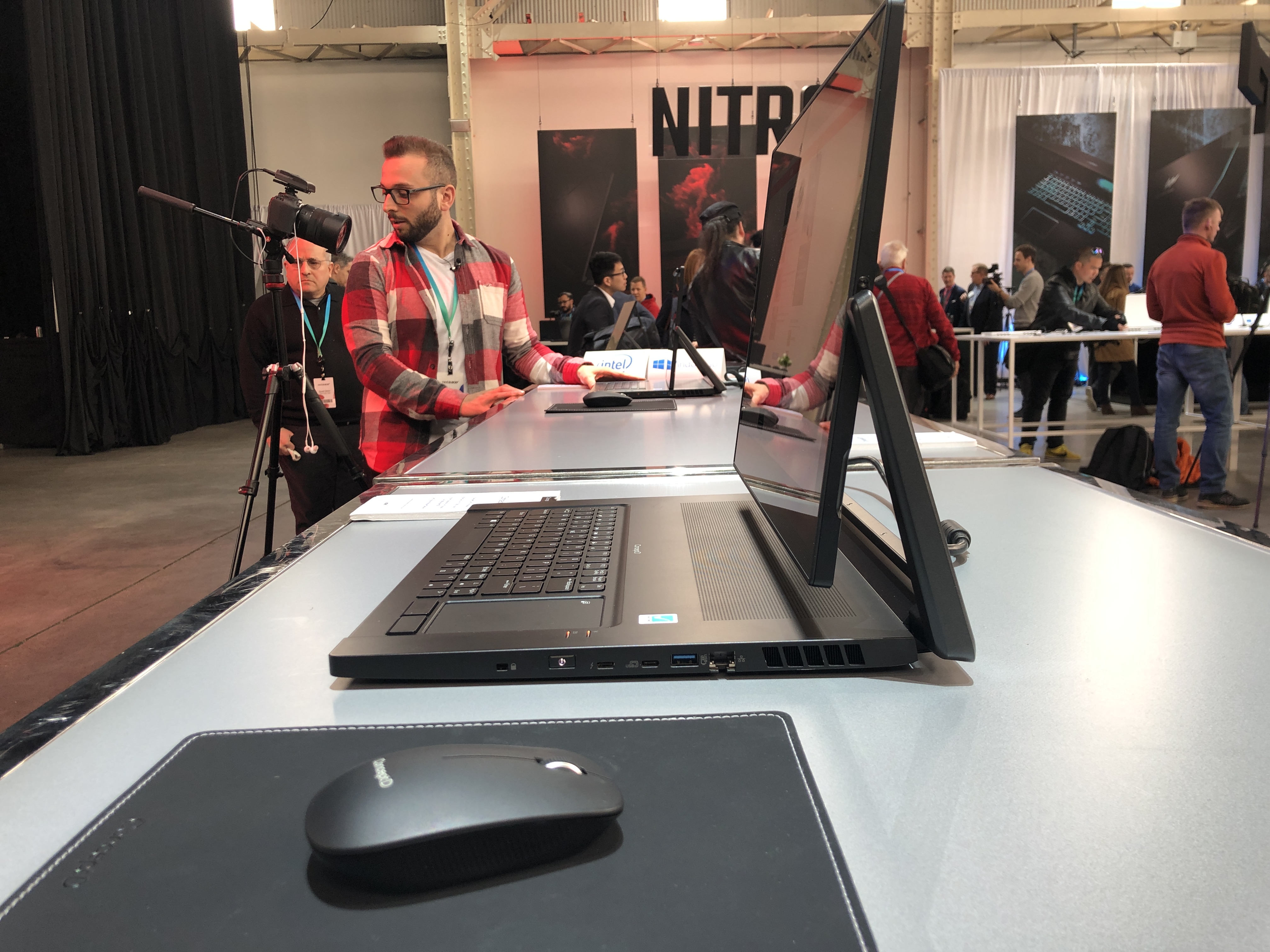 Our limited time with the ConceptD 9 didn't allow us to throw any sort of serious tasks its way, but for a five grand machine you do get seriously high-end innards, although that's just the starting price.
Spec it with a 9th Gen Intel Core i9 mobile processor and NVIDIA GeForce RTX 2080 graphics and Acer say it'll be hugely capable for 3D rendering applications and will supercharge AI too. Editors, you'll also be able to work natively with 8K RAW files without dropping video frames.
In terms of a real-world test you'll be relieved to know it found the Stuff.tv homepage easily enough and web browsing felt as smooth as you would expect.
Acer ConceptD 9 initial verdict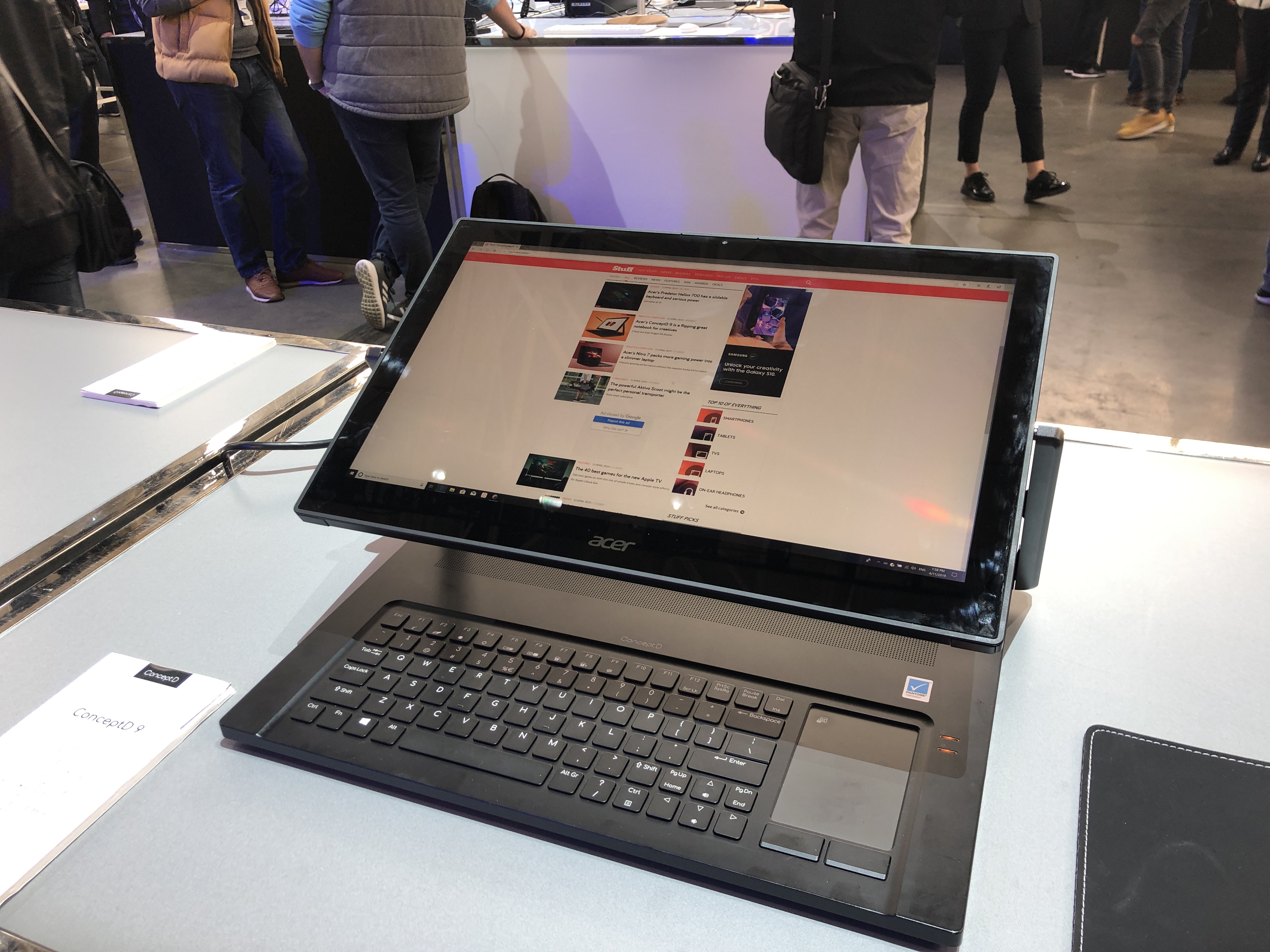 Starting at €4,999, the ConceptD 9 represents a serious outlay for a laptop, but then this isn't the sort off device students will buy for uni when it arrives in Europe this August. This is for the creatives, the professionals, the serious people with serious work to do. Problem is, some of these people like to go about their business in trendy spaces where they can peacock about with pretty hardware and the ConceptD 9 is anything but. Versatile and powerful in equal measure, it's a hybrid laptop that will get the job done without so much as a hint of perspiration, just don't expect it to look cool in the process.