Acer Mixed Reality headset review
VR gets cheaper and easier thanks to Windows 10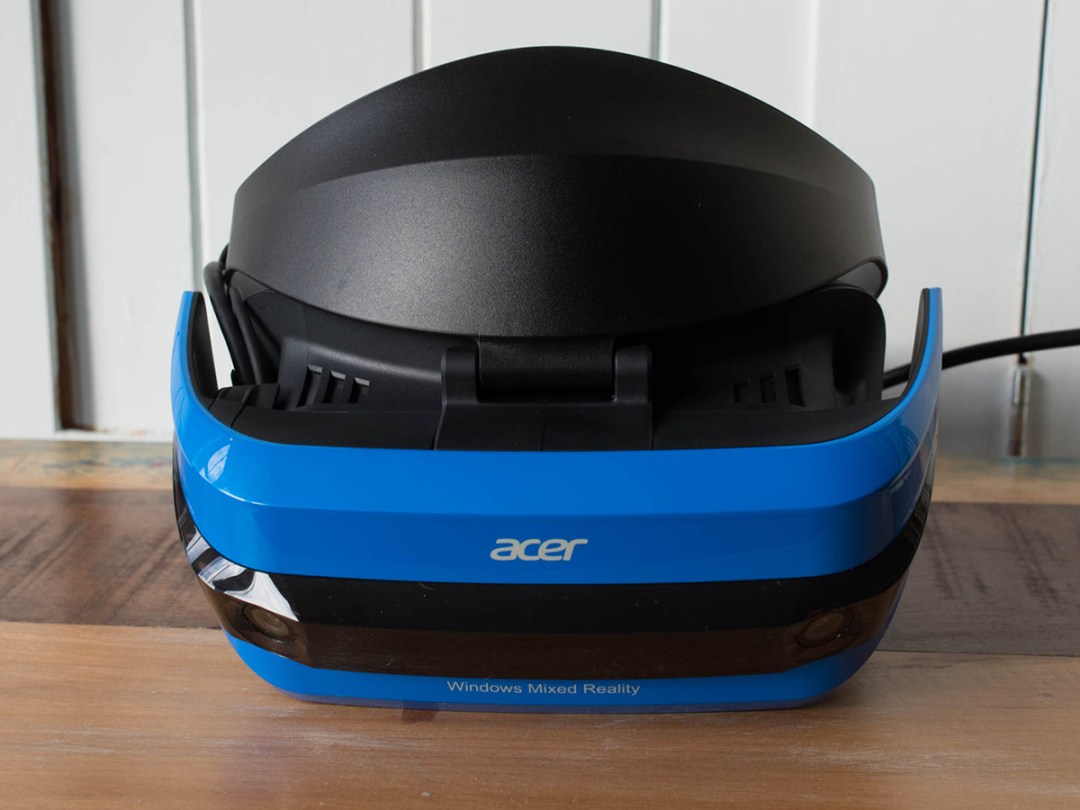 With its bright blue plastic finish, the Acer Mixed Reality Headset looks a little like a '80s version of what a futuristic virtual reality headset might look like.
Not that I'm complaining: retro is in, and Acer's headset looks fun.
As Acer has used the same Microsoft reference design for its headset as the likes of HP, Dell and Lenovo, the only thing to distinguish between models is price and build. Acer's certainly got the stand-out looks, but are looks alone enough to make this headset stand out?
HEADSET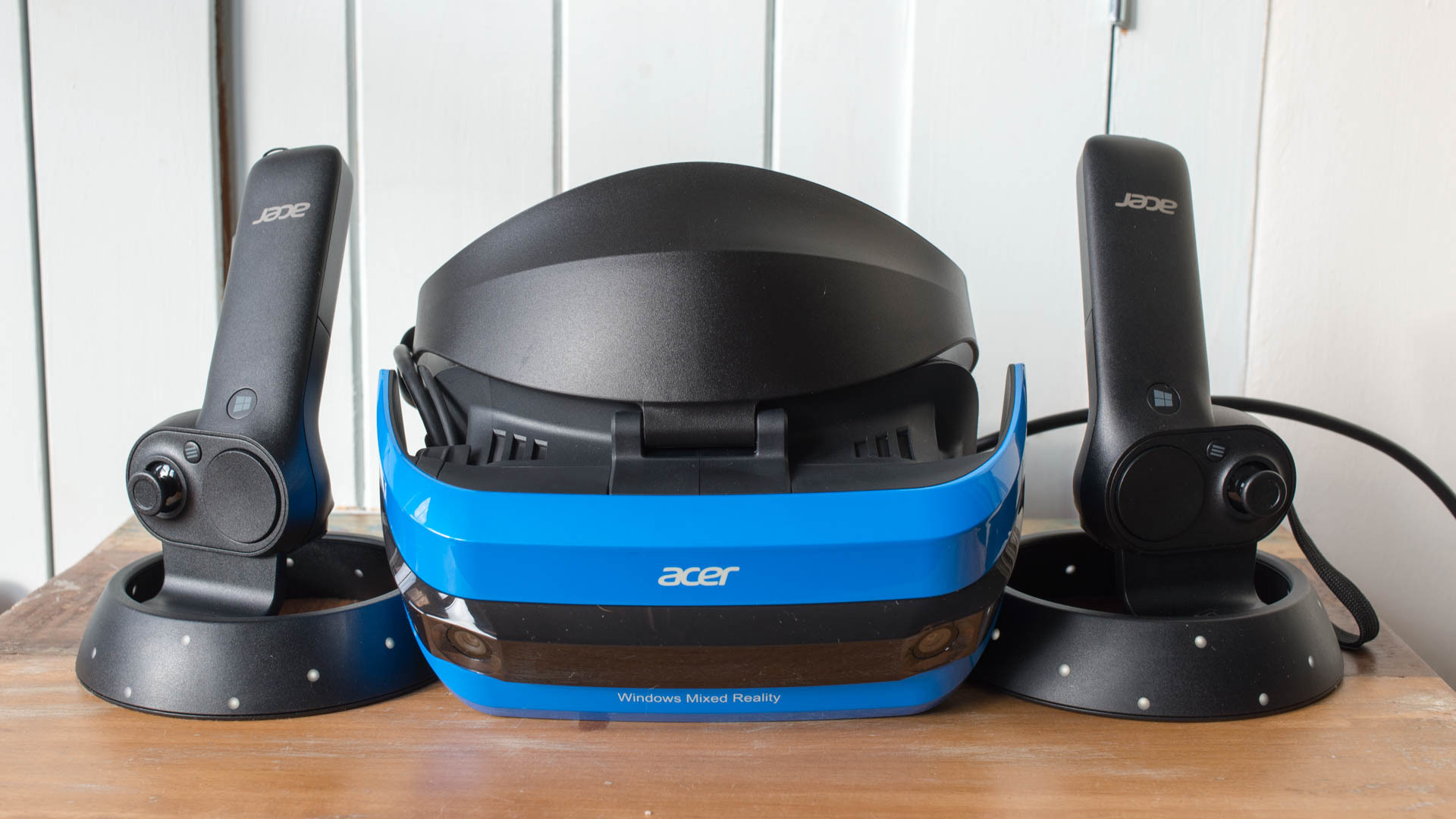 As with the other Mixed Reality Headsets doing the rounds right now, the truth is that they're really VR headsets – just like the Oculus Rift or HTC Vive. Microsoft plans to add augmented reality later down the line, but right now, we're purely talking VR.
One of the smartest moves that Microsoft made with its reference design was to dump the need for any external sensors. Instead, cameras at the front of headset provide position and controller tracking. That's excellent news, as it means you've just got to jam a single HDMI cable and one USB cable into your PC to get going.
Learning from the likes of HTC and Oculus, Acer's headset is smartly designed, so that the screen hangs off the front of a headband that's tightened with a screw at the back of your head. That means that the weight of the unit isn't constantly pushing against your face.
A hinge lets the entire headset flip up, so you can quickly check what's going on in the real world or make an adjustment. This is particularly important if, like me, you wear glasses, as it makes getting a comfortable fit easier. I found Acer's headset comfortable enough to wear, but the Dell Visor has even better padding and ups the comfort stakes further. If you can, get to a shop and try on the different headsets to find the one that suits you.
Neatly, Acer includes a pack of paper liners with the headset so that you can share with your more sweaty-faced friends, without worrying about any hygiene issues.
Common to all mixed reality headsets, Acer doesn't integrate any headphones. Instead, there's a 3.5mm audio adaptor clipped to the side of the visor. This looks a little ungainly and like a bit of an afterthought – but hey, it worked for the HTC Vive. Getting a typical gaming headset to sit neatly over the top of Acer's VR goggles is a bit of a faff, though.
CONTROLLERS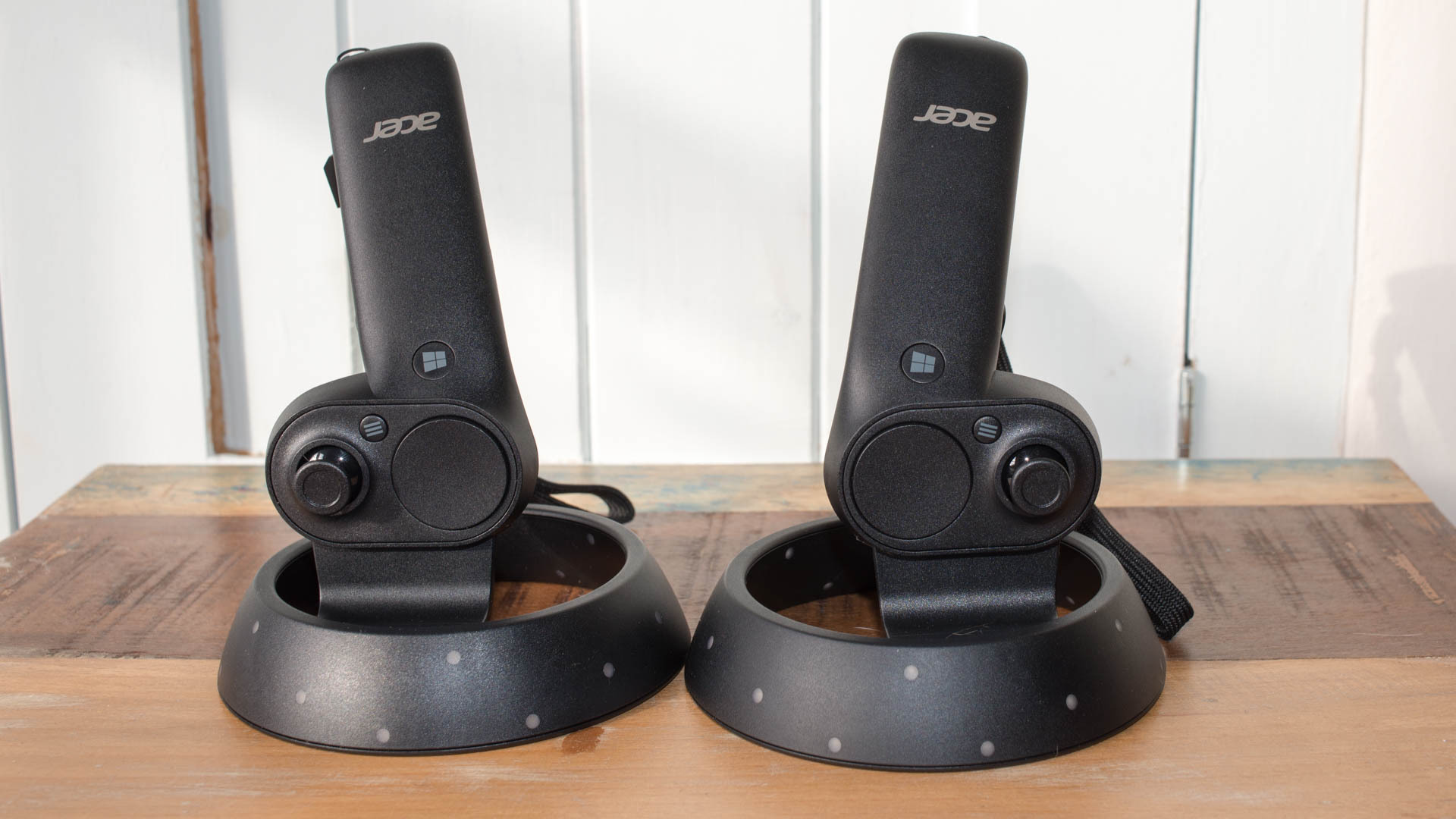 Aside from the Acer branding, the bundled controllers are the same as those provided with any other Mixed Reality headset.
They're similar to the Oculus Touch controllers, with triggers, grip buttons, joysticks and touchpads, surrounded by a ring of glowing LEDs which are used by the headset's cameras for motion tracking. The downside of this system is that tracking only works while the controllers are in front of you – move too far to the sides and they lose connection.
Games work brilliantly with the controllers, whether I was using the the triggers to fire guns, or physically moving the controllers to swing a punch or pick up a bit of a puzzle. Being able to physically move around works brilliantly with some content, and the motion tracking is every bit as good as on Vive.
The controllers are a little chunky, but once you get used to them, they feel perfectly comfortable to hold, with smooth tracking accurately picking up their movements.
It's a shame that Microsoft has forced everyone to use the same controllers, though – keeping all the buttons in the same place will help developers standardise their control schemes, but some variety would have been nice to see.
INTERFACE & EXPERIENCE
Setting up the Mixed Reality Headset is simple enough, with two options available out of the box.
First, you can 'draw' a boundary by following the on-screen instructions to move the headset in a rectangle around your room (you need a minimum of 7x5ft). In-game, when you approach the boundary you see a white cage, so know it's time to stop moving before you crash into some furniture.
Alternatively, you can set the headset to be used in a static position (sitting or standing), so you can get the full VR experience in a tight space.
As with all the other Mixed Reality headsets, Acer's uses a pair of 1,440×1,440 screens (that's up on the 1,080×1,200 on Oculus Rift and Vive). The resulting image is excellent, with a sharp and well-defined 3D world. Sure, if you focus on the screens, there's a slight screen-door effect where you can see the pixels, but as soon as your eyes relax you see a clearer image.
The downside is that there currently aren't many VR apps to choose from. Aside from the occasional good game, like Superhot VR (where you take on robotic virtual ninjas in slow motion, Matrix-style), there's a lot of content that feels like filler. Sure, seeing the 2017 solar eclipse or having a tour of New York in 1926 is fun, but this kind of content is nothing I've not seen before with smartphone-based VR.
SteamVR support is currently in beta, and I've had some issues getting titles to work properly, but full support is due by Christmas, which will dramatically increase the range and quality of available games.
Using SteamVR would also mean that you can avoid Microsoft's Mixed Reality portal, which makes you wander around Cliff House to launch applications. You can place app shortcuts as 3D objects in your house, but remembering where you put them is too much hassle.
Cliff House also lets you use some desktop apps in the 3D world, such as creating the effect of a giant cinema screen using the media player. It's a neat demo but soon becomes annoying. I hope that Microsoft pushes Cliff House into the sea and opts for a standard menu in the future.
ACER MIXED REALITY HEADSET VERDICT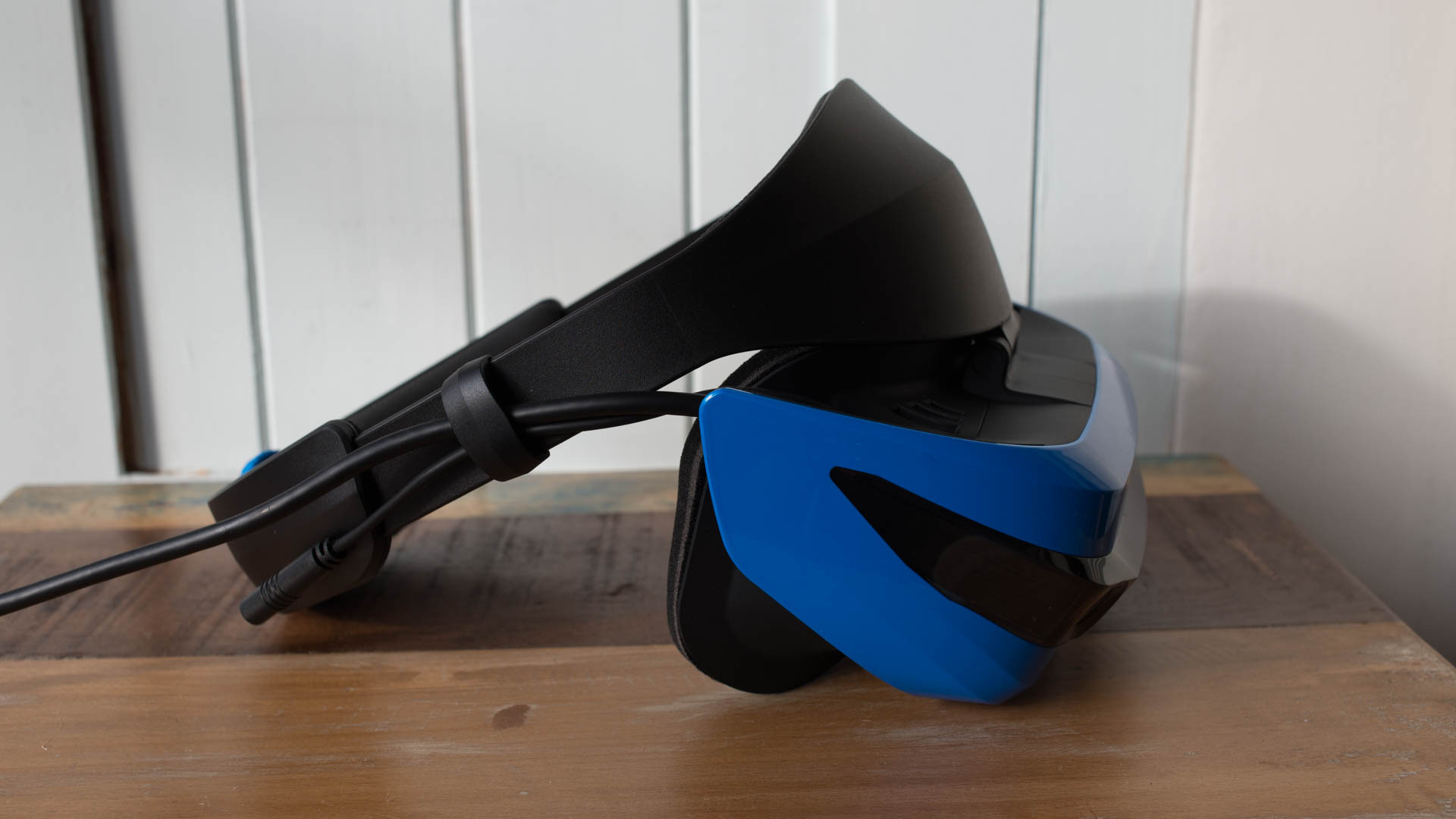 Of the headsets that I've tried, the Dell Visor is arguably a tiny bit more comfortable to wear, and it's currently a touch cheaper, too. As a result, it's the headset that I'd buy, but it's a very close-run thing, and the Acer Mixed Reality Headset hits most of the right notes.
The downfall of the entire Windows 10 Mixed Reality Platform at the moment is the lack of content for it, which won't be fully addressed until SteamVR support comes online.
Currently, then, the Oculus Rift (also £400) is the better buy, but when SteamVR support launches later in the year, the Windows option could be the route to go.
Stuff Says…
A neat and simple way to get into VR, but the lack of content currently holds both this headset and the Windows Mixed Reality platform back.
Good Stuff
Easy to set up
Excellent image quality
Great value
Bad Stuff
Cliff House interface is annoying
SteamVR support not ready