Acer Nitro 5 review
The Acer Nitro 5 is an affordable gaming laptop. Could it possibly be any good?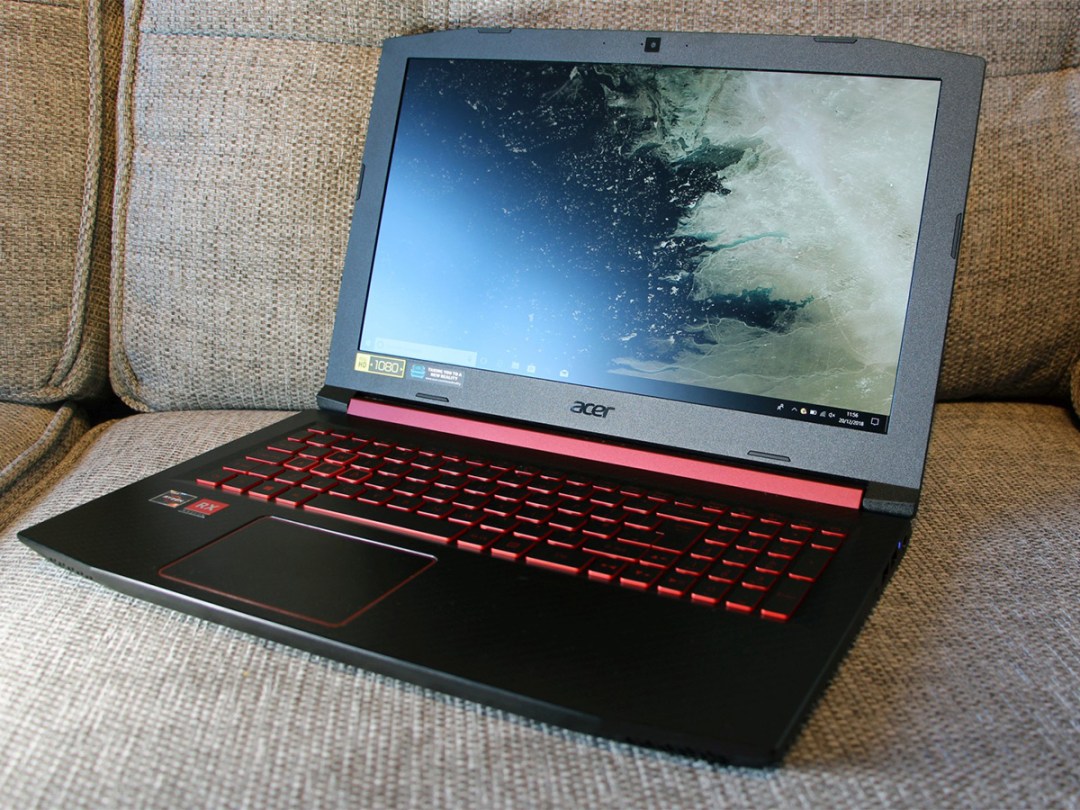 The Acer Nitro 5 is a gaming laptop that arrives with a low price and lashings of AMD hardware.
That may be enough to make a lot of gamers think twice in a world full of expensive machines that are dominated by Nvidia hardware – but should it?
Not necessarily. The AMD silicon inside the Nitro comes after a couple of years of success for the smaller chip-maker, and it'll have ample power for most games – including those crucial esports titles.
That's all well and good, but we're going to find out if the lower budget has had an impact in other critical areas – like the design and the screen.
Design & Build: Crimson flash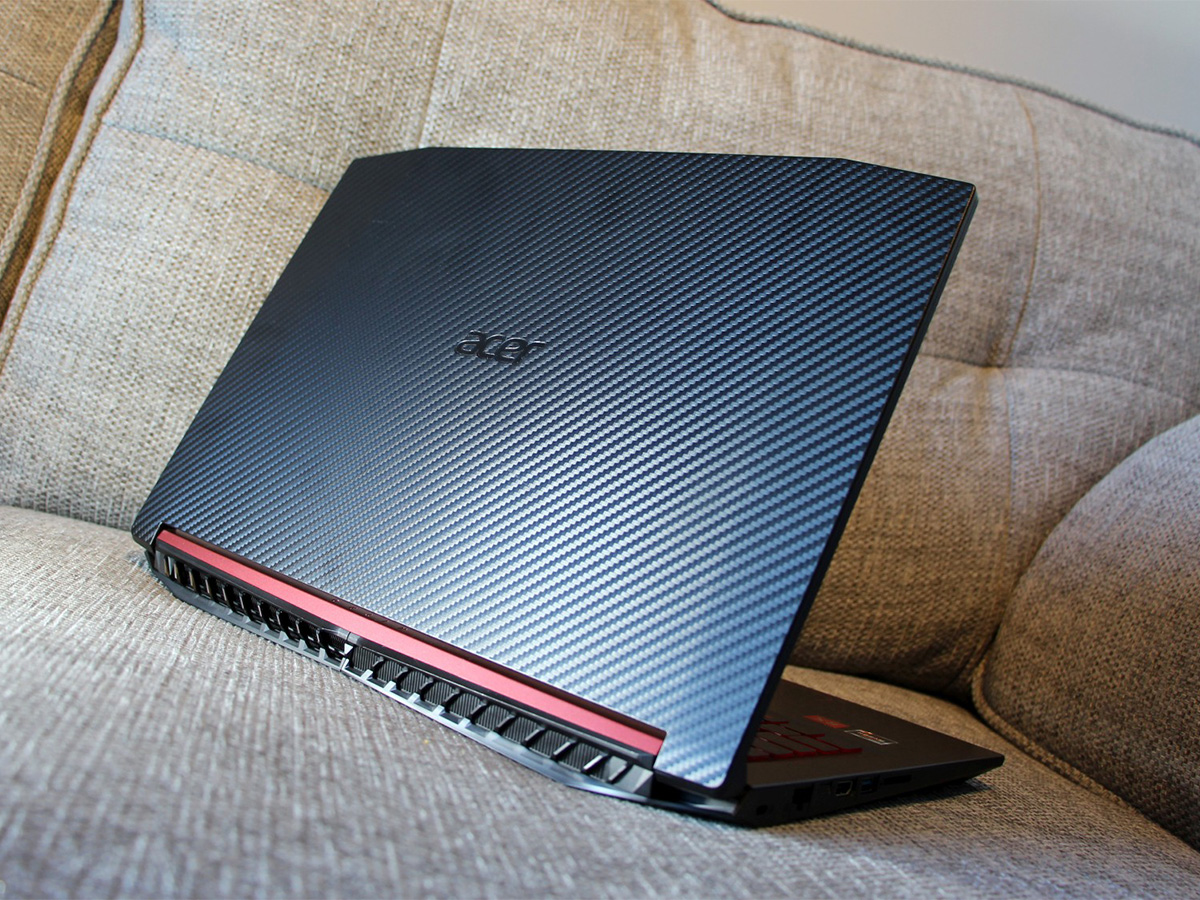 The Nitro 5 has several design indicators that mark it out as a gaming machine.
The hinge is finished with a smart shade of crimson and an embedded Nitro logo, and the keyboard and trackpad are accented with red. The lid has a carbon fibre pattern that extends to the aluminium around the keyboard.
Despite these neat touches, the Nitro 5 isn't as eye-catching as many rivals – which could be a selling point for those who want something subtler.
It's not as coherent as some other machines either, though – many rivals will have smarter styling, fewer exposed seams and more lighting options.
The Nitro isn't the slimmest or lightest gaming laptop either. It tips the scales at 2.7kg and is 27mm thick, which means you'll notice its heft when you're carrying it around.
The recent HP Omen 15-DC0029NA is a little bit thinner and 200g lighter – and it looks more eye-catching too. However, it's on the other side of the £1,000 mark when compared to the Nitro.
The Nitro is middling in some other physical areas too. Build quality isn't great, with too much movement in the metal around the keyboard.
The hinge could be smoother, and the port selection is merely acceptable – you get sole USB 3.1 Type-A and Type-C connections, but the other USB ports use the older 3.0 and 2.0 protocols.
You get HDMI but no DisplayPort, and only one audio jack.
Screen & Sound: Pallid picture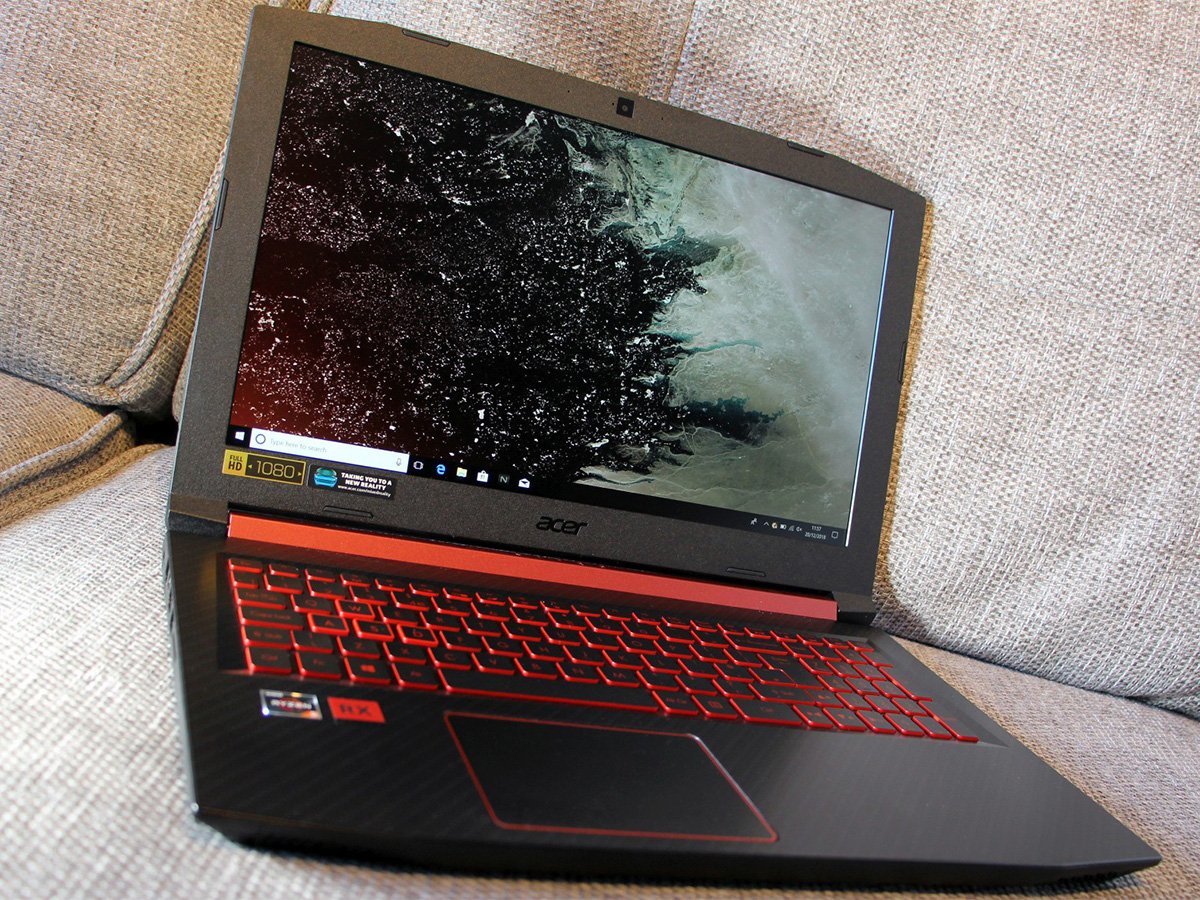 The 1080p IPS panel provides enough real estate for mainstream gaming and esports, and there's enough room for web browsing and media duties too.
However, testing reveals inconsistent quality. The measured brightness of 272cd/m2 is ample for playing under all sorts of lights, and the black level of 0.26cd/m2 is good – low enough to ensure that dark sections in games are rendered well.
The measured contrast of 1,046:1 is good enough to deliver decent depth and differentiation to colours, but it's not the best figure we've seen – many laptops are now getting to 1,200:1 and beyond, even at modest prices.
This screen can only render 59% of the sRGB colour gamut – and that's the smallest gamut that's used on consumer laptops right now.
This poor figure means that the screen won't be able to render 41% of the colours that games and movies could potentially use.
The lack of colour rendering ability leaves the Nitro's panel looking pallid and a little lifeless. It's not a terminal issue and the screen can still be used for gaming and for movies, but there's certainly better quality to be found elsewhere.
If you save a little more cash for the pricier HP you'll get comparable contrast, better colours and Nvidia G-Sync that tops out at 144Hz – so, in short, a screen that's more suited for more demanding games.
The Acer's audio kit is nothing to shout about, either. Vocals and high-end sounds are acceptable, but the mid-range is cramped and bass is absent. Volume is only mediocre, too.
Performance: falling behind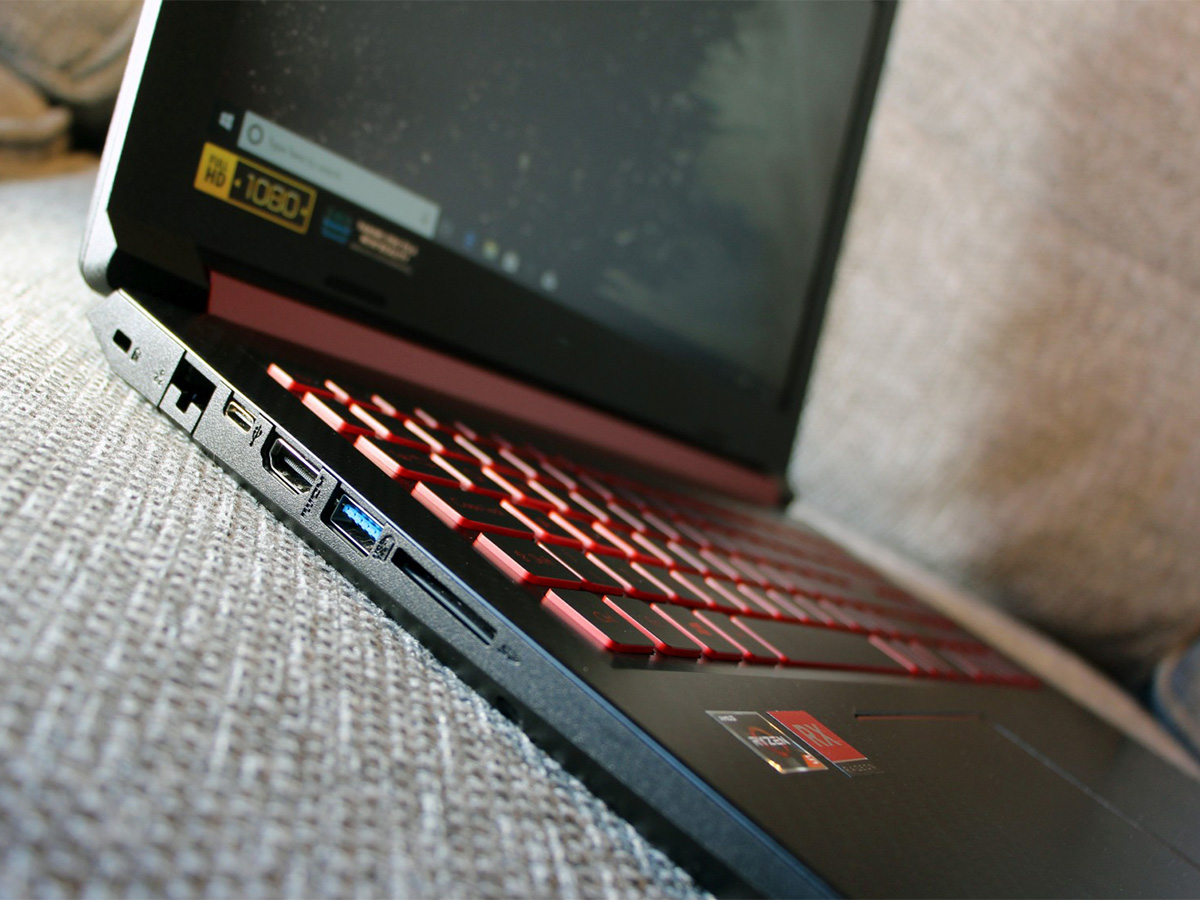 The Nitro's graphical grunt comes from an AMD Radeon RX 560X core.
It's a mid-range effort from AMD's range, which means you get 1,024 stream processors and 4GB of memory. The former figure is fine for a mid-range GPU, while the latter is the bare minimum for a decent gaming chip in 2018.
The Radeon delivered solid performance in mainstream games, but it's going to struggle with newer and more demanding titles.
It ran through Middle Earth: Shadow of Mordor at 47fps, for instance, but with Witcher 3 cranked up to its maximum settings, it only averaged 23fps – so you'll have to tone the graphics down if you want smooth gameplay.
Here's another example: while it ran Battlefield 1 at a smooth 47fps, it could only play the more demanding Deus Ex: Mankind Divided at 28fps.
It won't run every big single-player game that's coming out at the moment, then, but the Nitro will easily run older titles. It'll also handle every big esports game without breaking a sweat.
The Nitro 5 reviewed here is powered by an AMD Ryzen 5 2500U processor. It's got the second-generation AMD Zen architecture, and it sits right in the middle of AMD's mobile range. It's got four cores with multi-threading, and its mediocre stock speed of 2GHz rises to a solid 3.6GHz using automatic boosting.
It's a capable bit of silicon. Its Geekbench single- and multi-core results of 3,564 and 9,864 are enough to ensure that the Acer will handle most tasks – from web browsing and office applications, to photo editing and some multi-tasking too. It'll also avoid bottlenecking games on the 1080p screen.
There are limits to the chip's abilities, though. If you try to run tough office applications or video editing tools the Nitro will grind to a halt.
Elsewhere, you get 8GB of dual-channel memory and a 128GB SATA SSD. The drive is faster than any hard disk and keeps the Nitro feeling responsive, but it's no match for the NVMe silicon used in other machines – including the more expensive HP.
Indeed, that HP machine is a great example of the extra power available if you spend more.
The HP Omen has a GTX 1060 graphics core – and in Middle Earth: Shadow of Mordor it was nearly forty frames faster than the Acer. That machine also had a Core i7-8750H processor that was almost twice as quick as the Acer's AMD hardware in multi-core benchmarks.
The Nitro's final test, battery life, yielded expected and disappointing results. In a gaming test the Acer lasted for about ninety minutes, and it ran for around three and a half hours in an application test. In short: remember the mains adapter if you want a proper gaming session.
There's one final good point about the Nitro 5 – the number of models available.
If you want to spend a bit less, than £649 versions of this machine drop the SSD to save cash. It's also possible to spend around £749 and get Intel-based machines that have a little more CPU power.
If you want to spend a bit more, then a £799 version has a beefier Nvidia GeForce GTX 1050 Ti graphics core.
Keyboard & Touchpad: quiet and comfortable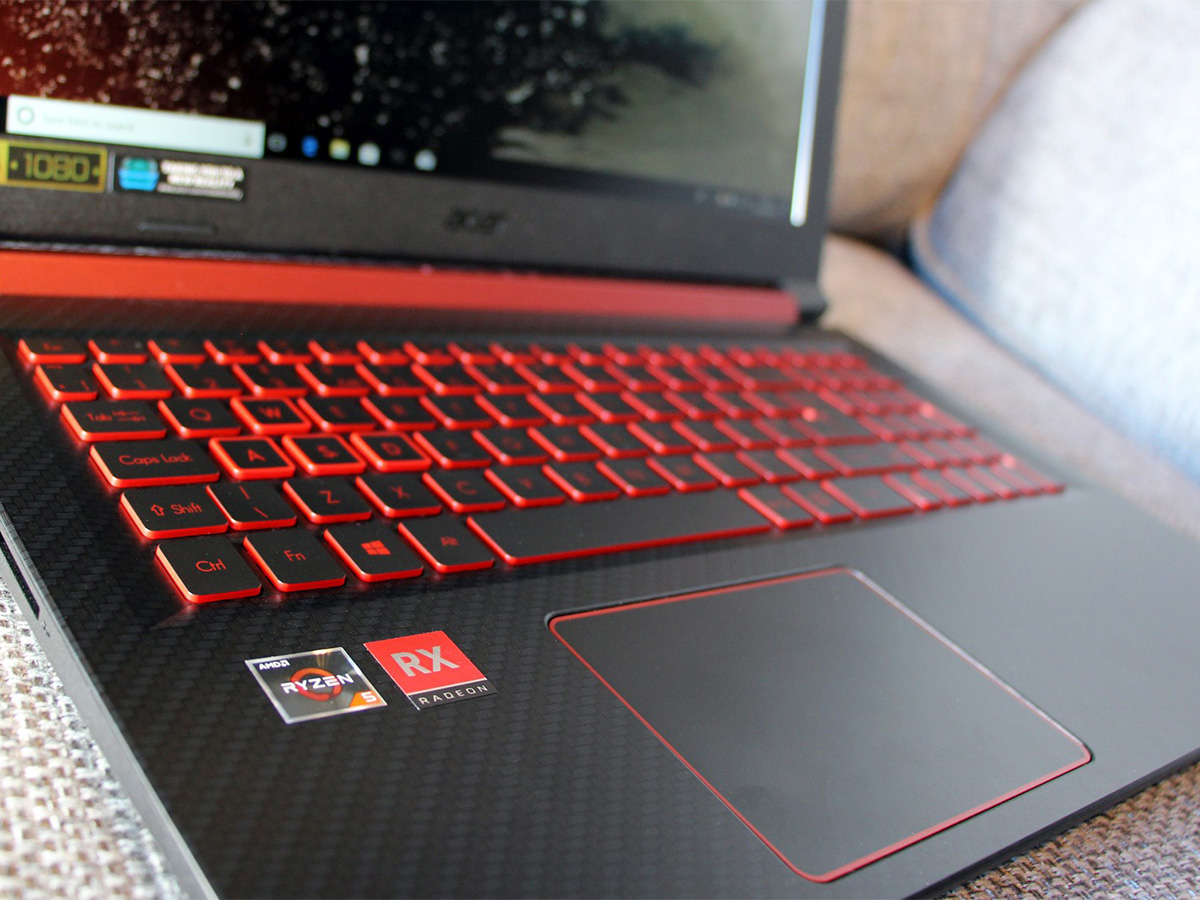 The Nitro 5 has a normal laptop keyboard – which means you get scrabble-tile buttons, a red backlight and a numberpad.
The buttons are quiet and comfortable, with a normal amount of travel for a mainstream laptop. They're reasonably quick, and their action is consistent.
Those are all good attributes for typing, browsing the web and for playing casual and slower games – so, depending on what titles you regularly run, you may be sated by the Acer.
However, if you're a serious player or enjoy frantic, fast-paced games, then the Nitro's keyboard could be problematic – it doesn't have the speed and snap of pricier gaming laptops, and the base panel is a little too soft.
And, of course, the keenest players will always prefer a mechanical keyboard. While the Nitro's keyboard will be fine for most people, it'll never be able to compete with that.
The trackpad itself is smooth and accurate – but its two buttons are mediocre. They're too soft and push down too far, and so can't replicate the shallow, rapid click of a USB gaming mouse.
If you're a casual gamer they'll be fine, but if you're serious you'll want to attach your own rodent.
Acer Nitro 5 Verdict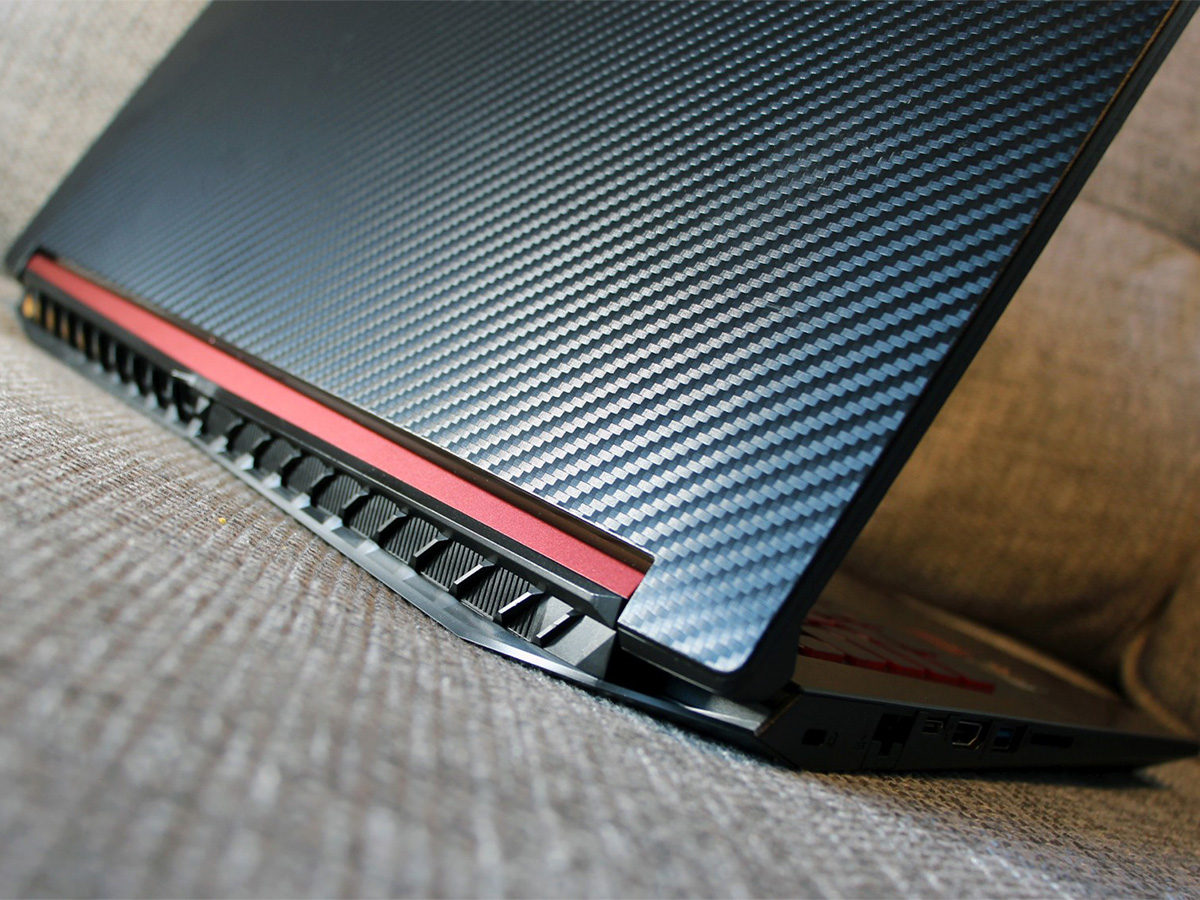 The Acer Nitro 5 is quick enough for any esports title and for many mainstream single-player games, even if some of those need their graphics settings toned down to less intensive levels. That sort of compromise is found across the rest of the machine.
The screen is acceptable for gaming but quality isn't particularly good, and the keyboard and trackpad are both a little too soft. The exterior could be slimmer and lighter.
However, to solve these problems you'll have to spend more than £1,000 – and for many people they won't be problems at all.
The Nitro 5 is a good option for mainstream gaming and esports that won't break the bank. Just consider its downsides before you take the plunge.
Tech specs
| | |
| --- | --- |
| Screen | 15.6in, 1,920 x 1,080 IPS |
| CPU | 2GHz AMD Ryzen 5 2500U |
| Memory | 8GB |
| GPU | AMD Radeon RX 560X |
| Storage | 128GB Hynix SSD |
| Operating System | Windows 10 |
| Home Connectivity | 1 x USB 3.1, 1 x USB Type-C, 1 x USB 3.0, 1 x USB 2.0, 1 x HDMI, 1 x SD card reader, 1 x audio, 1 x Gigabit Ethernet |
| Battery Life | 3 hours |
| Dimensions | 390 x 266 x 27mm, 2.7kg |
Stuff Says…
Inevitable compromises can be found in most areas of the Acer Nitro 5, but it remains a capable and affordable laptop with enough power to handle mainstream gaming and esports titles
Good Stuff
Solid gaming speeds
Versatile AMD processor
Decent physical design
Reasonable keyboard
Bad Stuff
Underwhelming screen quality
Poor battery life
Won't play some top-tier games