Acer Predator Helios 300 SpatialLabs Edition review
The Acer Predator Helios 300 is a bold but inconsistent attempt at 3D gaming alongside patchy performance elsewhere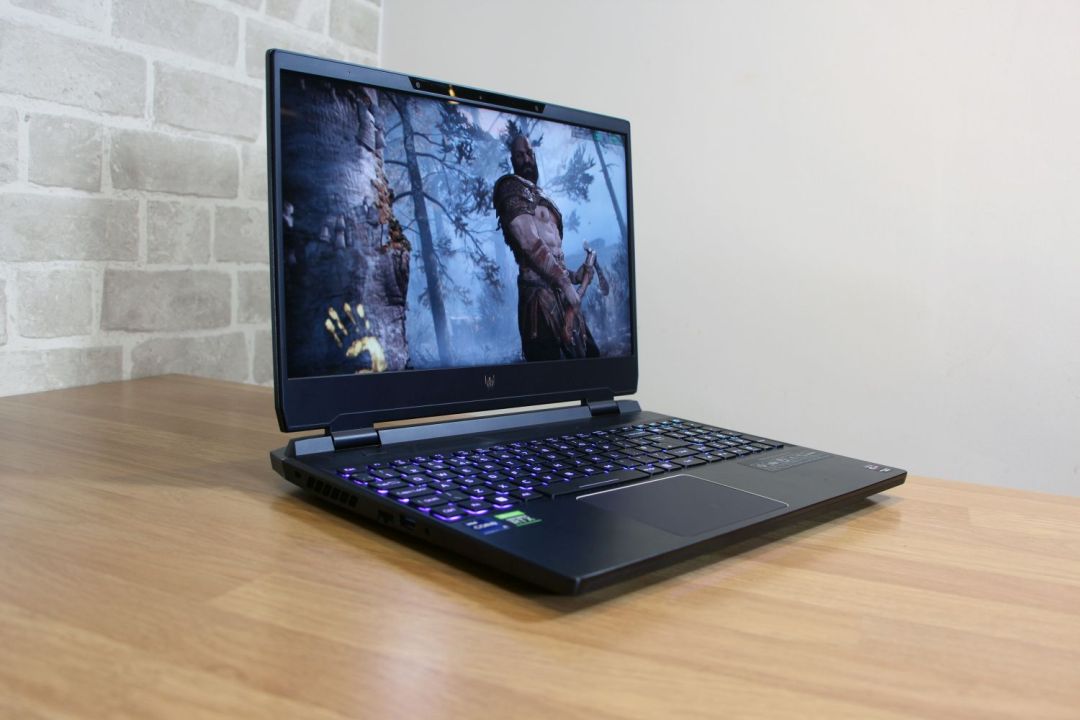 Loads of companies have tried to bring 3D gaming to laptops, and the Acer Predator Helios 300 SpatialLabs Edition is the latest machine to enter the arena – and at £3699 it'll have to impress in three dimensions if it's going to open people's wallets.
Beyond the Predator's big 3D boasts, the machine also has high-end Intel and Nvidia internals and a bold sense of design – on paper, at least, it's making all the right moves. That sounds great, but the Acer squares up to strong contenders. We've already explained the monstrous MSI Raider GE77, and both Alienware and Razer have capable competitors in the 15.6in and 17.3in markets.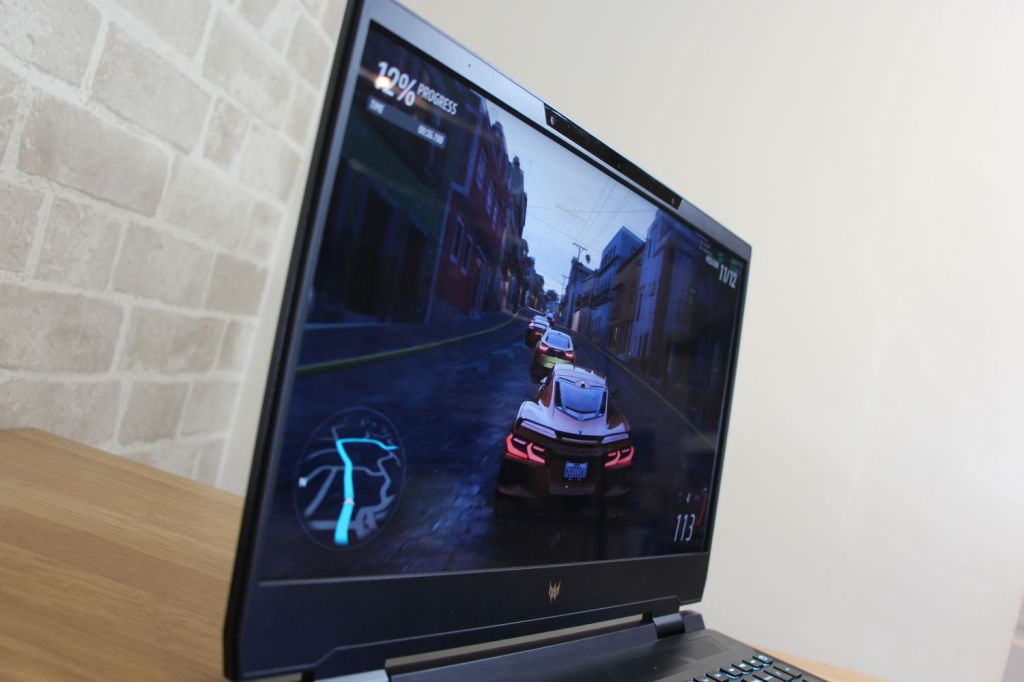 Screen: spaced out
Acer's SpatialLabs tech first emerged on the firm's creative workstations, and it combines a stereoscopic display, a head-tracking camera and AI to run games in 3D. Let's start with the good news. In God of War the 3D effect is impressive, with lashings of extra depth deployed smoothly even during frenetic action scenes. It adds loads of perspective and makes the game even more absorbing.
It's easy to use, too: load Acer's SpatialLabs TrueGame app – basically a Steam knockoff for compatible games – and you can boot titles with 3D activated. The Predator will also deploy 3D effects on video files, photos, and various productivity apps.
Once you're in the game, the 3D can be exacerbated or dialled back with keyboard shortcuts, and you don't have to mess around with ugly 3D glasses.
At the moment, though, the SpatialLabs tech is hampered by serious issues. Moving your head away from a central position ruins the 3D visuals, and games are a bit blurrier when 3D is activated – you lose the 4K screen's inherent sharpness. Menus can be hard to read and navigate. Those issues ruin your immersion, and we also saw serious clipping, glitching and tearing in Forza Horizon 5 – and the 3D tech didn't supply the same level of depth as it did in God of War anyway.
These problems make the 3D tech a hard sell. When it works it's great, but it doesn't work often enough – and it's not worth losing 4K fidelity and smooth gameplay for a 3D affect that's patchy at best.
And, right now, only about 50 games are supported. While that includes the titles above alongside big names like No Man's Sky, Borderlands and Guardians of the Galaxy, that's no good if your favourite titles aren't compatible. The system may be better and more widespread in the future, but that's certainly not guaranteed.
It's a shame, because underneath the misfiring 3D there's a decent display. The 4K resolution is crisp and the contrast ratio of 1606:1 is top-notch, so games look bright, bold and vibrant.The display rendered virtually all of the sRGB and Adobe RGB colour gamuts, so this screen is suitable for both gaming and tough creative workloads, and a Delta E of 2.62 means colours are accurate.
Games sound good, too, because the Acer Predator Helios 300 loudspeakers have impressive bass and only minor mid-range flatness. A headset will be better, but this audio kit matches anything you'll find elsewhere.
There's one more sting in the tail: a 60Hz refresh rate. That's fine for mainstream single-player gaming, but it's not good enough for esports. On other 15.6in and 17.3in laptops it's possible to opt for lower resolutions and higher refresh rates or even pick 4K panels that run at 120Hz.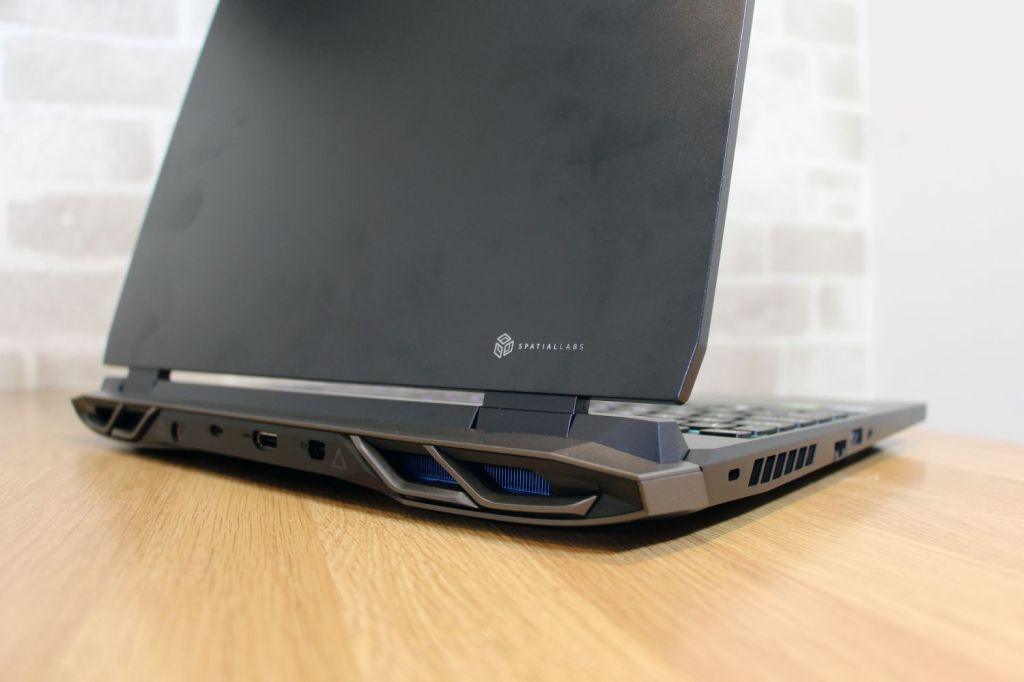 Performance: a bruiser with a short lifespan
Acer has loaded the Predator with powerful components. The Nvidia GeForce RTX 3080 laptop core has 8GB of dedicated memory and 6,144 CUDA cores, and the Core i9-12900H is a mighty mobile GPU that tops out at 5GHz. Acer rounds out the spec with 32GB of DDR5 memory and a fast 2TB SSD.
In Red Dead Redemption 2 at 4K and top graphics settings the Acer averaged 45fps, and in Assassin's Creed Valhalla it hit 59fps. You'll only have to make minor adjustments to get top games averaging 60fps, and you can easily play esports titles at 240Hz or 360Hz on external displays.
That's great, but it could be better. The RTX 3080 Ti has superseded the RTX 3080, and there's clear air between the two: the Acer scored 11,976 in 3D Mark Time Spy, but the RTX 3080 Ti hit 13,593 inside the MSI Raider GE77.
When the larger MSI costs less than £4000 and you can find the RTX 3080 Ti inside the Alienware x15 R2 and Razer Blade 15 for prices that hover around £3699 (or only a little higher, depending on your screen and storage choices), it makes the RTX 3080 look almost ordinary.
There are some more graphical headaches, too. Switching over to 3D mode brings a performance hit: Forza ran at 41fps with the 3D tech activated but hit 70fps without. Don't expect much help from the Acer's varying performance modes. The rig's Extreme option only improved the Time Spy score to 12,397. The Turbo option ramped up the internal fans to maximum output with no noticeable performance improvement.
The noise generated by the Extreme and Turbo modes means we wouldn't use those options, but the Acer is far better in default settings. Even in the toughest games, the Predator's exterior remained cool and quiet. Our only quibble? A bit of hot air comes from each side and might warm up your mouse hand.
The Core i9-12900H processor is great if you want a laptop for content creation alongside gaming, and its Geekbench single- and multi-core results of 1,643 and 13,721 are superb. You won't find any power shortage, although the beefier and slightly pricier MSI has an even faster Core i9 chip.
And, unsurprisingly, high-end components make for low-end battery life. Expect an hour of gameplay, three hours of demanding work use and four hours of video from the Acer, but remember that the Alienware and Razer machines are a little better.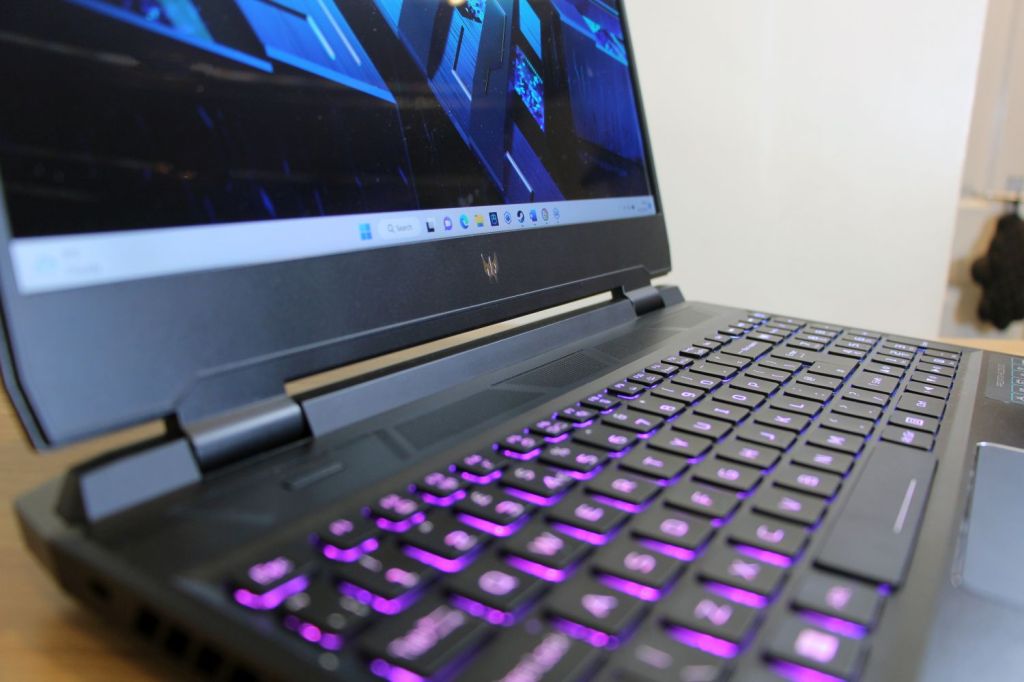 Design and build: big, bulky and brash
The first thing you'll notice about the Acer is the display – and not just because of its 3D visuals. Unfortunately, the SpatialLabs tech means that the panel has relatively large top and bottom bezels, and they make the Acer look a bit archaic.
Indeed, most of the Acer Predator Helios 300 design harks back to older and more ostentatious notebooks. Around the back you'll find huge, angled air vents, and around the front you'll find a bar of RGB LED lighting. It's even got a Turbo button.
This archaic design goes beyond the aesthetic. The Predator weighs 3kg and it's 28mm thick, so it's bulkier than the Alienware and Razer rigs and not far short of the 17.3in MSI. Add the 700g power brick and you've got a laptop that requires serious strength to lug around.
The aluminium exterior is sturdy, though, and the Acer has solid port selection. Its rear-mounted USB-C connector handles Thunderbolt 4, DisplayPort and smartphone charging, and the Helios has three full-size USB ports. An HDMI 2.1 output tackles future-proofed resolutions and refresh rates, and on the inside you'll find Wi-Fi 6E and Bluetooth 5.2 alongside gigabit Ethernet.
The Alienware and Razer machines add USB-C ports and the Alienware has a microSD slot, but neither has wired internet. Only the 17.3in MSI competes – it offers everything the Acer included alongside a full-size SD card slot and 2.5Gbps Ethernet.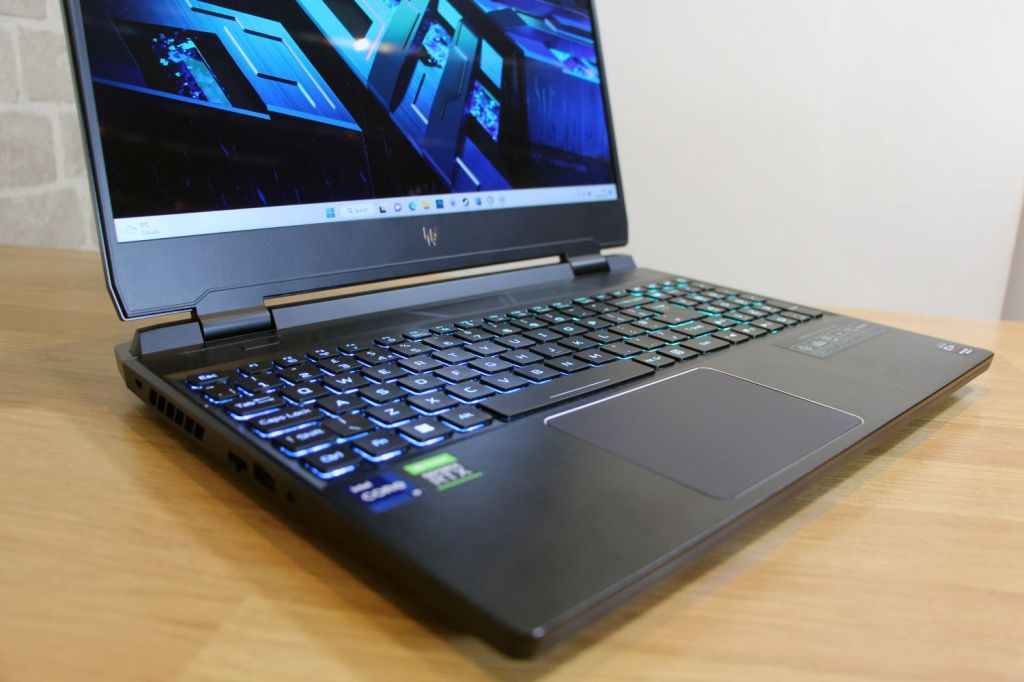 Keyboard and touchpad: underwhelming ergonomics
The sheer size of the Acer means you get a good keyboard layout, with a numberpad, full-size cursor buttons and large function keys alongside customizable per-key RGB LED lighting.
Get beyond the light show, though, and it's ordinary. The keys have lots of travel and a solid base, but they feel a bit soft – the best gaming keyboards are snappier. It's no disaster, but the MSI and Alienware have crisper, more satisfying keyboards.
Don't bother with the trackpad, either. It's small, and its buttons feel spongy – they're about as far away from a gaming mouse as you can get. If you want to enjoy top titles, attach a USB rodent instead.
Acer Predator Helios 300 verdict
If you buy into new technology then it's always a gamble – you don't know how well it'll work and if it'll grow into prominence or fade into obscurity. And, right now, the jury is out for Acer's SpatialLabs screen.
Right now, the 3D tech doesn't work well enough in enough games. It's tricky to recommend this misfiring 3D software when the alternative is crisp 4K gaming or a lower-resolution screen with a far better refresh rate.
Get beyond the special screen and the Acer remains inconsistent. The display's refresh rate undermines its good quality. The graphics card and processor are fast, but other laptops are faster. The design is bulky, and the keyboard and trackpad are underwhelming. If you want sleeker design, more power or better ergonomics, you'll find them on rivals from Alienware, Razer and MSI at prices that remain in the same ballpark as the Acer.
Acer's 3D-toting gaming laptop tries hard to deliver innovation, but it's just not consistent or impressive enough – and at this price, buying into the system feels too expensive and too risky.
Stuff Says…
Acer's 3D effect can be impressive but overall this laptop tries too hard to deliver innovation at the expense of other things.
Good Stuff
When the 3D tech works, it does a decent job
Impressive performance levels
Cool, quiet operation
Plenty of ports and good connectivity
Bad Stuff
The 3D tech doesn't work often enough
Comparable laptops are faster
A large, heavy enclosure
Underwhelming keyboard and trackpad
Acer Predator Helios 300 tech specs
| | |
| --- | --- |
| Screen | 15.6in 3840×2160 3D IPS |
| CPU | Intel Core i9-12900H 14-core (6 performance, 8 efficiency), 2.5GHz |
| RAM | 32GB |
| GPU | Nvidia GeForce RTX 3080 8GB |
| Storage | 2TB |
| OS | Windows 11 Home |
| Battery life | Up to four hours |
| Connectivity | Wi-Fi 6E, Bluetooth 5.2, Gigabit Ethernet, 3.5mm headphone, 1 x USB-C/DisplayPort/Thunderbolt 4, 2 x USB 3.2 Gen 2, 1 x USB 3.2 Gen 1 |
| Dimensions | 359x275x28mm |
| Weight | 3kg |