MSI Raider GE77 review: awesome, ambitious
Incredible speed, but is any laptop worth nearly £4000?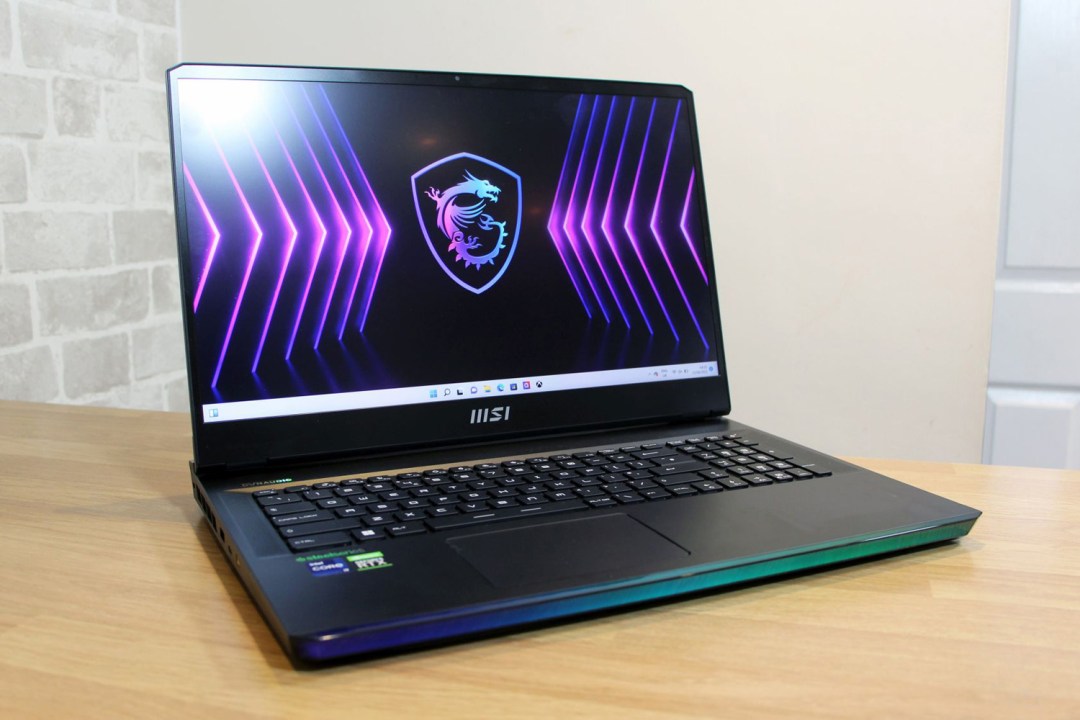 The MSI Raider GE77 – or the GE77HX 12UHS to give it its full name – is one of the most striking and ambitious gaming laptops around. On the inside it's got hardware that'll make any game cower – and on the outside there's a screen to make any game look amazing.
It's the kind of rig that'll draw admiring glances, but it's not cheap. If you'd like to get your hands on MSI's latest, you'll have to fork out a mighty £3999.
That means the MSI's ambition is matched by its expense, which is even loftier than many of its rivals. When the field includes machines from Alienware and Razer, that's really saying something.
Design & Build: a Heavyweight Contender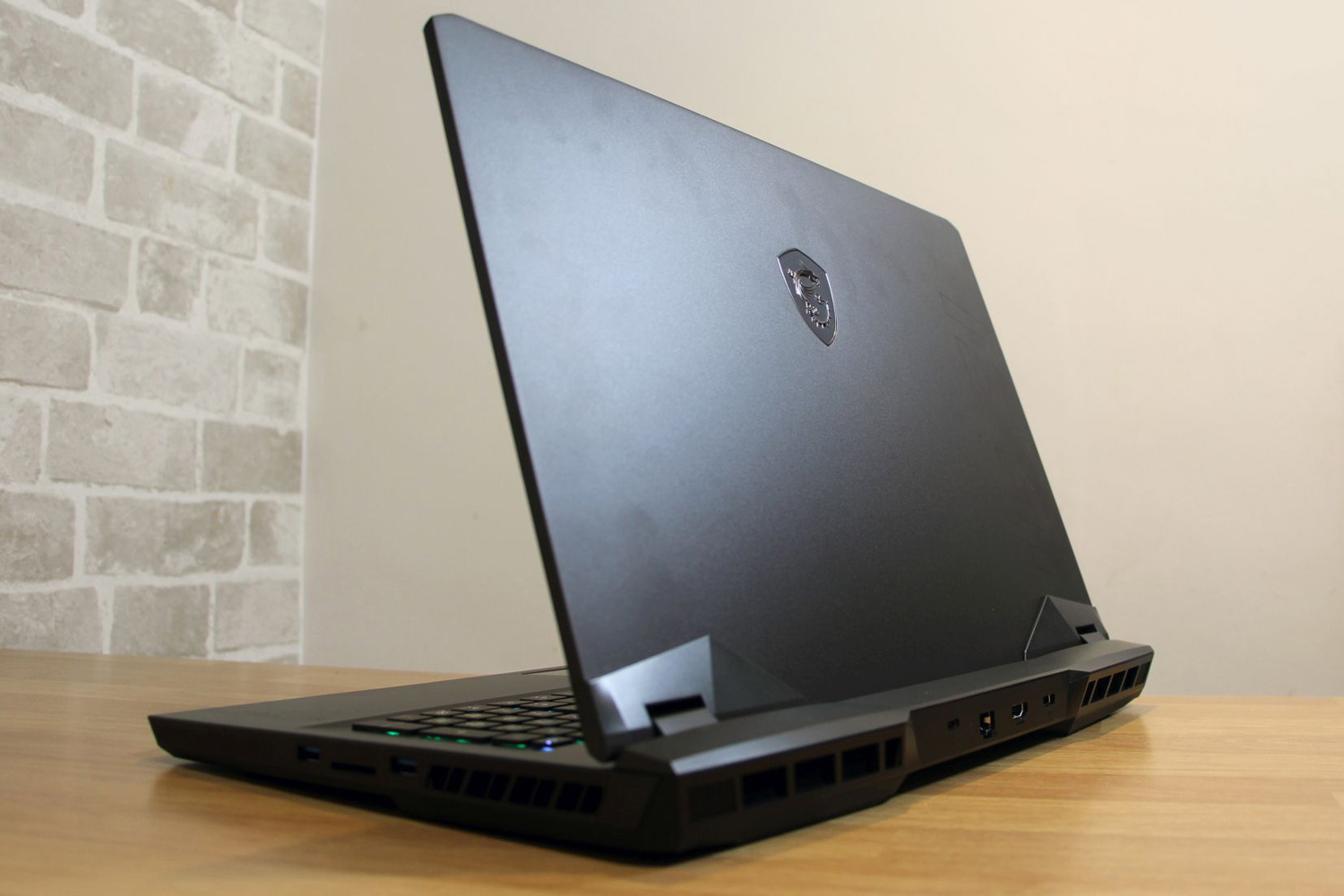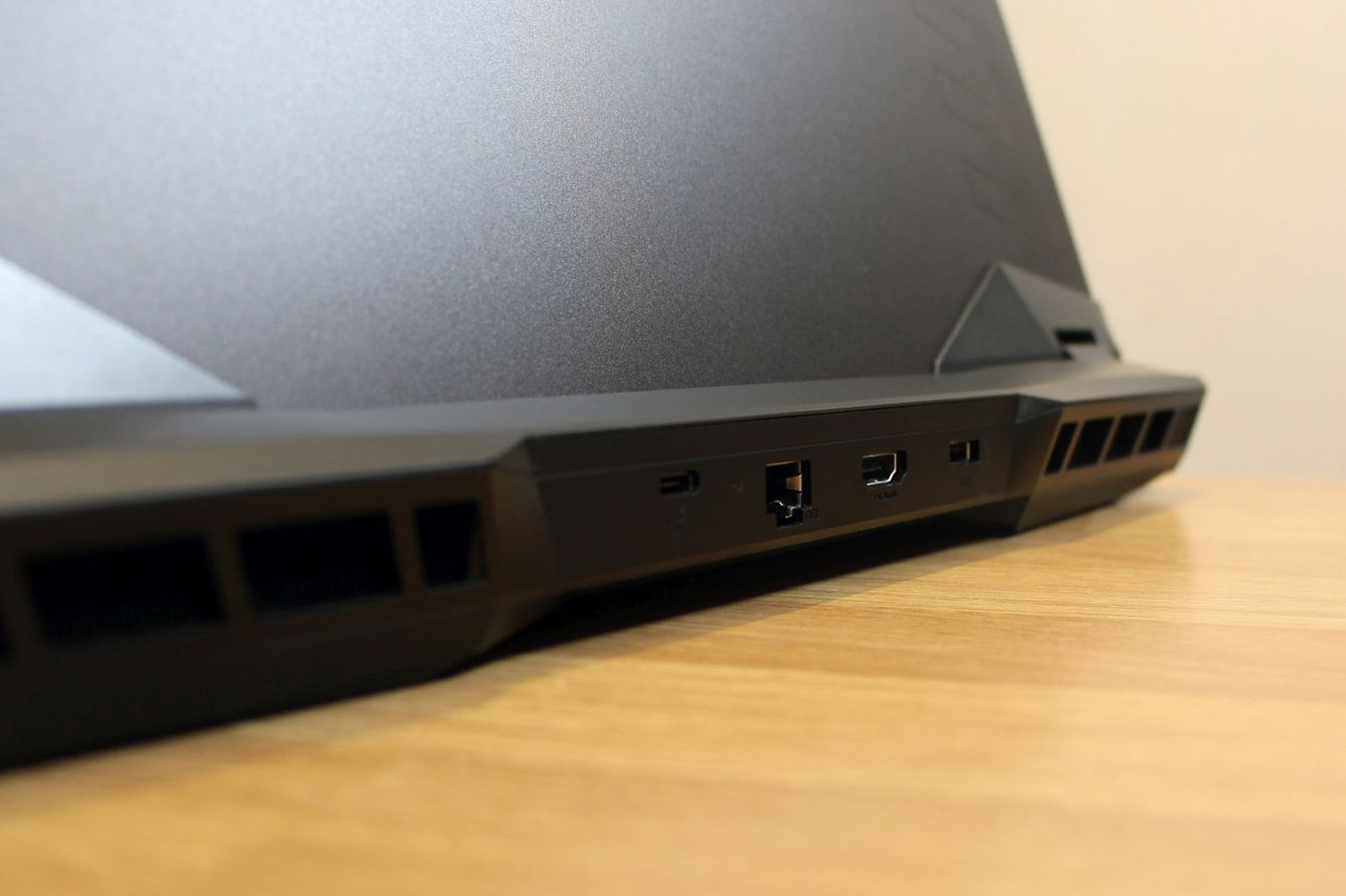 Happily, the MSI starts well on its quest to justify its vast price. It looks fantastic, thanks to a black aluminium chassis and RGB lighting bar that runs across the front.
Elsewhere, you'll find a huge hinge, a metallic MSI Dragon Gaming logo on the lid and dramatic vents. This rig also goes beyond brooding, bold looks: it has enviable build quality, so you can easily sling it in a bag.
It's a practical portable, too, with three full-size USB ports, plus Type-C and Thunderbolt 4 connectors. The HDMI 2.1 output hands 4K gaming at 120Hz and 8K gaming at 60Hz, so it's well future-proofed, and elsewhere the MSI deploys a handy dandy SD card reader. On the inside it's got super-fast 2.5Gbps Ethernet, dual-band Wi-Fi 6E and Bluetooth 5.2. That's more connectivity here than on virtually any rival. It's a shame that the USB ports don't offer power delivery, though, and it would have been nice to have biometrics – there's no fingerprint reader or facial recognition.
If you're comfortable enough to handle upgrades, you can also replace both memory sticks and add a second NVMe SSD.
The MSI's biggest issue comes at the scales. This rig weighs 3kg, it's 397mm wide and it's 26mm thick, so it's one of the largest 17.3in gaming laptops anywhere – and heavier and bigger than any competitor.
MSI Raider GE77 performance: Record-breaking pace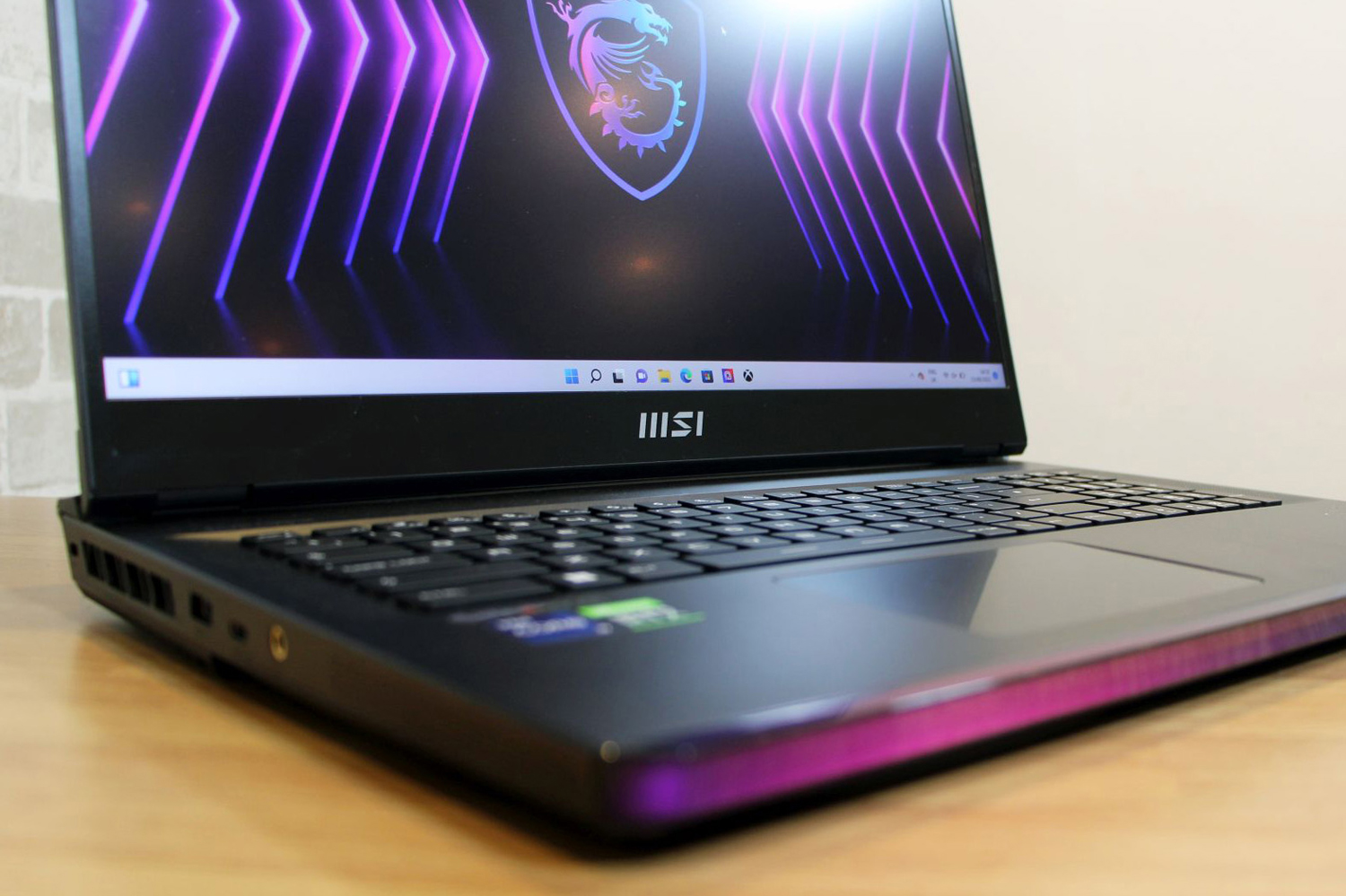 At least the MSI's huge heft isn't wasted when you consider the internals. The RTX 3080 Ti has 16GB of dedicated memory and a 175W power level that pushes Nvidia's electrical envelope, while the Intel Core i9-12900HX is a sixteen-core monster with a 5GHz top speed.
Unsurprisingly, MSI pairs those top-tier parts with 32GB of DDR5 memory and a 1TB Samsung PCI-E SSD. It's a fast drive, but is our only specification quibble – we'd have preferred a higher capacity at this price.
Need an immediate showcase of what this laptop can do? Look at the 3DMark Time Spy score of 13,593 – it's more than 2,000 points ahead of the Medion Erazer Beast X30, which used the same core. Expect a lead over the Alienware and Razer laptops with RTX 3080 Ti GPUs, too.
That benchmark result translates into fearsome gaming ability. At the rig's native resolution of 2560×1440, and quality setting cranked, the MSI averaged 76fps in Red Dead Redemption 2 and 71fps in Assassin's Creed Valhalla. Both results outstrip the Medion, and mean this laptop will play any top-tier title smoothly for years.
There's enough power to output to a 4K display in most top games, and a 348fps average in Rainbow Six Siege means it'll blitz any esports title – whether on the laptop's 240Hz panel or an external 360Hz display.
This laptop isn't just about gaming power, either. The i9-12900HX delivered single- and multi-core results of 1,833 and 15,872 in Geekbench. Those figures trounced the Medion, and the Alienware and Razer won't keep up either. That's stupendous pace, and it means that this laptop will cope with any content creation task and any multi-tasking scenario. It's a workhorse.
In other tests the MSI was a mixed bag. Battery life wasn't awful – it lasted for nearly two hours when gaming and five when working. You won't get through a whole day with this machine, even if you keep tasks light, but it's unusual for a gaming rig to even make it to lunch. It's more longevity than you'll get from any competitor.
Negatively, though, expect plenty of fan noise. If you're really pushing the hardware – whether in games or in apps – the MSI is louder than the other laptops mentioned here. It's quite harsh noise, too: it doesn't modulate slowly, instead taking huge, instant leaps between near-silence and a huge racket. You'll certainly want a headset or some external speakers to drown that out.
Screen & Sound: Big, Bold, and brilliant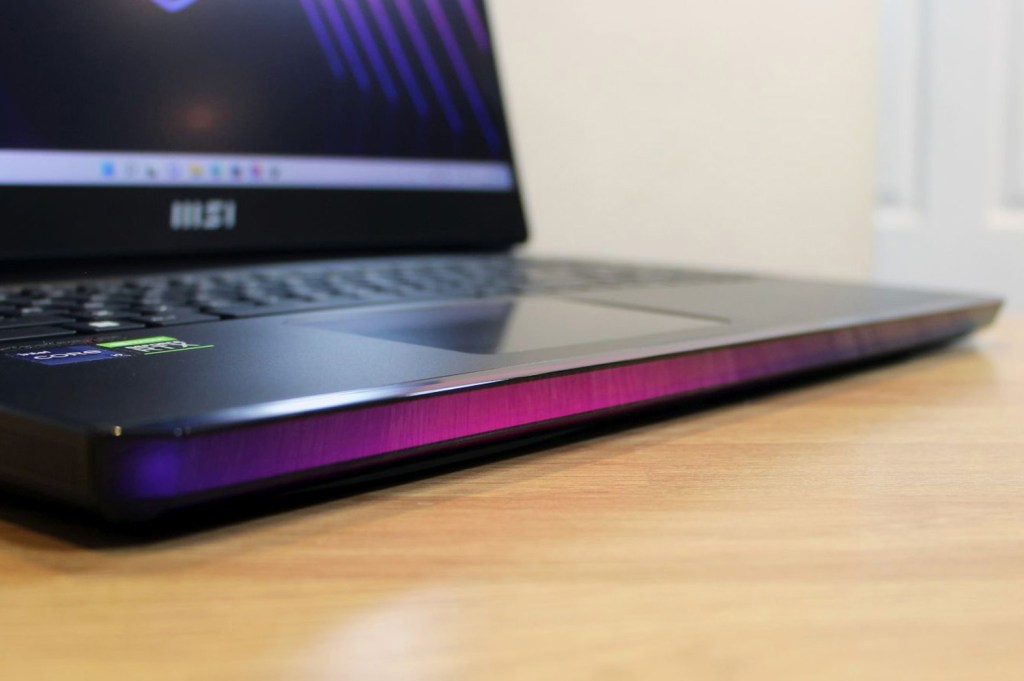 The 17.3in IPS display pairs a 2560×1440 resolution with a 240Hz refresh rate. That bodes well for single-player gaming – you get smooth, crisp imagery.
Quality levels are exceptional. The brightness level of 359cd/m2 is great and the contrast ratio of 1,197:1 provides decent levels of depth and nuance. The delta E of 1.32 is superb, and means colours are accurate, and the screen rendered virtually all of the sRGB gamut. Games look fantastic here.
The screen's only issue comes from the refresh rate – and for most people it just won't be any issue at all. While a 240Hz figure is great for single-player games and high enough for mainstream esports players, it's not quick enough to sate top-level competitive gamers. This is an area where its rivals are better: Razer will sell you a 360Hz laptop and Alienware has both 360Hz and 480Hz options, albeit at 1080p.
Opting for a 360Hz display on an Alienware could save you some cash: paired with an RTX 3080 Ti and a Core i9-12900HK, you'll pay £3749. Razer isn't quite as generous: its 360Hz laptops with an RTX 3080 Ti cost more than £4000.
Audio kit is good: the GE77 includes two 1W speakers and two 2W woofers, which combine to deliver punchy, detailed sound with an impressive amount of volume and bass. They're just as good as the speakers you'll find on any competitor, even if a headset will always be better.
Keyboard & Touchpad: Steel Feel
Gaming experts SteelSeries helped out with the MSI's keyboard, and it shows: the keys are crisp, robust and satisfying. It's got customisable, per-key RGB backlighting, a numberpad, and loads of adjustment options.
Impressively, the keyboard supports custom macros, and the buttons can all be rebound. You'll only get a better laptop keyboard by paying for the CherryMX mechanical unit on the Alienware.
The trackpad isn't as impressive. It sits to the left, so it's too easy to brush when you hammer the WASD keys, and its buttons are soft. Anyone serious about gaming should use a USB mouse instead, anyway.
MSI Raider GE77 verdict 
This laptop is a beast. It's faster than almost all of the other 17.3in notebooks we've tested. The screen has great gaming quality, the keyboard is receptive and robust, and MSI's machine has loads of ports, super-fast connectivity and impressive build quality.
It's a bruiser too, though, with a thicker and heavier chassis than any competitor. It's loud if you play challenging games. And at £3999, it's enormously expensive. The Medion doesn't have the class or speed of the MSI, but it costs £2699. An equivalent Alienware – with its quieter, slimmer design – is always cheaper, albeit without an identical display. Only the sleeker Razer is pricier. And while you can save money with MSI's RTX 3070 Ti versions, they start at £2799 – so they're still not cheap.
This level of pace will always be expensive, though, and the MSI Raider GE77 delivers more performance than any rival inside a robust and well-appointed chassis. This is the laptop equivalent of a muscle car – and for some people, that's perfect.
Stuff Says…
It's huge, heavy and expensive, but if you've got the cash then the MSI Raider GE77 delivers unprecedented power and impressive display quality
Good Stuff
Incredible gaming and application speed
High-quality 17.3in display
Impressive, satisfying keyboard
Great build quality and connectivity
Bad Stuff
Thick, heavy chassis
Extremely expensive
Loud fan output in challenging situations
MSI Raider GE77 technical specifications
| | |
| --- | --- |
| Screen | 17.3in, 2,560 x 1,440 240Hz IPS |
| CPU | Intel Core i9-12900HX, 2.3GHz |
| Memory | 32GB DDR5 |
| Graphics | Nvidia GeForce RTX 3080 Ti 16GB |
| Storage | 1TB |
| Operating system | Windows 11 |
| Connectivity | Wi-Fi 6E, Bluetooth 5.2, 2.5Gbps Ethernet, 1x USB 3.2 Gen 2, 2x USB 3.2 Gen 1, 1x USB 3.2 Gen 2 Type-C, 1x Thunderbolt 4, SD, 3.5mm audio |
| Dimensions | 397 x 284 x 26mm, 3kg |
| | |