Acer Predator Thronos hands-on review
Chairway to (gaming) heaven?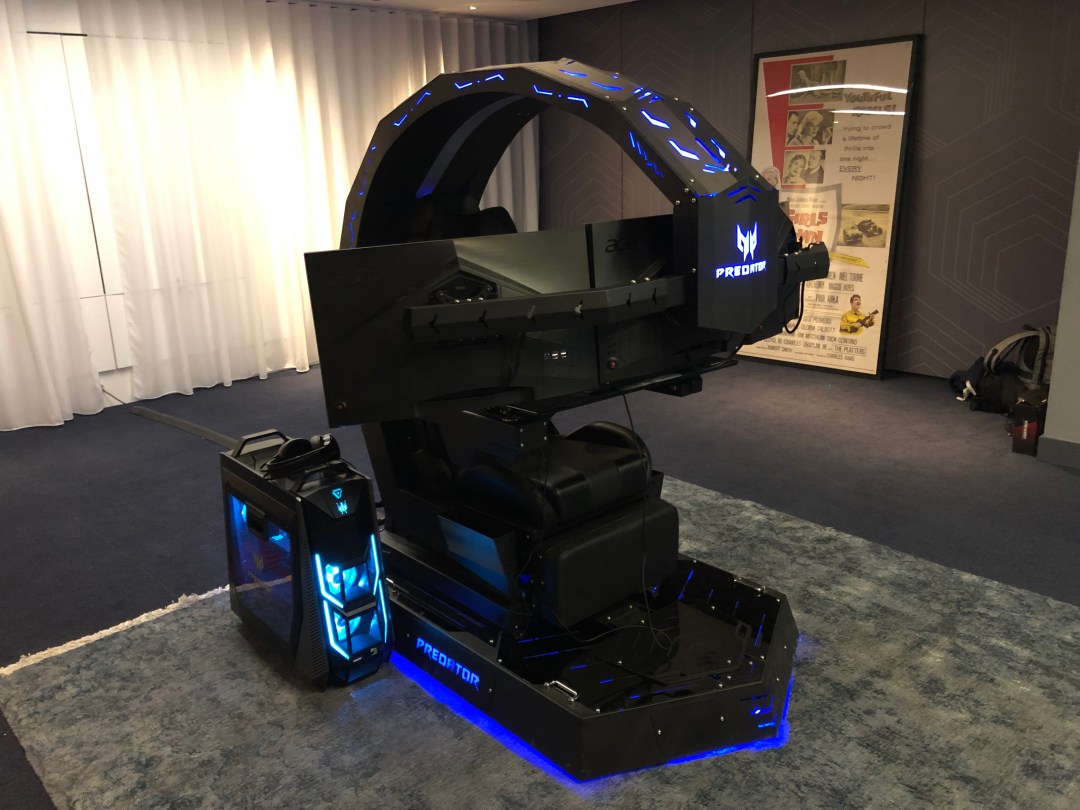 We've seen a lot of crazy new tech in 2018, but when it comes to ridiculous, entire room-hogging PC gaming cockpits, Acer's 200kg Predator Thronos is without competition.
Announced at IFA back in September, it's probably described as a gaming chair on steroids. The Predator Thronos vibrates, changes colour and reclines 140-degrees, and it's fitted with three Acer monitors that can also be repositioned at the touch of a button.
You'll probably need to factor in the cost of an extension on top of the sure-to-be astronomical price tag Acer eventually slaps on this glowing beast, but after spending a glorious half an hour encapsulated in its arms, I reckon asking the builder for a quote can't hurt.
Design: a different kind of playseat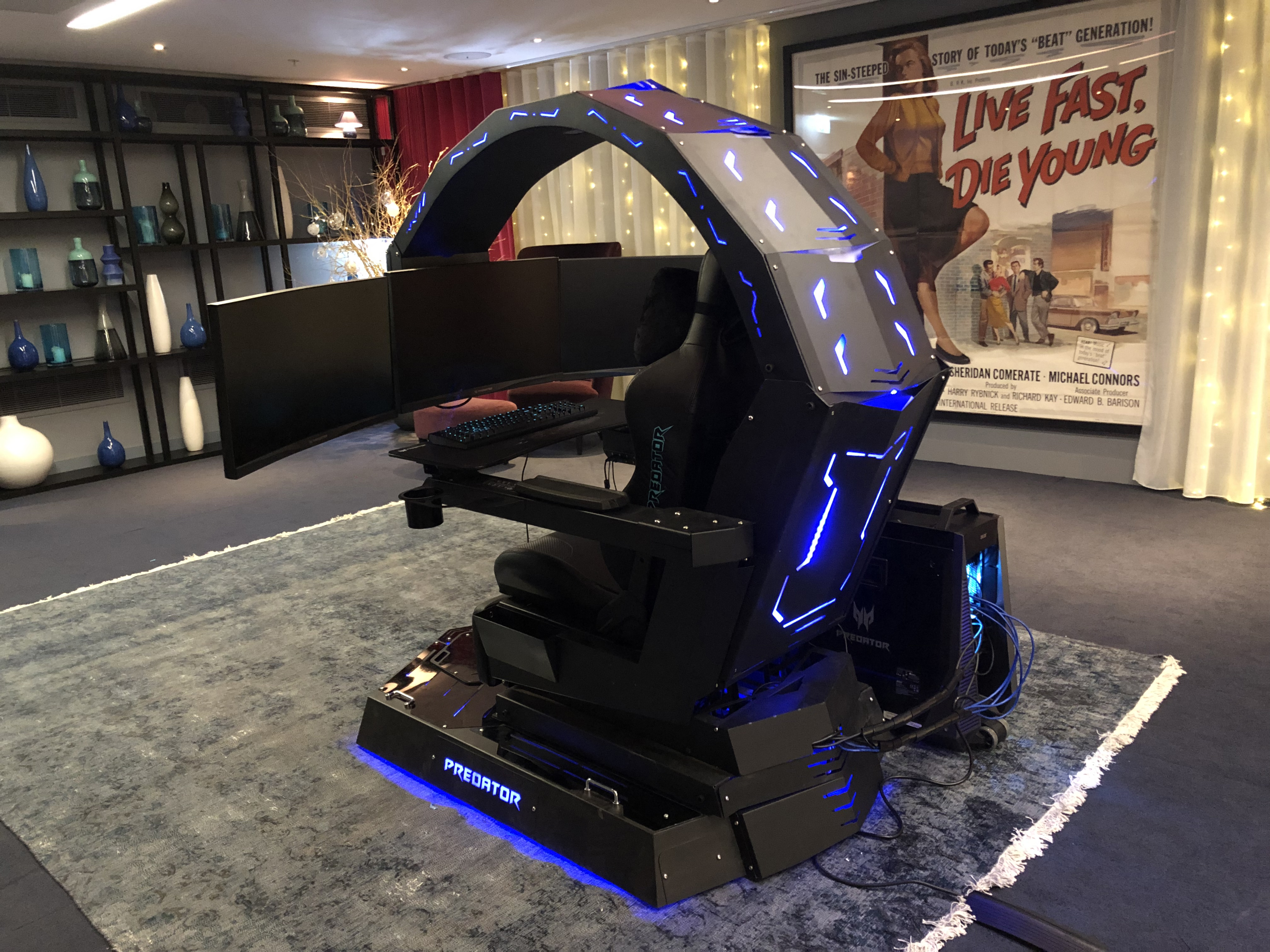 When someone says gaming chair, you probably think of those things that look like they've been ripped straight out of a racing car and awkwardly plonked onto a rug.
By contrast, the hulking Predator Thronos looks like it belongs in a spaceship. Standing 1.5m tall and crafted from thick steel, it goes without saying that it's going to entirely dominate your front room.
The structure's curved overhanging arm (I think it looks like a mechanized alien's tail) lifts right up to let you in, while the motorized keyboard tray rotates out and inwards. It's a fairly narrow area, and you're not going to fit anything in there other than the included peripherals on it.
The seat itself is designed to be ergonomic, and I definitely wasn't in a hurry to get out. The headrest is pleasingly soft and it's great to have both a calf rest and a foot tray, depending on the angle you're sitting at.
The rubbery arm rests, however, are at a fixed height, and I can see them becoming uncomfortable during longer sessions.
Accents and logos on the Thronos are naturally highlighted with RGB lighting, which can you customise to your liking with the included remote.
Once you're cocooned inside, all you can see is Acer's three Predator Z27 curved monitors. Acer recommends the curvature is integral to achieving a totally immersive experience, but there's no reason why you can't screw on three flat screen 4K monitors instead.
Features: your very own cockpit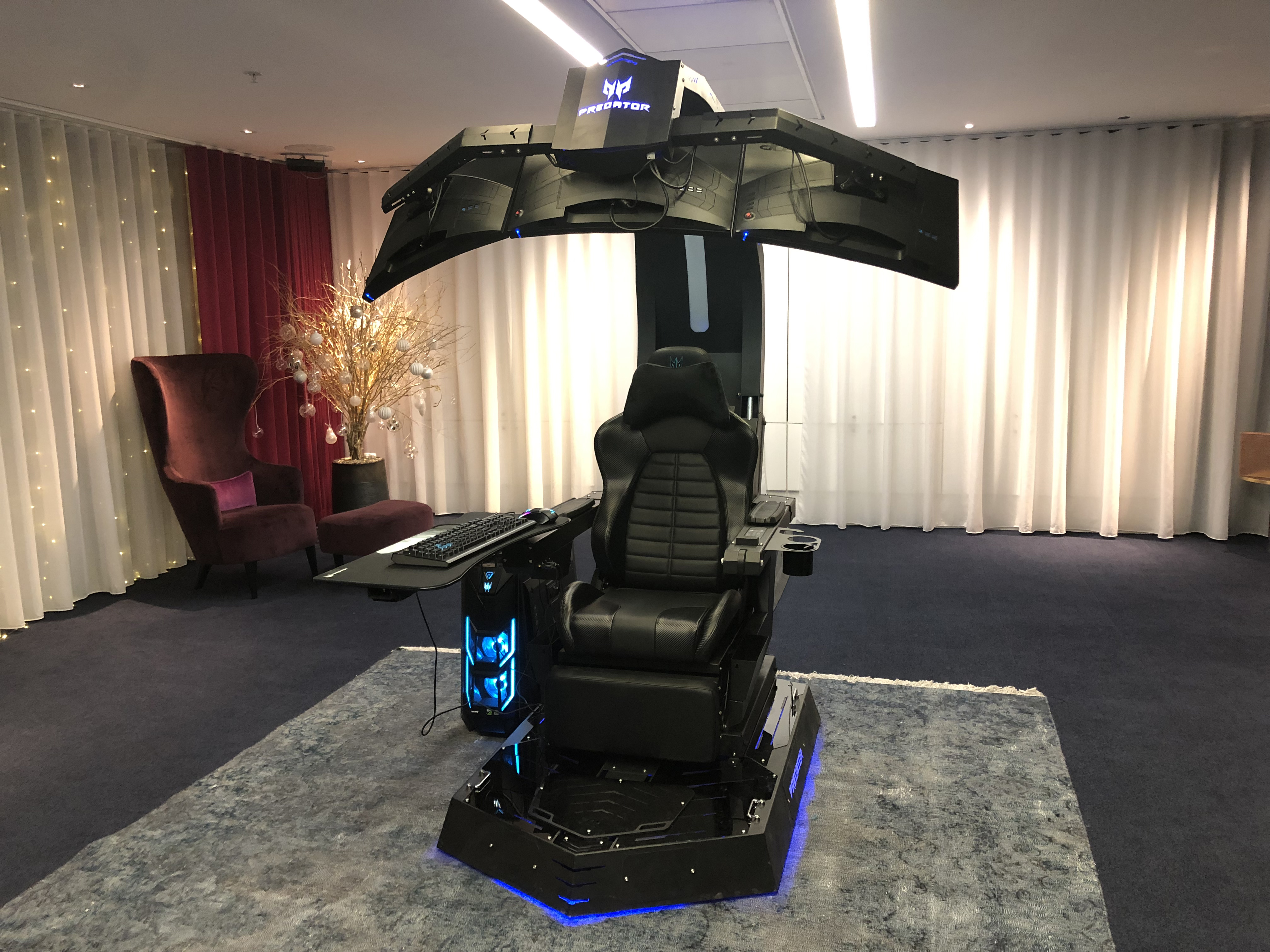 Managing an actual cockpit looks like a far complicated process than my simple brain is able to deal with. Thankfully, while the Thronos Predator feels like a cockpit when you're nestled inside it, but remember – it's just for video games, and you'll be operating it like a seasoned pro in minutes.
All the controls you need are located on a panel on the left arm rest. There are buttons for ascending and descending each component independently – if you recline the chair back you're going to need to raise the screen to keep it at eye level – but (brilliantly) there is one button that keeps the movements in sync.
The Predator Thronos is bundled with everything you need to get your game on. That's a Predator Orion 9000 i9 PC, a mouse, keyboard and whatever triplet of monitors you go for.
One notable omission, though, especially given the extreme all-in-one nature of the the product, is anything in the way of integrated speakers. You're going to need to add your own or wear headphones.
I also wasn't a huge fan of whatever vibration setting I experience in my demo. The Predator Thronos can vibrate upon in-game impact, but I can only compare it to a gentle back massage. Still, there's almost certainly a way to tweak it your liking.
Fun factor: game of Thronos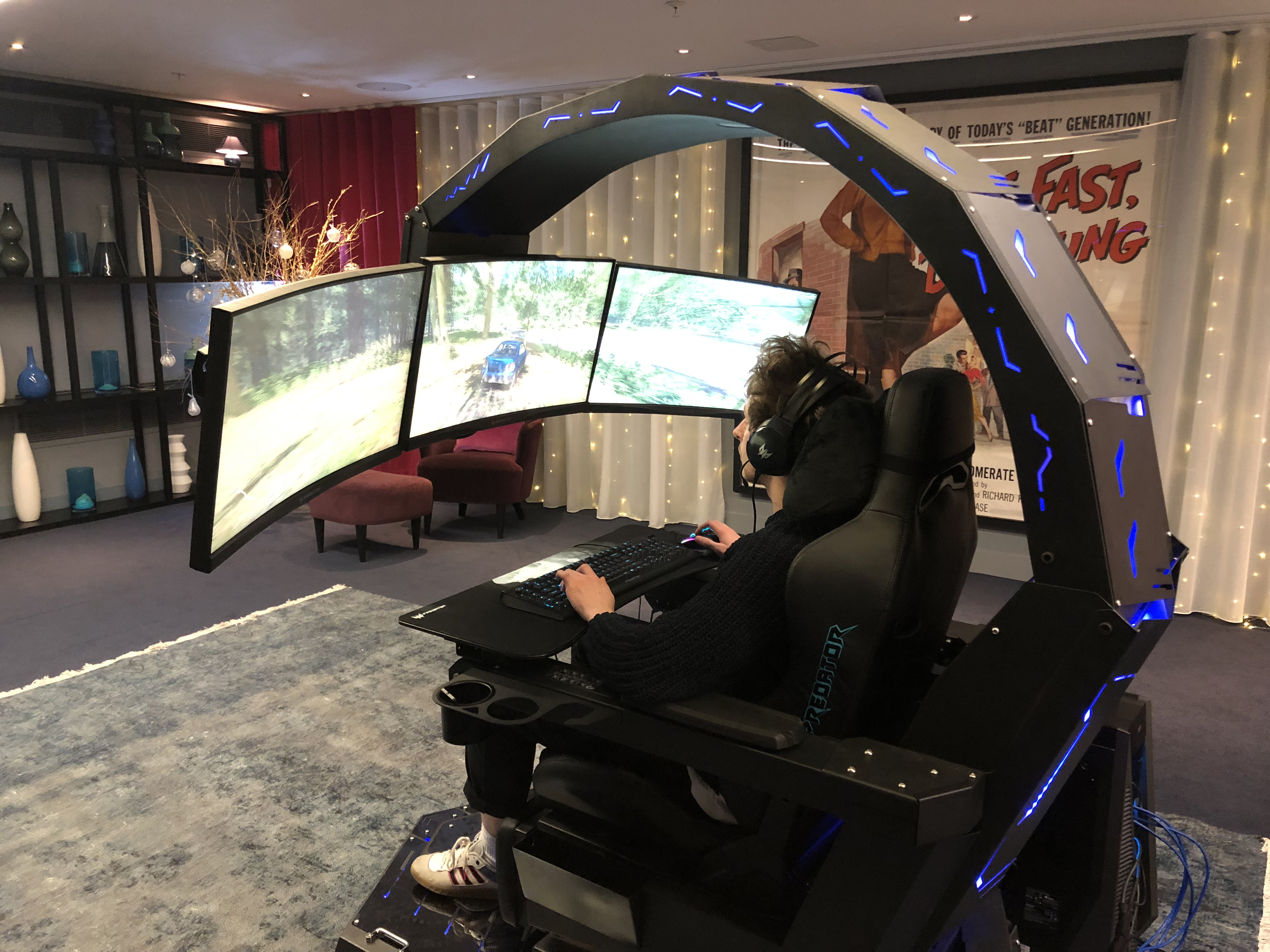 Spend a few minutes in this contraption and you'll be convinced that it's the height of video gaming decadence. With the chair tipped back as far as it could go and the three screens commanding my eyeline, the Predator Thronos made the already phenomenal Forza Horizon 4 even more enjoyable.
Ultimately, the Predator Thronos doesn't feel dramatically more immersive than my standard setup, but it's undoubtedly cool, if not a touch OTT.
Plus, it's fun to manoeuvre the thing, even if doing so is a bit slow.
Total immersion is good when it comes to gaming but that can come at a cost. Put it this way: if the doorbell goes while you're Thronos'ing, before you've managed to wriggle out from underneath the keyboard, your visitors will have left.
Acer Predator Thronos initial verdict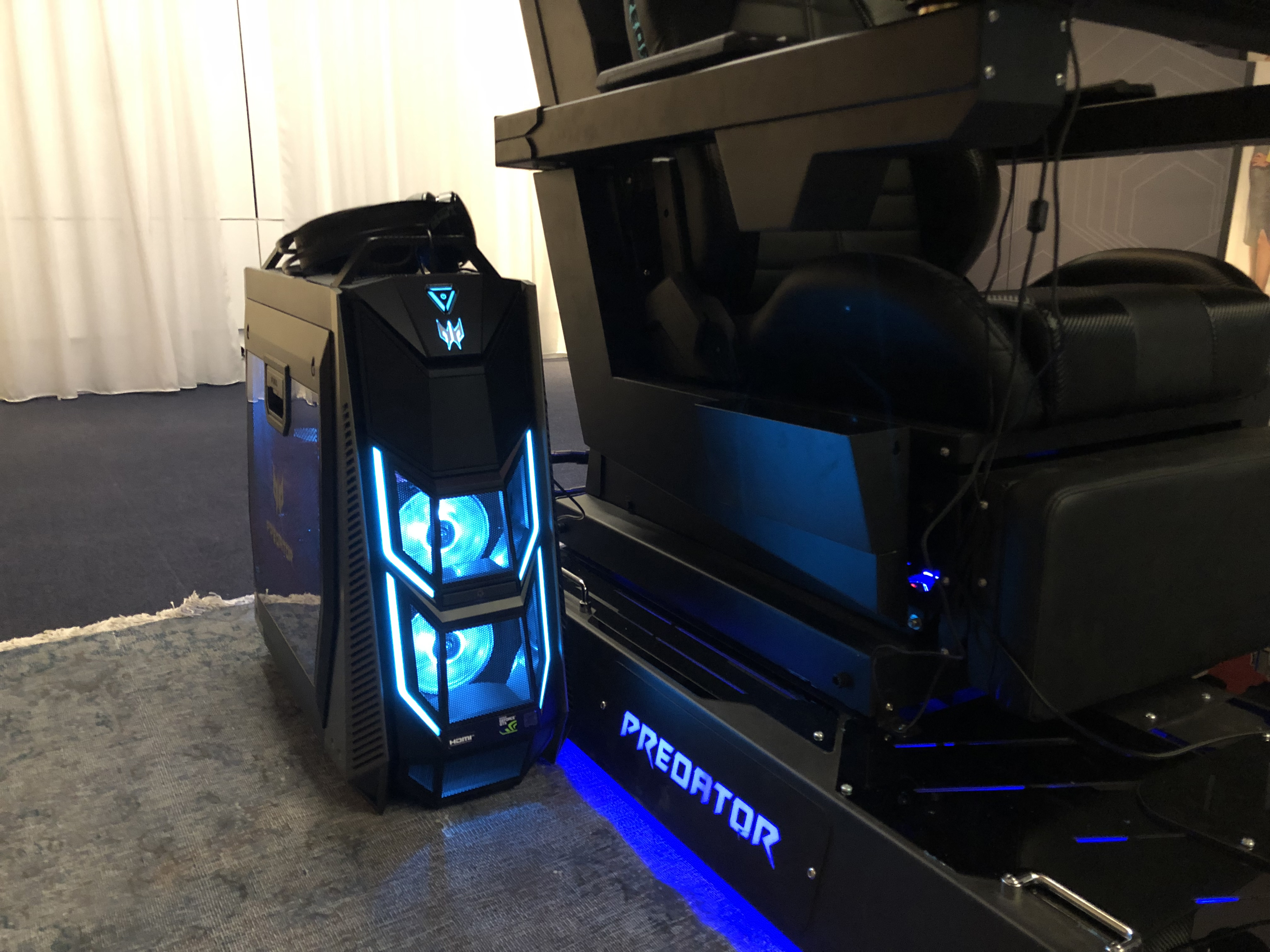 The Acer Predator Thronos is as brilliantly bonkers as it looks, and it's going to be the ultimate gaming setup for the very few people who actually buy one.
You'll need a spare room to accommodate it, and as there's no wheels on the bottom you're going to have a hard time moving it once it's been installed.
There are flaws too, namely the lack of speakers and the limited space for your kit. But once you've pressed the magic button for the first time you'll probably forgive them.
Look out for a full review of the Predator Thronos if Acer is kind enough to lend us one long-term. (Please Acer).