Acer Swift 5 (2020) review
Very little is sacrificed for a sub-1kg weight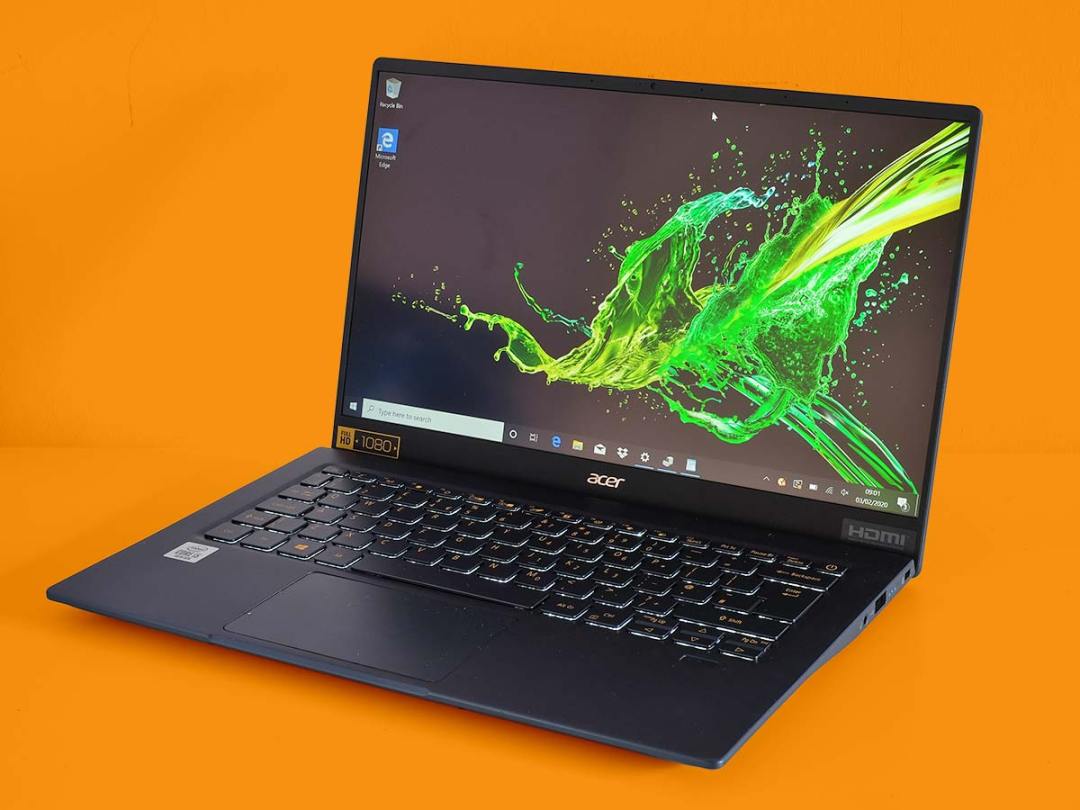 Ever owned a 1.3kg laptop and thought, "I love this thing but wish it was 30% lighter"?
Us neither, but the Acer Swift 5 solves that precise problem for the weak-shouldered and perennially encumbered. It's a 13-inch laptop that weighs just 990g, around 300g less than the slim laptop norm.
You lose a bit of stiffness in the deal, but the Acer Swift 5 has just about everything you could ask for from one of our favourite Windowss categories: laptops that are a bit like MacBooks but much cheaper.
Our review Acer Swift 5 is also the exact model we'd recommend to most. At £799 it costs £500 less than the MacBook Air, and is far more powerful too.
Design: Weight loss
Weight has been the focus of the Swift 5 series since 2017. In that year Acer switched from making it lower-cost alternative to the Dell XPS 13 and MacBook Pro, to aiming for the "lightest in class" award.
The 2020 Acer Swift 5 is extremely light at 998g. To shave off the extra 300-350g most slim and light 13-inch laptops carry, Acer uses slightly unusual metal alloys.
Aluminium is the top pick for laptops like this. It looks good, feels good and is strong. The Acer Swift 5 uses magnesium-aluminium and magnesium-lithium alloys instead, in a pleasant dark blue.
These are light and strong, but they don't have the same immediately metallic feel as the aluminium alloys used in MacBooks. A lot of people might mistake the Swift 5 for a plastic laptop. But actually run your finger across the lid or keyboard surround and you'll realise this is something else. Something much nicer.
It's mostly stiff too. Pick the Acer Swift 5 up by a corner and it doesn't bend like a laptop made too thin, or using cheap plastics. There's little flex to the keyboard too, which is where you notice slightly dodgy build quality the most.
Any issues with the Swift 5's construction are largely about perception. A laptop this light might not seem sturdy initially. You might miss the cool feel of aluminium too if you are upgrading from an older aluminium laptop. But this thing is not just well-made, it's better than some of the Acers in this class of the last couple of years. The company went through a phase of making slightly too flex-y keyboards.
The real-world practicality of the Swift 5 is also off the charts. Its footprint is small, the low weight is brilliant for portability and the connections cover all the basics.
You get a USB-C 3.1 port for new peripherals, a full-size USB 3.0 and a slower USB 2.0 for your mouse. The Swift 5 also has a full-size HDMI, to plug in a monitor or TV with zero fuss.
It's even pretty slim at 14.95mm. At this kind of price – not cheap but not eye-wateringly expensive – you often have to choose between very low weight or extreme thin-ness. You get both here.
Screen: Made for the outdoors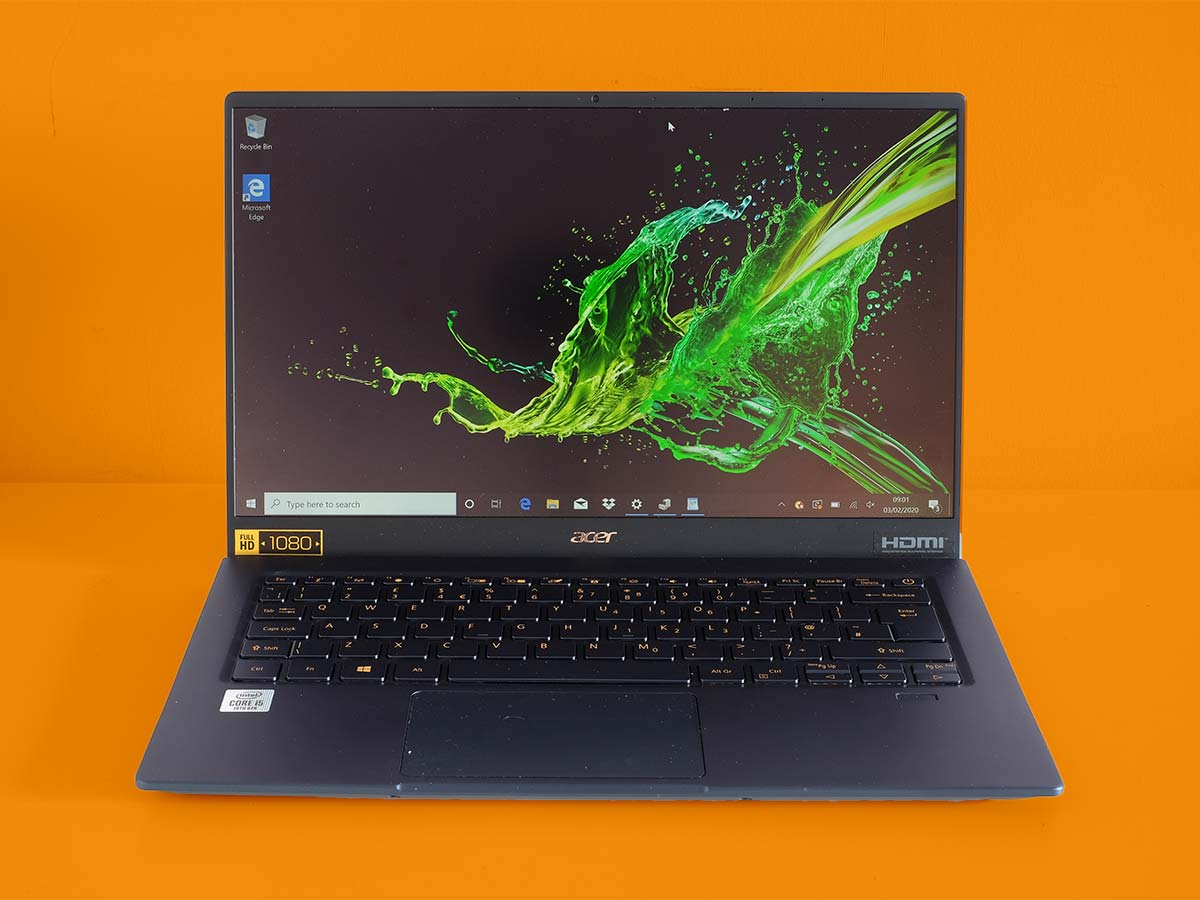 Acer also aims for practiality with the Swift 5 screeen. This is a 14-inch IPS LCD panel of 1080p resolution, and the slim surrounds mean you couldn't really fit in much more display without making the laptop bigger.
You may have noticed this isn't a pure flat screen, where a pane of glass covers the entire front. But this is, in part, because the Swift 5 has a matt sreen, rather than a glossy one.
This scatters reflections, handy if you'll use the laptop outdoors or on trains, where sun blasting through windows can spoil your experience.
You tend to see matt screens in business and gaming laptops, which also tend to leave out the touchscreen part. But this is a touchscreen: you get the best of both approaches.
This display also looks great. Blacks are deep, colour is rich. And while the resolutions is not high enough to make characters completely smooth, hardly any laptops with this kind of power, at this price, are any sharper.
Acer says the Swift 5 covers 99.9% of the sRGB standard. Our colorimeter says it manages 93.8% by coverage, 102.5% by volume. This means it just misses out on on some of the deepest tones of certain colours, but can actually go deeper than sRGB in other tones. The bit that matters: it looks great.
The Microsoft Surface Pro 7 is one alternative. It's sharper, and has the hybrid benefits the Swift 5 lacks. This laptop screen only tilts back the usual 130 degrees-ish and there's no stylus. But you get a lot more tech for your money here. A Surface Pro 7 with keyboard, Core i5 CPU and 256GB storage will set you back £1293.99. Ouch.
Keyboard and trackpad: Ready for work, zero tech flexing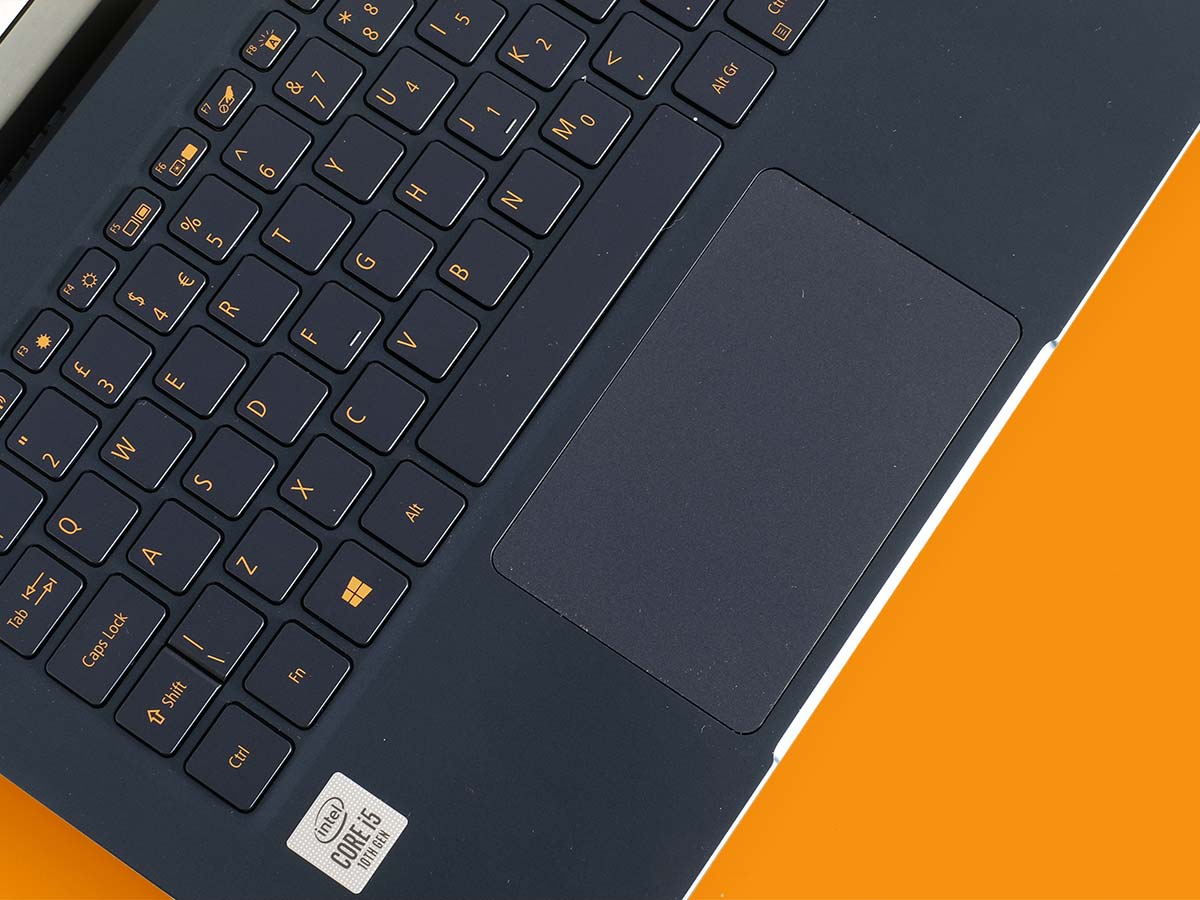 This is also just the kind of laptop we'd want to take on a work trip abroad, in part becauce the Swift 5's keyboard earns a solid B+ grade. Its keys have decent travel and solid tactile feedback.
The very best keyboards are chunkier still, and the character here is a little light. But switching to this from a classic 2013 MacBook Pro, before Apple keyboards went bad, was painless. It also has a backlight, with two brighness levels.
The potential bad bits are found in the trackpad and finger scanner, not the keyboard. The Acer Swift 5 has a scanner just below the keyboard's right side. And like most Windows scanners, it refuses to recognise your finger half the time.
And the pad problems? The trackpad is fairly well-behaved. No phantom gestures or ghost clicks. But this is a plastic trackpad, not the more desirable glass kind. There's also a little bit of give to it. You can boucne the pad up and down a touch with your finger before you reach the clicker.
Bad touchpads get on your nerves, and start misinterpreting your actions, like family relatives at Christmas. The Acer Swift 5's pad doesn't do any of that, but it could be better. It's very common for laptops around the £800 mark to have pad compromises, though.
Let's cover the speakers while we're dealing with the Swift 5's bad bits. They aren't very loud, have zero bass and simply sound too weak and polite. Want to watch a movie? Plug in headphones or some speakers.
Performance: 10th Gen power at the right price
There are no major compromises on performance, though. Our Acer Swift 5 has a 10th generation Intel Core i5-1035G1 processor with 8GB RAM and a 256GB SSD.
This is the entry-level Swift 5 spec in the UK at the time of review, but it's far from entry-level hardware. The Swift 5 runs Windows 10 perfectly, wakes from sleep quickly and is all-round responsive.
We're also impressed by the noise this laptop makes. There's barely any of it. Write documents or browse websites and it's effectively silent.
Even when we started playing games on a Swift 5 it didn't become loud. There is a fan, of course, and like most slim and light laptop systems it has a high-pitch tone. But even after 30 minutes of maxing-out performance, the noise level was unusually low.
Intel's 10th Gen processors have a part to play here, but any laptop manufacturer could ruin this with a poorly controlled fan. The Swift 5's is great, at least in terms of noise.
Gaming is the obvious weak area of this laptop. Buy the Core i7 version of the Swift 5 and you get one of Intel's Iris Plus GPUs, which bridges the gap between dedicated hardware and the bog-standard built-in stuff. But our Core i5 just has a plain old Intel UHD graphics chipset. It's not a big upgrade from that of an 8th Gen CPU laptop.
To get Skyrim to play comfortably, with frame rates of 30fps and up, you need to run it at 900p resolution and use the "medium" graphics setting. Use "High" at 1080p and the resulting 16-18fps will be too stuttery for most.
The newer Subnautica is playable at 900p, "low" graphics. But this title loses a lot of visual power when you drop below "medium", as a lot of post-processing options are switched off. Its underwater world suddenly becomes much less atmospheric.
We also dipped into the distant past with Grand Theft Auto: Vice City. It runs at 1080p, draw distance maxed, racing along at 115-150fps. No worries there.
The Acer Swift 5 can play a lot of recent games, but you will often need to strip back the visuals and lower the resolution. Acer's website shows there are versions of the Swift 5 with Nvidia MX 250 graphics hardware, which would improve matters hugely. We don't get that option in the UK, at the time of review.
However, at this price, at this weight, we have few complaints. We also noticed games seem to load very quickly, so we tested the SSD. It's a great little performer for a mid-range laptop, with read speeds of up to 1600MB/s and writes of 890MB/s.
Battery life: No overtime allowed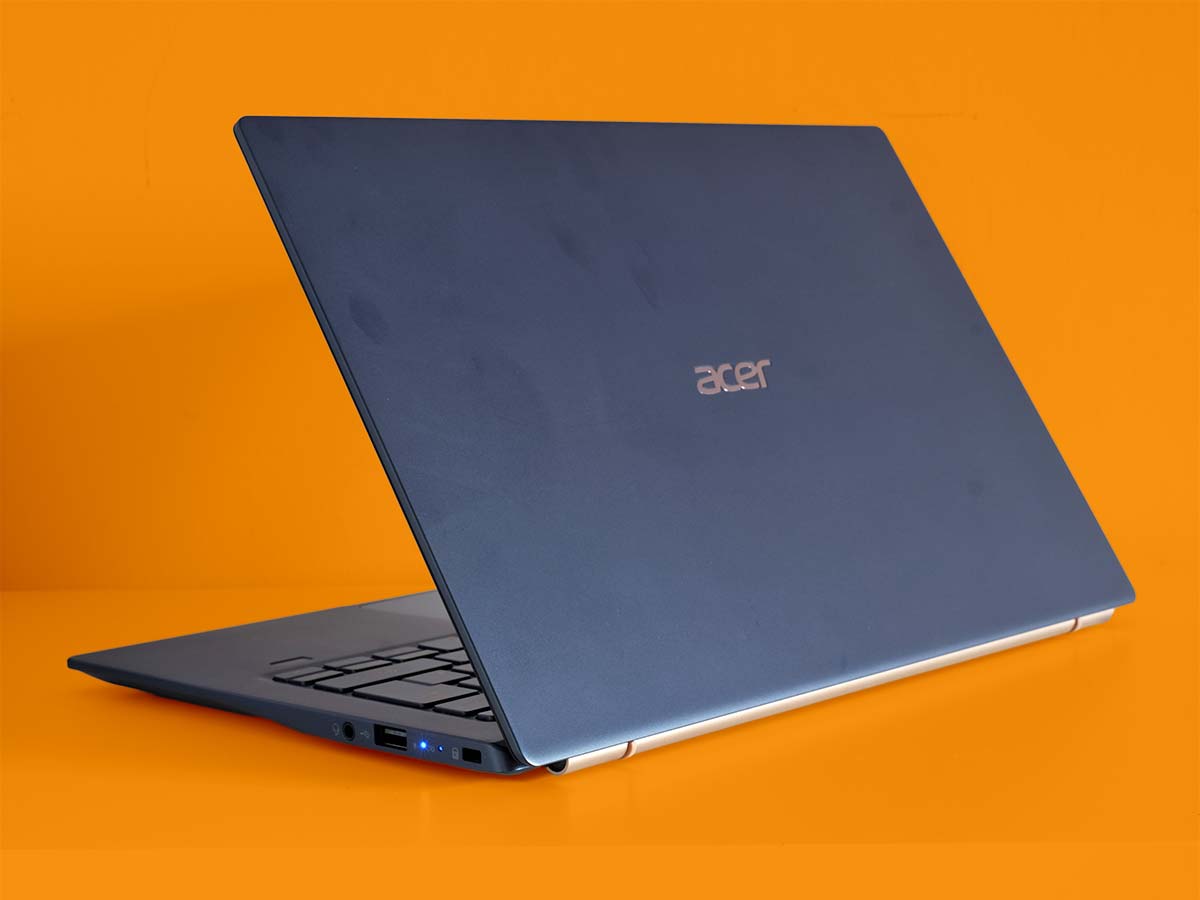 The Acer Swift 5 has a 54Wh battery, slightly higher capacity than the latest Dell XPS 13's 51Wh. Battery size has not been sacrified for low weight. It's another reminder of the important of the metals used in the laptop.
Acer says it should last for 12.5 hours of web browsing. We put it through a couple of tests: streaming video off YouTube and using it for normal work, which is a mix of internet research and writing.
The Swift 5 will last for around nine hours of streaming, or around seven hours of mixed light use, opening a small army of browser tabs. Stick to a word processor app, steering clear of Facebook and other distractions, and the laptop should just about last a full day of work.
Acer Swift 5 (2020) verdict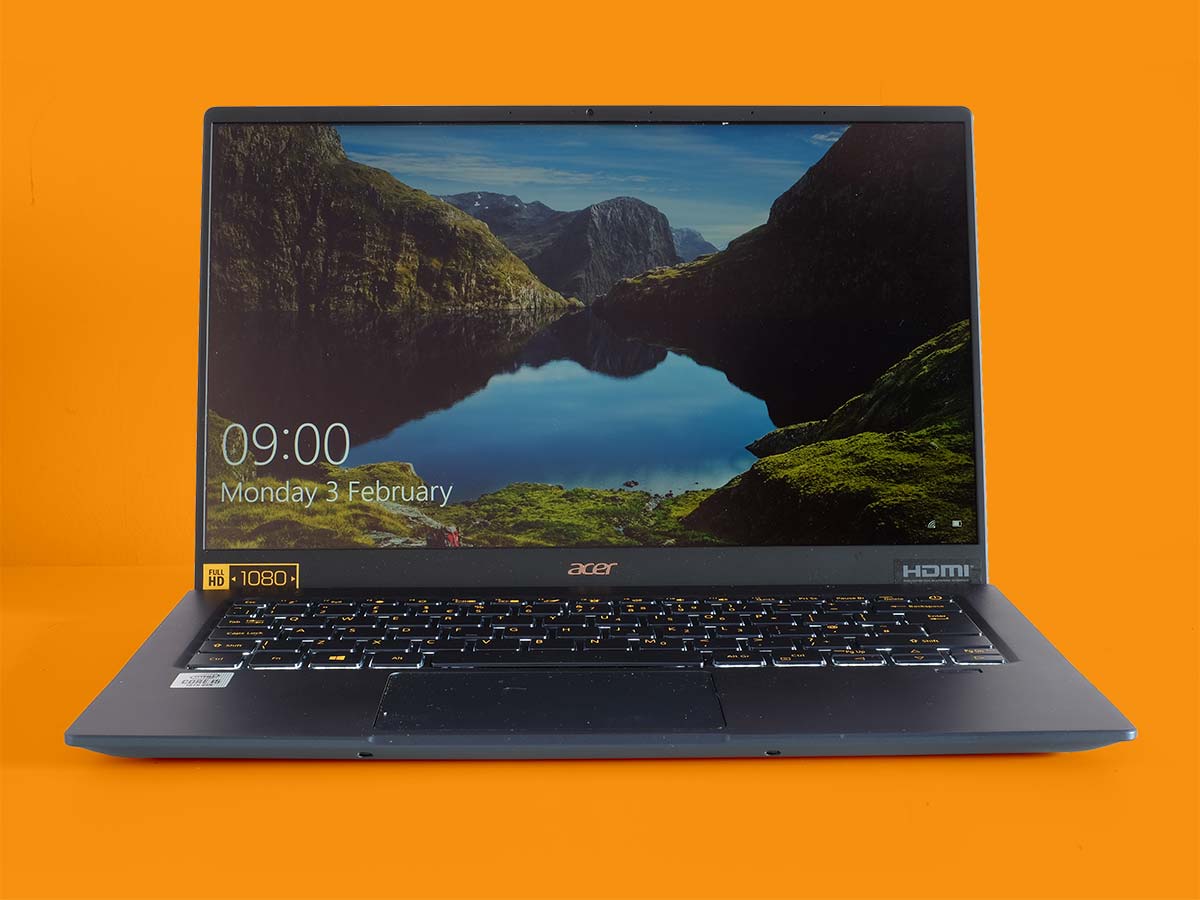 Focusing too much on one thing can be a bad idea. Sure, you can play piano well, but you can also barely hold a conversation.
The ultra-light Acer Swift 5 seems the perfect victim for this sort of narrow focus, as an ultra-ultra light laptop. However, in reality very little is sacrificed for its sub-1kg weight.
Its screen is great, the keyboard is fine, connectivity is more versatile than many and raw performance easily beats the MacBook Air. Even the battery can last a full day of light work, just.
So where's the catch? The magnesium-rich casing may feel closer to plastic than aluminium to some fingers. If you can shrug off the superficial, only the trackpad could do with a level-up. But that's one reason the price starts at under £800, rather than closer to £1000
Stuff Says…
An ultra-light laptop that doesn't throw everything out to shed those grammes
Good Stuff
Extremely thin
Solid battery life
Good performance
Quiet fans
Vivid, rich screen
Bad Stuff
Plastic trackpad
Feels less swish than an aluminium laptop
Very weak speakers