Alcatel 5 review
What's better than a good top-end phone? A really good one that doesn't cost too much at all
A £1000 phone is great? Big whoop, what else would you expect? Make one almost as good that we can afford without a contract that feels like a home mortgage and we'll be impressed.
That's the Alcatel 5's job. It has a £230 RRP but you'll find it for £179 online, pitting it against budget heavyweights the Moto G6 Play and Honor 9 Lite.
It has three cameras, a fingerprint scanner and an on-trend 18:9 screen. But it still struggles to compete with the best sub-£200 phones.
Design: Fool's gold
What was it Frozen taught us? Be yourself, and not all movie ice queens are evil? Something like that, anyway. The Alcatel 5 has issues with that first part: being itself.
It is desperate to be a metal phone. Metallic end caps and a brushed metal back can't disguise that the Actual 5 is all-plastic, though. And unlike a Disney movie, there's no third act redemption where the Alcatel 5 makes peace with itself and marries a tablet or something. Because it's a phone, made in China.
The Alcatel 5 is a faker. Its only non-plastic parts are the glass panes over the screen and camera.
This sounds pretty damning when, for a similar price, the Moto G6 gets you a metal and glass shell. But in the UK you can already get Alcatel 5 for less cash than the £230 recommended price.
That being said, it's an easy-to-handle phone. At 8.4mm thick it's not too chunky, and the Alcatel 5 has a curved back that makes it feel even slimmer.
The front is distinctive, but not all that pretty, mind. Alcatel thinks textures can drag it from affordable anonymity, and here it uses a horizontal pin stripe pattern, to avoid a front that looks like screen with a bit of black space around it.
We like different. Different is good But in the context of a phone trying to convince us it's more expensive than it is, a wee bit of that tacky vibe seeps in. Like Argos jewellery.
The front dimensions are also a little unusual. There's a decent amount of space above the screen, almost none below. This is actually a perfectly sensible choice, as all the hardware sits above, but it looks slightly odd.
The Alcatel 5 isn't cool and classy, and the Honor 9 Lite feels more expensive. But in practical terms it's fine. There's a headphone jack, a reliable (if not that fast) rear finger scanner and slim side bezels making the phone a comfortable fit in the hand.
Screen: Not oscar worthy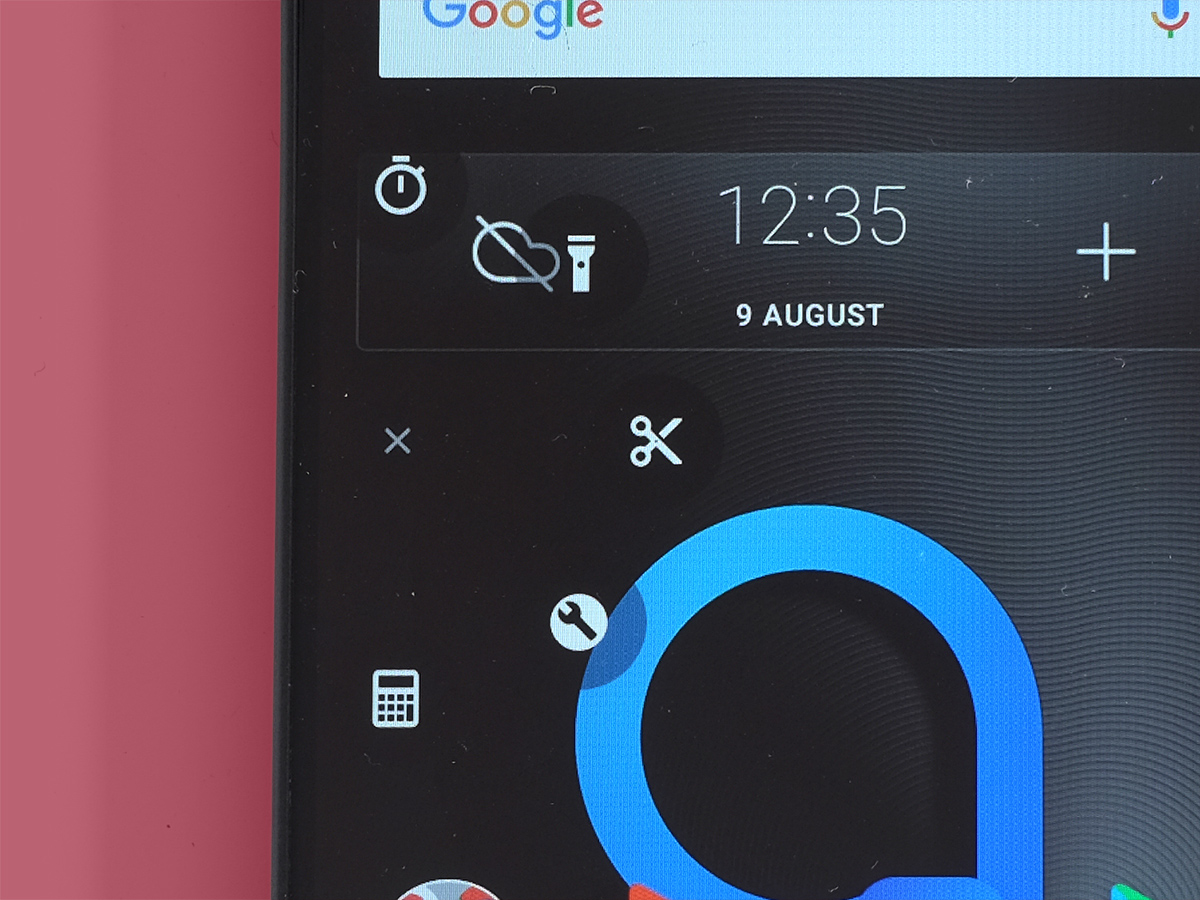 The Alcatel 5 has a 5.7-inch IPS LCD screen of 1440 x 720 pixel resolution. This matches the pixel count of a Moto G6 Play, and it actually looks sharper than a Samsung Galaxy A6 in person.
In small fonts you can see some slight pixellation, which a problem in a standard Moto G6. But it's not major.
Similarly, there's a bit more brightness drop off at an angle than some, but there's no full-on colour inversion you'll see in some true entry-level displays. From a technical perspective the Alcatel 5 screen is pretty much a match for the Moto G6 Play's.
The software trips it up a bit, though. Its Auto brightness setting, which brings the backlight up and down to suit bright days and dim rooms, is slightly wonky. It's a little slow and occasionally gets the level wrong. This isn't a reason to return the phone to Debenhams, the receipt shaking between your fingers from the sheer anger of it all. But it is a reason to pick a Moto G6 Play instead
Camera: Ready for your close-up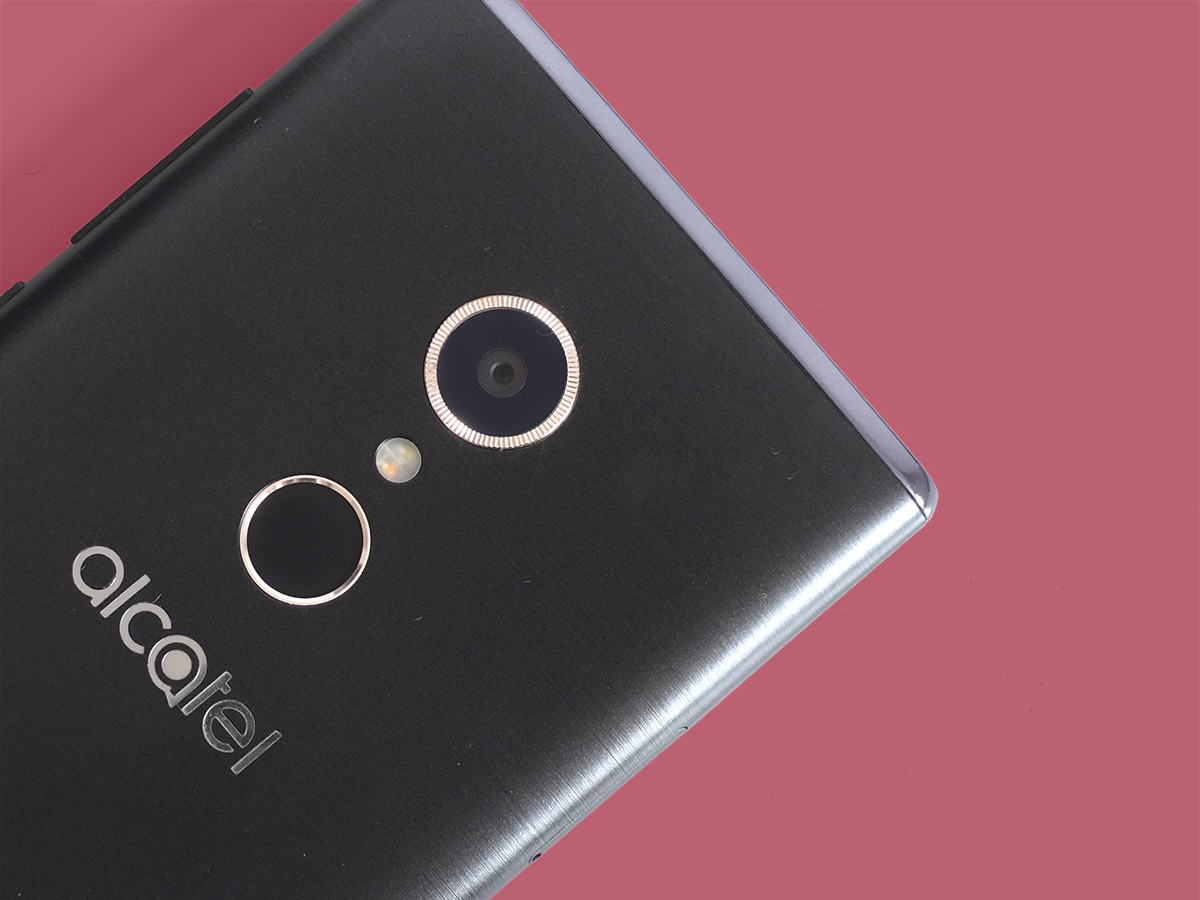 Just about all the Alcatel 5's legitimately notable features are in its cameras. That's a good place to invest your pounds.
There's a 12-megapixel camera on the back, a rarely-seen-these-days Omnivision one, and two on the front.
You can take normal selfies and ultra-wide ones, handy if you need to fit in the whole squad but don't want the indignity of having to carry around a selfie stick 24/7.
The Alcatel 5's rear camera its better than some at the price. It's fairly sharp, there's an Auto HDR mode and the camera app has a neat mode that re-arranges all the important buttons so they sit around your thumb.
Considering the price, image quality is good, and the camera holds up at night better than some. Images get bashed around by the processing, which you can see when you zoom in, but on their face night shots look punchy and bold enough.
And the problems? The Alcatel 5 is often a little slow to focus, the camera app can be slow and laggy, the (on by default) Auto HDR mode still leaves photos with blown out bits and both exposure and colour balance are often just slightly off. But for the money, this is not a bad performer.
The front cameras have 13-megapixel and 5-megapixel (wide) sensors. You'll get more detail with the standard view, but sometimes you'll simply need that wide view.
Software and Performance: Slow burn
The Alcatel 5 is not the most finely polished phone. You see little scraps of evidence for this all over the place.
Example 1: when using Podcast Addict, the playback controls in the drop-down menu are the same colour as the background, so they're invisible.
Example 2: when you first turn on the Alcatel 5, the interface's app icons are so big they make this look like a phone designed for a "3+" age rating. Thankfully you can tweak this.
Performance is the most important issue, though. The Alcatel 5 is not a laggy, buggy mess like the Honor 7S but it does feel about 25 per cent slower than the Honor 9 Lite or Moto G6 Play. Too often it feels like you have to wait a half second for something simple to happen.
It's likely the custom interface on top of the dated Android 7.0 software to blame.
An extra control button is the interface's main addition, which looks a bit clunky. This Joy Touch button hovers over anything else on the display, providing quick access to functions like screengrabs, the torch and calculator. When you give it a prod these shortcuts fan out.
Other manufacturers have attempted a similar set-up over the years but gave up on the idea, because these control buttons always get in the way more often than they prove useful. The Alcatel 5's Joy Touch is no different.
All this sounds pretty damning, but the Alcatel 5's is not a ruined phone. You can fix the icons, blow up the Joy Touch button. And while performance may never quite be perfect, it doesn't make the phone annoying to use. It's just not the best around.
The Alcatel 5 has a MediaTek MT6750 CPU, with eight Cortex-A53 cores and a dual-core GPU. It scores 2462 in Geekbench 4, roughly matching the Moto G6 Play. This isn't a powerful brain, and there's some frame rate judder in PUBG and Asphalt 9. But high-end games like this are playable.
The Alcatel 5 does seem to get hotter than just about any other phone at the price, though, particularly on its back, by the camera.
Battery life: A flop
Before you consider yourself sold on the Alcatel 5 for its versatile camera setup, we need to look at the battery.
It's a 3000mAh unit, exactly what you'd expect for the price and screen size. Stamina is below average, though, and far worse than that of the Moto G6 Play.
We are yet to see the Alcatel 5 last a full day of solid use. One evening out for a few drinks, the phone had to be turned off for a couple of hours just to make sure there was enough juice left for a podcast on the way home. Even then it had just a dribble of charge left when key met front door. Add this kind of stamina to the Alcatel 5's tendency to get quite hot and it seems, just like the software, power management is not well handled.
The Alcatel 5 does not have fast charging either, so you can't just stick it on charge for 15 minutes before you go out to make sure it lasts through the evening.
The Alcatel 5 Verdict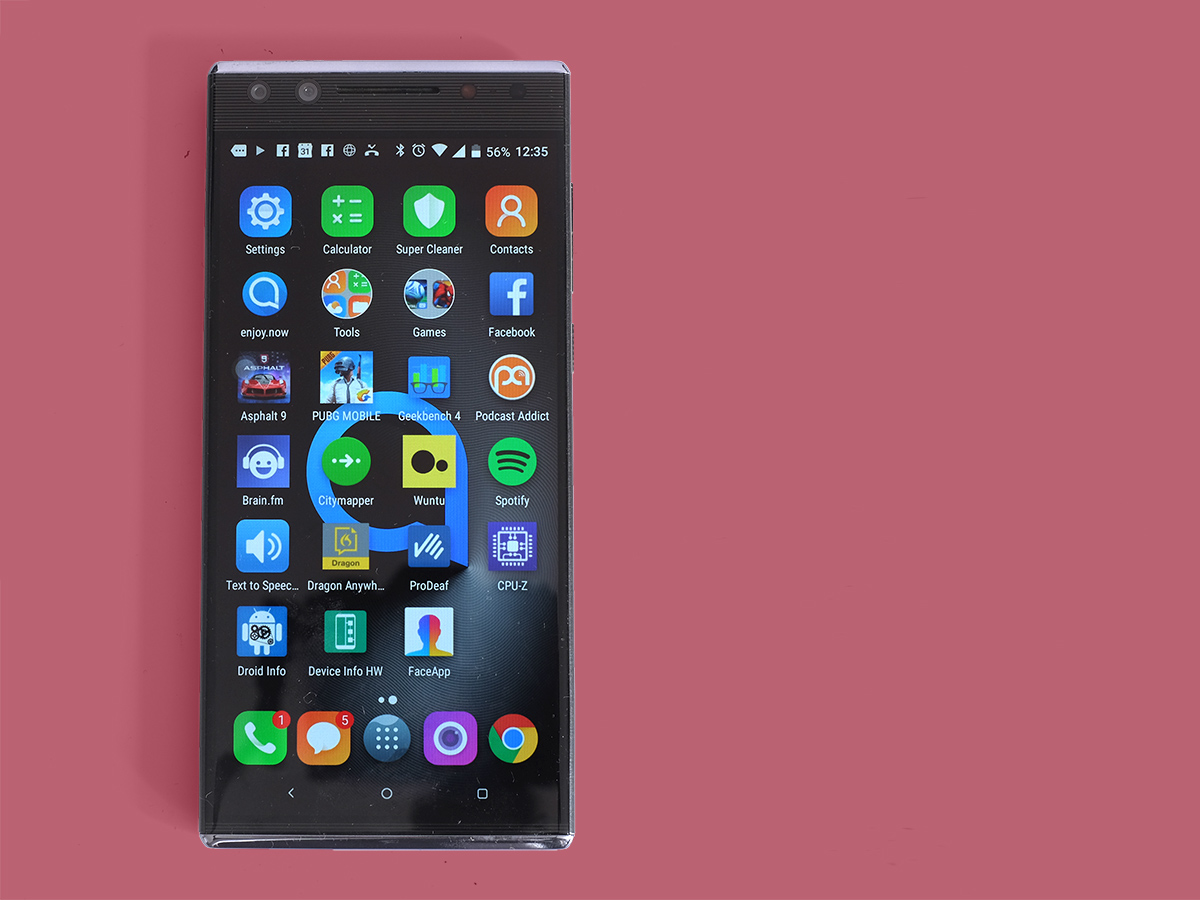 The Alcatel 5 has the right price and some neat camera features, like dual selfie sensors and a main camera with bigger pixels than most at this level.
However, it has a tough time competing with the Honor 9 Lite and Motorola Moto G6 Play.
A plastic phone desperate to convince you its metal is rarely a good look, the battery regularly conks out before the end of the day and performance is a bit sluggish. The Alcatel 5 is no disaster, but competition at the price is just too strong these days.